After securing an early endorsement from his onetime boss U.S. Senator Chuck Grassley, David Young has landed another vote of confidence from a Republican heavyweight in his bid to represent Iowa's third Congressional district.
Young campaign staff confirmed on June 7 that former Governor Terry Branstad, who is now U.S. ambassador to China, donated to the campaign this quarter. Young has mentioned Branstad's contribution in conversations with politically active Iowans, according to a source who saw the former member of Congress recently.

Earlier this year, Branstad donated $1,000 to the campaign of Randy Feenstra, one of the Republicans challenging U.S. Representative Steve King in the fourth Congressional district.
Meanwhile, the field of potential competitors for the GOP nomination in IA-03 shrank on June 6. State Senator Jake Chapman posted on Facebook, "While I will actively work to make sure we have better representation in DC, I have made the decision to continue to focus my efforts at this time in the Iowa Senate and will be running again for re-election next year."
Chapman defeated his Democratic challenger in Iowa Senate district 10 by a two-to-one margin in 2016 and has no declared opponent yet this cycle. The area leans strongly to the GOP (see map and recent voter registration totals below).
A Republican source told Bleeding Heartland this week that State Senator Zach Nunn had decided to "stand down" and not compete against Young in the Congressional primary. That didn't sound right, since Nunn seemed set on running in public comments last month. His wife, Kelly Nunn, responded to my inquiry with a June 5 Facebook message,
Zach is currently away on military duty and is not available for comments. His service to Iowa and our nation always comes first. I can tell you that nothing has changed, we are still receiving great encouragement from our community to pursue a campaign. We will make a final decision as a family sometime next month.
Aside from Young, Bill Schafer is the only confirmed Republican candidate in IA-03.
Final note: Iowa Senate district 10, where Jake Chapman will seek re-election in 2020, covers most of Dallas County (excluding Waukee, West Des Moines, and Clive), all of Adair and Guthrie counties, and small areas in Polk and Cass counties.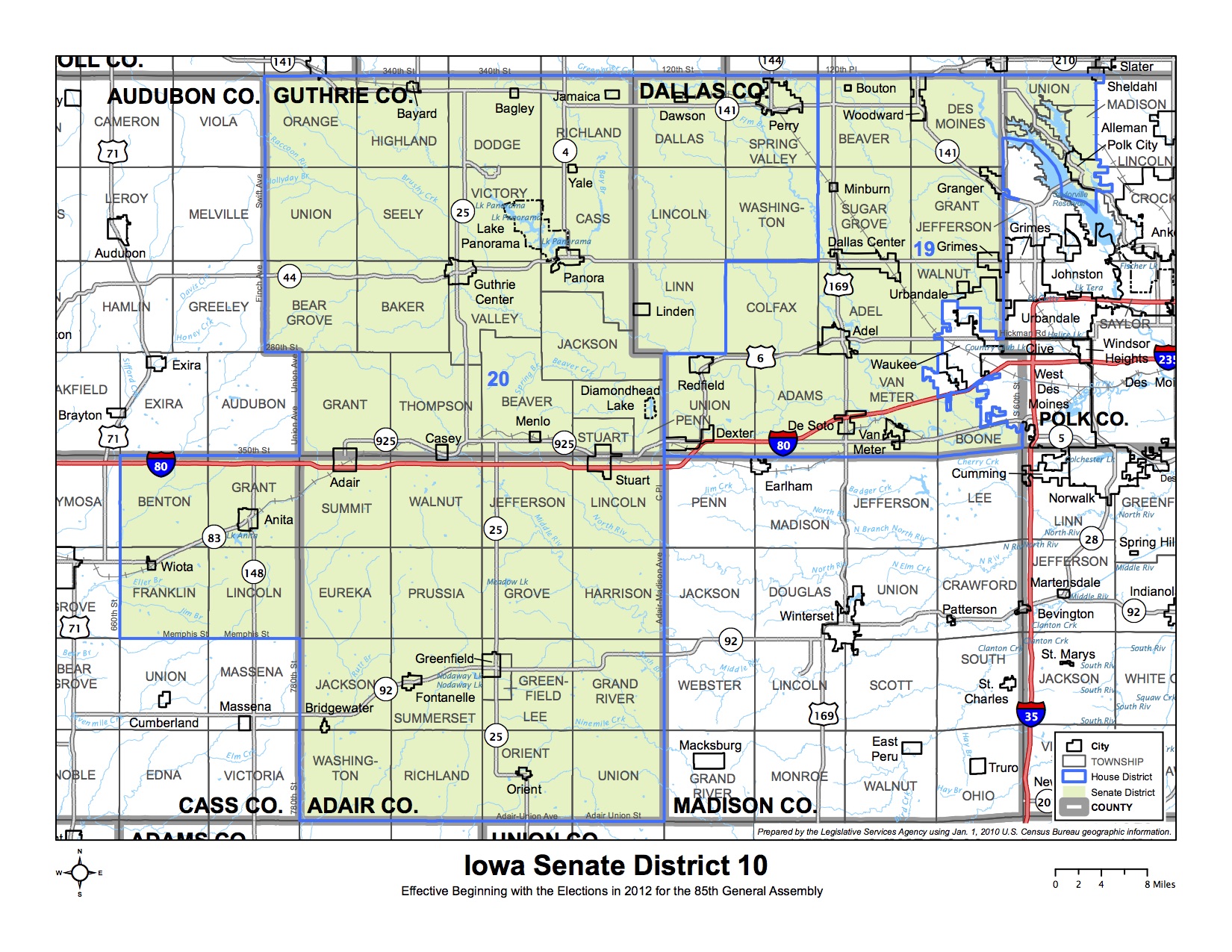 According to the latest figures from the Iowa Secretary of State's office, the Senate district contains 10,477 active registered Democrats, 16,807 Republicans, and 17,864 no-party voters. Chapman's constituents supported Donald Trump over Hillary Clinton by 57.7 percent to 36.1 percent, considerably larger than Mitt Romney's 54.2 percent to 44.4 percent advantage over Barack Obama in 2012. Governor Kim Reynolds carried Senate district 10 with 56.8 percent of the vote last November to 41.1 percent for Fred Hubbell.
UPDATE: State Representative Jon Jacobsen hasn't ruled out running for Congress and will decide his plans by Labor Day, he told Bleeding Heartland on June 7. For now, he said, "I am doing everything I can in order to help constituents and local governments deal with the continuing damage and commensurate problems related to the recurrent severe flooding" in Pottawattamie County. Iowa law does not allow candidates to file for more than one office, so Jacobsen could not seek re-election in Iowa House district 22 if he competes for the GOP nomination in IA-03.