Des Moines freelance writer John Morrissey digs into how a well-connected company landed a lucrative state contract. Laura Belin contributed reporting to this story.
Four months after being awarded a contract to administer Iowa's worker's compensation program for state employees, a politically connected West Des Moines company has apparently not come to terms with the state to continue its work.
Sedgwick Claims Management Services LLC was selected in early March to keep handling the program, even though a competitor achieved a better score on three cost proposal items. The state will pay Sedgwick $7.9 million in administrative costs over six years. Runner-up bidder TRISTAR Risk Enterprise Management LLC offered to do the work for a little more than $6 million, a potential savings of nearly $1.9 million over the contract period.
The Iowa Department of Administrative Services (DAS) provided copies of all submitted bids for the current and previous bid cycles upon receiving John Morrissey's public records request. But the department has declined further comment about the award and refused to clarify the scoring system or other matters related to this bid process. The new DAS director Jim Kurtenbach did not respond to a request for an interview about this matter.
Sedgwick's bid contact officer referred questions to several state officials and the company's public relations office. That office also did not respond to Bleeding Heartland's inquiry.

A CHANCE TO PROVIDE EXTRA INFORMATION AFTER THE BID DEADLINE
DAS arranges for workers' compensation benefits for more than 70,000 active state employees at 90 agencies, not including others who might qualify for those benefits, such as prison inmates, student workers, and temps. Since the department outsourced administration of workers' comp in 2001, Sedgwick has held the contract the entire time.
Sedgwick claims to be "a leading global provider of technology-enabled risk, benefits and integrated business solutions" with 21,000 employees in 65 countries. The company had no Iowa employees when it first bid for the state workers' comp contract but now employs more than 1,300 people at its Iowa facilities in West Des Moines, Dubuque, and Bellevue. Along the way, it has financed some of its expansion here with state or local incentives worth hundreds of thousands of dollars.
The company has rarely received widespread attention in Iowa but made news in 2018 after Governor Kim Reynolds took multiple trips on Sedgwick's corporate jet.
The state's third-party administration agreement for workers' comp runs for a six-year term, with up to four annual renewal options thereafter. Sedgwick's current contract generated an average of $29 million in annual program expenses (covering both administrative and claims costs) over the past three years. Sedgwick expects to make about $825,000 in profit over six years on its latest winning bid.
DAS received five bids to run the workers' compensation program and disqualified two for failing to meet minimum standards. CorVel Enterprise Corp., Inc. refused to allow the state to conduct criminal background checks on its managers and blacked out examples of its reporting suite, on the grounds that even a picture of such reports comprised a trade secret. EMC Risk Services, LLC did not follow the DAS format in submitted materials and presented its own contract language instead of using the department's version.
Although the bids were due in early November, Sedgwick filed clarifications on December 12 and December 18 to address a list of costs specified in the bid documents, according to records provided by DAS. No other bidder submitted supplemental information. Staff for DAS did not answer Morrissey's follow-up questions, including:
Did Sedgwick offer to amend its bid on its own initiative, or did the department notify the company that its bid was deficient or incomplete? (Sedgwick officials also declined to explain why the company amended its bid twice.)
Were the other bidders afforded similar opportunities to resubmit their bids?
UNCLEAR CRITERIA FOR A CONTRACT AWARD
Sedgwick won the contract by scoring 832.2 points on a 1,000 point scale, the notice of intent to award document shows. TRISTAR scored 759.6 points overall.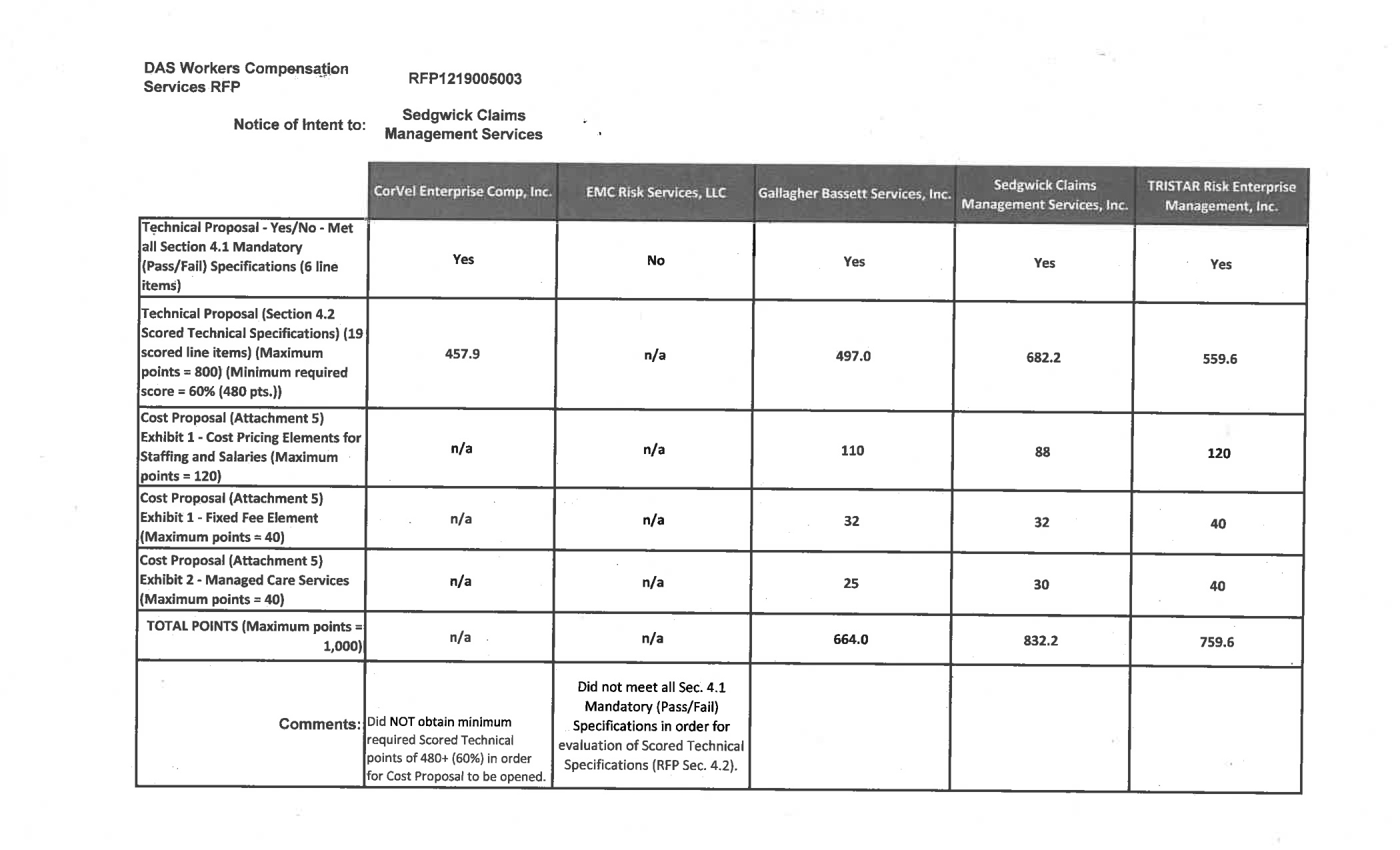 TRISTAR scored a perfect 200 points on the cost proposal items included in the bid package, while Sedgwick garnered 150 points on those items. The TRISTAR bid proposal was judged superior on costs in three areas: Staffing and Salaries; a Fixed Fee element that includes a breakdown of various expenses attributable to the DAS bid; and Managed Care services such as medical bill review, provider and pharmacy networks, and case management.
TRISTAR's bid showed $3.3 million in salaries and benefits to administer the contract over six years and another $2.7 million in fixed fees. TRISTAR also included a data conversion contingency item of $5,000. Sedgwick's proposal called for $4.4 million in salaries and benefits and another $3.4 million in fixed fees.
However, cost elements comprised only one-fifth of scores in the DAS evaluations. A technical proposal section accounted for 80 percent of the possible points. The notice of intent document does not list any of the "19 scored line items" that informed the technical score or show which bidders performed better on individual criteria.
Why Sedgwick scored 682.2 points for its technical proposal and TRISTAR just 559.6 points is therefore unclear. DAS communications director Tami Wiencek declined to demystify the numbers, nor did she provide other examples of contracts DAS has awarded to companies that did not submit the low bid.
CONTRACT SIGNING DELAYED FOR UNDISCLOSED REASONS
DAS issued its Request for Proposals for the workers' comp program last September, and a revised project schedule called for contract negotiations to be complete by the end of March 2019. Since the agency published its intent to award the contract to Sedgwick on March 11, negotiations have dragged on for months. In the interim, Sedgwick continues to provide services under terms of its old contract.
The contract signing hit a snag when Sedgwick proposed 24 changes to the DAS standard contract. Some of the alterations (the redlined portions of this document) are technical corrections, but several appear to allow the company to wriggle out of certain insurance provisions. Other proposed language appears to water down the state's data security requirements.
The DAS bid process included a 10-page information security document, outlining the duties and obligations of both sides to the agreement. The worker's compensation administrator must notify the state within two hours of a security breach, defined as "any breach of security, confidentiality, or privacy as defined by any applicable law, rule, regulation, or order."
Sedgwick lawyers also proposed an additional contract provision – that they claim exists in the current contract — which would indemnify Sedgwick in the event state employees fail to perform their duties or make errors while doing so.
DAS was without a permanent director in May and June after Janet Phipps failed to win Iowa Senate confirmation before state lawmakers adjourned for the year. It's not clear whether turnover at the top affected negotiations with Sedgwick. Wiencek did not respond to questions asked in late June, including:
What are the sticking points in these talks? Does the department believe it will reach agreement with Sedgwick, or does the department believe it may have to offer to award the bid to TRISTAR? […]

Has the Governor's Office been notified of the department's inability to reach a contract with Sedgwick? When did that notification occur? What actions has the Governor's Office made to attempt to resolve the apparent impasse?
DAS staff and Sedgwick representatives did not respond to inquiries on July 8 seeking to confirm whether the contract has been signed.
GOVERNOR'S USE OF CORPORATE JET QUESTIONED
Sedgwick CEO David North has donated $115,000 in cash to Reynolds' campaign in recent years and made in-kind contributions valued at more than $10,000, state records show.
Three of the in-kind donations covered trips on Sedgwick's corporate jet. The Associated Press was first to report last year that North funded the governor's December 2017 plane travel to and from an Iowa State University football bowl game. Reynolds also flew on Sedgwick's Gulfstream 200 in October 2017 and July 2018.
Iowa's gift law would ordinarily prohibit Reynolds from from accepting anything of value from a state vendor. But the Iowa Ethics and Campaign Disclosure Board approved the flights because campaign contributions are an exception to the gift law.
The ethics board later dismissed two complaints related to the governor's trips on Sedgwick's plane. Attorney Gary Dickey argued that the Reynolds campaign "under-reported the fair market value" of the December 2017 trip, since there are no direct commercial flights between Des Moines and Memphis, and a chartered flight for the governor's family would be far more costly than the $2,880 declared in-kind gift from North. (The other flights he provided were also low-balled with valuations of $2,640 and $2,446.)
In a separate complaint, another Iowan questioned whether donors including North, who do not personally own jets, reimbursed their companies for letting Reynolds fly on the planes. In the absence of such reimbursements, the in-kind gifts could be construed as illegal corporate contributions. That complaint also noted that a person reviewing the Reynolds campaign finance disclosures would see only North's name, with no reference to Sedgwick and no indication the governor flew on a state vendor's plane.
Dickey filed suit challenging how the ethics board handled his complaint. A Polk County District Court judge upheld the board's action, and Dickey's appeal of that decision is now pending before the Iowa Court of Appeals.
Sedgwick did not respond to Bleeding Heartland's inquiry about the company's current policy regarding the use of its aircraft for the benefit of elected officials.
SEDGWICK CONTRACTOR FELL VICTIM TO FRAUDSTER
Sedgwick got a rude surprise in early 2018 when it learned – along with the rest of the world – that a New York physician performing medical reviews of injured worker cases across the nation had stolen another doctor's identity to perform that work, according to reporting by Bloomberg News. The medical records of some Iowans for whom Sedgwick was responsible were involved in that scheme, along with thousands of other injured workers from across the nation. In April 2018, federal prosecutors in the Southern District of New York indicted Spyros Panos, a former orthopedic surgeon previously convicted of Medicaid fraud.
Last July, Dane Street LLC notified the Iowa Attorney General's Office that Dane Street had provided protected personal information access to Panos about "less than 100 residents of Iowa." The letter seemed to downplay the release of medical records in this case, characterizing the matter as a breach of "protected personal information," rather than a more serious breach of medical information.
Panos got hold of the Iowa records because of the Dane Street/Sedgwick relationship. Sedgwick performs third-party administration for workers' compensation programs for some of the 56 large Iowa employers who self-insure their risk for worker's comp, along with national and international corporations who have employees in Iowa. At the time, Dane Street was providing medical review services to Sedgwick for certain Iowa accounts. A DAS spokesperson said none of the Iowans whose records were improperly sent to Panos were state employees.
Dane Street performs "independent medical examinations" and medical peer reviews for third party administrators like Sedgwick, as well as for insurance companies, managed care organizations, employers, and pharmacy benefit managers. Panos was a certified examiner for the medical review firms Dane Street hired. Those firms never verified Panos' real identity, because if they had, his felony conviction would have prevented him from being certified.
Dane Street was not required by law to provide the notice of breach to Iowa officials, but did so "in an abundance of caution," according to its letter to the Attorney General's office. A curious line in that letter undercuts the company's apparent concern for the welfare of those whose privacy was compromised.
The information Panos was able to access included the claimant's name, address, phone number and social security number [add "medical records" in those few states who consider medical information to be notice-triggering Pll].
The phrase in square brackets was presumably supposed to be removed during the editing process.
Morrissey asked the Iowa Attorney General's office last fall about the Panos case and how it might affect the state's bidding process for a workers' compensation administrator. Spokesperson Lynn Hicks said he was not aware of a request from DAS for legal assistance, adding that he could neither confirm nor deny such a request was made, and that even if DAS had asked for help, the Attorney General's office could not comment about its advice.
Bleeding Heartland will continue to seek information about Sedgwick's new contract with DAS and will update this post as needed.
UPDATE: The DAS confirmed in late July that Kurtenbach had signed the contract with Sedgwick on July 1. You can download or read the full document here. Staff did not explain their previous failure to answer straightforward questions about this matter.