Twenty Democratic presidential contenders and Congressional candidate J.D. Scholten spoke to an excited, beyond-capacity crowd at the Iowa Democratic Wing Ding on August 9. I love everything about this annual fundraiser in Clear Lake's historic Surf Ballroom, except for the lack of Wi-Fi service.
C-SPAN posted all of the five-minute presidential candidate speeches with closed captioning transcripts, and the complete video from the evening is available on the Fox 10 Phoenix YouTube page. Mike Dec of the Blog4President website published photo galleries of all the speakers.
I left the Wing Ding with the same takeaways that have crossed my mind after almost every political event I've attended this year.

Most Iowa Democrats like multiple candidates.
This field is packed with talent. Most Democrats who have been paying attention recognize that and appreciate what various contenders bring to the table.
I haven't seen any candidate bomb in front of a live audience this election cycle. The Wing Ding crowd responded favorably to all the speakers, with Cory Booker, Pete Buttigieg, Kamala Harris, Bernie Sanders, and Elizabeth Warren drawing particularly enthusiastic ovations.
On social media platforms, the loudest advocates may trash their top choice's rivals, but hundreds of Iowans were on their feet Friday night cheering several candidates. They may have ruled out caucusing for some of them, but for the most part they don't feel hostile toward anyone in this field.
About three-quarters of the likely Iowa Democratic caucus-goers Selzer & Co surveyed in June for the Des Moines Register/CNN/Mediacom poll said "several" or "most" of the candidates should drop out of the presidential race. I often hear Democrats say they wish the field were smaller. On the other hand, talking with people before and after the Wing Ding, I heard many positive comments about candidates who are barely registering in public polls. That reinforced for me a second reality:
Most caucus-goers will decide late.
Drawing on his analysis of historical data and current polling, Bleeding Heartland author Dan Guild has been saying for months that the Iowa caucus race is wide open and likely to be volatile. As Dan noted in March,
More than half of voters in Iowa made up their mind in the last month in 2004 and 2008. Even in 2016, when there were after all only two candidates, 40 percent decided late. […]

Five of the last six leaders at this stage of the campaign lost the Iowa caucuses. […]

Since 2004, the ultimate winner of the Iowa caucuses has been below 5 percent at this point in the campaign three times.

Since 1980, the leader in Iowa has been under 30 percent at this point in the campaign five times. That leader has gone on to win once.
Although almost all recent Iowa polls have shown Joe Biden leading the field, his advantage over the others is small for a well-known front-runner. I am inclined to agree with Dan that based on recent polling, Biden will probably lose Iowa. Regardless of who finishes on top, I feel certain that a large share of caucus-goers will not make a final choice before January.
Again and again as I touch base with Democratic contacts, I hear them say they are seriously considering two or three or more candidates. These include some of the most engaged activists, people who were already volunteering as precinct captains by this point in 2003 or 2007. I would be happy with at least half a dozen of the options and may walk into my own precinct uncommitted on February 3, ultimately going to the corner where I can help make a good candidate viable.
In early July, Dan created this chart showing bounces during the first half of 2019.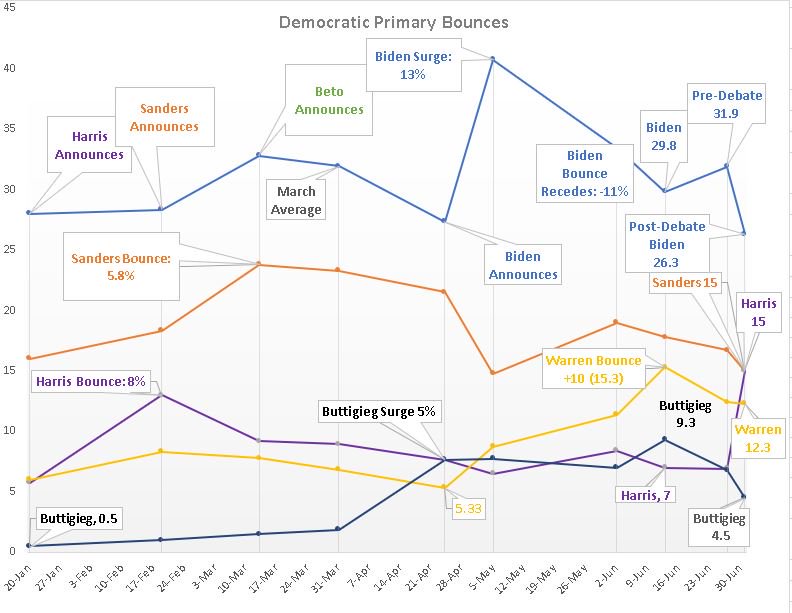 Expect more peaks and valleys in the coming months. Remember, Howard Dean was polling well ahead of John Kerry and John Edwards two to three months before the 2004 caucuses. It's way too early to guess which candidates will be on the rise in December and January, as larger numbers of Iowans come off the fence.
Does that mean anyone now polling below 5 percent could win Iowa? Not really.
Some candidates are better-positioned for a late surge.
The Democratic National Committee's rules on qualifying for televised debates will deprive roughly half the field from the opportunity to make their case to a large audience in September and October. Only nine candidates will definitely be on the debate stage this fall: Biden, Sanders, Warren, Harris, Buttigieg, Booker, Beto O'Rourke, Amy Klobuchar, and Andrew Yang. Julian Castro needs one more DNC-approved poll result to join them.
A few other candidates have raised enough money to pay for television advertising and direct mail to reach Iowans before the caucuses. But only John Delaney and Tom Steyer have the capacity to self-fund a statewide campaign for the next six months. A small number of donors gave more than $2 million to the super-PAC Act Now on Climate, which supports Jay Inslee. But it may become difficult to keep raising that kind of money if Inslee is excluded from future debates.
Not all the candidates who will remain part of the televised conversation have an equal chance of growing their support.
One of the most revealing figures from the last Selzer poll for the Des Moines Register, CNN, and Mediacom was the "actively considering" number. In early June, only five candidates were named as the first choice of more than 2 percent of likely caucus-goers (Biden, Sanders, Warren, Buttigieg, and Harris). The same five candidates were the only ones to hit 20 percent when both first and second choices were included.
But five more candidates (Booker, O'Rourke, Klobuchar, Castro, and Kirsten Gillibrand) exceeded 20 percent when first and second choices were added to all respondents who said they were actively considering them. Delaney wasn't far behind at 18 percent (1 percent each for first and second choice, 16 percent considering).
I hope Selzer will use the same question wording in her next poll, which should be in the field in September or October. While the toplines will grab the headlines, I'll be most interested to see how the "actively considering" number changed following the early debates and high-visibility events like the Wing Ding and the Des Moines Register Political Soapbox at the Iowa State Fair.
Obviously, a long-shot candidate who is actively considered by a third of Iowa Democrats has more potential for a late run than someone only 8 or 10 percent of caucus-goers are watching closely.
Any comments about the Iowa caucus campaign are welcome in this thread.
Top image: One of many standing ovations at the Iowa Democratic Wing Ding on August 9, 2019. This one was for Elizabeth Warren and was posted on the @iowawingding Twitter feed. Near the upper left corner, you can see the large photos of Buddy Holly (center), Ritchie Valens (right), and J.P. "the Big Bopper" Richardson (left) hanging in the Surf Ballroom, where those musicians played their last concert in 1959.