Urbandale Mayor Bob Andeweg recently changed his party registration and will manage Democratic State Representative John Forbes' 2020 campaign in Iowa House district 40.
Speaking at a fundraiser for Forbes in Lions Park on September 7, Andeweg said he's "been a Republican my whole life." Because he believes in nonpartisan local government, he has rarely spoken publicly about his party affiliation as mayor since 2005 or on the city council prior to that. Regarding his party switch, Andeweg said, "I truly believe this is where I need to be at this point in time."
He and Forbes have been friendly since the early 1990s, and Forbes managed Andeweg's first campaign for city council in 1999. He fell short in that effort but was later appointed to fill a vacancy, then won his next city council race and subsequently four terms as mayor. The two men "worked well together" when Forbes served on the city council, and Andeweg praised Forbes' ability to get things done in a Republican-controlled chamber.

He uses his influence where he can to help accomplish things, even though he's in the minority party in the House. He has a tremendous amount of respect as a pharmacist, and the knowledge he has on medical issues as a pharmacist. He has a tremendous amount of respect as a small business owner, and just being a good person.

And so he has a lot of influence, even though he's in the minority party.
Andeweg added that Forbes has always been responsive to his concerns, sometimes contacting him about pending legislation that could affect city government. Forbes "has a lot of respect for local control," and the majority's disregard for local control is one reason the mayor left the Republican Party.
This year, without any public input or analysis by nonpartisan staff, GOP lawmakers approved and Governor Kim Reynolds signed a far-reaching bill regulating local decisions on budgets and property taxes. The Iowa Policy Project's research director Peter Fisher described this "sweeping change to the way city and county governments fund public services" as follows: "In this one bill, the Legislature managed to enshrine minority rule, punish public-sector workers (yet again), penalize economic growth, and hamstring cities recovering from a natural disaster."
Other recent Republican policies that undermined local authority include a 2017 law revoking local governments' power to raise the minimum wage and a 2015 law prohibiting K-12 school districts from starting the academic year before August 23.
Forbes asked Andeweg to manage his campaign after Jerry Tormey passed away this summer. A legend among Urbandale Democrats and a mentor to activists in other central Iowa communities, Tormey managed Forbes' previous four House races. A statement of organization filed with the Iowa Ethics and Campaign Disclosure Board on August 31 lists Andeweg as chairperson of Forbes' committee.
Forbes announced another bit of news at the September 7 event: he will be the ranking House Democrat on the Health and Human Services Appropriations Subcommittee during the coming legislative session. House Minority Leader Todd Prichard chose him for the position previously held by Lisa Heddens, who stepped down from the legislature this summer to become a Story County supervisor. Forbes said he was "honored" to take over that role. The health and human services appropriations bill determines the largest share of the state budget and includes the Medicaid program.
---
Forbes has represented House district 40, covering the Polk County part of Urbandale, since winning an open-seat race in 2012.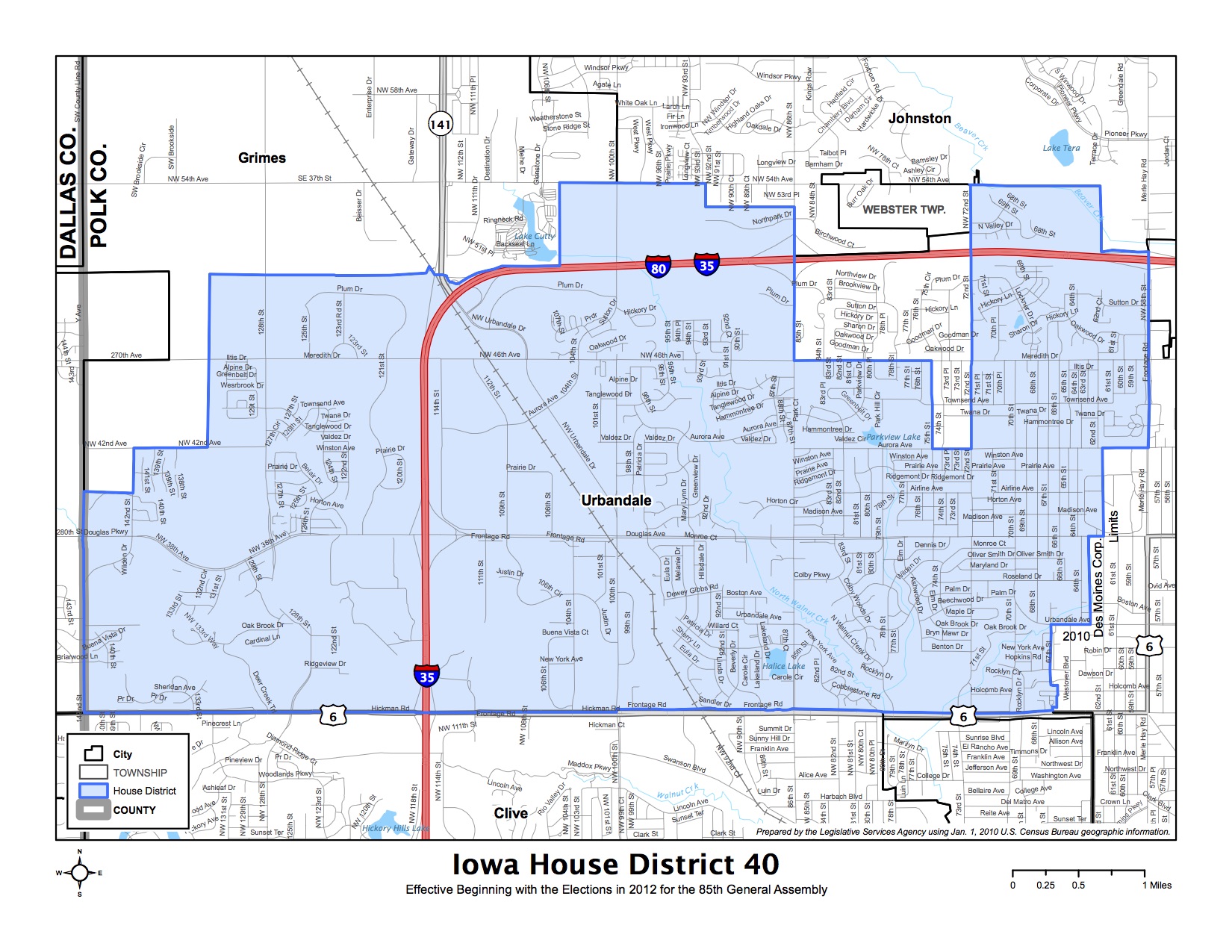 Republicans have struggled to recruit strong challengers here, given the incumbent's high name ID and support in the business community. Despite the GOP landslide in 2014, Forbes won re-election with more than 55 percent of the vote. He exceeded 56 percent two years later. Republicans did not field a candidate against Forbes in last year's midterm.
Like other suburbs of Des Moines, Urbandale was a Republican stronghold for decades but has been trending toward Democrats for some time. Mitt Romney slightly outpolled Barack Obama in the House district 40 precincts in 2012, 49.5 percent to 49.3 percent. However, Hillary Clinton received 50.3 percent of the vote in the district in the last presidential election, while Donald Trump gained only 43.3 percent.
Going into Forbes' first Iowa House election in November 2012, registered Republicans outnumbered Democrats in House district 40 by about 1,200. The gap was roughly the same in November 2014 but dropped to around 700 by the 2016 general election. Democrats gained the edge before the last midterm. The latest official figures show House district 40 contains 7,190 active registered Democrats, 6,908 Republicans, and 6,409 no-party voters.
Forbes will be heavily favored to win a fifth term in the legislature, even if he faces a GOP opponent.
UPDATE: Former Republican Party of Iowa State Central Committee member John Thompson commented via Facebook, "Bob as a Republican is the big reason the party couldn't recruit good challengers" against Forbes. When I posited that it won't be easier to recruit them now, Thompson replied, "It definitely will. I've been at that table."
Realities: Five Democrats picked up Republican-held House seats in the central Iowa suburbs last November.
I question whether a top-tier Republican in Urbandale will be eager to take on a well-liked Democratic incumbent, and I question whether House GOP leaders are willing to devote substantial resources to targeting House district 40 next year. They have better opportunities.
Top image: Bob Andeweg speaks at a fundraiser for John Forbes in Urbandale's Lions Park on September 7.