UPDATE: Hanusa announced in March 2020 that she will not seek re-election. Original post follows.
Democrats need a net gain of four seats to take control of the Iowa House after the 2020 elections. One seat that wasn't on the party's 2018 target list (but should have been) was House district 16, covering part of Council Bluffs. State Representative Mary Ann Hanusa had a close shave there, defeating Democrat Steve Gorman by only 114 votes, a roughly 1 percent margin.
Gorman is running for the Iowa Senate this cycle, but as of October 1, Democrats have a strong challenger for the House seat: Jen Pellant.

POLITICAL LANDSCAPE OF AN OBAMA-TRUMP-REYNOLDS DISTRICT
House district 16 doesn't include the more Democratic neighborhoods of Council Bluffs or Carter Lake.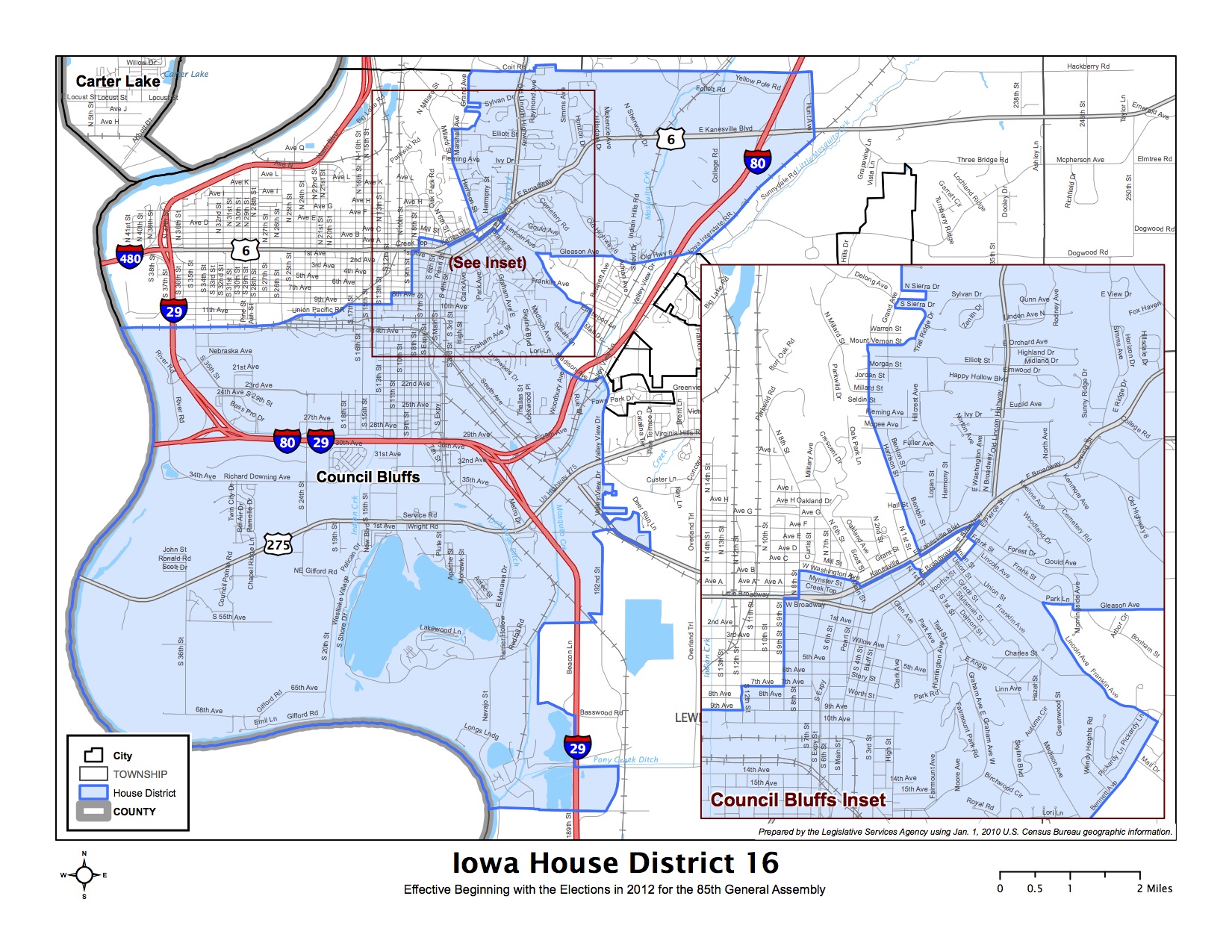 On paper, Republicans have a slight advantage. The latest official figures show House district 16 contains 5,037 active registered Democrats, 5,727 Republicans, and 6,356 no-party voters.
Like many other Iowa legislative districts, this part of Council Bluffs swung heavily toward Republicans in 2016. Barack Obama had carried the precincts in House district 16 by 52.0 percent to 46.5 percent for Mitt Romney. Four years later, Donald Trump won 51.8 percent of the vote here, compared to 41.8 percent for Hillary Clinton. But Governor Kim Reynolds only narrowly carried the district in 2018, with 49.8 percent to 47.4 percent for Fred Hubbell.
Hanusa won her first four terms in the Iowa House by comfortable margins. Gorman wasn't expected to make this race so close in 2018. Republicans spent only about $83,000 on direct mail, radio, and digital advertising for Hanusa. They spent several times as much in House districts they were afraid of losing.
BACKGROUND ON THE CANDIDATES
Hanusa has deep roots in Council Bluffs, where her family operated a successful hardware business for generations. She was born and raised in the city, and returned to the area after completing her higher education, working in Senator Chuck Grassley's office. She spent several years in Washington, DC, leading the Office of Presidential Personal Correspondence in George W. Bush's administration. Hanusa moved back to Council Bluffs again in 2006 to run for Iowa secretary of state, losing to Democrat Michael Mauro by 53.6 percent to 46.3 percent. Her first legislative race was in 2010, when she was a last-minute substitution for a Republican lawmaker who retired.
Hanusa's official bio notes she has led the Pottawattamie County Republicans, "served as president of the Friends of the Union Pacific Railroad Museum and chaired the fundraising effort to create the Museum in the Carnegie Library Building."
To my knowledge, Hanusa has not publicly confirmed plans to seek re-election in 2020. She and soon-to-be-former House Speaker Linda Upmeyer weren't always on good terms, and some sources speculated she might retire during the last cycle. Hanusa was one of six House Republicans who voted against the 2017 bill shredding public employees' collective bargaining rights, presumably because of her education background. She is a school administrative manager for the Council Bluffs Community School District.
Hanusa was also one of the final GOP holdouts on a so-called "water quality" bill backed by the Iowa Farm Bureau. A group of Republicans kept that legislation bottled up in the House in 2017, but after much arm-twisting between legislative sessions, the House approved the bill in early 2018. Only four Republicans including Hanusa voted against the final version.
After chairing the Economic Growth Committee for six years, beginning in 2013, Hanusa was put in charge of the Government Oversight Committee before the 2019 session.
I assume Hanusa intends to seek a sixth term, because during this year's legislative session, she introduced a bill to make life difficult for third-party candidates (more on that below).
Jen Pellant became the first declared Democratic candidate in this district on October 1. Here's her news release:
COUNCIL BLUFFS — Jen Pellant, a human resources professional and the product of the Lewis Central public schools, where her parents taught and coached for years, today announced her candidacy for Iowa House District 16. Her primary focus is elevating the interests of educators and students in Iowa, from pre- kindergarten through college.

"First and foremost, I want to talk about advancing education, because that's a big part of what makes this community and state great," Pellant said. "We need trained and talented people in Iowa and must empower our educators to develop future generations." That means, Pellant says, fighting to protect IPERS from those who would break promises to thousands of public servants. She supports collective bargaining and organizing rights for Iowans in the workplace as well.

On another urgent issue, Pellant supports returning Medicaid management to the state to ensure people- first care and effective oversight of essential services. "People with disabilities and other vulnerable Iowans are suffering because the governor and Legislature allowed managed-care organizations to make catastrophic changes to Medicaid," Pellant said. "We need to return that system back to the state, which managed it by putting people over profits, and did so less expensively and more efficiently than the MCO's."

A defining feature of Pellant's campaign will be strong advocacy for the environmental restoration of Iowa's land, water and air quality. "We may be a divided state politically, but we all breathe the same air," Pellant said.

Pellant, 47, a Democrat, is a graduate of Lewis Central High School. She went on to earn her bachelor's degree from Simpson College in Indianola and a law degree from the University of Iowa School of Law. She is a daughter of Erwin and Jan Pellant, retired, long-time Council Bluffs teachers. Jen Pellant worked for years as a human resources manager for a Chicago-area restaurant chain and then a steel-fabrication company. She returned to her hometown last year to serve as a field organizer for the Democratic presidential campaign of former Maryland Congressman John Delaney.

"Politics can't just be about ideas. It has to be about making real change that people need. In knocking lots of doors here, talking to Democrats, Republicans, and Independents, I've heard first-hand about the hopes and the struggles of so many people in our city, and it would be an honor to advocate for them in the Statehouse," Pellant said.
Other Democrats may join the field before the filing deadline next March. It's easy to qualify for the primary ballot for an Iowa House race; candidates need to collect only 50 valid signatures from eligible voters in the district.
WHY THE RACE SHOULD BE COMPETITIVE
Since Senate district 8 is one of the top Democratic targets in the upper chamber, I expect both parties to invest heavily in GOTV throughout Council Bluffs next fall.
While House district 16 may not be in the top tier of Democratic pickup opportunities in the lower chamber today, the party is unlikely to repeat last year's mistake of overlooking the race. Gorman had to raise all of the $24,000 the Iowa Democratic Party spent on his behalf, while some other challengers received support worth hundreds of thousands of dollars. If Pellant can demonstrate strength on the ground, she should get more financial assistance with mail and paid advertising. On the other hand, Republicans may also spend more on Hanusa's behalf, now that they know she is vulnerable.
Assuming Hanusa runs again, she will be hoping for a strong turnout among Trump supporters. She rarely posts on her Facebook page but praised the president after his rally in Council Bluffs in June. It's far from clear that Trump will repeat his large 2016 margin in districts like this one, though. Few of this year's Democratic presidential contenders would be as polarizing as Clinton was.
The Libertarian Party could become a factor in this race. Libertarian candidate Steve Sechrest received 208 votes in November 2018, more than the difference between Hanusa and Gorman. The Republican lawmaker reacted by trying to limit her future political competition. Hanusa introduced a bill this year to force minor-party candidates to file for legislative seats in March, rather than allowing them to qualify for the ballot during the summer. Though that proposal didn't pass as a stand-alone measure, its provisions made it into a larger election bill that became law.
The Libertarian Party of Iowa and its prospective 2020 U.S. Senate candidate Jake Porter (who happens to live in Hanusa's district) have filed suit in federal court challenging Iowa's new early deadline for third-party candidates. For reasons Bleeding Heartland discussed here, I think they have a strong case. Regardless of how that lawsuit turns out, Libertarian activists will be highly motivated to try to unseat Hanusa next year.
UPDATE: Porter tweeted in response to this post, "I haven't ruled out helping one of the announced candidates or even running myself as a Libertarian. I talked to a man who wants to run as a Constitution Party candidate."
Top image: State Representative Mary Ann Hanusa on the left, Democratic candidate Jen Pellant on the right.