My father used to say the most optimistic person is the guy on the brink of bankruptcy. He's always thinking the next sale or the next deal will turn everything around.
Cory Booker remained "incomprehensibly upbeat" on the campaign trail, in the words of Rebecca Buck, who spent a year covering him for CNN. The senator from New Jersey wasn't just another unsuccessful candidate falling for his own spin. Booker made believers out of many who were closely watching the campaign.

For most of the last year, I anticipated the next round of Iowa polls would show Booker gaining strength. He performed well in every debate for which he qualified. He had many "grasstops" endorsers, such as local elected officials and activists who were influencers in their communities. He attracted big crowds. His stump speech was well-received. He connected with people on an emotional level, whether at multi-candidate events or smaller house parties. He seemed to be steadily converting caucus-goers, "#BrickbyBrick," as his large and dedicated campaign staff would say in a favorite hashtag.
I wasn't the only one continually expecting the surge that never materialized. Although a dozen accomplished politicians failed to gain traction in this presidential field, no one inspired more "Why isn't he doing better?" pieces than Booker (see here, here, here, here, here, and here). That Booker wasn't breaking through was an "ongoing subject of puzzlement among political journalists," Edward-Isaac Dovere wrote in November, given that he "reliably gives the best speeches to the most thunderous ovations" at Democratic gatherings.
Those pieces have covered the ground well, but I want to add a few non-scientific observations about factors that held Booker back in Iowa.
COMPETING FOR ONLY HALF THE PIE
Hillary Clinton and Bernie Sanders battled to a draw in the 2016 caucuses. Booker came here last cycle as a surrogate for Clinton. (He had endorsed Barack Obama eight years earlier.) Observers described one of his Iowa speeches for Clinton as "electric."
Anecdotally, Booker's support in Iowa has come almost entirely from those who caucused for Clinton in 2016. He's been competing with many others for that group, most notably Joe Biden, Kamala Harris, and Amy Klobuchar.
In contrast, Elizabeth Warren and Pete Buttigieg have both attracted many rank and file Democrats as well as high-profile endorsers from both the Hillary and Bernie camps.
Sanders is appealing primarily to one half of the 2016 Iowa Democratic electorate, but he's held onto enough of his past supporters to be slightly ahead, tied for the lead, or in second place, depending on which opinion poll you believe. The Sanders campaign also appears to be mobilizing lots of Iowans who have never attended a caucus before. Those who had committed to caucus for Booker were more likely to be "usual suspects." I rarely heard of a Booker fan who was old enough to vote in 2008 or 2016 but hadn't caucused.
WALL STREET, PHARMA, AND CHARTER SCHOOLS
Booker's among the most progressive U.S. senators, according to Progressive Punch analysis of his voting record (methodology described here). His lifetime overall score ranks seventh and is barely distinguishable from that of Warren (second), Harris (fifth), and Sanders (eighth).
Looking only at what Progressive Punch calls "crucial votes," where Democratic defections from the progressive position were particularly important, Booker ranks tenth, not far behind Harris (second), Warren (third), and Sanders (eighth).
Activists often lump Booker in with the "moderate" presidential candidates, but he's noticeably more liberal than two other senators now running for president. Klobuchar is the 32nd most progressive member of the Senate Democratic caucus on "crucial votes" and 28th if you look at her overall voting record. Michael Bennet is 36th overall and 38th if you look at crucial votes.
Why isn't Booker perceived to be among the more progressive presidential candidates?
In part, it's because his message has centered on unifying the country rather than fighting conservatives or corporate power (more on that below).
In addition, detractors have incessantly highlighted three parts of Booker's biography in real-world and social media conversations:
Booker benefited from many Wall Street donors during his first mayoral campaign in Newark as well as for much of his 2012 Senate campaign fundraising.

Railing against Wall Street greed and corruption is a running theme throughout Sanders' and Warren's stump speeches, and those lines resonate with a lot of caucus-goers.
As a senator, Booker has received a lot of campaign contributions from the pharmaceutical industry or people who work for drug manufacturers. He has cast a couple of high-profile votes perceived to be protecting the industry, in particular against an amendment Sanders and Klobuchar offered in 2017 on prescription drugs from Canada.

I view such votes as a small part of Booker's generally progressive record and comparable to Sanders voting to grant gun manufacturers immunity from lawsuits, or Iowa's beloved Senator Tom Harkin sometimes aligning with Big Ag. The pharmaceutical industry is a major employer in New Jersey. Members of Congress typically don't target economic powerhouses from their home states. Anyway, Jeff Stein of Vox explained in this backgrounder that the drug importation amendment was "mostly symbolic."

But health care reform is a hugely salient issue for Iowa caucus-goers. The senator "fully embraced a pivot with regard to pharma" as he laid the groundwork for his presidential bid, Lev Facher reported for STAT news last February. Nevertheless, a lot of Democrats wrote Booker off for his perceived ties to the industry.
As mayor, he backed public charter schools in Newark. Teachers and other public sector workers are a huge part of the Democratic base in Iowa. They've been pounded the last few years by our Republican trifecta. I couldn't possibly count the number of times critics raised this issue in the comments under some favorable Facebook post about Booker. The candidate has emphasized that his administration only supported public charters and closed ones that weren't performing well. But charter schools are an immediate deal-breaker for many education advocates.

Side note: As Newark mayor, Booker "drew public unions' ire in 2011" by supporting Republican Governor Chris Christie's "plan to cut health and pension benefits for teachers and government workers," Matt Katz reported for the Philadelphia Inquirer in 2013. For whatever reason, I rarely saw that talking point used against Booker, compared to his purported ties to Wall Street, pharmaceutical companies, or charter schools.
PETE BUTTIGIEG
Some of the "why isn't Booker doing better" takes have suggested that an uplifting, unifying message was out of sync with an angry Democratic base, in the mood to fight Trump. But the rise of Buttigieg undercuts that hypothesis.
David A. Graham was one of the first to notice last spring how Buttigieg was "using Cory Booker's playbook." Every time I saw the candidates this past year, either in person or on televised town halls, I was struck by the similarities in their pitches. They were tapping into the same energy. A number of volunteers for Buttigieg or Booker told me their favorite in the field made them feel hopeful.
If you haven't seen Booker or Buttigieg speak yet, check out the candidates' remarks at the Iowa Democratic Party's Liberty and Justice celebration. Both prompted huge cheers and applause, not only from their own supporter sections.
As one of the higher-polling candidates, Buttigieg was able to speak earlier in the evening, when some 13,000 Democrats were in the arena. Full video:
Booker was the third to last candidate to speak. Thousands had left the building, but that hall got very loud anyway. Full video:
Here are links to full transcripts of that night's speeches by Booker and Buttigieg. I took the following excerpts from those transcripts.
Buttigieg:
But I didn't just come here to end the era of Donald Trump, I am here to launch the era that must come next.

Because in order to win and in order to lead, it's going to take a lot more than the political warfare we have come to accept from Washington, D.C.

We already have a divider in chief. I am offering a White House that you can look at on the news and feel your blood pressure go down a little bit instead of through the roof.

I am asking you to picture that first day the sun comes up in this country and Donald Trump is no longer the President of the United States.
Booker:
"I see you, I love you" — and I'll tell you right now in this election, there are those people who think it's naive to think that this election is most importantly about our values, about our ideals — but I tell you, that is where our strength will come from, that is where our power is. And it's our connections to each other, or ability to pull together coalitions and unify around our highest ideals, this is how we have always accomplished things in this nation. […]

It's not how much money a person has or how much you tear down another Democrat. This, this is going to be decided by who can best call us to our common aspirations, who can best inspire us to be the truth of who we are. We don't abandon our values during trials, we double down on them.

This election for us Democrats, everyone that's come out here has told you how much they don't like Donald Trump. But Democrats, this election will not be defined by what we're against, but by what we're for. […]
Buttigieg:
I am running to be the President who will stand amid the rubble, pick up the pieces of our divided nation, and lead us to real action to do right by Americans who have waited far too long.

I am ready to gather up an American majority that is hungry for change, that is done with division.
Booker:
This election, as much as the differences in policy are between fellow Democrats, they're small compared to what is between us and what's between this person in office. And this is a moral moment in America. We as Democrats have to call this whole country to higher aspirations, with a president that tries to divide us, the end for Democrats shouldn't be to beat Republicans. The calling of this party must be to unite Americans again in common cause and common purpose. […]

The pundits will tell us Democrats, they'll say things like, well, you know, Democrats, according to our fancy polls, the number one thing Democrats want is just someone who can beat Donald Trump.

Well, they don't know us. Democrats, beating Donald Trump is the floor, it is not the ceiling.

Beating Donald Trump gets us out of the valley, it does not get us to the mountain top. We are a nation that has always aspired to turn our common pain into common purpose. We are a nation that understands, from the founding of our nation, the world's oldest constitution starts with that word "we."
Buttigieg:
The American people are ready to get this done, to stand with our teachers, to let people of faith know that in our White House you won't have to shake your head and ask yourself "Whatever happened to 'I was hungry and you fed me, I was a stranger and you welcomed me, whatever you did to the least of these you did to me?'"

I will not waiver from my commitment to our values or back down from the boldness of our ideas. But I also will not tire from the effort to include everyone in this future we are trying to build — progressives, moderates, and Republicans of conscience who are ready for a change. The time has come.

We will fight when we must fight, but I will never allow us get so wrapped up in the fighting that we start to think fighting is the point. The point is what lies on the other side of the fight. And what lies on the other side of that fight is the hope of an American experience defined not by exclusion, but by belonging. That is what we are here to deliver.

And if talking about hope and belonging sounds optimistic to you for a time like this, fine call it optimistic, but do not call it naive. Because I believe these things not based on my age, but based on my experience.
Booker:
"We the people." My parents' generation, they marched together and joined together and understood that their slogans, that their songs, began with "we shall overcome." And now, as a nation, how we ensure that we unite our country, that every day, a president who engages in moral vandalism is trying to tear apart, the way we aspire not just to beat him but to go to a mountain top, is the way our ancestors did.

Whether it was Kennedy that pointed to the moon or King that pointed to the mountaintop, we joined together and said, "We will rise."

We have seen hate before. We have seen bigotry before, but when others have tried to beat us down, at Stonewall or beat us back on the Edmund Pettus Bridge, we didn't turn against each other, we unified together and said, "We will rise."

I'm running for president to unify our whole party — from those who call us progressives and divide us into camps as moderates — we need all Democrats, together, to call to this country, to stand together, to work together, to rise together.

It is time now that we call for those broader coalitions, that we call to the heart and the aspirations of this country. Because if I am your nominee, I will inspire, engage, and ignite this nation like no other nominee can.
Closing remarks by Buttigieg:
That's why I believe in this country. Iowans, I am asking for you to caucus for me on February 3rd because I know what the presidency is for. Because we know that the purpose of the presidency is not the glorification of the president, it is the unification of the American people. That is why we have the office.

So Iowa, are you ready to bring this country together?

Are you ready to turn the page to a new era together?

Then let us make history together, and we will have a lot to celebrate in November of next year, and we will know where to go from there.
Closing remarks by Booker:
We're not defined by Donald Trump, we're defined by the love between us. And when they try to demean and degrade with darkness, we bring light. When they try to divide with hate, we bring love. Remember the words of that great American poet, Maya Angelou. To use her phrase that we all know, he may try to write us down in history with his bitter, twisted lies. He may try to trod our nation in the dirt, but still, like dust, we will rise. Iowa, I see you, I love you.

Let us join together. Join with me, we will rise together. Our best days are ahead, we will rise together. Iowa, I see you, I love you. I see you, I love you.

Together, we will rise.
Both Buttigieg and Booker are exceptionally gifted communicators. There may be many reasons the South Bend mayor managed to get two bounces and reach the top tier, while the New Jersey senator couldn't poll well enough to qualify for the December or January debates. I believe race is a significant factor.
RACE
Some Bleeding Heartland readers reacted negatively to Athena Gilbraith's commentary last month, "We've failed Cory Booker."
It's not difficult to see exactly why Cory Booker isn't doing better in the polling. It's just difficult for Iowans to admit — It's race. It is race, it is race, it is absolutely race.
Hang on, some objected. Iowa Democrats launched Barack Obama toward the 2008 nomination. And Booker hasn't been polling better in more diverse South Carolina than in mostly-white Iowa and New Hampshire.
That may be true, but given the persistently low polling numbers for Buttigieg among people of color, it's evident he could not be contending for the lead if the first nominating contest were happening in a more diverse state. A white Midwesterner has a better chance of breaking through in a place like Iowa.
Communications researchers will have a field day studying the media coverage of this campaign. To cite one of many examples: Amanda Terkel of the Huffington Post found that although Booker and Pete Buttigieg were both Rhodes scholars after graduating from elite universities, news accounts of Buttigieg mentioned the prestigious academic award much more frequently.
The focus on electability in much of last year's reporting on the presidential race may have also indirectly pushed voters toward white contenders. I believe Booker would have been a strong general election candidate against Trump–in fact, I was leaning toward caucusing for him myself. But he regularly encountered doubters. He told the New York Times in October,
"I've had lots of crazy things said to me, like, 'Is America ready for another black president?'" Senator Cory Booker of New Jersey said in an interview. "And I'm confident it's never been asked of a white candidate, 'Is America ready for another white president?'"
One other point that may have influenced Iowa caucus-goers: since the U.S. has already had a black president, some Democrats might focus on breaking a different barrier this cycle, by electing the first woman or the first openly LGBTQ president.
Hours after suspending his campaign on January 13, Booker told Rachel Maddow that he wouldn't change how he ran the race. He speculated that he wasn't good enough to get his message through. Every time I saw him speak, he connected well with the audience.
My heart goes out to all of Booker's disappointed supporters and volunteers, and especially to the staffers who worked so hard. As I wrote a couple of months ago when another promising contender left the race, please know that the time and effort you put into boosting your candidate was not wasted.
I leave you with one of my favorite images from the Liberty and Justice event. Campaign operations director Haley Hager was responsible for the hand-made light-up signs.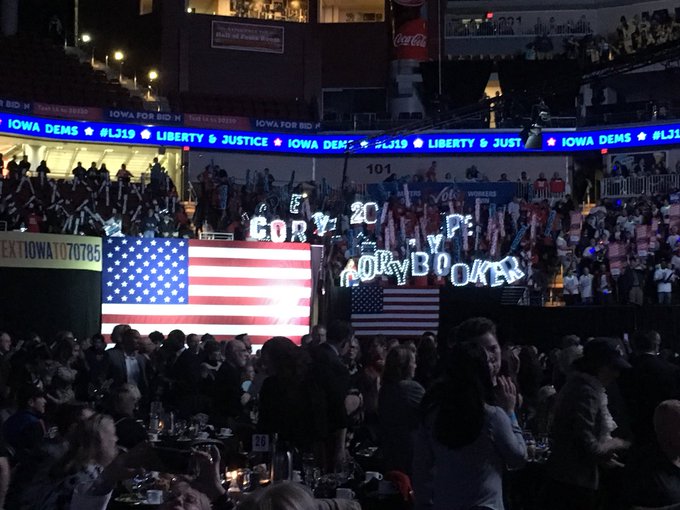 Top photograph by Emilene Leone, published with permission: Cory Booker speaks in Clinton, Iowa, on May 26, 2019.