Occupational Safety and Health Administration (OSHA) staff conducted on-site inspections of two more Iowa meatpacking plants this week, the Iowa Division of Labor confirmed to Bleeding Heartland on June 2.
Documents provided the following day show regulators closed at least four coronavirus-related complaints against Iowa pork processors with no inspection.
Inspectors toured the Tyson Foods turkey plant in Storm Lake and the Perdue Premium pork facility in Sioux Center on June 1. Both site visits stemmed from "media referrals" rather than complaints, meaning officials acted on unspecified news reports or information relayed to OSHA by a journalistic source.

Numerous media outlets reported on COVID-19 spread in those areas last week after cases skyrocketed in Buena Vista County (containing Storm Lake) and the Iowa Department of Public Health confirmed outbreaks at Perdue's facilities in Sioux Center and Sioux City.
NEW VISITS MAKE SEVEN COVID-19 INSPECTIONS OF IOWA MEATPACKERS
As Bleeding Heartland exclusively reported on May 29, OSHA had previously conducted on-site inspections of five Iowa food processing facilities: the Tyson pork plant in Waterloo (April 20), the Tyson pork plant in Columbus Junction (April 30), Iowa Premium Beef in Tama (May 21), the JBS pork plant in Marshalltown (May 21), and the Tyson pork plant in Perry (May 26). A complaint filed by Democratic lawmakers prompted the Waterloo inspection; the others were media referrals.
Tyson Foods announced on June 2 that 591 of the 2,303 employees at its Storm Lake pork plant tested positive for COVID-19, "more than 75 percent of whom did not show any symptoms and otherwise would not have been identified." The company also disclosed that 224 of the 1,483 employees at the company's beef and pork facility in Council Bluffs have tested positive.
Tyson has not clarified whether workers at its Storm Lake turkey plant have been tested for coronavirus and did not respond to Bleeding Heartland's inquiries.
Perdue Premium initially disclosed on April 30 that a Sioux Center employee had tested positive, Nwestiowa.com reported. The company told KMEG-TV on May 11 that some of its Sioux City and Sioux Center employees had the virus, but fifteen days passed before state officials announced the Perdue cases met the Department of Public Health's definition of a workplace outbreak (at least 10 percent of the workforce confirmed positive or absent due to illness).
Gary Malenke, the company's senior vice president of pork operations, said in a written statement provided to Bleeding Heartland on June 3,
"OSHA came to Perdue Premium's Sioux Center facility on June 1 for a tour to see all the policies we have in place (see 4 circles attachment). The steps were well received and all guidelines had been met and in many cases exceeded. There were no citations. Being a smaller plant, team members know each other well and we have been able to act quicker and more proactively to make changes to better protect our staff. Our employee health and wellbeing is of the utmost importance and we are regularly looking for more ways we can support our associates, their families and the local community during these unprecedented times."
Perdue employs 240 people in Sioux Center. The full document outlining the company's COVID-19 mitigation policies is at the end of this post.
HIGH CASE COUNTS ASSOCIATED WITH MEATPACKING
The outbreak at Tyson's pork plant is the primary reason Buena Vista County tops the list of Iowa counties for coronavirus cases per capita. The latest available figures from the state's website show 849 individuals--more than 4.2 percent of the county's 19,620 residents--have been confirmed positive.
Louisa County, where Tyson's Columbus Junction plant is located, and Crawford County, site of multiple meatpacking facilities in Denison, rank second and third in per capita cases, with more than 3 percent of residents testing positive. The eleven Iowa counties where more than 1 percent of the population is known to have COVID-19 all contain large food processing facilities.
Meatpacking is among the country's leading vectors for virus spread, due to close working conditions and sometimes inadequate personal protective equipment in facilities that may employ thousands of workers. People of color including many immigrants comprise a large share of the industry's workforce, leading to disparities in COVID-19 infections and deaths.
As of June 3, Latinos make up 27 percent of Iowa's confirmed cases; only 6.2 percent of Iowans are Latinos. About 26 percent of Buena Vista residents are Latinos, the highest percentage for any Iowa county. African Americans and Asians or Pacific Islanders now make up about 11 percent and 9 percent of the state's COVID-19 cases, respectively, far exceeding those groups' share of the state population (4.0 percent and 2.8 percent).
At a May 27 news conference, Governor Kim Reynolds indicated she was not considering any additional restrictions on businesses or gatherings in COVID-19 hot spots like Buena Vista County. The governor said State Medical Director Dr. Caitlin Pedati was monitoring the situation, and officials would focus on "managing and containing the virus" through a combination of testing, contact tracing, and case investigation.
OSHA HASN'T INSPECTED ALL MEATPACKING PLANTS SUBJECT TO COMPLAINTS
Ryan Foley of the Associated Press was first to report on May 18 that regulators closed a complaint against Tyson's Perry plant without visiting the facility.
Under Iowa's open records law, Bleeding Heartland requested records on OSHA complaints against food processing facilities related to the COVID-19 pandemic. Documents provided on June 3 indicate OSHA has closed four cases where complaints alleged workplace conditions put employees at risk of contracting the virus. Each time, officials determined the company's written response was "satisfactory."
Inspectors did not visit any of the following facilities before closing the cases:
JBS/Swift Pork Ottumwa (click here to view or download documents)
JBS/Swift Pork Marshalltown (documents)
Smithfield Foods Denison (documents)
Tyson Perry (documents, email correspondence)
As discussed here, media referrals later led to on-site inspections in Perry and Marshalltown, but not in Ottumwa or Denison, at this writing.
The total number of OSHA complaints linked to COVID-19 remains unknown. The Iowa Division of Labor withheld documents related to cases that are still open, which include the one regarding Tyson's Waterloo plant. The state legislators made that filing public themselves on April 19.
I have asked why OSHA has not visited every meatpacking facility that was subject to a COVID-19 related complaint and will update this post if I hear back.
This table shows some county-level data from the state's coronavirus website on June 3, sorted by cases per capita. I added words in red to indicate meatpacking plants OSHA has visited and words in green to note sites not inspected in person, despite complaints filed.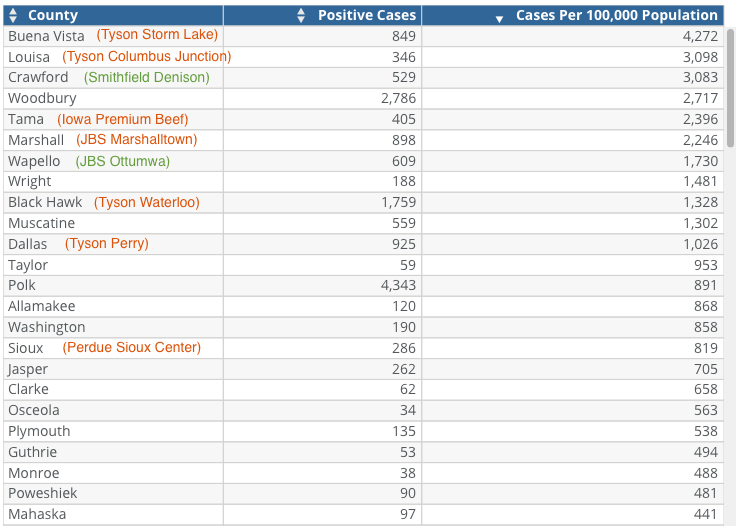 UPDATE: I sought comment from all members of Congress on OSHA's approach to this problem. U.S. Representative Cindy Axne, whose district includes Perry, responded,
"It is completely unacceptable that we are seeing more instances where Iowa OSHA failed to thoroughly investigate workplace complaints from our meatpacking plants with an on-site inspection. It is frankly baffling to me that, given how well understood the risks of these workplaces were, that there is not a policy in place that would mandate robust follow up if a complaint from one of these plants was received. Iowa workers – and their families – cannot be assured that they are safe so long as they think the agency charged with their protection will not take them seriously. They deserve a clear explanation for why Iowa OSHA wouldn't want to see for itself what's happening in our plants."
Representative Dave Loebsack, whose district includes Ottumwa, had this to say.
"First and foremost, worker safety must be our number one priority. As these processing plants reopen, OSHA has an important job to ensure workers stay safe in order for the plants to keep running. Whether OSHA receives complaints from employees working in a facility, or through media referrals, it absolutely must do its job and verify that these workplaces have taken the necessary precautions to keep the workers safe."
___________________________
---
Appendix: "Four Circles of Safety" document provided by Perdue Premium Pork