Less than a month into the new academic year, Iowa state officials changed guidance on student absences in a way that will make it difficult for school districts to hit a key metric for transitioning to online learning.

THEN: "ALL STUDENTS WHO ARE ABSENT DUE TO COVID-RELATED REASONS"
The Iowa Department of Education and Iowa Department of Public Health announced on July 30 that school districts would be able to request a temporary shift from in-person to remote learning if two conditions were met: at least 15 percent of COVID-19 tests conducted in the county over the past two weeks came back positive, and at least 10 percent of students were absent due to illness.
A "frequently asked questions" document published on August 14 included the following explanation:
How should the absenteeism rate be calculated? Should it only include ill students, also include students who are in quarantine/isolation, or any kind of absence?

Absenteeism rate should include all students who are absent due to covid-related reasons - including illness, quarantine and isolation.
Within days of schools reopening across the state, districts began disclosing positive cases and classrooms quarantining for the recommended fourteen days.
NOW: "DO NOT COUNT" STUDENTS QUARANTINING AT HOME
The Department of Education organizes regular webinars for school administrators on COVID-19 related issues. The most recent recording on September 3 was aimed at school nurses and featured State Medical Director Dr. Caitlin Pedati and Dr. Ann Garvey, deputy state epidemiologist. Garvey walked through a PowerPoint including this slide, instructing nurses to count as absent only confirmed COVID-19 cases and students isolating due to symptoms or a COVID-19 diagnosis.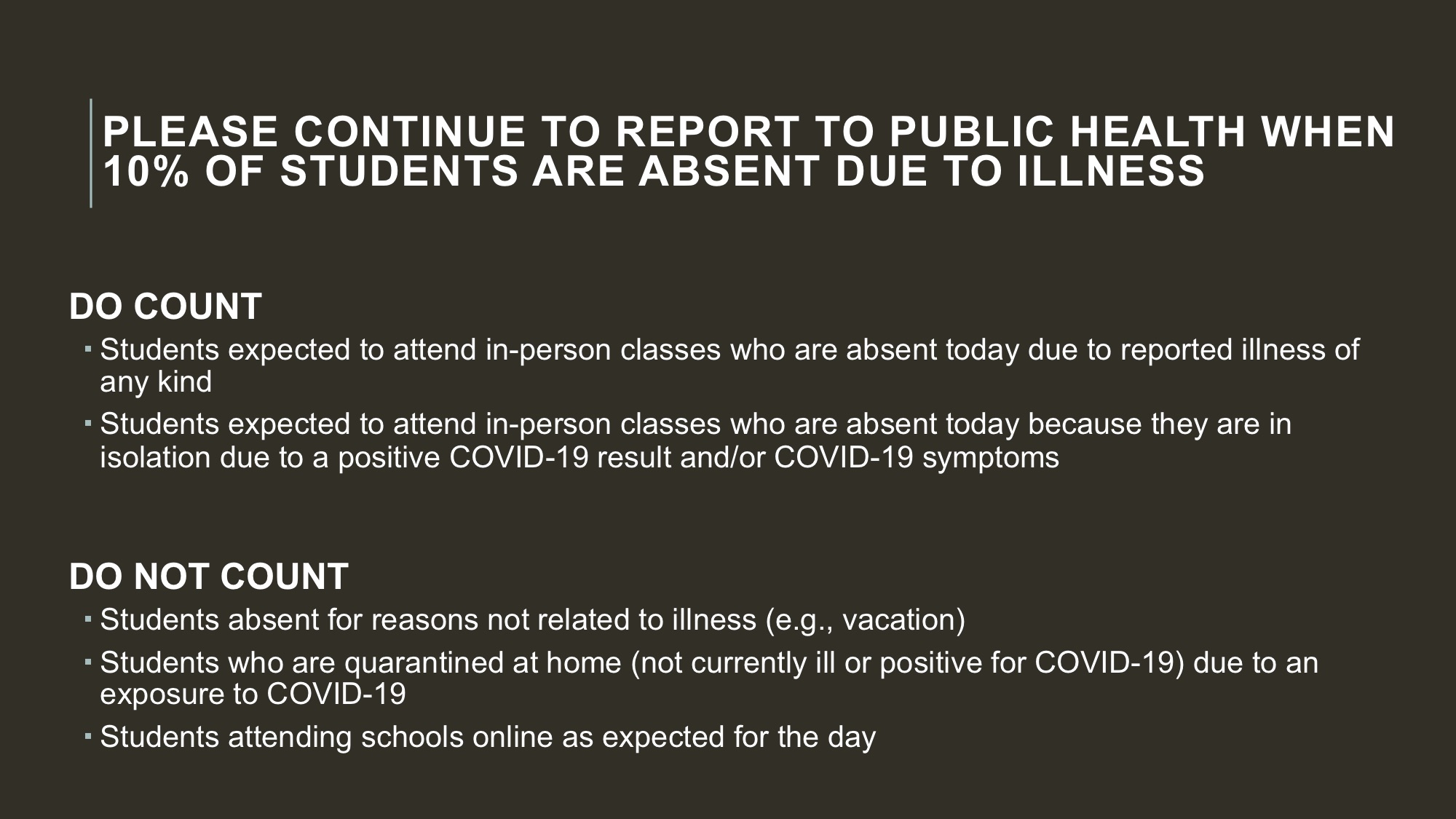 Here's the key clip. After Garvey walked through the reporting criteria, Amy Williamson of the Iowa Department of Education said, "We're going to clarify that guidance" from the FAQ "based on some of the things that Dr. Garvey's talking about now."
An undated document now appears on the IDPH website: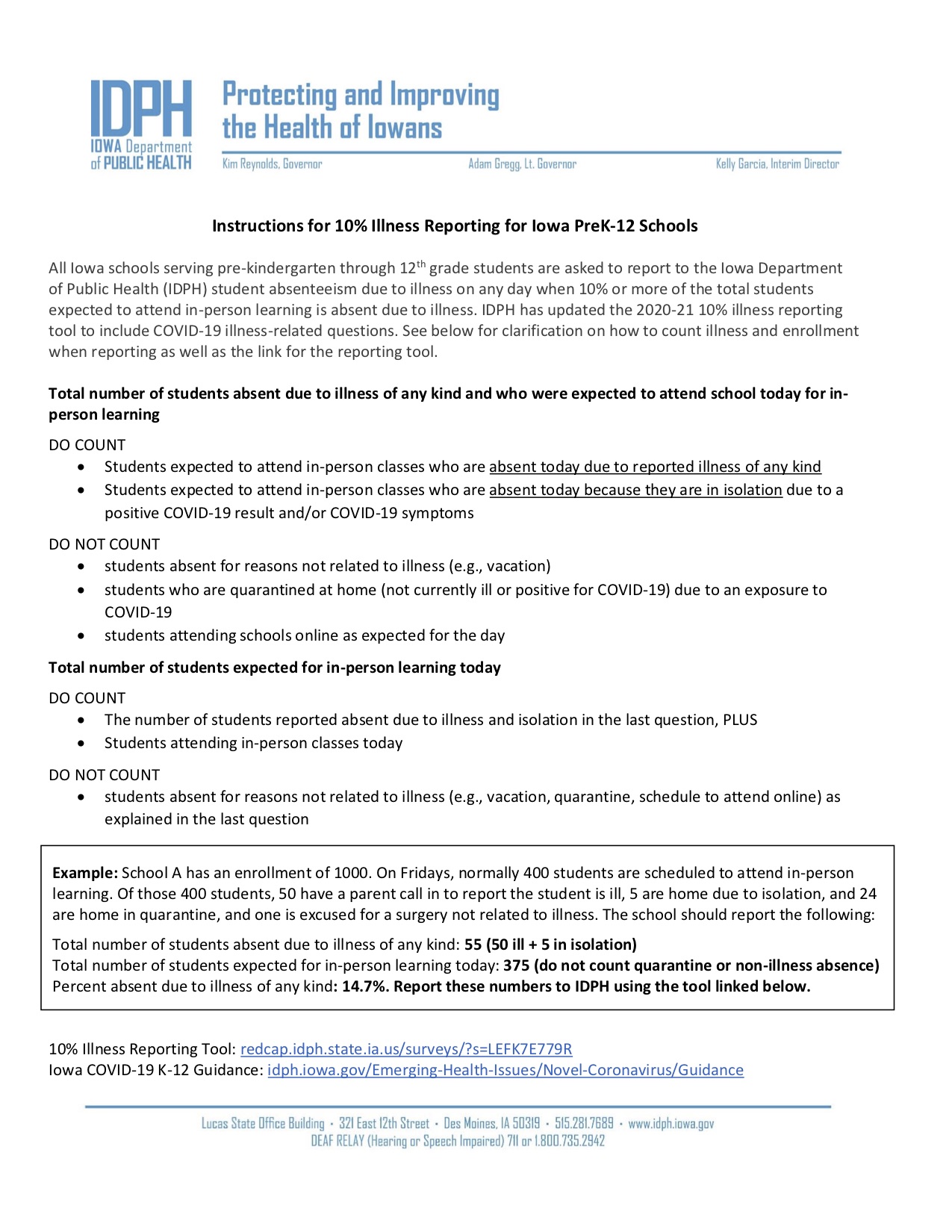 Communications staff for the IDPH and governor's office did not respond to inquiries about who decided that quarantining students should no longer be counted as absent.
Department of Education spokesperson Heather Doe said in a September 8 email,
That's an older FAQ document that needs to be updated. The Department of Education and IDPH believe that the absenteeism due to illness only applies to individuals who are ill and not healthy students participating in remote learning opportunities. Absenteeism is only one factor considered whether a school can be moved temporarily online, and the Department of Education has already granted waivers to schools who have not met the 10% absenteeism threshold.
The department approved a request from Twin Cedars on August 25, due to a high positivity rate in Marion County and "a large number" of school district employees who tested positive or were in quarantine. Soon after, state officials granted waivers to the Ames and Iowa City school districts based on high positivity rates in Story and Johnson counties. Those districts had no absenteeism data to report, since they had not yet begun the school year.
Nevertheless, the policy of not counting quarantining students as absent will undoubtedly make it harder for schools to hit the 10 percent mark.
"THIS CHANGE IN THRESHOLDS IS VERY CONCERNING"
Dr. Megan Srinivas, an infectious disease specialist in Fort Dodge and Atlantic Fellow for Health Equity, told Bleeding Heartland on September 8,
This change in thresholds is very concerning. There hasn't been any change in the data to enable slackening of restrictions. If anything, the last two weeks have demonstrated that children attending in-person school are vectors for COVID transmission within the community. The Department of Education and Dr. Pedati have previously stated that their priority in pursuing and assessing the success of in-person schooling was to minimize disruption to a child's attendance. Mandatory quarantining is a form of disruption to a children's attendance and I cannot understand why this should be disregarded.
Dr. Eli Perencevich, an epidemiologist and infectious disease specialist at the University of Iowa, also found fault with the approach.
Requiring any threshold as high as 10 percent is dangerous for many reasons and if they're making it harder to reach 10 percent it remains dangerous. All thresholds for closure should be based on evidence of transmission in the school and not artificial thresholds. There's nothing scientific about 10 percent. We cannot say it's dangerous at 11 percent but safe at 9 percent, so this threshold is arbitrary.

If there's an outbreak of 20 cases or a larger outbreak of 50 or 80 cases linked to transmission in the school, the school should be closed and safety protocols increased (testing, masking, decreasing density of students) no matter what the percentage is. If the school environment is leading to outbreaks it needs to be made safe.
Besides keeping schools open for in-person instruction, the new guidance on counting absences could hinder other efforts to contain COVID-19.
NEW POLICY WILL IMPEDE OTHER MITIGATION STRATEGIES
When the education and public health departments rolled out their "Reopening Iowa's Schools Safely and Responsibly" document in July, critics (including on this website) focused on the high bar set for districts seeking to switch to online learning.
But the plan also recommended stepping up mitigation strategies in several ways for schools that remained open after hitting 10 percent absenteeism and a 15 percent positivity rate in the county.
Consider regular health checks for any on-site students/staff if feasible
Cancel school events/gatherings
Close communal spaces (e.g., cafeterias, media centers)
Consider the Coon Rapids-Bayard district, which informed families on September 1 that it had "approximately 70 students out on quarantine –largely due to contact tracing and potential exposure to an active case," against the backdrop of a positivity rate "approaching 20%" in Carroll County. Randy Richardson, an organizer of the Iowans for Public Education advocacy group and a former associate executive director of the Iowa State Education Association, pointed out that the number of quarantining students worked out to a little more than 16 percent of Coon Rapids-Bayard's 427 enrolled students.
Did they cancel school events? No, they proceeded with a high school football game on September 4. After all, Coon Rapids-Bayard hasn't hit the magic 10 percent absenteeism level, if you don't count kids in quarantine.
Expect similar scenarios to play out in other areas where COVID-19 spread remains uncontrolled. Why shouldn't school districts take a "business as usual" approach? Governor Kim Reynolds continues to disregard expert advice on dialing up restrictions in 61 counties with the most worrying trends.
Changing the rules on counting absences may convey to administrators that they can cut other corners in order to keep kids in school. In some districts, teachers have been told to move students around every ten to fourteen minutes so they can claim classmates weren't in "close contact" for more than fifteen minutes. As Bruce Lear noted in his most recent Bleeding Heartland post, "Not only does this interrupt and continuity of instruction in the classroom, it also won't solve the problem of spread, because it assumes the virus has a watch and also that none of the asymptomatic students will ever sneeze or cough during the fifteen minutes."
When that topic came up during last week's webinar, Pedati didn't encourage the practice but didn't forcefully condemn it either.
Yeah, I think that's going to be something that should be looked at carefully, you know, and it might be a place where a school might want to reach out and talk through their plans with local public health. [...]

What I think you'd want to avoid is just moving people in a small space and mixing them up with each other, you know, just to meet a time frame period, right? That's not going to be as helpful. What would be more helpful would be less groups mixing, right?
Nurses on the September 3 webinar also asked about parents refusing to let their children be tested, or coaches discouraging athletes from reporting symptoms or close contacts, so as not to disrupt upcoming games (the discussion starts around the 49:00 mark of this video). Pedati said public health would continue to encourage all to follow the best advice, but she didn't bring down the hammer or warn that such schools might be banned from competition. In contrast, the Department of Education has forbidden Des Moines Public Schools from participating in sports or any other extracurricular activities, as punishment for district leaders' decision to reduce transmission by moving instruction online without the state's blessing.
Readers with knowledge of other districts that have more than 10 percent of students in quarantine, but are not closing communal spaces or limiting gatherings, are encouraged to reach out to Laura Belin confidentially.
_________
Appendix 1: September 3 webinar for Iowa school nurses and administrators:
Appendix 2: "Reopening Iowa's Schools Safely and Responsibly" guidance, released by the Iowa Department of Education and Iowa Department of Public Health