Eighth in a series interpreting the results of Iowa's 2020 state and federal elections.
During her first six weeks serving in the U.S. House, Representative Ashley Hinson has been speaking in two distinct voices.
In many public statements, she has positioned herself as a unifier within the House Republican caucus and Congress at large, willing to work with anyone for the benefit of her constituents. Meanwhile, she has regularly demonized Democrats as threats to America, especially when speaking to perceived supporters or on conservative platforms.
The dual messaging reflects Hinson's dependence on Donald Trump's base in a swing district where future Republican victories are not assured.

"I AM COMMITTED TO UNIFYING OUR COUNTRY"
Hours after her swearing in on January 3, Hinson made a promise on her new official Twitter account.
Iowans sent me to Congress to help end the chaos and dysfunction in DC & tackle tough issues that impact them each day. From fixing our broken health care system, to helping families keep more of their paychecks, I will work with anyone to help Iowans & move our country forward.
She added, "Regardless of if you voted for me or not, I will fight for you in D.C. and work to serve you every day. I will be your voice, and a voice of reason, in Congress."
As rioters ransacked the Capitol on January 6, Hinson urged Trump "to address the nation and call for an end to this violence and disruption to our democratic process." That evening, she voted to accept the electoral college results, even as most House Republicans objected to the slates from two states Joe Biden carried. Two days after the coup attempt, Hinson tweeted, "President-Elect Biden's election was legitimate. I've never implied otherwise & voted to certify the election."
That wasn't accurate. Only a few days earlier, Hinson had co-signed a letter alleging "significant abuses in our election system resulting from the reckless adoption of mail-in ballots and the lack of safeguards maintained to guarantee that only legitimate votes are cast and counted." Speaking for herself alone in a Facebook post, she had hinted at possible "election mismanagement" or "illegal votes" counted in some states.
Nevertheless, Hinson stuck with an ostensibly unifying posture. Explaining on January 13 why she opposed impeaching Trump, she said the president "bears responsibility" and should have "spoken up sooner" during the attack on the Capitol. At the same time, Hinson argued, "impeachment will only serve to feed the flames and further divide our nation." She touted her staff's "productive conversations with the Biden Transition Team on ways we can work together for Iowans." Hinson closed by saying, "While last week was one of the darkest days in our nation's history, I am committed to unifying our country and serving Iowans because I know there will be brighter days ahead."
One week later, Hinson attended Biden's inauguration and offered him and Vice President Kamala Harris "sincerest congratulations," adding that she was "ready to find common ground with the Biden Administration where possible" and was "committed to finding areas we can work together to help Iowans." Hinson expressed hope in one Facebook post that Biden would not "fan the flames of division during this time of conflict in our nation. […] We need to get to work for the American people and help our nation move forward."
Along those lines, Hinson periodically touts bipartisan work on her social media feeds.
STRADDLING FAULT LINES IN THE GOP CAUCUS
Early this month, Hinson tried to occupy a middle ground during two opportunities for House Republicans to define their party's future direction. Representative Liz Cheney of Wyoming held on to her third-ranking leadership role in the caucus, despite having endorsed Trump's second impeachment, by 145 votes to 61 on February 3. Though that vote happened by secret ballot, Hinson revealed publicly (without prompting) that she'd supported Cheney. In the same tweet, she nodded approvingly at Trump loyalist Jim Jordan.
I supported @Liz_Cheney for Conference Chair and am glad she got a vote of confidence tonight.

That said, I'm with Congressman Jordan – we HAVE to be united to take back the Majority to stop the radical agenda Democrats are pursuing.

Donate: https://t.co/XvOEOxRrks https://t.co/p1t4uXnc9K

— Ashley Hinson (@hinsonashley) February 4, 2021
When House Democrats and eleven Republicans voted on February 4 to remove Representative Marjorie Taylor Greene of Georgia from all committees, Hinson stuck with the majority of the GOP caucus. But she made clear in a written statement that her support for Taylor Greene was not unconditional.
Congresswoman Marjorie Taylor Greene's previous rhetoric and conduct are completely unacceptable. The more her past statements have come to light, the more troubled I have become. However, these statements were made before she was a Member of Congress. While I find them to be abhorrent, I do not believe we should set the precedent of stripping Members of their committee assignments based on their actions before they were sworn Members of Congress. […] If Congresswoman Greene makes any form of hateful statement while serving in this body moving forward, I will call on my party's leadership to hold her accountable.
Hinson further distanced herself from racists in the conservative ranks by condemning the trolls who "zoom bombed" a meeting of the Iowa Democratic Black Caucus last weekend.
DECRYING A PRESIDENT WHO "WANTS TO BACKSTAB AMERICA"
When Hinson speaks to perceived supporters, she often drops any pretense about unifying the country. Fundraising appeals typically depict Democrats not only as political adversaries, but as threats to Iowans' way of life.
At the end of this post I've enclosed photos of one letter, which many of Hinson's constituents received around January 14. A recurring motif is the "line in the sand." On one side stand the "radical Left in Washington," later named as "far-left Democrats (Pelosi, Nadler, Waters, Ocasio-Cortez, Omar, Tlaib)." They stand for socialism, "the end of private health care," and so on. On the other side, Hinson fights to defend Iowa families, lower taxes, the Second Amendment, and so on.
Days after Hinson congratulated Biden on his inauguration, her campaign asked supporters to donate so she could "fight back against the radical plans that Nancy Pelosi, AOC, and Joe Biden have for this country." Referring to Biden's first wave of executive orders, the campaign claimed the president "already backstabbed Iowans and now he wants to backstab America with this liberal agenda that hurts our entire country." (click image to enlarge)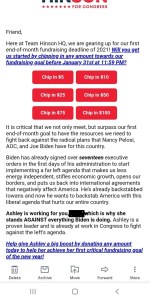 Who's "fanning the flames of division" now?
Hinson's social media feeds regularly feature clips from her appearances on conservative national networks. She's posted repeatedly about one bill she co-sponsored. As she told a Fox News audience on February 3, "The Vaccinate Americans, Not Terrorists Act will prohibit COVID-19 vaccines from going to terrorists at GITMO before American citizens. I'm fighting to make sure cops in Cedar Rapids, teachers in Waterloo, and nurses in Dubuque get their vaccines first." She tweeted indignantly, "Every dose of the COVID-19 vaccine that was slated for terrorists in GITMO should go to an Iowan."
Some perspective: only about 40 detainees are housed at the Guantanamo Bay facility. The vast majority of vaccines sent there were intended for the approximately 1,500 military personnel.
Hinson has about 400 constituents in Buchanan County who won't get a shot on February 16 because of a new, arbitrary policy imposed by the Iowa Department of Public Health. Her former colleauges at KCRG-TV broke that story, but Hinson hasn't acknowledged it on her social media. Poweshiek County, also located in IA-01, will lose next week's COVID-19 vaccine allocation under the Reynolds administration policy as well. Where is the outrage from the area's member of Congress? UPDATE: The state reversed course on February 15, the Des Moines Register reported, so Buchanan and some other counties will receive vaccines this week after all.
Where was Hinson when the Trump administration did virtually nothing to create an effective vaccine distribution process last year? Why wasn't she upset when Iowa ranked 46th in the country for vaccines allocated per capita, while Trump was in office?
"Cops in Cedar Rapids, teachers in Waterloo, and nurses in Dubuque" are much better positioned to get shots now. The Biden administration quickly acquired tens of millions more vaccines and put systems in place to ramp up deliveries. At this writing, 1 to 2 million people in the U.S. are receiving shots every day. The seven-day moving average in daily vaccinations has doubled since Biden was inaugurated.
Speaking of the pandemic, while Congressional Democrats have pushed for a larger COVID-19 relief package including more aid to state and local governments, Hinson was on Newsmax recently to denounce what she called "bailouts for blue states on the back of Iowa taxpayers." (Some red state governors also support a larger spending bill, but that's a topic for another day.)
Cedar Rapids Gazette columnist Todd Dorman observed that going on Newsmax while refusing to meet with the editorial board of the largest newspaper in IA-01 was an "Interesting way to rep a swing district." At that point, Jimmy Peacock, Hinson's 2020 campaign manager and current chief of staff, gave the game away: "Republicans don't meet with the Gazette Ed Board because it would be like sitting down with the Iowa Democratic Party. Except worse."
So much for Hinson working to serve everyone in her district, including those who didn't vote for her.
Hinson will likely continue to deliver unifying messages to some audiences and red meat rhetoric to others. A close look at her November election victory suggests that she can't afford to alienate moderates or the Trump fans who put her in office.
TRUMP PULLED HINSON OVER THE LINE IN 2020
Hinson was the top GOP recruit in IA-01 for reasons Bleeding Heartland discussed in detail two years ago. For much of the 2020 cycle, her race against first-term Democratic Representative Abby Finkenauer looked like a toss-up. However, I came to view Hinson as a slight underdog as the election approached.
The U.S. Chamber of Commerce endorsed Finkenauer in September. That business group rarely endorses any Congressional Democrats, let alone a labor Democrat. I saw the move as a sign that internal polling showed the incumbent well-positioned to win a second term. Similarly, groups aligned with both parties spent a bit less in IA-01 than they did in Iowa's second Congressional district, which seemed to indicate that private polling showed a more competitive race in the open IA-02.
Meanwhile, published polling after Labor Day indicated that Biden was at most a few points behind Trump in Iowa. In the 2018 governor's race, Democrat Fred Hubbell outpolled Kim Reynolds by about 1 percent in the IA-01 counties, even as he lost by about 3 points statewide. I figured that if Biden was only a little behind Trump statewide, he should be ahead in Finkenauer's district, especially since Trump had carried IA-01 with less than a 49 percent vote share in 2016.
In addition, a large number of older white Catholics live in the IA-01 counties. Biden seemed well-positioned to improve on Hillary Clinton's showing with that demographic.
Those assumptions were reasonable, but they didn't hold up. Trump's 8-point victory statewide was good enough to carry the IA-01 counties by 3.4 points, almost exactly the same margin he had won by four years earlier. Biden didn't move the needle in Iowa's most heavily Catholic counties.
And Hinson provided more proof that high-turnout elections in Iowa don't automatically favor Democratic candidates. Trump on the ballot brought out an enormous number of low-propensity voters, to the benefit of down-ballot Republicans and to a degree that surprised even some GOP consultants.
Click on any county on this interactive map to see raw vote totals and percentages for the major party Congressional and presidential candidates. Hinson closely matched Trump's vote share in red and blue areas. As Republican strategists had hoped, she outperformed the top of the GOP ticket in Linn County, the district's largest by population. Hinson has lived and worked in the Cedar Rapids area for about fifteen years.
County Name
| | | | |
| --- | --- | --- | --- |
| D | Canidate 1 | 61% | 30390 |
| R | Canidate 2 | 39% | 10390 |
Finkenauer won with more than 50%
Hinson won with more than 50%
Hinson won with more than 60%
Here are the same figures in table form, with counties listed in descending order by number of votes cast in the 2020 presidential race.
Votes for Congress and president in IA-01 counties, 2020
County
Finkenauer votes
Hinson votes
Biden votes
Trump votes
Linn
69,391 (55.2%)
56,243 (44.7%)
70,874 (55.6%)
53,364 (41.9%)
Black Hawk
36,060 (55.1%)
29,333 (44.8%)
35,647 (53.5%)
29,640 (44.5%)
Dubuque
26,541 (50.2%)
26,253 (49.7%)
25,657 (47.6%)
27,214 (50.5%)
Marshall
8,176 (47.1%)
9,176 (52.8%)
8,176 (45.1%)
9,571 (52.8%)
Benton
5,307 (36.6%)
9,165 (63.3%)
5,160 (35.2%)
9,188 (62.8%)
Bremer
6,036 (43.0%)
8,000 (57.0%)
5,958 (41.0)
8,294 (57.0%)
Winneshiek
5,807 (49.0%)
6,041 (51.0%)
5,617 (46.6%)
6,235 (51.7%)
Jackson
4,340 (41.0%)
6,225 (58.9%)
4,029 (36.2%)
6,940 (62.3%)
Jones
4,242 (39.0%)
6,621 (60.9%)
4,213 (38.3%)
6,572 (59.8%)
Buchanan
4,481 (42.0%)
6,180 (58.0%)
4,169 (38.7%)
6,420 (59.6%)
Fayette
4,099 (40.6%)
5,984 (59.3%)
3,835 (37.7%)
6,145 (60.3%)
Poweshiek
4,429 (44.8%)
5,432 (55.0%)
4,306 (42.5%)
5,657 (55.8%)
Delaware
3,280 (33.1%)
6,608 (66.8%)
3,157 (31.6%)
6,666 (66.6%)
Iowa
3,543 (36.9%)
6,041 (63.0%)
3,547 (36.4%)
6,009 (61.7%)
Clayton
3,590 (37.8%)
5,895 (62.1%)
3,340 (34.8%)
6,106 (63.6%)
Tama
3,750 (42.1%)
5,150 (57.8%)
3,577 (39.5%)
5,303 (58.6%)
Allamakee
2,697 (37.0%)
4,595 (63.0%)
2,576 (34.7%)
4,735 (63.8%)
Mitchell
2,016 (36.1%)
3,559 (63.8%)
2,053 (35.3%)
3,677 (63.2%)
Howard
1,893 (39.1%)
2,944 (60.8%)
1,772 (35.7%)
3,127 (63.1%)
Worth
1,669 (38.7%)
2,633 (61.1%)
1,596 (36.1%)
2,738 (62.0%)
District-wide
201,347 (48.7%)
212,088 (51.3%)
199,259 (47.3%)
213,601 (50.7%)
Almost everywhere, Hinson improved on the performance of Rod Blum, the Republican incumbent Finkenauer had defeated in 2018. This interactive map shows vote totals and percentages for Blum and Finkenauer. (Click here to view the same numbers in table form.)
County Name
| | | | |
| --- | --- | --- | --- |
| D | Canidate 1 | 61% | 30390 |
| R | Canidate 2 | 39% | 10390 |
Finkenauer between 50% and 60%
Blum won with less than 50%
Note that while Blum carried sixteen of the IA-01 counties, he didn't hit the 60 percent mark in any of them and won two with less than a 50 percent vote share. In contrast, Hinson's vote share was above 60 percent in nine of the seventeen counties she carried.
Iowa will adopt a new political map later this year, and the first district could become better or worse for either party. Factors working in Hinson's favor include the natural advantages of incumbency, committee assignments that should boost her fundraising, and the reality that northeast Iowa is no longer a Democratic-leaning area.
On the other hand, Hinson will have to face re-election without Trump on the ballot. In the last midterm, residents of her district traded Blum for Finkenauer and voted slightly for a Democrat for a governor. So Hinson can't just appeal to Trump-loving voters. She must remain credible to moderates as well.
Final note: While Hinson's balancing act makes sense as a strategy for winning re-election in IA-01, it could hurt her in one possible 2022 scenario. Some Iowa politics watchers expect Hinson to run for U.S. Senate if Senator Chuck Grassley retires. State Senator Jim Carlin, who has claimed the presidential election was stolen from Trump, will soon announce his Senate candidacy. Former acting Attorney General Matt Whitaker would likely seek the Senate nomination too. He has carried Trump's water in numerous national television appearances and wrote a "thin excuse for a book" about the supposed "deep state" conspiracies against the former president.
Although Hinson has effusively praised Trump many times, her vote to keep Liz Cheney in leadership will be a deal-breaker for many Republican base voters. Those conservatives also won't be pleased that the representative from IA-01 certified Biden's win and considers him a legitimate president. I expect Trump to back Whitaker, but even if he didn't endorse a Senate candidate, Hinson would struggle in a statewide primary.
---
Appendix: Fundraising letter many Iowans received around the middle of January