Andy Kopsa: Iowa's new member of Congress from the fourth district brags that he "delivers for farmers." Unless you are a Black farmer, that is. -promoted by Laura Belin
Politicians love farmers. Every caucus season they prove it: they throw a foot up on a hay bale and stump to a crowd at the Iowa State Fair, shove a pork chop into their mouth, use the term "heartland" and "kitchen table" a minimum of 400 times.
Vice President Mike Pence and the Iowa GOP love farmers so much that he came to town just after the August 2020 derecho to launch the Farmers and Ranchers for Trump Coalition. Senator Joni Ernst and Governor Kim Reynolds took time out of their disaster recovery schedule to accompany Pence to Living History [not a real] Farms. Pence didn't visit a single farm, but he found time to host an exclusive fundraiser in Urbandale before flying away home.
U.S. Representative Randy Feenstra (IA-04) also loves farmers a lot. He introduced an amendment to allocate more aid to Iowans impacted by the derecho last year during a House Agriculture Committee markup of the proposed $1.9 trillion COVID-19 relief bill. Feenstra's amendment passed by a single vote.
That vote came from Representative Cindy Axne (IA-03), the lone Democrat to cross the aisle.

Without Axne's vote, Feenstra's amendment would have been dead. Extra aid wouldn't have been carved out from the relief bill and - perhaps more importantly to Feenstra - it would have denied him and the rest of the Iowa GOP delegation a chance to crow about how much they loooooooove farmers.
Ernst tweeted her praise of Feenstra's work to give farmers "some much-needed relief," and fellow GOP Representative Ashley Hinson amplified that sentiment. None of the Iowa Republicans mentioned that Axne's vote in committee secured this funding. Feenstra's official website boasted, Feenstra Delivers for Farmers!
Unless you are a Black farmer, that is.
Earlier this month, Feenstra introduced and voted for an amendment that would reduce loan forgiveness to Black farmers from 120 percent to 100 percent. (It didn't get into the bill, because Axne and the other House Democrats voted against it.)
The fiscal impact of this amendment would have been negligible. Why would a farmer-loving member of Congress from Iowa want to take money out of the pockets and fields of farmers?
I have an idea, but first let me back up a bit.
In 2018 I wrote an article for Playboy titled "How Iowa's Steve King Became the Poster Boy for Nationalism: As bad as Steve King appears, he is actually worse." You can read the whole thing, but here's a key point: "From the time he was elected to national office in 2002 (from the Iowa State House) he has gone from an anomaly, an embarrassment and a joke to GOP poster boy for the mainstreaming of white-supremacy."
King endorsed a white supremacist mayoral candidate in Canada and defended a European Neo-Nazi party. For that, and after a New York Times article detailed King's nativist worldview, House Minority Leader Kevin McCarthy (ironically) had no problem stripping him of his committee assignments, but Governor Kim Reynolds balked at removing King as her campaign co-chair. There was a lot of harrumphing about he is not who we are from the pearl clutching GOP camp.
In reality, the GOP saw King was vulnerable. Democratic challenger J.D. Scholten had done the heavy lifting of narrowing King's lead in the 2018 race from double digits to single digits, according to various pollsters, or even 1 point in one survey. King had to go.
Here is an old tweet from Feenstra, rightly chastising King for one of his regular racist rants. But make no mistake: King's theory about incest and rape isn't an outlier. It is white supremacist plank: The Great Replacement. It's really gross, so I will spare you the gory details. The key takeaway? White people of European descent are going to be outnumbered by people of color if we don't get to reproducing, incest and rape be damned.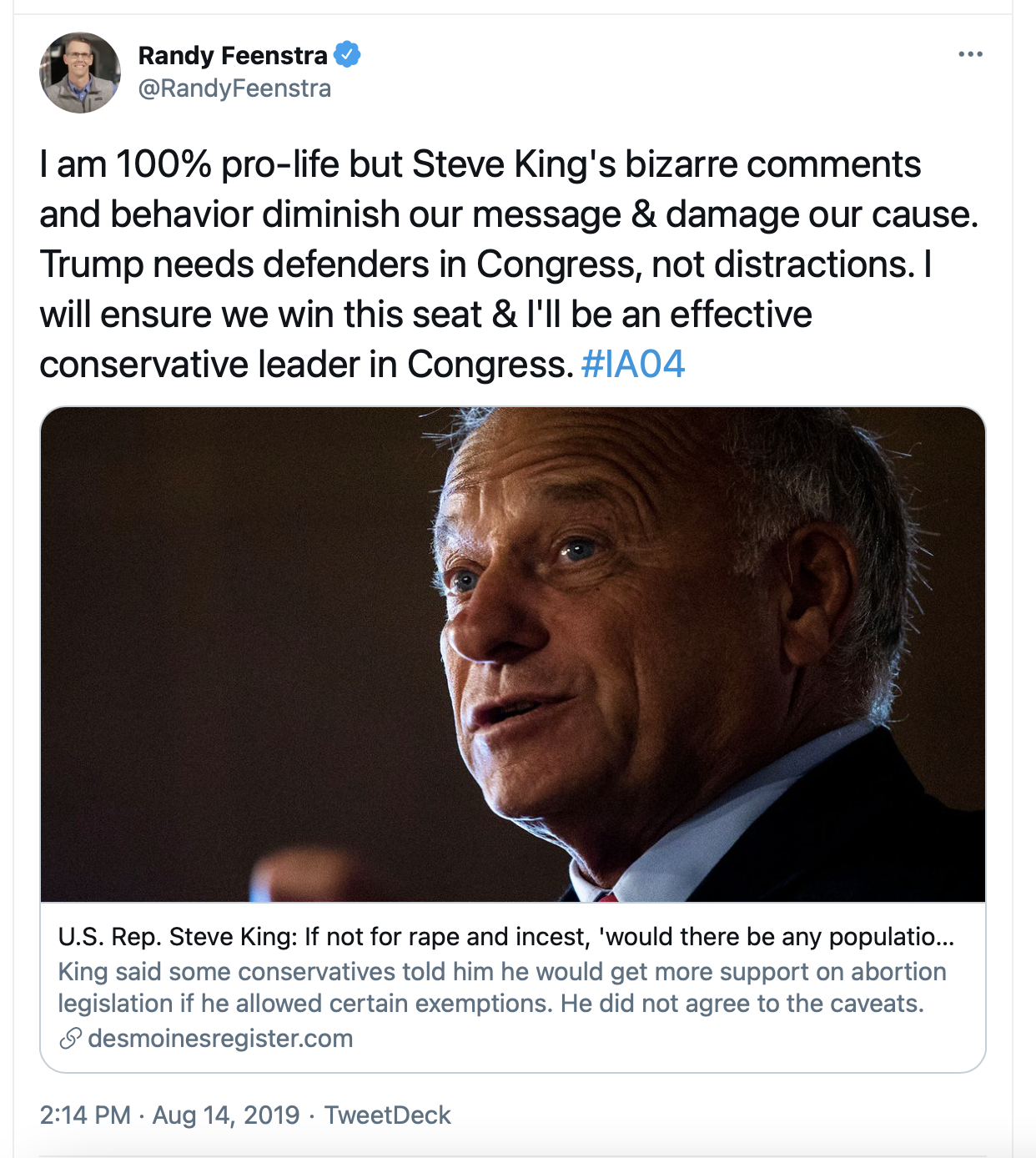 Where was I going with this? Oh yes: Feenstra may not publicly humiliate Iowa on a regular basis by saying scorchingly racist garbage every day - but here is what he is doing: he actively tried to codify racism into a COVID-19 relief bill.
Luckily Steve King spent his years in congress accomplishing exactly nothing: no eugenic utopia, no real concern for actual Iowans. But Feenstra? He has the patina of just a guy from Iowa-not-like-that-wacko-the-4th-had-before-don't-mind-me-I-am just-here-to-work-for-farmers.
The loan provision in the Ag bill is part of a larger effort by Democrats to aid Black farmers and encourage more people of color to start - or return to - farming. It is a noble and long overdue goal.
In 1920 there were 900,000 Black farmers - 14 percent of America's farmers at the time. But through a century of land seizures, lack of access to credit and relief readily afforded white farmers by 2017 an estimated 35,000 Black-owned farms remained.
But Feenstra's amendments, one cutting out Black farmers' loan forgiveness, the other carving out a chunk of funding for majority white Iowa farmers is systemic racism in action.
Which brings me finally to the up and coming class of white menfolk running the Iowa legislature. Right now they are trying to shut down early voting with a rash of proposals targeting Democratic-leaning groups. The overt racism of GOP State Senator Zach Whiting alleging the Iowa Capitol was under siege by Black Lives Matter activists gathered in peaceful protest on the grounds. He was supposedly so scared he was counting his ammo (did he have a gun in his office?). Later Whiting walked it back — it was a lie — with no apologies to the BLM community or citizens of his district. Why should he? He's white.
And then there is State Representative Skyler Wheeler. His crusade to ban the 1619 Project from Iowa schools and universities is clearly racist — to suggest otherwise is a lie.
Koch Brothers favorite State Senator Jeff Edler and fellow GOP loyalists want to codify racism into housing law, empowering landlords to reject vouchers from people living in poverty. Edler's move (and any targeting housing vouchers) disproportionately impacts communities of color. According to recent data from Talk Poverty, more than 340,000 Iowans live in poverty, of whom less than 10 percent are white; the rest are people of color. And of the 368,000 Iowans with a disability, an estimated 19.7 percent live in poverty.
None of this is surprising. The de-facto Trump GOP is predicated on systemic white supremacy and have been. Trump was never the beginning of the problem he was the logical outcome, as was the January 6 insurrection. How would a Trump presidency end any other way?
The GOP continues to lie--sometimes directly, sometimes by omission. Feenstra sent a newsletter blasting the success of his amendment to aid derecho victims, without a single mention--much less any thanks--to fellow Iowan Cindy Axne for her vote - the vote that got Feenstra's amendment into the bill.
Republicans, if you are sick of being called out for your racism, then stop introducing and passing racist legislation. Steve King is a lot of things, but he is exactly what it says on the tin. Feenstra just has better packaging.
Andy Kopsa is a reporter based in New York City, though raised on an Iowa farm. She has written for The New York Times, The Atlantic, The Guardian, Foreign Policy, Time Magazine and others. She won a Society of Professional Journalists Award for Reporting Events of Public Importance and was a fellow in USC Annenberg's Knight Grant for Reporting on Religion in American Public Life.