Top Iowa Republicans crowed this month when the state's official figures showed the GOP had expanded its voter registration lead over Democrats. At this point in the 2018 election cycle, registered Republicans outnumbered Democrats in Iowa by around 24,000. The current disparity is more than three times as large. According to the latest numbers released by the Secretary of State's office, Iowa has 681,871 active registered Republicans, 597,120 Democrats, and 555,988 no-party voters.
The voter registration totals should concern Democrats, but two other trends facing the party's candidates in this midterm election should worry them more.
SEVERAL FACTORS FUELED GOP VOTER REGISTRATION GAINS
Speaking to the Cedar Rapids Gazette in early July, Republican Party of Iowa state chair Jeff Kaufmann asserted that GOP ranks have grown because President Joe Biden's policies are unpopular.
I would guess that the GOP's registration gains stemmed mostly from two external events and a successful long-term mobilization effort.
The first event happened in April 2021, when the Iowa Secretary of State's office "inactivated" about 294,000 voters (roughly 13 percent of the state's electorate) who did not cast a ballot in the 2020 general election.
The New Iowa Project, a pro-Democratic organization, observed last June that before the policy overseen by Secretary of State Paul Pate, "there were 27,775 more Republicans than Democrats in Iowa [….] Right after the Pate Purge, that number skyrocketed to 47,247 more Republicans than Democrats."
You can see the difference by comparing the official voter registration numbers from April 1, 2021 to May 1, 2021. Before the change, Democrats had only about 7,000 more "inactive" voters than Republicans did. After the change, inactive voters who were Democrats outnumbered Republicans by more than 25,000.
Inactive voters are still on the rolls and should be able to cast ballots if they show up to vote this November. However, when they attempt to vote, they may need to bring more paperwork to prove their address, which could be a barrier to participation for those who have moved or are unaware that they were inactivated.
The second big jump in GOP voter registrations happened over this past month, when the number of Iowans affiliated with the Republican Party increased by around 25,000. (See official figures from the beginning of June and July 2022.)
The obvious explanation is that many Iowans re-registered in order to participate in the 2022 primary. Indisputably, there was more action on the Republican side.
Senator Chuck Grassley was spending heavily as he faced a challenge from the right. A hot three-way GOP race in the third Congressional district spawned plenty of television commercials and direct mail. The redistricting process and controversies over some policies (especially school vouchers and abortion) led to 31 competitive Republican state legislative primaries. Those races alone generated hundreds of thousands of dollars in spending by outside groups and many GOTV events around the state headlined by Governor Kim Reynolds.
Although Democrats had a three-way U.S. Senate primary, with two candidates spending six figures on mail and television commercials, the party had only one candidate in each of Iowa's four U.S. House districts and just thirteen competitive races for state House or Senate seats.
Rapid shifts in party registrations that stem from primaries or caucuses come and go. Iowa Democrats surged ahead of Republicans in voter registrations in early 2020, when there was a spirited Democratic presidential race and no one challenging Donald Trump for the GOP nomination. It didn't last.
Iowa Republicans haven't merely been passive beneficiaries of registration trends, though. The party has also invested in direct mail to increase the party's numbers.
The New Iowa Project published these pictures of one GOP mailer, sent out in August 2021. With multiple references to "Official Secretary of State records," it looks more like a government document than a political mailing: "By federal law, only registered voters can participate in Iowa elections. Ensure your household is registered."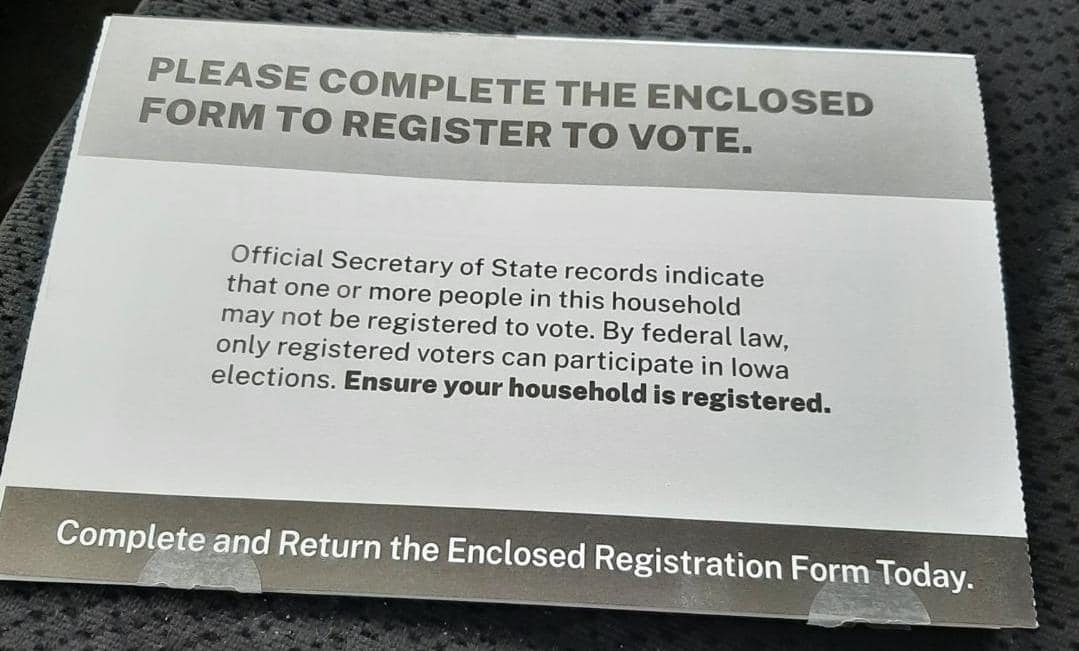 Recipients could easily miss the small print explaining that the Iowa GOP paid for this mailing. The larger block letters demand "ATTENTION" and imply that voter registration is required.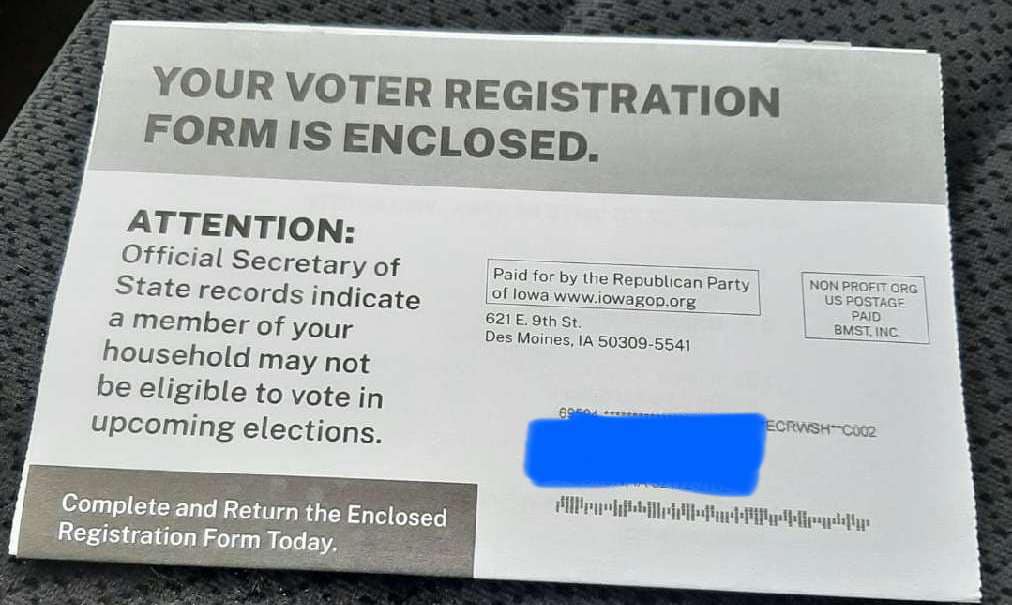 I'm not aware of Iowa Democrats funding a comparable direct mail campaign. The Iowa Democratic Party's coordinated GOTV has been geared toward generating absentee ballot request forms, not new voter registrations.
On its own, the Republican registration advantage (currently around 84,000) is not an insurmountable challenge for Democratic candidates. But at least two other features of Iowa's midterm electorate also favor the GOP.
REPUBLICANS HAVE TURNOUT EDGE IN MIDTERM YEARS
Hundreds of thousands of Iowans only cast a ballot in presidential elections. While the midterm "drop-off" affects voters of all stripes, it is especially pronounced for those with no party affiliation. Among partisans, Republicans tend to be more reliable voters in midterm years than Democrats.
I created this table using statewide statistical reports available on the Iowa Secretary of State's website.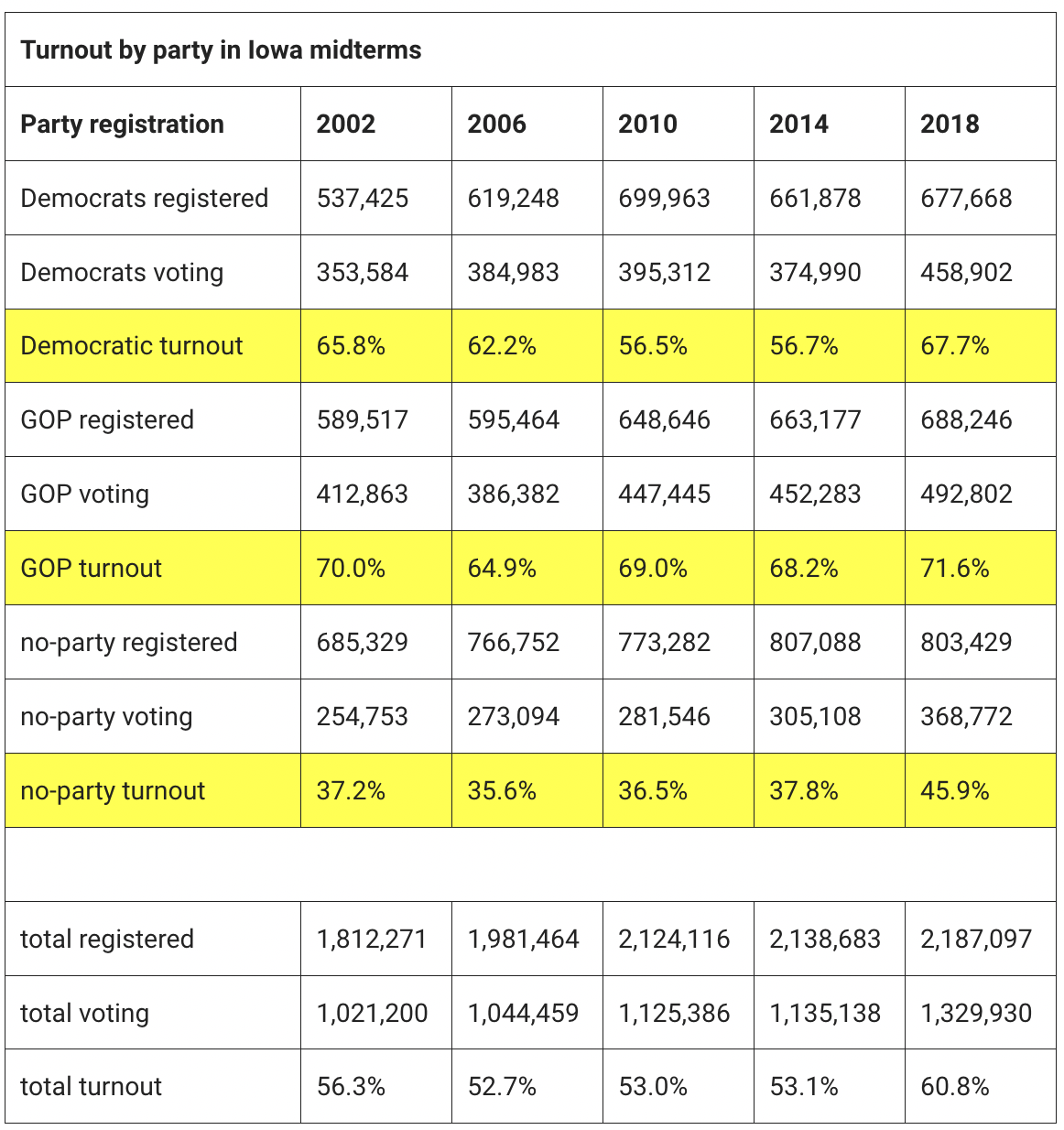 The Republican turnout rate exceeded the Democratic turnout rate in the last five Iowa midterms—even in 2006, which was a Democratic wave year in Iowa and nationwide.
Democratic turnout was particularly low in 2010 and 2014. As the table shows, Iowa Democrats went into the November 2010 election with a statewide voter registration advantage of around 50,000. Yet Republicans outnumbered Democrats by nearly 52,000 among Iowans who cast ballots in that election.
By the same token, Democrats and Republicans were nearly even in voter registrations at the time of the 2014 midterm election. Yet among Iowans who cast a ballot that year, Republicans outnumbered Democrats by more than 75,000.
As the party out of power in Washington, the GOP may have more voter enthusiasm on its side this November. The proposed Iowa constitutional amendment that would eliminate meaningful gun regulations will likely juice Republican turnout even more.
Democratic candidates showed during the 2000s that the Iowa GOP's midterm turnout advantage can be overcome. But they had one thing going for them that today's candidates may not.
IOWA'S NO-PARTY VOTERS LESS RECEPTIVE TO DEMOCRATS
Statewide statistical reports tell us how many Iowans in various groups voted in a given election. Figuring out how people in those groups voted requires some guesswork, but one thing is clear: Iowans affiliated with neither party have moved toward the right over the past decade.
You can see it in the last four presidential election results. Of the 1,528,715 Iowans who voted in the 2008 general election, 568,377 were Democrats, 491,342 Republicans, and 467,762 no-party voters. Barack Obama outpolled John McCain by around 147,000 votes. The Democrat must have carried the independents.
In the 2012 presidential election, Iowa Republicans turned out in larger numbers, casting 546,729 ballots, to 525,624 from registered Democrats and 497,496 from no-party voters. Yet Obama defeated Mitt Romney by around 92,000 votes.
Iowa ceased to be a bellwether state in the 2016 presidential election. For one thing, GOP turnout far outpaced Democratic turnout: 576,003 GOP voters cast ballots, representing about 81 percent of registered Republicans, while the Democratic turnout of 506,286 represented about 74 percent of registrants. More striking, Donald Trump received about 147,000 more votes than Hillary Clinton, which could only be possible if he carried the 481,770 independents who voted in 2016.
Recent midterm elections reveal a similar pattern. Democrats running for governor or U.S. Senate used to be able to win despite higher GOP turnout, presumably on the strength of their appeal to independents. That's a taller order now.
As the table posted above shows, Iowa's 2002 electorate included nearly 60,000 more registered Republicans than Democrats. Yet Governor Tom Vilsack was re-elected easily, gaining around 84,000 more votes than challenger Doug Gross. Also in 2002, Senator Tom Harkin defeated GOP challenger Greg Ganske by an even larger margin of around 106,000 votes. Incumbency advantages surely helped both Democrats. But they couldn't have won without carrying the independent voters.
GOP turnout hit a low point (by Iowa standards) in the 2006 midterm election; nearly as many Democrats cast ballots as Republicans. Democrat Chet Culver won the open governor's race in a walk by around 101,000 votes. Neither U.S. Senate seat was on the ballot that year.
Culver lost to Terry Branstad in 2010 by about 108,000 votes, roughly twice as large a margin as the GOP turnout advantage (some 52,000 voters). Grassley won re-election that year by around 347,000 votes, reflecting his traditional strength among independents.
Iowa's no-party voters seem to have favored Republicans again in 2014. The GOP turnout advantage put Democrats in a hole, as roughly 75,000 more Republicans than Democrats cast ballots. In the open U.S. Senate race, Republican Joni Ernst defeated Bruce Braley by around 94,000 votes. Branstad was re-elected goveror easily, defeating Jack Hatch by around 245,000 votes.
The 2018 Democratic nominee for governor, Fred Hubbell, appears to have held his own with independent voters. Republicans who cast ballots outnumbered Democrats by about 33,000, and Hubbell lost to Kim Reynolds by around 36,000 votes: 667,275 to 630,986.
Reynolds is now up for re-election in the context of a statewide GOP voter registration advantage. The Democratic nominee, Deidre DeJear, will need to do very well with independents to keep the governor's race competitive.
The same goes for Mike Franken in the Senate race. The latest Iowa Poll by Selzer & Co for the Des Moines Register shows Grassley leading by 8 points overall, with the two candidates nearly tied among independents. There is a path for Franken, but he needs to carry the no-party vote by a significant margin to close that gap.
When asked about the recent voter registration changes, Iowa Democratic Party state chair Ross Wilburn told reporters at a virtual news conference that three of the four Congressional districts have more Democrats than Republicans. That's true. But those advantages are small: just under 3,000 registrants in the new first district (covering much of southeast Iowa), just under 1,700 in the second district (covering much of northeast Iowa), and just under 4,000 in the third district (which includes Polk and Dallas counties, plus parts of southern and western Iowa).
Democrats had larger voter registration advantages in the northeast Iowa district (then numbered IA-01) going into the 2014 and 2016 elections, when Republican Rod Blum won his seat in Congress. Blum lost to Democratic challenger Abby Finkenauer in 2018. But when Republican Ashley Hinson defeated Finkenauer in 2020, the Democratic voter registration advantage in that district was in the 24,000 range.
Similarly, Democrats outnumbered Republicans in the old second district (southeast Iowa) by nearly 24,000 going into the 2020 general election. Yet Democrat Rita Hart and Republican Mariannette Miller-Meeks essentially tied, with Miller-Meeks certified the winner by six votes out of some 394,000 ballots cast.
All of the above is not to say that Democrats can't win any statewide or Congressional races in Iowa this year. But it's important to understand that given the current structure of Iowa's electorate, Democrats will need turnout from their own party ranks well above 2010 or 2014 levels, as well as strong appeal to Iowans affiliated with neither party.
Top image of voter registration station first published on the Polk County Democrats' Facebook page in July 2020.