Every Iowa candidate seeking a statewide or federal office has agreed to at least one televised debate, with one exception: U.S. Representative Randy Feenstra. The Republican running for a second term in Iowa's fourth Congressional district rejected an invitation from Iowa PBS without explanation. As a result, "Iowa Press" will interview Feenstra's Democratic challenger Ryan Melton during the September 23 program, which had been set aside for the IA-04 debate.
Feenstra already backed out of a joint forum planned for the Clay County fair. According to Melton, the only joint appearance the incumbent agreed to was an event the Iowa Corn Growers Association hosted last week, which was not a debate and not open to the public.
In 2020, Feenstra debated his GOP primary opponents and Democrat J.D. Scholten during the general election campaign. What's he worried about now?
To say that Feenstra is heavily favored would be an understatement. IA-04 has a Cook Partisan Voting Index of R+16, meaning that in the last two presidential elections, the counties in this district voted about 16 points more Republican than the country as a whole. Feenstra defeated Scholten in 2020 by 62.0 percent to 37.8 percent, similar to Donald Trump's margin over Joe Biden in the 39 counties that were then part of IA-04.
The new IA-04 covers 36 counties, including all of northwest Iowa and picking up several counties in southwest Iowa while losing some territory in the northeast. Its partisanship has hardly changed; Trump outpolled Biden in the new IA-04 counties by about 62 percent to 36 percent.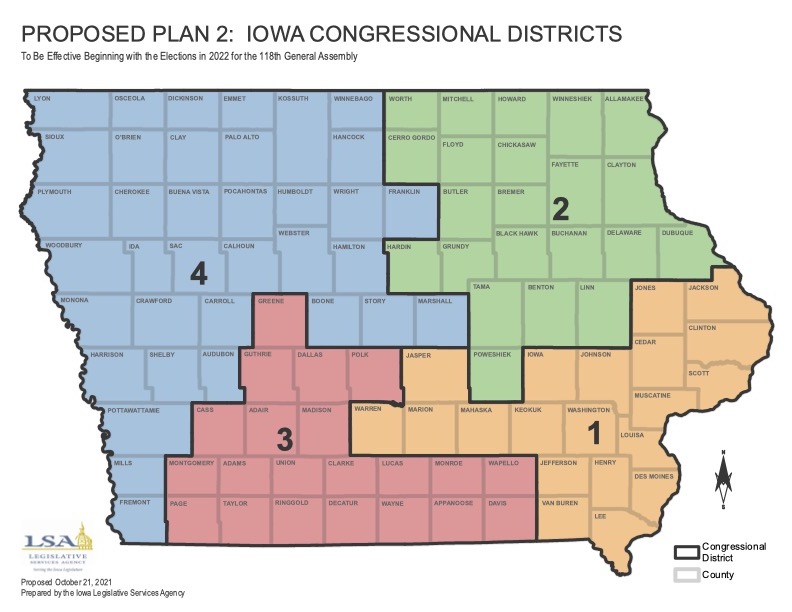 Every national forecaster has Feenstra's race rated "safe Republican." The latest quarterly disclosures filed with the Federal Election Commission showed that as of June 30, Feenstra's campaign had more than $1 million cash on hand, while Melton's campaign had $5,312.98 in the bank.
Conventional wisdom says candidates who are ahead have more to lose from a debate, because any gaffe that changes the dynamic could favor the underdog. For that reason, challengers often demand several debates, while incumbents typically agree to as few as possible.
But the optics of refusing to debate altogether are so bad that most incumbents agree to at least one face-off during the general election campaign.
Feenstra hasn't given any reason for not debating Melton. His campaign spokesperson provided an aggressive, nonsensical comment to the Sioux City Journal's Jared McNett.
Feenstra campaign spokesman Joe Lakin lambasted the tweet from Melton, about the dropped PBS debate, in an email response.

"President Biden already has enough out of touch liberal friends in Congress who want to destroy our way of life. He sure doesn't need another," Lakin said via email. "Congressman Feenstra will continue focusing on doing the job he was elected to do, including visiting all 39 counties twice per year and enacting legislation that delivers for our families and main streets, not playing political gotcha games."
What is he talking about? It's not a "gotcha game" to expect Feenstra to participate in a debate on public television. Nothing about the process is inconsistent with "doing the job he was elected to do." A guy whose campaign slogan is "Feenstra delivers" should be willing to make his case for re-election on camera, so every IA-04 voter can watch.
Like most Republicans running for statewide or federal office, Feenstra refused to speak on the Des Moines Register Political Soapbox during the Iowa State Fair. But all of those other GOP candidates have agreed to debate their opponents (the schedule is at the end of this post).
Speaking to the Sioux City Journal, Melton noted that Feenstra "does not publicize his forums ahead of time. He does not expose himself to public scrutiny."
Maybe Feenstra doesn't want to go on the record about some issues that might come up in a debate. Would he vote for a nationwide abortion ban? Under what circumstances, if any, does he think abortion should be legal? What does he think about Trump keeping classified materials at his Mar-a-Lago resort after his attorney falsely told the FBI all had been returned? Does he accept that Biden legitimately won the 2020 election?
Answering any of those questions would put Feenstra either on the wrong side of the GOP base or outside mainstream public opinion.
Maybe Feenstra doesn't want to subject himself to the fact-checking that might follow a debate. The first time I communicated with him about public policy, when he chaired the Iowa Senate's tax-writing committee, he told me an easily disprovable lie.
Whatever the reason, it's a sign of weakness for any elected official to refuse to debate. The guy who picked "Feenstra delivers" as a slogan shouldn't have any problem defending his record in an unscripted setting.
---
Appendix: Schedule of debates between Democratic and Republican candidates for statewide or federal offices
September 9: Attorney General Tom Miller (D) debated challenger Brenna Bird (R) on the Iowa PBS program "Iowa Press" (click here for video)
September 16: Secretary of State Paul Pate (R) will debate Joel Miller (D) on "Iowa Press"
September 23: "Iowa Press" panel will interview Ryan Melton
September 26: U.S. Representative Mariannette Miller-Meeks (R, IA-01) will debate Christina Bohannan (D) on "Iowa Press"
September 30: Secretary of Agriculture Mike Naig (R) will debate John Norwood (D) on "Iowa Press"
October 6: U.S. Senator Chuck Grassley (R) will debate Mike Franken (D) on "Iowa Press"
October 6: U.S. Representative Cindy Axne (D, IA-03) will debate Zach Nunn (R) on KCCI-TV
October 7: State Treasurer Michael Fitzgerald (D) will debate Roby Smith (R) on "Iowa Press"
October 12: U.S. Representative Ashley Hinson (R, IA-02) will debate Liz Mathis (D) on KCRG-TV, where both formerly worked
October 17: Governor Kim Reynolds (R) will debate Deidre DeJear (D) on "Iowa Press"
October 18: U.S. Representative Ashley Hinson (R, IA-02) will debate Liz Mathis (D) on "Iowa Press"
October 21: State Auditor Rob Sand (D) will debate Todd Halbur (R) on "Iowa Press"
Top photos of Randy Feenstra (left) and Ryan Melton cropped from images posted on their respective campaign Facebook pages.