"Not sure who the author is on this one," State Senator Randy Feenstra wrote to me on December 15, about an hour after Bleeding Heartland had published a detailed memo from the Iowa Department of Revenue about numerous proposed tax cuts and sales tax expansions. The chair of the upper chamber's Ways and Means Committee added, "small reductions, not sure who put this one together. However, thanks for sharing! Very grateful as I need to find out if this member is running rogue over the Senate plan."
A week earlier, Feenstra had distributed the same document to all of his fellow Republican senators, describing it as "my idea of a tax plan" and "one of my final runs that I have had the DOR work on."

"I THOUGHT IT WOULD BE A GOOD IDEA TO GIVE EACH OF YOU MY IDEA OF A TAX PLAN"
The "Preliminary Analysis" described a wide range of individual, corporate, and inheritance tax cuts, with more than two dozen tables projecting the fiscal impact of those changes over the next five to seven years.
Although Feenstra claimed not to know where this plan came from, Microsoft Word reveals that he was the last person to modify the document, on December 8.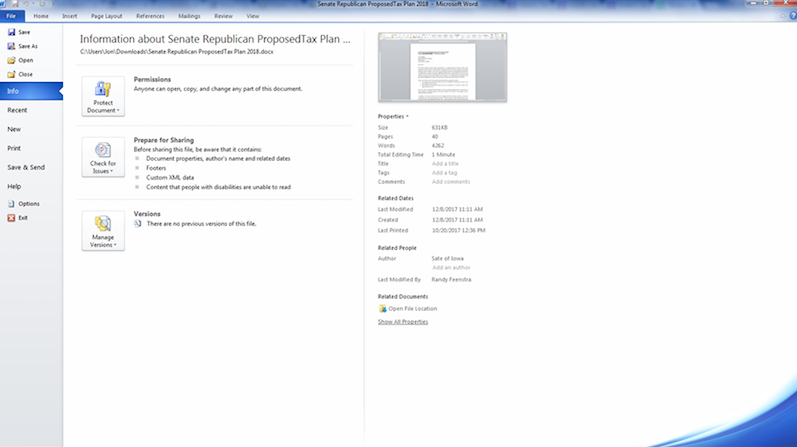 According to the official Senate GOP line, this draft has no particular significance. In a December 18 statement, Majority Leader Bill Dix portrayed the proposal as "one of many by our members"; "Dozens of ideas are being contemplated and tax proposals remain in the draft stage." Similarly, Feenstra told me in an earlier December 15 message, "We have 5 to 7 legislators all dabbling in this arena [...] There are so many ideas out there."
Perhaps GOP senators have suggested various approaches to tax reform. But the head of the tax-writing committee has sent only one plan to the entire caucus and research staff. The next two images show the full text of Feenstra's December 8 e-mail to colleagues.
Note that two paragraphs appear at the end of the first screen shot and at the beginning of the second. The original e-mail did not repeat those passages. Rather, these photographs are cropped that way to demonstrate that I did not edit out any part of the message.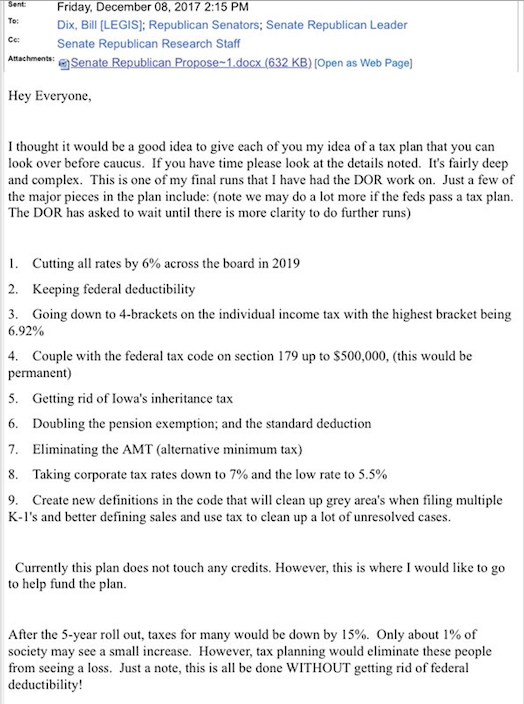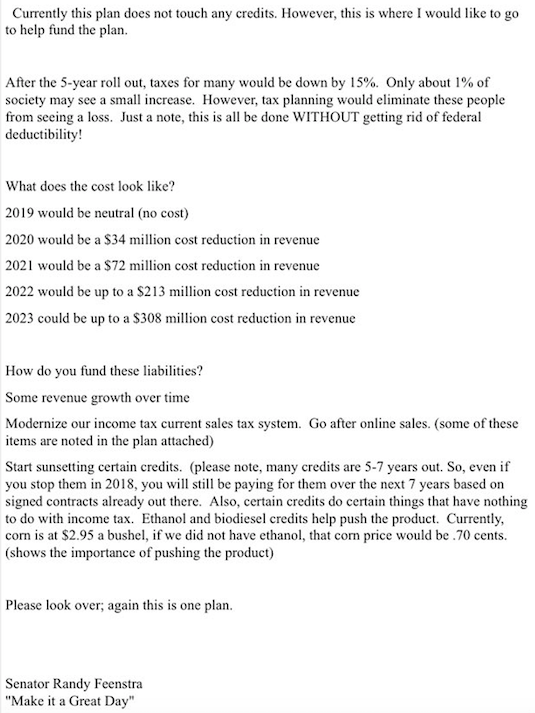 Feenstra made clear in his December 8 e-mail that leaders had not finalized a tax reform agenda. He noted in the first paragraph, "we may do a lot more if the feds pass a tax plan." He pointed out that while the current proposal would not alter any tax credits, he wants to look in that direction "to help fund the plan." The last sentence reminded senators and staff, "this is one plan."
Still, how brazen of Feenstra to say last Friday he was "not sure who put this one together," and to imply a member of his caucus might be "running rogue over the Senate plan," when he had asked the Department of Revenue to evaluate this proposal and had presented the findings to colleagues as "my idea of a tax plan."
Later on December 15, Feenstra scolded me about "journalism integrity" after warning, "I have my attorney looking at what you wrote."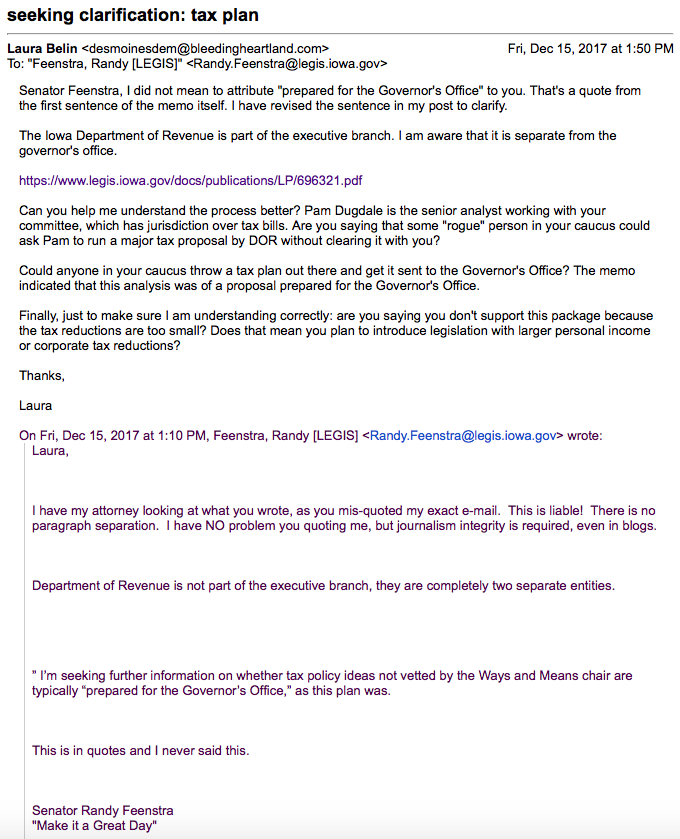 Feenstra never replied to my last message to him on December 15. Nor did he answer questions I sent on December 18. Sidestepping both my tax policy queries and the evidence that he had modified the document Bleeding Heartland published, Feenstra sent me a one-sentence e-mail yesterday evening: "The plan you have is completely obsolete; the fed plan is a game changer to the State of Iowa."
Both the Department of Revenue memo (page 2) and Feenstra's e-mail of December 8 acknowledged that this plan was subject to change, depending on Congressional action. That said, the broad outlines of federal tax reform were known once the U.S. House and Senate approved bills on November 16 and December 2, respectively.
Top Iowa GOP senators and staff may rework the plan, possibly with steeper income tax rate reductions. But nothing has happened in the last few days to make the draft Feenstra circulated to colleagues on December 8 "completely obsolete."
Judging by how Republicans handled several far-reaching bills during the 2017 legislative session, GOP senators will work out a tax reform deal behind closed doors with key House members and the governor's staff. Like their counterparts in Congress, Iowa Republican lawmakers will then attempt to pass the bill quickly after its release, to minimize public scrutiny and debate.
Yet cutting some taxes while levying the sales tax on many additional goods and services would directly affect hundreds of thousands of people and could indirectly affect hundreds of thousands more, if lost revenue further undermines the state's ability to fund essential services. Iowans deserve more than a few days to consider the proposal.
When I asked Feenstra about the memo, he could have admitted it pertained to the draft he was developing in collaboration with staff for Governor Kim Reynolds. He could have answered follow-ups about the substance or the process. He could have simply declined to comment.
Instead, Feenstra feigned ignorance about his own plan. Majority Leader Dix then covered for him by leading other reporters to believe this proposal was one of many ideas Senate Republicans have floated, not the latest draft by the head of the tax-writing committee.
To repeat one of my unanswered questions: could a "rogue" senator bypass the Ways and Means chair and have an unauthorized tax plan "prepared for the Governor's Office," as this one was?
BE WARNED: SENATE REPUBLICANS PLAN TO LOWBALL COSTS OF TAX CUTS
The projected costs Feenstra cited in his December 8 e-mail (loss of $34 million in revenue for 2020, $72 million for 2021, $213 million for 2022, and $308 million for 2023) were lower than I remembered, based on my review of the Department of Revenue's memo last week.
Yesterday I realized he had drawn those figures from the last line on Table 24 (page 43).
Then I noticed something more troubling. I added a green box to make the important numbers easier to see: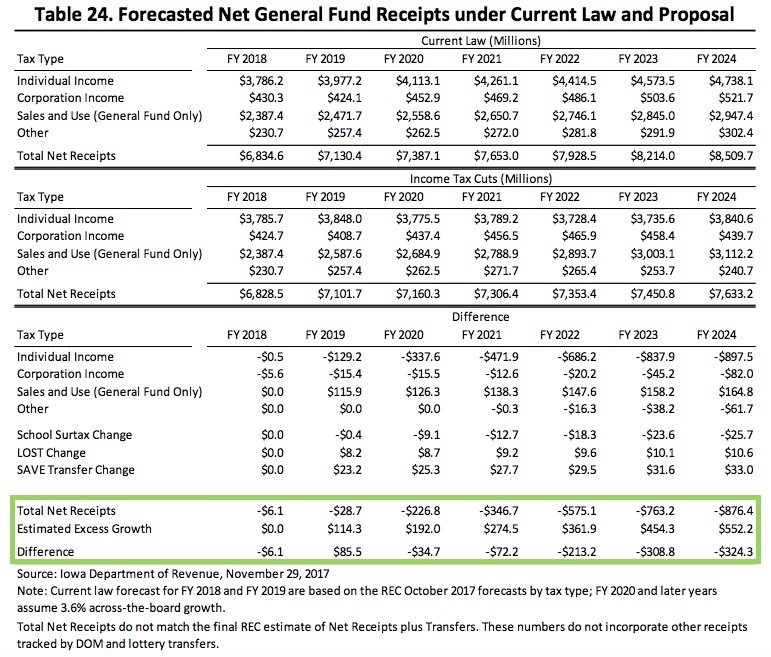 The third line from the bottom, "total net receipts," projects how much less money the state would collect under the proposed tax changes, compared to current law. Revenue losses would accelerate during the 2020s, as more income and corporate tax cuts kicked in and Iowa's already-limited inheritance tax was phased out. Net receipts would total $226.8 million less in fiscal year 2020, $346.7 million less in 2021, $575.1 million less in 2022, $763.2 million less in 2023, and $876.4 million less in 2024.
Just below, a line lists "Estimated Excess Growth" numbers, which seem to suggest that economic growth will generate revenues offsetting much of the cost of the tax reductions. That has not been the case in other states that deeply cut taxes, such as Kansas or Louisiana. The Joint Committee on Taxation's recent analysis of federal legislation undercut assertions that proposed tax cuts would produce strong enough economic growth to pay for themselves.
Nothing in the memo explains the assumptions or justifications underpinning the "Estimated Excess Growth" numbers. My understanding is that the Iowa Department of Revenue has not typically used such calculations when analyzing tax proposals. (I am seeking further information from the department.) It appears that Republican politicians have convinced professional number crunchers to smuggle a form of dynamic scoring into their review of Feenstra's proposal.
That sleight of hand allowed Feenstra to lowball the estimated costs, drawing from the "Difference" numbers on the bottom line of Table 24. This issue bears watching as the legislature takes up tax reform, because the non-partisan Legislative Services Agency, which produces fiscal notes on all draft bills, may face political pressure to juice the numbers in the same way the Department of Revenue did.
Remember: big individual and corporate tax cuts did not spark rapid economic growth or hundreds of millions of dollars of extra revenue in other Republican-controlled states. Iowa lawmakers should make decisions based on sound methodology about the impact on the budget, not magical thinking.
When Governor Reynolds releases her tax plan in early January, journalists should look closely to see whether her aides conjured up "Estimated Excess Growth" numbers as well, hoping to downplay the likely cost to the state treasury.
That kind of deception is potentially much more harmful to Iowa's fiscal health than a powerful senator lying about his tax plan in progress.
P.S.- A reader commented over the weekend that the Department of Revenue does not normally send this kind of analysis to the legislative branch in the form of an editable Word file like the one Feenstra distributed. The department has since provided a copy of the original pdf document sent to Pam Dugdale, the senior analyst for the Iowa Senate GOP caucus who works with the Ways and Means Committee. Nothing is different, other than the pagination.
Top image: State Senator Randy Feenstra, pictured on his campaign website.