Nothing happens in a campaign commercial by accident. Strategists plan every word and image, with the candidate's approval. Directors may film many takes to get the perfect cadence for every line.
So Iowans should understand: the racist tropes in Governor Kim Reynolds' latest tv ad are deliberate.
DISPARAGING ONE BLACK WOMAN WITH FOOTAGE OF ANOTHER
Here's "Still Works," which the governor's campaign launched on September 22.
The spot opens with Reynolds watching a Black woman say on television, "And defunding the police has to happen." The viewer has to look closely to see that's U.S. Representative Cori Bush speaking. I doubt even 1 percent of Iowans would recognize the first-term Democrat from St. Louis, Missouri.
Reynolds' Democratic challenger Deidre DeJear isn't for defunding the police. On the contrary: she praised a bill the U.S. House just passed, which will increase federal funds for Iowa police departments. But DeJear is a Black woman, and since she hasn't started running her own television commercials yet, it's a fair bet hundreds of thousands of Iowa voters don't know what she looks like.
The opening scene is designed to trick viewers into thinking DeJear wants to cut law enforcement funding. Even those who notice that's not Reynolds' opponent may unconsciously connect "Black woman" with "defunding the police." Research on implicit bias has shown how images can reinforce racial stereotypes.
"OPEN BORDERS" AND "WELFARE" ADD TO STEREOTYPES
A few seconds in, Reynolds mutes the broadcast and turns to the camera: "Watching the news, you wonder: has the rest of the country lost its mind?" She then ticks off several phrases designed to bring up negative associations about people of color.
As Reynolds says "Attacks on police," the viewer sees footage of a Chicago police car being set on fire during protests in the summer of 2020.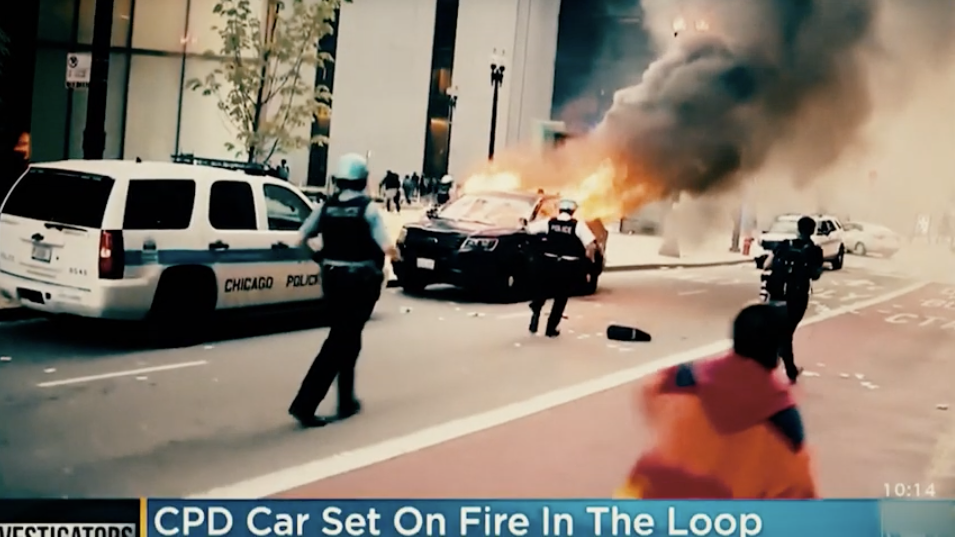 "Open borders" coincides with this image: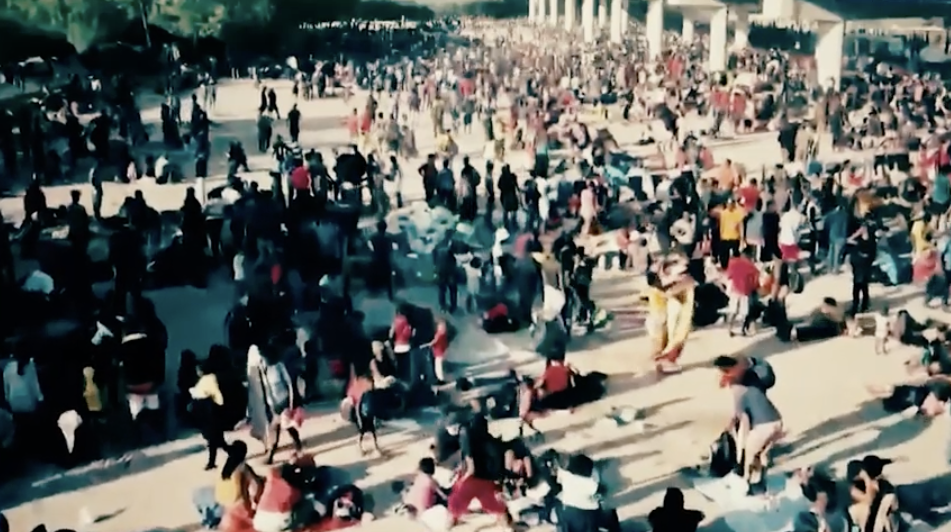 "Paying people not to work," Reynolds adds, as the spot shows a sign in capital letters: "FROM WORK TO WELFARE."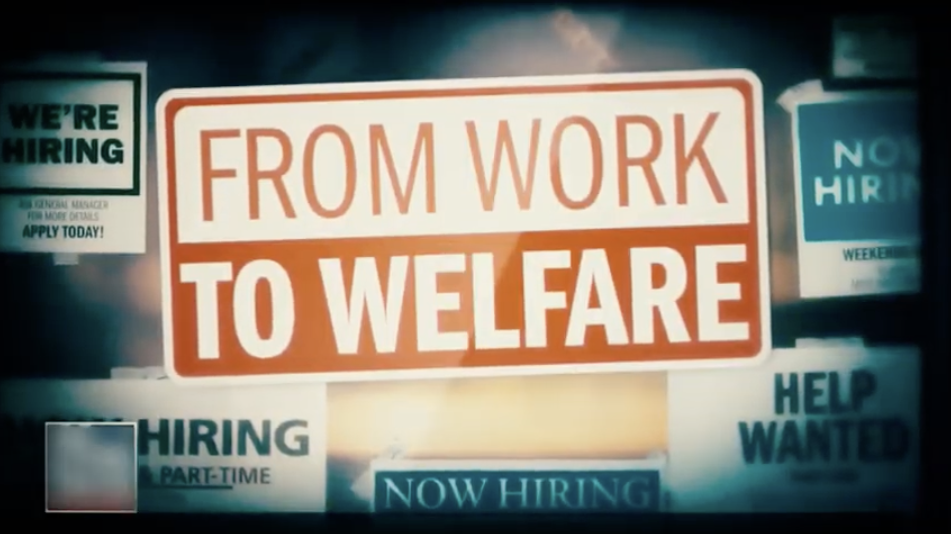 Neither DeJear nor any other Democrat advocates moving people from work to welfare. So why is this visual on screen for several seconds? Because invoking "welfare" is one of the oldest tricks in the Republican race-baiting book. The purpose is to make white viewers think government assistance is going to people who don't look like them and don't want to work.
"HERE WE STILL HAVE COMMON SENSE"
At the 15-second mark, the background music changes and Reynolds smiles at the camera: "Aren't you glad you live in Iowa?"
The viewer sees the governor happily striding out of a store featuring an "OPEN" sign. "Here we still have common sense," she says, walking down the main street, wearing a gold cross necklace. "We kept businesses open and kids in school. We cut taxes and support our police. Because in Iowa, America still works."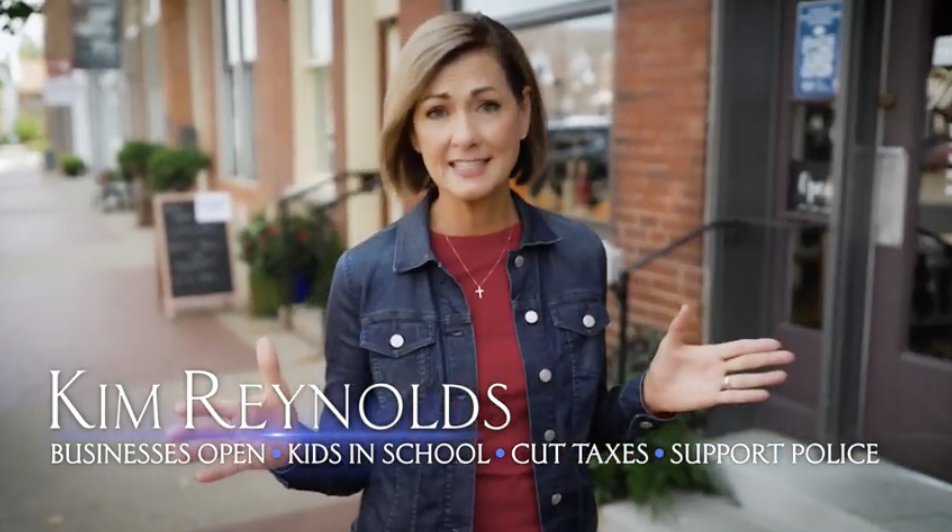 Reality check: more than 10,000 Iowans have died of COVID-19 in the past two and a half years—not counting those who died of other causes because they couldn't receive timely care in overcrowded hospitals. Our state's per capita death rate was substantially higher than that of Wisconsin, Minnesota, or Nebraska. Had we matched their pandemic response, thousands more Iowans would be alive today.
Reynolds used a large state budget surplus to justify more permanent tax cuts skewed toward the wealthiest Iowans. But an enormous influx of federal funds related to the pandemic was a major factor in that surplus. The latest round of Republican tax cuts will decimate Iowa's ability to provide adequate public services, once the new tax rates are fully phased in and federal support from the American Rescue Plan runs out.
One other point worth noting: the governor's first television commercial of this campaign had a similar tag line: "Here in Iowa, America still works." The script of that ad alluded to dysfunction in Washington, but the visuals were all upbeat scenes of rural Iowa and happy white people in small towns. (Reynolds did not appear on screen.)
Taken together, Reynolds' ads—airing in heavy rotation statewide—center the idea that white-dominated spaces are authentically Iowan, while larger, diverse cities produce discord and chaos.
DEMOCRATS DENOUNCE "LYING," "FEAR-MONGERING"
DeJear hasn't commented publicly on this commercial, but her campaign manager Lavanna Martinez provided a statement to Bleeding Heartland.
While I find it concerning that Congresswoman Cori Bush from Missouri, not Deidre DeJear, is featured in the ad, I'm most concerned that this governor is blatantly lying to voters. Not only is she misrepresenting the Iowa Democratic ticket with false claims that they wish to defund the police, but Reynolds is also ignoring Iowans' reasonable requests on issues that are affecting their lives.

This is clearly a push for a national agenda and not a focus on the needs of Iowans. Voters want to talk about physical and mental health care, abortion access, and education. All systems that are being starved by the Reynolds administration.

This ad is not about Iowa and Iowa is what Deidre DeJear is choosing to spend her time on.
DeJear's running mate, Eric Van Lancker, tweeted soon after the ad's release, "No Iowan watching this believes the Governor cares about bringing folks together, she shows you her true colors of divisiveness."
Other Democrats offered a harsher assessment. In a written statement, Iowa Democratic Party Chair Ross Wilburn described the governor's spot as "a cheap, racist and dangerous stunt using harmful stereotypes to score political points."
Kim Reynolds is deliberately dividing us with her fear-mongering and hoping that we see each other as enemies, rather than as Iowans. Her latest ad tries to create a connection where there is none and distract us from her failed leadership by using bigoted tropes that are beneath the dignity of the Governor's office.
Iowa House Minority Leader Jennifer Konfrst saw the ad as a perfect example of why "Iowans are tired and exhausted with politics today."
Instead of being honest with Iowans about her wildly unpopular plans to ban all abortion and use vouchers to strip away money from public schools, Reynolds is using lies and race to divide us for her own political gain. It's a disgrace.
LATINO ADVOCACY GROUP DECRIES "DIVISIVE" MESSAGE
Joe Enriquez Henry, political director for the nonpartisan League of United Latin American Citizens of Iowa, responded to the commercial in a statement released on September 24.
The message is divisive and contrary to who we are as Iowans. Our state depends on immigrant labor in agriculture, meat packing, the service sector, construction, and many other segments of our economy. Five percent of Iowa's population is immigrant and six percent is Latino. Governor Reynolds should not promote lies and hate.
Henry went on to say, "The ad is also misleading. Our borders are not open and have never been. Security on the southern border has actually increased in the last two years. Regardless, we must be a country that offers refuge to those fleeing violence and persecution."
When it comes to demagoguery about immigration, this isn't Kim Reynolds' first rodeo, and it probably won't be her last.
FINAL NOTE
Reynolds' campaign spokesperson Pat Garrett did not respond to Bleeding Heartland's questions about the tv ad's script and imagery. But the governor announced on September 23 that Wesley Hunt, a Black Republican Congressional candidate from Texas, will be the "special guest" at her upcoming fundraiser.
Hauling out one more time-honored trope ("I'm not racist, look at my Black friend!") won't fool anyone.
UPDATE: On September 26, the Cedar Rapids Gazette's Erin Murphy reported on DeJear's reaction to the ad.
"She doesn't even talk about elected officials in the state of Iowa. That's unfortunate. You see images throughout her ad that aren't even representing Iowa," DeJear, the Democrat and small businesswoman from Des Moines who is running against Reynolds in this fall's election, said Monday.

"None of what she said was founded in this state, and it's unfortunate. Honestly, I think it's shortsighted and lazy. But it's also unfortunate," DeJear said. "What she showed Iowans was a figment of her imagination, not what Iowans need for them."
SECOND UPDATE: Bleeding Heartland returned to this topic after realizing a second Black woman with no connection to Iowa or the governor's race makes a fleeting appearance in the Reynolds ad.
Top image created by a Bleeding Heartland reader and published with permission.