It was a busy week in Iowa politics, as state lawmakers raced the clock before the first "funnel" deadline on Friday. With few exceptions, non-appropriations bills not yet approved by at least one Iowa House or Senate committee are no longer eligible for consideration during the 2017 legislative session. For roundups of which bills are alive and dead, see James Q. Lynch's story for the Cedar Rapids Gazette and the Des Moines Register article by William Petroski and Brianne Pfannenstiel. Bleeding Heartland covered the demise of the "personhood" bill here.
Some bills that didn't clear the funnel may be attached to appropriations bills later. Republican State Senator Brad Zaun hopes to revive a medical cannabis proposal that way, Tony Leys reported for the Des Moines Register.
I enclose below Iowa Senate Minority Leader Rob Hogg's post-funnel list of the "dirty dozen" bills that Democrats are most focused on blocking during the remainder of the legislative session.
This is an open thread: all topics welcome. I'd especially appreciate tips on newsworthy comments from today's legislative forums around the state. A Democrat in Muscatine asked State Representative Gary Carlson this morning whether he had any evidence of election fraud and whether he would acknowledge that the Republican voter ID proposal is a voter suppression bill. Carlson told her, "I just want the right people to vote." Probably more honest than he meant to be. John Deeth explained the latest disenfranchising provisions House Republicans want to attach to Secretary of State Paul Pate's bill, now named House File 516.
Final note: although it was sunny and unseasonably warm today in Des Moines, only about 100 people showed up for the "Spirit of America" rally by the Capitol building. A much larger crowd came to the Capitol on a very cold Thursday in February to march against President Donald Trump's "Muslim ban" and immigration executive orders. An estimated 26,000 turned out for the Iowa Women's March at the same venue on a Saturday morning in January.
UPDATE: Added after the jump side by side photos of the Women's March and today's event. SECOND UPDATE: A reader sent me his photo (taken by a drone) of the crowd at the Capitol for the "Day Without Immigrants" rally on Thursday, February 16. Added below.
Zaun was the first speaker to the pro-Trump audience today, and he noted (accurately) that he was the first Iowa Republican elected official to endorse Trump for president. He didn't mention that he had previously declared himself "110 percent behind" Wisconsin Governor Scott Walker, whose campaign flamed out months before the Iowa caucuses. On caucus night, Trump finished third in the Senate district Zaun represents, behind Senators Marco Rubio and Ted Cruz.
UPDATE: Past and future presidential candidate Martin O'Malley was back in central Iowa on March 4, attending a fundraiser for State Senator Nate Boulton, among other events. O'Malley's 2016 presidential campaign had a strong organization on the east side of Des Moines, which is part of Boulton's district. The former governor of Maryland has visited Iowa regularly since the election, including stops in Davenport to support the special election campaigns of Jim Lykam for the Iowa Senate and Monica Kurth for the Iowa House.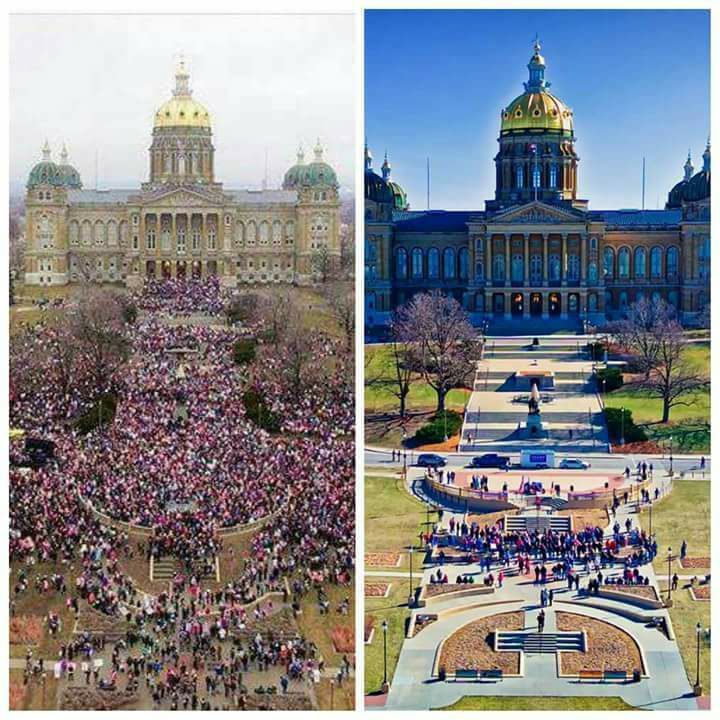 Aerial shot (taken by drone) of the "Day Without Immigrants" crowd on Thursday, February 16: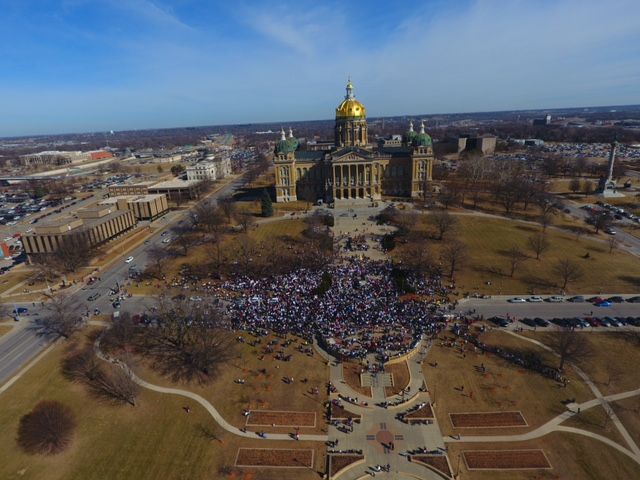 March 3 Facebook post from Iowa Senate Minority Leader Rob Hogg:
With your help, we were able to stop seven of the "dirty dozen" bills in committee this week. Now we need your help to stop the other five bills on the floor of the Iowa House or the Iowa Senate, along with seven other bills that are still eligible. So as you go to legislative forums this weekend, or contact legislators by email or by phone, or attend a public hearing on Monday or Tuesday, here is a new "dirty dozen" bills we need your help to stop:

1. Gut Workers Compensation System (HF518/SF435)
2. Prohibit Local "Pre-Qualification" for Bidding (SSB1145)
3. Circumvent "Buy American" Requirements (SF184)
4. Lower Local Minimum Wages, Prohibit Local Civil Rights Ordinances, Prohibit Local Plastic Bag Bans (HF295)
5. Government Barriers to Voting (HF516/SSB1163)
6. Make Planned Parenthood Ineligible for Medicaid Reimbursement (SF2)
7. Create Religious Exemptions for Boarding School Regulations (SSB1114)
8. Eliminate Permits to Acquire Firearms, Other Firearm Changes (HF517)
9. Unfunded Mandate on Local Officials to Enforce Immigration Laws (SSB1172)
10. End Bottle and Can Deposit Law (HSB163)
11. Take Away Local Control Of Water Supply (HF484/SSB1146)
12. Restrict Right To Bring Nuisance Lawsuit (HF468/SSB1144)

Keep speaking up and we can stop some or all of these bills.