Every election cycle brings at least one or two huge upsets in an Iowa House or Senate race. The most shocking result from a 2016 Iowa legislative race was four-term incumbent State Senator Tom Courtney losing to Thomas Greene in Senate district 44. Like the five other Iowa Senate Democrats who lost their re-election bids that year, Courtney represented constituents who had favored President Barack Obama in 2012 but voted for Donald Trump four years later.
Courtney announced on August 30 that he will try to win his old job back in 2020. He'll be heavily favored to win the Democratic nomination, but he'll have at least one competitor in the primary: Rex Troute.

THE POLITICAL LANDSCAPE OF AN OBAMA/TRUMP/HUBBELL DISTRICT
Senate district 44 covers Des Moines and Louisa counties and much of Muscatine County outside the city of Muscatine.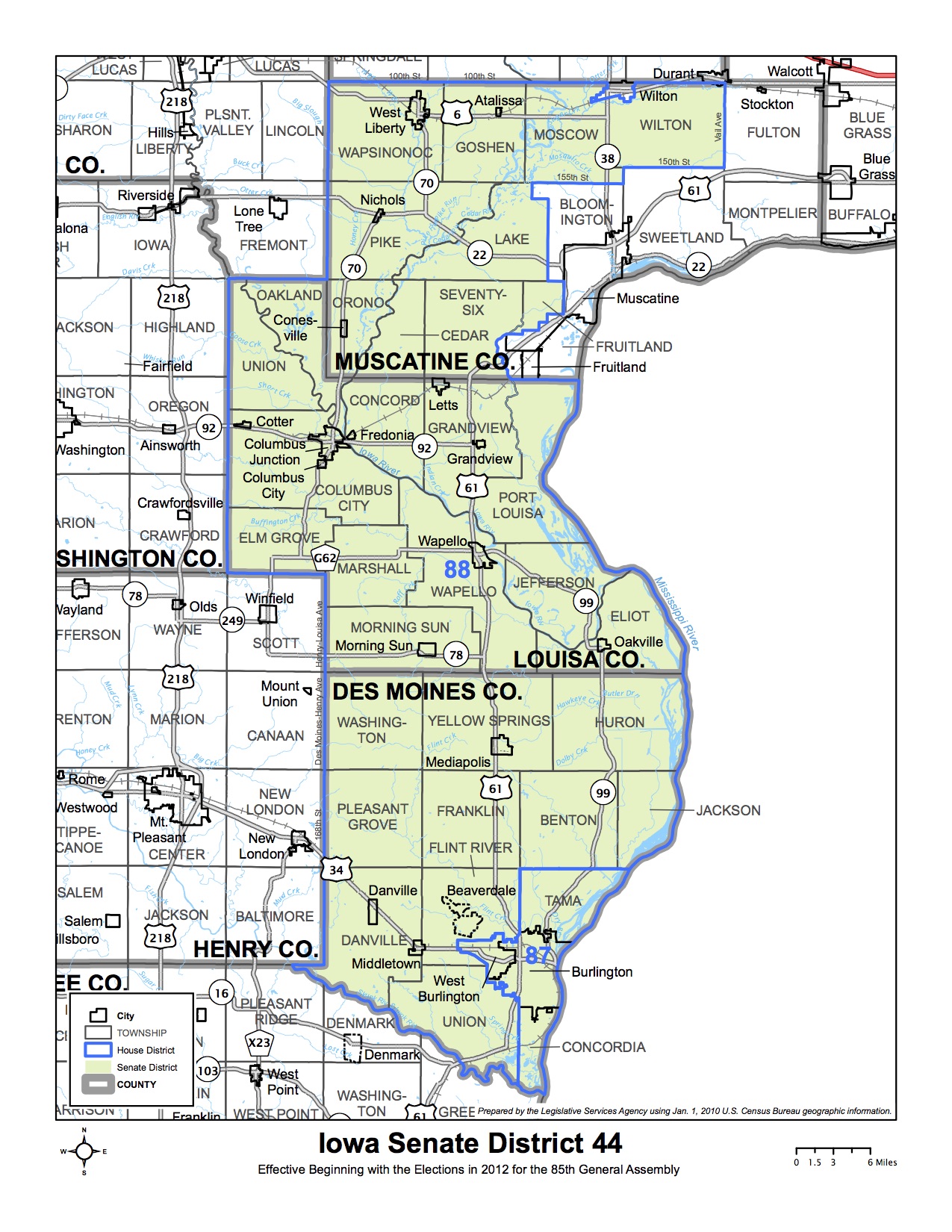 The largest city in the district is Burlington, one of the mid-sized Iowa cities that used to (but no longer) provide reliable vote margins for Democratic candidates.
Of the 32 Iowa Senate seats currently held by Republicans, Senate district 44 has the best numbers for Democrats on paper: 13,255 active registered Democrats, 10,519 Republicans, and 14,144 no-party voters according to the latest official figures.
Senate district 44 wasn't on anyone's radar as a battleground in 2016. Courtney didn't even have a Republican opponent the first year he ran for the legislature in 2004. He was re-elected by nearly 4,000 votes in 2012.
Republicans spent hundreds of thousands of dollars in each of a half-dozen other Democratic-held Senate seats they were targeting during the last presidential election cycle. But they spent less than $12,000 on digital advertising and direct mail for Greene. Iowa Democratic Party leaders failed to sense danger here; the party spent six figures defending incumbents in six other Senate districts but only $34,000 on direct mail for Courtney.
Trump was likely the decisive factor. Voters in Senate district 44 favored Obama over Mitt Romney in the 2012 presidential election by 56.9 percent to 41.9 percent, but voted for Trump over Hillary Clinton by 52.4 percent to 42.0 percent. Courtney received about 1,300 more votes in his district than Clinton did, but still lost to Greene by 14,410 votes to 13,000. That's a considerable margin in an Iowa legislative district, where the closest races can be decided by a few dozen votes.
A promising sign for Democrats: Fred Hubbell received 50.0 percent of the vote in Senate district 44 in the 2018 governor's race, while 48.1 percent of the district's voters backed Kim Reynolds. Eighteen of Iowa's 50 state Senate districts swung from Obama 2012 to Trump 2016,* but only two of those–Senate districts 44 and 39–voted for Hubbell last year.
Most of the time, winning an open seat is easier than defeating a sitting state lawmaker. Greene has not clarified his future plans. He is rumored to be leaning toward retirement, while Senate Republican leaders have encouraged him to seek re-election.
If Greene doesn't run for a second term, the most likely Republican candidate for Senate district 44 may be Tim Goodwin. He ran unsuccessfully for House district 87 in 2018, losing to State Representative Dennis Cohoon by about 1,400 votes. The other half of the Senate district (House district 88) has much better numbers for Republicans, so if Goodwin still has political ambitions, his prospects would be better in the Senate race.
BACKGROUND ON THE DECLARED CANDIDATES
Courtney enters the race as the Democratic front-runner, with high name recognition and twelve years of legislative experience. During a September 2 telephone interview, he confirmed that earlier this year, he was leaning toward running for Des Moines County supervisor in 2020. But "as it got closer and closer, I realized how much I missed the Senate. I just loved that place, and I loved the job I did and felt like I was helping Iowans." Ultimately, "I just feel like I can do more there" than as a county supervisor.
He doesn't believe Trump will carry Senate district 44 again and thinks Democrats have a good chance of winning back several state Senate seats. That would put them in a strong position to regain control of the chamber in 2022, under a new political map. He's concerned that if Republicans maintain total control of state government, they will move to privatize prisons and continue to undermine collective bargaining rights and the Medicaid program. "I can win and I can make a big difference for this state."
Courtney's August 30 news release laid out other priorities:
"After receiving amazing encouragement from many Southeast Iowans – including friends, neighbors and other concerned Iowans – I am running for the Iowa Senate again because I'm unhappy about the direction our state is heading," Courtney said. "Too many politicians in Des Moines – including our current Senator – are focused on playing political games, supporting special interests, and hurting hard-working Iowans."

Courtney added: "In the Iowa Senate, I will work hard to tackle the state's mental health crisis, to train more workers for better paying jobs, and make sure that more Iowans get the health care they need and deserve."

He added: "During my time in the Iowa Senate, I was proud of our efforts to set partisanship aside to get real work done in the Capitol for the people of Southeast Iowa. I look forward to again representing the people of Senate District 44.I want to use my experience to continue our efforts to bring good paying jobs to Southeast Iowa and to lower the tax burden on property owners."

Courtney currently serves on the Burlington School Board. A member of UAW Local 807, Courtney retired from Case/New Holland after 30 years of service. He has served on the Iowa Workforce Development Board and the Southeast Iowa Health Center Board.

Sen. Courtney is a six-year veteran of the U.S. Air Force. He and his wife, Nancy, are Southeast Iowa natives.
Rex Troute launched his campaign in Senate district 44 last month. His campaign website describes his upbringing in Burlington, education at Iowa State University, and early career in central Iowa.
Rex found his calling when he returned to his hometown in 1991 to write a novel. He answered an ad in The Hawk Eye for a part-time sports writer position. That led to a 26-year career in journalism where he earned honors for writing sports, news and business stories. He worked for four newspaper companies in Iowa and one in the Twin Cities before returning to the Hawk Eye in 2001. As business editor he had the privilege of doing stories in nearly every town in Des Moines and Louisa counties.

In the past 10 years, he published two novels "Rock 'n' Roll Savior" and "Created."

Upon retirement in 2017, the yearn to run for office became strong. Rex felt he acquired some of his political bent from his grandfather, Carl Troute, who served as mayor in Carthage, Ill.

A love for Iowa and especially this southeast corner of it, has him running for state senate for several reasons. We as a state need to grow, keep our youth home and refuse to settle for second best to any other state.

"Iowa will never have purple mountains majesty or blue oceans to attract people to our great state. We have the Big Muddy and Mighty Mississippi bookending our borders. We have to work harder to keep college graduates home and attract others to fill available jobs.


As your next state senator I will introduce a starting wage bill, which will increase the minimum wage bill three times over five years so we can compete with our neighboring states. I refer to it as boost up economics, so working Iowans don't have to struggle so hard to make ends meet."

Health care, economic development, education and agricultural issues also will be a main focus. Everything I do in the Senate will be aimed at building a stronger Iowa.
Speaking to Bleeding Heartland by phone this past weekend, Troute said he will stay in the race, even though "I realize I'm going to have a tough go in the primary" with Courtney running. Troute plans to knock on lots of doors and reach out to voters–including Republican voters–in all the district's counties.
In addition to raising the minimum wage, Troute's top priority, he wants to focus on "keeping youth and attracting youth to our state." People are starting businesses at a younger age now, and we want to keep those entrepreneurs in the state through policies like a business incubator initiative and a "free rent kick-starter." Under that concept, the state "would pay up to $1,000 per month for six months for any new Iowa college or university graduate, who chooses to start their career in the state."
Troute would also reverse Medicaid privatization and aspires to serve on the Senate Agriculture Committee "to address issues faced by Iowa's farmers and ag-business industries."
What would his pitch be to Democrats thinking about whom to support in the primary? "Granted, Tom's got years and years of experience in the Senate," Troute said. When the candidates have a chance to debate, "I want to hear if he actually has some ideas, new ideas, or whether he just wants to run to get back to Des Moines." Earlier this summer, Courtney told him he would likely run for county supervisor. (Courtney confirmed that account.) When he called Troute early last week to let him know he had changed his mind about the Senate race, he "didn't really give a reason, other than [that] his friends encouraged him to run."
Troute knows he will have a "little bit of an uphill battle" on the union front, given Courtney's strong ties to organized labor. But Troute also has ideas for supporting the working class and people in Democratic-leaning occupations, such as teachers. While Courtney starts with high name ID, Troute's past work as business editor for The Hawk Eye newspaper has given him a certain amount of name recognition as well.
Courtney told Bleeding Heartland he welcomes competition for the Democratic nomination. "If I can't win a primary, I sure can't win a general." Long ago, he used to believe it was better for the party to settle on one candidate early in the cycle. But having recruited Democrats to run in other Senate districts, he saw how contested primaries had helped the nominee come into the general election in a stronger position.
Both Democratic candidates are encouraging residents of Senate district 44 to contact them with any thoughts or concerns.
To reach Courtney: 319-759-5334 (phone) and senate44@msn.com (e-mail)
To reach Troute: 319-850-2255 (phone) and rextroute@gmail.com (e-mail)
Senate district 44 is clearly among Democrats' top pickup opportunities for 2020. Bleeding Heartland has also analyzed other districts likely to be competitive:
---
*The eighteen Iowa Senate districts that voted for Obama in 2012 and Trump in 2016 were Senate districts 7, 8, 15, 24, 26, 27, 28, 29, 32, 36, 38, 39, 41, 42, 44, 46, 48, and 49. You can find the 2012, 2014, 2016, and 2016 results for all 50 Iowa Senate districts on this Daily Kos spreadsheet.
Top image: Tom Courtney (left) and Rex Troute.