Some 63,245 absentee ballot request forms are en route to Linn County residents, with voters' names, birth dates, addresses, and personal identification numbers filled in. Joel Miller, the top elections official in Iowa's second-largest county, supervised the delivery of envelopes containing the forms to the U.S. Postal Service Bulk Mail Center in Cedar Rapids on the afternoon of July 20, he told Bleeding Heartland.
Iowa Secretary of State Paul Pate and Republican lawmakers moved on July 17 to block Democratic county auditors from sending pre-filled absentee ballot request forms. However, Miller said his research indicated neither Pate nor state lawmakers had the legal authority to stop his mailing. The Secretary of State's office did not file for an injunction or serve notice of any impending lawsuit.
Postage for the first installment of Linn County's mailing will cost $24,412.57, according to Miller. But pre-filling the forms will save his office a significant amount of staff time, as fewer forms will come back incomplete or with the wrong voter PIN.

"YOU MUST SEND THIS FORM"
More than a dozen Iowa county auditors plan to send absentee ballot request forms to all active registered voters in their jurisdictions, but only Miller and Johnson County Auditor Travis Weipert decided to populate the forms before mailing. They did so because of a law Republicans enacted in the final hours of the Iowa legislature's 2020 session. The new statute forbids county auditors from using a computer database to complete or correct absentee ballot request forms.
The law is nearly identical to an administrative rule that was in effect for Iowa's 2018 primary and permanently enjoined by a Polk County District Court the following year. The League of United Latin American Citizens and Majority Forward filed suit last week to challenge the statute, and I think their lawsuit has a good chance of succeeding. But county auditors can't wait to see how litigation plays out. They need to start mailing ballot request forms soon. Record numbers of Iowans are expected to vote by mail this fall due to the COVID-19 pandemic.
Meeting on July 17, the Legislative Council approved Pate's proposed Emergency Election Directive, enclosed in full below as Appendix 2. It calls for the Secretary of State to mail absentee ballot request forms to all Iowans, "which shall be blank" except for the election date and type. The same directive instructs auditors to "distribute only the blank Official State of Iowa Absentee Ballot Request Form."
State Elections Director Heidi Burhans attached the state's revised form with instructions to a July 20 email to county auditors and staff. It looks like this.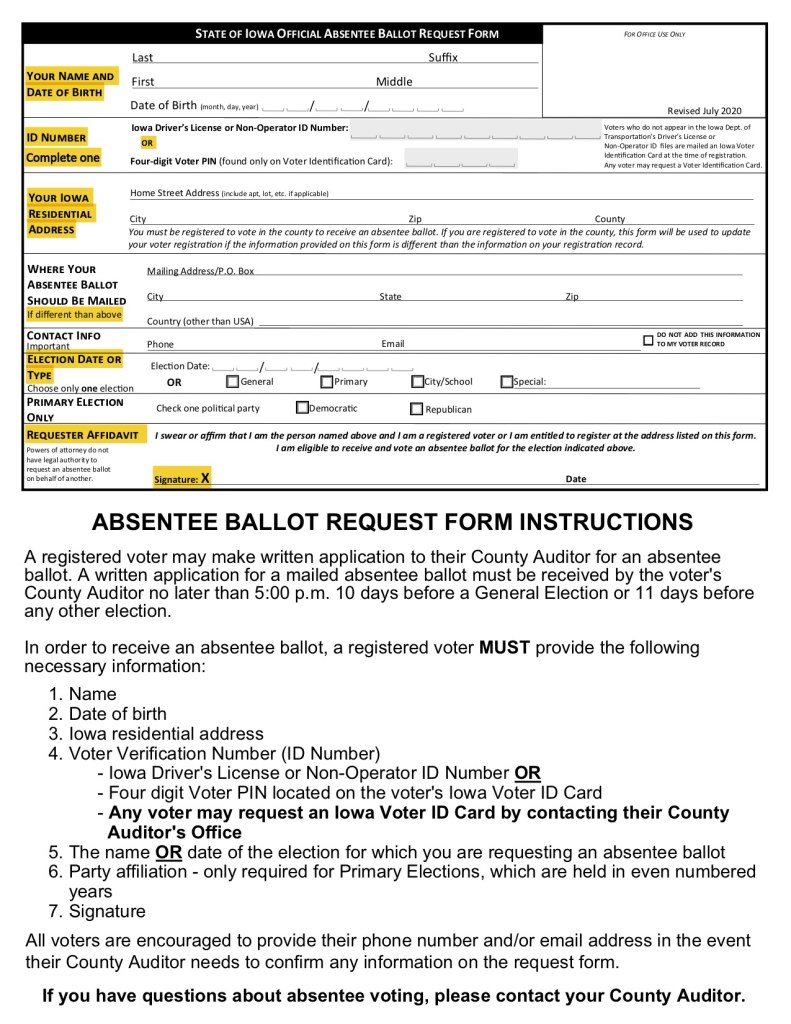 Burhans noted in that message, "When you distribute this form to voters outside of in-person absentee voting in your office and satellites, you must send this form."
Arguably the secretary of state can require that elections officials leave the state's form blank if they send it to voters. But Miller didn't use the state's form; he designed his own. Here's an example, redacted to conceal the voter's personal information.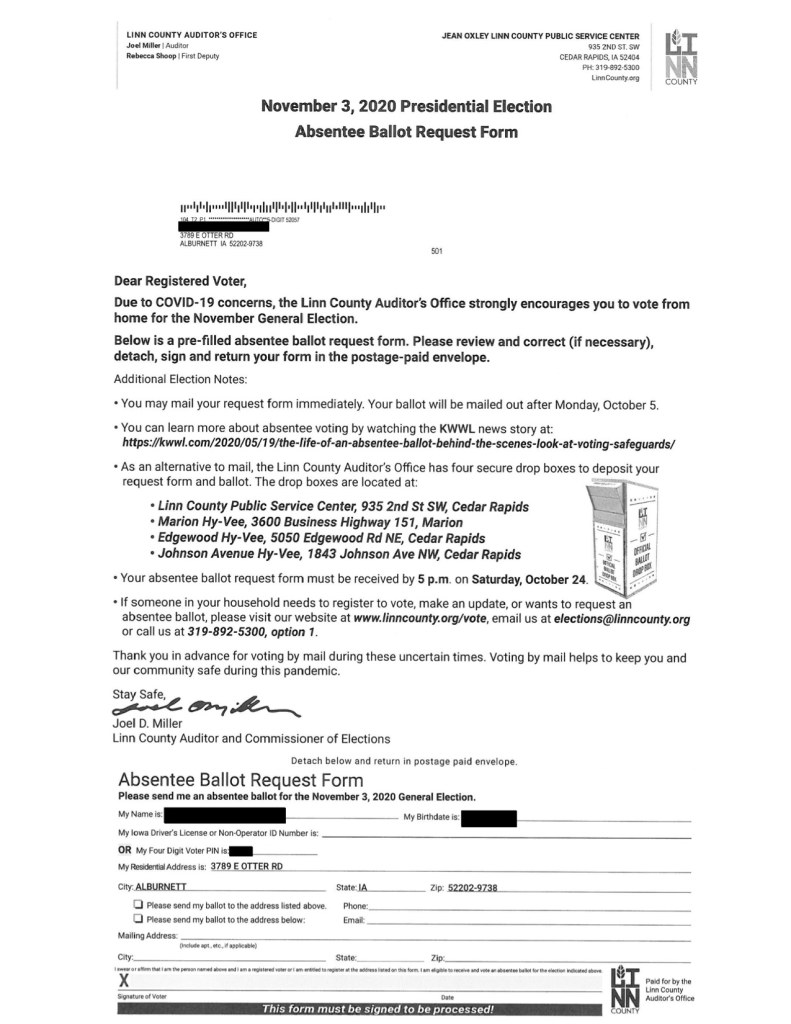 "IT'S ABOUT SAFETY"
During a July 20 telephone interview, I asked Miller why he decided to go ahead with the mailing. He pointed to the Iowa Code section cited in Pate's directive, which stipulates that the state commissioner of elections "shall adopt rules describing the emergency powers and the situations in which the powers will be exercised."
The relevant part of Iowa Administrative Code (enclosed below as Appendix 3) confers no authority to the secretary of state regarding what kind of absentee ballot request forms can be mailed to voters. Those rules foresee emergencies happening very close to an election, such as inclement weather or a polling place becoming unusable due to a fire or flood. County auditors are instructed to consult with the secretary of state about last-minute modifications such as moving or consolidating polling places.
Absentee ballot request forms are not mentioned in the rules on emergency election procedures. Other portions of administrative code refer to absentee ballot request forms, such as how the county auditor should process them. But Pate has never enacted rules to give his office veto power over what county auditors send voters in their jurisdictions.
Miller said he had researched the legal context and run his findings by an attorney, who agreed that neither Pate nor the Legislative Council has the ability to require county auditors to mail blank forms.
Miller added that he was not trying to pick a fight with the secretary of state. Rather, he was trying to make it easy for people to vote while reducing their exposure to others in a pandemic. Voters who return incomplete absentee ballot request forms because they don't know their PIN number will face delays, possibly preventing some from casting a ballot by mail. Or they may get frustrated and decide to vote on election day, increasing the risk of COVID-19 transmission at polling places. County auditors may need to hire more staff to process incomplete forms, increasing the risk of transmission among election workers.
"It's about safety," Miller told me. "Keep it simple," so Iowans can exercise their right to vote.
JOHNSON COUNTY TO FOLLOW SUIT
I sought comment from Weipert on whether Iowa's fourth-largest county will also proceed with its planned mailing. He replied via Facebook message that he hoped to start sending Johnson County's pre-populated absentee ballot request forms this week, possibly beginning July 21.
The elections office will initially mail forms to less mobile populations (rural residents and people in senior living complexes). To spread out the workload, the rest of the county's active registered voters will receive their request forms in three other waves. The last one, planned for early September, will target voters in high turnover neighborhoods and University of Iowa residence halls.
Weipert told me, "I want to thank Joel Miller for his work to promote voting in Linn and Johnson Counties."
The Secretary of State's office will send its absentee ballot request forms to all Iowa voters in late August, Burhans told county auditors on July 20. Depending on when state officials pull the voter list, that mailing may miss thousands of college students, most of whom won't arrive on Iowa campuses until the middle of next month.
UPDATE: By July 24, Miller's staff had sent more than 110,000 forms to Linn County voters, and voters had returned nearly 6,000 of the forms. The rest of the ballot requests were due to be mailed during the last week of July.
Johnson County elections staff took the first batch of forms to the post office on July 27.
LATER UPDATE: Miller tweeted on July 28 that his office had mailed "the last of the 140,000 absentee ballot request forms," and had already received more than 20,000 signed forms.
Meanwhile, the Secretary of State's office and Republican National Committee stepped up the legal pressure on Miller and Weipert on July 27. Bleeding Heartland covered that story in detail here.
____________________
Appendix 1: July 20 email from state elections director Heidi Burhans to county auditors and staff
Dear County Auditors, Deputies and Staff:

The attached Emergency Election Directive approved by the Legislative Council last Friday allows for the following:

Section One. Secretary of State's Office will mail an absentee ballot request form to Iowa's active registered voters for the 2020 General Election. Based on your feedback regarding the ABR mailing for the Primary, we are working to issue this mailing in late August to allow you plenty of time to enter the requests into I-Voters without having to rely on overtime.

Section Two. We have added instructions to the Absentee Ballot Request Form (see attached) and posted it to the SOS website. When you distribute this form to voters outside of in-person absentee voting in your office and satellites, you must send this form.

Section Three. All UOCAVA voters may return their ballot by electronic transmission for any remaining election in 2020.

Section Four. Any individual admitted to an HCF after the deadline to request a mailed absentee ballot may still request an absentee ballot per the applicable provisions of §§53.22(3) and 53.22(6) for any remaining election in 2020.

Please contact me with any questions.
Appendix 2: Secretary of State Paul Pate's Emergency Election Directive, which the Legislative Council approved on July 17
Appendix 3: Iowa Administrative Code Chapter 721, Section 21.1, containing rules on emergency election procedures
Top photo of Linn County Auditor Joel Miller at the U.S. Postal Service Bulk Mail Center in Cedar Rapids on July 20 provided by Miller and published with permission.