Republican Secretary of State Paul Pate appears to be on a collision course with election administrators in Iowa's second- and fourth-largest counties, which both lean Democratic.
Linn County Auditor Joel Miller and Johnson County Auditor Travis Weipert have proceeded with mailing absentee ballot request forms to every active registered voter in their jurisdictions, with voters' information filled in. Miller's office has nearly completed is mailing, and thousands of Linn County voters have already returned their forms. Weipert's staff mailed the first batch of pre-filled absentee ballot request forms to Johnson County residents on July 27.
The same day, Pate's staff attorney wrote to Miller and Weipert, asking dozens of questions about the mailings and demanding a broad array of relevant documents. Those letters sounded like the precursor to legal action.
Also on July 27, the lead attorney for the Republican National Committee asked Pate to take emergency action to block the Linn and Johnson County mailings and declare the forms invalid. His letter indicated that the national party may sue to stop Miller and Weipert from giving voters in their counties a supposedly "unconstitutional advantage in the November election."

A REACTION TO AN "IRRATIONAL, ILLOGICAL" RESTRICTION
Iowa's local election officials have mailed absentee ballot request forms to all voters in their counties many times before previous elections. Auditors in Linn, Woodbury, and Dubuque counties did so before the 2020 primary, because voting by mail from home is safer than coming to a polling place during a pandemic.
The current conflict centers around Miller's and Weipert's decision to print such forms with voters' names, birth dates, addresses, and voter PINs filled in. They did so for one reason: Republican legislators approved a bill in the closing hours of the 2020 legislative session that will make it more difficult for county auditors to process absentee ballot request forms that are incomplete or have some fixable error.
Under the new code language, county auditors may not consult the voter database to fill in missing information or correct obvious mistakes. Most voters don't know their four-digit PIN, so they commonly leave that line on the absentee ballot request form blank, or put down the last four digits of their Social Security number. In the past, county elections staff could solve the problem in seconds by looking up the correct number from the voter file on their office computers.
The new law requires auditors to contact voters by phone, email, or regular mail to seek the missing information. In most cases, that will mean sending a letter through the U.S. Postal Service. Miller told KCRG-TV recently that "out of about 155,000 registered voters in his county, his office only has about 9,000 email addresses and 56,000 phone numbers on file."
Plaintiffs have already sued to block the new law. They maintain it "will only lead to unnecessary delay and substantially increase the risk of disenfranchisement of entirely eligible, lawful Iowa voters." They have a good chance to succeed, because the language is similar to an administrative rule that a Polk County District Court struck down in 2019 as "irrational, illogical, and wholly unjustifiable."
Nevertheless, Pate tried to stop the Linn and Johnson mailings with an emergency directive, instructing county auditors to mail only blank forms to voters. The Republican-dominated Legislative Council approved the directive earlier this month.
Miller and Weipert moved forward after concluding that Iowa Code and administrative rules on the secretary of state's emergency powers do not give Pate authority to dictate the absentee ballot request mailings county auditors can send.
"THIS IS AN OFFICIAL DEMAND FOR DOCUMENTS"
Molly Widen, the legal counsel for the Secretary of State's office, sent nearly identical letters to Weipert and Miller on the afternoon of July 27. The "official demand for documents" invoked an Iowa Code section that allows the secretary of state to examine a county auditor's records "to evaluate complaints and to ensure compliance" with state law. I've enclosed both three-page letters in full at the end of this post.
Pate's office wants to review many details about the absentee request mailings, from the list of targeted voters to the cost of postage for each batch to the contracts signed with vendors that printed the forms. Widen also asked whether voters' "personally identifiable information" was encrypted and whether the auditors had ensured that vendors "properly disposed of the information."
In addition, Widen wanted to know whether the Linn or Johnson County attorneys (who like the auditors are elected officials) had signed off on disregarding a warning from the state elections director, Pate's emergency directive, and "the intent of the legislature" as expressed in the last-minute amendment related to absentee ballot request forms.
If the auditors consulted with outside counsel before proceeding with their mailings, were their respective county attorneys aware of that? How much did the external legal advice cost, and how did Weipert and Miller cover that expense?
Ominously, Widen asked for the names of all Linn or Johnson County employees "who assisted in developing, designing, and promoting the absentee ballot request form mailing, including any employee who accessed I-VOTERS [the computerized voter file] related to the mailing." That reads as if the secretary of state is considering retaliatory action against not only the auditors, but also their subordinates.
Pate's lawyer also wants to review records of "communications between you or any member of your staff and another County Auditor or employee of another county," and a description of any additional mailings the elections offices plan to send in 2020.
Widen gave the auditors ten days to answer every question and provide all responsive documents.
That wasn't the only communication of the day hinting at legal action to stop the mailings.
THE REPUBLICAN ARGUMENTS AGAINST THE AUDITORS
About 237,000 active registered voters (roughly 12 percent of the statewide electorate) live in Linn or Johnson counties, and those voters tend to provide large margins for Democratic candidates. Republicans have incentive to oppose any efforts to make it easier for residents of the Cedar Rapids-Iowa City corridor to cast a ballot. Whereas Donald Trump carried Iowa by nearly 10 points in 2016, recent polling suggests a close contest for this state's six electoral votes, a toss-up U.S. Senate campaign, and competitive races in several U.S. House districts.
The Republican National Committee's chief counsel J. Justin Riemer wrote to Pate on July 27 regarding what he described as illegal action by Miller and Weipert.
Riemer asserted that sending pre-filled absentee ballot request forms was a "severe breach of security," undermining voters' privacy and jeopardizing the integrity of the electoral process.
Worth noting: no one objected when Miller sent voter registration cards containing personal information to every active registered Linn County voter before the 2012 and 2016 general elections. In addition, state law requires county auditors to mail confidential information to voters in some situations, such as sending a voter ID card to Iowans without a driver's license or non-operator ID.
The RNC's attorney identified "four serious legal concerns, as well."
Equal protection
First, he argued, sending pre-filled absentee ballot request forms could violate the U.S. Constitution's Equal Protection clause. In so doing, Riemer tacitly admitted that the Republican-backed mandate to send blank forms would likely prevent some eligible Iowa voters from receiving an absentee ballot. (emphasis added)
For example, it is likely unconstitutional for counties within a state to adopt different voting systems with materially different error rates. [...]

Here, auditors in two counties are sending their citizens absentee ballot request forms with their names, addresses, birthdates, and voter identification numbers already populated based on government records. Thus, government officials are selectively revealing only to some voters exactly the information from the statewide voter registration database that election officials would deem legally sufficient to entitle them to receive an absentee ballot. Other voters, in contrast, are left to fill out the forms themselves, subjecting them to the possibility that their information will be declared incorrect or a "mismatch." This system unfairly guarantees that only some voters will receive an absentee ballot simply by signing the request form, while others face the potential for rejection. The Equal Protection Clause prohibits government officials from according such disparate treatment to voters participating in the same election. Your office's decision to distribute blank absentee ballot request forms to all voters throughout the state, in contrast, satisfies Equal Protection restrictions by placing all voters on a level playing field, according everyone an equal opportunity to apply for, receive and cast absentee ballots.
Election administration is rarely identical in every county. In the same state, counties may use different kinds of voting machines, or adopt different ballot designs. Woodbury County Auditor Pat Gill has been sending universal absentee ballot request mailings for several election cycles. No one has ever suggested his practice puts voters in other Iowa counties at an unfair disadvantage.
Need for the voter to "play some active role"
The second alleged legal problem stems from new language Republican lawmakers approved, which says "a registered voter shall provide" certain information on the absentee ballot request form.
Prior to the recent amendment, this provision was written in the passive voice, specifying only that each absentee ballot application "shall contain" the specified information. Iowa Stat. § 53.2(4)(a) (2018). The legislature's decision to specifically change § 53.2(4)(a)'s language demonstrates that the voter must play some active role in "provid[ing]" the information on his or her application. The counties' prepopulated forms violate § 52.3(4)(a) because the only thing they require voters to provide is their signatures.
I would welcome input from attorneys on this point. To my mind, if I sign a form and send it back to my county auditor, I am providing the information.
Emergency powers
Riemer's third argument relates to the secretary of state's emergency election powers. But as Bleeding Heartland discussed here, that code section says the state commissioner of elections "shall adopt rules describing the emergency powers and the situations in which the powers will be exercised." The relevant part of Iowa Administrative Code doesn't mention absentee ballot request forms at all, let alone give the secretary of state authority to determine what kind of form county auditors can mail to voters.
Riemer complains that the county auditors "violated this statute by taking it upon themselves to exercise emergency powers without authorization from either your office or the Legislative Council." But auditors don't need to invoke emergency powers to mail information or absentee ballot request forms to voters. That's a regular part of their job.
The brand-new law requiring Pate to obtain permission from the Legislative Council for any emergency changes to election procedures imposed no such mandate on county auditors.
Solicitation?
The fourth legal argument is bizarre. Supposedly mailing a pre-filled form to voters "may violate Iowa's prohibition on solicitation by public employees." I'm no lawyer, but this code section seems to address a situation where a voter comes into the elections office for some other purpose, and an employee tries to talk the person into requesting an absentee ballot.
According to the RNC lawyer, "Distributing pre-completed absentee ballot request forms, and encouraging voters to simply sign and return them, appears to constitute solicitation of an application for absentee ballots in violation of these provisions."
How is that qualitatively different from what Pate conveyed to every active registered Iowa voter before the 2020 primary election? Here's the back side of that mailing. Note the sentence in orange ink and enlarged font, just below "A MESSAGE FROM THE IOWA SECRETARY OF STATE":
"We encourage you to vote absentee at home to stay safe, practice social distancing, and help slow the spread of COVID-19."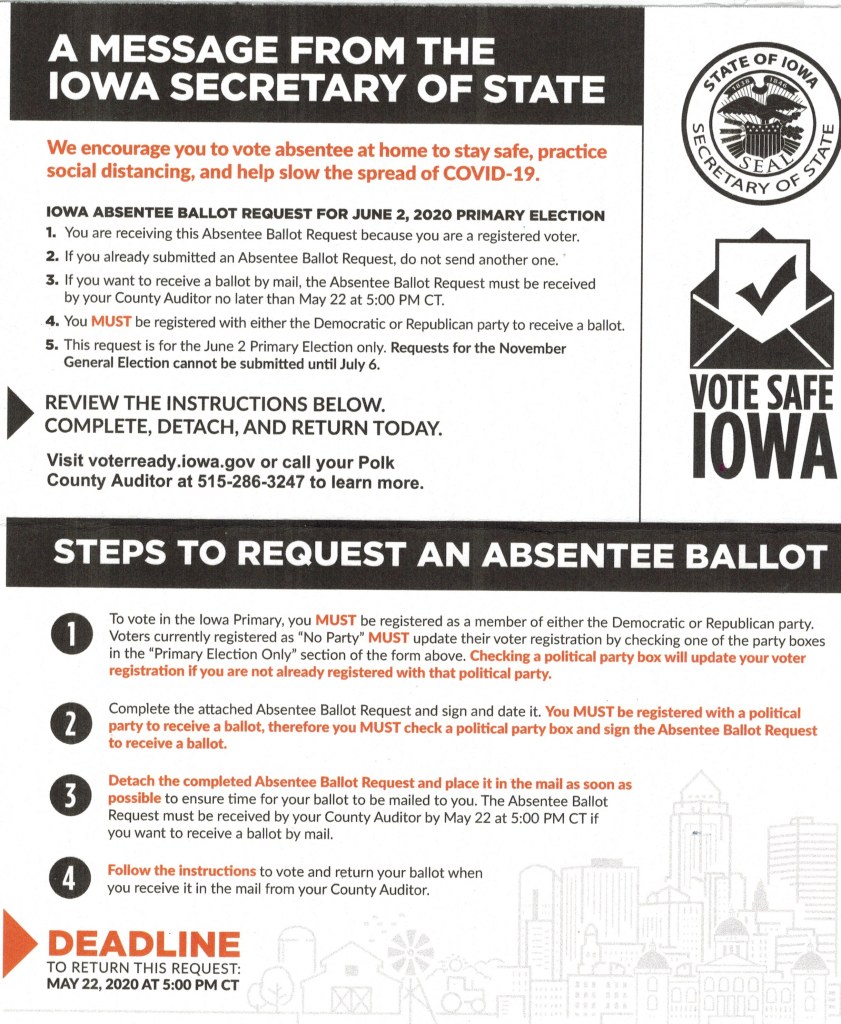 UPDATE: Multiple readers pointed out that the code section banning "solicitation by public employees" stipulates, "This subsection shall not apply to any elected official"--which county auditors and the secretary of state are.
"WE RESPECTFULLY REQUEST THAT YOU EXERCISE YOUR AUTHORITY"
The RNC's counsel asked Pate to issue "an emergency rule, order, directive, or other appropriate instrument" to:
prohibit all county auditors from distributing pre-filled absentee ballot request forms;
require auditors to stop such activity;
direct auditors who have already distributed pre-filled forms to "individually notify each voter by mail and e-mail that the prepopulated form is invalid and may not be used to request absentee ballot," and "send a replacement blank absentee ballot request form to each voter who received a prepopulated form";
order auditors to "disregard any prepopulated information" on returned forms;
declare such forms "legally insufficient for transmitting an absentee ballot"; and
proceed in accordance with the state law forbidding auditors from using the database to complete absentee ballot request forms.
In conclusion, Riemer wrote,
I look forward to the opportunity to resolve this issue without the need for litigation. The auditors of Linn and Johnson Counties have given their voters an unconstitutional advantage in the November election; blatantly violated state law provisions governing absentee voting, election emergencies, and solicitation of absentee ballot applications; undermined the authority of both your office and the Legislative Council; and needlessly circumvented crucial safeguards on the integrity of the absentee voting process.
UPDATE: Reader Jan Johnson noted via Facebook comment,
There is a formal process in the administrative rules if you want the SOS to initiate rulemaking. It's in Chapter 8. 721 IAC 8.1. But they try to do this informally. If they want a rule, use the formal procedure. Follow the rules.
"THIS IS AS WRONG AS IT IS UNPRECEDENTED"
Miller and Weipert did not publicly comment on the secretary of state's demand for documents but issued the following joint statement regarding the RNC's letter.
Iowans have a hard-earned time-tested tradition of holding fair and free elections, uncontaminated by the efforts of outside pressure groups. That unique tradition is a part of what we sometimes call the "Iowa Way." Consistent with that tradition, our offices are making every effort to give active voters in Linn and Johnson Counties all reasonable options to assure that every vote counts and can be cast in the safest ways possible.

An important part of those safe-voting efforts has been to send, in sealed envelopes to their last known addresses, to every active voter—regardless of party affiliation—absentee ballot request forms with correct voter identification information included on the forms, so that they can be returned to our offices, where we serve as the County Commissioners of Elections, so that absentee ballots can be issued to those voters starting on October 5th.

It is extremely concerning that the Republican National Committee is placing pressure on Iowa Secretary of State Paul Pate to impede our efforts to make voting easier and safer for Iowans during a pandemic. This is as wrong as it is unprecedented. Secretary Pate would be wise to ignore this pressure to contaminate Iowa's storied fair election processes. Let him perform his job, too, consistent with the Iowa Way, unsullied by outside influences.
This whole confrontation should never have happened. GOP legislators should have cheered the record-setting primary turnout, congratulated the Republican secretary of state, and encouraged another successful vote by mail campaign this fall.
Instead, the GOP majority quickly worked up bills to limit Pate's authority and complicate county auditors' ability to process ballot request forms.
If not for those "irrational, illogical, and wholly unjustifiable" restrictions, Weipert and Miller wouldn't have bothered to send their constituents pre-filled absentee ballot request forms. They would have had their staff use the best available means (the database) to complete forms that came back with some minor defect.
I will update this post as needed.
UPDATE: Reader Jan Johnson pointed out that the code section allowing the secretary of state to investigate a complaint reads in part, "[t]he state commissioner shall adopt rules pursuant to chapter 17A to require a commissioner to provide written explanations related to examinations conducted pursuant to this subsection." She couldn't find any such rules in Iowa administrative code, casting doubt on whether county auditors have a legal obligation to respond to Widen's questions and document demand. Johnson added,
That raises the issue, in general, of the authority of the SOS over the county auditors. I understand the SOS is the state commissioner of elections and the county auditors are the county commissioners of elections. Both are elected officials. I didn't see anything in the rules giving the SOS authority over the actions of the county auditors. The SOS can certainly try to pass laws and rules that will impact the counties. But there is a statement that the SOS's office is there to help the counties and answer their questions. "The [election] department is in contact with every county commissioner of elections and helps them with their questions, prescribes various uniform forms used in elections and makes rules and procedures as directed by the election laws." 721 IAC 1.4(3). That seems to anticipate a different relationship than the SOS' counsel is attempting to create.
_____________________
Appendix: July 27 letters from Molly Widen, legal counsel for the Iowa Secretary of State's office, to Johnson County Auditor Travis Weipert and Linn County Auditor Joel Miller
Top image cropped from a photo the Linn County elections office posted on Twitter on July 24. Each tray contains about 1,000 absentee ballot request forms that voters had returned to the county auditor.