Linn County Auditor Joel Miller has notified the Iowa Secretary of State's office that he plans to begin mailing absentee ballot request forms to all active registered voters in his jurisdiction on July 20. Contrary to guidance from the state's elections director, forms will have voters' names, birth dates, addresses, and personal identification numbers filled in.

"I AM TAKING ACTION TO ASSURE THAT ACCESS"
In a July 11 letter to Secretary of State Paul Pate's legal counsel (enclosed in full below), Miller said that in light of the COVID-19 pandemic, election administrators "must do everything reasonably possible to assist voters' participation in a safe manner." He believes "absentee ballot request forms should be made readily available to the voters in my county, and I am taking action to assure that access."
At least eighteen of Iowa's 99 county auditors, including those in the state's most populous counties, have announced plans for universal absentee ballot request form mailings this summer. However, only Miller and Johnson County Auditor Travis Weipert have said their offices will print individuals' information including the voter PIN on the forms. The move should substantially reduce the number of forms that come back incomplete or with common errors such as the last four digits of a voter's Social Security number where the PIN should be.
Here's a blank absentee ballot request form, like the one Iowans can download from the Secretary of State's website.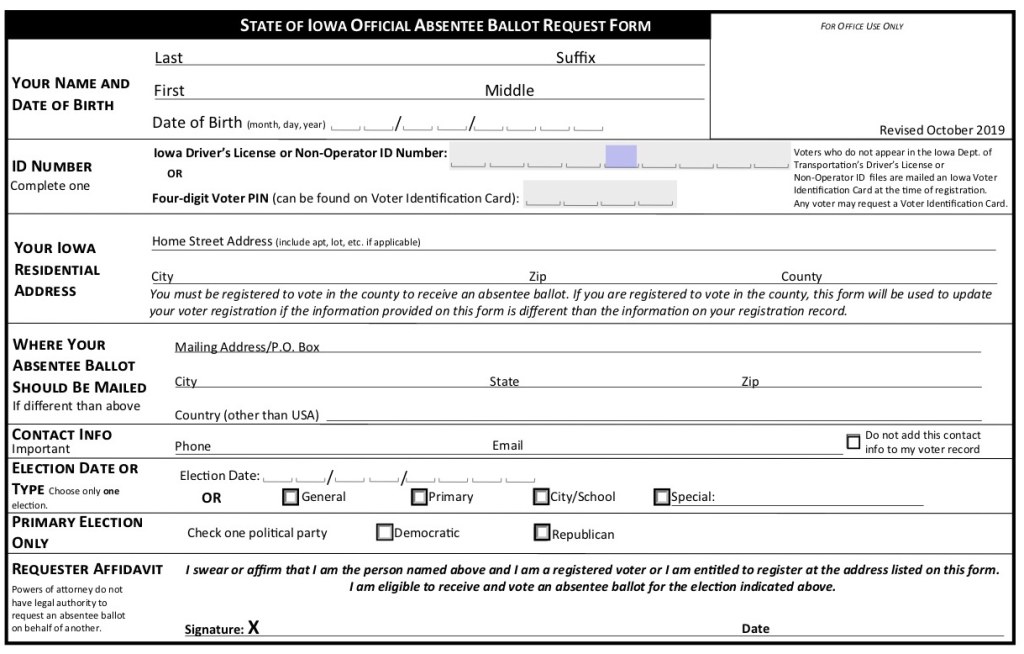 Here's one of two sample forms Miller attached to his July 11 letter, with confidential information redacted.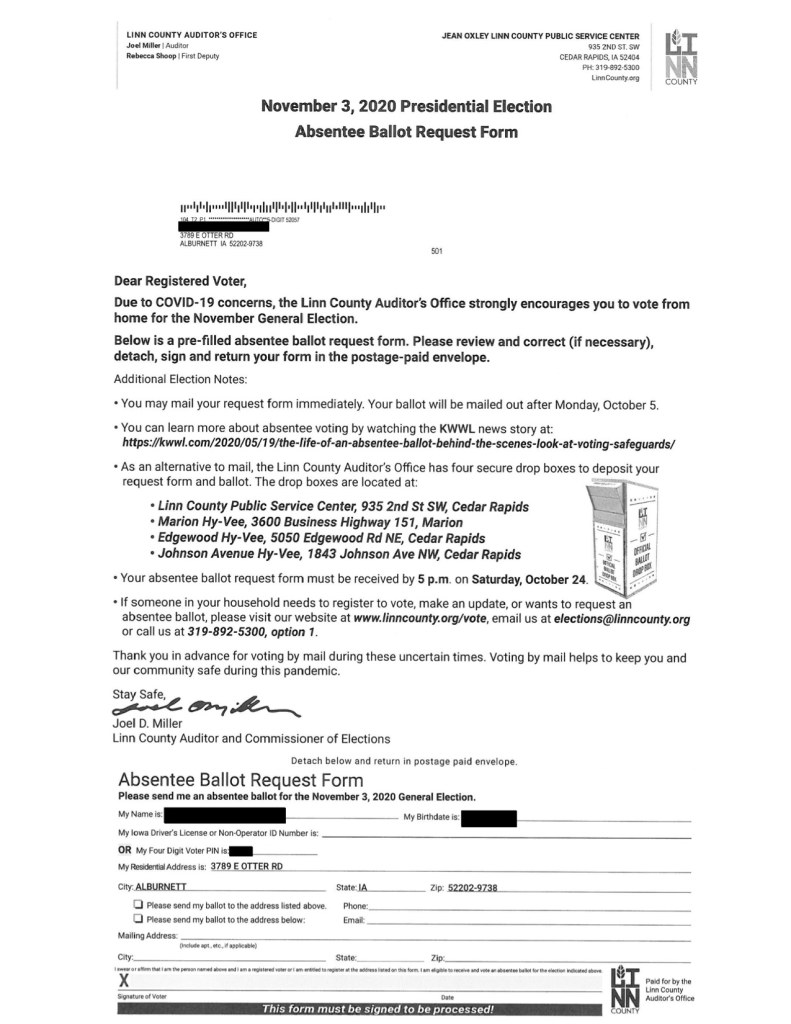 Weipert confirmed to Bleeding Heartland on July 11 that Johnson County's elections office will fill in the same fields on the absentee ballot request forms they will start sending to active registered voters later this month.
"UNLESS OTHERWISE DIRECTED BY A COURT"
State Elections Director Heidi Burhans warned county auditors on July 6, "The ID Number field can NOT be pre-populated because it is considered a confidential record" under Iowa's open records law.
Miller emphasized in his letter to the Secretary of State's office that he disagrees with Burhans' legal analysis and is pursuing his own path. "Linn County's voters are expecting my office to mail them prefilled ABRFs including their Four-digit PIN so that they might proceed promptly in requesting absentee ballots."
He then made clear that state officials will need to go to court to stop him.
The basis for any objection to me assisting active registered voters in the manner described is not clear. However, to the extent that there is a genuine difference of opinion grounded in public records law, I know that Iowa law provides prompt access to the Iowa District Court to address such objections.

To that end, please know of my intent (unless otherwise directed by a Court exercising jurisdiction over this matter) to start delivering prefilled ABRFs (mailed in the manner described herein) to the USPS [U.S. Postal Service] on 20 July 2020.
The COVID-19 pandemic has significantly delayed many Iowa court proceedings, but judges can preside over hearings telephonically. There is precedent for Iowa courts to expedite election-related litigation.
WILL PAUL PATE SUE TO STOP LINN COUNTY'S MAILING?
Miller made his challenge known by forwarding his letter to journalists and publishing it on his own blog under the headline, "Linn County Auditor puts Iowa Secretary of State on notice." He's obviously not worried about any publicity his conflict with state officials may receive.
The Secretary of State's office did not immediately reply to questions about Miller's letter and possible legal action. That's not surprising, since Pate's staff have not responded to any of Bleeding Heartland's inquiries for months.
Pate deservedly received wide acclaim for extending Iowa's early voting period and mailing absentee ballot request forms to all registered voters before the 2020 primary. His actions contributed to record-breaking turnout, but also angered some Republican legislators, who quickly moved to constrain his emergency powers.
The secretary of state refrained from public comment as the Iowa Senate and House considered different versions of that bill. Lawmakers eventually agreed to force Pate to seek permission from the Legislative Council for any emergency decisions to alter election procedures.
I see little upside for Pate in going to court. His legal counsel's interpretation of relevant law is weak, and his election director's guidance to county auditors misrepresented the code section. The open records law restricts what custodians of voter registration files can release to the public but does not forbid auditors from sending voters their own personal information, such as a PIN. Before the 2012 and 2016 general elections, Miller mailed cards to all Linn County voters with their registration details and polling place location.
Iowa law even requires auditors to send confidential information to voters on occasion. For instance, a newly-registered voter who does not have a driver's license or non-operator ID is supposed to receive a voter ID card containing a PIN in the mail. Iowans who lose their voter ID card can ask their county auditor to send them a replacement.
Even if state attorneys somehow convince a judge to stop auditors from pre-filling absentee ballot request forms, does Pate really want to make news this way? Obstructing local officials who are seeking to help Iowans make the necessary arrangements to vote early and safely? Linn and Johnson are the state's second- and fourth-largest counties, containing about 237,000 of Iowa's 2 million active registered voters.
I'll update this post as needed with further developments.
UPDATE: The secretary of state's legal counsel acknowledged receipt of Miller's letter on July 13. Staff have not replied to Bleeding Heartland's questions about possible next steps.
____________
Appendix 1: Full text of Linn County Auditor Joel Miller's July 11 letter to Molly Widen, legal counsel for Iowa Secretary of State Paul Pate (emphasis in original)
Molly M. Widen - Legal Counsel
Office of Iowa Secretary of State Paul D. Pate

Via email

11 July 2020

Dear Ms. Widen:

RE: Notice of intent to mail prefilled absentee ballot request forms to Linn County's active voters

On July 6th, I received the email below from Director of Elections Heidi Burhans, which indicates, "The ID Number field can NOT be pre-populated ...." onto prefilled absentee ballot request forms (ABRF) mailed to voters.

I, as the County Auditor of Linn County, duly authorized as the County Commissioner of Elections, and as a custodian of voter records, including Voter Identification Numbers and Four-digit PINs (personal identification numbers), DO NOT AGREE with the Director's statement.

I believe that in the midst of the COVID-19 pandemic, those who are privileged to administer the election process must do everything reasonably possible to assist voters' participation in a safe manner. As the Secretary of State demonstrated in the state's recent primary election, safe voting through the use of mailed ballots is a choice that many Iowans prefer.

To that end, I believe that absentee ballot request forms should be made readily available to the voters in my county, and I am taking action to assure that access.

The purpose of this email is to give the Office of Iowa Secretary of State Paul D. Pate notice of my intent to mail, in a sealed envelope addressed to each ACTIVE registered voter in Linn County, at the address best known to our office after diligent searches, sent via First Class USPS postage, a prefilled ABRF including the voter's Four-digit Voter PIN (personal identification number).

Samples of actual ready-to-mail prefilled ABRFs are attached to this email for your information and records. The names, dates of birth, and PINs have been redacted from these ready-to-mail ABRFs. In each instance, an ACTIVE registered voter's PIN will be prefilled onto the form along with the voter's personal information.

The Office of Linn County Auditor has already expended public funds in anticipation of mailing these prefilled ABRFs. I am giving you notice that these ABRFs will be delivered to the USPS (United States Postal System) starting on Monday, 20 July 2020.

My office gave notice to the public of its intent to send out prefilled ABRFs via a news story published in The Gazette, the County's official newspaper, on 2 July 2020 - see https://www.thegazette.com/subject/news/government/buoyed-by-iowas-primary-turnout-auditors-push-absentee-ballot-requests-20200702

Linn County's voters are expecting my office to mail them prefilled ABRFs including their Four-digit PIN so that they might proceed promptly in requesting absentee ballots.

The basis for any objection to me assisting active registered voters in the manner described is not clear. However, to the extent that there is a genuine difference of opinion grounded in public records law, I know that Iowa law provides prompt access to the Iowa District Court to address such objections.

To that end, please know of my intent (unless otherwise directed by a Court exercising jurisdiction over this matter) to start delivering prefilled ABRFs (mailed in the manner described herein) to the USPS on 20 July 2020.

Regards,
Appendix 2: Redacted sample absentee ballot request forms that Linn County intends to mail to active registered voters, attached to Joel Miller's July 11 letter: