Donald Trump's presidential campaign and four Republican Party entities filed suit on August 12, seeking to invalidate tens of thousands of absentee ballot request forms in two large, Democratic-leaning Iowa counties. The plaintiffs allege Linn County Auditor Joel Miller and Johnson County Auditor Travis Weipert committed "illegal actions" when they mailed absentee ballot request forms that were pre-printed with voters' information.
The Republican lawsuit is heavy on political posturing but fails to lay out a convincing legal case.

WHAT REPUBLICANS WANT
The five plaintiffs are the Republican National Committee, Trump campaign, National Republican Senatorial Committee, National Republican Congressional Committee, and Republican Party of Iowa. The NRSC is the main campaign arm for U.S. Senate Republicans, and the NRCC is the main campaign arm for U.S. House Republicans.
Linn County, containing the Cedar Rapids area, is the second-largest in Iowa and the most populous of the 20 counties in the first Congressional district. Johnson County, containing the Iowa City area, is the state's fourth-largest and the second-largest (after Scott) of the 24 counties in the second Congressional district. Johnson consistently provides the biggest vote margins for Democratic candidates in statewide races.
This file contains the documents filed in Johnson County and Linn County court. Each filing is only five pages long (not counting attorneys' signatures).
The plaintiffs want the District Court to force the county auditors to "obey" Secretary of State Paul Pate's July 17 directive, which ordered county elections officials to "distribute only the blank Official State of Iowa Absentee Ballot Request form with official instructions that is promulgated by the Secretary of State's Office." The Republican-controlled Legislative Council approved that directive days before Miller was set to start mailing pre-filled forms. The Republican groups want the auditors to "obey all other orders or directives" from Pate.
Most important, they want the court to order the auditors not to process any absentee ballot request forms returned from the county-wide mailings. The auditors would have to write to everyone who returned those forms, saying they cannot be processed. The letter would invite each voter to fill out a blank absentee ballot request form and submit that instead. That process would be expensive and time-consuming for county elections staff as well as confusing for voters.
Linn County has already completed its mailing to more than 140,000 voters, and Johnson County has sent the first two of four planned batches. At least 40,000 Linn County residents and more than 4,000 in Johnson County have already signed and returned the forms they received from their auditor.
Weipert was out of the office when the lawsuit was filed, having welcomed a baby into his family this week. Johnson County Attorney Janet Lyness had no comment on the litigation.
Speaking by phone on August 12, Miller had no comment on the plaintiffs' claims, other than to say it was not clear to him what law he supposedly violated by sending pre-filled absentee ballot request forms.
FALSE PREMISE: "UNIFORM ELECTION PRACTICES"
Although the lawsuit refers to supposedly "illegal actions" by Miller and Weipert, the Iowa Code sections cited do not require that absentee ballot request forms be left blank when mailed to voters, nor do they prohibit a county elections officer from mailing a pre-filled absentee ballot request form.
The plaintiffs note that Iowa Code 47.1 designates the secretary of state "as the state commissioner of elections" and lists various tasks associated with that role. Those include "shall supervise the activities of the county commissioners of elections," "shall prescribe uniform election practices and procedures," and "shall prescribe the necessary forms required for the conduct of elections."
Pate's office has released a sample absentee ballot request form. His July 17 directive stated,
To ensure uniformity and to provide voters with consistent guidance on the absentee ballot application process, County Auditors shall distribute only the blank Official State of Iowa Absentee Ballot Request form with official instructions that is promulgated by the Secretary of State's Office pursuant Iowa Code 53.2(2)(a).
The Republican lawsuit implies that other absentee ballot request forms are invalid. However, state law does not say voters must use an official state form when requesting an absentee ballot. On the contrary, Iowa Code 53.2(2)a reads in full,
The state commissioner shall prescribe a form for absentee ballot applications. However, if a registered voter submits an application on a sheet of paper no smaller than three by five inches in size that includes all of the information required in this section, the prescribed form is not required.
The Linn and Johnson County mailings did not copy the state's form. They designed their own forms, with fields for all the required information from voters.
The GOP court filings claim,
The plaintiffs have expended resources to advocate for support and encourage turnout from voters under the uniform set of election practices and rules established by a single official who is elected on a statewide basis and derives his authority from Iowa's constitution and laws passed by the legislature. Plaintiffs are now faced with a different set of election practices in defendant's county. Most Iowa voters will not receive a prepopulated ABR form—and, indeed, live in a county where their county auditor (1) does not have the financial or technical ability to provide such a form and (2) seeks to comply with rather than flout the Secretary's directive.
Iowa law does not require every voter in the state to receive the same kind of absentee ballot request form. In past election cycles, some registered voters have received no such mailing, while others have been sent multiple forms, if their auditor did a county-wide mailing and they were on a target list for a political party or campaign.
Within the past few weeks, the Republican Party of Iowa has sent absentee ballot request forms to thousands of voters around the state. That outreach was not "universal," nor did it need to be under state law.
FALSE PREMISE: "INFORMATION THAT THE VOTER MUST PROVIDE"
The lawsuit repeatedly refers to portions of Iowa Code 53.2, which covers absentee ballot request forms and lists six kinds of information that must appear on them. Republican lawmakers amended that section on the final day of the 2020 legislative session. These screen shots show the additions and deletions (the voting language was in Division XXXI of a huge budget bill).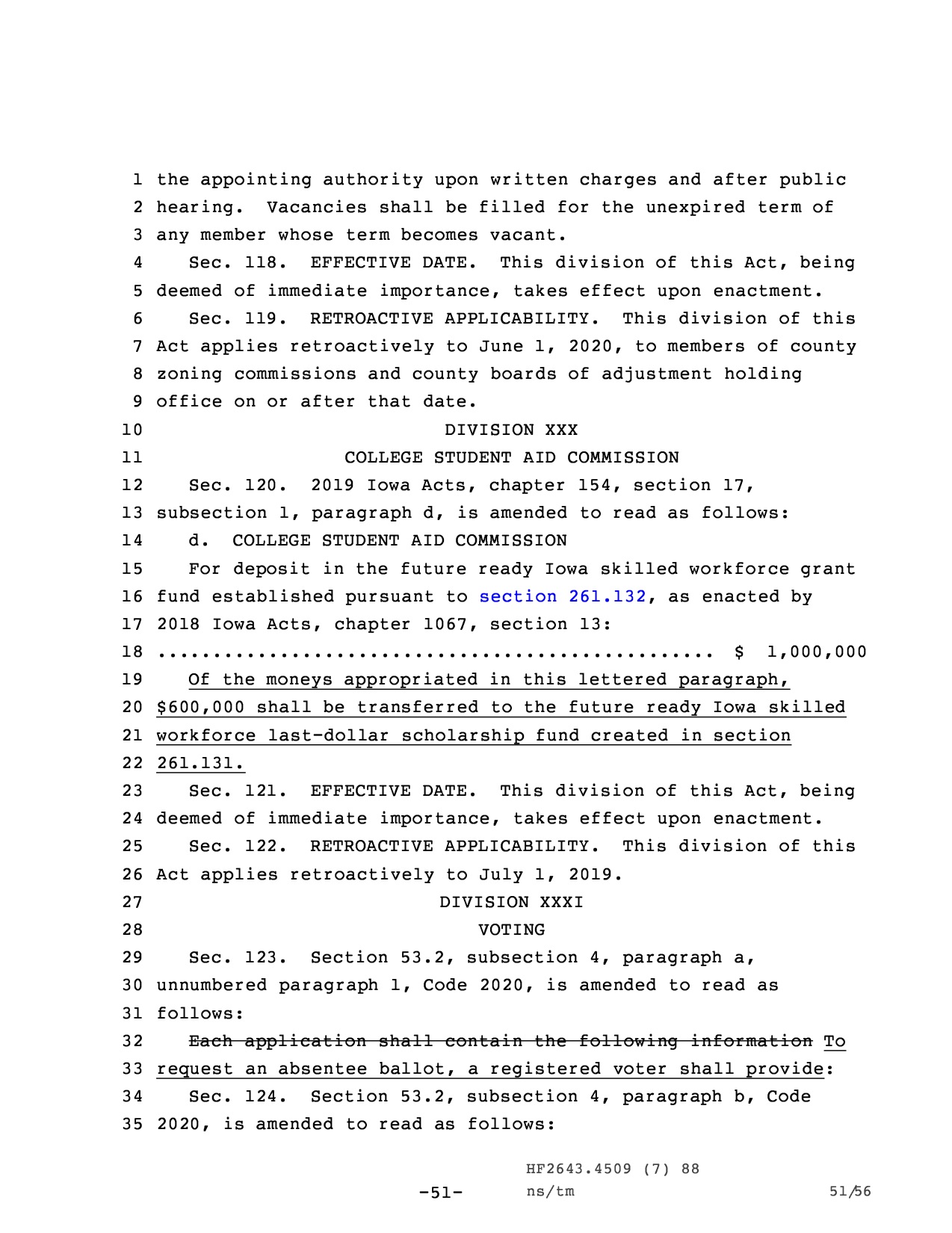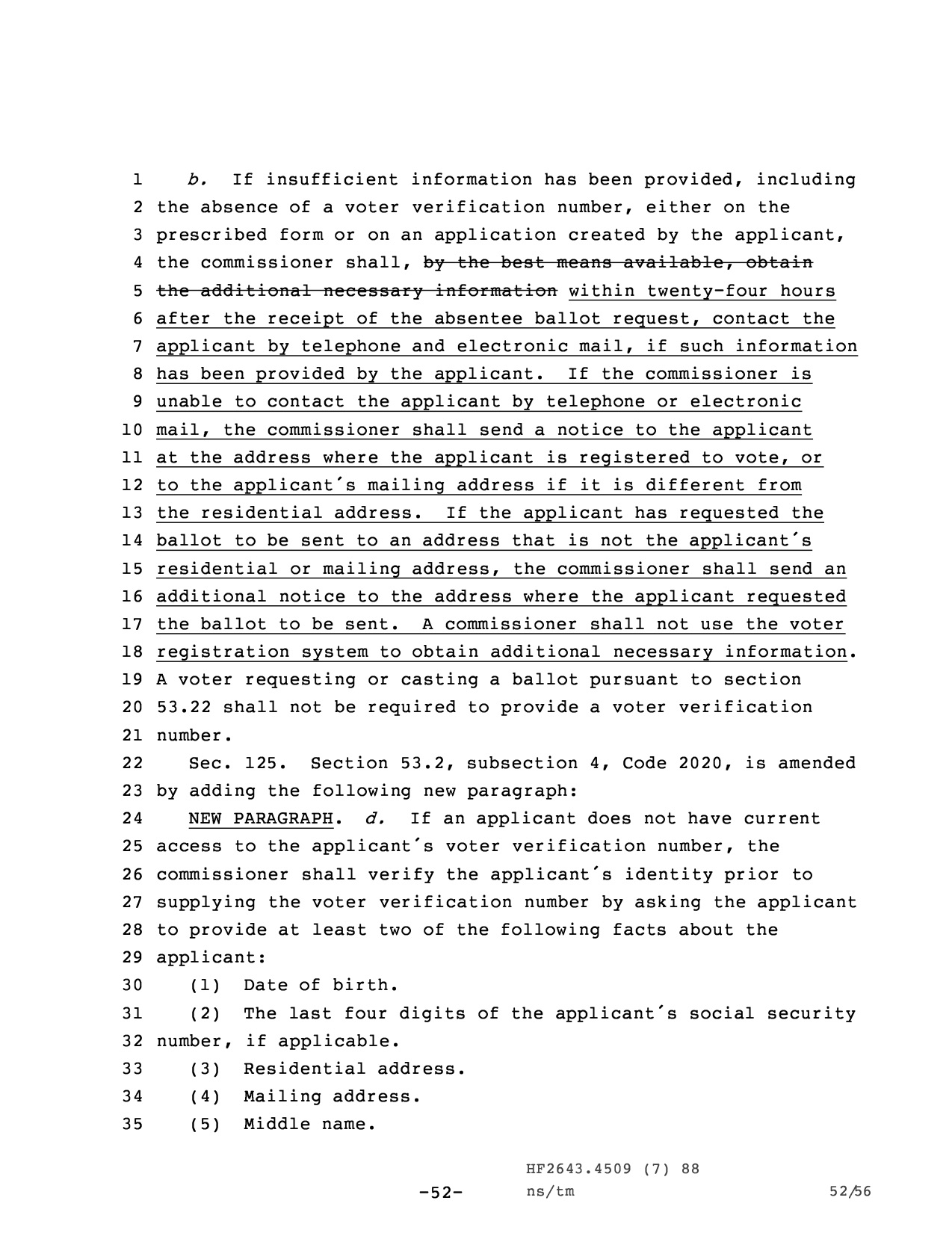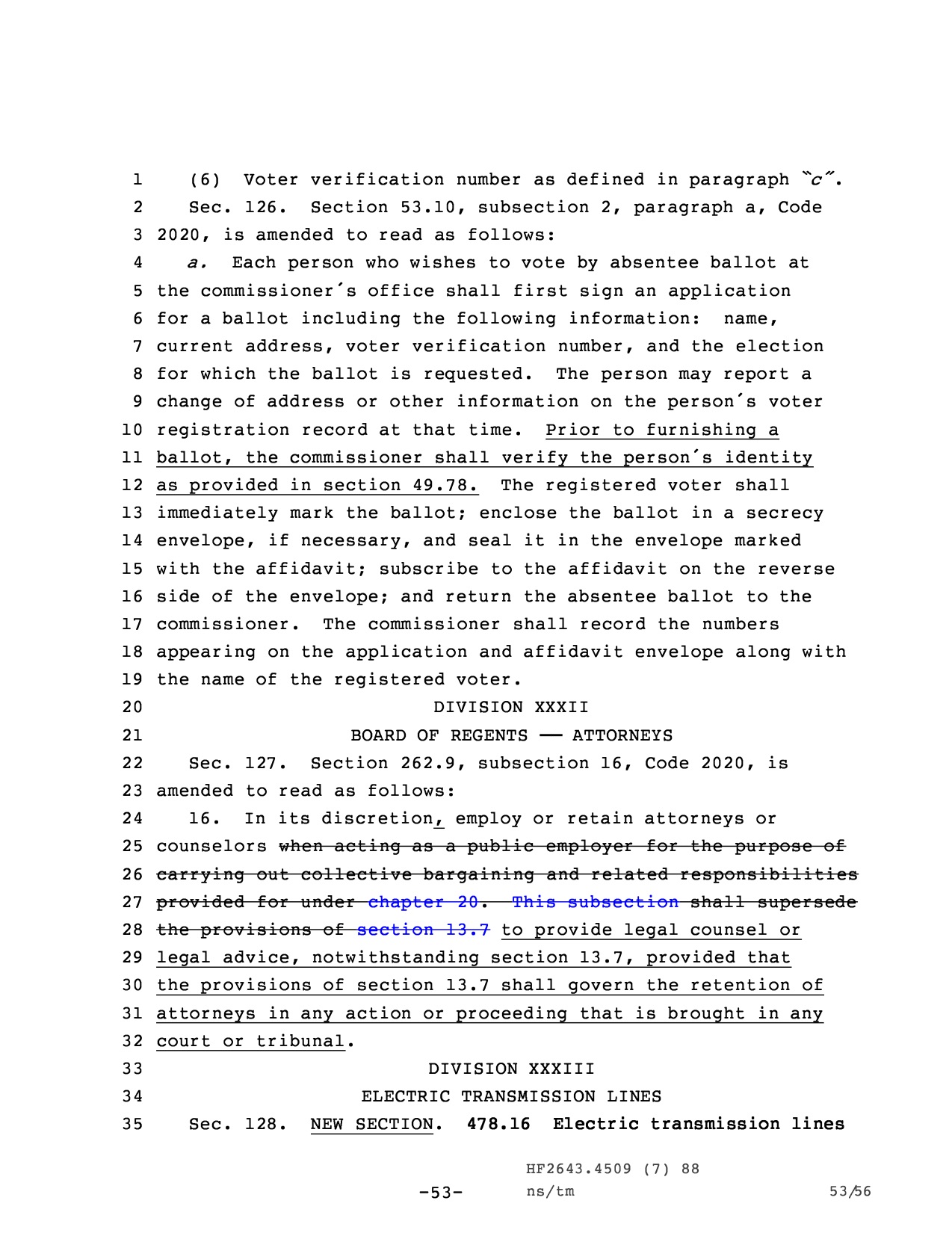 In a letter to Pate last month, the Republican National Committee's general counsel argued that it was significant Iowa lawmakers changed the wording from "Each application shall contain the following information" to "a registered voter shall provide" that information. Voters would need to "play some active role" in providing the information, rather than just signing a pre-filled form.
But the law does not say voters must fill out all of the fields on an absentee ballot request form by hand. The Republican Party of Iowa and many other organizations have sent targeted groups of voters absentee ballot request forms with some information (such as name and address) already printed. By signing and returning any form--whether pre-printed or filled out by hand from a blank template--a voter is "providing" the information to a county elections office.
The legislative debate over the last-minute changes centered on new restrictions for county auditors processing incomplete or otherwise flawed absentee ballot request forms. The revised section creates a cumbersome process of contacting individual voters by phone, email, or regular mail nstead of using the computer database to correct obvious errors on ballot request forms. (Pate himself has submitted flawed forms.)
The new language--currently being challenged in a separate lawsuit--was modeled on an administrative rule that an Iowa court had previously struck down as "irrational, illogical, and wholly unjustifiable."
Republicans clearly didn't intend for county auditors to respond to this law the way Miller and Weipert did. But as you can see from the text posted above and the rest of Code Section 53.2, nowhere does the statute say county auditors cannot send voters pre-printed absentee ballot request forms.
WHAT'S MISSING FROM THE LAWSUITS
The petitions cite no federal or state court rulings bolstering the plaintiffs' claims, probably because there is no case law supporting the idea that all voters in a state must receive the same kind of absentee ballot request form mailings.
Some other points the RNC's chief counsel raised in his letter to Pate last month are also missing from the lawsuit. There is no alleged Equal Protection Clause violation under the Fourteenth Amendment to the U.S. Constitution. (As Bleeding Heartland discussed here, counties within the same state frequently handle some aspects of election administration differently.)
Unlike the RNC attorney, the plaintiffs are not claiming the county auditors engaged in unlawful "solicitation" by sending absentee ballot request forms to voters. That trial balloon was a misreading of an Iowa Code section that expressly does not apply to elected officials like county auditors (or the secretary of state).
The biggest element missing from the new litigation is a third possible defendant.
WOODBURY COUNTY GETS A PASS
Like the dog that didn't bark in a famous Sherlock Holmes story, Republicans gave the game away by not suing Woodbury County Auditor Pat Gill. He has sent absentee ballot request forms to all active registered voters in his jurisdiction for several election cycles. This year, his office also pre-filled the forms with voter information, Ryan Foley reported for the Associated Press and sources in the Sioux City area confirmed. (Gill declined comment in an August 13 email.)
The latest official figures show Woodbury County contains 18,301 active registered Democrats, 21,967 Republicans, and 17,168 no-party voters. The corresponding numbers for Linn County are 59,589 Democrats, 40,046 Republicans, and 45,759 no-party voters. Johnson County is even deeper blue: 49,871 Democrats, 17,060 Republicans, and 24,020 no-party voters.
Voters in Woodbury County have favored Republican candidates in four of the last five presidential elections. Linn and Johnson residents have favored the Democrats every time.
The Secretary of State's office recently demanded that Miller and Weipert produce a huge number of documents related to their absentee ballot request form mailings. Staff told the Associated Press on August 13 that Pate's office is investigating the actions of the Linn and Johnson county auditors. A spokesperson did not respond to Bleeding Heartland's inquiry about whether Woodbury County is facing similar scrutiny from the state's elections officer.
Alan Ostergren, the Iowa attorney listed on the GOP lawsuits, also did not reply to emails seeking comment.
UPDATE: Ostergren never responded to inquiries, but the Trump campaign and Republican entities did sue Woodbury County on August 18, Bret Hayworth reported for the Sioux City Journal. Perhaps they were not aware the auditor had mailed pre-filled absentee ballot request forms to voters in his jurisdiction.
"ANY OF THOSE ABSENTEE BALLOTS...WOULD BE SUBJECT TO CHALLENGE AND MAY NOT BE COUNTED"
As mentioned above, Republicans hope a judge will order Weipert and Miller to toss out any absentee ballot request forms they received as a result of their office mailings. But if that effort fails, the lawsuits hint at a plan B.
Because the defendant sent the ABR forms to voters with the required security information pre-populated, there is no assurance that the ABR forms submitted to his office were actually sent by the actual voter listed on the ABR. If the defendant mails absentee ballots in response to the prepopulated ABR forms, any of those absentee ballots that are cast would be subject to challenge and may not be counted in the 2020 general election.
Pate has similarly claimed in media interviews that "pre-filling absentee ballot request forms with voters' personal identifying information gives critics of absentee voting an opportunity to question the validity of election results in those counties."
Recent polling suggests that Iowa's presidential and U.S. Senate races are toss-ups, and the Congressional races in the first and second districts are competitive. Any angle for Republicans to get Linn or Johnson county ballots tossed would give GOP candidates an advantage, because Democrats can't win without strong margins in the Cedar Rapids and Iowa City areas.
Linn County District Court Judge Ian Thornhill has scheduled a hearing on the plaintiffs' motion for a temporary injunction for August 17 August 27 (Linn County's attorney requested a continuance). I will update this post as needed.
____________
Appendix: Relevant portion of Republican National Committee news release on August 12, "Republican Groups Sue to Protect Iowa Voters from Rogue County Auditors"
WASHINGTON – The Republican National Committee, Donald J. Trump for President, Inc., the National Republican Senatorial Committee, the National Republican Congressional Committee, and the Republican Party of Iowa announced two concurrent offensive lawsuits, Donald J. Trump For President, et al. v. Weipert and Donald J. Trump for President, et al. v. Miller, that seek to stop two rogue County Auditors from unilaterally and defying state law and throwing out important voter integrity safeguards.

"By willfully and unilaterally disobeying Iowa election law, these County Auditors have destroyed a key mechanism designed to ensure the integrity of absentee voting. The responsibility of filling out personal information on absentee ballot applications is a key safeguard to confirm the applicant's identity and should rest squarely with the voter. The rogue County Auditors must immediately stop their harmful actions that threaten the validity of and confidence in the upcoming election." – RNC Chairman Ronna McDaniel

"While Iowa County Auditors have gone rogue and rewritten the rules for absentee ballot security, President Trump and his team are once again standing up for election integrity and the right of every eligible voter to safely and securely cast their ballot this fall. Dropping thousands of ballot applications with personal information already filled out in the mail is wildly irresponsible." – Trump 2020 General Counsel Matthew Morgan

"Democrats will stop at nothing to disregard the laws in place to try and gain an electoral advantage. Protecting the integrity of absentee voting is paramount to free and fair elections and the NRCC is proud to join our Republican partners in stopping this latest attack on our electoral system." – NRCC Chairman Tom Emmer

"Iowans overwhelmingly support voter ID laws to uphold the integrity of our elections, and we strongly believe election officials should be upholding current state law, not defying it. The Republican Party of Iowa is proud to stand with other Republican groups in joining this lawsuit to safeguard our absentee voting process and to protect common sense election laws." – Iowa GOP Chairman Jeff Kaufmann

County Auditors in Linn County and Johnson County are defying state law by unilaterally mailing every registered voter in their counties an absentee ballot request form with prepopulated personal information – including the voter's verification number. Existing state law requires the individual voter to properly and entirely complete their absentee ballot application in order to receive a ballot, as this responsibility should fall on the applicant alone. Additionally, on July 17th, the Iowa Secretary of State announced a plan to mail every Iowa voter a blank absentee ballot request form for the 2020 general election. The Johnson and Linn County Auditors are in direct contradiction of this directive and Iowa election law.

The RNC, Trump campaign and Republican groups filed a motion for temporary injunction to order the Auditors to obey the Secretary of State directive and block them from sending out any more prepopulated forms that could harm the electoral process. The actions of these Auditors have opened the door for fraud and ballot manipulation as the mass sending of prepopulated forms could land in the hands of inactive, deceased, or incorrect voters, and there would be no safeguard preventing fraudulent submission of the form.

You can view the filing here. [Editor's note: that link was broken but the filings are here.]

This suit follows recent action where the RNC and its Republican partners intervened in LULAC of Iowa v. Pate, where Democrat groups are seeking to overturn this commonsense election law requiring voters to fill out their own personal information. The RNC also recently sent a letter to Secretary of State Paul Pate demanding he order these rogue counties to stop their incorrect distribution of voters' confidential information. As the two counties continue to knowingly defy state law, the RNC was compelled to act.
Top image: RNC logo on the left, Linn County Courthouse on the right.