"For those of you who think we are doing as well as anyone: we are not," wrote Dr. Greg Cohen in his recent open letter to Iowans.
Two weeks later, the novel coronavirus is still spreading faster here than in all but a handful of states, and COVID-19 continues to claim about 100 Iowa lives every two weeks.

CASES EXPLODING, POSITIVITY RATE INCREASING
At least 84,433 Iowans have tested positive for COVID-19, according to the state's coronavirus website on the morning of September 25. Confirmed cases have increased by nearly 20,000 during the month of September alone. By any objective measure, Iowa is failing to contain the virus.
Iowa ranks fifth among all states in terms of new cases per 100,000 population over the past seven days, the New York Times website showed on September 25.
The total case count per capita now puts Iowa in ninth place, having moved ahead of Arkansas and Texas during the past two weeks. (Iowa had already surpassed early hot spots New York and New Jersey.) This Statista graphic is drawn from September 23 numbers.

A few months ago, Governor Kim Reynolds regularly touted the declining positivity rate of COVID-19 tests at her news conferences. No longer. While official testing numbers are unreliable for various reasons, it's clear that far too many tests have come back positive lately.
The CovidActNow website sees Iowa experiencing a "dangerous number of new cases." Our positivity rate of 15.9 percent over the past seven days "indicates insufficient testing," and we have only about 9 percent of the contact tracers our state would need to "successfully identify and isolate sources of disease spread fast enough to prevent new outbreaks." The next three graphics come from that source.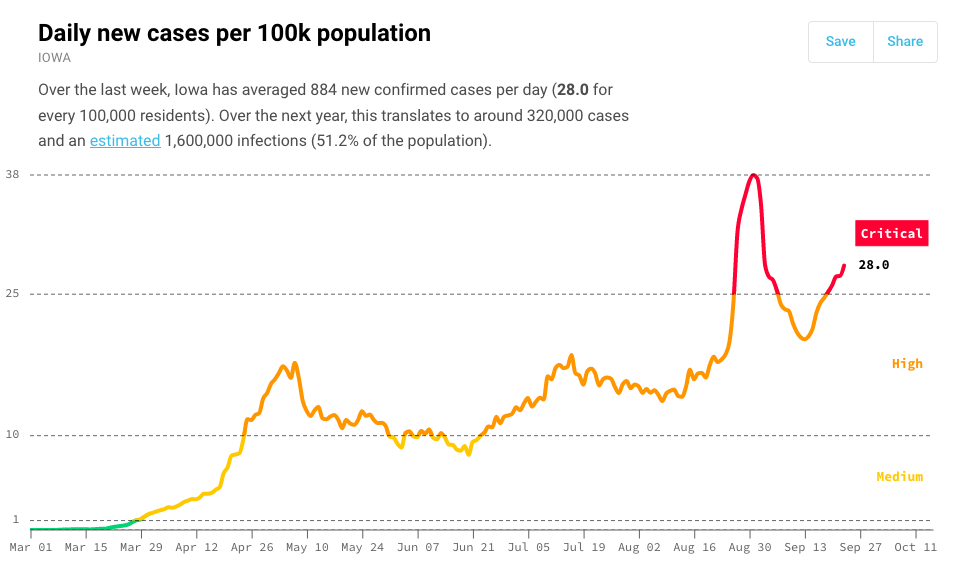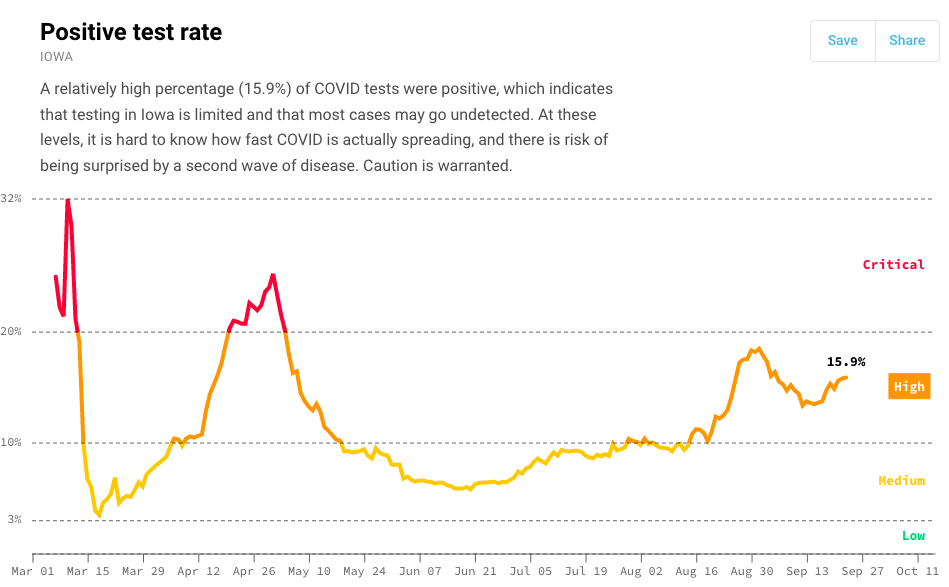 WHITE HOUSE EXPERTS STILL PLACE IOWA IN "RED ZONE"
The latest White House Coronavirus Task Force report, dated September 20, showed Iowa had the seventh-highest rate of new cases per capita over the previous week, and the twelfth highest positivity rate among the 50 states. The task force recommended "ensuring mask utilization statewide" and stepping up testing, especially at universities and in nursing homes or assisted living facilities.
The full report is at the end of this post. It contains this map, showing that most Iowa counties reported more than 100 new cases per 100,000 population over the previous week. Rural counties (mostly in northwest or northeast Iowa) had the highest new case counts, adjusted to population. Among more urban counties, Woodbury and Dubuque had the most new cases per capita, while Polk, Johnson, and Story had the most cases in absolute numbers.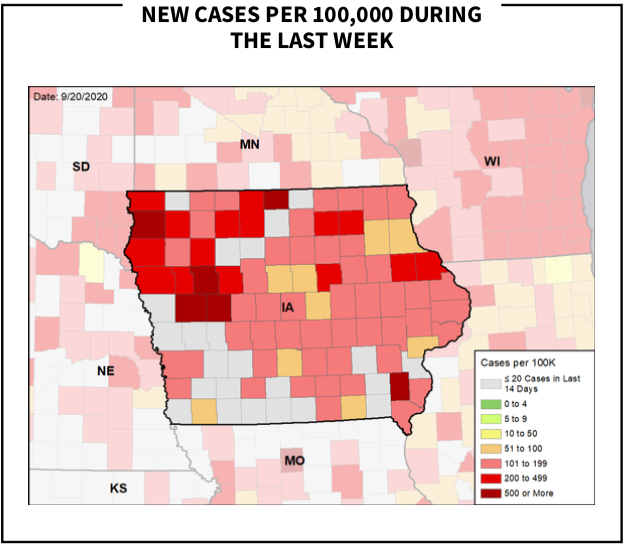 Most states saw less rapid growth in new cases, adjusted to population, during the same period.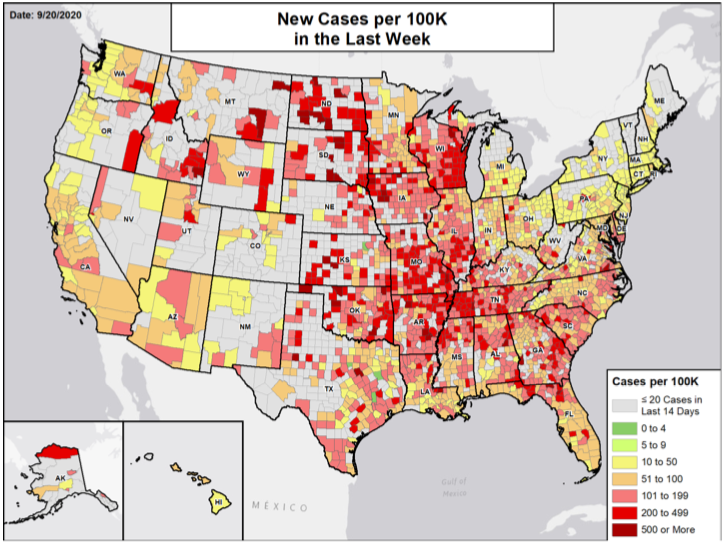 Ohio's Republican Governor Mike DeWine has encouraged his constituents to avoid travel to Iowa, due to our high COVID-19 test positivity rates.
Updated Travel Advisory ⬇

Based on current positivity rates, Ohioans are encouraged to avoid travel to:

?South Dakota
?Idaho
?Wisconsin
?Iowa
?Kansas

Mississippi is also likely to have a positivity rate over 15%.

Details: https://t.co/okBJHIYR5Z#InThisTogetherOhio pic.twitter.com/baAHtkZ4VD

— Governor Mike DeWine (@GovMikeDeWine) September 23, 2020
"WE HAVE TO BRING SOME NORMALCY TO OUR LIVES"
As COVID-19 case numbers, hospitalizations, and deaths increased over the summer, Reynolds declined to reinstate most of the mitigation policies she had imposed during the early weeks of the pandemic. Iowa has almost no limits on mass gatherings, nor are residents required to wear face coverings in most public places. Explaining why she won't issue a mask mandate, Reynolds often says she trusts Iowans "to do the right thing"–even though she doesn't consistently wear a mask herself.
Although Reynolds reluctantly closed bars in six counties in late August, she allowed them to reopen in four of those counties after just three weeks. Only in Johnson and Story counties, containing the largest state universities, are bars still closed. UPDATE: On September 25 Reynolds extended her order closing bars in those two counties through October 4.
The governor has often remarked that we need to "learn to live with the virus," and many local decision-makers have taken that message to heart. This map shows county-level positivity rates over the last 14 days, as published on the state website on the evening of September 24. These may understate the scale of the problem; independent analysts have often found their positivity rate calculations don't match official figures.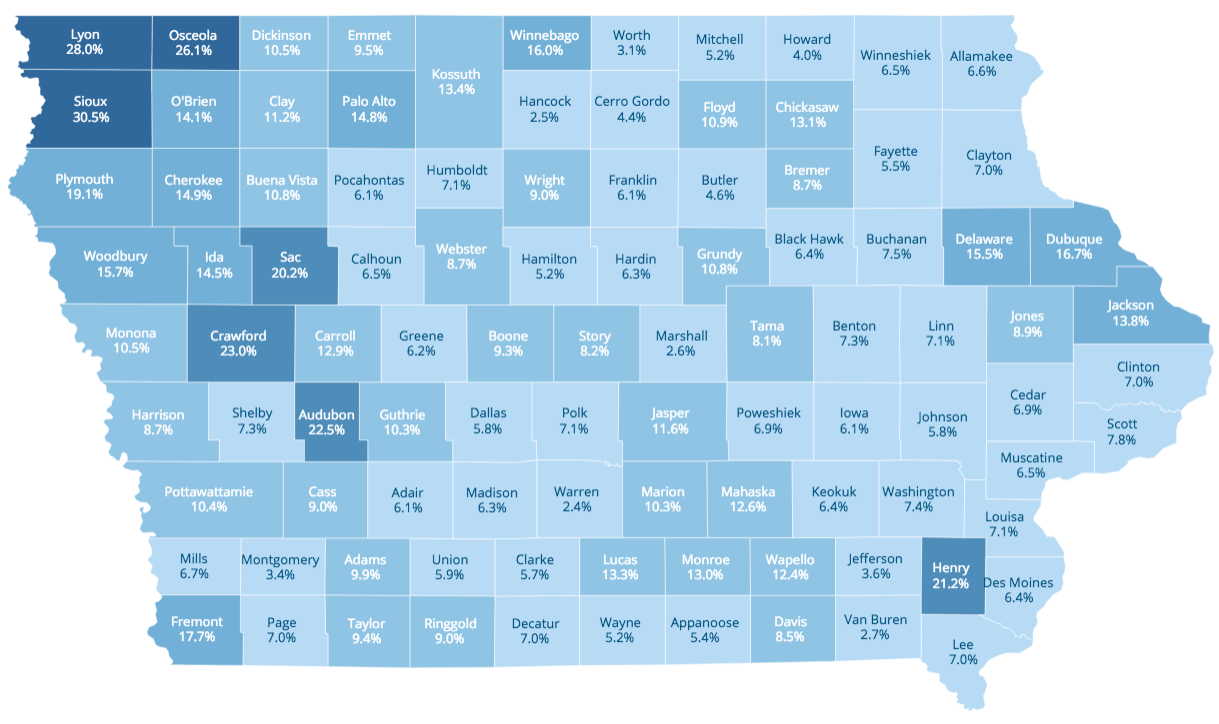 I took a screen shot of the top part of the table on the same page, showing the counties with the highest positivity rates. At least seven counties have positivity rates above 20 percent, and another eight are above the 15 percent threshold.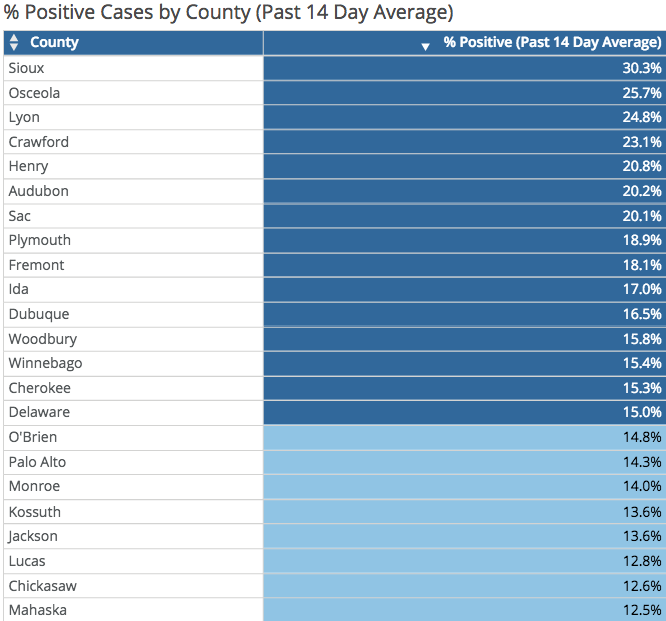 No school districts in those fifteen counties have requested to reduce in-person instruction as a way to limit the spread of COVID-19. Under a policy the Iowa Department of Public Health and Department of Education unveiled in July, school districts may seek permission to shift to online learning if the positivity rate in their county exceeds 15 percent, and at least 10 percent of students are absent due to COVID-19. More recently, the state altered guidance so that students in quarantine due to exposure would not be counted as absent.
Iowa State University announced on September 24 that 15,000 spectators will be allowed to attend the October 3 football game at Jack Trice stadium. Athletics Director Jamie Pollard noted that positivity rates for on-campus COVID-19 testing "have drastically declined" from 33 percent on August 30 to 5 percent on September 20. "Additionally, the 14-day virus positivity results from Story County testing has declined from 22% on Sept. 1 to 8% on Sept. 23."
Reynolds has not yet commented publicly on that decision, but she strongly supported an earlier plan to allow 25,000 fans attend ISU football games. Even after the university backed away from that proposal, the governor defended the idea of reduced capacity crowds at Jack Trice, saying at her September 10 news conference:
"As we learn to live with COVID-19 until we have a vaccine, we have to learn to live with it, and we have to bring some normalcy into our lives, and we can do that safely and responsibly. But we have to provide the information, if you're an older adult, or if you have underlying conditions, then maybe you shouldn't go to the game. But if you're healthy, and you want to go, and we have the social distancing in place, and you want to put on a mask in addition to that, then I think there's ways that we can move forward with that."
Six months into this pandemic, it's discouraging that Reynolds continues to put the burden on vulnerable populations to protect themselves, instead of embracing policies that would reduce community transmission.
Especially since COVID-19 will soon become the third leading cause of death in Iowa for this year, after heart disease and cancer.
200 IOWANS DYING EACH MONTH
The official count of Iowa deaths from COVID-19 passed 1,300 on September 24 and stood at 1,303 that evening.
Iowa is now losing about 200 people a month to the pandemic. I created this graph using daily deaths as reported on the state website, which are based on death certificate dates. COVID-19 fatalities peaked in May, declined in June, then trended upward in July and August. The red line represents the seven-day moving average.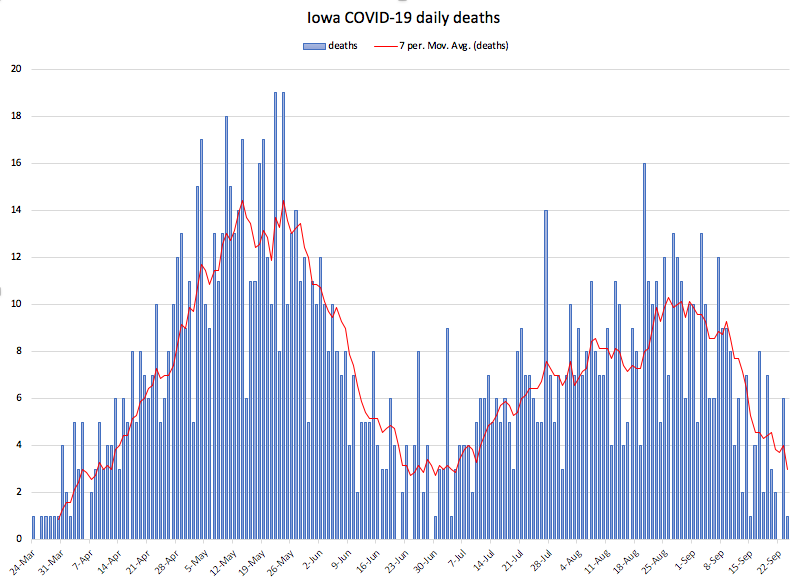 The daily numbers for the last ten days or so will surely increase. The Iowa Department of Public Health doesn't always receive death certificates promptly after someone dies of COVID-19, and more days may pass while state officials seek to confirm the information before reporting a fatality on the website. State Medical Director Dr. Caitlin Pedati explained this process at the governor's press conference on September 10.
Numbers reported by some news media don't always correspond to how many Iowans passed away the previous day, because they are based on the increase in total deaths on coronavirus.iowa.gov over the previous 24 hours. The state website typically reports lower death numbers on Saturday and Sunday, while a large batch of death certificates may be processed on some weekdays.
I created this graph to show the disparity, beginning in June. The blue line is based on the state's bar graph, showing deaths by date on the death certificate. Since early July, not a day has passed with fewer than three Iowa lives lost to COVID-19, and the highest number of fatalities was sixteen on August 20.
The more volatile orange line reflects the daily increases in total deaths on the state website from 10 a.m. one day to the next. Several times, those numbers created the false impression that zero, one, or two Iowans had died of COVID-19 the day before. On other days, 20 or more deaths would be reported, but those people had actually passed away over a two-week period.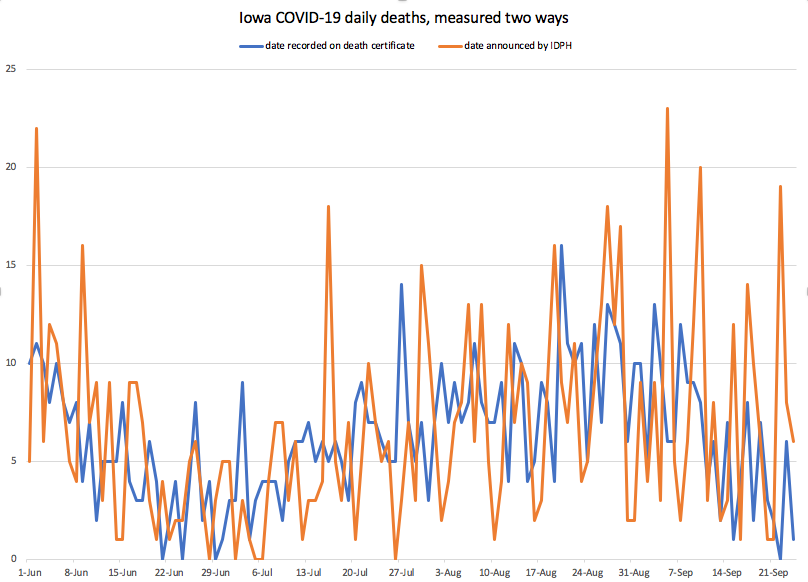 One fact is apparent: Iowa's death rate has not slowed down in any significant way since early summer. Following the state's first reported COVID-19 death on March 24, 28 days passed before the death toll reached 100 on April 21. Then, state data show, it took:
twelve days to pass 200 (May 3)
seven days to pass 300 (May 10)
eight days to pass 400 (May 18)
eight days to pass 500 (May 26)
twelve days to pass 600 (June 7)
nineteen days to pass 700 (June 26)
26 days to pass 800 (July 22)
fifteen days to pass 900 (August 6)
twelve days to pass 1,000 (August 18)
eleven days to pass 1,100 (August 29)
twelve days to pass 1,200 (September 10)
fourteen days to pass 1,300 (September 24)
Many public health experts fear fatalities will increase rapidly with the arrival of cold and flu season. More than half the Iowans who have died were residents of long-term care facilities, a figure that does not include those like Jay Daniels, who were in assisted living when they became infected with COVID-19. Clark Kauffman reported for Iowa Capital Dispatch this week that in late July, Iowa had 20 active COVID-19 outbreaks in nursing homes. The state website listed 49 long-term care facilities with active outbreaks on September 25.
In its September 13 report, the White House Coronavirus Task Force advised Iowa leaders, "Establish a statewide mask mandate. COVID-19 is being brought into nursing homes through community transmission. Review and improve infection control practices at nursing homes to stop the introduction of COVID-19."
Final note: official numbers almost certainly understate the true number of lives lost in the pandemic. For instance, the state website still shows only one COVID-19 death for Van Buren County, where local public health has been reporting two deaths in the county since August 12 and three deaths since August 24. IDPH spokesperson Amy McCoy has not replied to Bleeding Heartland's many inquiries about that discrepancy.
Have you noticed any inconsistency in state and local COVID-19 case numbers, death counts, or positivity rates for your area? If so, please contact Laura Belin confidentially.
_____________
Appendix: White House Coronavirus Task Force report for Iowa, dated September 20