Federal funds used to cover salaries and benefits for Governor Kim Reynolds' staffers were routed through the Iowa Department of Homeland Security and Emergency Management, rather than going directly to the governor's office.
Because of the unique arrangement, state agencies' databases and published reports on expenditures from the Coronavirus Aid, Relief and Economic Security (CARES) Act do not reveal that any funding supported the governor's office. Instead, some show allocations from Iowa's Coronavirus Relief Fund to Homeland Security, from which $448,449 was spent on "COVID Staffing" or "State Government COVID Staffing."
That's the exact dollar amount Reynolds approved to pay permanent employees on her staff for part of their work during the last three and a half months of the 2020 fiscal year. Other agencies that had staff working on the pandemic response from the State Emergency Operations Center, such as the Iowa Department of Public Health, did not receive CARES Act funding through the same indirect route.
The governor's communications director Pat Garrett and chief of staff Sara Craig Gongol did not respond to six inquiries over a three-week period about how these payments were made and recorded.

BACKGROUND
Reynolds authorized $448,449 in federal COVID-19 relief funds to cover about 62 percent of salaries and benefits for 21 staffers in her office from mid-March through June 30. Those payments had not been disclosed to the public before Bleeding Heartland reported their existence on September 13.
Asked about the matter during her next news conference, Reynolds asserted that such use of CARES Act funds met the federal government's criteria, saying the employees' "job requirements" had "significantly changed due to COVID." She explained that in the early months of the pandemic, about half of her staff were working from the State Emergency Operations Center, and some who remained at the state capitol spent much of their time answering Iowans' phone calls and emails about the pandemic.
Craig Gongol spoke with reporters immediately after that September 16 news conference. David Pitt of the Associated Press paraphrased her as saying "the money hasn't shown up in CARES Act expenditure documents yet because the governor hasn't signed the transfer of money but after she does, the spending will show up in public documents."
Wrong on both counts.
AN "INTRA-STATE TRANSFER"
The Iowa Department of Management handles disbursements from the state budget and federal funding sources. Its Pandemic Recovery Report dashboard is designed to allow visitors "to explore federal awards received, expenditures and payments associated with federal funds" linked to the CARES Act. The department also maintains a database showing thousands of individual disbursements for pandemic-related costs, with details including date of the transfer and name of the government unit receiving the funds.
I kept an eye on that dataset, which is updated weekly, for signs of money allocated to the governor's office. Department of Management staff had told me funds would be transferred by September 30, when the state was to close the books on fiscal year 2020.
That day came and went with no record of any payment to the governor's office, even after new entries on October 5 reflected all spending from the previous week. Department of Management staff told me the funds had been disbursed as part of an inter-agency transfer, rather than directly to the governor's office.
A google document called "Iowa Coronavirus Relief Fund Summary," which I downloaded on October 6, showed the Department of Management had transferred $1,000,000 to Homeland Security for "State Government COVID Staffing," from which Homeland Security had spent $448,449. The document did not and still does not mention the governor's office.
Iowa Senate Democratic staff provided these records, which they had obtained through the nonpartisan Legislative Services Agency, to Bleeding Heartland on October 6.
The documents show that Craig Gongol had invoiced Homeland Security for the funds on September 14–the day after I reported that CARES Act money was covering compensation for the governor's staff. They also show that Homeland Security transferred the funds to the governor's office on September 15–the day before Craig Gongol told reporters Reynolds hadn't yet signed the transfer. UPDATE: Documents Bleeding Heartland obtained in November through a separate request indicate that although the invoice was dated September 14, Craig Gongol didn't sign it until the following day. The Department of Management confirmed that sequence of events.
Going back to the database of CARES Act expenditures: if you know what to look for, you can find a record of a $448,448.86 payment on September 15, listing the Homeland Security department as the government unit and "intra-state transfer" as the type of expenditure. But the governor's office is not named as the recipient.
I had more questions for the Department of Management, which Linda Leto answered on October 8. Why did this expenditure run as an inter-agency transfer through Homeland Security? "There are no documents responsive to your request."
Who decided to route it that way rather than as a CARES Act disbursement directly to the governor's office? "There are no documents responsive to your request."
When was the decision made to run CARES Act funds for the governor's staff salaries through the Homeland Security department? "There are no documents responsive to your request."
Is Homeland Security disbursing any other CARES Act funds through inter-agency transfers? "Not currently."
How would members of the public be able to find out how much money from the CARES Act is being disbursed through inter-agency transfers? "The public can view inter-agency transfers at Intra-State Transfers by State Department on the Finance Explorer."
I hadn't seen that page before. Here's how it displays the transfers.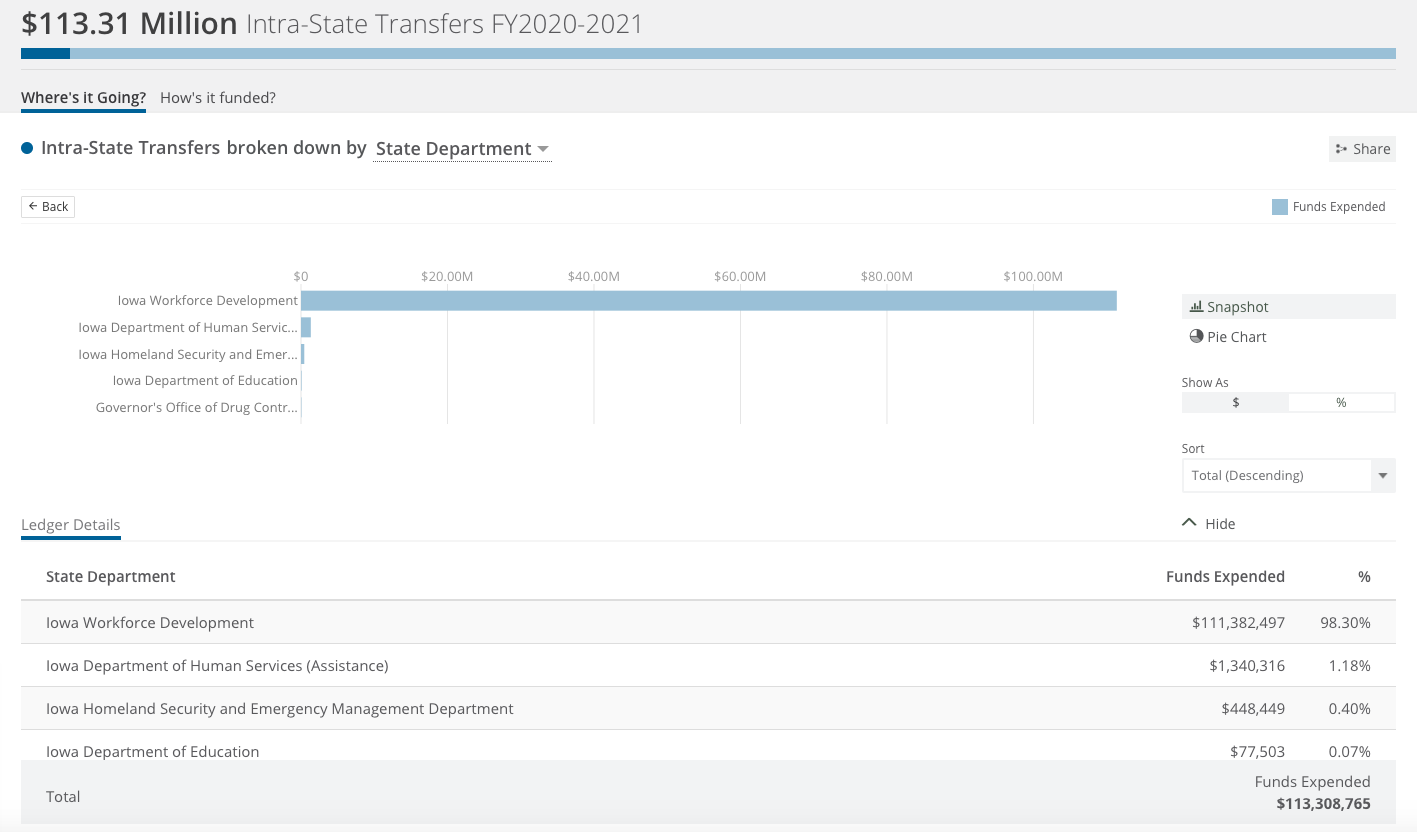 Clicking on "Iowa Homeland Security and Emergency Management Department" brings up this view.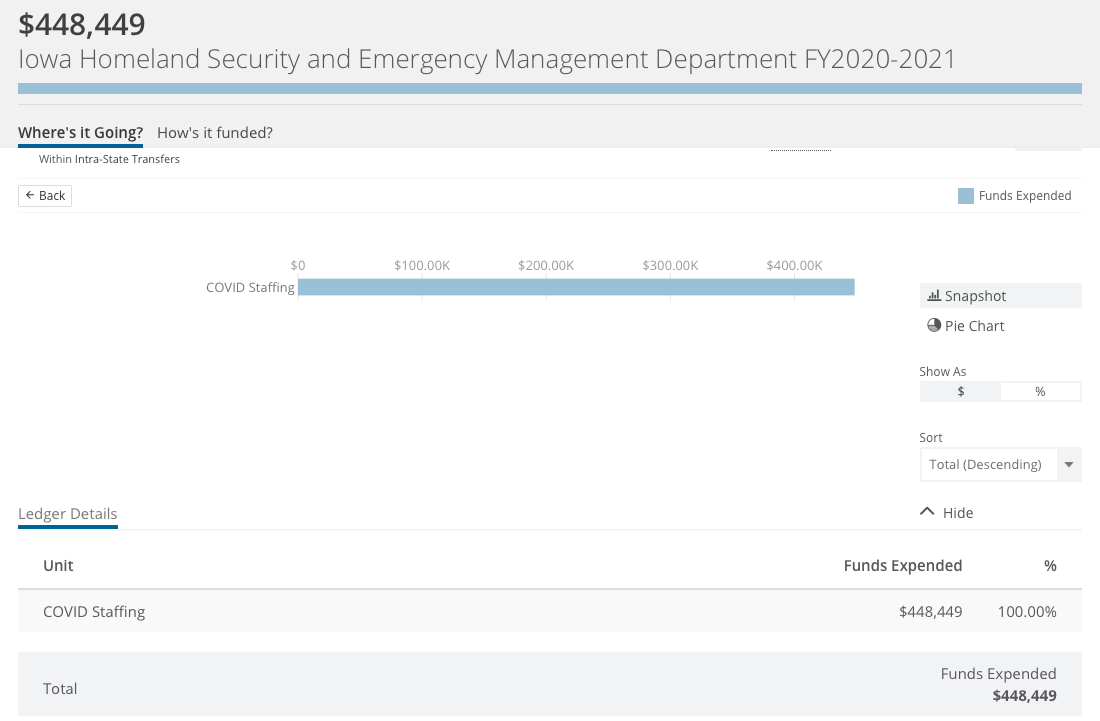 The unit listed is "COVID Staffing," even though no state government entity exists by that name. "Why isn't this money labeled as going to the governor's office?" I asked on October 8. "How are members of the public supposed to know what 'COVID Staffing' means?" Leto replied four days later, "There are no documents responsive to your request." She directed further inquiries to Garrett, the governor's communications director.
As mentioned above, Garrett and chief of staff Craig Gongol ignored repeated questions about this matter.
Maybe I would have better luck with the Homeland Security department.
"WE DON'T KNOW WHO WOULD HAVE MADE THAT DECISION"
When invoicing Homeland Security for governor's employee salaries and benefits, Craig Gongol wrote, "These necessary expenditures were incurred in response to the public health emergency with respect to the Coronavirus Disease 2019 (COVID-19) relief efforts in Iowa. The expenses associated with COVID-19 support were not accounted for in the Fiscal Year 2020 budget approved by the Iowa Legislature in 2019." Her phrasing copied language from federal guidance on allowable uses of CARES Act funds.
The chief of staff attached a page purporting to show which personnel costs were "not budgeted" and related to COVID-19. (click photo to enlarge)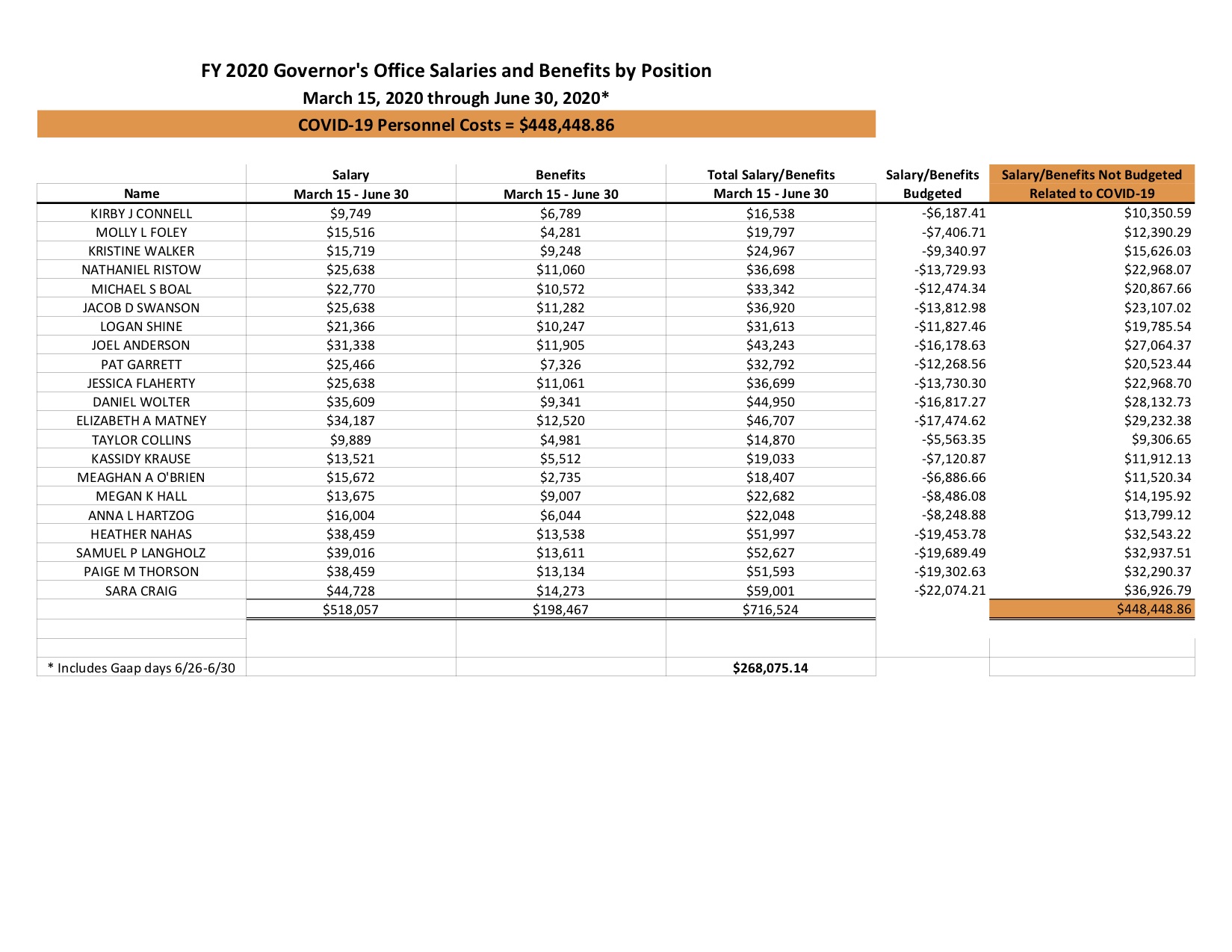 As Bleeding Heartland discussed here, the governor's office has not specified what those employees were working on, which would be important for determining whether their compensation was a "substantially different use from any expected use of funds" for those jobs. A line item from the fiscal year 2020 budget covered operating expenses for the governor's office, which would normally include salaries and benefits for positions such as chief of staff, senior legal counsel, communications director, legislative liaison, policy advisers, and so on.
Reynolds did not bring on any new employees to handle the COVID-19 workload. I have confirmed through records requests to the Iowa Department of Administrative Services (which handles payroll for state government) that no one on the governor's staff received a raise from March through June 2020, nor was anyone paid overtime for their work during that period.
I had many questions for Homeland Security, which Lucinda Parker answered on behalf of that department on October 12.
Did Homeland Security independently verify that there were "increased salary costs" in the governor's office associated with the pandemic?
HSEMD used the memo and spreadsheet from Sara Gongol to process the request from the governor's office. Before processing the payment, we conveyed to the governor's office the need to maintain their records in accordance with federal cost principles related to the CARES Act funding.
Have any other CARES Act funds allocated to Homeland Security later been transferred to other state government agencies? Can you shed any light on why this $448,449 expenditure didn't go directly to the governor's office?
HSEMD has not transferred any of the CARES Act funding for COVID-19 related salary expenses to other state government agencies. As this department is responsible for coordination of the state's disaster response, the majority of payments related to the COVID-19 response have been processed through our office using our established disaster payment process.
I wondered about the unspent portion of the $1 million already transferred to Homeland Security (outlined in red here):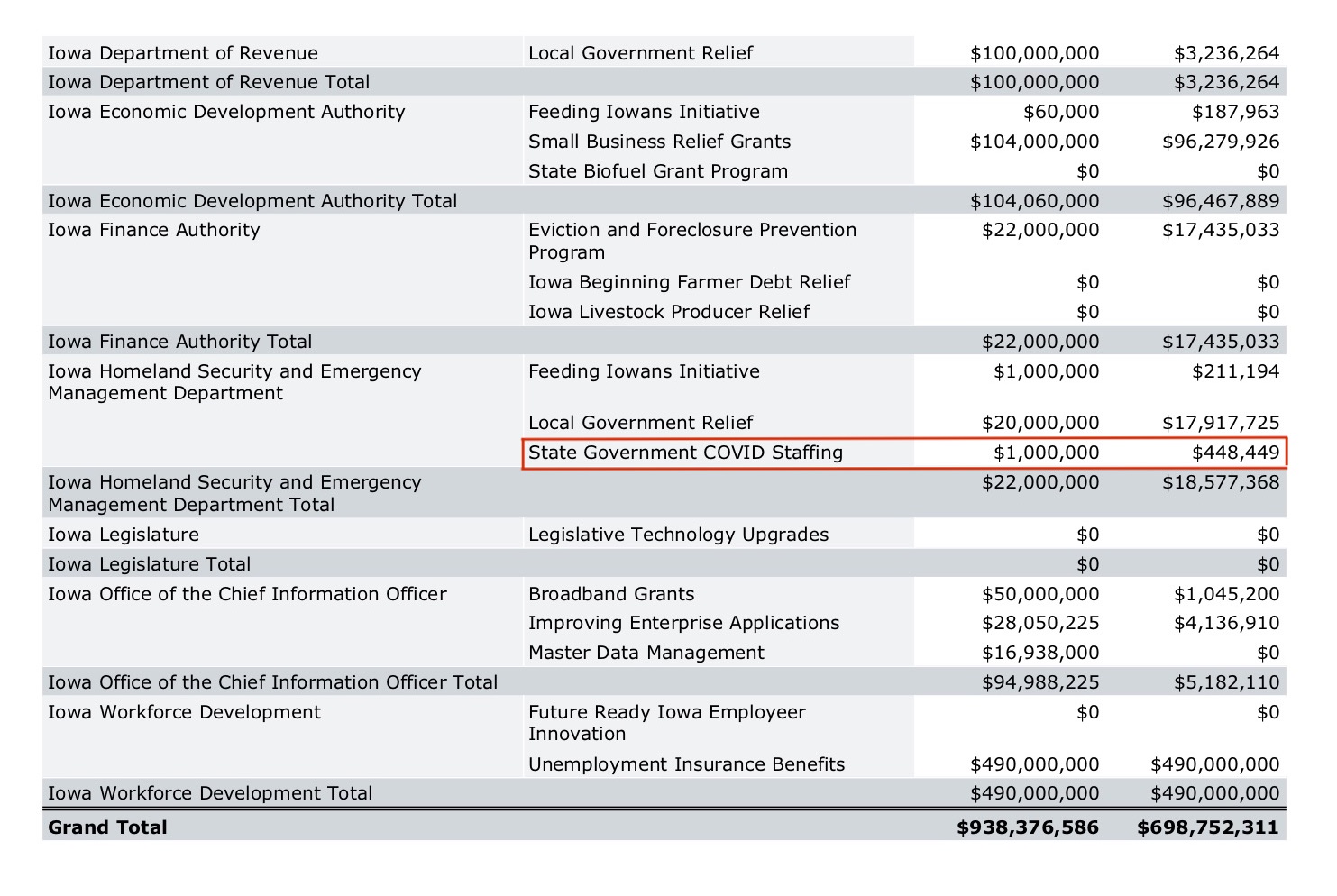 Does Homeland Security have plans for the remaining $551,551 from the "COVID staffing" line item? Is it fair to say those funds are likely to go to the governor's office for salary and benefit costs incurred between July 1 and December 31, 2020?
Parker told me, "Although that funding was transferred to our department to process, we are not the decision makers on how it will be spent."
Reynolds announced on May 29 that her staff would return to their regular offices in the state capitol the following Monday, June 1. Has anyone from the governor's office continued to work at the State Emergency Operations Center since that time? If so, which staffers, and approximately how many hours a week have they been working from that location?
I'm not certain exactly when governor's office staff returned to their regular offices, but even though other agencies were no longer located physically in the SEOC, the involved agencies continued their work [on the pandemic] virtually. Certainly, staff from the governor's office were in the SEOC during the response to the Aug. 10 derecho.
Whose idea was it to display the transfer of $448,449 on the Department of Management's website as going to "COVID Staffing"? "We don't know who would have made that decision," Parker wrote back. "I would think the Department of Management or governor's office would be able to answer that."
One would think so. But for whatever reason, they haven't.
WAS U.S. TREASURY'S INSPECTOR GENERAL CONSULTED?
According to the AP's Pitt, Craig Gongol told reporters on September 16 that the "governor's office confirmed the expenditures with the U.S Department of Treasury Office of the Inspector General."
I have been unable to verify that federal officials signed off on–or even knew about–this use of CARES Act funds.
Garrett and Craig Gongol did not respond to inquiries.
In response to open records requests, the Department of Administrative Services said it had no records related to the use of CARES Act funds to pay salaries or benefits for the governor's staff, and the Department of Management said it had no documents or correspondence indicating Treasury's Office of the Inspector General had approved or validated the use of federal COVID-19 relief funds for that purpose.
I was not able to get a comment from the Treasury Department in September about this story. After the State Auditor's office revealed last week that Treasury's Office of Inspector General had determined Iowa's contract to upgrade computer systems "is not an allowable expenditure" under the CARES Act, I reached out to Deputy Inspector General Richard Delmar. He confirmed the advice his office gave regarding the Workday software. When I asked about the $448,449 for compensating the governor's staff, explaining that the money had gone through Iowa's Homeland Security department, Delmar replied, "thank you for providing this information. Our CARES Audit team will review it."
Delmar did not respond to follow-up emails seeking to clarify whether his office was aware of that expenditure prior to my message of October 21.
THE ONLY OFFICIAL MENTION OF CARES ACT FUNDING FOR THE GOVERNOR'S STAFF
Only one publicly available official resource mentions that the governor's office received federal COVID-19 relief funds. The Legislative Services Agency, an independent entity not controlled by the governor, published a new Iowa Coronavirus Relief Fund Update on October 7.
The list of expenditures since the previous update in late August included the following:
$1.0 million to the HSEMD for staffing costs associated with COVID-19. Of this amount, $448,500 was transferred to the Governor's Office for salary expenses incurred in response to COVID-19 relief efforts.
And on page 2:
COVID Staffing: These funds are being used to cover increased salary costs associated with responding to COVID-19 relief efforts. A portion of the funds ($448,500) was transferred to the Governor's Office for increased salary costs.
I asked Dave Reynolds, a legislative analyst for the Fiscal Services Division, whether the LSA independently verified that there were "increased salary costs" in the governor's office associated with the pandemic, or "salary expenses incurred in response to COVID-19 relief efforts." He replied,
The information included in the article concerning the Governor's staff salaries came from the transfer documents (signed by the Governor's Chief of Staff) that were included in the State's financial accounting system. According to the documents, the funds were for increased salary and benefits expenses that were not previously accounted for in the Governor's budget for the period of March 15 – June 30. As you can probably guess, we are getting a lot questions on this issue and we are continuing to look at issues surrounding the Governor's staff salaries.
In those transfer documents, Craig Gongol stated that the expenses were not part of the budget, but did not provide supporting evidence.
I also asked Reynolds whether it was accurate to say that no one at the Legislative Services Agency was aware CARES Act money had been allocated for the governor's staff before late August, when I received from the Department of Management a list of employees who were partly compensated with those funds. He confirmed that if LSA had known funds had been approved for that use, it would have been mentioned in their previous Coronavirus Relief Fund updates, such as the one dated August 31.
"THIS IS JUST THE LATEST PANDEMIC SHELL GAME"
Republican State Senator Amy Sinclair, who chairs the Iowa Senate Government Oversight Committee, and State Representative Mary Ann Hanusa, who chairs the same committee in the Iowa House, did not respond to messages seeking comment on the decision to route CARES Act payments to the governor's office through Homeland Security, or the lack of disclosure on state government websites.
State Representative Karin Derry, the ranking House Democrat on the budget subcommittee that includes the governor's office, told Bleeding Heartland on October 8,
This appears to be just one more example of the lack of transparency from the Governor's Office about the expenditure of CARES Act funds. The State Legislature had already allocated funds to cover to cover the cost of staff for her office. So where did that money go? Iowa taxpayers deserve to know how their tax dollars are being spent.

Until we restore some much-needed balance to our state government, such irresponsible and nontransparent expenditure of taxpayer dollars will only continue.
State Senator Joe Bolkcom, the ranking Democrat on the Senate's Appropriations Committee, characterized the indirect payment scheme as "just the latest pandemic shell game coming from Governor Reynolds and her administration." He added, "The CARES Act money should be spent to help Iowans recover from the deadly virus instead of paying for her political advisors."
Top image: Screen shot from Governor Kim Reynolds' September 16 news conference, at which she answered a question about using CARES Act funds to pay her staff.