UPDATE: Zaun told the Des Moines Register on October 6 that he will seek re-election in 2024. Original post follows.
A parade of presidential candidates visiting the Iowa State Fair overshadowed some important election news this week. Urbandale City Council member Matt Blake announced on August 17 that he's running to represent Senate district 22, giving Democrats a strong contender in what will be a top-tier Iowa legislative race.
In a news release, Blake said "Iowa is not heading in the right direction," and characterized the Republican-controlled legislature's actions as "out of step with what Iowans want and deserve."
Republican State Senator Brad Zaun has represented the Urbandale area in the legislature since 2005. He has not publicly announced whether he intends to seek a sixth term in the Iowa Senate and did not respond to Bleeding Heartland's phone or email messages seeking to clarify his plans.
Whether Blake ends up competing against Zaun or in an open seat, Senate district 22 is clearly Iowa Democrats' best opportunity to gain ground in the upper chamber. The party currently holds only sixteen of 50 districts, its smallest Iowa Senate contingent in about 50 years.
DEMOCRATS' BEST IOWA SENATE PICKUP OPPORTUNITY
Of the eighteen state Senate seats Republicans will be defending next November, only Zaun's territory provided more votes for Joe Biden than Donald Trump in the last presidential election. In fact, Zaun was the only Iowa senator from either party to prevail in a district carried by the other party's 2020 presidential nominee.
According to a spreadsheet compiled by the Daily Kos Elections team, Biden received 52.7 percent of the vote in Zaun's old district, compared to 45.5 percent for Donald Trump. Meanwhile, Zaun defeated Democratic challenger Rhonda Martin by 51.1 percent to 48.8 percent after both parties spent hundreds of thousands of dollars on the race.
Redistricting improved Democratic prospects in Zaun's district. He no longer represents Grimes or Jefferson Township, which had provided his winning margin against Martin. (A table showing precinct-level results from that race is enclosed at the end of this post.)
Zaun kept the northwest Des Moines suburb of Johnston as well as the Urbandale precincts in Polk County, and picked up some precincts to the east in Des Moines and Saylor Township. Based on past voting behavior, the Des Moines neighborhoods will strongly favor Democratic candidates in 2024, while Republicans should have an edge in the Saylor precinct.
This map shows the current configuration of Iowa Senate district 22. The squiggly lines are not gerrymandering; those reflect the odd contours of Johnston's and Ankeny's city limits.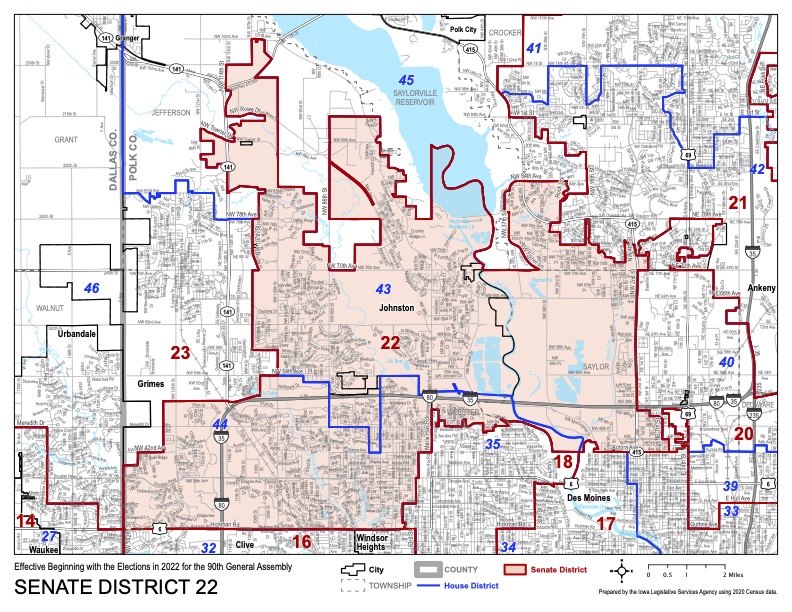 According to a map Josh Hughes created in Dave's Redistricting App, Biden received 53.2 percent of the votes in precincts that are now part of Senate district 22, while Trump received 44.7 percent. Remember, Trump won Iowa in 2020 by 53.1 percent to 44.9 percent.
In precincts now part of Senate district 22, voters favored Democratic U.S. Senate candidate Theresa Greenfield over Republican Joni Ernst in 2020 by 51.4 percent to 46.4 percent. Ernst was re-elected statewide by 51.8 percent to 45.2 percent.
Whereas Governor Kim Reynolds won the 2018 governor's race by just under 3 percent statewide, she received only about 46.4 percent of the vote in territory now part of Zaun's district, compared to 52.0 percent for Democratic challenger Fred Hubbell.
The latest official figures indicate that Democrats have a small voter registration advantage in this area. Looking only at "active" voters, who have cast a ballot within the past two years, Senate district 22 has 12,644 Democrats, 12,091 Republicans, and 8,785 no-party voters. Among "inactive" voters, who are still on the rolls but haven't cast a ballot in the past two years, there are 3,666 Democrats, 2,793 Republicans, and 4,907 no-party voters.
Blake and his campaign's volunteers will need to mobilize area Democrats, including those who didn't participate in the most recent midterm election. He will benefit from a well-honed GOTV operation in Urbandale, and a similar "neighbor to neighbor" organizing strategy underway in Johnston.
Senate district 22 tilts blue, but it's not a solid Democratic district where a candidate can win on mobilization alone. Blake will also need a message that can persuade voters, especially if he's up against Zaun, who has won five Iowa Senate races.
MATT BLAKE'S POSITIVE MESSAGE AND CASE FOR CHANGE
Blake has a strong biography. Local government has been a springboard for many successful state legislative campaigns, and Blake won a seat on the Urbandale City Council with the most votes out of seven candidates on the 2019 ballot. He touted the following accomplishments in a Facebook post last month, which confirmed he would not seek re-election to city government.
Without raising the tax levy, the Council has:

• Prioritized economic development and support for small business.

• Created green and solar initiatives throughout the community and city property.

• Introduced urban farming.

• Expanded the fire and police department.

• Developed the Crisis Intervention Team within the police department to respond to mental health or substance abuse crisis.

• Budgeted resources for human services for the first time.

• Developed long term plans to deal with stormwater issues.

• Partnered with the Neighborhood Finance Corporation.

• Implemented community focused events, such as Party in the Park and Miracle on 86th Street.
Like many current Iowa lawmakers, Blake also has military experience. His Iowa Senate campaign announcement noted that he "serves in the Iowa Army National Guard as a Judge Advocate (JAG) and holds the rank of Captain," and in that role deployed to Kuwait and Iraq in 2021.
Education and reproductive rights will be central issues for many Iowa Democratic candidates in 2024. Blake signaled in last month's Facebook post that he was going to run for state office because of "concerning" policy decisions at the state level. "Attacks on public education, reproductive rights, local government control and the general loss of civility are very troubling," he wrote.
Blake's campaign launch video flagged "public education, reproductive rights for women, and clean water" as some of the "important issues facing Iowa families." He added that he is a "public servant that will bring optimism and common-sense government back to the state of Iowa."
In the news release announcing his Iowa Senate bid, Blake argued that "Our state is moving away from its tradition of common sense, instead attacking teachers, women, LGBTQ+ children and adults, and the poor." He promised to "work for middle class families, fight for our public schools, and protect our constitutional freedoms." Alluding to Zaun, he said, "Our community deserves a State Senator who better reflects our community, and not one that promotes an extreme agenda."
Since winning his last re-election campaign, Zaun has been a vocal advocate of efforts to ban controversial books from school libraries and sought to create a felony offense for distributing "obscene" material in schools. That proposal didn't go anywhere in 2022, but Republicans approved new restrictions on school library books during this year's legislative session. That law prompted the Urbandale school district to remove dozens of titles from the shelves.
Blake has criticized the school district for going "far beyond what is necessary to comply with state law." But he emphasized that Republican legislators are the "true culprit" behind the book bans.
Abortion is a far more salient issue now than it was the last time Zaun was on the ballot, because the Iowa Supreme Court and U.S. Supreme Court reversed their abortion rights precedents in 2022.
For many years, Zaun has been among the most extreme anti-abortion voices in the Republican caucus. He has repeatedly backed "personhood" legislation that would ban the procedure entirely. As Senate Judiciary Committee chair in 2018, he introduced the bill that would prohibit almost all abortions after fetal cardiac activity could be detected (usually around six weeks). He was sitting in the Senate president's chair during last month's special legislative session, where Republicans approved a nearly identical abortion ban.
Although that law is currently on hold, the Iowa Supreme Court may lift the temporary injunction, or eventually uphold the law on the merits. Either action would have the effect of banning an estimated 98 percent of abortions in Iowa. That is certainly an unpopular position in suburban areas like Senate district 22.
Zaun's campaign literature in 2020 avoided the abortion issue and even the "Republican" label. Instead, it presented the senator as a former mayor, small business owner, community volunteer, and family man, and claimed he had worked to support job creation, law enforcement, education, and better mental health services.
WOULD REPUBLICANS BE BETTER OFF IF ZAUN RETIRES?
All other things being equal, it's easier for the party out of power to win an open seat than to defeat an incumbent. Zaun has very high name ID and proven crossover appeal. Blake will need to work harder to make himself known, especially outside the Urbandale precincts.
On the other hand, Zaun's legislative record comes with a lot of baggage, especially concerning education and reproductive rights. He has not moderated his message following redistricting.
The incumbent also has close ties to Trump, not only as a supporter of his current campaign, but as the first Iowa lawmaker to endorse Trump in 2015. The former president is the prohibitive favorite to win the Republican nomination in 2024, but he is not likely to carry Senate district 22 in the general election.
Given Zaun's record, it's worth considering whether the GOP would have a better chance to win this race with a new candidate, perhaps a generic "country club" Republican who is not on record voting for unpopular laws.
I could argue this one both ways. On balance, I think it's usually easier to hold a legislative seat with a known quantity. I also suspect Republicans will spend less on next year's campaign in Senate district 22 if they do not have an incumbent on the ballot. There's no question this race will be one of Democrats' top priorities either way.
To follow Blake's campaign: website, Facebook, X (formerly Twitter)
Zaun doesn't have an active social media presence, and his campaign website has not been updated since 2020.
---
Appendix: Precinct-level results from State Senator Brad Zaun's race in 2020. Note that the Grimes and Jefferson township precincts are not part of Senate district 22. The new district does include the Urbandale and Johnston precincts, plus several Polk County precincts Zaun has not represented before.
I created this table using certified results from the 2020 general election, grouping the precincts by the two House districts that were contained in Zaun's old territory.
| | | | | |
| --- | --- | --- | --- | --- |
| Iowa Senate district 20 results | | | | |
| precinct | Trump | Biden | Zaun | Martin |
| Grimes 1 | 2091 | 1827 | 2233 | 1649 |
| Grimes 2 | 1449 | 1437 | 1562 | 1283 |
| Grimes 3 | 669 | 829 | 724 | 761 |
| Jefferson 1 | 927 | 626 | 980 | 569 |
| Johnston 1 | 1048 | 1200 | 1090 | 1147 |
| Johnston 2 | 832 | 1352 | 885 | 1280 |
| Johnston 3 | 877 | 899 | 989 | 804 |
| Johnston 4 | 1056 | 1201 | 1158 | 1096 |
| Johnston 5 | 1618 | 1962 | 1794 | 1739 |
| Johnston 6 | 660 | 662 | 688 | 621 |
| Urbandale 4 | 828 | 939 | 916 | 847 |
| House district 39 total | 12,055 | 12,934 | 13,019 | 11,796 |
| | | | | |
| Urbandale 1 | 758 | 924 | 802 | 870 |
| Urbandale 2 | 822 | 1077 | 883 | 1008 |
| Urbandale 3 | 708 | 1042 | 806 | 950 |
| Urbandale 5 | 698 | 944 | 785 | 863 |
| Urbandale 6 | 645 | 1041 | 737 | 923 |
| Urbandale 7 | 974 | 1117 | 1090 | 999 |
| Urbandale 8 | 741 | 1030 | 850 | 901 |
| Urbandale 9 | 802 | 1080 | 906 | 975 |
| Urbandale 10 | 899 | 1041 | 1039 | 889 |
| Urbandale 11 | 896 | 953 | 1026 | 794 |
| House district 40 total | 7,943 | 10,249 | 8,924 | 9,172 |
| Senate district 20 total | 19,998 | 23,183 | 21,943 | 20,968 |
Table created by Laura Belin using data from Iowa Secretary of State's office
Top image: Official campaign photo of Matt Blake (left), and official legislative photo of Brad Zaun (right).