Brad Zaun's fifth campaign for the state legislature will be his toughest yet.
Like affluent suburban areas around the country, Iowa Senate district 20 has been trending away from Republicans. Democrats in the northwest suburbs of Des Moines did well in the 2019 local elections and more recently surpassed the GOP in voter registrations.
Zaun has adapted to the new environment with messaging that doesn't mention his party affiliation, his votes for many controversial laws, his numerous attempts to ban abortion, or his early support for Donald Trump's candidacy.
On the contrary, he is campaigning as an "independent voice" and leader on improving education and mental health services.

A CHANGING POLITICAL LANDSCAPE
Senate district 20 covers the northwest corner of Polk County, including most of Urbandale, Johnston, Grimes, and Jefferson township.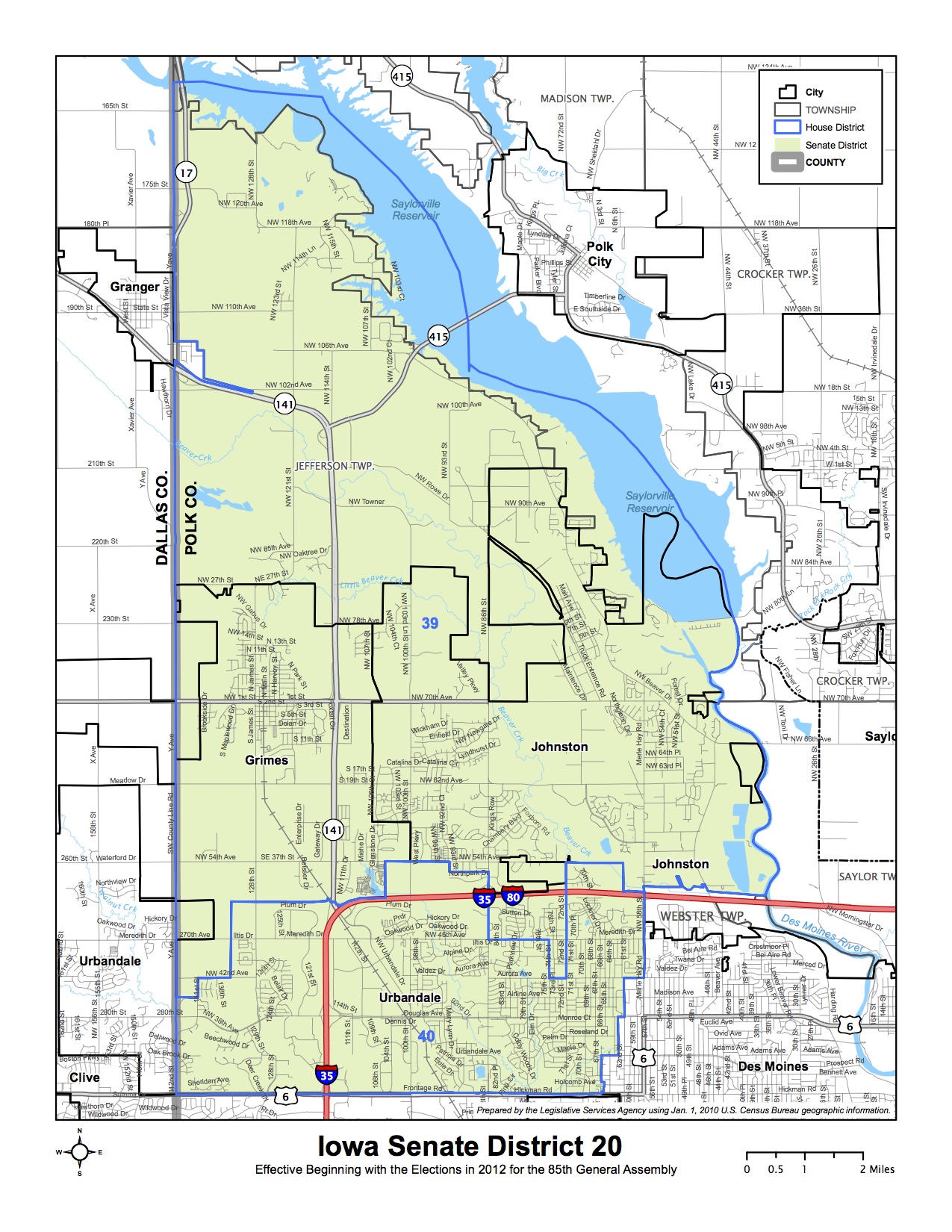 U.S. Census Bureau data shows these communities have substantially higher household and per capita income than Iowa as a whole, as well as a much larger share of adults with a college degree.
For many years, affluent suburbs were safe territory for Republicans. After winning a hard-fought open seat race by a comfortable margin in 2004, Zaun did not face a Democratic opponent in 2008 or 2012.
Going into the 2012 general election, Republicans outnumbered Democrats in Senate district 20 by more than 4,300. Little had changed on paper by November 2016: the GOP registration edge was nearly 4,000. Democrats had a candidate in Senate district 20 four years ago, but did not target the race. Zaun won a fourth term with nearly 60 percent of the vote despite spending little on his campaign. Most of the money he raised went to the state Republican Party, which used it in more competitive Senate districts.
Although Zaun was easily re-elected, other results from 2016 indicated that Trump was already driving suburban voters away. Whereas Mitt Romney had carried the precincts in Senate district 20 by 52.8 percent to 46.1 percent for Barack Obama, Hillary Clinton outpolled Trump here by 46.8 percent to 46.4 percent.
Trump's declining support in the suburbs, especially among women, fueled many Democratic gains in 2018. The GOP still had a registration edge in Senate district 20, but it had narrowed to 2,074 shortly before the midterm election. Fred Hubbell received 51.1 percent of the vote here, while Governor Kim Reynolds gained 47.2 percent.
More signs of change from the last election cycle: Republicans didn't field a candidate against State Representative John Forbes in House district 40, the more Democratic half of Zaun's district. In the other half, House district 39, a small volunteer army helped Democrat Karin Derry pull off an upset against a sitting House Republican.
Going into the 2020 caucuses, Republicans still outnumbered Democrats in Senate district 20, but by only about 1,000. Many area residents changed their registration in order to weigh in on the Democratic presidential race. As of March 2020, Senate district 20 contained 338 more Democrats than Republicans.
For the most part, those party-switchers weren't "Democrats for a day." Democrats expanded their advantage after this year's primary election. The latest official figures show Zaun's constituents include 17,636 active registered Democrats, 16,641 Republicans, and 13,768 no-party voters.
FUNDRAISING POINTS TO AN ENTHUSIASM GAP
It's long been clear that Senate district 20 would be a top Democratic target this cycle. Johnston City Council member Rhonda Martin was one of the first Democratic challengers to announce her candidacy for the Iowa Senate.
Oddly, Zaun hasn't raised much money. He pulled in $24,732 during all of 2019; nearly half that amount came from political action committees. He raised only $3,150 during the first four and a half months of this year, from three PACs and five individual donors.
I thought Zaun might turn on the juice after the legislature adjourned for the year in mid-June. But his latest financial disclosure, covering May 15 through July 14, shows only ten donations totaling $2,225.
Meanwhile, Martin raised $45,076 during 2019 (all from individuals), $20,228 from January through mid-May (all from individuals). Her latest financial disclosure showed $9,663.19 in contributions, again all from individuals.
As of July 14, Martin had $63,182.84 cash on hand, while Zaun–a long-serving incumbent representing a wealthy area–had just $16,910.78 in the bank.
Those numbers don't reflect what will actually be spent on behalf of the candidates before the general election. Party leaders typically raise most of the funds used for battleground Iowa legislative races. I expect Democrats and Republicans to spend well into six figures on Senate district 20, based on campaign expenditures in key Iowa Senate districts in 2016 and 2018.
On the other hand, the disparate fundraising totals point to an enthusiasm gap. Martin has more engaged supporters, more repeat donors, and far more small donors than Zaun.
WHAT ZAUN'S SAYING–AND NOT SAYING–TO VOTERS
While Zaun hasn't put much effort into fundraising so far, he appears to be taking this challenge seriously. These pictures show the "cowboy card" Republican staffers and volunteers are leaving on doorsteps in Senate district 20.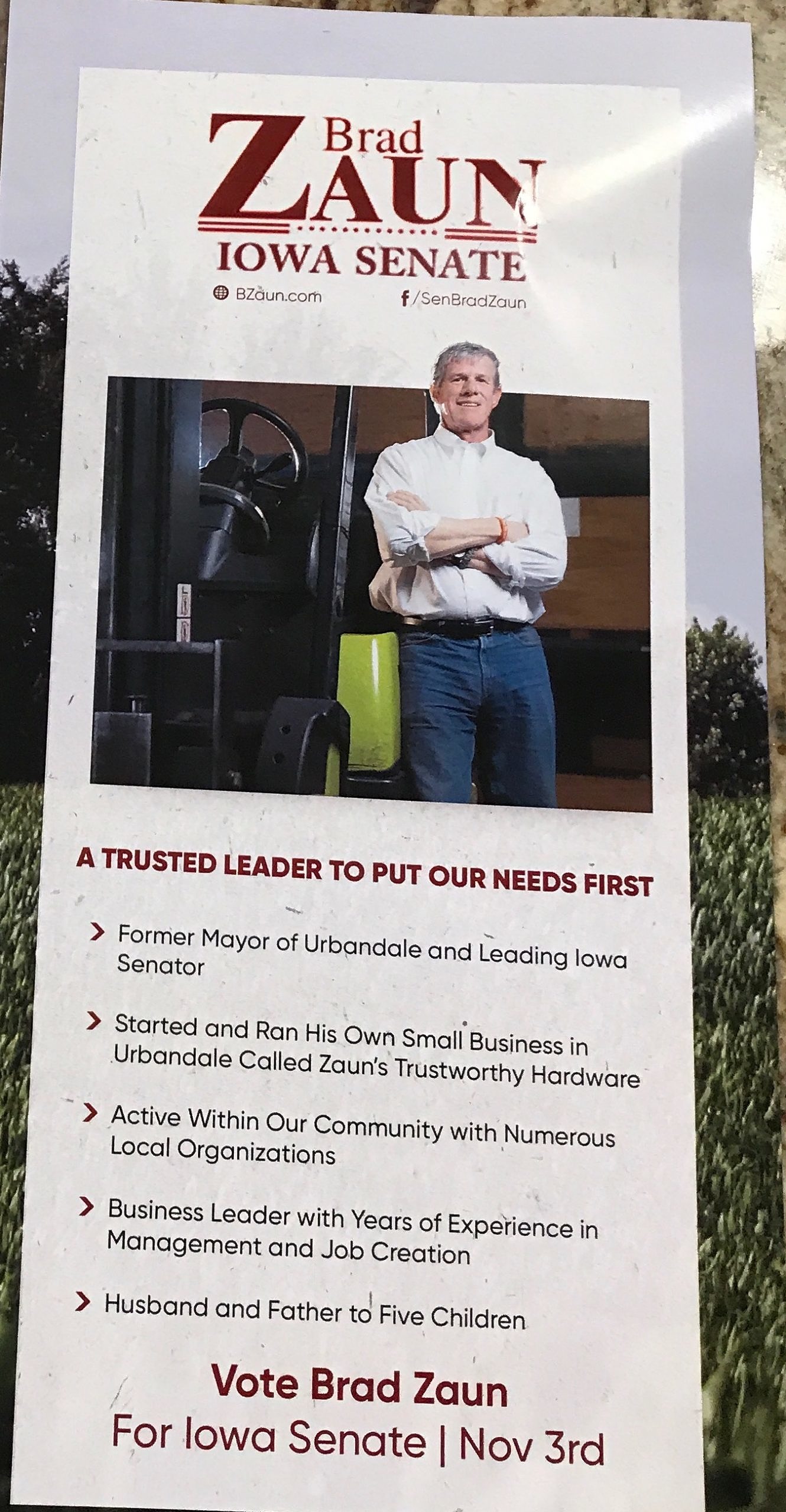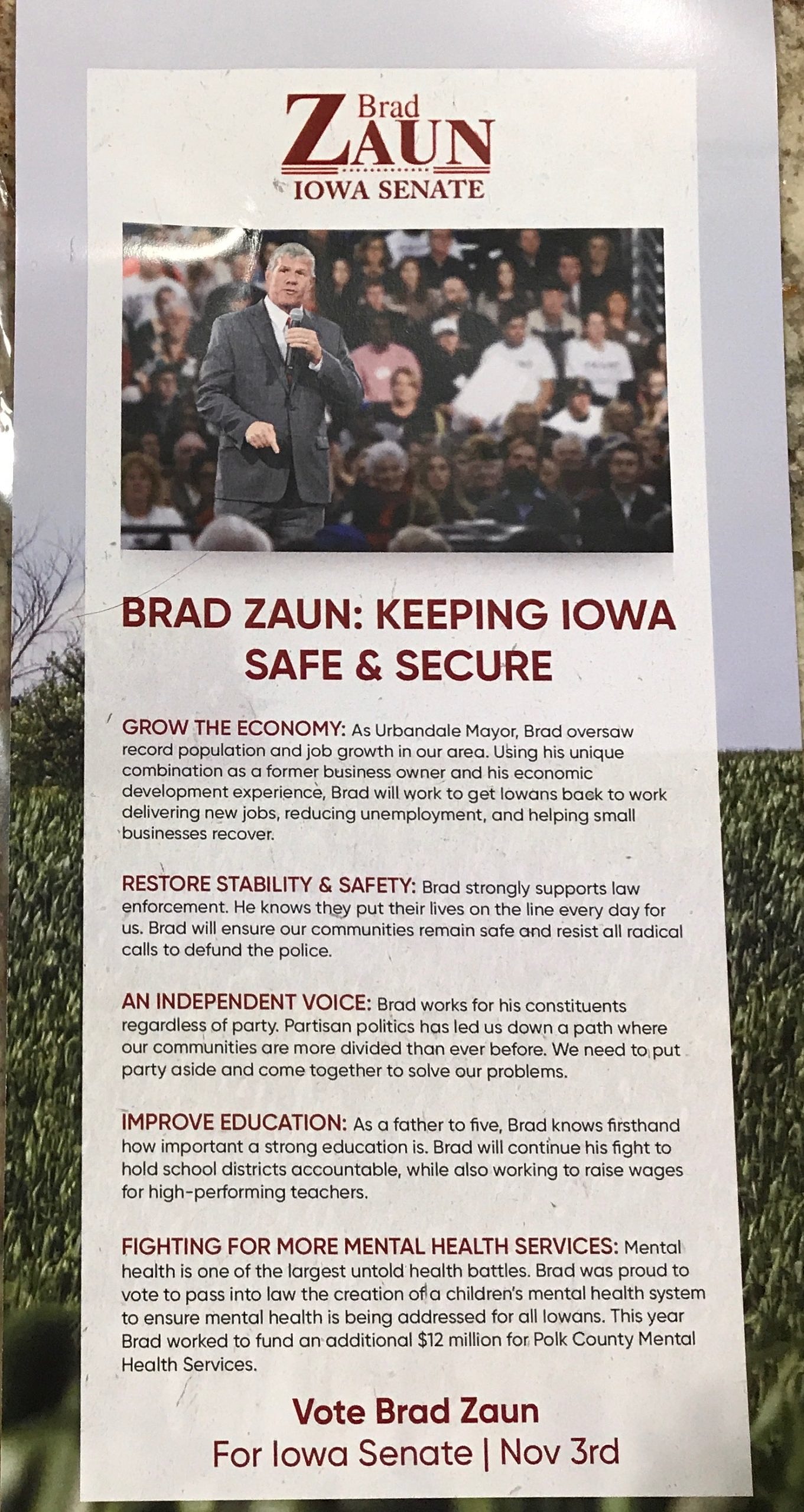 The front side emphasizes Zaun's background as a mayor, small business owner, community volunteer, and family man. The back puts "KEEPING IOWA SAFE & SECURE" in large print, with promises to support job creation, law enforcement, education, and better mental health services.
The word "Republican" does not appear on the card. It's also absent from the candidate's bio on his political website ("I am proud to be a leading member of the majority party […]").
Zaun was the first Iowa legislator to endorse Trump for president, months before the 2016 Iowa caucuses. But you won't find Trump's name on Zaun's campaign website or door hangers.
Zaun has voted for every abortion restriction that has come before the Senate, including two with provisions later struck down as unconstitutional. He has also introduced many anti-choice bills that didn't come to a floor vote. Some would have banned all abortions.
Early this year, Zaun introduced a bill that would have imposed a 72-hour waiting period before all abortions, similar to language the Iowa Supreme Court ruled unconstitutional in 2018. His record on reproductive rights is one reason many Democrats–not only his constituents–intensely want to see Martin win this November.
Zaun has never been shy about expressing his views on abortion in the Senate. But you won't find a word about his "pro-life" record or "unborn children" on his campaign literature, or on the "issues" page of his website.
Instead, the cowboy card highlights the economy, education, and mental health. The campaign website also mentions tax cuts, supposed protections for people with pre-existing conditions, and Zaun's role as floor manager of a bill that increased penalties for animal cruelty. (The governor signed that measure into law in June.)
I would guess that GOP internal polling showed Zaun is up against a monstrous gender gap. That would be expected, since opinion polls and focus groups around the country have shown sharp declines in support for Trump and Republicans among women voters, especially college-educated women.
Although Zaun serves on the Senate Education Committee, it's a real stretch to depict him as a champion for public education. Republican budgets have consistently underfunded K-12 school districts, community colleges, and state universities, especially since the GOP gained control of the Senate after 2016. Moreover, like all of his fellow Republican senators, Zaun supported the 2017 bill that stripped teachers and other public employees of all meaningful collective bargaining rights. The Des Moines suburbs are home to many educators, as well as state or local government workers who have suffered financially because of that law.
Zaun did vote for some mental health legislation that passed both chambers of the legislature unanimously. But he wasn't a leading architect of those bills.
As for being an "independent voice," Zaun does have an iconoclastic streak. He's the legislature's most vocal detractor of speed cameras and has been out in front on medical cannabis legislation. In fact, he was the only Senate Republican to support a far-reaching medical cannabis bill in 2015. (That legislation died in the GOP-controlled House.)
But I'm not aware of Zaun ever going against GOP leadership on any high-profile bill during the past four years. He's been a loyal foot soldier in hundreds of party-line votes. Maybe Republicans can sell Zaun to voters as a guy willing to "put party aside and come together to solve our problems." I'm skeptical.
When Martin launched her campaign in May 2019, she struck me as a good fit for the district but an underdog, given the voter registration numbers and the many incumbency advantages Zaun would enjoy, like higher name ID.
Senate district 20 looks like a toss-up now.
UPDATE: I should have mentioned that Zaun fell short as the Republican challenger to U.S. Representative Leonard Boswell in 2010, a GOP landslide year when Democrats had a net loss of 63 U.S. House seats. That's another red flag suggesting he may struggle to appeal to swing voters.
Reader Mark Masterson reminded me that Zaun sponsored a bill in January 2017 that would have excluded all public employees hired after July 1, 2019 from all of Iowa's defined benefit pension programs. Instead, newly hired employees would be part of defined contribution retirement programs similar to private-sector 401(k)s. More than one in ten Iowans, including thousands living in Senate district 20, are part of Iowa's largest public pension system (IPERS).
Zaun's pension bill never made it past a subcommittee, but the fact remains, he advocated for privatizing the state's pension systems, and introduced the bill during the very first week Republicans held an Iowa Senate majority.
Regarding Zaun's education record, readers reminded me that he has repeatedly introduced bills to end tenure at state universities (see here and here). He has also sought to abolish the Iowa Department of Education, transferring all of its authority to Iowa's Area Education Agencies. In addition, Zaun is on record supporting "education savings grants," a kind of voucher system that would divert public funds to private schools.
Top image: Official photo of State Senator Brad Zaun.