The Iowa Democratic Party held its final Jefferson-Jackson dinner Saturday night, drawing some 6,000 activists to hear three presidential candidates speak in Des Moines. Last night's spectacle won't loom as large over the Iowa caucus campaign as the JJ did in 2007, when it took place in November and the caucuses were scheduled for early January, rather than February. But some new tactics emerged during the speeches by presidential candidates Bernie Sanders, Martin O'Malley, and Hillary Clinton. My thoughts on the evening's highlights are after the jump.
I am a sucker for hand-made political signs, so I also enclose below my favorite pictures from the crowds in the bleachers. I put "Feel the Bern" in lights up top because I've never seen electrified signs at the JJ before.
While I see the value in supporters waving signs (or glow sticks, as many did last night) at a big rally, the "sign wars" some campaigns stage before multi-candidate events have always struck me as pointless. How does it demonstrate "organizational strength" to send a few staffers to put up printed materials in windows or along a road? Why would anyone want their volunteers to stand around yelling for hours before the dinner, rather than saving their energy and voices to show that enthusiasm inside the hall? For those who disagree with me and love the show, Pat Rynard chronicled the morning and afternoon activities by all three campaigns at Iowa Starting Line.
As for why I called it the "final" JJ, the Iowa Democratic Party's annual fall fundraiser will continue under a to-be-determined name honoring icons considered more inclusive. You can send your suggestion to the state party using this form through February 15, 2016.

Before the dinner, Clinton's campaign organized a rally outside Hy-Vee Hall featuring President Bill Clinton and Katy Perry. Clinton showed off strong improvisational skills when an activist from People for the Ethical Treatment of Animals sought to disrupt the speech. As the man stood in front of the crowd holding his banner, refusing to step aside, Clinton urged the crowd to "give him a hand," because "that guy's for something" and "didn't come here to badmouth anyone."
Bill Clinton joked that he would keep his remarks short, since he knew he was just the "warm-up act" for Katy Perry. By his standards, it wasn't a long speech, but I wish I had counted how many times he promised to say just one more thing. A few noteworthy points from his case for electing Hillary:
• The next president will probably make between one and three appointments to the Supreme Court.
• While recounting his wife's work to support veterans, Clinton mentioned that Hillary was the first New Yorker ever to serve on the Senate Armed Services Committee.
• Hillary Clinton's career-long advocacy for children, especially vulnerable children, is a key theme running through her stump speeches and television commercials this year. That she worked for the Children's Defense Fund after law school is well known, but before Bill Clinton's speech, I don't remember hearing that during the early 1970s, Hillary worked in some deep South states to get 14- and 15-year-old African American boys out of adult prisons.
• Clinton mentioned that his wife's best friend has known her since grade school, adding that anyone who is still close to their best friend since grade school "is by definition a trustworthy and reliable person."
• The biggest laugh line of his speech came when he said he was tired of the "stranglehold that women have had on the position of presidential spouse."
Katy Perry played three songs (Roar, Wide Awake, and Firework) for the crowd, posed for a selfie with Hillary, and stayed for the whole JJ dinner.
Inside the Hy-Vee Hall, Democratic candidates and elected officials mingled with activists as thousands waited in long lines to get through security. Several candidates for federal office had set up tables to hand out literature and sign up supporters. Volunteers for State Senator Rob Hogg's U.S. Senate campaign were collecting signatures for nominating petitions. Several progressive advocacy groups and labor union had tables in the venue too. AFSCME was handing out buttons and bumper stickers with a red line through Governor Terry Branstad's face: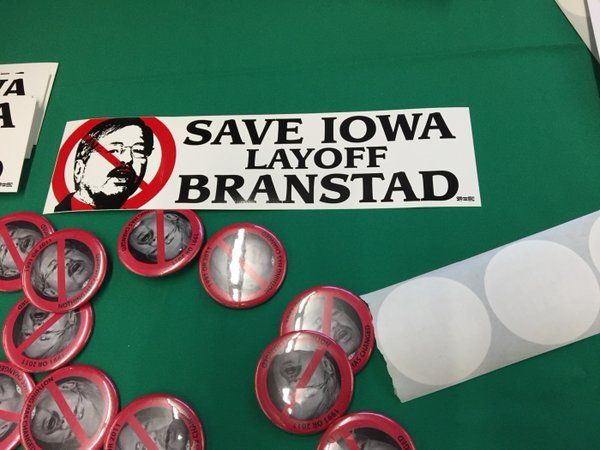 Secret Service screenings didn't stop the Hall of Fame dinner in July or the Wing Ding in August from running on time, but the Jefferson-Jackson dinner crowd was more than twice as large. The program that was supposed to begin at 7 pm started about an hour late.
I enjoyed walking around the bleacher sections for all the candidates. Bernie Sanders' supporters were by far the most creative with their signage.
A friend who was a precinct captain for John Kerry before the 2004 caucuses and for Barack Obama before the 2008 caucuses is now backing Clinton. She captured this shot of hand-made Hillary signs: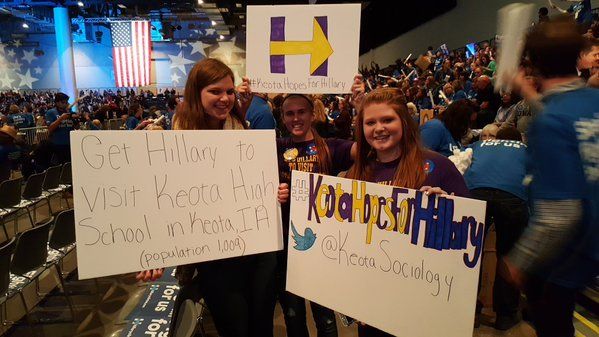 My friend also photographed a phenomenal quilt crafted by a Clinton supporter here: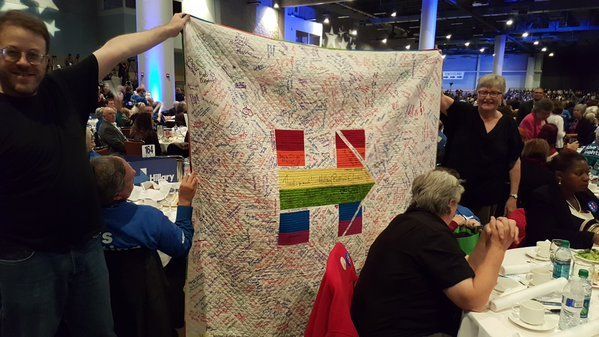 The O'Malley campaign had passed out "thundersticks" to supporters: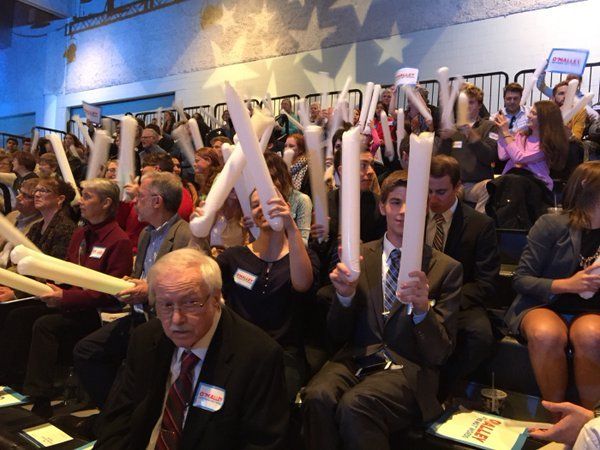 Some political junkie excitement awaited me in the press area. I happened to be sitting near Eric Appelman, who compiles the website p2016.org, and Mike Dec, who runs 4president.org. Going back to the 2000 presidential campaign, Appelman tracks each candidate's organizational structure, high-profile endorsers, and visits to early nominating states. It's the most comprehensive resource I know of for Iowa visits by Democratic and Republican presidential candidates. Dec's site posts press releases, advertising, schedules, speeches, and other materials from all the major-party presidential candidates, not only for this election cycle, but for the last several decades.
Iowa Democratic Party Chair Andy McGuire was the emcee for the evening. From her early remarks to the very last trip to the microphone late in the evening, McGuire kept urging attendees to fill out and drop off "commit to caucus" cards, which I found a bit strange. Surely anyone who is politically involved enough to come to the JJ dinner will show up for the precinct caucuses on February 1. Moreover, the state party doesn't turn people out for the caucuses; that's a job for each presidential campaign. Presumably these "commit to caucus" cards will be used to recruit volunteers and/or donors to the party for the coming election year.
Representative Dave Loebsack (IA-02) was the next speaker. He asked the audience to "send me help," as last year's GOP wave election left him the only Democrat in Iowa's Congressional delegation. Loebsack also credited McGuire for the amount of traveling she has done around the state since becoming state party chair in January. (McGuire had promised to rebuild the party at the county and local levels when campaigning for that position.) Loebsack, who has endorsed Clinton, concluded by reminding the crowd that we need a Democratic president. He called on activists to unite behind the eventual nominee, no matter what team they are on before February 1.
The low point of the evening came next. For some reason, possibly thinking it would save time, the state party did not allow Congressional candidates to speak directly to the audience. The Wing Ding organizers handled this problem much more adeptly, giving two or three minutes to most of the Democrats running for U.S. House or Senate, and extra speaking time to Kim Weaver, who kicked off her challenge to Representative Steve King at that event.
Instead of copying the Wing Ding model, McGuire read out prepared scripts on behalf of Democratic challengers last night, while the candidates came to the stage and stood around awkwardly. I would much rather have heard directly from the three Democrats running for U.S. Senate (Tom Fiegen, Rob Hogg, and Bob Krause), the three running in Iowa's first Congressional district (Pat Murphy, Gary Kroeger, and Monica Vernon), the two running in the third district (Desmund Adams and Jim Mowrer), and from Weaver, the fourth-district challenger.
Former Representative Leonard Boswell took the stage next to deliver the "pass the bucket" remarks. He was a Clinton endorser before the 2008 caucuses but didn't play favorites last night, saying that any of our candidates would be better than the Republican alternatives. Boswell also mentioned that he and his wife Dody recently celebrated their 60th anniversary. A short program break ensued while volunteers prowled the hall with buckets, seeking donations. Sanders wisely came over to greet his supporters in the "cheap seats" during this time.
When McGuire took the stage to introduce Sanders, I could hardly hear a word she said over the roars from the "Feel the Bern" crowd behind the press tables. The campaign released Sanders' prepared remarks, and the dominant media frame was "attack." Although Sanders did not mention Clinton by name, he drew more contrasts with her record than he has done in previous stump speeches. From the prepared remarks:
After I came to Congress, corporate America, Wall Street, the administration in the White House and virtually all of the corporate media pushed for passage of the North American Free Trade Agreement. I didn't believe their arguments. It didn't make sense to me then that American workers should compete with people making a fraction of our wages. I also opposed CAFTA and Permanent Normal Trade Relations with China. History proved me right. Since 2001 we have lost nearly 60,000 factories in this country and millions of decent-paying jobs.

And let me be clear about the current trade deal that we are debating in Congress, the Trans-Pacific Partnership. It is not now, nor has it ever been, the gold standard of trade agreements. I did not support it yesterday. I do not support it today. And I will not support it tomorrow. We had a chance months ago to stop it in its tracks on the vote for fast track authority. That vote was the fork in the road and I'm glad I took the right road at the right moment in time.

In 1996, I faced another fork in the road – another very difficult political decision. It was called the Defense of Marriage Act – brought forth by a Republican-led Congress. Its purpose was to write discrimination against gays and lesbians into law. Let us remember, that support for gay rights back in 1996 was not what it is today.

And I'm sorry to tell you that that bill won by an overwhelming majority of 342 to 57 in the House and 85 to 15 in the Senate, big majorities which included too many Democrats. That was not a politically easy vote. Today, some are trying to rewrite history by saying they voted for one anti-gay law to stop something worse. Let us be clear. That's just not true. There was a small minority opposed to discriminating against our gay brothers and sisters. Not everybody held that position in 1996.

Climate change is real. It is caused by human activity and it already is causing massive devastation all across our planet. It is a very sad moment in American history when almost all Republicans running for president reject science and the need for bold action to combat climate change. Sadly, they prefer to take the super PAC campaign contributions from the Koch brothers and the fossil fuel industry rather than to protect the planet for our kids and grandchildren.

And if you agree with me about the urgent need to address the issue of climate change, then you would know immediately what to do about the Keystone pipeline. Honestly, it wasn't that complicated. Should we support the construction of a pipeline across America and accelerate the extraction of some of the dirtiest fossil fuel in the world? To me, that was a no-brainer and that is why I have opposed the Keystone Pipeline from the beginning.

My friends, I want to bring you back to a very eventful year and a tragic moment in the modern history of our country. The year is 2002. The issue is whether Congress should vote to invade Iraq. Public opinion and most of the media were for the war. And it turned out that big majorities in Congress were too. The vote was 296-133 in the House 77 to 23 in the Senate voted to give President Bush the authority to go to war. Let me tell you that I listened to what Bush had to say, to what Cheney had to say, to what Rumsfeld had to say. I didn't believe them and I voted no.

If you go to my website, you can see exactly what I said at that point and the fears that I had about the destabilization of that region if we invaded Iraq. It gives me no joy to say that I was largely right about the war. I am proud to tell you when I came to that fork in the road I took the right road even though it was not the popular road at the time.

Throughout my years in Congress I have voted time and again to rein in Wall Street, the big banks and the big insurance companies that control too much wealth and wield too much power in our country. In 1999, I voted against the deregulation of Wall Street, including ending the Glass-Steagall Act. The House vote was 362 to 57. Yes, I was in a small minority. Yes I took on Wall Street which spent $5 billion lobbying for this deregulation. But the vote I cast was the right vote.
I wouldn't go so far as to call the speech a "frontal attack on Clinton's record, caution and character." Sanders "attacks" the Koch brothers and their fellow "millionaires and billionaires" who try to subvert democracy. He was contrasting his record with Clinton's in an effective way.
I strongly disagree with Iowa Democratic strategist and consultant Jeff Link, who called Sanders' appearance a "whiff" because "He talked about himself for half the speech instead of talking about America." Sanders wasn't talking about himself in a narcissistic way, like Donald Trump does. He was explaining his record of standing up for progressive principles even in a politically inhospitable environment. From where I'm sitting, that is the strongest card Sanders could play against the front-runner. He's absolutely right, for example, that opposing the Keystone XL pipeline should have been a "no-brainer" to anyone who grasps the climate change problem.
Most Democrats came to the JJ dinner with their minds made up, but thousands more will read media accounts of the event, and the summaries of Sanders' speech may get some Democrats doubting whether they can depend on Clinton to be in their corner.
O'Malley was up next. His speech didn't deviate from others I have seen him give in any major way; you can read the prepared text here. "Action, not words" is the theme O'Malley hopes will set him apart from Clinton and Sanders. He has a strong record to run on:
While all of the candidates here tonight share progressive values, not all of us have a record of actually getting things done. I do. With fifteen years of executive experience — as Mayor and as a Governor –I have learned how to be a very effective leader. I have learned how to get things done. I am clear about my principles. Passing a living wage and raising the minimum wage. Freezing college tuition for four years in row. Actions, not words! As Governor, I made it easier — not harder — for workers to bargain collectively for better wages for all of us. Actions, not words! Instead of cutting public education funding, as Governor, I increased funding for public education by 37% and — memo to Governor Branstad — … We made our public schools the best public schools in America for five years in a row! Actions, not words! I brought people together to pass the Dream Act, to pass Marriage Equality, and to pass the most comprehensive gun safety legislation in the nation with background checks and a ban on the sale of combat assault weapons! Actions, not words!
O'Malley spent several minutes talking about his commitment to gun control. No question, this part of the speech was a crowd-pleaser, in all the candidates' bleacher sections:
And finally, we must have the courage to put our children's safety—each and every day— ahead of the craven and morally bankrupt interests of the National Rifle Association. The NRA has one goal—and one goal only—selling as many guns as possible, no matter the cost in lives. Well that might be their interest — but that is not what is best for America! For forty years, they've dictated what laws should be written. It's high time we find our backbone again as Democrats and stand up and say no to the NRA. As President Obama said, if terrorists had killed 400,000 Americans with guns over the last 15 years, we'd move heaven and earth to stop them. But Americans have killed 400,000 Americans with guns. And we cower to the political lobbying power of the National Rifle Association! Enough is enough. Sandy and Lonnie Phillips lost their daughter Jessie in the mass murder that occurred in that theater in Aurora, Colorado. They are here with us tonight What they have endured is unfathomable. But so too is their courage and resolve. For they set out to transform their grief into action. They went to court to hold accountable those who recklessly armed a mass murderer with 4,000 rounds of ammunition. They sued the man who sold the ammunition used in the attack. That man didn't ask what those bullets were for. He didn't care. And not only did the Phillips' case get thrown out of court, they were slapped with $200,000 of court fees because of special immunity to lawsuits that the NRA managed to muscle out of our own Congress. It doesn't have to be this way. To save lives we must require universal background checks; To save lives we must ban the sale of combat assault weapons; To save lives we must use the buying power of our federal government – the biggest customer gun companies have – and refuse to buy guns from any company that doesn't use the latest and best safety technology; And to save lives we must stop giving immunity to gun manufacturers and gun dealers who sell weapons of mass murder to criminals and psychopaths! Senator Sanders join me now. Secretary Clinton join me now and together we can forge a new consensus for change — Because one American life is worth more than all the gun sales in America.
Alluding to the challenges he faces as a candidate far behind Clinton and Sanders in early-state and national polling, O'Malley closed out his speech with a riff about "tough fights" that I hadn't heard before. It struck me as a clever way to frame his long-shot status:
A lot of people tell me that I face a tough fight in this race. And there are also a lot of people who would look you in the eye and tell you that you've got a tough fight giving your children and grandchildren a better life than you've enjoyed… Well you know what? — I kind of like the tough fights. I've always been drawn to the tough fights. Perhaps the toughness of the fight is the way the hidden God has of telling us we are fighting for something worth saving! The American Dream is worth saving. Our children's future is worth saving. Our country is worth saving Our planet is worth saving. It's time to join the fight. I am in this to win this. I need your help. Together, you and I can and will rebuild the American Dream. Thank you. May God bless Iowa, and may God bless America in our journey together!
Another running theme in media accounts of the JJ was the exodus of Sanders supporters from the bleacher section. Leaving this kind of event without hearing out all of the candidates is a pet peeve for me, but more important, it reflects poorly on the candidate. As John Deeth noted,
The image that sticks with me from last night is of Sanders supporters leaving after his speech, through O'Malley's and into Clinton's.

Sanders leaders are aware it was a bad optic, especially since Press Row was a peninsula surrounded on three sides by Team Bernie while the Clinton sections were on the other side. They're trying to get word out that the early departure was forced by transportation, as the crowd was largely students who bused over. (A problem solved by paying the bus drivers whatever overtime was needed.) And fingers are pointed at the security check in, which pushed the start time back an hour.

But walking out on the other speakers is very telling, especially when your candidate has yet to actually say he is a Democrat.
UPDATE: Matt Ohloff points out that many people left the bleachers after the governor had finished speaking, without sticking it out to hear Clinton. Duly noted. Their departures were not as noticeable, since the O'Malley cheering section was on the opposite end of the room from the press tables.
As Clinton took the stage, her supporters waving blue glow sticks made for a fantastic visual.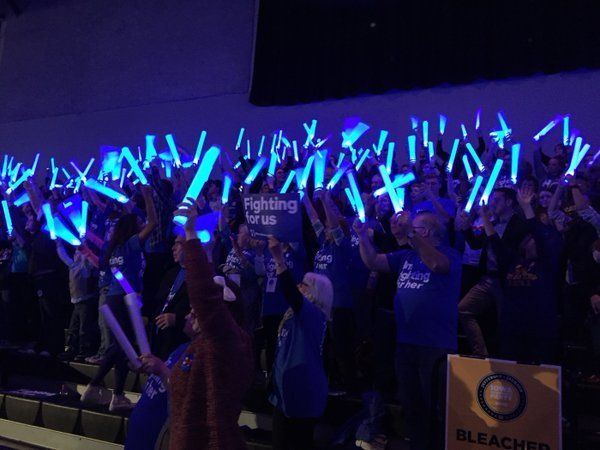 You can read the full text of Clinton's remarks here. The speech didn't differ much from her remarks to the Wing Ding in August, but a few points were new to me. First, Clinton promised to go further than President Barack Obama's executive orders on immigration, if necessary to keep families together.
And I'll tell you something else, I am going to back and support what President Obama has done to protect dreamers and their families, to use executive action to prevent deportation. And I have said, if we cannot get comprehensive immigration reform, as we need and as we should, with a real path to citizenship that will actually grow our economy, then I will go as far as I can, even beyond President Obama, to make sure law-abiding, decent, hard-working people in this country are not ripped away from their families.
Clinton also made a point of saying "Black Lives Matter" and talked more about gun control than I have heard in her other stump speeches this year. In that part of the speech she delivered a line that she should repeat frequently, in my opinion (emphasis added).
I am fighting to reform criminal justice for every mother and father who worry every day that their child will be stopped by the police just for being African American, because, yes, black lives matter! And I am fighting to protect our kids in communities from the plague of gun violence. You should be safe when you go to school, when you go to the movies, when you go to church. That's why I'm proposing common sense gun safety measures like universal background checks, closing the loopholes that let guns fall into the hands of those who shouldn't have them, and repealing that law that shields gun makers and sellers from accountability. Now, I've been told to stop shouting about ending gun violence. Well, I haven't been shouting, but sometimes when a woman speaks out, some people think it's shouting. But I won't be silenced, and I hope you won't be either. How many more people have to die before we take action?
Almost every woman, regardless of her preferred presidential candidate, can probably tell a story about being called strident, hysterical, angry, or emotional when she asserted her opinion in a way that wouldn't attract any special notice if a man said the same thing.
During the first Democratic debate, I loved Sanders' line about people being "tired of hearing about your damn e-mails!", but I also loved the Saturday Night Live sketch in which Kate McKinnon (as Clinton) said after thanking Larry David (as Sanders), "it must be so nice to yell and cuss in public." It's true: if a woman candidate shouted like that during a debate, the pundits would spin the outburst in a very negative way.
Another line that was new to me and should become a staple in Clinton's speeches: "Now, I'm not running for my husband's third term, and I'm not running for Barack Obama's third term. I'm running for my first term. And I'm running as a proud Democrat."
Any relevant comments are welcome in this thread.
P.S.- Speaking of campaigns laying on buses to the JJ, the Des Moines Register's Jason Noble uncovered an interesting piece of Iowa caucus history:
Howard Dean, who was leading the pack at that point in mid-November [2003], caused a stir by rolling 47 buses through downtown Des Moines — all of them allegedly filled with soldiers in his grass-roots army.

Dean campaign manager Joe Trippi admitted last spring a bit of gamesmanship.

"Yeah, some of those buses were empty," he allowed, before adding sarcastically, "but no one's ever pulled theater at a JJ dinner before."
UPDATE: I meant to mention that all three presidential candidates went over their allotted speaking time. Christian Ucles posted the details: Sanders went over by 8 minutes 30 seconds, O'Malley by 9 minutes 35 seconds, and Clinton by 13 minutes 10 seconds. In the interest of fairness, the Iowa Democratic Party should have had someone enforce the stated time limits.