Expanded and revised from a series published at Bleeding Heartland during the 2016 election cycle
The Iowa caucuses are a notoriously complicated process, and new rules intended to make the caucuses more representative have added to the confusion. This post will cover the basics of what will happen on the evening of February 3 and the three ways the Democratic results will be reported. Later pieces will examine other elements of the caucus system:
Part 2 will explore barriers that keep many politically engaged Iowans from participating in the caucuses, despite several attempts to improve accessibility.
Part 3 will focus on caucus math, which creates different ways to win a Democratic precinct, and for the first time this year, more than one way to win the state.
Part 4 will cover the role of precinct captains or other active volunteers, both before the caucuses and at the "neighborhood meeting."
Part 5, to be published after results are in, will ponder whether the Iowa caucuses as we know them will soon cease to exist, given the growing sentiment among Democrats around the country that the first nominating contests should be in more diverse, representative states.

WHAT HASN'T CHANGED
If you've attended an Iowa precinct caucus before, most of what happens on February 3 will be familiar.
Caucus-goers must attend in person.
Iowa voters must show up at a specific location by 7 pm on the designated date to participate in a precinct caucus. There's no early voting, no absentee voting, and no proxy voting.
Caucuses are party-run events, not elections.
Unlike regular elections administered by county auditors, the political parties organize the caucuses. County party organizations line up caucus sites, usually seeking the largest available rooms in a given precinct, in buildings that are accessible with free parking nearby. Democrats have booked bigger venues for many precincts to avoid the overcrowding problems seen in 2008 and 2016, though as John Deeth has often observed, rooms large enough to accommodate all caucus-goers don't exist in some precincts. All 1,678 Democratic caucus locations are listed here.
In larger cities, most precincts will have their own caucus locations (often in a school, church, or community center). In smaller towns and rural areas, one building may be a caucus location for several precincts, using different rooms. An incumbent president on the ballot leads to more consolidation; this year, Republicans have set up far fewer caucus sites than usual, since President Donald Trump's primary challengers Joe Walsh and Bill Weld have gotten little traction in Iowa.
Caucuses will cover the same ground.
The agenda for the evening hasn't changed for decades. First, the "introductory business": caucus-goers will elect a permanent chair and secretary, and may hear from local candidates or elected officials.
Second, voters do what they came for: express support for their presidential candidate of choice.
Finally, the group addresses some party business: choosing representatives to county party committees and considering platform planks voters bring to the caucus. Bleeding Heartland discussed four years ago how platform resolutions should be written and how advocacy organizations sometimes try to influence the process.
Most caucus-goers don't stick around for the party business. They go home after the presidential preference.
The way delegates are allocated for each precinct remains the same.
The 1,678 precinct caucuses will elect 11,402 county convention delegates (details can be found here). Votes for the Democratic candidates for president and governor in the last two elections determine how many county convention delegates will be elected in each precinct, and how many state convention delegates will be elected in each county. Votes for Barack Obama in 2012 and Jack Hatch in 2014 were used to calculate the 2016 delegate allocations; votes for Hillary Clinton in 2016 and Fred Hubbell in 2018 were used to calculate this year's allocations.
I created a table showing how many Democratic state convention delegates have been assigned to each county, which is at the end of this post (Appendix 3).
The formula used to determine which presidential candidates receive county delegates in each precinct hasn't changed either. Most precincts will elect four or more county delegates, so a candidate will need support from at least 15 percent of the people in the room to be viable. In precincts that assign just one county delegate, there is no threshold. The delegate is elected by majority vote. In precincts that assign two county delegates, the threshold is 25 percent. In precincts assigning three delegates, candidates will need at least one-sixth of the voters in the room to be viable.
Two presidential alignments will happen before county delegates are chosen.
During the first division into preference groups, Democratic caucus-goers will go to their candidate's area in the room. Precinct captains will count the supporters and report the number to the precinct chair, who will announce the totals and which candidates are viable. The number of delegates assigned to each candidate won't be finalized until after some attendees have had a chance to "realign."
During realignment, things will start to look different on February 3.
FIVE BIG CHANGES TO THE DEMOCRATIC CAUCUSES
The Iowa Democratic Party rolled out some new rules and other innovations designed to make the caucuses run more smoothly. Five are particularly important in my view. Three will change the caucus experience this Monday evening, one will give the general public a more complete picture of Iowans' preferences, and one will improve the atmosphere at county and district conventions later this year.
Only supporters of non-viable candidates can make a second choice.
In the past, people who knew how to work the system could sometimes take a delegate away from a rival by sending a few caucus-goers from a large group to a smaller group during the realignment period. The gamesmanship could be fun if you benefited, like the John Edwards supporters who became viable in David Redlawsk's precinct only because Barack Obama's group wanted to deprive Hillary Clinton of a delegate. It was lousy being on the receiving end, as my fellow Paul Simon supporters were in my precinct in 1988.
Those days are over. Everyone whose group clears the viability threshold on the first division is locked in, be it for a candidate or perhaps for "uncommitted." They cannot make a second choice.
Because of this new rule, I've heard some Democrats say they plan to caucus for a candidate who has dropped out, such as Cory Booker or Kamala Harris, on the first alignment. This will allow them not only to have their preference recorded for their favorite, but also to "read the room" without running the risk of getting stuck as uncommitted.
Caucus-goers whose first choice falls below the viability threshold in their precinct will be able choose a different candidate, or convince those backing other non-viable candidates to join their group, or perhaps make an uncommitted group viable. Part 3 of this series will discuss realignment scenarios in more detail.
A paper trail will record every caucus-goer's preference.
We're not calling them ballots out of deference to New Hampshire's secretary of state, but Iowa Democrats will receive a "presidential preference card," to be filled out after the first division into groups and head count. According to the delegate selection plan (enclosed in full below),
For the purpose of preserving the presidential preference division at each caucus, Presidential Preference Cards, including a signature from the participant and the participant's legible printed name, will be used. These cards will be preserved until the completion of the Democratic National Convention.
This is a great concept for two reasons. First, caucus-goers can go home after turning in their card to the precinct chair, knowing that their support will still count toward their chosen candidate. In the past, people who left the caucus before realignment was complete weren't part of the final count. In precincts where the caucus dragged on for hours, attrition sometimes cost candidates a delegate they should have earned.
Second, meaningful recounts will be possible in the event of an extremely close result, as happened in 2016. Some Bernie Sanders supporters wanted a recount then, understandably, but raw supporter numbers were not recorded for every precinct. With four candidates clustered close together in recent polling and others potentially rising, another photo finish is a very plausible scenario.
Satellite caucuses will allow some Iowans to participate without being at their precinct caucus.
The Iowa Democratic Party approved applications for 87 caucuses in locations other than the designated building for their precinct. Sixty of those are in Iowa, including assisted living facilities, community or student centers, or union halls for shift workers. Twenty-four are in other parts of the country and will accommodate snowbirds, Iowa students at out-of-state universities, or those who work in Washington, DC. Three are overseas.
The satellite caucuses were the party's "plan B" after the Democratic National Committee rejected a proposal to hold a "virtual caucus" over the phone. As part 2 of this series will further discuss, the satellite caucuses won't accommodate nearly as many people as would an option to participate by phone or using absentee ballots.
The party will release raw supporter numbers as well as delegate counts.
The Iowa Democratic Party will announce three results from each precinct: totals for each candidate on the first alignment, totals for each candidate on the final alignment, and delegates for each viable group.
This rule change is the best thing to happen to the caucuses in my lifetime.
In past years, the party revealed only how many delegates each presidential candidate received in each precinct and county. A mathematical formula converted county delegate totals into estimated "state delegate equivalents." The winner of the Iowa caucuses was the person with a plurality of state delegate equivalents.
Before now, we could only guess how many Iowans came out on a cold winter night to support each candidate. As mentioned above, the number of delegates allocated to a precinct is fixed, regardless of how many people show up on caucus night. By way of example, my precinct in the Des Moines suburb of Windsor Heights has seven Polk County convention delegates to assign in the 2020 caucus. That number will not change, whether 50 people or 500 people show up on caucus night. A neighboring precinct that produced more Democratic votes in the last two general elections will have nine delegates to assign. On Monday, even if 300 people turn out for my precinct caucus and only 100 show up in the other precinct, my precinct will assign seven county convention delegates, and the neighboring precinct will assign nine.
In areas with higher turnout, especially college towns and growing suburbs, it takes many more caucus-goers to elect a delegate than it does in small, rural counties. John Deeth has crunched the numbers from the last three competitive Democratic caucuses, and found the pattern held for 2004, 2008, and 2016.
Deeth calculated that Johnson County accounted for 11.4 percent of the statewide turnout in 2016, but those caucus-goers determined only 6.5 percent of the state delegates. Given Sanders' huge advantage in the Iowa City area and in other college towns with high turnout, he may well have inspired more supporters to attend the caucuses than Hillary Clinton did.
Everyone's voice should carry equal weight, wherever they live. Recording and releasing the raw supporter numbers means my voice is not erased if my first choice isn't viable in my precinct. It means my voice doesn't count for less if I happen to live in a high-turnout area. It means that if exactly 20 percent of Iowa caucus-goers support candidates A and B, we will know that. Under the old system, pockets of heavy support were less valuable than support spread evenly across the state. So a candidate with 20 percent of caucus-goers would end up with more delegates if her supporters were not concentrated in larger communities or college towns.
Another reason I love this change: releasing the head count before and after realignment will demonstrate which candidates gained more or less on second choices. If one person picks up a lot of ground, it's a sign that candidate appeals to disparate parts of the Democratic base. Conversely, a leading candidate whose numbers don't improve much after realignment is less likely to be a unifier.
Some Democrats are worried that it could undermine the legitimacy of the caucuses if two or more candidates come out claiming to have won. But we've often had more than one "winner." As Dan Guild has noted, candidates who surpass expectations to finish a strong second or third can get a bounce in New Hampshire and beyond.
The Associated Press has decided it will declare a winner based on the state delegate equivalents only, because "Democrats choose their overall nominee based on delegates." That's foolish. No news organization would dream of reporting any state primary results only in terms of the delegates each candidate may receive from that state. They always report how many votes went to each presidential contender.
Instead of fretting about a "muddled" narrative, we should be happy to have more information about how many Iowans stood up for each candidate at their caucuses.
No realignment at county and district conventions.
New DNC rules mean that Iowa's national convention delegates will be allocated to various presidential candidates based on what happens on February 3. Democrats at the county conventions in late March and the district conventions in late April won't be able to cut deals to give one candidate more national delegates.
The upshot is that nothing like the 2016 Polk County convention fiasco should happen again. That said, we could see some infighting at county and district convention delegates over platform planks or elections to various committees.
REPUBLICAN CAUCUSES HAVEN'T CHANGED
A quick word about the GOP caucuses, which will also take place across Iowa at 7 pm on February 3. Whereas presidential preference cards are new for Democrats, Republicans here have been able to "vote" for a presidential candidate at caucuses for decades.
GOP caucus-goers write the name of their preferred candidate on a blank paper ballot, fold it, and return it to the front of the room, where volunteers count it immediately in public view. The Voice of America's K. Farabaugh took this picture of ballots being counted at a Republican caucus in West Des Moines in 2016.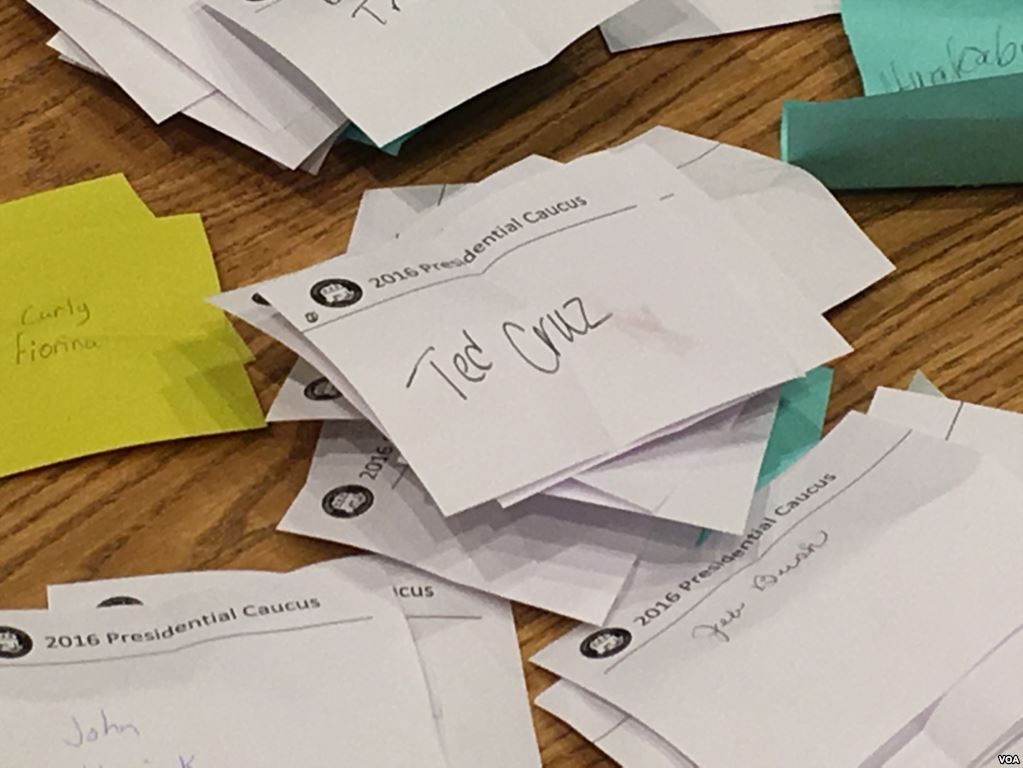 Whenever I've suggested that Democrats should offer a straw poll option for our caucuses, I've been told New Hampshire's secretary of state would consider that too much like a primary election. Under New Hampshire law, that state must always have the first primary.
Why have Republicans been able to release their raw supporter numbers all these years? Supposedly, it's because the straw poll that happens at Republican precinct caucuses is not linked to the election of county convention delegates. Those are chosen near the end of the evening, after most voters have gone home.
Since only a small fraction of activists stay to elect convention delegates and debate platform resolutions, a Republican candidate who won the most "votes" in a precinct could end up with few or no supporters elected as county convention delegates or alternates. That's how supporters of Ron Paul were able to seize control of the Iowa GOP's apparatus in 2012, even though Paul finished third behind Rick Santorum and Mitt Romney on caucus night.
This year, it's a foregone conclusion that virtually all delegates chosen at Republican caucuses will be supporters of Donald Trump.
APPENDIX 1: An Iowa Democratic Party two-page explainer on the most important changes to the caucus process for 2020
APPENDIX 2: The full Iowa Delegate Selection Plan, outlining rules for the 2020 Democratic caucus and convention process
APPENDIX 3: State delegate counts for the 2020 and 2016 Democratic caucuses
Counties are allocated state convention delegates based on votes for the Democratic candidates for president and governor in the last two elections. Votes for Barack Obama in 2012 and Jack Hatch in 2014 were used to calculate the 2016 delegate allocations; votes for Hillary Clinton in 2016 and Fred Hubbell in 2018 were used to calculate this year's allocations.
Note that most counties will have more state convention delegates this year, because the party enlarged the convention from 1,401 to more than 2,100.
Iowa Democratic Party state convention delegates awarded, by county
County
2020 delegates
2016 delegates
IA-01
Linn189121
Black Hawk10169
Dubuque7248
Marshall2418
Bremer1712
Winneshiek1611
Benton1512
Poweshiek149
Buchanan1310
Fayette1210
Jackson129
Jones129
Tama119
Clayton108
Iowa107
Delaware98
Allamakee76
Mitchell64
Howard54
Worth54
district total560388
IA-02
Johnson16292
Scott12482
Clinton3124
Des Moines2720
Muscatine2518
Jasper2318
Lee2117
Marion1813
Wapello1815
Washington139
Cedar128
Jefferson129
Henry107
Mahaska87
Appanoose65
Louisa54
Keokuk44
Lucas43
Clarke44
Decatur43
Davis33
Monroe33
Van Buren32
Wayne32
district total543372
IA-03
Adair43
Adams32
Cass65
Dallas5829
Fremont33
Guthrie64
Madison96
Mills75
Montgomery43
Page64
Polk392228
Pottawattamie4831
Ringgold32
Taylor32
Union65
Warren3522
district total593354
IA-04
Audubon33
Boone1913
Buena Vista96
Butler76
Calhoun54
Carroll118
Cerro Gordo3122
Cherokee64
Chickasaw76
Clay86
Crawford65
Dickinson107
Emmet43
Floyd108
Franklin54
Greene64
Grundy64
Hamilton96
Hancock54
Hardin97
Harrison75
Humboldt43
Ida32
Kossuth86
Lyon32
Monona43
O'Brien43
Osceola31
Palo Alto54
Plymouth97
Pocahontas33
Sac43
Shelby54
Sioux74
Story8346
Webster2016
Winnebago64
Woodbury5136
Wright65
district total411287
full convention2,1071,401
Top image: From a photoset by Phil Roeder of Precinct 61 in Des Moines on February 1, 2016. Available on Flickr.