Democrats continue to land solid candidates for Iowa Senate seats, despite the GOP's 32-18 majority in the upper chamber.
This week Warren Varley, a farmer and attorney, made his campaign official in Senate district 10, where GOP incumbent Jake Chapman has not faced a serious challenge before.

POLITICAL LANDSCAPE
Senate district 10 covers Adair and Guthrie counties, a small area of Cass County, and most of Dallas County–but only a small part of the rapidly-growing suburbs of Des Moines, which have been trending Democratic in recent years.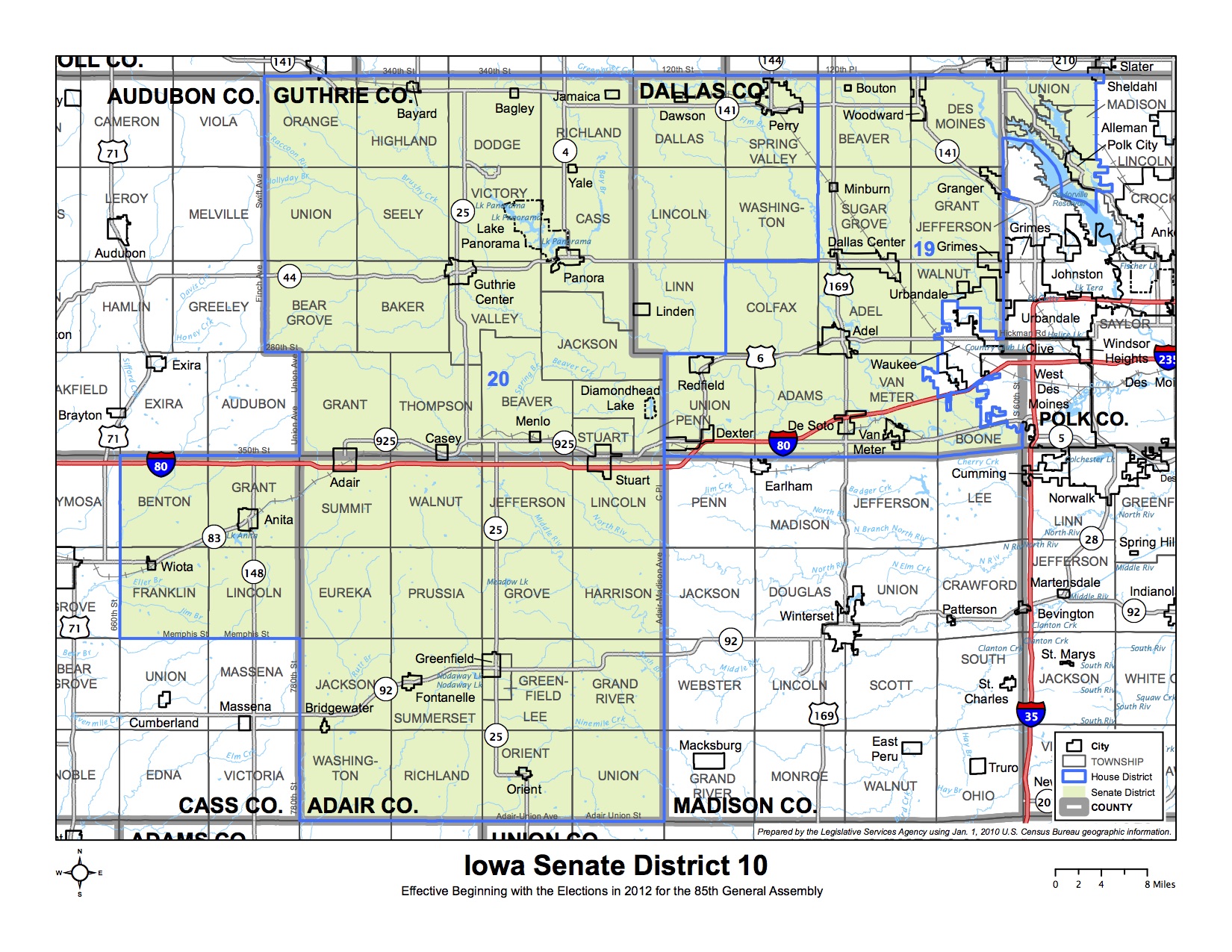 Republicans have big structural advantages here. The latest official figures show 10,644 active registered Democrats, 16,917 Republicans, and 18,500 no-party voters live in Senate district 10. Residents of the district favored Mitt Romney over President Barack Obama by 54.2 percent to 44.4 percent and Donald Trump over Hillary Clinton by 57.7 percent to 36.1 percent in the last presidential election. Governor Kim Reynolds outpolled Fred Hubbell in the 2018 election by 56.8 percent to 41.1 percent in the area.
No incumbent represented this area when the legislature adopted Iowa's current map of political boundaries in 2011. Chapman won a low-turnout GOP primary by a 2:1 margin and did not face an opponent in the 2012 general election. The last time he was on the ballot in 2016, Chapman received about 67 percent of the vote. His Democratic challenger Matt Paladino raised and spent less than $1,000 on his campaign, later donating his unspent funds to the Sierra Club Iowa Chapter.
Republicans hold both House districts that make up Senate district 10. For most of the past decade, Ralph Watts represented House district 19, covering a large area in Dallas County. He retired in 2018 to make room for former House Majority Leader Chris Hagenow, who fled a swing district in Polk County. (Hagenow hasn't made his plans clear, but political observers widely expect him not to seek re-election after not being chosen to succeed Linda Upmeyer as House Speaker. UPDATE: Hagenow confirmed retirement plans in March.)
Clel Baudler long represented House district 20 before retiring in 2018. Varley was the Democratic candidate for the open seat that year, but Ray Bubba Sorensen won with about 62 percent of the vote.
BACKGROUND ON THE CANDIDATES
Chapman is one of four assistant Senate majority leaders and chairs the powerful Ways and Means Committee for the first time in 2020. (He previously led the Commerce Committee but moved to Ways and Means when Randy Feenstra relinquished that role to focus on his Congressional campaign.)
The Republican senator has lived in Dallas County for most of his life. From his official bio:
Born and raised in Adel, Senator Jake Chapman has always enjoyed living in a small community. The year he was born, his father started a private ambulance service based in Des Moines. From a very young age Senator Chapman was employed with the company. He has served as the director of business development, director of operations, and is currently the chief operating officer. Senator Chapman is also an EMT and enjoys working side-by-side with his colleagues.

After graduating from Adel-DeSoto-Minburn High School in 2003 Senator Chapman served a mission for his church. For two years he worked with and served the people of Norway and was able to learn the Norwegian language. Upon returning from Norway he married his high school sweetheart, Jennifer Moore. They are the proud parents of five beautiful children: Isaac, Leah, Adam, Jared and Caleb.

In 2008, Senator Chapman earned his associate degree with honors in business administration from AIB College of Business in Des Moines. In 2009 he graduated, again with honors, with his bachelor's degree in business administration from AIB. He was on the dean's list several semesters and is also recognized as a member of Phi Theta Kappa, an academic honor society.

Senator Chapman proudly served as the president of the Young Republicans of Dallas County, which he helped establish in 2010. He has also served as member of the Dallas County Central Committee. Senator Chapman has been active in the campaigns of numerous Republicans at the federal, state and local levels.

As the son and son in-law of veterans, public service has been a constant part of Senator Chapman's life. From his efforts as a Boy Scout and recipient of the Eagle Scout Award to the positions in which he now serves, he has always enjoyed serving those around him.
Chapman is one of the Senate's leading voices for extreme anti-abortion legislation. He tried to force a vote on a "personhood" bill in 2017. The following year, he floor-managed the so-called "heartbeat" bill, which would have banned almost all abortions after the middle of the first trimester. He snuck language about life beginning at fertilization into an otherwise uncontroversial bill in 2019. And already this year, he is managing a constitutional amendment that would make all future abortion restrictions immune from court challenge.
As Commerce Committee chair, Chapman pushed for an energy bill in 2018 that was good for utility companies but hurt efficiency programs.
Varley hopes to provide "new leadership at the Capitol," he said in the February 10 news release announcing his campaign.
"Instead of focusing on political games and partisan bickering, we need a new State Senator who will work to revitalize all parts of Dallas, Guthrie, Adair and Cass counties. I am committed to helping create good jobs, expanding access to affordable health care, and improving education and opportunities in our small towns and rural areas." […]

Varley, a Democrat, has more than 25 years of experience as a main-street business owner in Stuart. He is a leader in rural economic development across the district, and was elected president of Midwest Partnership and Stuart Enterprise for Economic Development. He has also been active in numerous community organizations, including Project Restore Foundation, Stuart Library Foundation, Adair County Farm Bureau, and Adair County Memorial Hospital Board.

"It is time to invest in creating the future that we want for our children and grandchildren. We must build an economy that rewards hard work, compassion, and productivity, not just wealth and power," he said.

Varley's agenda also includes:

Making sure that farmers and other rural Iowans are part of the discussions about improving water quality and natural resources.
Expanding access to broadband, high-speed internet service.
Increasing the state's investment in public K-12 schools so that more school districts are not forced to close and consolidate.
Expanding access to affordable health care and mental health care.

Varley grew up in a household centered on public service. His father, Andrew Varley, served this area as a Republican legislator for 12 years, leading with respect for his colleagues and constituents, regardless of political party.

Warren and his wife Karen met as agriculture students at Iowa State University and live on the family farm in Adair County. They have been married for 36 years, are parents of four grown children, and are active members of the United Methodist Church.

"I am committed to listening to and learning from the people of the district. That's why I encourage anyone to call me at 515-523-2456, or email me at voteVarley@gmail.com."
FIRST THOUGHTS ON THE MATCH-UP
Though Chapman will be strongly favored for re-election, having a qualified Democrat in the race matters, for reasons Bleeding Heartland has discussed before.
Not fielding a candidate sends a terrible message to send to voters, that Democrats can't be bothered to offer an alternative. Varley will be talking about issues that affect people's daily lives and how Republican legislative majorities have failed to address key problems.
In addition, legislative candidates can reach thousands of voters in the coming months. Chapman is deeply unpopular among central Iowa Democratic activists, especially women. As Varley pounds the pavement to identify and mobilize supporters, U.S. Representative Cindy Axne and the Democratic presidential nominee will benefit.
Finally, rapidly-growing Dallas County will have more state Senate districts when Iowa adopts a new map after the 2020 census. Making a case against Chapman now is important, even if the senator does eventually win a third term. In the next decade, he may be representing less solidly Republican territory, possibly including suburban areas where many voters are pro-choice moderates.
To follow the candidates:
Varley: website, Facebook, Twitter
Chapman: website, Facebook, Twitter
UPDATE: I forgot to mention that Chapman raised $84,806 during 2019 and reported $108,869.01 cash on hand as of December 31. Most of his contributions came from political action committees, which is typical for a lawmaker in charge of a powerful committee.