An under-reported Iowa politics story this year has been strong Democratic recruiting for the 2020 state Senate races. Even though recapturing the Iowa Senate is likely to take at least two election cycles, given the current 32-18 Republican majority, Democrats have declared candidates in five out of six Senate seats the party lost in 2016.*
Other Democrats are actively campaigning in three Senate districts that were only nominally contested in 2016.**
As of this week, Democrats also have a challenger in an Iowa Senate district that is so heavily Republican the party did not field a candidate for the last election.

Senate district 40 covers all of Appanoose, Mahaska and Monroe counties, part of Wapello County outside the city of Ottumwa, and the most conservative part of Marion County (the city of Pella).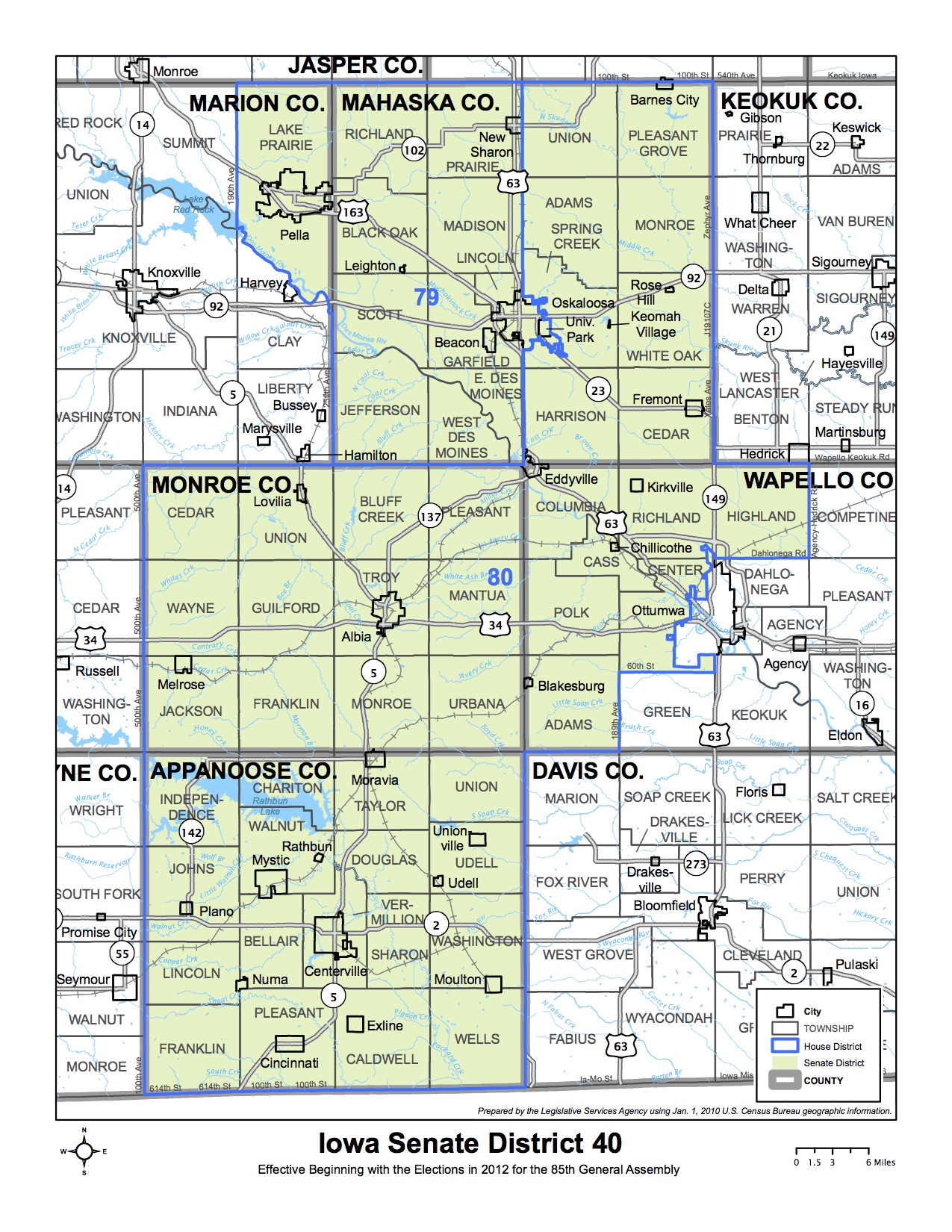 Of the 25 even-numbered state Senate districts that will be on the ballot in 2020, only a handful lean more heavily to Republicans. The latest official figures show Senate district 40 contains 8,205 active registered Democrats, 17,159 Republicans, and 12,688 no-party voters.
GOP State Senator Ken Rozenboom was a Mahaska County supervisor before winning his first term in the legislature in 2012. After a Democratic incumbent retired, Rozenboom carried the district with about 60 percent of the vote (a margin of 6,000 votes). He was re-elected four years later without facing a challenger.
Voters in Senate district 40 favored Mitt Romney over President Barack Obama by 58.3 percent to 40.3 percent. Results for the last presidential election were even more lopsided: 68.3 percent for Donald Trump and 26.5 percent for Hillary Clinton.
Which is a roundabout way of saying that any Democrat running here will be an underdog. That said, small business owner Lance Roorda has an impressive resume and deep roots in the community. I've enclosed background on the candidate at the end of this post.
Short version: he grew up in the district and went to high school in Pella. He received degrees in psychology and social work from Iowa universities and has worked in that field for some time. After living in the Des Moines area, he and his wife moved back to his family's century farm to raise his children in rural Iowa. They attend church in Pella, where Roorda's parents operate a well-known business on the main square. The candidate is a mental health service provider in Oskaloosa.
Oskaloosa and Pella are the largest towns in Senate district 40, with populations of about 11,000 and 10,000, respectively.
Although Roorda faces long odds against Rozenboom, it's encouraging to see a credible Democrat step up to run in a district like this. Why it matters:
1. Uncontested legislative races convey to local voters that Democrats don't care about them enough to offer an alternative.
2. A hard-working candidate can make personal contact with thousands of voters over the course of the campaign, helping to identify and mobilize like-minded people. Those efforts boost Democratic candidates higher up on the ballot. Senate district 40 is part of the second Congressional district, an open seat due to Democratic Representative Dave Loebsack's plans to retire at the end of next year.
3. While Senate district 40 may seem hopeless today, Iowa will draw new political maps after the 2020 census. A Democrat represented the Oskaloosa area in the Iowa House from 2007 through 2010, when that district did not include Pella.
4. A long list of successful Iowa politicians didn't win their first election. Even a losing race can raise a candidate's name recognition and help him make contacts that could be helpful in some future campaign.
Any comments about the Iowa Senate landscape are welcome in this thread.
---
*Steve Gorman is the Democratic challenger in Senate district 8. Pam Egli is running in Senate district 32. Dave Degner is running in Senate district 36. Tom Courtney, Rex Troute, and Kevin Warth are running in Senate district 44. Chris Brase is running in Senate district 46. There is no declared Democratic candidate yet in Senate district 26.
**Rhonda Martin and Charlie Hodges are seeking the Democratic nomination in Iowa Senate district 20. Tricia Gavin, Sarah Trone Garriott, Corey Suesakul, and Michael Libbie are seeking the Democratic nomination in Senate district 22. Matt Tapscott is the only declared Democratic candidate in Senate district 28.
From the November 18 news release announcing Lance Roorda's candidacy:
'Let's reinvest in Rural Iowa' [...]

"I'm running to ensure that basic services exist in rural Iowa over the next decade," said Roorda, a small business owner and Mahaska County native. "We need a new generation of leaders at the Statehouse that will focus on revitalizing the economy in all counties, improving access to health care, and improving education in our small towns and rural areas." [...]

"Our current state legislators have ignored our rural areas at the expense of the big cities and suburbs and out of state interests. Farm bankruptcies are on the rise, rural hospitals are shutting their doors, and we have left our schools without adequate funding for long enough," Roorda said. "We need a better plan for current and future generations of Iowa families."

A graduate of Pella Community High School, Roorda earned a bachelor's degree in psychology from Iowa State University and a master's degree in social work from the University of Iowa. He went on to serve local communities in his work for Lutheran Services of Iowa, the Iowa Department of Human Services, the Iowa Department of Public Health, Veterans Affairs, and the Mahaska Heath Partnership. Earlier this year, Roorda started Eunoia Counseling in Oskaloosa, which provides Mental Health counseling for children, adults, and families.

Lance and his wife, Skyler Roorda, have two children Quinn (10) and Iris (4), and recently moved back to his family's Century Farm in Leighton, Iowa. After living in the Des Moines Metropolitan area for several years, Roorda wanted his children to grow up with the same values and sense of community that characterized his upbringing. They are members of 3rd Church in Pella and Lance's parents, Jerry and Shaughn, own and operate In't Veld's Meat Market.

In the Iowa Senate, Roorda will focus on initiatives to ensure that more young Iowan families, like his, will return to rural areas and small towns after completing job training, apprenticeships, and college. This includes:

Expanding access to broadband and high-speed internet service in all parts of the state.
Increasing the state's investment in public K12 schools, especially in small town and rural areas. This includes reducing the property tax burden for homeowners.
Increasing access to recreational and cultural opportunities.
Bringing farmers and other rural Iowans to the table for discussions about improving water quality and natural resources in Iowa.
Expanding access to affordable health care for all Iowans, including mental health services.
Fixing the current mental health crisis in our state.

"I would love to hear from anyone with ideas about how to get our state moving back in the right direction and working for all Iowans," Roorda said. "People should feel free to call me at 641-569-8092 or e-mail me at lance@roorda4iowa.com.