The three candidates seeking to unseat first-term Republican Representative David Young have been working the phones and attending Democratic events all over Iowa's third Congressional district as Iowa's June 7 primary approaches.
The campaigns are also finding other ways to convey their messages to voters they can't reach in person. A post in progress will cover an eight-page newspaper-style handout featuring Desmund Adams. Bleeding Heartland discussed Mike Sherzan's first direct mail and television commercials here.
Jim Mowrer has introduced himself to Democrats with a tv ad and at least six mailings, starting shortly before early voting began on April 28. A recurring theme in Mowrer's outreach is the Iraq War veteran's commitment to fight for Democratic values and priorities, especially Social Security. Like U.S. Representative Dave Loebsack, Iowa's only Democrat left in Congress, Mowrer grew up with relatives who depended on Social Security benefits after a family tragedy.
Mowrer's campaign communications typically connect the candidate's wartime military service with the drive to fight for political priorities. For example, this bio appears in many news releases:
Jim is an Iraq War veteran, serving as an Intelligence Analyst, it was Jim's job to help locate IED's or roadside bombs so they could be removed before causing harm. Jim's unit served the longest deployment of any unit in the Iraq War – 23 months. He will take his commitment to serve with him to Congress and will fight every day for the men and women of the 3rd District.
The official announcement of Mowrer's television commercial on May 2 included this passage:
Jim Mowrer aired the first TV ad of the election year today highlighting his commitment to protecting social security and an economy that works for Iowans not just Wall Street and banks. The ad is titled "I Get It" and is now on the air.

"I am excited to get our message out to voters and being up on TV is one of the ways we will accomplish that. This election is about service not politics and that is why I am so confident we will be successful not just in June but also in November. Iowans need a fighter, someone who will stand up for the middle class not for Wall Street and the big banks. I have always taken on the tough fights and I know that with the thousands of people already supporting my campaign we will win this one." Said Jim Mowrer.
Here's that introductory tv ad:
My transcript:
Mowrer's voice: I grew up on a farm here in Iowa. [viewer sees Mowrer standing in cornfield near sunset]

I fought in Iraq. [photo of Mowrer in military gear during his tour in Iraq; disclaimer at bottom of screen says "Use of military rank, job titles, and photographs in uniform does not imply endorsement by the Department of Defense." Photo of Mowrer in uniform, standing with wife]

Mowrer now speaking directly to the camera: And when we lost my dad, my family never would have made it without Social Security. [viewer sees Mowrer sitting at bar in some kind of restaurant; a cap in front of him says "IRAQ WAR VETERAN." The candidate's name is on screen]

So when people say they're frustrated because Congress cares more about banks and Wall Street than you and me, I get it. That's why I'm running. [closer view of Mowrer still speaking directly to the camera]

I'm Jim Mowrer, and I approved this message because it's time we had a congressman that works for Main Street, not Wall Street. [Mowrer speaking to camera, candidate's name and campaign logo on screen, then footage of Mowrer greeting and shaking hands with others in the restaurant]
Though Mowrer ran lots of tv ads in the Des Moines market for his 2014 campaign against Representative Steve King in IA-04, people have short memories, so it's important to re-introduce himself to area voters. The "Main Street, not Wall Street" message has become standard fare in Democratic ads all over the country, though in this context it may also draw a subtle contrast with Mowrer's primary rival Sherzan, who spent most of his career working in finance. (For his part, Sherzan has promoted his business practices as consistently fair and equitable and has highlighted his choice to sell the company to employees, not Wall Street.)
The first direct mailing from Mowrer reached many area Democrats about a week before the early voting period comprising the 40 days ahead of the primary. The theme was how the candidate "takes on the tough fights we need won." Front: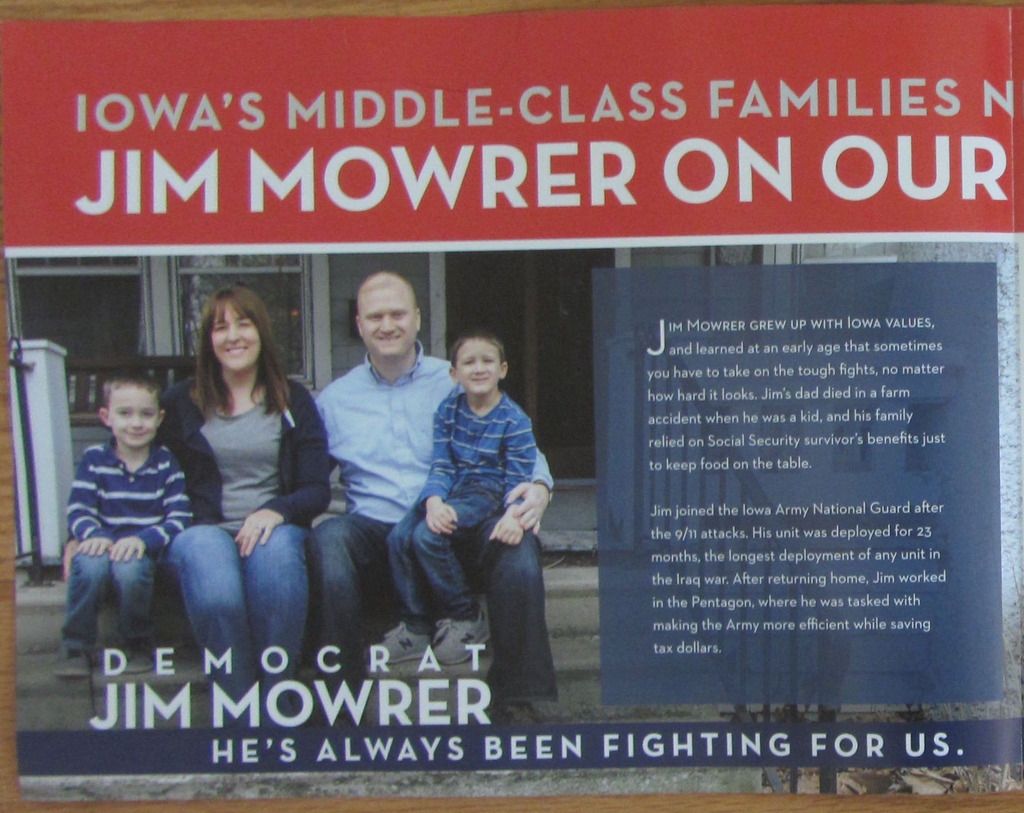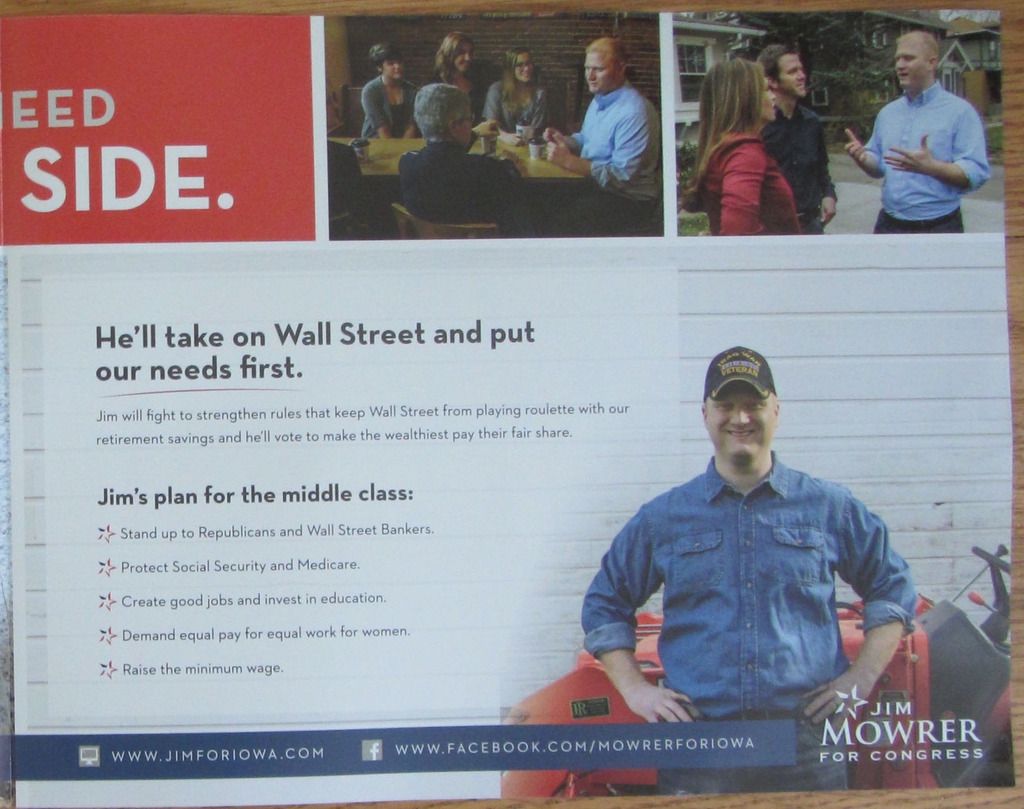 Text from the middle spread:
IOWA'S MIDDLE-CLASS FAMILIES NEED JIM MOWRER ON OUR SIDE.

JIM MOWRER GREW UP WITH IOWA VALUES, and learned at an early age that sometimes you have to take on the tough fights, no matter how hard it looks. Jim's dad died in a farm accident when he was a kid, and his family relied on Social Security survivor's benefits just to keep food on the table.

Jim joined the Iowa Army National Guard after the 9/11 attacks. His unit was deployed for 23 months, the longest deployment of any unit in the Iraq war. After returning home, Jim worked in the Pentagon, where he was tasked with making the Army more efficient while saving tax dollars.

DEMOCRAT JIM MOWRER
HE'S ALWAYS BEEN FIGHTING FOR US.

He'll take on Wall Street and put our needs first.

Jim will fight to strengthen rules that keep Wall Street from playing roulette with our retirement savings and he'll vote to make the wealthiest pay their fair share.

Jim's plan for the middle class:

Stand up to Republicans and Wall Street Bankers.

Protect Social Security and Medicare.

Create good jobs and invest in eduation.

Demand equal pay for equal work for women.

Raise the minimum wage.

WWW.JIMFORIOWA.COM WWW.FACEBOOK.COM/MOWRERFORIOWA
Nothing was on the back of that mailer, except for the Mowrer campaign logo, address, "paid for" message, and a disclaimer saying "Use of military rank, job titles, and photographs in uniform does not imply endorsement by the Department of Defense."
A second mailing arrived soon after. This one focused on Social Security as a core value. Excerpts from the text on the front:
JIM MOWRER won't let Republicans and Wall Street destroy Social Security.

Protecting Social Security for all of us.

When his dad died in a farming accident, Jim's mother relied on Social Security Survivor Benefits to raise Jim and his sister. To Jim, protecting Social Security is personal, and he'll stand up to Wall Street and the Republicans to defend the retirement you've earned.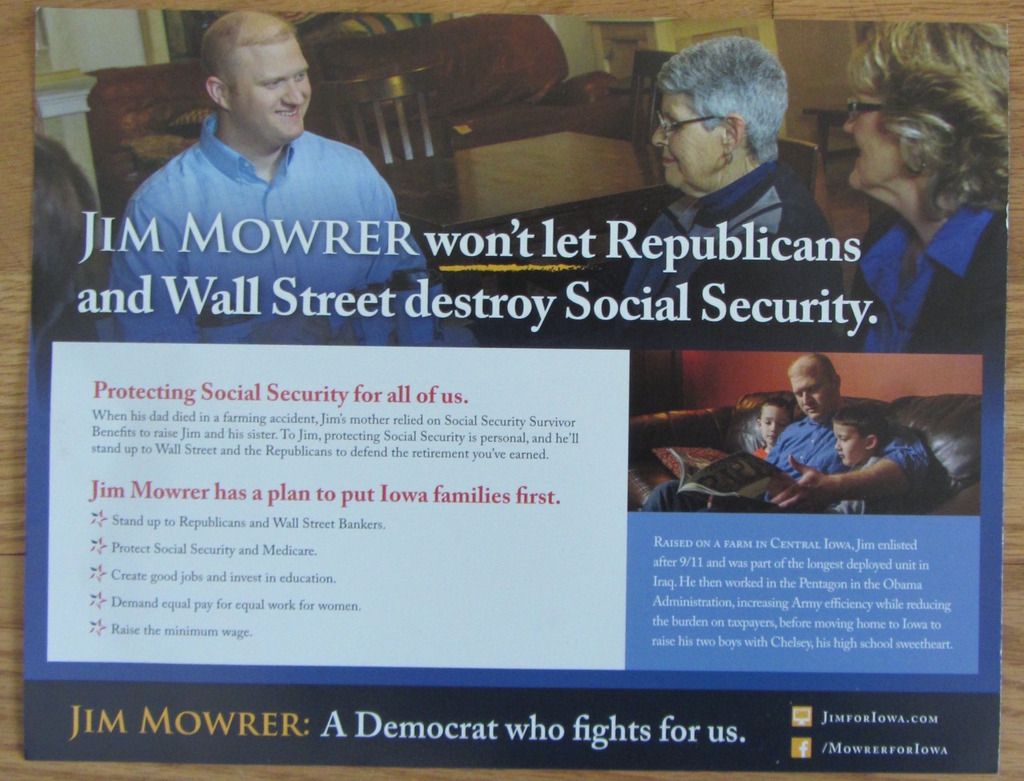 The other side featured a family photo of Mowrer as an infant being held by his father, next to the message, "When my dad died, Social Security kept food on the table."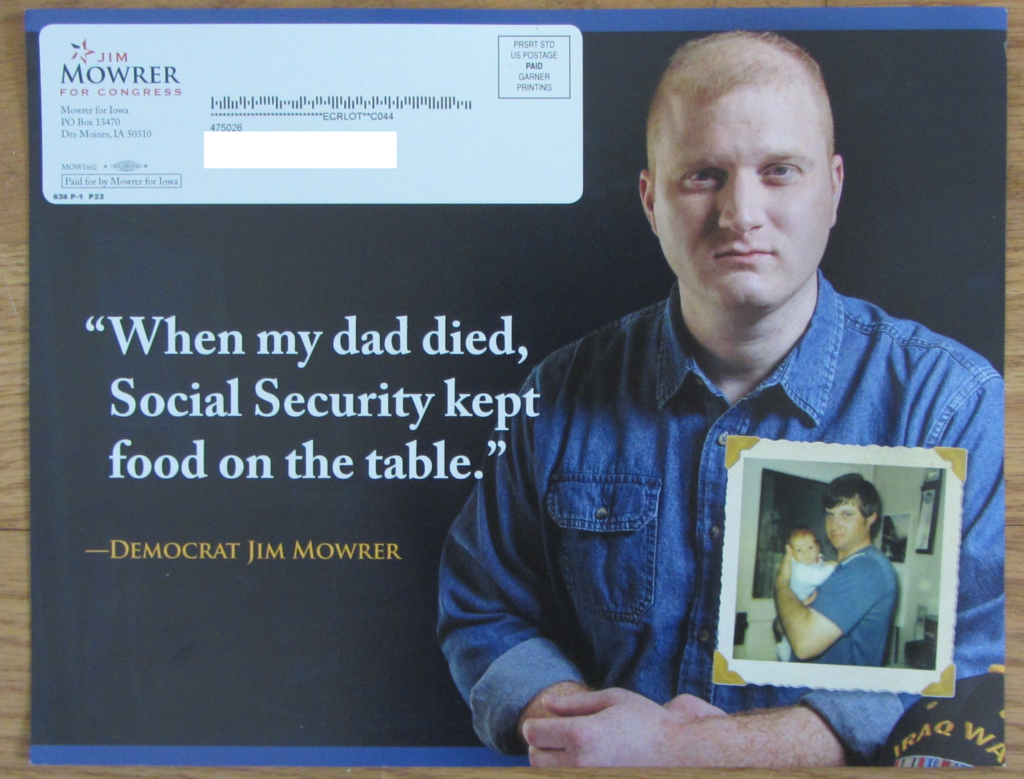 The third mailing from Mowrer continued the theme of the candidate "fighting back for us" while "Wall Street is trampling Iowa families." Excerpt:
JIM'S ALWAYS PUT IOWA FAMILIES FIRST, and he's never shied away from a fight. He joined the Iowa Army National Guard after we were attacked on 9/11 and served a 23-month tour in Iraq, then took on bureaucracy and overspending at the Pentagon. Now, he's running for Congress to stick up for working Iowa families, just like his.

We need a Congressman who will put real people ahead of Wall Street and protect Social Security, raise the minimum wage, and demand equal pay for equal work. That's why we need Jim Mowrer.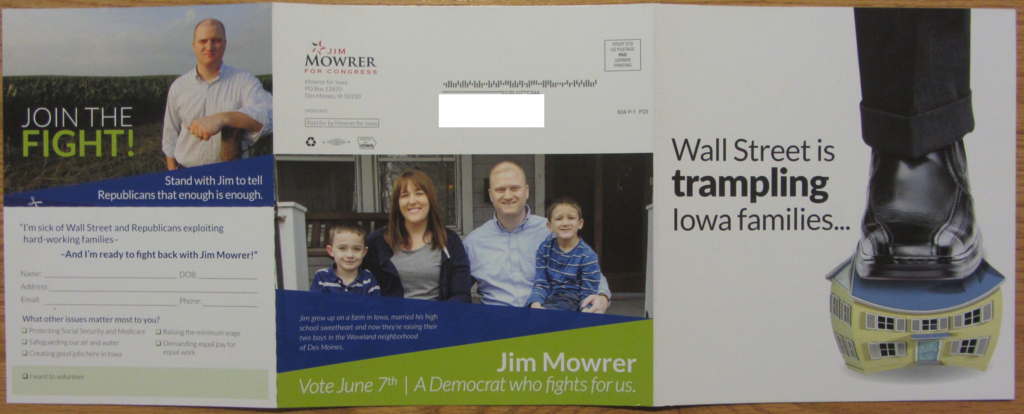 The three most recent mailings from the Mowrer campaign have echoed the same themes, each with a slightly different spin. This one reminds voters that "IOWA'S FUTURE DEPENDS ON CLEAN WATER":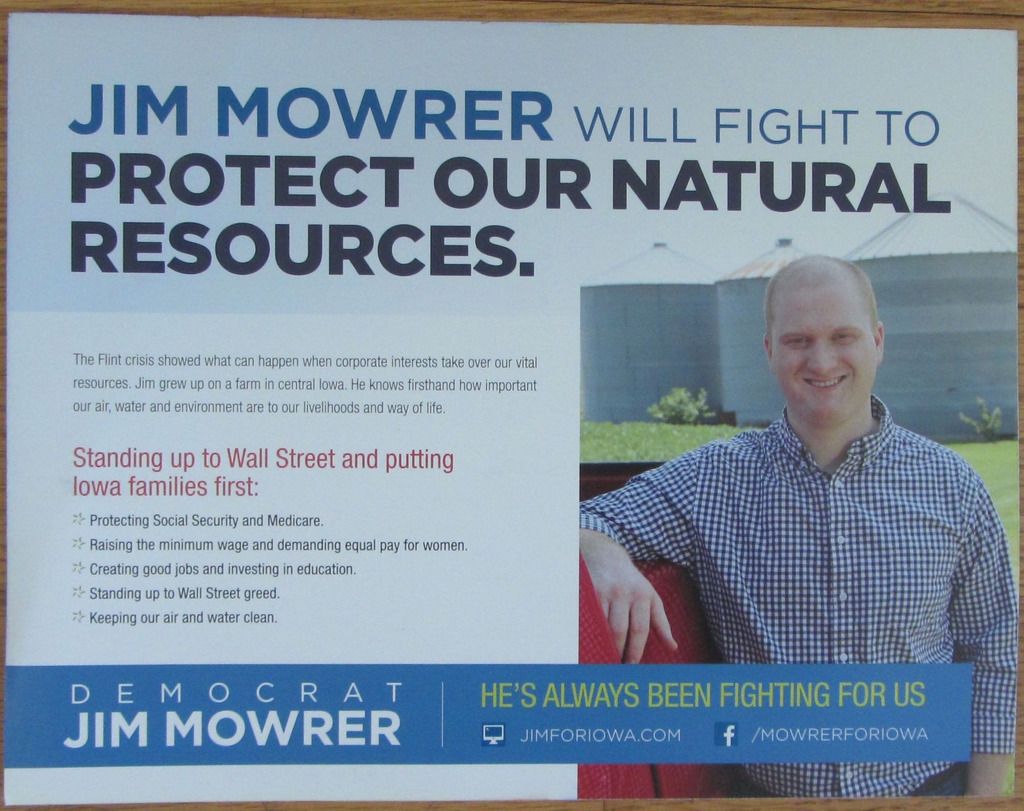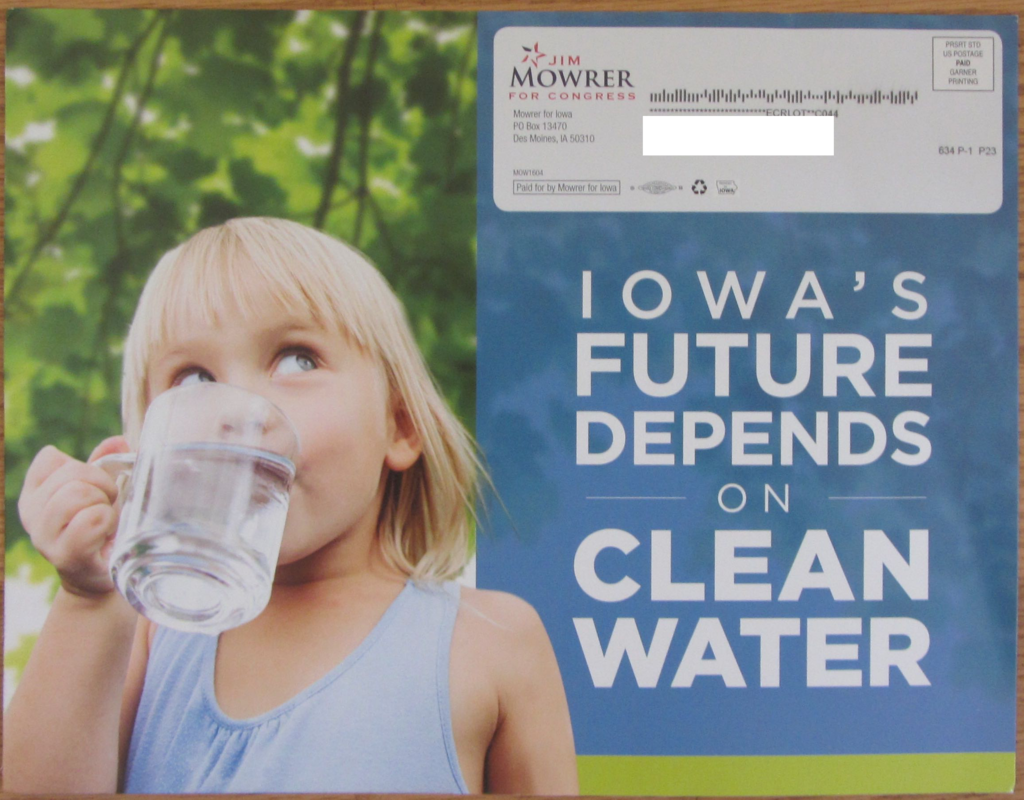 Excerpts:
JIM MOWRER WILL FIGHT TO PROTECT OUR NATURAL RESOURCES.

The Flint crisis showed what can happen when corporate interests take over our vital resources. Jim grew up on a farm in central Iowa. He knows firsthand how important our air, water and environment are to our livelihoods and way of life.

Standing up to Wall Street and putting Iowa families first:

Protecting Social Security and Medicare.

Raising the minimum wage and demanding equal pay for women.

Creating good jobs and investing in education.

Standing up to Wall Street greed.

Keeping our air and water clean.

DEMOCRAT JIM MOWRER HE'S ALWAYS BEEN FIGHTING FOR US
Another recent mailing focused on Social Security, saying "Iowa's families, workers and women Finally have a leader who will fight for us.," and closed with the tag line "The values we trust. The fighter we need."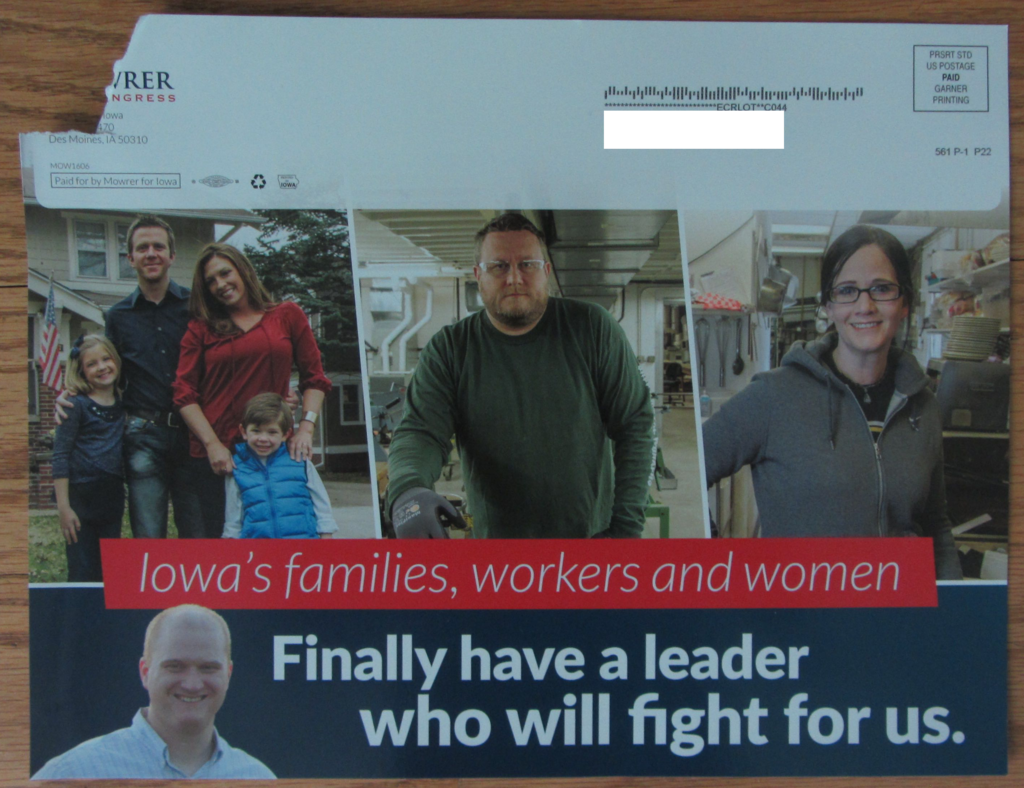 Sherzan's messaging has strongly focused on women voters, emphasizing the candidate's commitment to treating women employees well. One of the recent mailings from Mowrer targeted Democratic women, adding some words about reproductive rights to the equal pay message that is part of his standard list of key priorities. Excerpts:
JIM MOWRER IS FIGHTING FOR IOWA'S WOMEN AND WORKING FAMILIES.

After Jim's father died in a tragic accident, his mother had to work full time while raising Jim and his sister. Jim understands that equal pay for women isn't a luxury; it's the right thing to do, it's fair, and it's crucial to the survival of working families.

Jim Mowrer is 100% Pro-Choice.

Jim will always protect a woman's right to make her own health care decisions. In Congress, Jim will fight to defend access to family planning and birth control and against radical Republican efforts to defund Planned Parenthood.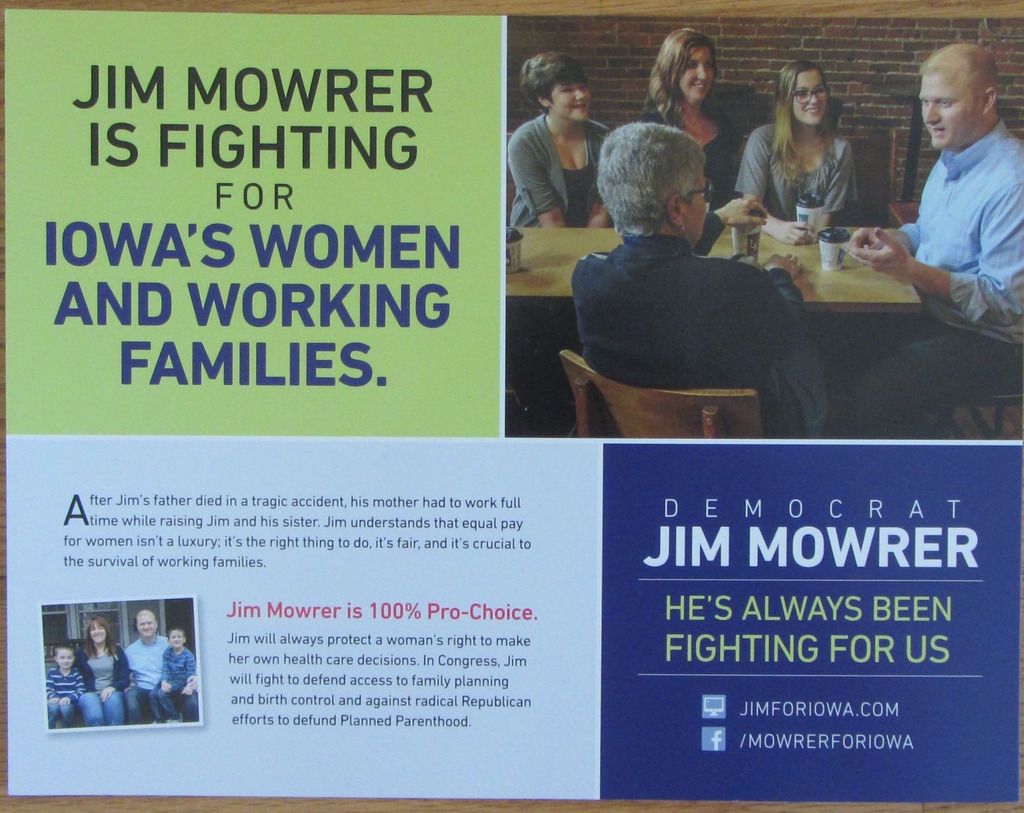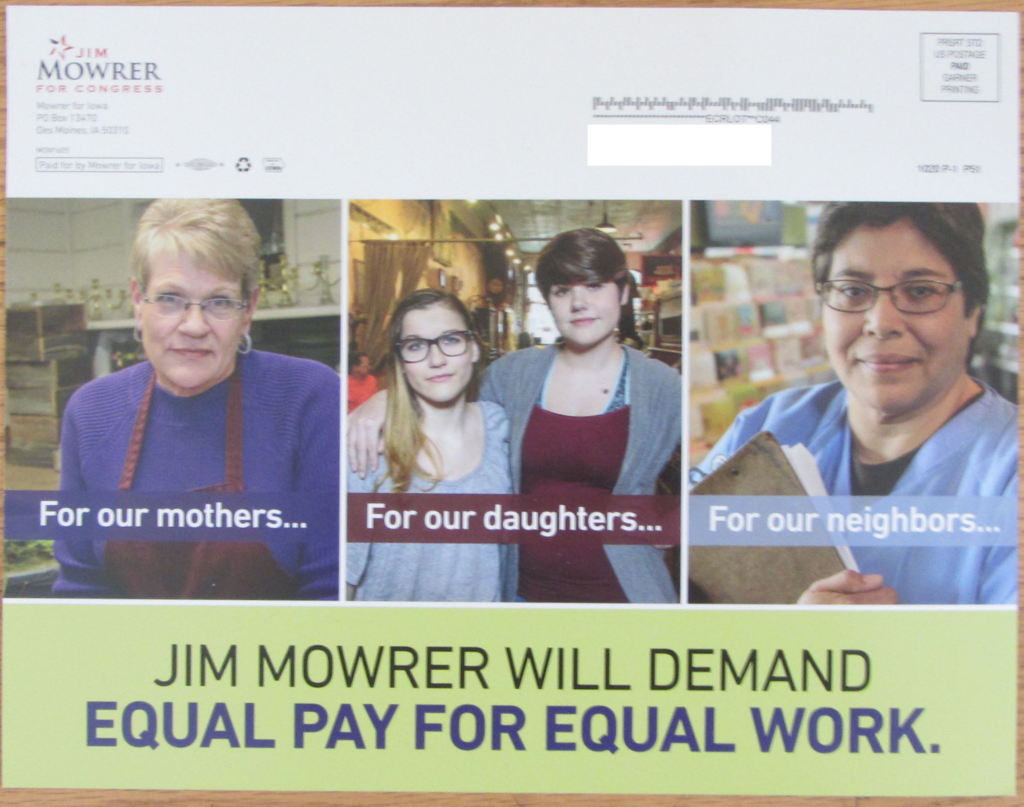 At events where the Democrats running in IA-03 have been able to speak directly to voters, Mowrer has stressed similar themes.
Here's part of his answer when asked during a candidate forum in Johnston on April 27 why he wants to serve in Congress. (hat tip to Christian Ucles)
I'm gonna go to Congress, I'm gonna fight for you. Not for Wall Street, not for Washington special interests, not for an extreme ideology, but for you. For working Iowa families, just like mine, [policies] that impact my family. Addressing income inequality. Raising the minimum wage. Paid family and medical leave. Paid maternity leave. Passing immigration reform.
Reporting on the same candidate forum, Pat Rynard noted,
Mowrer repeatedly returned to his experience in national defense from his service in Iraq and working in the Pentagon. Part of it was to show his in-depth knowledge on the topic, but he also pitched it as how he'd best stack up against Young in a general election contest where Republicans will hit Democrats on terrorism.

"[Obama] expressed concern that the Republicans are going to try to turn this election into a national security referendum," Mowrer said. "They know they're wrong on major economic issues, minimum wage, Social Security. So what Donald Trump and the Republicans are going to do is make this about foreign policy and national security because they think they can beat Democrats on it. Ladies and gentlemen, I'm an Iraq War veteran, I served in intelligence as a civilian at the Pentagon. National security and foreign policy is in my wheelhouse."
Of the three Democrats in this primary, Mowrer has the most Democratic establishment support, a fact repeatedly mentioned in campaign materials. From the May 2 press release:
More than ten individual labor unions have endorsed Mowrer along with the Southwest Iowa Building Trades Council. Endorsements have come from party leaders, elected officials, and grass roots leaders across the third district including Iowa's only Democratic Congressman Dave Loebsack, State Senator Dick Dearden, Representative Bruce Hunter, Representative Charlie McConkey, Pottawattamie County Chair Linda Nelson, Page County Chair Jennifer Herrington, and former IDP chairs Sue Dvorsky, Roxanne Conlin, and Scott Brennan. The campaign is funded and driven by a grassroots team of volunteers and donors with over four thousand individual contributors.
Other labor unions supporting Mowrer include:
AFL-CIO
SMART Union – Sheet Metal and United Transportation Workers
Teamsters
United Auto Workers
Laborer's International Union of North America
American Postal Workers Union
Bricklayers and Allied Trades
International Association of Bridge, Structural, Ornamental, and Reinforcing Iron Workers
International Association of Machinists and Aerospace Workers
Although fewer labor union members live in Iowa's third district, compared to the first and second districts, support from organized labor can be helpful in a low-turnout primary, depending on how much the unions do to promote Mowrer before June 7.
Any comments about the primary or general election campaign in IA-03 are welcome in this thread. More than two-thirds of the registered Democrats in the district live in Polk County. Latest voter registration numbers from the Iowa Secretary of State's office: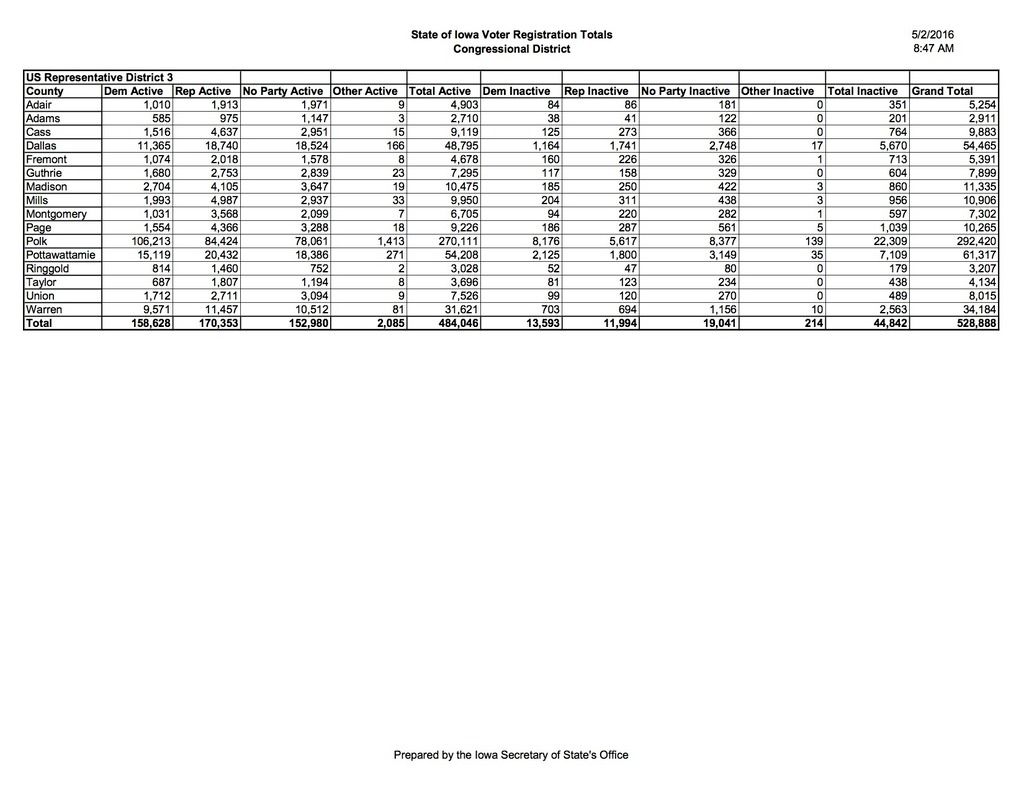 UPDATE: The second Mowrer tv spot also has a Wall Street theme. Here's "News":
Transcript:
Mowrer's voice: Just watch the news. Wall Street and the banks are winning. [images of footage from tv news shows]

While hard-working Iowa families, we're fighting harder than ever to make it. [images of a man on a factory floor and a woman who works in a retail store]

And that's why I'm running for Congress. [footage of Mowrer speaking with people in a restaurant]

In fact, my whole family is. [footage of Mowrer washing dishes, with wife and kids helping in the kitchen]

My wife Chelsey, my two boys and I, together we're fighting for things that all families need: [footage of Chelsey Mowrer on the phone in the campaign office, Mowrer sitting next to her; Mowrer doing other work in the office and high-fiving his sons, who are sitting across the table, then all four family members walking together, apparently doing canvassing]

Wages we can live on, equal pay for women, and an economy that works on all our streets, not just Wall Street. [images of a man wearing mechanic's clothes, a woman worker, a man standing in what looks like a restaurant, a family standing in front of their house]

I'm Jim Mowrer, and I approve this message. [Mowrer sitting with his family on front steps of a house; wife and kids are holding a campaign sign]
Playing up the family's involvement is an interesting choice, which may be designed to pre-empt a possible attack. In March, a poll commissioned by the Sherzan campaign tested messages related to Chelsey Mowrer's work as a paid campaign staffer. Federal Election Commission rules allow candidates and their immediate family members to receive a salary from Congressional campaigns, as long as the salary is not excessive and the person is being compensated for real work (see pages 53 through 55 of this document).