The Republican Party of Iowa is spending heavily to defend Iowa House district 6, where voters will choose a successor to State Representative Jim Carlin on January 16. The Iowa GOP did not intervene to support Carlin before last month's special election for Senate district 3, considered safe Republican territory. Carlin won that race by a little less than 10 percent. Amazingly, the Democratic candidate gained more votes in the half of the district that Carlin has represented in the Iowa House.
Campaign finance reports (here and here) show the state GOP has spent more than $118,000, mostly on television and radio commercials in the Sioux City market and direct mail to residents of House district 6. I enclose below the positive television commercial about Republican candidate Jacob Bossman and several direct mail pieces attacking Democratic nominee Rita DeJong.
The tv spot relies heavily on an image of U.S. Senator Chuck Grassley with his longtime staffer. Grassley headlined a rally to support Bossman on January 13, but the party didn't have to pay his travel expenses. The senator is passing through western Iowa on the federal government's dime as part of his annual 99-county tour. UPDATE: A reader notes the "rally" was moved from a room that would hold 250 people to the lobby, so the few dozen attendees would appear to fill up the venue.

House district 6 covers the Morningside area of Sioux City, Sergeant Bluff, and some other parts of Woodbury County: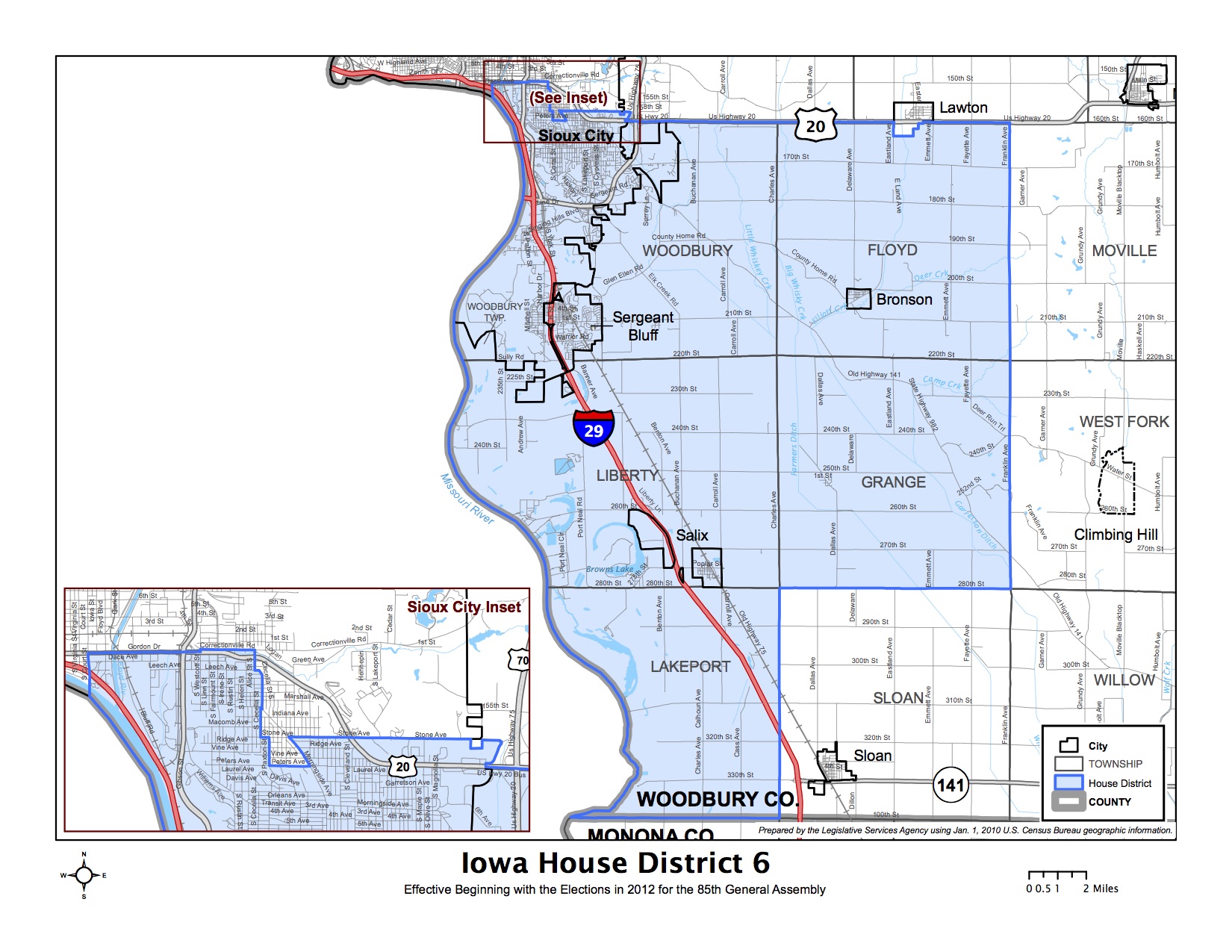 The tv ad running on Bossman's behalf has a similar look and feel to several commercials produced for Republican Iowa House candidates during the 2016 election cycle. The narrator has nothing to say about accomplishments or skills Bossman brings to the table–just buzzwords and phrases tailored to appeal to the GOP base.
My transcript:
Female voice-over: Jacob Bossman. As a father of twin girls, he'll look out for Iowa families and our futures. [viewer sees photo of Bossman, his wife, and daughters; candidate's name is near the bottom of the screen in a bizarre font]

Grow our economy. Strengthen education. And fight for affordable, quality health care. [image of Bossman talking to unidentified man, kids in school hallways, doctor or nurse writing something on a medical chart; words on screen "Jacob Bossman Grow Our Economy," "Jacob Bossman Strengthen Education," "Jacob Bossman Fight for Quality Healthcare"]

Jacob Bossman believes in a simple and fair tax code. He'll hold the line on reckless spending, and protect our Second Amendment rights. [photo of Grassley and Bossman together on screen, with words "Jacob Bossman Simple and Fair Tax Code Reduce Reckless Spending Protect Our Second Amendment"]

Vote Republican Jacob Bossman in the special election Tuesday, January 16. Early voting begins January 8. Elect Republican Jacob Bossman Tuesday, January 16. [photo of the candidate with his campaign logo on the left; on right, "Vote Republican Jacob Bossman," with details about the election date and the early voting location]
While not memorable or creative (despite the weird font), this ad certainly raises the candidate's name recognition. Whether you have the sound on or muted, you can't miss the message: Jacob Bossman is a Republican running for office on January 16, and Chuck Grassley likes him.
On the other hand, the spot gives the viewer no reason to believe Bossman will "strengthen education" or "fight for affordable, quality health care." Opinion polls have long shown an advantage for Democrats on handling both of those issues.
The repeat mentions for Bossman's party ID reflect the GOP's structural advantage in this race. House district 6 contains 5,013 active registered Democrats, 7,778 Republicans, and 6,617 no-party voters, according to the latest figures from the Iowa Secretary of State's office. In November 2016, Donald Trump outpolled Hillary Clinton here by 62.4 percent to 32.5 percent, and Carlin defeated his Democratic opponent by nearly a two-to-one margin.
In other words, this election should be an easy GOP hold. Yet some Republicans in the Sioux City area consider a career Congressional staffer a bad fit for the district, compared to someone who has worked outside politics. Bossman ran for the Iowa House in 2016 but narrowly lost the GOP primary, even though he spent substantially more (see here and here) than Carlin did.
You can tell GOP leaders are worried about turning out their base by looking at the direct mail they have sent to registered Republicans and independents in the last couple of weeks. The party has nothing to say about why Bossman would represent voters well–only images to depict "Extreme Liberal Rita DeJong" as a puppet of national Democrats.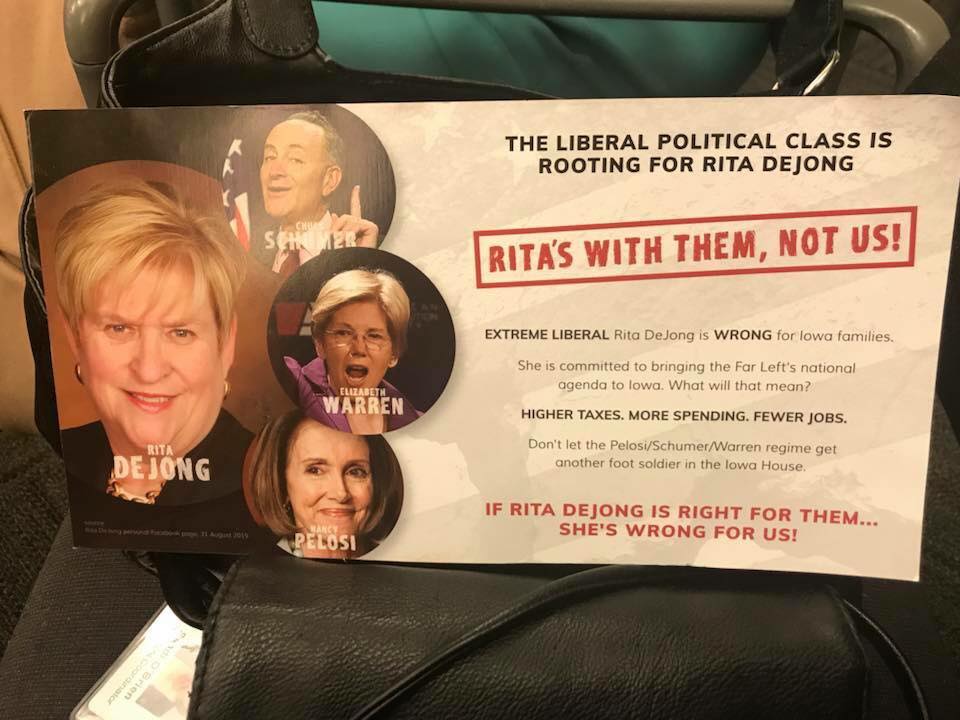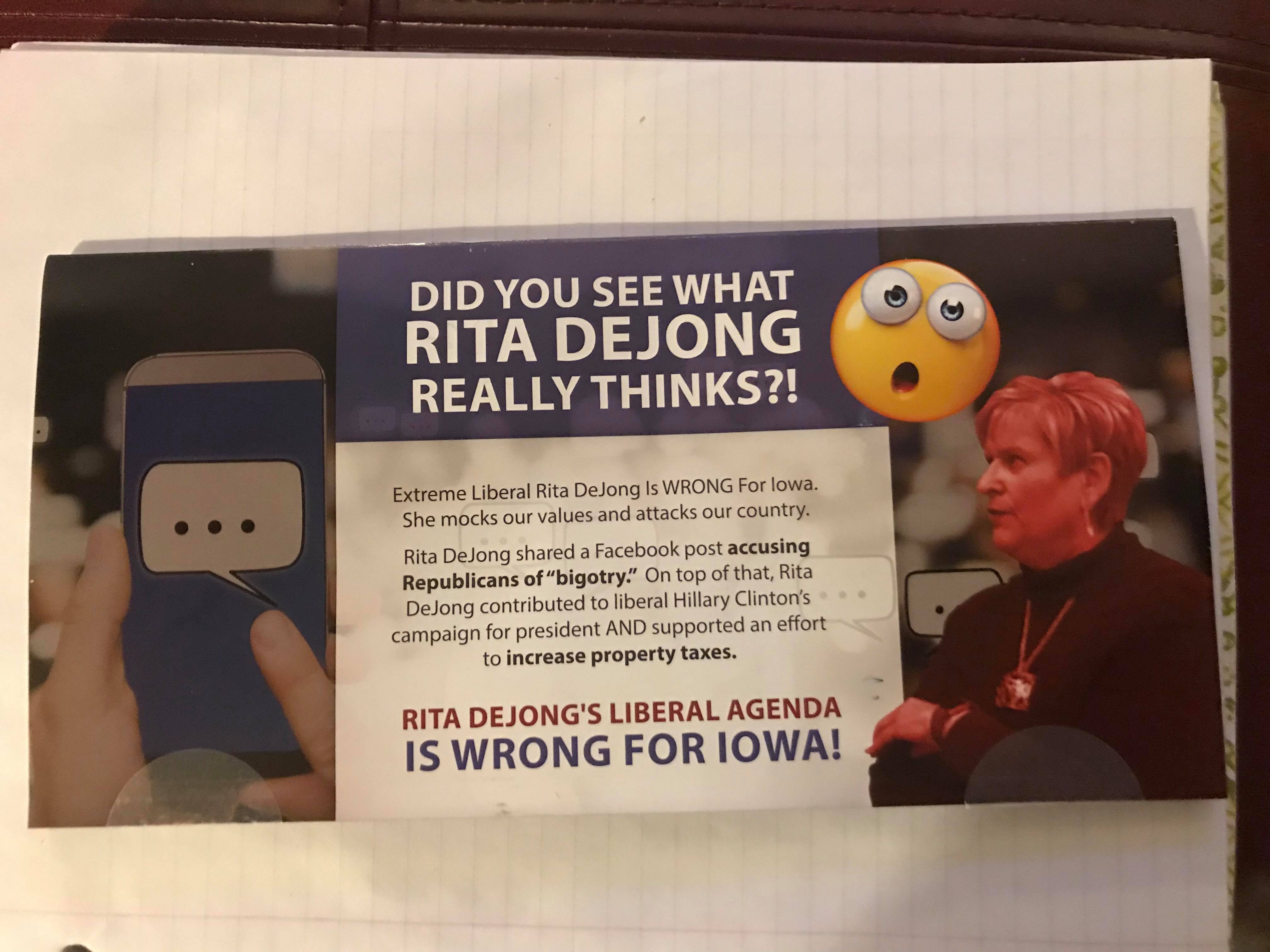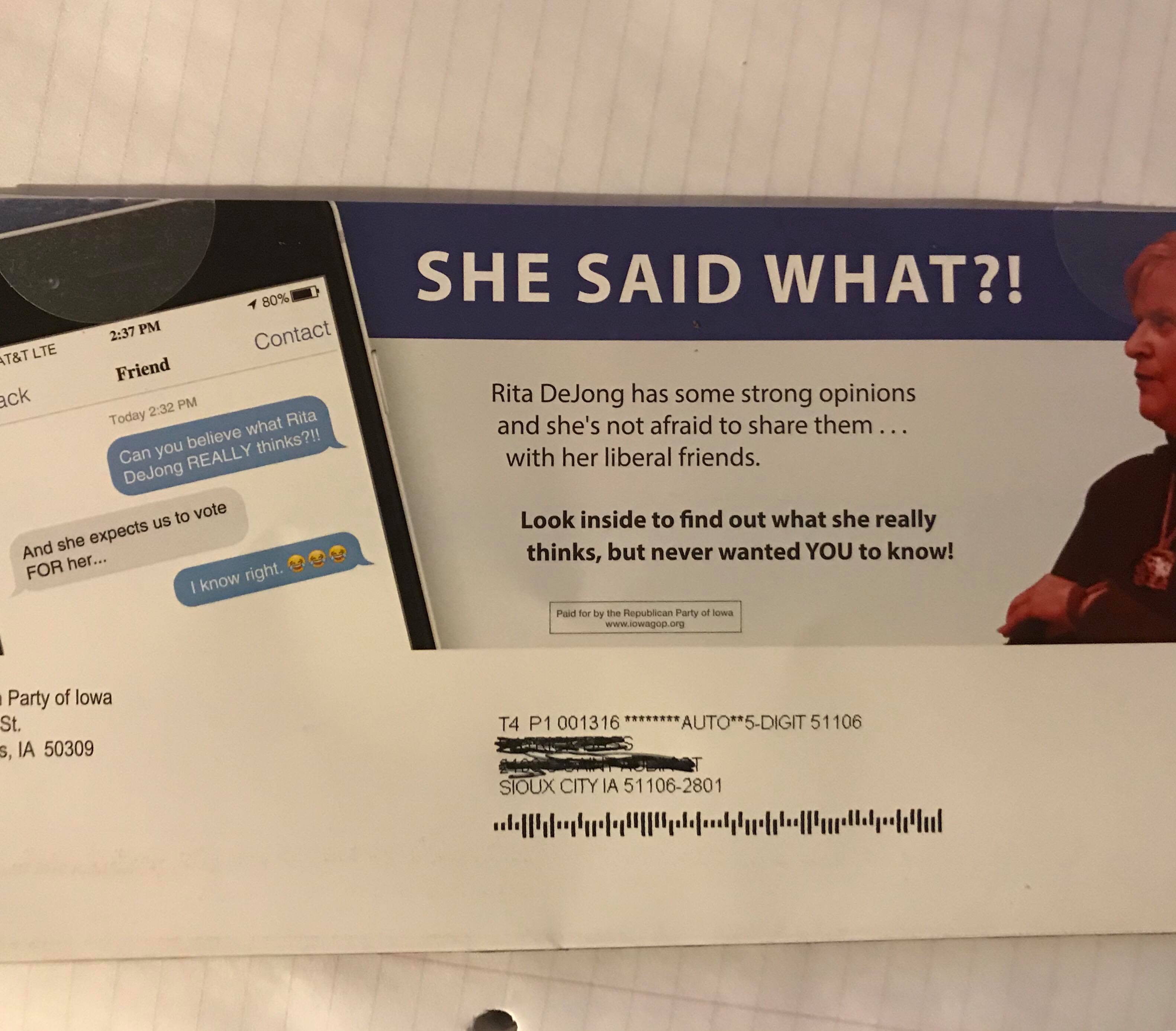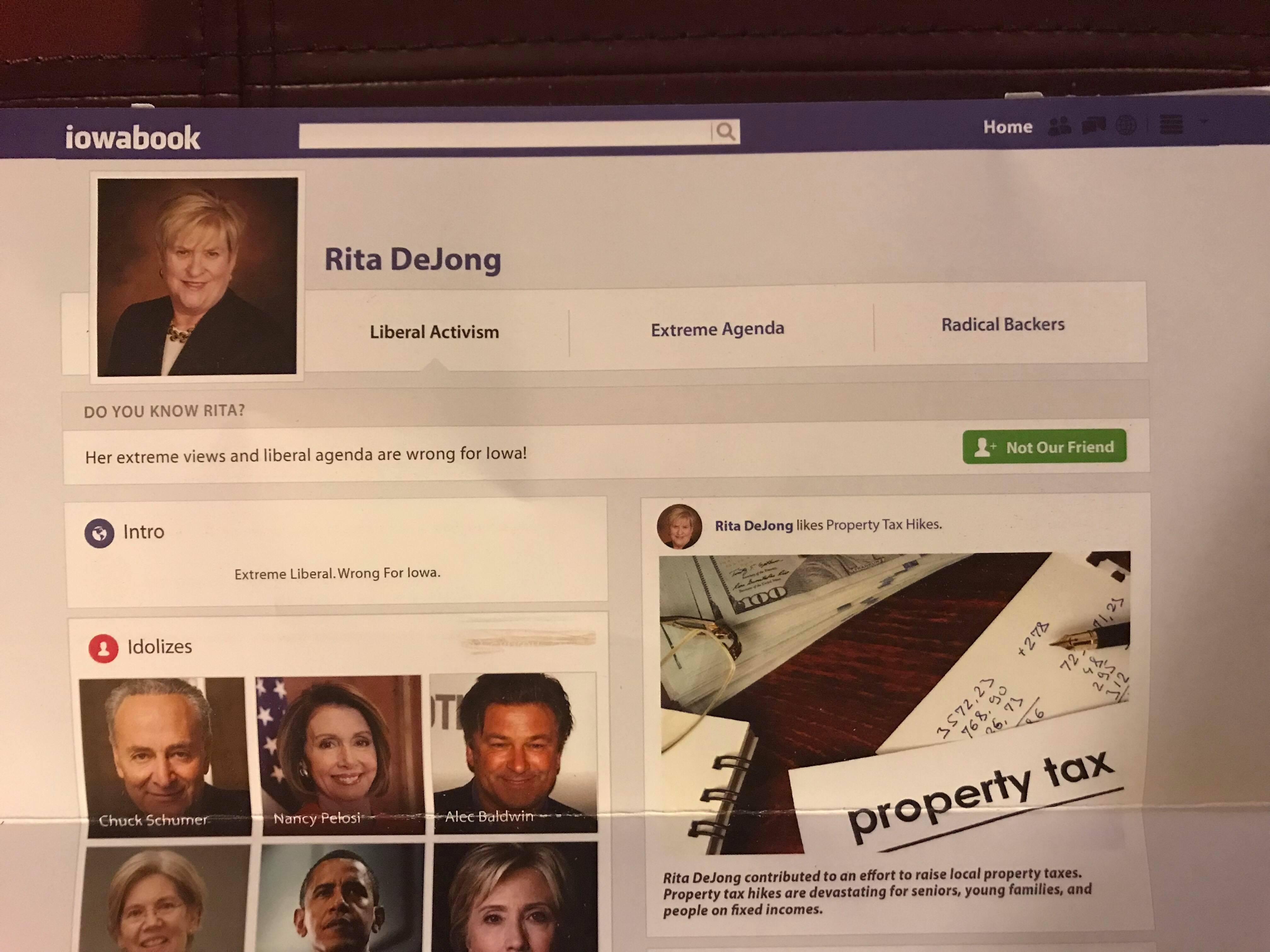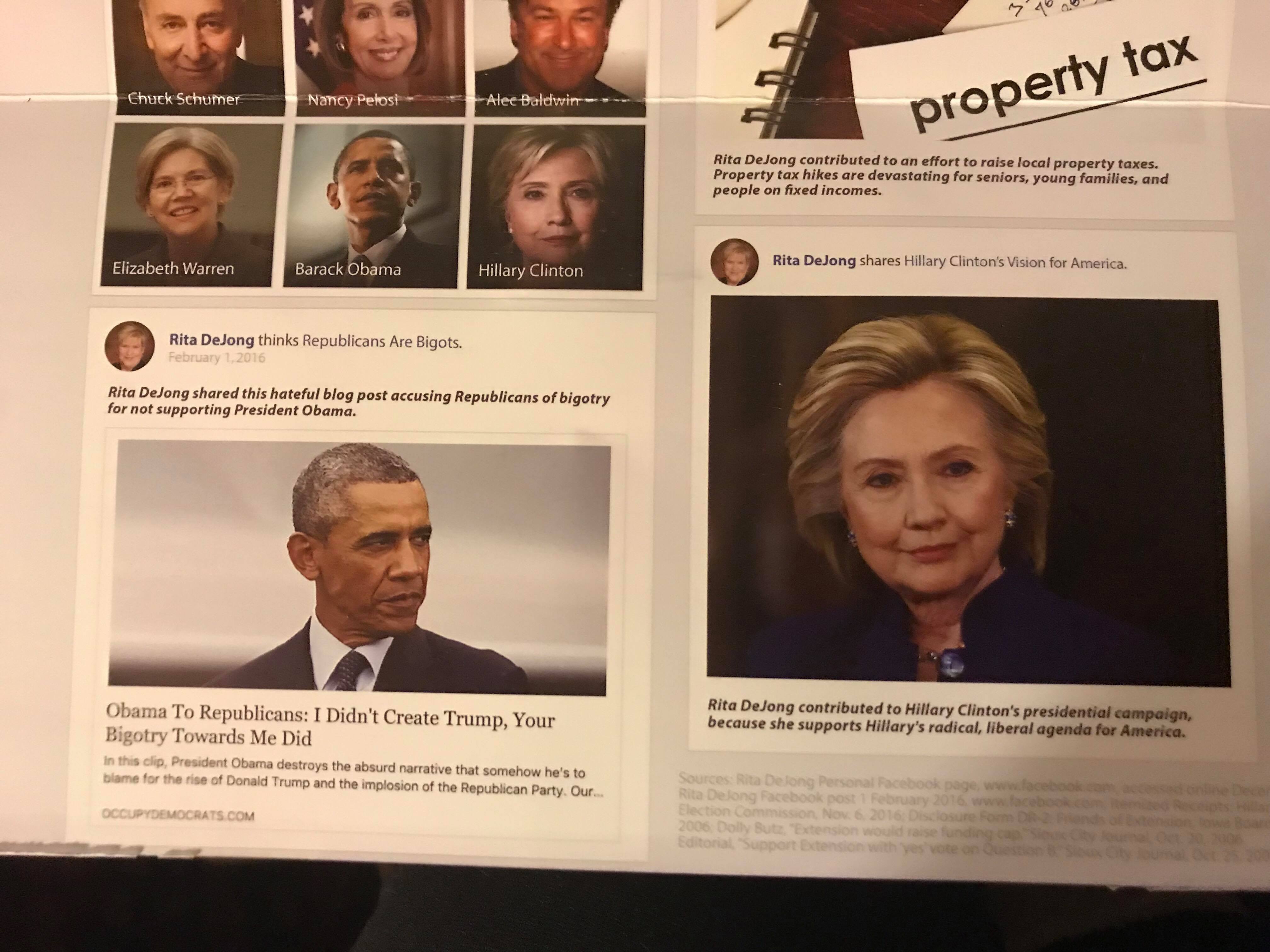 The desperation is palpable in this letter, which went out to registered Republicans along with absentee ballot request forms. "Funded by Nancy Pelosi and Chuck Schumer"–a false claim, since national Democrats have not invested this race–"the liberal machine is gearing up to steal House District 6 from the good conservative people of Woodbury County."
"If we sit on our hands and don't vote, Democrats will steal this Republican district."
"If you're like us, the last thing we want is Rachel Maddow or Chris Matthew squealing with glee that Democrats stole a seat from Republican hands in the Heartland."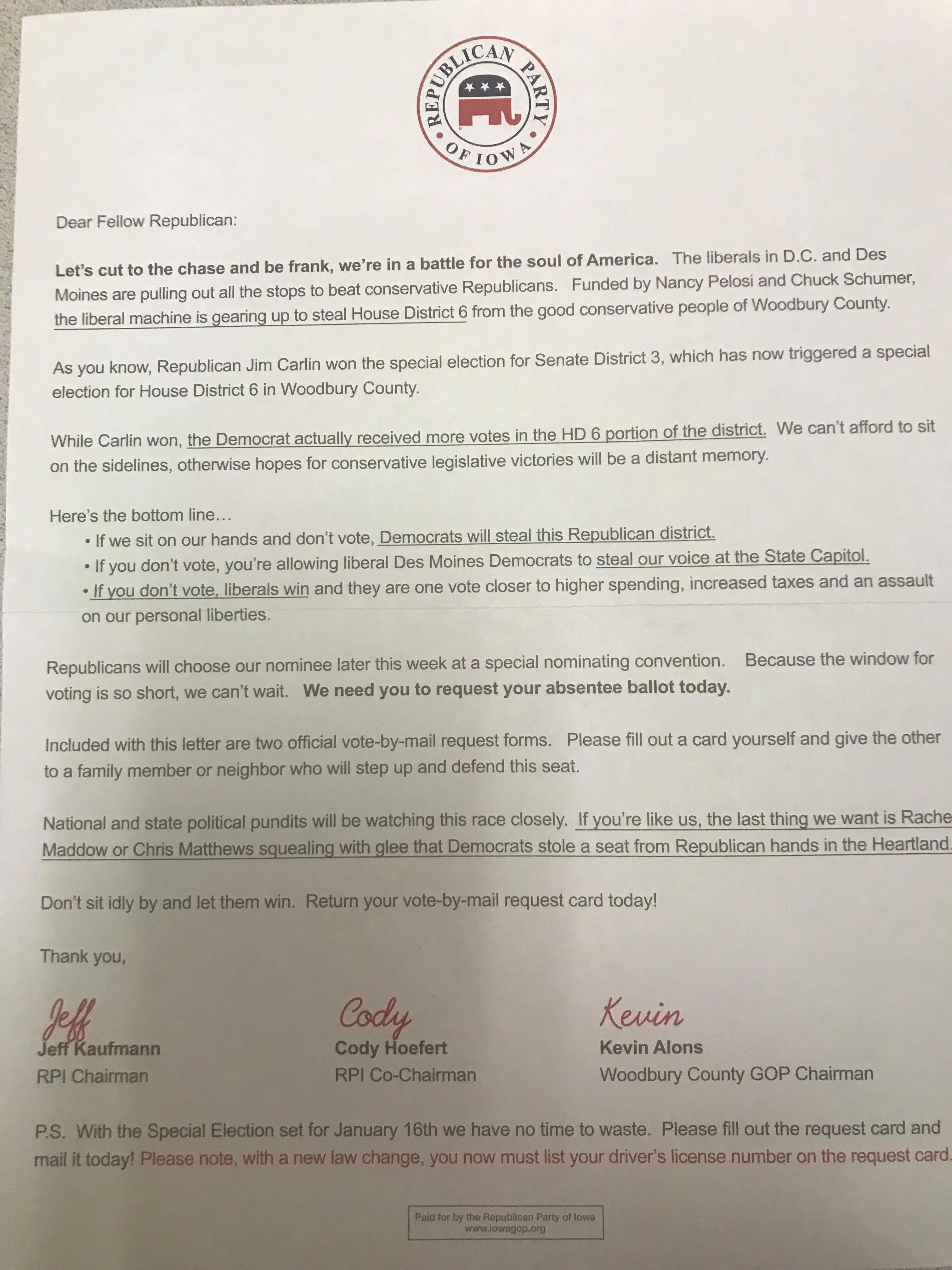 In contrast to last summer's special election campaign for a southeast Iowa House seat, Democrats have spent relatively little in House district 6. DeJong reported just $8,762.56 in spending by the Iowa Democratic Party on her behalf, for some direct mail and digital advertising. She raised a little less than $13,000 for her campaign too, not enough to compete with Republicans on television or radio.
DeJong's campaign is relying heavily on social media to distribute messages like this video:
My transcript:
Rita DeJong's voice: I was born and raised in Orange City, Iowa, and have lived in Sioux City for over 40 years. [photos of DeJong as a girl and young woman]

During that time, I became a wife and a mother. [photo of a young DeJong with her husband]

My husband and I raised a beautiful family. [photo of the candidate and her husband with their young daughter, and a more recent picture including a grandchild]

In addition, I was fortunate to be part of thousands of children's lives as a teacher and principal. Today I work with youth and young adults who are at risk. [image of newspaper clipping showing a picture of DeJong and a headline, "ADMINISTRATOR RECEIVES TOP AWARD"]

DeJong speaks to the camera: I'm running for state representative because I'm deeply troubled about the lack of funding for public schools, the lack of accessibility for health care, and the budget crisis that's plaguing our state. Caring for others is not a Democrat value or a Republican value. It's an Iowa value. I'm asking for your vote because I care about your future.

DeJong's voice: Please vote for me on January 16. I'm Rita DeJong. Together we can make Iowa's future bright again. Paid for by Rita DeJong for Iowa House, and I approve this message. [viewer sees campaign logo: Rita DeJong, House District 6]
Retired educators have been strong candidates in many Iowa legislative races. Thousands of people in the Sioux City area are former students or relatives of students at schools where DeJong worked.
Woodbury County Democrats have put together a massive volunteer effort in recent weeks, while activists from around Iowa have helped with phone banks, postcard writing, or canvassing. Some 40 people helped GOTV for DeJong on January 13, when the high temperature was in the single digits. State party chair Troy Price and several activists from the College and Young Democrats of Iowa road-tripped to Sioux City for the occasion. Gubernatorial candidates Andy McGuire and John Norris have knocked on doors, while Nate Boulton and Fred Hubbell have done shifts on the phone for DeJong.
Bossman is favored to win on Tuesday, having greatly outspent his opponent in a district that Trump and Carlin carried by 30 points in 2016. If DeJong can keep it close or pull off the upset, Iowa Republicans should start to worry about a midterm election with unusually high engagement by Democratic voters.
UPDATE: A Koch brothers-funded group did a lit drop in House district 6 on January 14, DeJong posted on Twitter.
JANUARY 15 UPDATE: A reader provided these images of the door hanger that the Iowa branch of the Koch-funded Americans for Prosperity distributed (presumably to Republican households) over the weekend. The lit uses a stock photo of a veteran with his daughter and does not mention Bossman, who has not served in the military.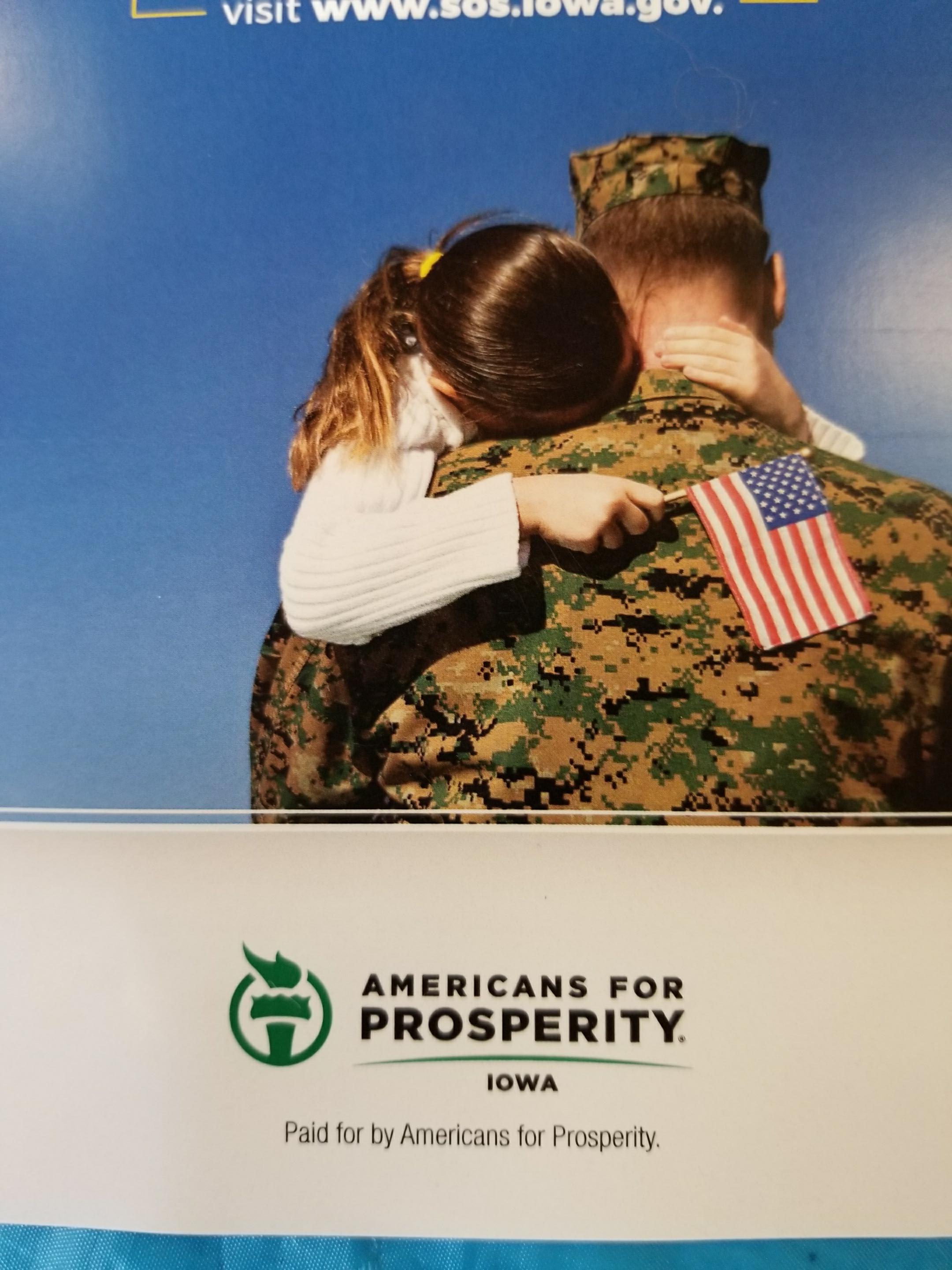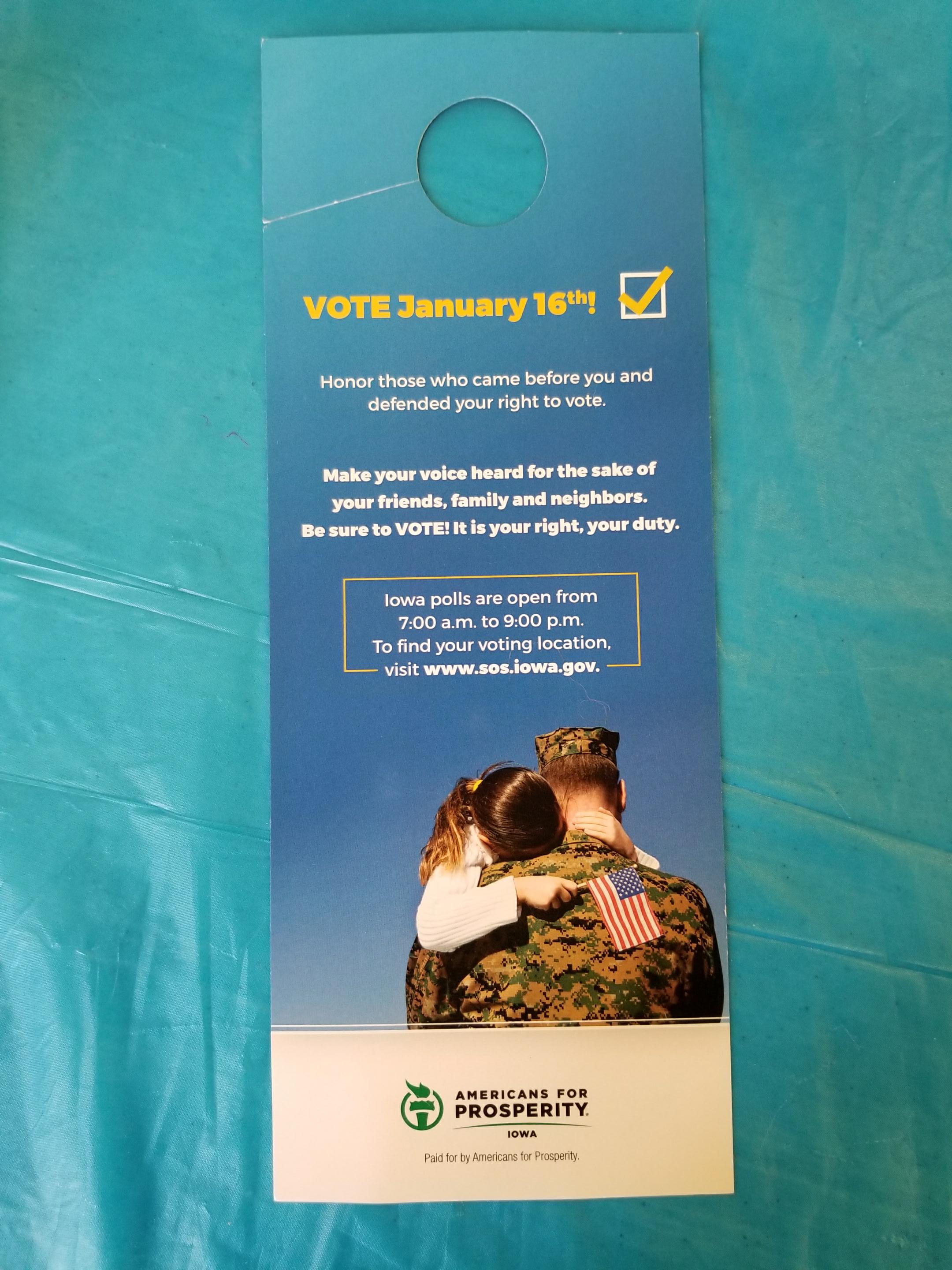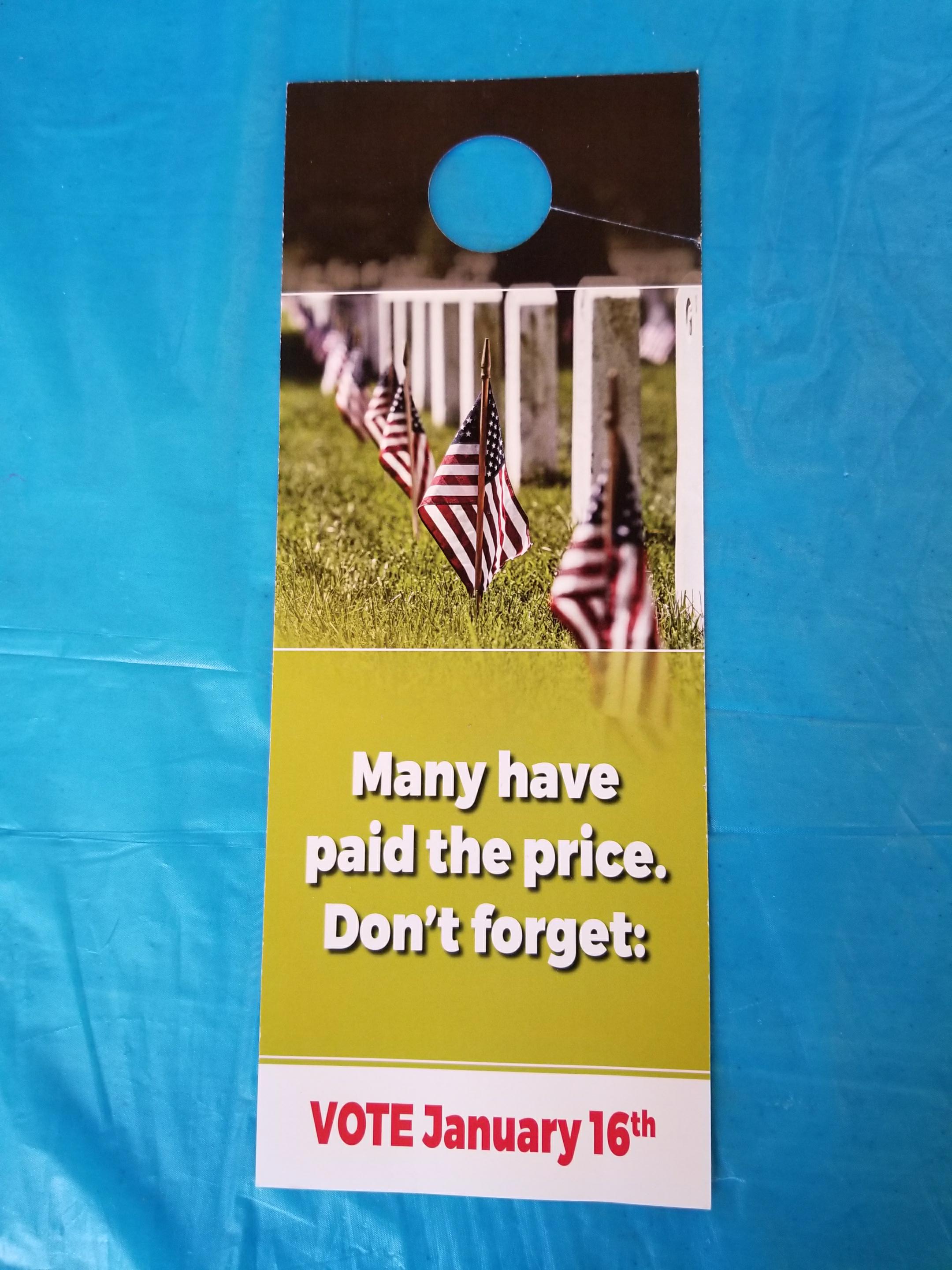 The Iowa GOP paid for another direct mail piece for the final weekend of the campaign, featuring an image of Bossman with Grassley and a postcard from Governor Kim Reynolds stating, "I need your help in electing Jacob Bossman in the Special Election on January 16th. I need a true Grassley conservative like Jacob in the Iowa House to help build a better Iowa. Vote early or vote on Election Day, just make sure you vote. I'm counting on you!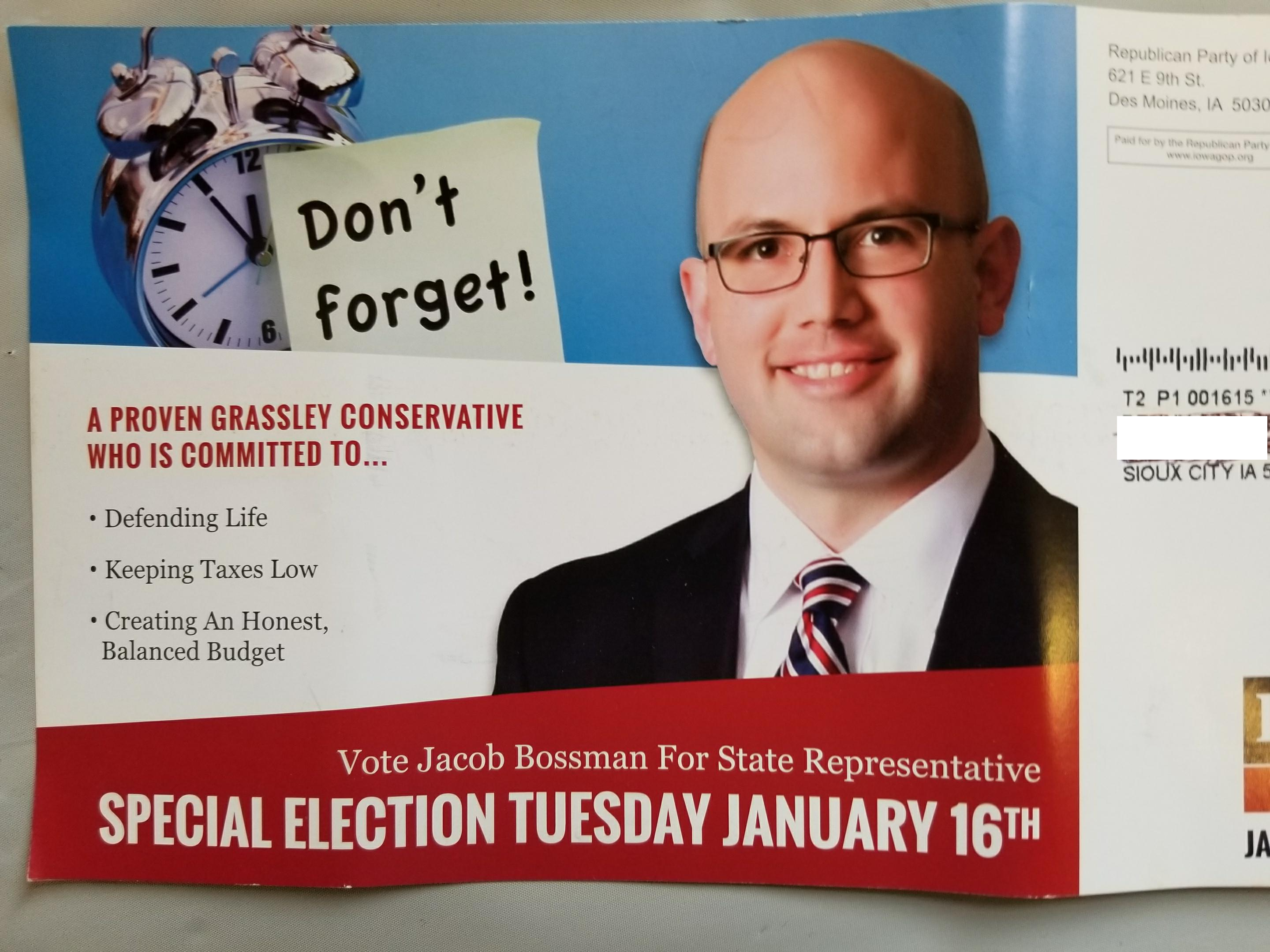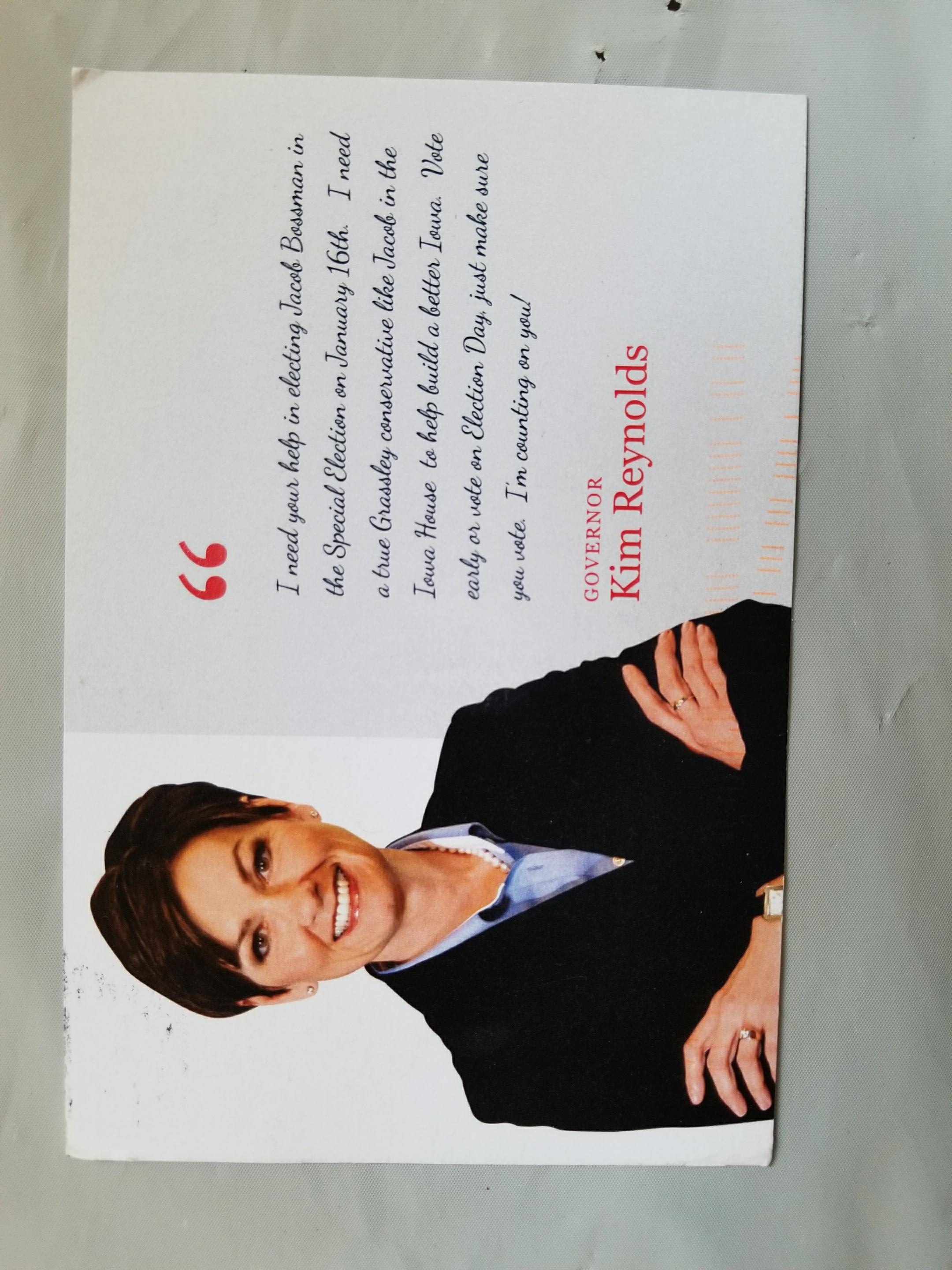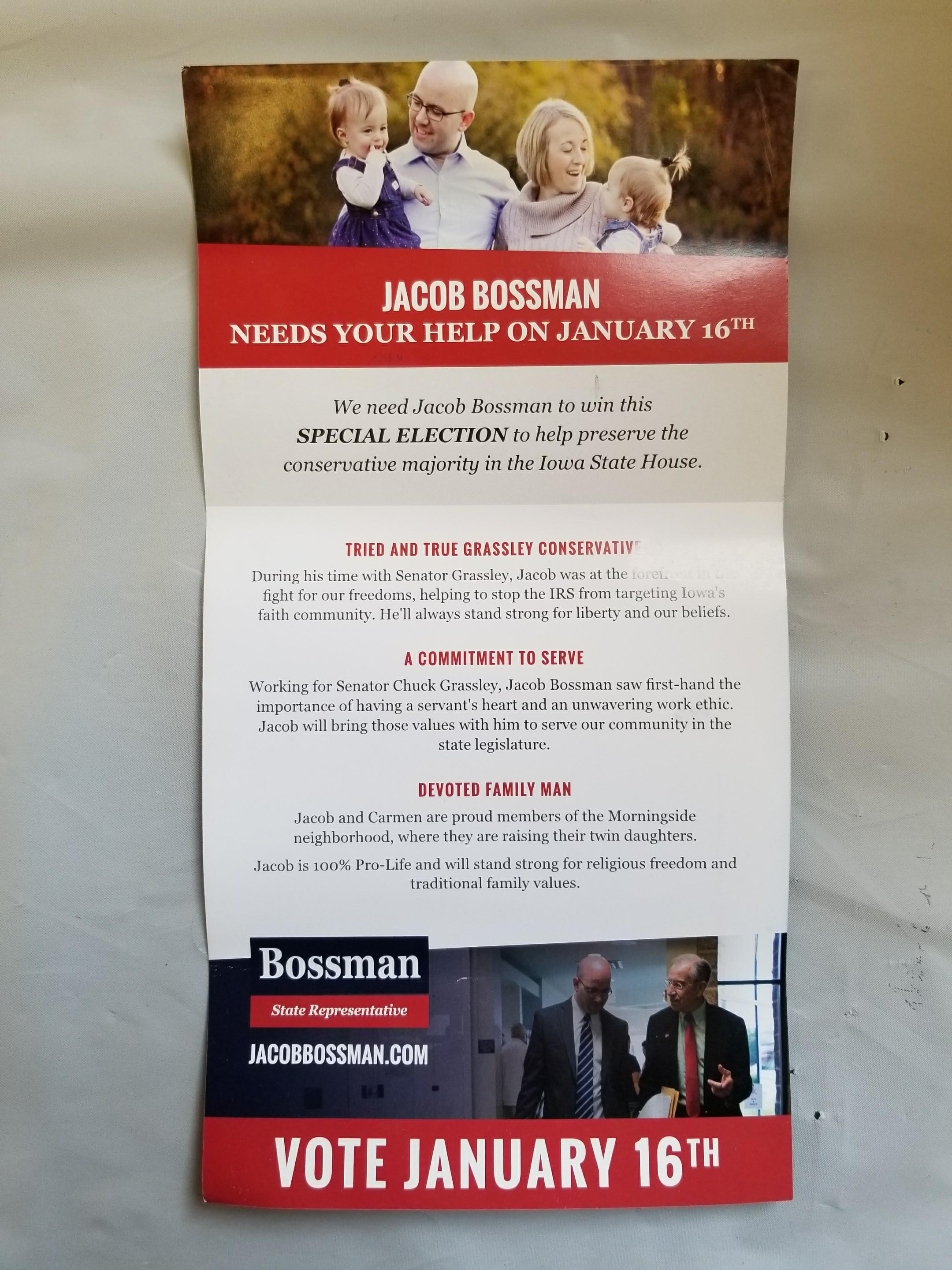 LATER UPDATE: The night before the election, Woodbury County Democrats recruited more than two dozen volunteers to phone bank in Sioux City, while Boulton and more than 20 supporters of his gubernatorial campaign gathered in Des Moines to make GOTV calls for DeJong.
DeJong was out knocking doors in extremely cold weather on January 15. Her campaign is also running several spots on local radio. In this commercial, the candidate says, "It's time to get Iowa back to the basics. I believe politicians in Des Moines need to start focusing on the issues that really matter to Iowa families: good jobs, great schools, and safe communities. We need leaders who will listen, roll up their sleeves, and start working together. That's what I've done for over 34 years as an educator and volunteer here in Sioux City."
Other radio spots feature Gretchen Gondek, a longtime public radio broadcaster in the area (now retired), and Heath Weber, who formerly worked with DeJong at Sioux City East High School and now is associate dean of performing arts at Morningside College. Weber calls local football games on the radio.