It's been a stressful spring for most of us. But if you can get to a trail or a wooded area–keeping a safe distance from others–you will be treated to a wide variety of native plants blooming now. I'm launching the ninth year of Bleeding Heartland's wildflowers series (full archive here) with a common woodland plant that is near its peak across much of Iowa: Spring beauty (Claytonia virginica).
Also known as Virginia spring beauty, these plants "will adapt to semi-shaded areas of lawns if mowing is delayed during the spring." The species is native to most of the U.S. and Canada east of the Rocky Mountains.
Spring beauty has a longer blooming season than some spring wildflowers, like dogtooth violets or Dutchman's breeches. It can bloom from March through May in Iowa. This year, I didn't see any flowers until April.
I took all of the pictures enclosed below near my home in Windsor Heights.

For accurate botanical descriptions of spring beauty foliage, flowers, and fruit, the Illinois Wildflowers and Minnesota Wildflowers websites are good resources.
Before flowers appear, you may be able to recognize these plants by their long, narrow leaves, which have "a prominent central vein, smooth edges, and curve downward."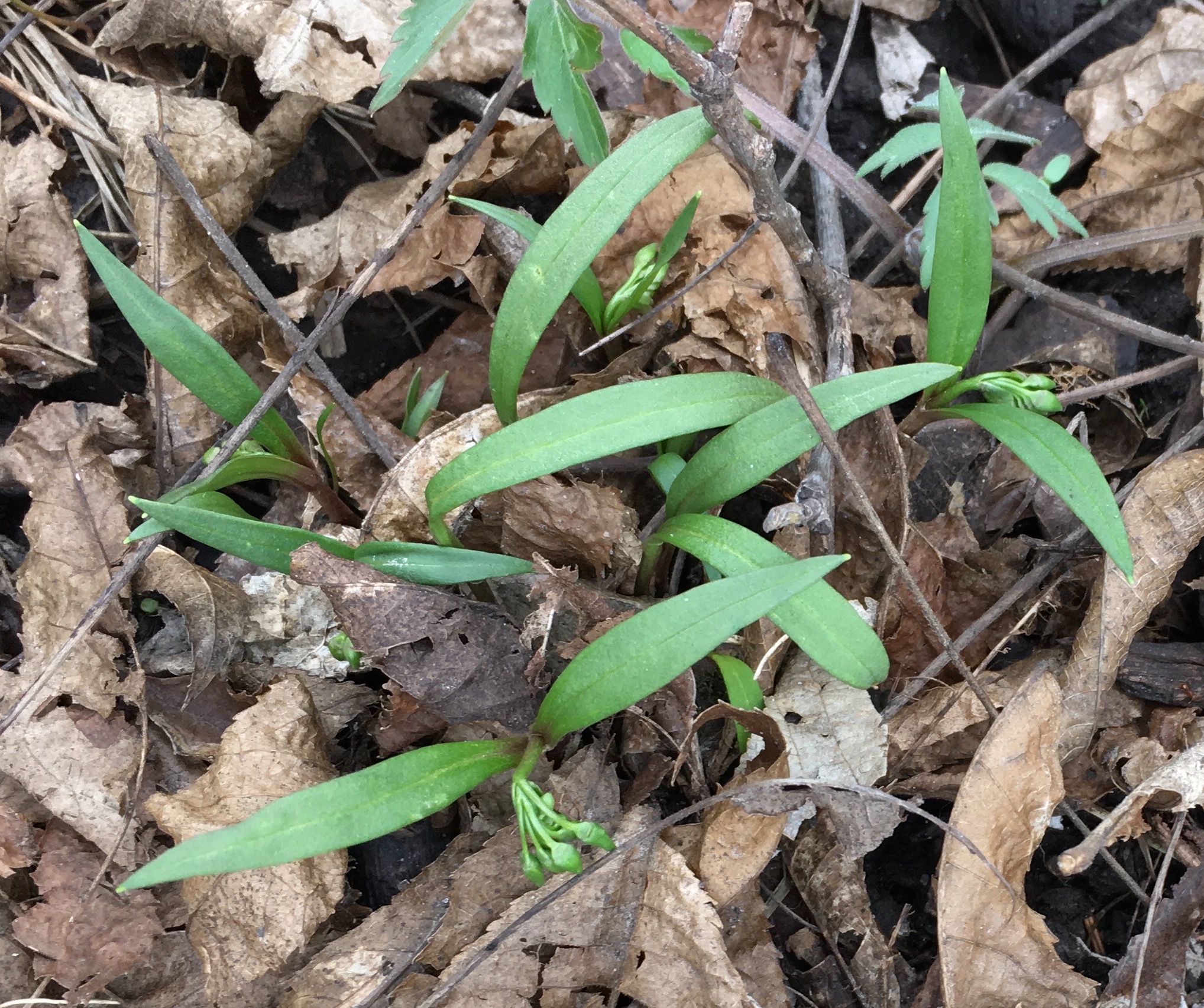 Buds are starting to form in that first shot but are easier to see here. As the blooming period approaches, you can see pink tips near the end of the buds.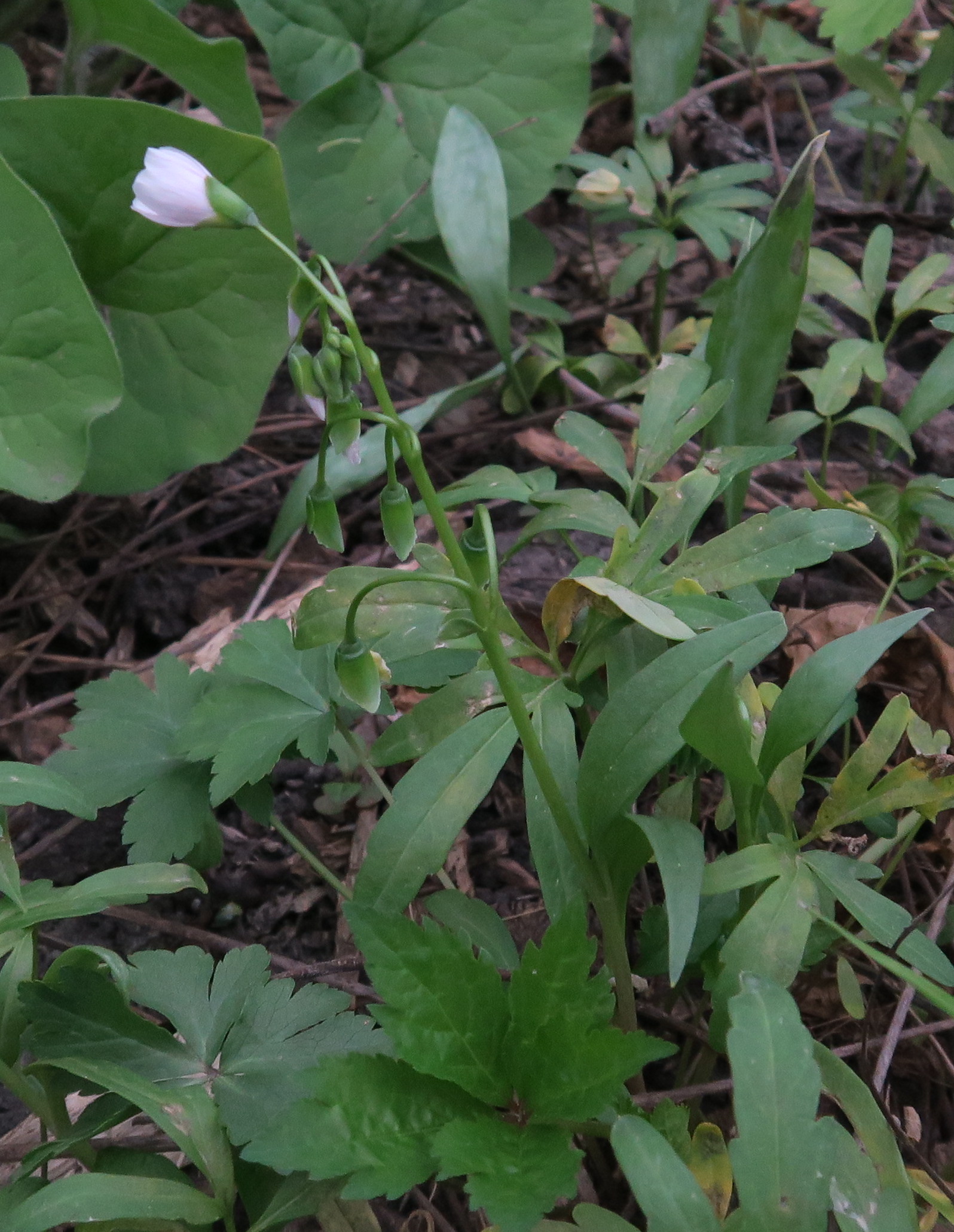 Once spring beauty is blooming, you won't mistake it for anything else. The flowers have five petals, which are white with pink stripes.
The flowers remain closed in the morning and evening, and sometimes in the middle of the day if it's cloudy. By mid to late morning, flowers open up.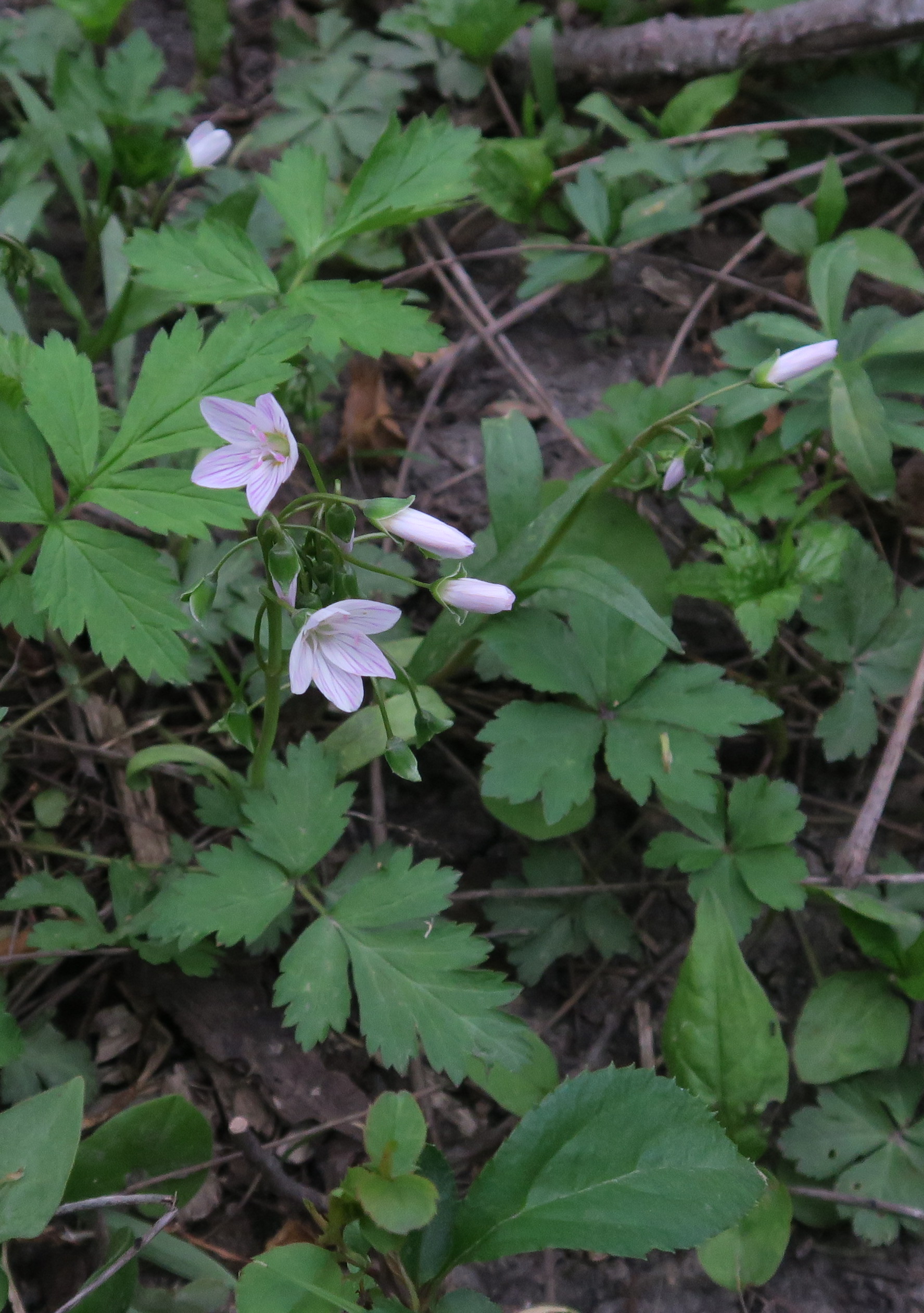 Some flowers have deep pink petals.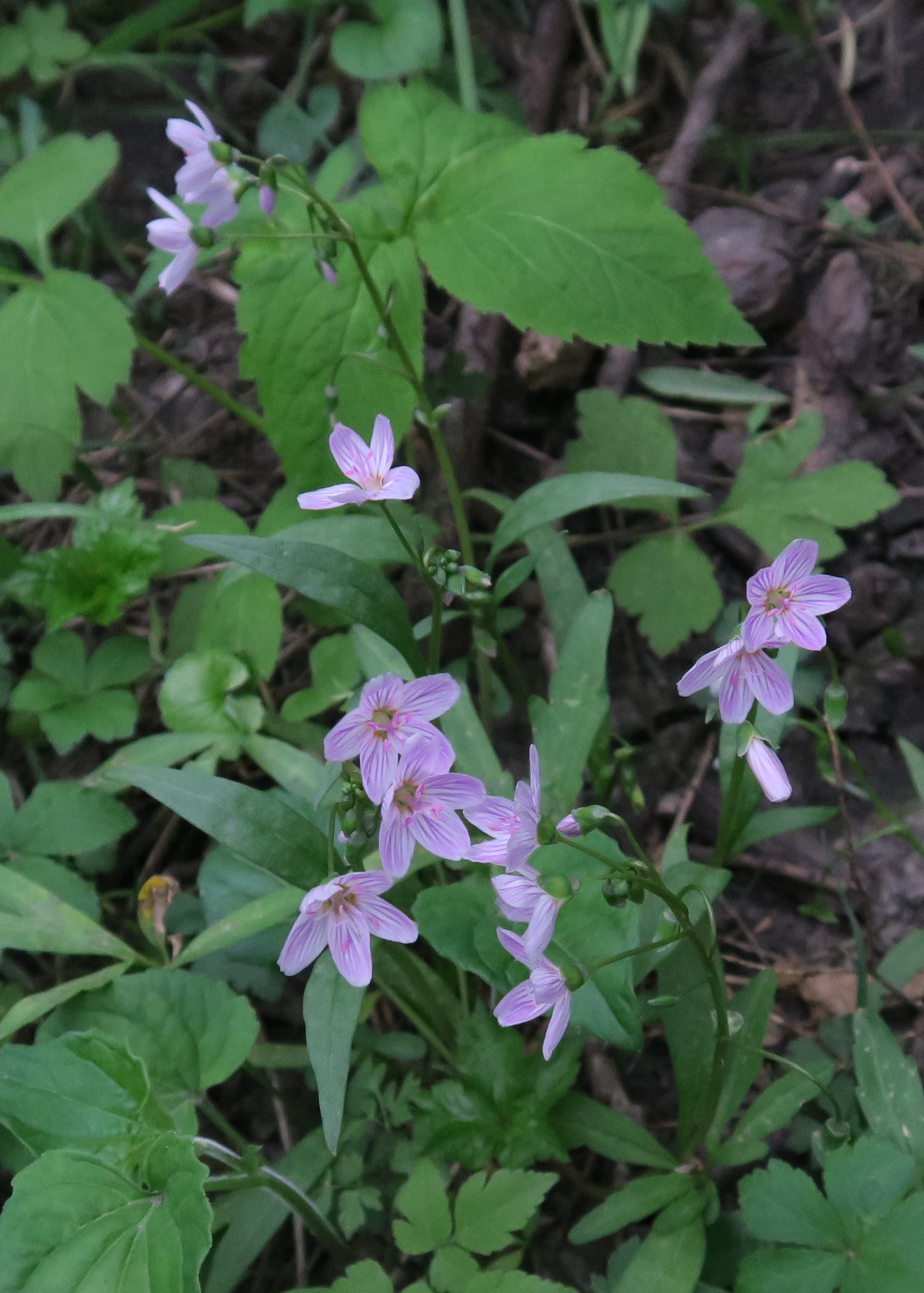 Others are much more pale.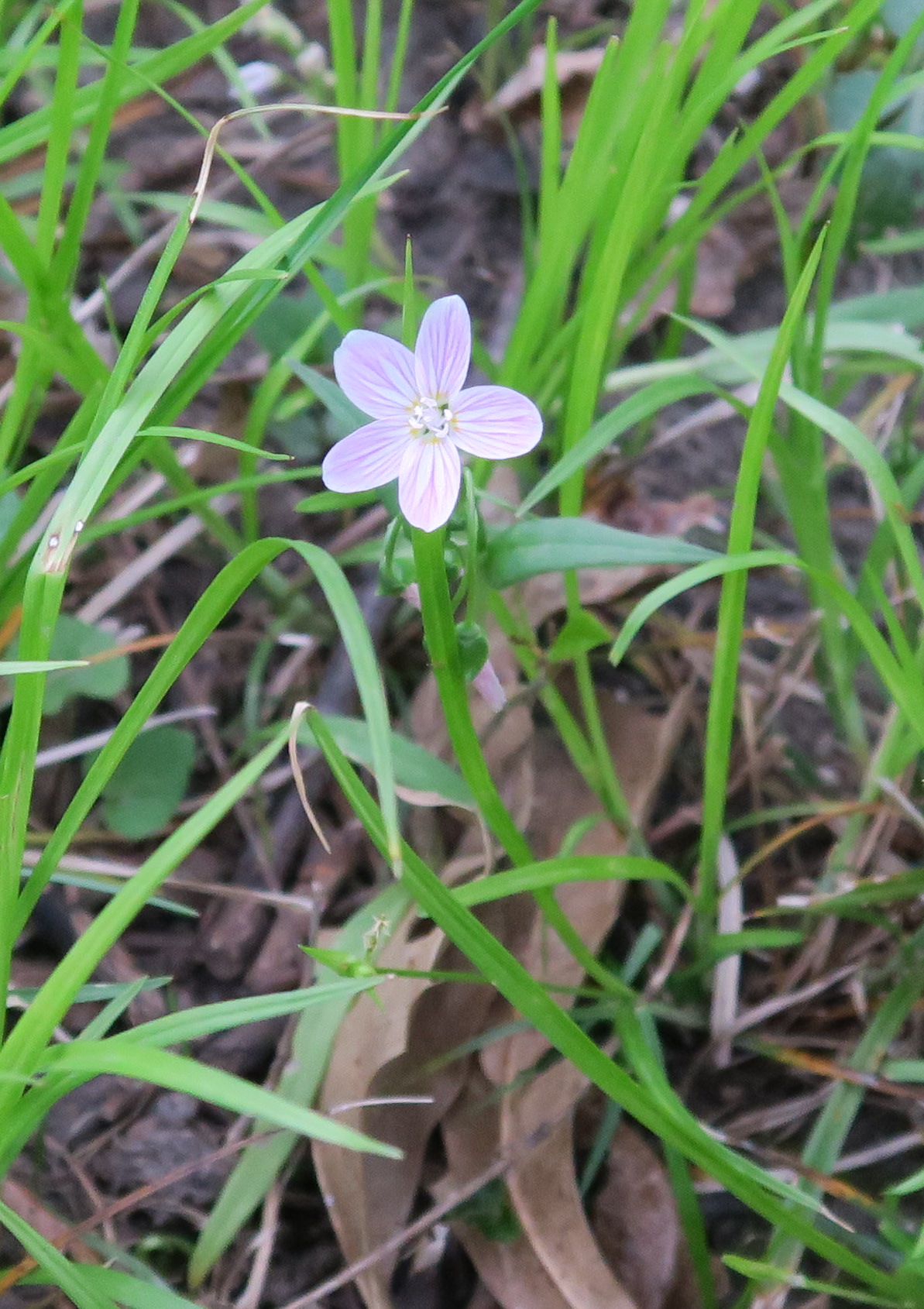 Virginia bluebells tower over spring beauties in this shot.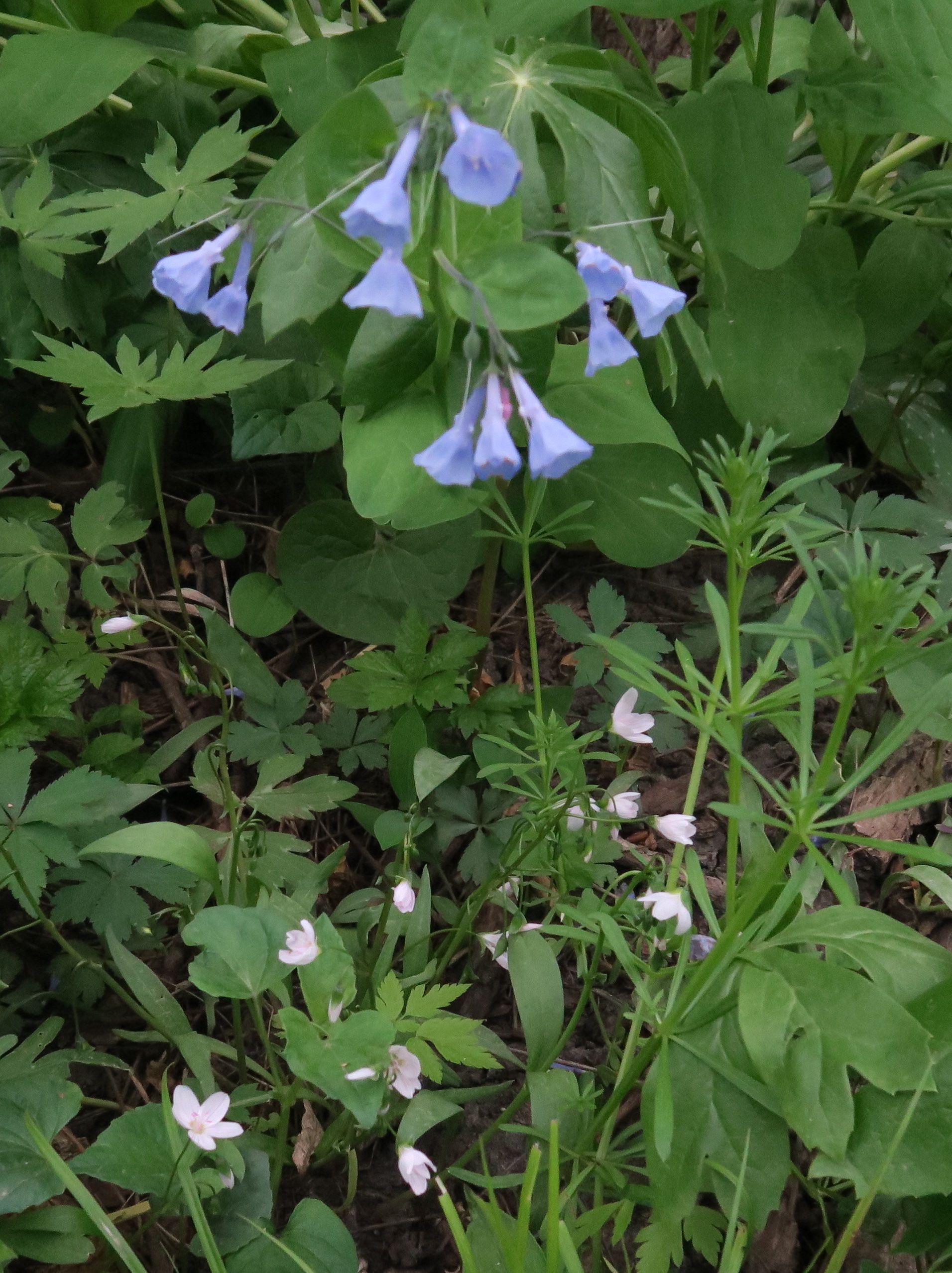 But the spring beauty flowers look huge compared to the tiny white blossoms of wild chervil (near the lower right corner).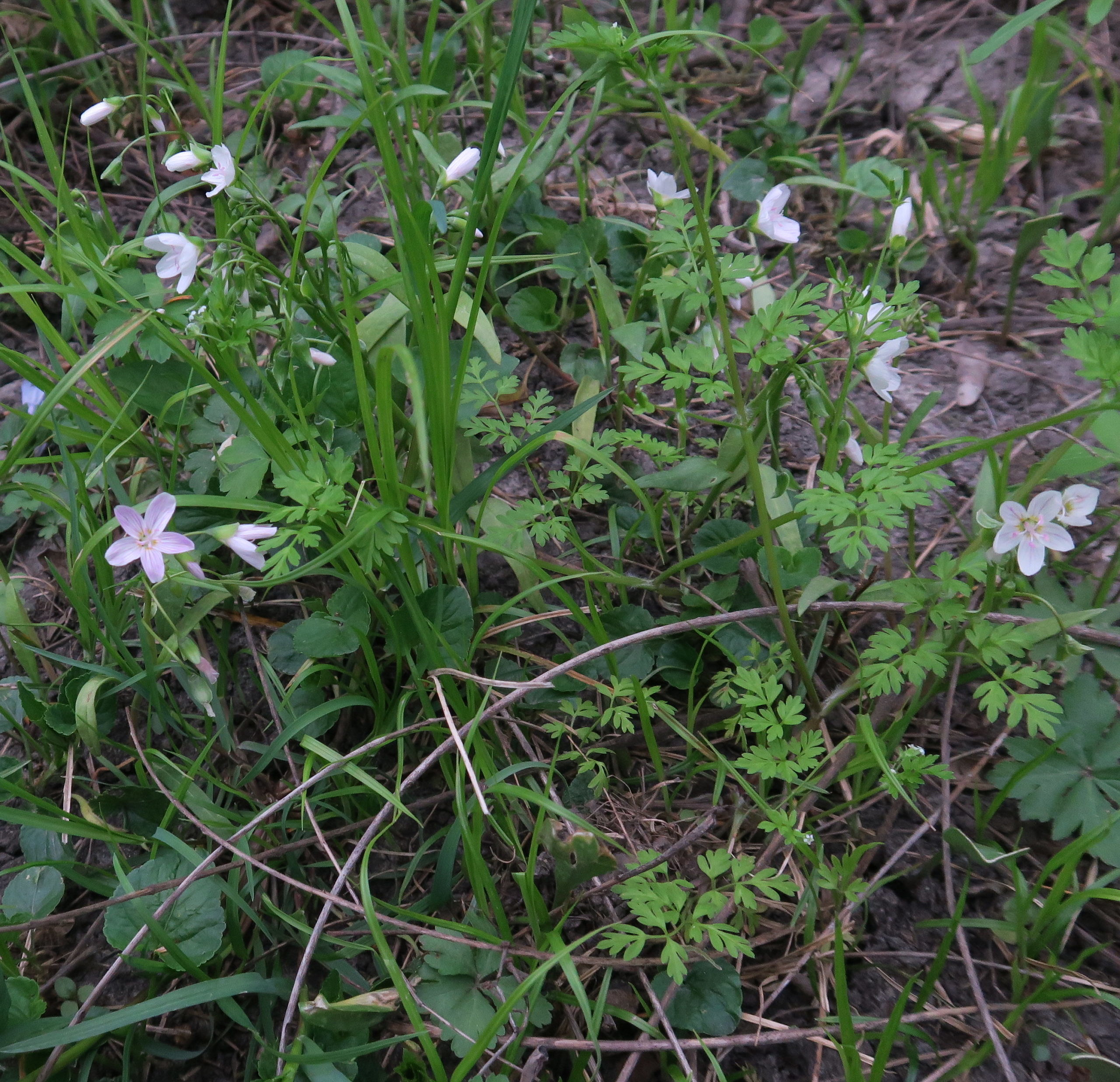 Spring beauty flowers are also quite a bit larger than the small white flowers of Aunt Lucy, but you can't tell from this picture because the latter isn't in bloom yet. The large leaf near the lower left corner is common black snakeroot.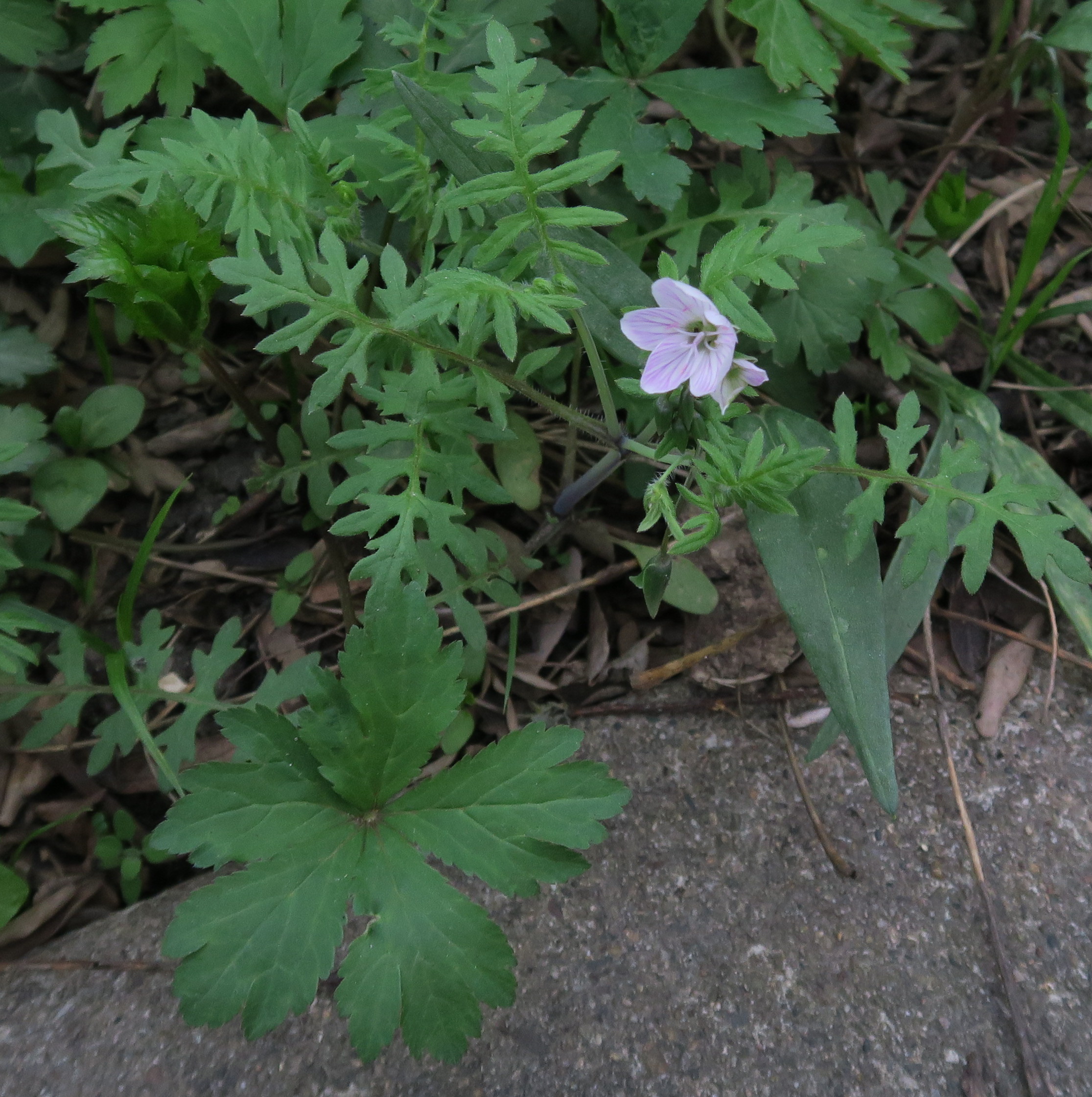 To the right, a sweet Cicely plant that will probably bloom in a week or so.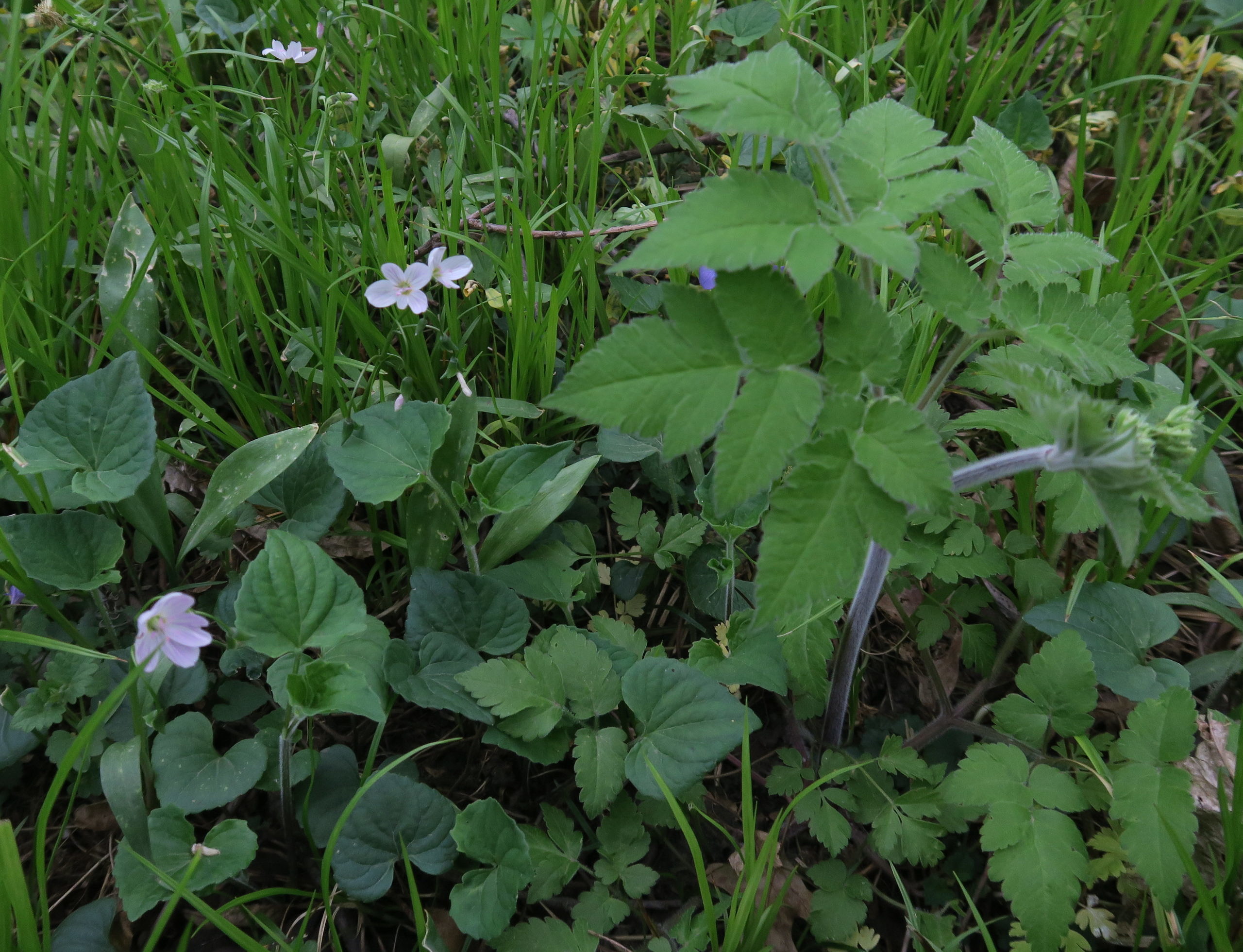 Downy yellow violets are about the same height as spring beauty and thrive in similar habitats.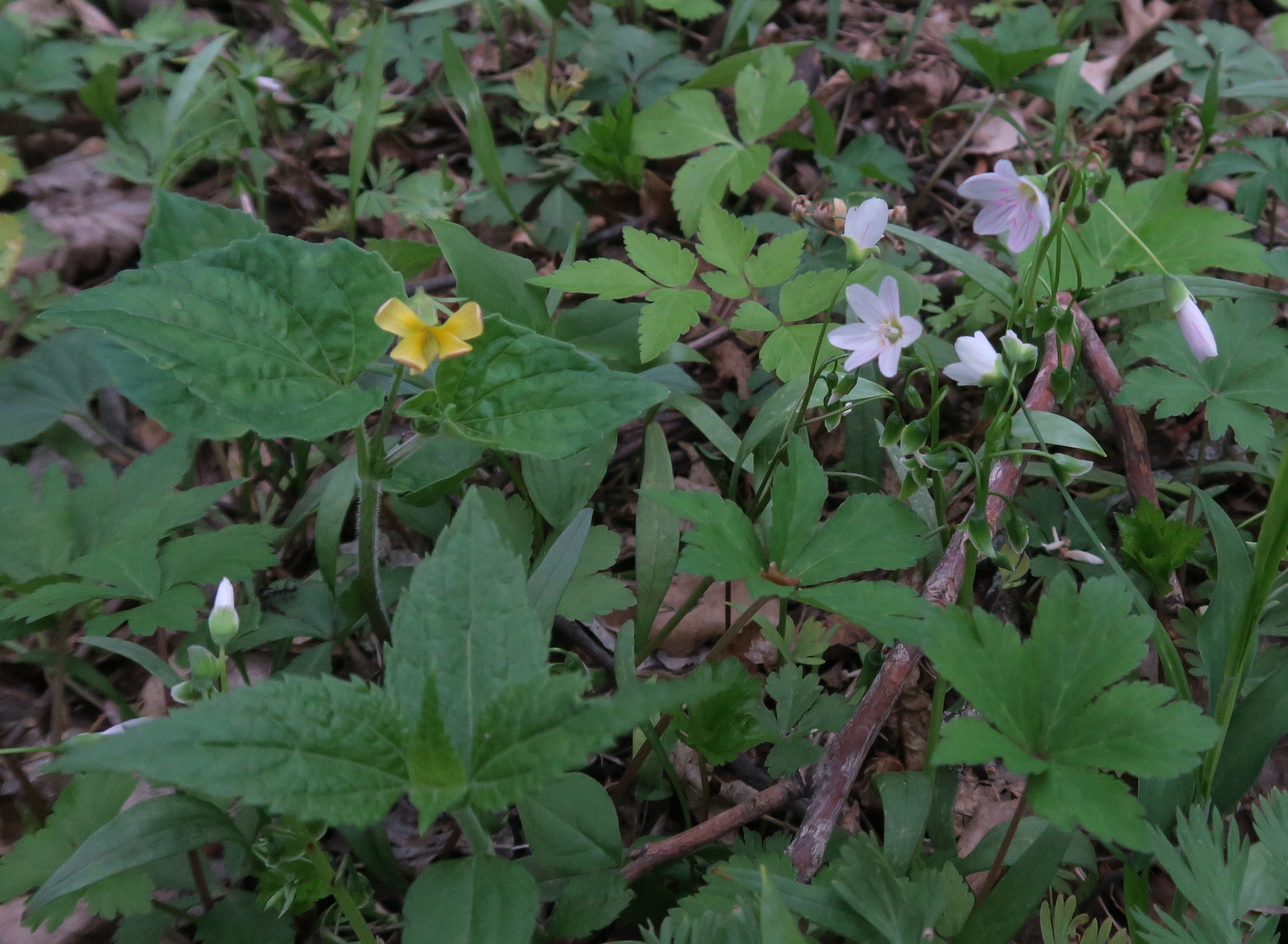 Spring beauty growing in a patch of wild ginger: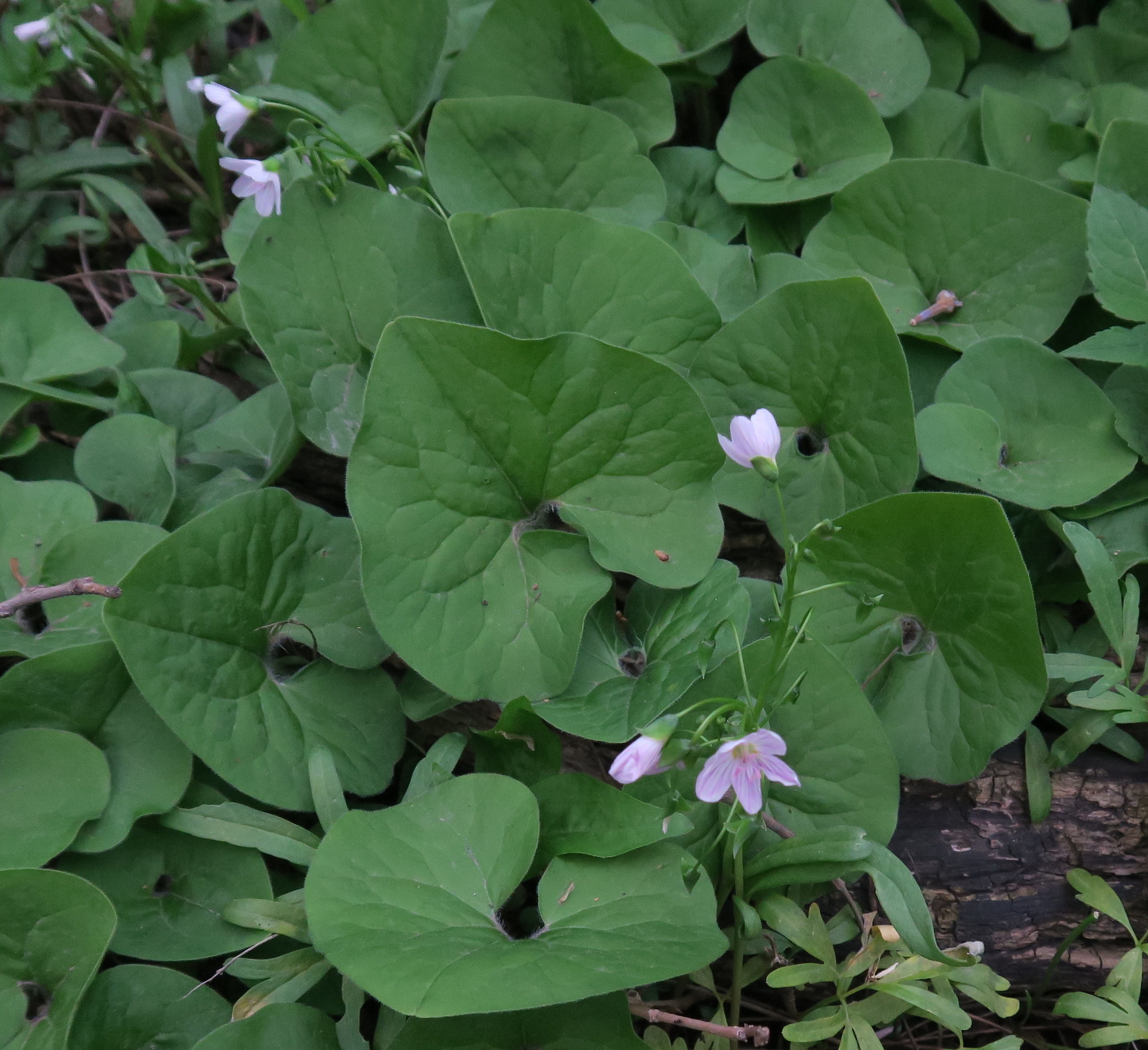 The purple flower on the left is sweet William, also known as wild blue phlox.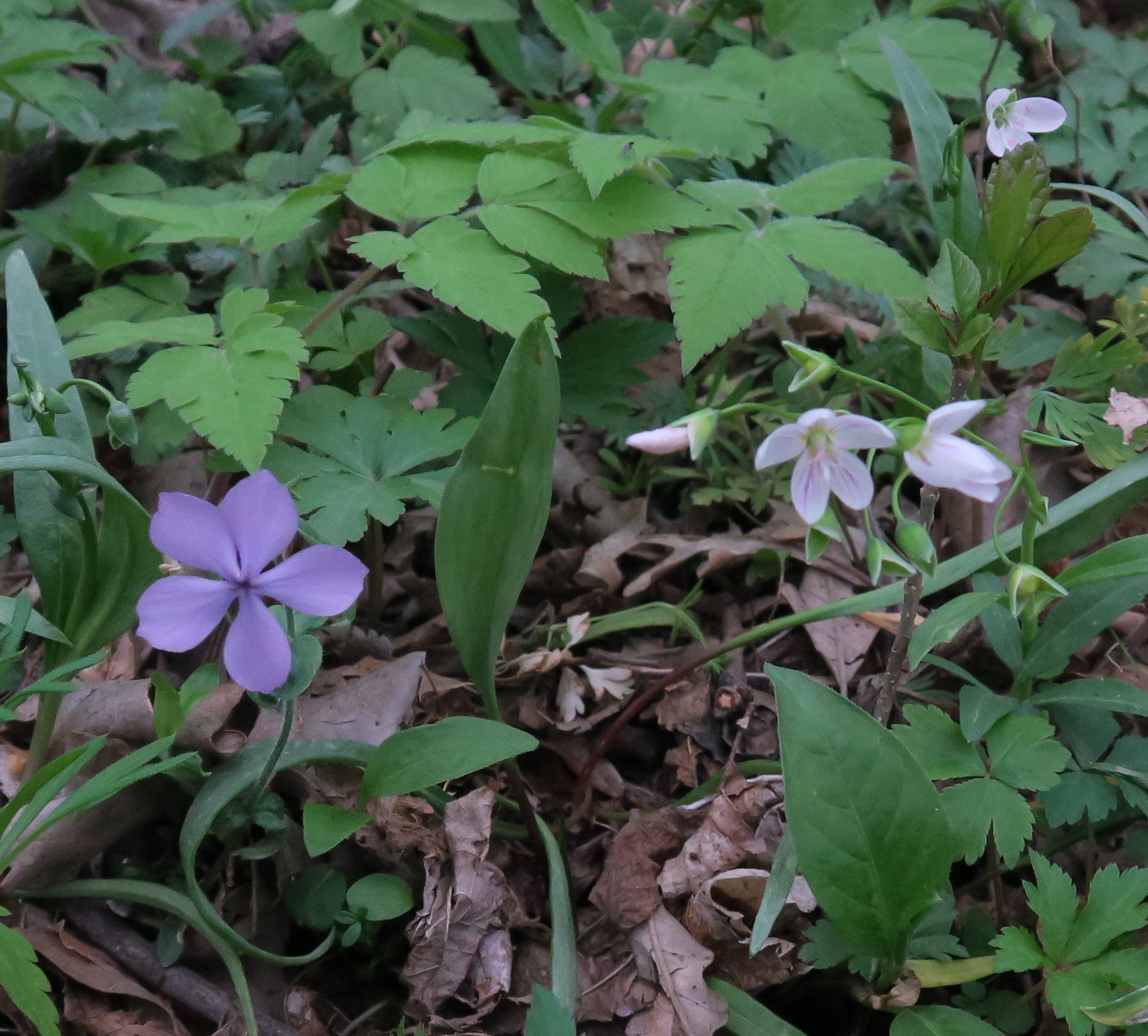 UPDATE: Jennifer Henning gave me permission to publish her picture of a spring beauty plant going to seed. John Pearson of the Iowa Department of Natural Resources explained the deep pink:
Spring beauties which have dropped their five white petals and are now showing the two sepals that were hidden under the petals… and those two previously green sepals have turned red with age as the plant goes to seed.