The fields are set for Iowa's 2020 federal campaigns. The U.S. Senate race and three out of four House races could be highly competitive this November. However, Democratic prospects for picking up the fourth Congressional district took a big hit last night.

IA-SEN
For the first time in Iowa history, both major parties nominated women for a U.S. Senate seat. Theresa Greenfield easily won the Democratic nomination with 47.7 percent of the vote, according to unofficial results. The outcome was no surprise, given the imbalance in spending on Greenfield's behalf compared to the other candidates.
The Center for Responsive Politics' OpenSecrets database shows Greenfield's campaign spent more than $2.3 million before the primary, almost as much as the other three candidates combined. Adding to the disparity, outside groups supporting the Democratic front-runner spent more than $7 million promoting her candidacy and about $900,000 on a misleading hit targeting Mike Franken.
Franken has set himself up fairly well to run for Senate in 2022; he took 25.0 percent of the primary vote after spending less than $800,000 dollars. Kimberly Graham finished third in the primary with 15.0 percent, followed by Eddie Mauro (11.0 percent).
In the 2014 Senate race, Ernst and Democratic opponent Bruce Braley each spent about $12 million, while outside groups spent about $63 million. Outside spending will eclipse what the candidates spend during this year's general election as well. As of mid-May, Ernst's campaign had about $7 million cash on hand, while Greenfield's had about $4.7 million. Bridget Bowman reported for Roll Call last week, "Both parties' Senate campaign committees and aligned super PACs have reserved a combined $35.6 million in airtime in the Hawkeye State for after the nominees are chosen, a sign that Iowa will be one of the top contests in the battle for the Senate."
Inside Elections with Nathan Gonzales, Sabato's Crystal Ball, and the Cook Political Report all rate the IA-Sen race "lean Republican." In the absence of recent public polling on the presidential and Senate races here, I concur. Iowans tend to re-elect incumbents, and Ernst has received largely favorable media coverage for years.
Democrats are encouraged to have a slight voter registration advantage statewide, which hasn't been true for most of the last decade. But no one has any clue what turnout will be like for November.
IA-04
I'm taking the Congressional races in reverse order because the biggest news in Iowa tonight was State Senator Randy Feenstra ending Representative Steve King's political career. I did not think it could happen, but King did nearly everything possible to prove me wrong. He raised remarkably little money for an entrenched incumbent, leaving him unable to respond to hundreds of thousands of dollars on direct mail and television or radio commercials backing Feenstra. Outside groups poured in more than a half-million dollars on Feenstra's behalf as well.
A mailer from King's campaign hit Republican households late last week–after tens of thousands of voters had already mailed in their ballots. Feenstra and his allies had been bombarding mailboxes for at least a month.
I expected King to get a lot of traction by posturing as a victim of the politically correct media and corrupt GOP insiders in Des Moines and Washington, DC. I still think that message could have resonated if King had managed to get it on the airwaves. He didn't.
I expected the split field to take too much of the anti-King vote from Feenstra. In fact, about 18 percent of primary voters backed one of the other three GOP contenders (Jeremy Taylor, Bret Richards, and Steve Reeder). That still wasn't enough to save King, who managed only about 36 percent of the vote to nearly 46 percent for Feenstra.
The Republican establishment wanted to take IA-04 off the table and protect Ernst from having to campaign with King or answer for his antics this fall. They may well have succeeded. Although Democratic candidate J.D. Scholten has raised more than $1 million this cycle and will be able to fund a district-wide effort, it will be extremely difficult to beat any GOP candidate not named Steve King.
The 39 counties in IA-04 contain 128,136 active registered Democrats, 198,289 Republicans, and 154,529 no-party voters. The most realistic winning path for Scholten relied on King being the GOP nominee. The top national election forecasters moved IA-04 into the solid Republican column after the primary was called for Feenstra.
Incidentally, King cannot file to run for re-election as a "sore loser" because legislators changed Iowa law in 2019 to require third-party candidates and independents to qualify for the general election ballot in March.
UPDATE: J. Miles Coleman, associated editor of Sabato's Crystal Ball, gave me permission to publish the map he created to illustrate the IA-04 primary results. He commented on Twitter, "Feenstra's senate district (outlined in the northwest) gave him a 73%-20% vote, accounting for most of his overall margin."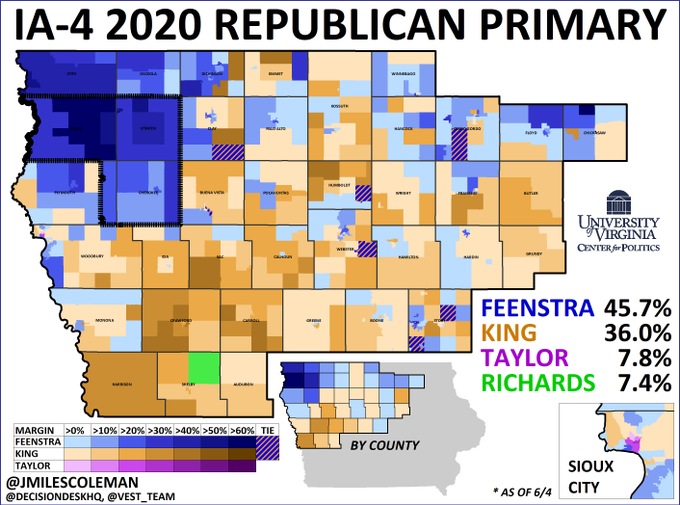 IA-03
Compared to the King-Feenstra race, the third district campaign was drama-free. Former Representative David Young mostly cleared the Republican field last summer, setting up a rematch against Representative Cindy Axne.
But look here: Young only managed 70 percent of the GOP primary vote against Bill Schafer, who had raised less than $21,000 and spent less than $15,000 on his campaign as of mid-May.
That suggests to me that many rank and file Republicans aren't wild about the Young comeback. Presumably few of them would vote for Axne in November, but some may vote for Libertarian Bryan Jack Holder or leave the IA-03 ballot line blank.
For months, I have seen this race as a toss-up, which is where Inside Elections and the Cook Political Report have it. I am coming around to the view that Sabato's Crystal Ball may be right to call IA-03 "lean Democratic."
President Donald Trump isn't improving his standing among suburban voters nationally, and voters in the suburbs of Des Moines will decide this race, as they did in 2018. Democrats have also extended their registration advantage in the sixteen IA-03 counties, which now contain an estimated 189,315 active registered Democrats, 174,096 Republicans, and 156,225 no-party voters.
This campaign was the most expensive of Iowa's four U.S. House races in 2018, and I expect the same to be true this fall. As of mid-May, Axne had more cash on hand (about $2.6 million) than Young (a little more than $1 million). Outside groups will spend millions in the coming months, which will help compensate for Young's financial disadvantage.
IA-02
History doesn't repeat itself, but it often rhymes, some famous person supposedly said. It's certainly true in Iowa's second district. Mariannette Miller-Meeks will be the GOP candidate for the fourth time, winning the nomination in circumstances similar to her victory ten years ago.
Miller-Meeks prevailed in the four-way 2010 GOP primary with about 51 percent of the vote. Hilariously, the candidate endorsed by the National Republican Congressional Committee finished dead last.
This cycle, Miller-Meeks faced four other GOP contenders and secured just under 48 percent of the vote. Bobby Schilling gained 36.5 percent, and the other three (Steven Everly, Rick Phillips, and Tim Borchardt) each received close to 5 percent.
Miller-Meeks gained many establishment endorsements and the NRCC's confidence early. Nevertheless, she faced attacks from Schilling and some social conservatives, who claimed she was "pro-choice" instead of "pro-life." Republicans have made that charge before. Yet again, it didn't stick.
Inside Elections sees IA-02 as a "tilt Democratic" seat, while Sabato's Crystal Ball and Cook Political both say toss-up. Yes, I know the district's voters narrowly favored Trump in 2016. But his vote share was below 50 percent, and Fred Hubbell carried the 24 counties in the 2018 governor's race. The latest official figures show 178,367 registered Democrats, 148,564 Republicans, and 162,572 no-party voters live in this part of the state.
For reasons discussed in more detail here, I am skeptical Miller-Meeks can beat Democratic nominee Rita Hart, an excellent fit for southeast Iowa. The Republican had to spend a large share of what she's raised during the primary campaign, leaving only about a third of the roughly $1 million cash on hand Hart reported last month.
I don't expect nearly as much outside spending in this race as in the first and third districts, so conservative super-PACs are less likely to pick up the slack for Miller-Meeks.
IA-01
The dynamic of this primary was much like the third district. State Representative Ashley Hinson was the GOP establishment's preferred candidate from the start and had no competition from any Republican of stature. She won the nomination with 78 percent of the vote, which sounds impressive until you realize Thomas Hansen gained about 22 percent after raising and spending less than $6,000. I don't know what to think about that.
Elizabeth Meyer reported recently for Iowa Starting Line that Hinson has tried to put some distance between herself and Trump, while Hansen portrayed himself as an "avid supporter" of the president. Perhaps some GOP voters wanted to send a message.
Most Northeast Iowa counties experienced enormous swings toward Trump and down-ballot Republicans in 2016, but Hinson's rhetoric suggests to me that internal GOP polling shows weakness for the president. Moreover, I believe Joe Biden at the top of the ticket will boost Representative Abby Finkenauer's re-election prospects. While Hinson is a strong challenger in many ways, I am less inclined now than I was a few months ago to believe IA-01 is a toss-up race.
For what it's worth, Inside Elections is calling this district "tilt Democratic." It's still a toss-up for Cook Political and Sabato's Crystal Ball.
Finkenauer greatly outspent GOP incumbent Rod Blum last cycle and reported more than $2.2 million cash on hand last month. Hinson had about $1 million on hand. That's impressive for a challenger, but she is unlikely to keep pace with Finkenauer on the fundraising front this summer and fall. She can count on air support from Republican-aligned groups like Americas PAC, which has already spent more than $225,000 attacking the incumbent.
The latest official voter registration numbers for the 20 counties in IA-01 are uncannily close to the totals for the second district: 178,638 active Democrats, 148,554 Republicans, and 166,507 no-party voters.
Final note: Iowa was long known as inhospitable territory for women candidates. Our state had never elected a woman to Congress before Ernst won in 2014 and had sent only men to the U.S. House before Finkenauer and Axne won in 2018. Now we are guaranteed to elect women to represent the state in the Senate, IA-01, and IA-02. If Axne wins a second term, women will hold three of the state's four Congressional districts. If you'd told me a few years ago this would happen, I would never have believed you.