Remember how awful you felt on November 9, 2016, as you started to grasp what we were up against following the most devastating Iowa election in decades?
Would you believe the results could have been even worse?
Imagine Governor Terry Branstad appointing three right-wingers to the Iowa Supreme Court. It could have happened if conservative groups had targeted Chief Justice Mark Cady, Justice Brent Appel, and Justice Daryl Hecht with the resources and fervor they had applied against three justices in 2010.

A COMFORTABLE MARGIN OF VICTORY
Iowans voted overwhelmingly to retain all the judges on the ballot in 2016. Each Supreme Court justice received nearly two-thirds of the statewide vote.
Iowa Supreme Court 2016 retention election results
Brent Appel
Mark Cady
Daryl Hecht
yes votes
695,801
705,403
688,680
no votes
385,305
374,909
385,981
yes percent
64.4
65.3
64.1
The previous time those justices were on the ballot, before anyone had thought to politicize an Iowa Supreme Court retention election, even larger percentages of voters marked their ballots "yes."
Iowa Supreme Court 2008 retention election results
Brent Appel
Mark Cady
Daryl Hecht
yes votes
687,577
693,233
678,321
no votes
262,212
256,817
266,913
yes percent
72.4
73.0
71.8
Note that the number of votes for retaining Appel, Cady, and Hecht increased only slightly from 2008 to 2016. In contrast, the number of "no" votes on each justice grew by more than 100,000.
The trend is striking because last year, opponents dedicated almost no resources to unseating the justices, whereas progressive organizations spent six figures on a campaign to support them.
A MUTED CASE AGAINST THE JUSTICES
For more than four decades after Iowa adopted a merit selection system for judges in 1962, our retention elections were low-key affairs. No Iowa Supreme Court justice had failed to win a retention vote before 2010, when social conservatives leveraged resentment over the previous year's Varnum v Brien ruling on marriage to oust Chief Justice Marsha Ternus, Justice Michael Streit, and Justice David Baker.
Bob Vander Plaats was the front man for the campaign. Out of state groups contributed at least $1 million to cover about six weeks of statewide television commercials, as well as radio advertising, a bus tour, robocalls, online advertising, and other tactics to persuade Iowans to vote no on Ternus, Streit, and Baker. You can view all the 2010 independent expenditure reports here. Spending on text messages alone totaled $150,000.
Vander Plaats led a similar campaign in 2012 against retaining Justice David Wiggins, who had joined the Varnum opinion. The "No Wiggins" campaign was on a smaller scale, but still involved several hundred thousand dollars for two statewide television commercials, radio ads, another bus tour, web advertising, fliers, and yard signs. You can view the 2012 independent expenditure reports here.
The No Wiggins campaign fell short, partly because Iowans were growing more comfortable with marriage equality, and partly because the larger presidential-year electorate did not skew as Republican as those who voted in 2010.
So when the three remaining justices who had concurred in the Varnum ruling came up for retention last year, social conservatives conceded without a fight. Two months before election day, the National Organization for Marriage confirmed it did not plan to intervene in Iowa. Vander Plaats focused his advocacy on other issues.
Nominally, some groups were on record opposing retention. The FAMiLY Leader, led by Vander Plaats, shared its official statement on Facebook in early October.
The judicial retention vote is a key check and balance the people of Iowa have against judicial overreach. And while The FAMiLY LEADER will not be devoting the extensive staff time and resources required to conduct a judicial vote campaign this year, we encourage Iowans to vote against retaining those judges who have used their office for political activism. In this year's election, for example, Iowa Supreme Court Justices Brent Appel, Mark Cady, and Daryl Hecht are up for retention – three judges who voted to foist same-sex "marriage" on Iowa and to overrule physicians on the state Board of Medicine to allow "telemed" abortions, which don't even require a doctor be present. We encourage Iowans to turn the ballot over and vote "no" on Iowa Supreme Court Justices Appel, Cady, and Hecht in November.
Iowa Right to Life issued a press release opposing the justices because, "When given the chance to protect women and unborn children in 2015, the Iowa Supreme Court ignored the medical expertise of the Iowa Board of Medicine. Rather, they stood with Planned Parenthood of the Heartland, Iowa's largest abortion chain."
However, the anti-choice group didn't put much political muscle behind dumping the justices who had struck down a ban on using telemedicine for abortion services. When I scrolled through Iowa Right to Life's Facebook page last fall, I found only one post about the retention vote, from several weeks before election day.
Disclosure forms show no organizations made independent expenditures in 2016 to press the case against Cady, Appel, and Hecht.
Meanwhile, supporters of the justices took no chances. Justice Not Politics, uniting many non-profit groups, attorneys, and progressive individuals, commissioned a statewide poll to test messages for and against retention. The coalition then spent nearly $90,000 on direct mail and conducted an extensive social media advertising campaign, with allies such as the Iowa Federation of Labor helping to spread the word.
The Iowa State Bar Association created a "Judicial Facts" website to support the merit selection system and spent thousands of dollars on social media, yard signs, and radio ads advocating yes votes on all judges.
This Bleeding Heartland post covered themes of last year's pro-retention advertising. The bar association distributed these yard signs around the state.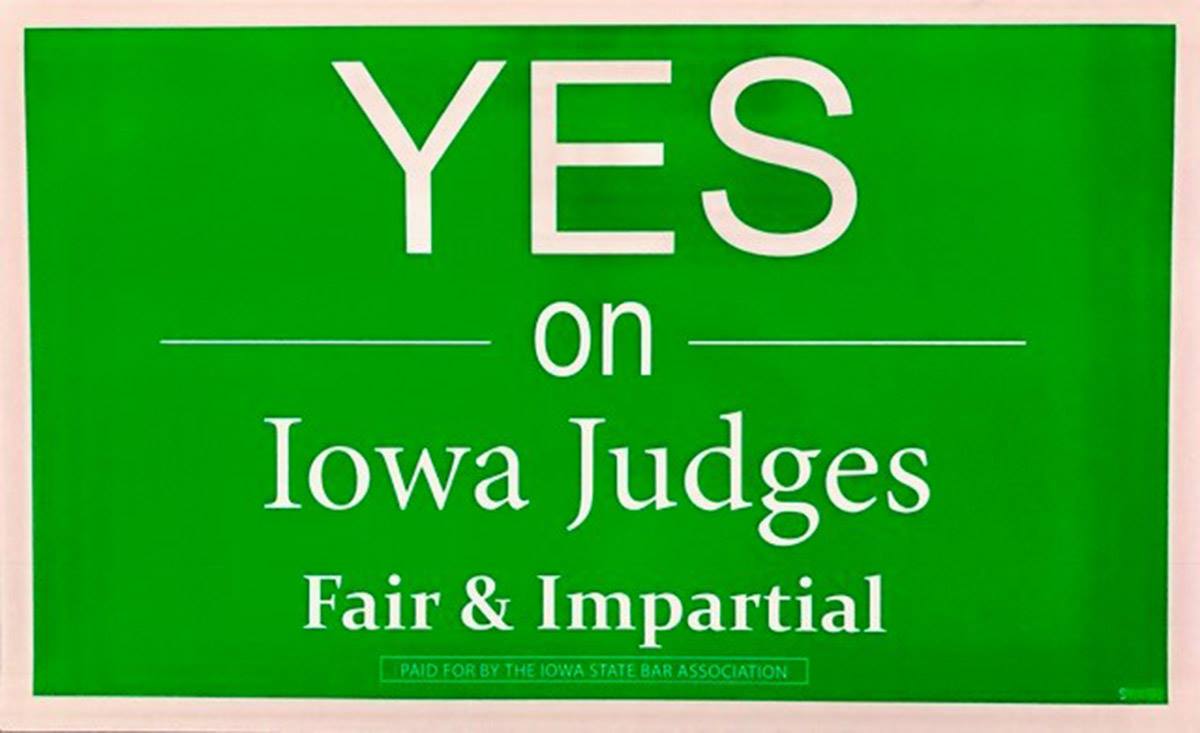 I saw no mass-produced anti-retention yard signs in 2016, just some hand-made ones that appeared to come from the religious political advocacy group Common Sense Iowa. If you look closely, you can tell someone painted over a "No Wiggins" sign from 2012 to make this statement: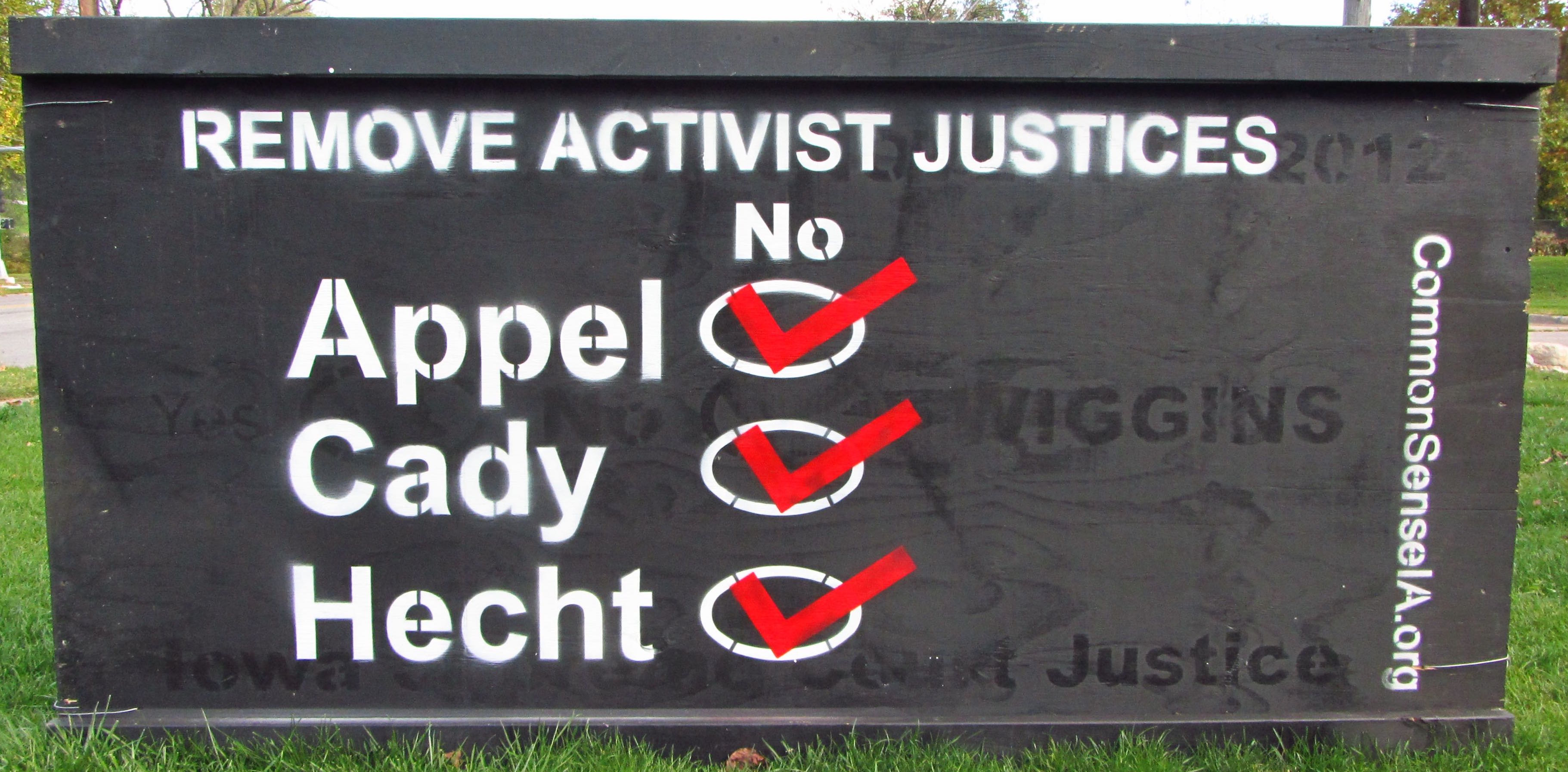 ANOTHER LOOK AT THE 2010 AND 2012 RETENTION VOTES
Although the campaign against Ternus, Streit, and Baker and the "No Wiggins" drive two years later had opposite outcomes, Iowa's contested retention elections had one thing in common.
Both times conservatives went after Supreme Court justices, the retention results were correlated with the top-tier statewide race.
Democratic Governor Chet Culver received about 42.9 percent of the vote as he lost his 2010 re-election bid to Terry Branstad. The percentage of yes votes on each justice was two to three points higher.
Iowa Supreme Court 2010 retention election results
David Baker
Michael Streit
Marsha Ternus
yes votes
451,359
448,758
443,451
no votes
532,805
534,902
541,565
yes percent
45.9
45.6
45.0
County maps from that year show that in general, the strongholds for Culver overlapped with those where voters supported retaining the justices.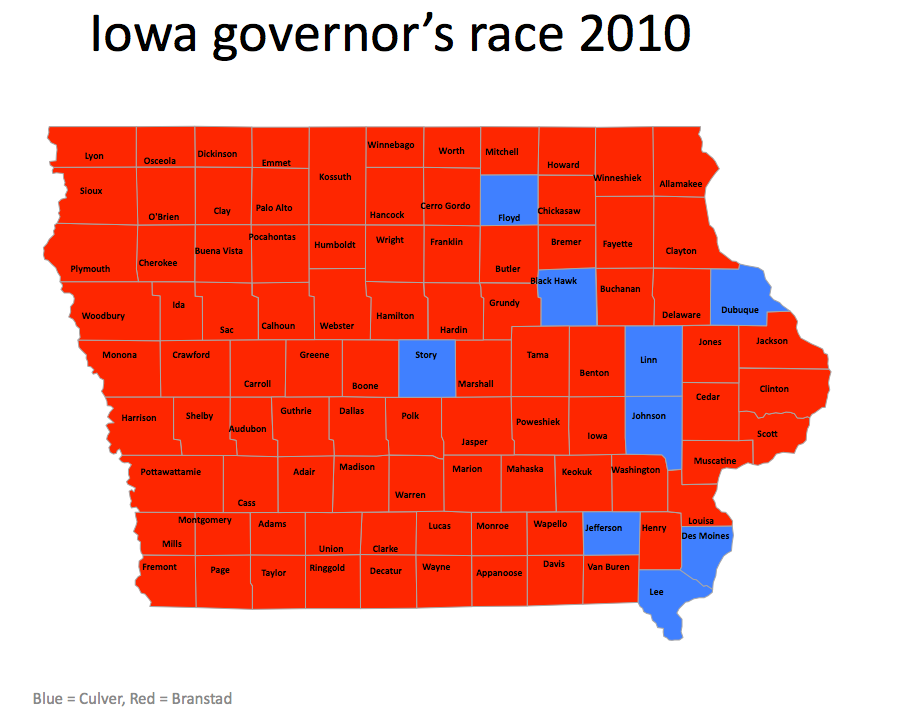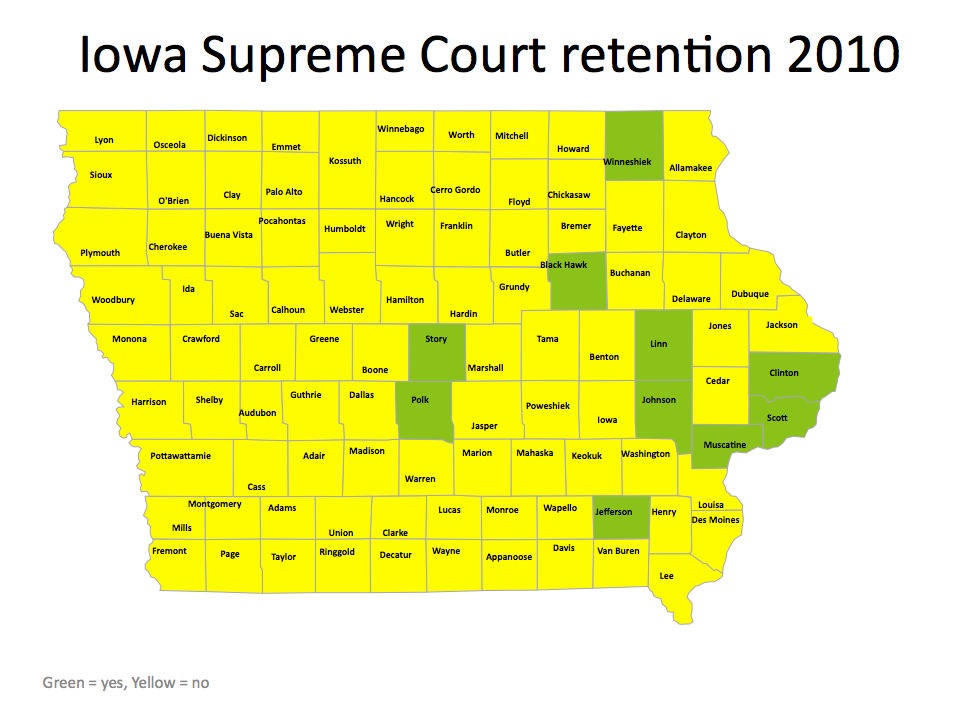 Now consider the retention voting in 2012. Not surprisingly, the three justices whom Branstad had appointed in 2011 to replace Ternus, Streit, and Baker received many more yes votes than Wiggins, the subject of negative advertising in many formats.
Nearly three-quarters of voters who filled out that part of the ballot supported Justices Edward Mansfield, Thomas Waterman, and Bruce Zager, a "normal" result for an Iowa retention election. (As mentioned above, Cady, Appel, and Hecht had exceeded 70 percent in 2008, when no one spent money giving voters a reason to oppose them.)
President Barack Obama received 52.0 percent of the statewide vote. Wiggins did two and a half points better than that among those who marked the ballot on the justices.
Iowa Supreme Court 2012 retention election results
Edward Mansfield
Thomas Waterman
Bruce Zager
David Wiggins
yes votes
839,157
846,993
829,934
680,284
no votes
290,511
286,050
289,902
567,024
yes percent
74.3
74.8
74.1
54.5
Again, county maps show a correlation between areas that voted for the top of the Democratic ticket and for retaining a Supreme Court justice demonized by conservatives.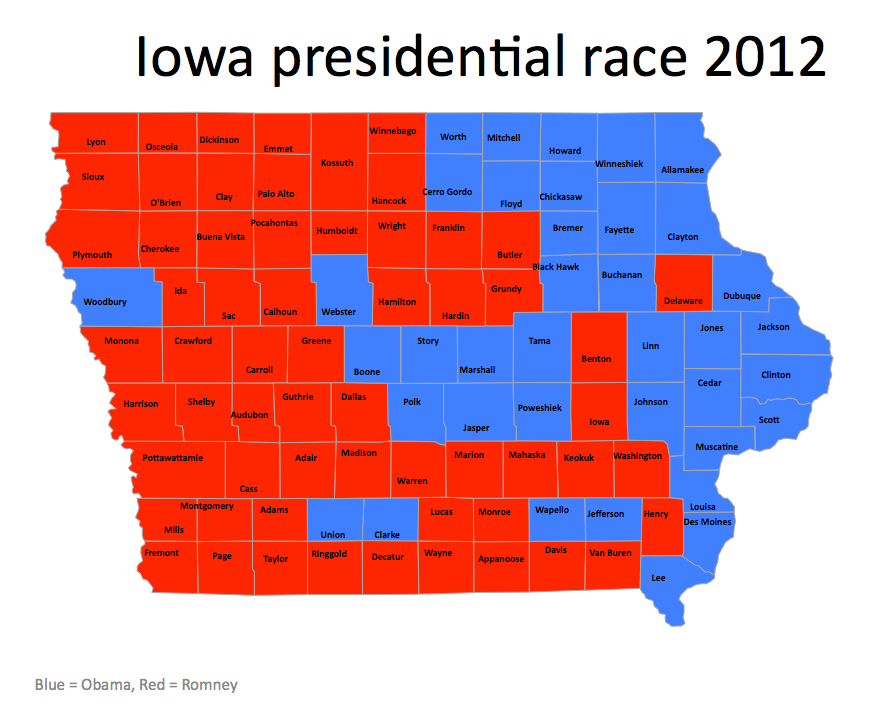 THE 2016 MISMATCH
Many Iowa politics-watchers expected Hillary Clinton to lose the state last year, but the scale of her defeat was remarkable. She carried only six of the 99 counties.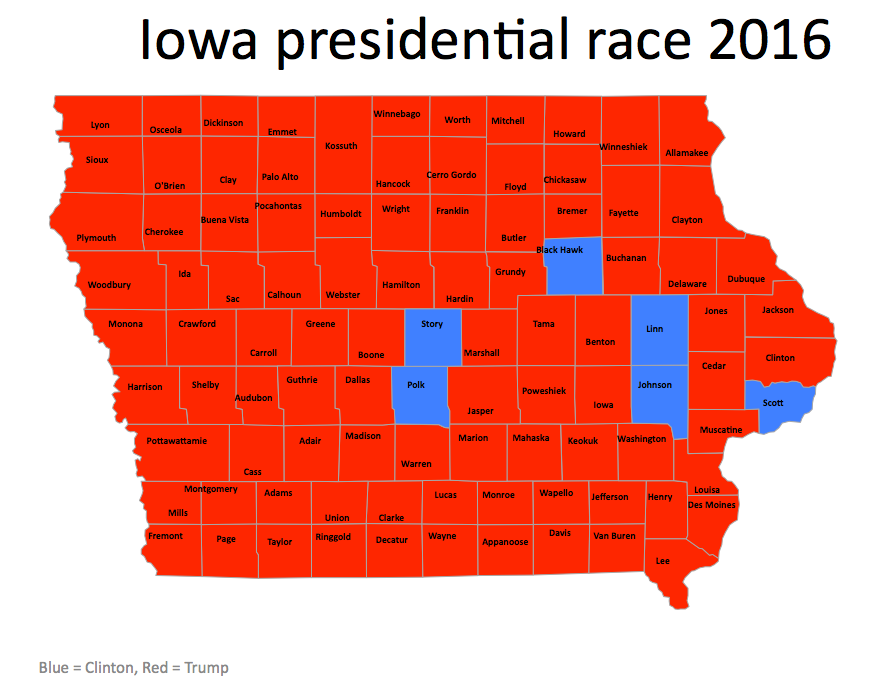 Here's a more nuanced map, with the deeper blue or red/brown indicating larger shares of the vote for Clinton or Donald Trump.
Yet in all but seven counties, majorities who "turned the ballot over" voted to retain Cady, Appel, and Hecht.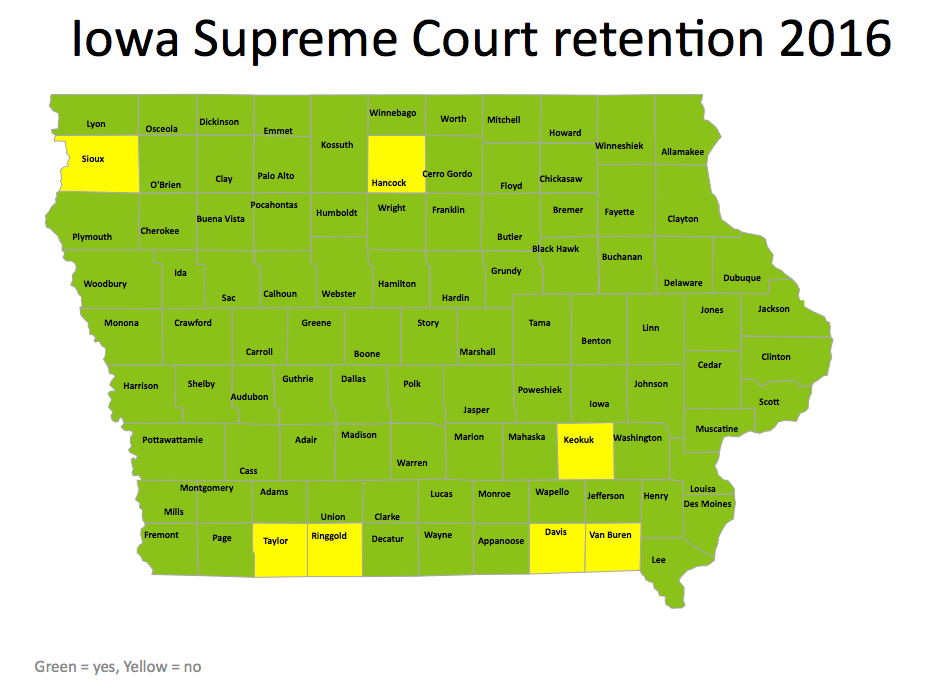 The percentage of yes votes for each justice surpassed the statewide share of the vote for Clinton (41.7 percent) by more than 20 points. If the retention vote had tracked closely to the top of the Democratic ticket, as in 2010 and 2012, Branstad would have had three Supreme Court vacancies to fill, with mostly Republicans serving on the Judicial Nominating Commission (charged with sending the governor a short list of candidates for the high court).
Could a well-funded campaign against the justices have tapped into the anti-establishment sentiment that dislodged Iowa from bellwether status and gave Trump a bigger win here than in Texas?
I think so.
BUILDING A CASE AGAINST THE JUSTICES
Repeating stale lines about "political" judges "imposing same-sex marriage on Iowa" would have been a non-starter in 2016. With each passing year, Americans become more accepting of marriage equality. Anyway, the U.S. Supreme Court had cleared the way for LGBT couples to marry in all 50 states during the summer of 2015.
Nor could conservatives have resurrected a major theme of the "No Wiggins" commercials: a 63 percent rating from the Iowa State Bar Association, which made Wiggins "the worst-rated Supreme Court judge in 50 years." The bar association ratings for Appel, Cady, and Hecht were 82 percent, 91 percent, and 88 percent, respectively.
I believe a successful anti-retention strategy would have required two prongs: emotional appeals to turn some voters against the justices, and steps to inform likely sympathizers of the opportunity to "hold activist judges accountable."
Persuasion
Justice Not Politics declined to release full results from their survey, but several respondents told me what they could recall about the questionnaire. Promoted social media posts provided clues on what themes scored well, as did other commentaries, like this letter to the editor by Justice Not Politics chair Connie Ryan. Excerpt:
Chief Justice Mark Cady, Justice Brent Appel and Justice Darryl [sic] Hecht are highly qualified and bring their respected judicial experience to the Supreme Court. The poll results are a reflection of Iowa's commitment to fair and impartial courts and a recognition that our judiciary should never be part of the partisan political arena.

The Iowa Supreme Court has done great work to bring families together and ensure all Iowans have equal rights. Iowa's judges are committed to the rule of law and the state's constitution.
The survey tested several arguments against retaining the justices, stemming from high-profile rulings on marriage equality, telemedicine abortion, allowing more Iowans with felony convictions to vote, and establishing the possibility of parole for prisoners who committed murder as juveniles.
The three justices approached all of those legal questions the same way, except for the felon voting case, in which Appel and Hecht dissented from a majority decision Cady authored.
According to Justice Not Politics vice chair Andrew Mertens, the survey indicated that the top anti-retention messages were much less effective with voters than pro-retention messages, such as highlighting the success of family treatment courts; describing how courts have helped victims of human trafficking, preserved access to health care, and provided for marriage equality; and promoting the idea that groups should not be able to force their religious beliefs on the judiciary.
Those poll findings are encouraging. At the same time, I suspect a survey question implying a judge is soft on crime wouldn't pack the same punch as a television commercial featuring people whose loved ones were brutally murdered by teenagers. Even though the juvenile sentencing rulings in question did not guarantee any prisoner's release, some voters would react viscerally if they learned that Appel, Cady, and Hecht gave any chance for parole to monsters who shot and stabbed a young mother on a country road or gunned down two managers at the Drake Diner.
Iowa Secretary of State Paul Pate went on a demagoguery road show in April 2016, soon after the Supreme Court had heard oral arguments in Griffin v. Pate, the felon voting case for which he was a defendant. In numerous newspaper columns, radio interviews, and speeches to Republican audiences, he denounced those who asked "unelected judges" to "ignore the Iowa Constitution" by letting child molesters, rapists, and murderers vote.
Pate's outrageous comments about a pending court ruling sounded like a warning to me. The first anti-retention tv ad from 2010 would barely need to be adapted to attack "Liberal, out-of-control judges ignoring our traditional values and legislating from the bench, imposing their own values on Iowa." Just replace "If they can usurp the will of voters and redefine marriage" with some phrase about allowing rapists and murderers to vote.
The opening line from the second ad against the justices in 2010 sounds like it would appeal to Trump voters: "Some in the ruling class say it's wrong for voters to hold Supreme Court judges accountable for their decisions." One of the "No Wiggins" commercials from 2012 echoed that anti-establishment message: "The elites are saying Iowans don't get it. We do get it. It's we the people, not we the courts. [...] Turn your ballot over and vote no [...]"
Granted, Cady reduced the potency of the felon voting issue when he upheld Iowa's broad lifetime ban about four months before the 2016 election. Nevertheless, the Appel and Hecht dissents in that case and a relevant 2014 ruling by Cady could have reinforced a narrative that all three long-serving justices were too sympathetic to convicted criminals.
Mobilization
It's an eternal debate among campaign hacks: how much time and money should you invest to convince voters who may be on the fence about your race, and how much to identify and turn out people who already agree with you?
Much of the Justice Not Politics spending was geared toward mobilizing supporters. Few admirers of Vander Plaats would have received the direct mail or seen many pro-retention ads in their Facebook feeds.
If anti-retention forces had done more outreach to Iowans who seemed inclined to view the high court negatively, they surely could have inspired more voters to "turn the ballot over."
Last fall, Justice Not Politics released a short public memo on the Lake Research Partners survey of 600 "likely voters" in early September. The pollsters found, "While awareness of the retention elections is low, those voters who are most aware and certain to vote support the Justices in even greater numbers."
• Fully 41% of Iowa voters support retaining the three Justices, just 16% are opposed, and the remaining number are undecided or decline to state a position. Not only do supporters outnumber opponents by more than 2.5-to-1, but intensity of support bests intensity of opposition as well (27% of voters are strong supporters of retention, while just 10% are strong opponents).

• Awareness of the judicial retention elections is typically low at just 46%, and while 57% of voters say there are almost certain to vote in these elections, a substantial minority of voters acknowledges that their likelihood is something less than that: 23% say they will probably vote, 8% say their chances are 50-50, and the remaining number say they will either probably (7%) or definitely (2%) not participate.

• Among those who are almost certain to vote in the judicial retention elections, support for the Justices is even higher, with 48% saying they will vote to retain, 19% opposing retention, and 31% undecided.
So, two months before the presidential election, less than half the likely voters in this sample knew three justices would be on the ballot. And by the time Justice Not Politics released this memo in mid-October, it was too late for opposition forces to put together a real campaign against retaining Appel, Cady, and Hecht.
The last four Iowa Supreme Court retention elections suggest that as more voters participate, the "no" vote increases.
The total number of ballots marked either for or against retaining the justices in 2008 ranged from 945,234 votes on Hecht to 949,789 on Appel and 950,050 on Cady. That means about 61 percent of the 1,543,662 Iowans who cast a ballot for president in 2008 bothered to make their preference known on the Supreme Court. As noted near the top of this post, the justices were all retained with more than 70 percent "yes" votes.
The 2010 retention elections were much more salient, due to extensive advertising on many platforms and quite a bit of "earned media" news coverage. Of the 1,133,430 Iowans who turned out for that midterm election, nearly 87 percent marked their ballots for or against the Supreme Court justices (983,660 voted on Streit, 984,164 on Baker, and 985,016 on Ternus). Only about 45 percent of them voted yes.
Two years later, the "No Wiggins" campaign wasn't as prevalent in newscasts or paid commercials, but it received quite a bit of attention. The results: 1,247,308 Iowans voted either for or against retaining Wiggins, about 78 percent of the 1,589,899 who cast a ballot for president. He made it over the line, but not by much: 54.5 percent yes.
Without Vander Plaats, Representative Steve King, or other social conservative luminaries making a big deal out of last year's retention elections, the share of voters filling out the whole ballot declined again. About 70 percent of the 1,543,662 Iowans who showed up to vote for president in 2016 marked yes or no on the Supreme Court justices (1,074,661 ballots marked for or against Hecht, 1,080,312 on Cady, 1,081,106 on Appel). Some 64 or 65 percent of them supported retaining all three judges.
FINAL THOUGHTS
When the National Organization for Marriage and Vander Plaats backed off from engaging in last year's judicial retention votes, I thought they were wise to avoid taking on a nearly impossible task.
With hindsight, I feel they missed an opportunity.
Even without any substantial paid media campaign by conservative groups, the votes against retaining Appel, Cady, and Hecht vastly exceeded the opposition recorded in 2008.
Correlation is not causation, but the numbers indicate that when more Iowans become aware of retention elections after hearing a case against Supreme Court justices, the share of "no" votes increases. In the sea of Iowa's red counties, surely there were hundreds of thousands of Trump voters who might have been receptive to anti-retention ads if they'd heard them on conservative talk radio or seen them on Fox News.
Moreover, micro-targeting techniques improved between 2010 and 2016, creating the potential for advocates to get more bang for their bucks spent on social media, web ads, or text messaging. Bringing the Supreme Court retention turnout up to at least the 2012 level (when about 175,000 more Iowans voted on Wiggins than on Cady, Appel, and Hecht in 2016) seems doable.
Add an emotionally charged persuasion campaign to the mix, to peel away some Iowans who were going to turn the ballot over anyway, and those 300,000-plus margins for the justices don't look insurmountable by any means.
None of Iowa's Supreme Court justices will be on the ballot next year. Wiggins and the three Branstad appointees from 2011 will be up for retention in 2020, if they do not retire.
But conservatives will never get another chance to take out Appel, Cady, and Hecht. All will be nearing the mandatory retirement age of 72 by the time they are up for retention again in 2024.
Top image: A "No Wiggins" sign from 2012, painted over to oppose the retention of three Iowa Supreme Court justices in 2016 and displayed in a yard along University Avenue in Des Moines.