Elizabeth Marilla is a mental health worker, writer, picture taker, hiker, and mom living in rural southeast Iowa. Connect with her on instagram @iowa.underfoot. -promoted by Laura Belin
I was born and raised in Iowa, but moved away at 18 without having learned much of anything about the natural history of Iowa, the history of Euroamerican settler colonialism in Iowa, the history and modern day presence of Indigenous/Native communities in Iowa, many members of whom are among the most passionate protectors of Iowa's natural resources. Remember, for example, the Meskwaki Nation's early leadership fighting the portion of the Dakota Access Pipeline running through Iowa, long before broad public attention was drawn to the project.
While hiking this spring I noticed that many parks and preserves are named for or include plaques honoring the mostly white landowners who either sold or gifted the land to the public or the trust, but most feature no education about who was here before that. The Johnson County Conservation board has recently expressed willingness to initiate a project to support learning and unlearning around Iowa history at the sites they manage and on their website, which I hope will center Indigenous voices.
Many of the southeast Iowa sites pictured below are located on lands held by the Meskwaki and Sauk Nations at the time of Euroamerican colonial settlement, as is my own home. One very small way to initiate some learning might be to cross-reference your own map with this one, created by the Historic Indian Location Database project, when visiting Iowa parks and preserves.

I moved back a few years ago—still harboring a reductive impression of Iowa's histories, underestimating and misunderstanding basically everything. I now live in rural Iowa and have a young daughter who wants to know about the natural world, a girl who waves to turkey vultures and is fascinated by sprayers and harvesters like I was by the garbage truck as a "city" kid.
This kid has given me a new chance to learn, alongside her. The learning has mostly happened through looking around, taking pictures, and Googling things. But the first book that helped me realize exactly what Iowa's landscape was like before industrial agriculture, was Cornelia Mutel's The Emerald Horizon. I'd like now to recommend it to absolutely everyone living in this state—though I warn you it might break your heart a bit.
My daughter has been out of daycare for several months, without the friendship of other toddlers to absorb her energy. And so, every minute I am not at work, we are outside. Below are some ideas about where to see wildflowers in southeast Iowa, if you are learning and unlearning too, either on your own or alongside a young person. Wildflowers are, for many of us, a first invitation to think about ecology, and therefore about history. This is, of course, no exhaustive list, just a list of some places I happened to hike with my toddler.
She is not totally potty trained, but she knows a Mayapple when she sees one, and she certainly spots many more mushrooms than I do.
This post is about wildflowers, but these are also great places to see pelicans, map turtles, dragonflies, beavers, and your neighbors. All of whom need our care and collaboration. If you visit: please practice social distancing, wear a mask when near others, and do not put people in nearby towns and cities at risk.
As a person who takes pictures, sometimes of vulnerable plants and animals, I also warmly welcome all to read this recent blog post by Stephen Packard about ethics to anyone else taking pictures outside. He advises, "Don't ask. Don't tell" where to find vulnerable plants and animals.
The park feels more mysterious the farther back you wander. I took the next two photos along the back fence on May 7.
Jacob's Ladder: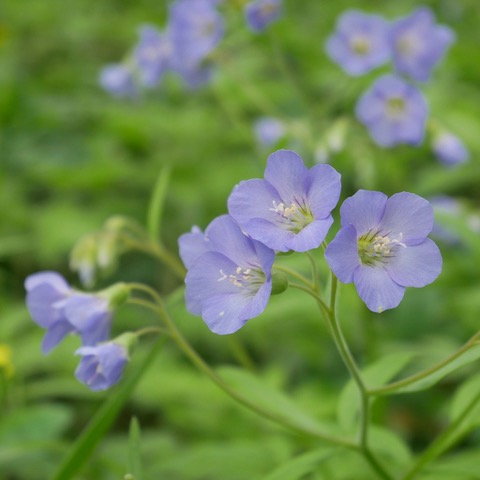 Downy yellow violet with tree frog: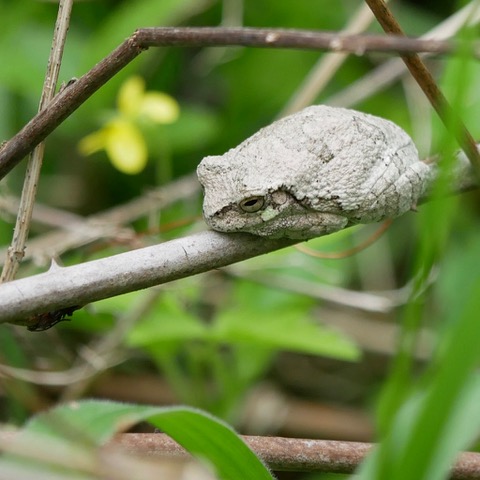 This area has some very special hillsides covered in bluebells, and plenty of of purple cress along the creek.
I took this picture of sweet Cicely on May 3. As I'm learning to tell this plant (also known as hairy sweet Cicely) apart from aniseroot, this photo seemed to capture its true hairiness!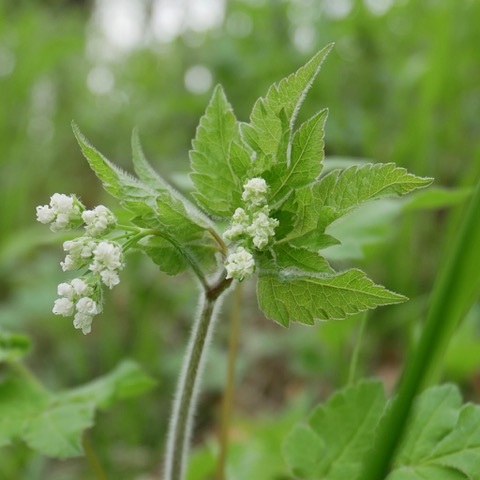 On April 18, the wildflowers were almost overwhelming at Redbird. A frog paradise too!
Loads of trout lily, also known as dogtooth violet: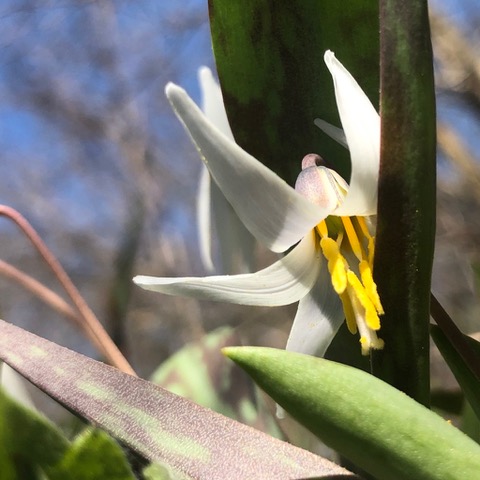 Bloodroot foliage so beautiful, even without blooms: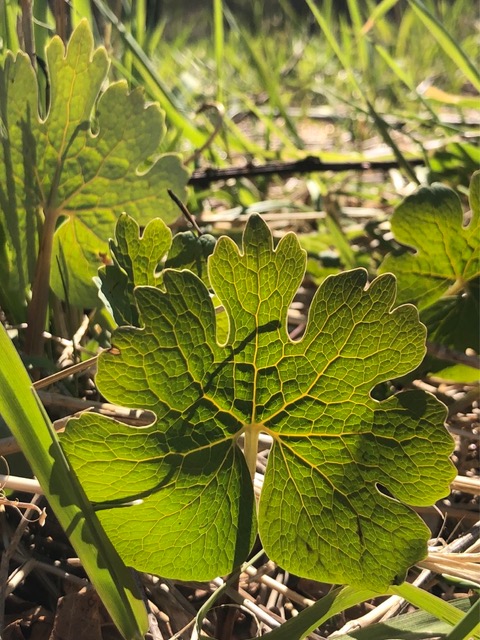 Spring beauty with pollinator: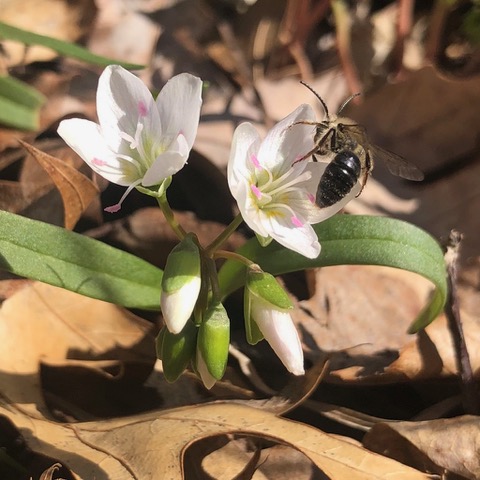 A very special remnant site. While visiting I've chatted with conservationists and with local residents whose loved ones are interred in the cemetery. Both care for and love the site, but not always in ways that align, as you can read about in an article Sam Hooper Samuels wrote for the Iowa DNR's "Iowa Outdoors" magazine in 2009.
I took these photos on May 2. Hoary puccoon: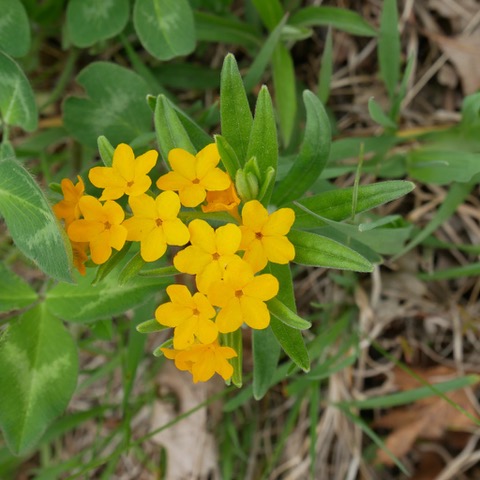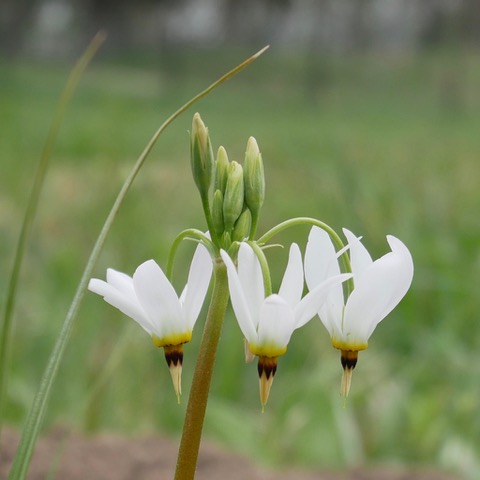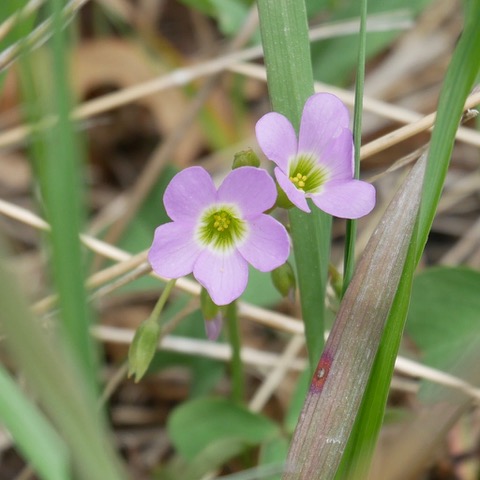 On a May 15 visit, more shooting star: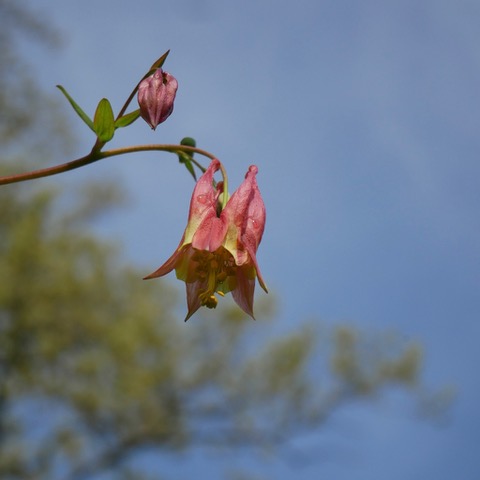 Oak Hickory Woods reminds me of woods in old children's books. Maybe there were two young kids there with two scruffy and incorrigible dogs when we visited.
Blue cohosh on April 16: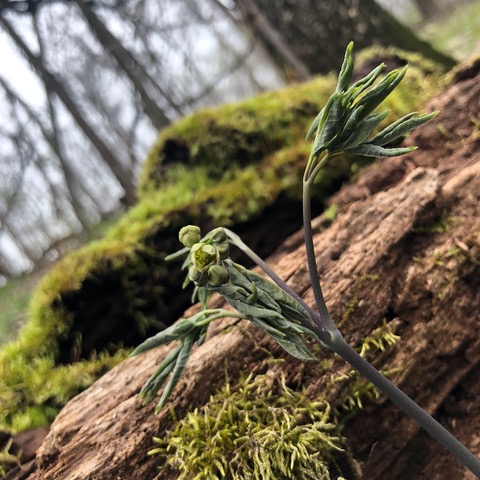 Mayapple on May 10: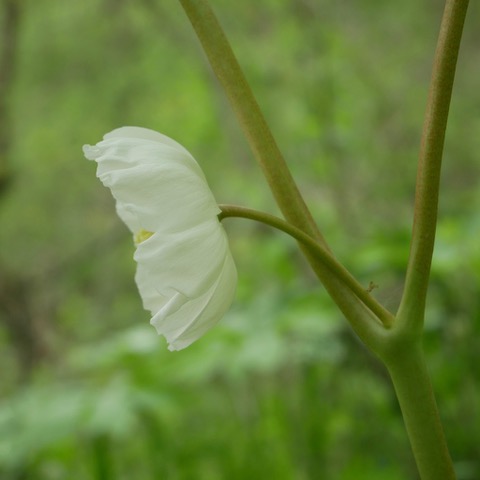 A rare 13-petaled spring beauty on May 12: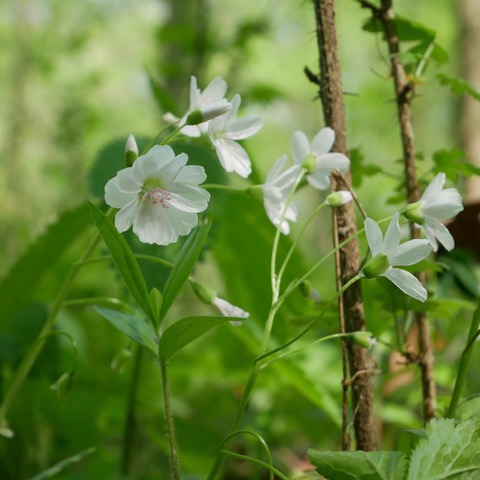 Two views of Canada anemone on May 21: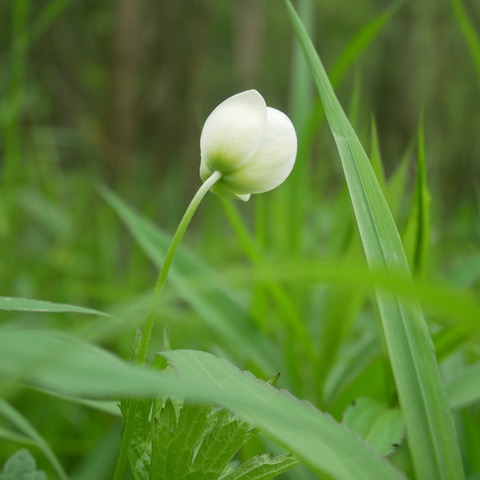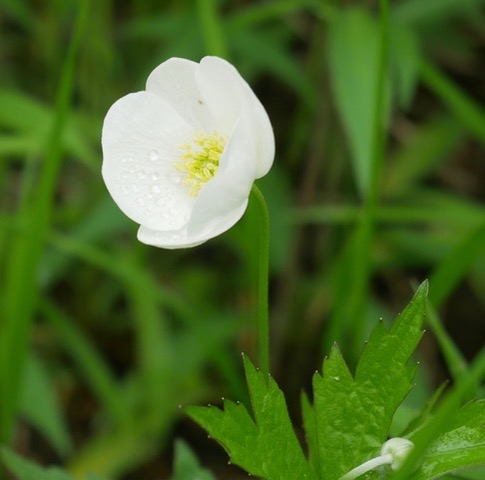 West Rochester Sand Pit
The hillside by the road approaching West Rochester Sand Pit is beautiful and brimming with wildflowers in spring.
Hepatica on April 11: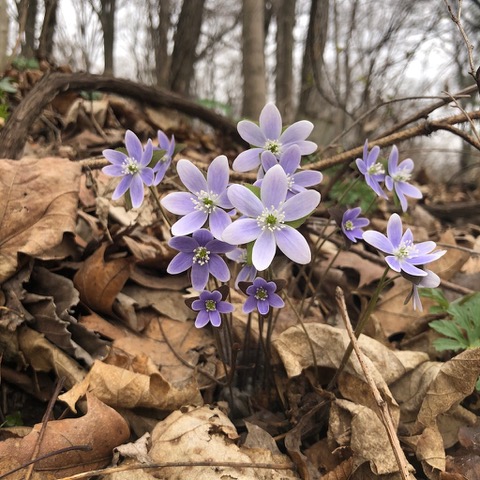 A very pink fleabane on May 15: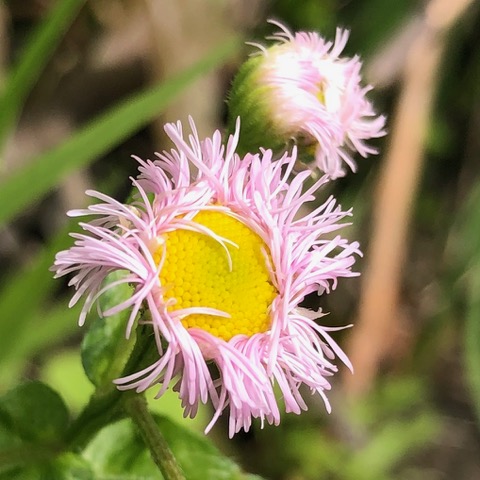 Phlox on May 9: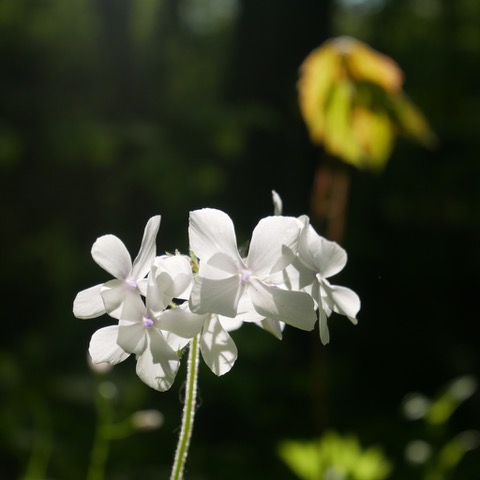 Hepatica seeds the same day: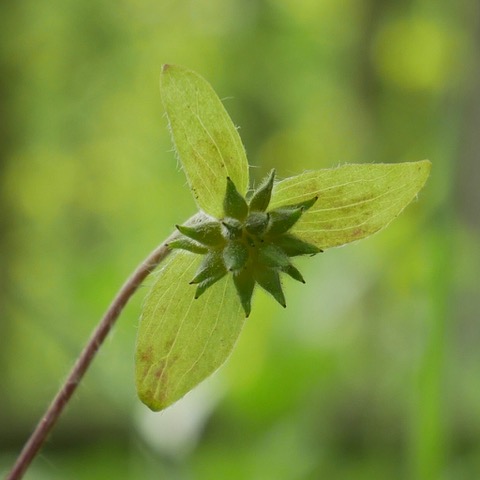 Sedge wren in a prairie on May 16: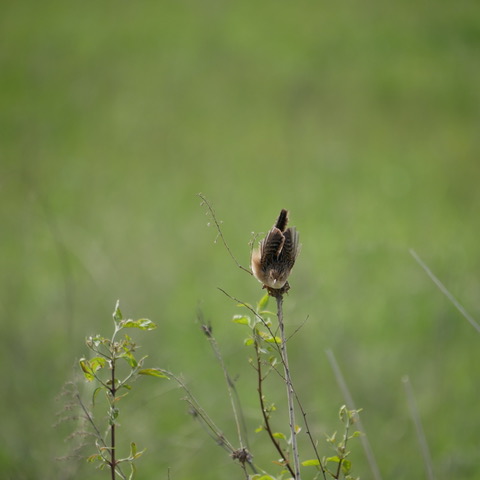 This Middle Woodland-Period cemetery is quite moving to visit.
Great Waterleaf on May 24, lining a steep path up to the mounds: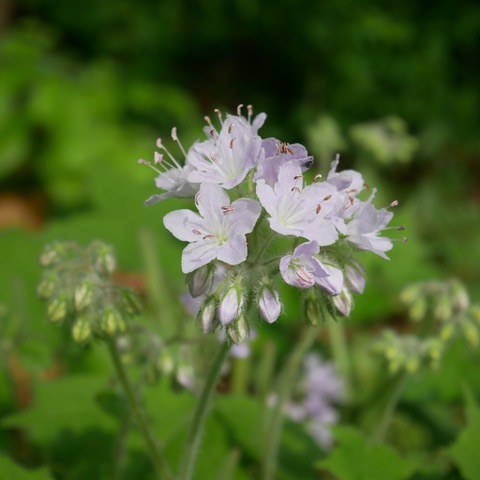 Golden ragwort on May 21: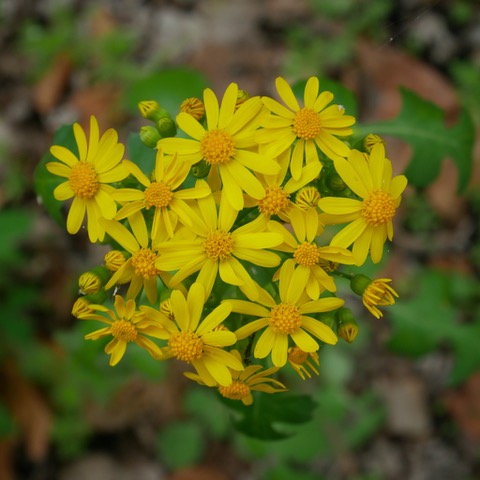 We are less used to such wonderful views northwest of here. Pussytoes at the cliff's edge on April 25: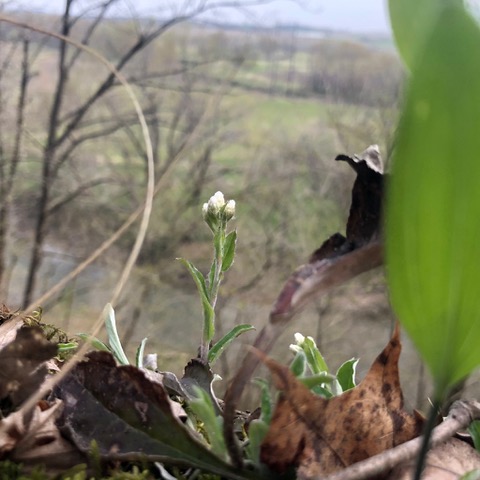 A wonderful creek for rock and frog aficionados, or kids who like to stomp and splash. On our April 19 visit, we found Virginia bluebells and trillium.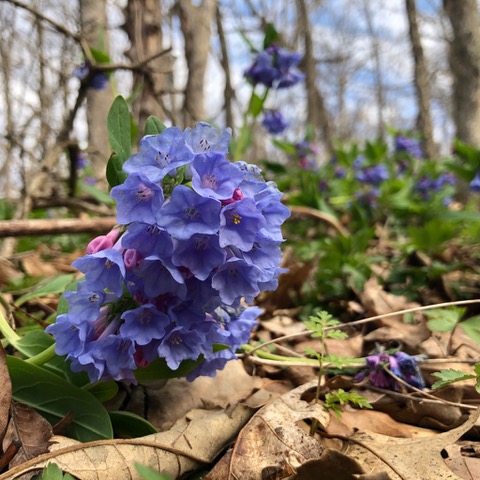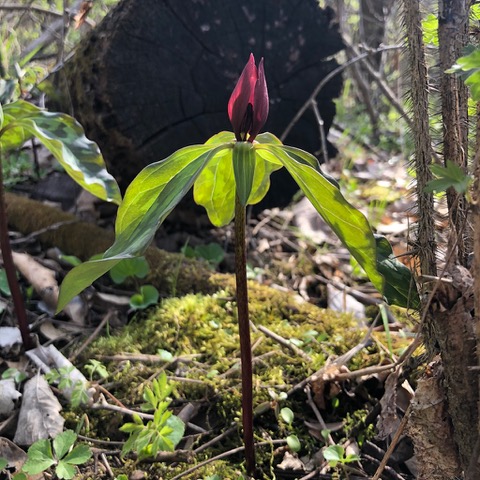 Be prepared to cross a small creek to get to the largest portion of the site. The Bur Oak at the top of the hill (the mountain as my very Iowan daughter calls it) is the perfect spot for a picnic. I always check the pond for waterbirds. Great egret and friends on May Day: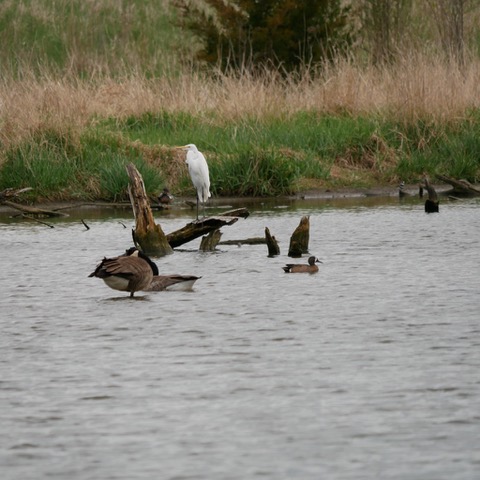 Bursting with golden Alexanders on May 22: