Deb Scharper launched her campaign today in Iowa Senate 26, one of two Obama/Trump state Senate districts where no one filed to run in the June 2 Democratic primary.
While outside the top tier of Democratic pickup opportunities in the upper chamber, this district was decided by a narrow margin in 2012. Scharper's race against first-term State Senator Waylon Brown is also worth watching for clues on whether Republicans, who now hold a 32-18 Senate majority, can maintain their advantage in the part of Iowa that swung most heavily to Donald Trump in 2016.

POLITICAL LANDSCAPE
Senate district 26 covers all of five counties and small areas in two other counties in northern Iowa.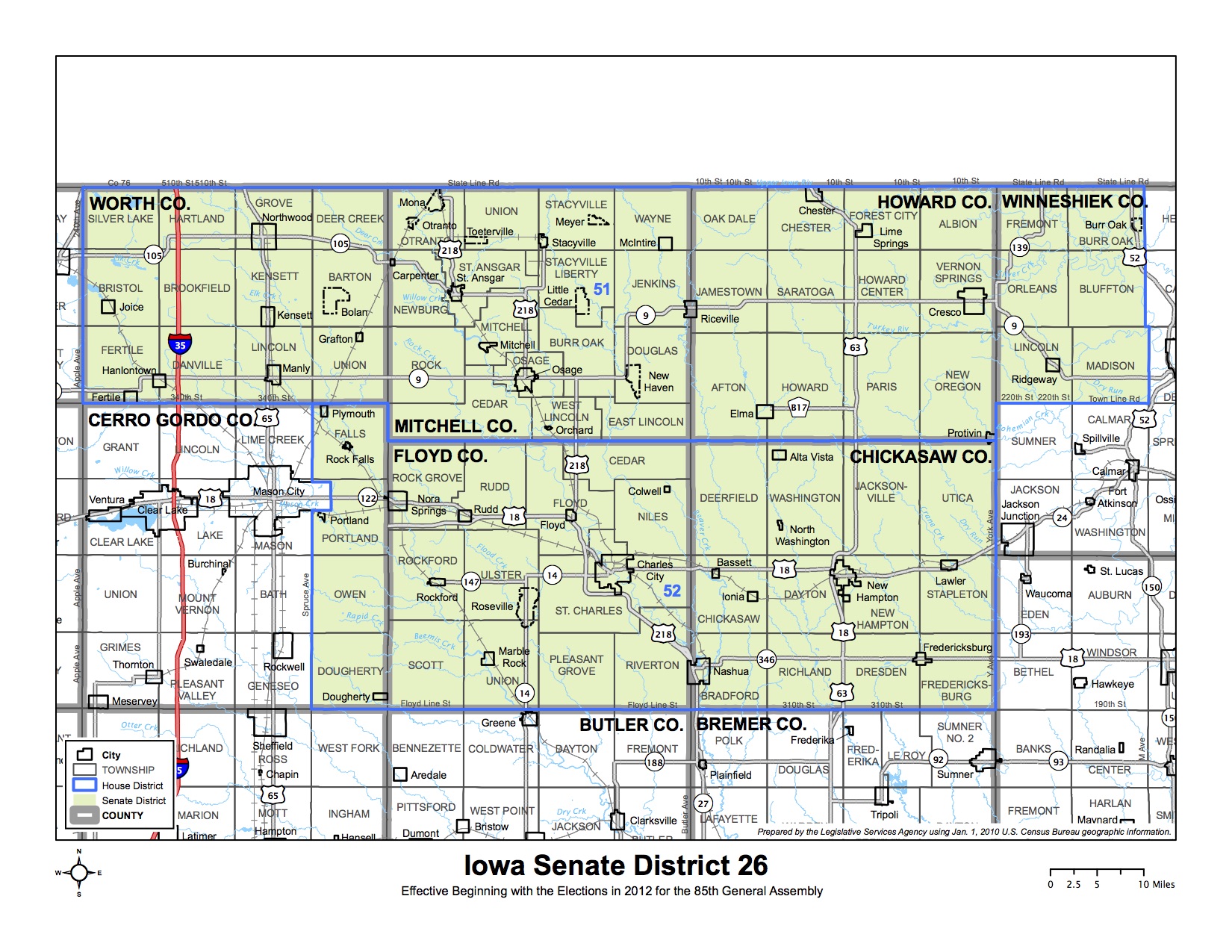 This district has no population center. The largest of its five county seats is Charles City, with around 7,300 residents, followed by Cresco (roughly 3,750), Osage (3,500), New Hampton (3,400), and Northwood (just under 2,000).
Of the Iowa Senate races on the ballot in 2012, this one was decided by the narrowest margin. The new map adopted following the 2010 census threw two incumbents into the same district: Democrat Mary Jo Wilhelm faced Republican Merlin "Build my fence" Bartz. Wilhelm prevailed by 15,530 votes to 15,404 (50.2 percent to 49.8 percent), thereby preserving the 26-24 Democratic Senate majority.
President Barack Obama's coattails surely aided Wilhelm. He carried Senate district 26 by nearly a 4,000-vote margin (55.6 percent to 45.2 percent).
Two of the counties in this district were among the whitest in the country to favor Obama over Mitt Romney. Mitchell County (98 percent non-Hispanic white) topped that list, voting to re-elect the president by a little more than 3 points. Howard County (97 percent non-Hispanic white) was the fifth-whitest to support Obama, by an enormous margin of nearly 21 points.
Howard County gained national fame four years later by becoming the only county in the U.S. "that voted by more than 20 percentage points for Obama in 2012 and Trump in 2016." In fact, every county in Senate district 26 showed more than a 20-point swing toward Republicans. Trump carried the district by 57.8 percent to 36.7 percent for Hillary Clinton.
Trump improved on Romney's performance in 97 of Iowa's 99 counties, but I haven't seen any convincing explanation for why the swing was so pronounced in the far northeast part of the state. Perhaps a better question is why so much of the "driftless area" (which includes northeast Iowa, southwest Wisconsin, and southeast Minnesota) favored Obama in 2012 rather than voting for Romney, as most of rural America did. That's a topic for another day.
The red wave ended Wilhelm's long political career. Waylon Brown, who started his campaign as a little-known vice president of the Mitchell County Farm Bureau, defeated the incumbent by more than 7,500 votes (62.3 percent to 37.6 percent). It helped that Republicans spent $465,000 on behalf of Brown, while Democrats spent about $335,000 here. Wilhelm was also a top target for pro-gun advocacy groups.
The GOP advantage in this area continued in the last midterm election, with Governor Kim Reynolds receiving 57.0 percent of the vote in Senate district 26, compared to 40.4 percent for Fred Hubbell.
Each party represents one of the Iowa House districts that make up this Senate district. Republican Jane Bloomingdale has been elected twice, comfortably, in House district 51. Democrat Todd Prichard, the House minority leader, has represented House district 52 since early 2013. Republicans spent little trying to unseat him in 2016 and did not field a candidate against him in the last election. Both Bloomingdale and Prichard will face opponents this year, but neither party seems likely to target those House races.
BACKGROUND ON THE CANDIDATES
Brown's official bio says little about him.
Senator Waylon Brown is a small businessman and former Mitchell County Farm Bureau Board member. A St. Ansgar High School graduate, he owns a construction company and farms in St. Ansgar. He also sits on the St. Ansgar Planning and Zoning Board.

Senator Brown and his wife, Julie, have two children.
He's kept a relatively low profile during his four years in the legislature. He's an assistant majority leader and member of the Ways and Means, Agriculture, Commerce, Labor, and Transportation committees, serving as vice chair for the last. He also is on the Administrative Rules Review Committee, which examines agency regulations.
Brown hasn't led debate on any major bills, to my knowledge. Bleeding Heartland closely follows legislative affairs, but I've only covered one bill Brown floor-managed. That legislation put the financial interests of insurance agents and money managers ahead of educators who have paid into extra retirement funds.
The Iowa Democratic Party's April 14 news release introduced Scharper, who lives in rural Osage, as a health care professional and community activist with "a passion for public service and for helping families and communities."
An Iowa native and graduate of Rudd-Rockford-Marble Rock High School, Scharper is a CT Technician at the Mason City Clinic.

Deb is also active in the Association for Frontotemporal Degeneration (AFTD), where she serves as an Ambassador for the State of Iowa. Her duties include building connections at the community level, speaking publicly and working with local healthcare providers, and advocating on behalf of those with frontotemporal degeneration, which is the leading cause of dementia in people younger than 60.

Scharper and her husband Cory are raising three children. Cory owns and operates Scharper Services in Osage, a small business that provides electrical, snow removal, tree removal and trucking services. They are members of the Our Savior's Lutheran Church in Osage.

Scharper outlined several other key issues that inspired her to run, including areas where state policymakers have neglected the interests of Iowans living in small towns and rural areas:

● Improving access to and affordable healthcare for all Iowans. This includes increasing access to mental health services and addressing serious problems with a privatized Medicaid system.
● Focusing more state resources on creating good-paying jobs.
● Adequately funding local public schools, community colleges, and job training programs.
● Expanding access to high-speed internet in all corners of the state.

"I will be a Senator who will listen to all sides of an issue, set partisan politics aside, and solve real problems," she said. "I will be visiting every corner of the district to listen to as many people as possible. I encourage anyone to contact me scharperforiowa@gmail.com."
Speaking by phone, Scharper elaborated on her "firsthand knowledge" about the shortcomings of privatized Medicaid in Iowa. "There aren't enough Medicaid beds for people that need to get into the nursing homes. So then they have to go hours away from your loved ones. And it's just not fair that that has happened, and that we can't even be close to our loved ones, because there's no Medicaid beds around."
She feels strongly about addressing the bed shortage because her first husband developed early dementia due to frontotemporal degeneration. He had to go into assisted living at the age of 44 and now lives two and a half hours away in Newton, since north Iowa has no nursing home beds for patients on Medicaid under age 65. While Scharper is thankful for FaceTime, it's not the same as being able to visit frequently in person, as would be possible to do locally before the coronavirus pandemic.
Scharper's main goal is to "be a voice" for people whose families are confronting significant health problems.
Meet and greets and other traditional campaign events are off the table for now, but Scharper said she has been reaching out to Democrats in counties across the district by phone. People are receptive and excited to hear someone is running against Brown. Iowa law allows the major parties to nominate candidates through a special convention if no one filed for that office before the primary. Delegates in Senate district 26 will need to convene sometime before mid-August to formally nominate Scharper.
Scharper didn't endorse any candidate for president before the Iowa caucuses. This map of precinct results shows that Amy Klobuchar, Pete Buttigieg, and Joe Biden had the best results in most places that are part of Senate district 26.
KEY FACTORS
Brown will be favored for re-election, due to incumbency advantages and the big Republican swing in this area in 2016. However, turnout is a big question mark, especially if COVID-19 forces most or all Iowans to vote by mail this fall.
The pandemic has sharply increased unemployment across Iowa and is already hurting the farm sector. How much that will affect voter preferences is anyone's guess.
Neither Brown nor Scharper has a natural geographic advantage, since both come from Mitchell County.
Whether Biden can regain some of the ground Hillary Clinton lost in northeast Iowa will be important for down-ballot candidates like Scharper. That said, state legislative races don't always align with top-of-the-ticket results. Either candidate in Senate district 26 could outperform their party's presidential nominee.
Final note: With Scharper's announcement, Democrats have candidates lined up in all but one of the eleven Obama/Trump Iowa Senate districts that will be on the ballot this November. The others are:
Senate district 8, where Steve Gorman is challenging GOP Senator Dan Dawson;
Senate district 24, an open seat where two Democrats and four Republicans are seeking their party's nomination;
Senate district 28, an open seat where Democrat Matt Tapscott will face Republican Mike Klimesh;
Senate district 32, where Pam Egli is challenging GOP Senator Craig Johnson;
Senate district 36, where Dave Degner is challenging GOP Senator Jeff Edler;
Senate district 38, an open seat where two Democrats and three Republicans are seeking their party's nomination;
Senate district 42, where two Republicans are running against Democratic Senator Rich Taylor;
Senate district 44, an open seat where three Democrats and two Republicans are seeking their party's nomination;
Senate district 46, where former Senator Chris Brase is challenging GOP Senator Mark Lofgren, who defeated him four years ago.
For now, GOP State Senator Dan Zumbach is still unopposed in Senate district 48, which Obama carried by 51.9 percent to 46.8 percent. Trump outpolled Clinton there by 55.0 percent to 38.9 percent.