The Republican Party of Iowa has reserved more than $1.1 million in television air time for six candidates seeking Iowa legislative seats in the Des Moines metro area, and will likely spend hundreds of thousands more to promote them on television during the final stretch of the campaign.
Documents filed with the Federal Communications Commission show the GOP plans to spend more than $650,000 on broadcast tv supporting Jake Chapman and Mike Bousselot, who are running in the party's top two central Iowa Senate targets.
The party also will spend six-figure sums on tv ads for four Iowa House candidates in Polk or Dallas counties, whose commercials began airing last week.
Those numbers do not include any funds the GOP will spend on direct mail, radio, or digital advertising for the same candidates.
This post focuses on early tv spending on legislative races in the Des Moines market. Forthcoming Bleeding Heartland posts will survey other battleground Iowa House or Senate districts.
WHO BUYS TV ADS FOR IOWA LEGISLATIVE RACES
In hard-fought Iowa legislative races, the bulk of the spending does not come directly from candidates' accounts. Top lawmakers typically donate most of what they raise to the Iowa Democratic Party or Republican Party of Iowa. The state parties then make in-kind expenditures to cover various forms of paid advertising.
All numbers for ad spending cited below come from documents KCCI-TV (the CBS affiliate in Des Moines) and WHO-TV (the NBC affiliate) filed with the Federal Communications Commission. Campaign finance disclosures due in mid-October will provide a more complete picture of each party's in-kind spending on legislative races.
All voter registration totals listed below come from the Iowa Secretary of State's office, as reported on September 1. All past election results come from the Iowa Senate and House maps that Josh Hughes created in Dave's Redistricting App.
JAKE CHAPMAN: $328,125 RESERVED FOR TV
In one of this year's top-tier Iowa legislative races, Senate President Jake Chapman (the chamber's second-ranking Republican) faces first-term Democratic State Senator Sarah Trone Garriott. Iowa Senate district 14 covers parts of Dallas County, including the rapidly-growing suburbs of Waukee and West Des Moines.
Since Bleeding Heartland previewed this race last December and in January, Trone Garriott has been out canvassing almost every weekend. Chapman got a later start with retail campaigning but has some paid canvassers on the doors now.
Republicans were worried enough to launch Chapman's introductory tv ad seven weeks before the election. On KCCI and WHO alone, the Iowa GOP has reserved time every week up to election day, totaling $328,125 according to FCC files publicly available on September 23.
Campaigns often revise ad buys, so Republicans may end up airing more tv ads on Chapman's behalf, or may cut back if they believe the race is becoming less competitive.
The FCC files don't indicate how many tv spots will promote Chapman and how many will attack Trone Garriott. In past years, Iowa Republicans have often spent a couple of weeks airing positive ads about the party's legislative candidates before spending heavily on negative messages about Democrats.
I couldn't find a high-quality video of the spot on YouTube or on Chapman's social media, so I recorded this video with my phone at home.
The ad airbrushes Chapman's image, not mentioning his divisive comments about educators' "sinister agenda," his support for "personhood" legislation that would entirely ban abortion, or even his party affiliation. Instead, the spot credits "Iowa's leaders" for balancing the state budget, funding schools, mental health, and police, and cutting taxes.
Background on Iowa Senate district 14
Active registered voters: 12,200 Democrats, 14,205 Republicans, 13,661 no-party voters
2020 voting for president: Biden 49.8 percent, Trump 48.1 percent
2018 voting for governor: Republican Kim Reynolds 50.2 percent, Democrat Fred Hubbell 48.2 percent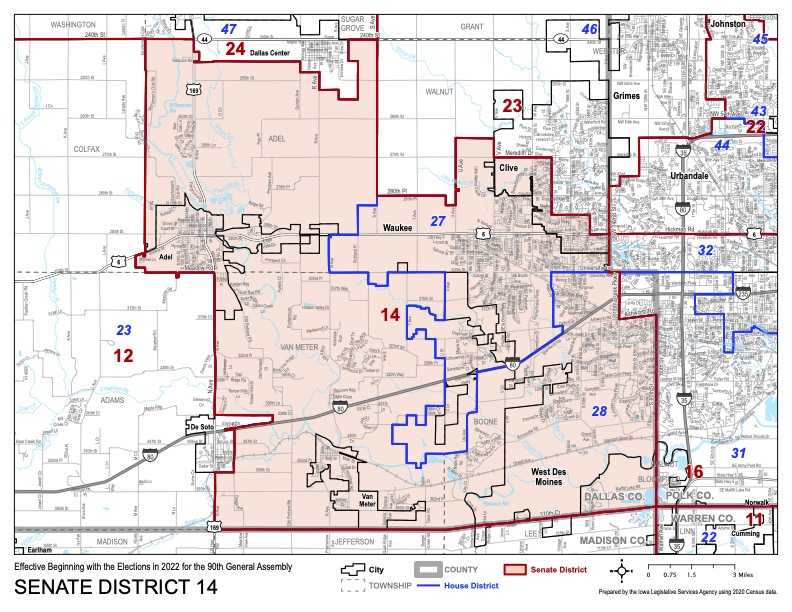 MIKE BOUSSELOT: $328,125 RESERVED FOR TV
Bousselot won a special election for an Iowa House seat in September 2021 but is now the GOP nominee in Senate district 21, covering most of Ankeny. It's an open seat because Senate Majority Leader Jack Whitver opted to seek re-election in safer Republican territory.
Bousselot's Democratic opponent is Todd Brady, best known for creating the Iowa Vaccine Hunter website to help Iowans schedule COVID-19 vaccinations in 2021.
As with Chapman, Republicans put Bousselot's first ad on the air last week and reserved time on KCCI and WHO totaling $328,125. Next month's campaign disclosures will show how much they are spending on other forms of advertising.
Bousselot put his introductory ad on YouTube, a practice all Iowa legislative candidates should follow.
The spot doesn't mention the highest-profile bill Bousselot has managed during his short legislative career, which cut unemployment benefits in several ways. Without naming Republicans as the governing party, the candidate touts "what we accomplished": balancing the budget and cutting income taxes while providing "record levels of support for our schools, police, and mental health."
Background on Iowa Senate district 21
Active registered voters: 13,262 Democrats, 14,657 Republicans, 12,996 no-party voters
2020 voting for president: Biden 49.1 percent, Trump 48.6 percent
2018 voting for governor: Hubbell 49.5 percent, Reynolds 48.6 percent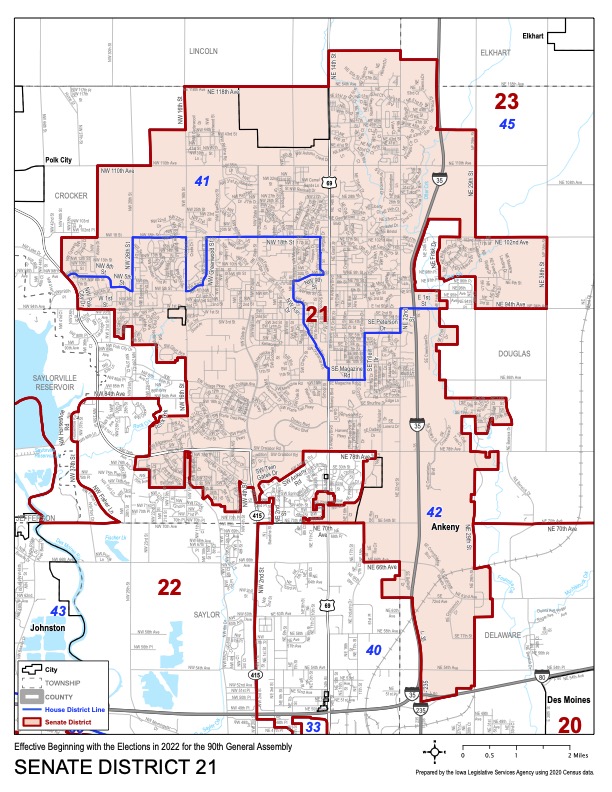 BILL GUSTOFF: $116,600 RESERVED FOR TV (TOTAL WILL INCREASE)
House district 40 is an open seat covering parts of northeast Polk County, including the fast-growing suburb of Altoona. Voter registration numbers and recent election results point to a competitive race.
Republican nominee Bill Gustoff is a well-connected attorney who has served on the Iowa GOP's State Central Committee since 2014. He's been a leading activist in efforts to boost conservative power on Iowa's State Judicial Nominating Commission. The Democratic nominee is MacKenzie Bills, who grew up in the area and is an advocate for working families, as well as a volunteer on a board that combats human trafficking. Jeni Kadel is also running in House district 40 as a Libertarian.
During the 2021 and 2022 legislative sessions, Gustoff lobbied for a conservative homeschooling group, advocating for Governor Kim Reynolds' plan to divert more public funds to private schools. (He canceled his registration as a lobbyist in early September.)
For some reason, as of September 25, KCCI's public files on the FCC website showed only last week's reserved time for Iowa House Republican candidates. In contrast, WHO's files showed time booked for Gustoff and three others for the six weeks leading up to the election. Reserved time on WHO totaled $100,000: $12,300 each week for two weeks, then $16,350 each week for two weeks, then $21,350 each week for the last two weeks before the November election.
Republicans spent $16,600 to run Gustoff ads on KCCI from September 21 through 27. I assume the party will continue to spend five-figure amounts each week to advertise for Gustoff on that station. I'll update this post as more information becomes available.
Gustoff posted his tv ad on his campaign website; I saved a copy to make sure it would remain visible to the public.
Again, the ad doesn't mention the candidate's party affiliation. Gustoff's strategy is to run as a "family man" trying to "put families first." So he does allude to the school voucher plan, by promising "to give parents a say in their kids' education." He also pledges to protect individual rights and cut income and property taxes.
Background on Iowa House district 40
Active registered voters: 6,690 Democrats, 6,319 Republicans, 5,821 no-party voters
2020 voting for president: Trump 50.9 percent, Biden 46.7 percent
2018 voting for governor: Hubbell 51.7 percent, Reynolds 46.1 percent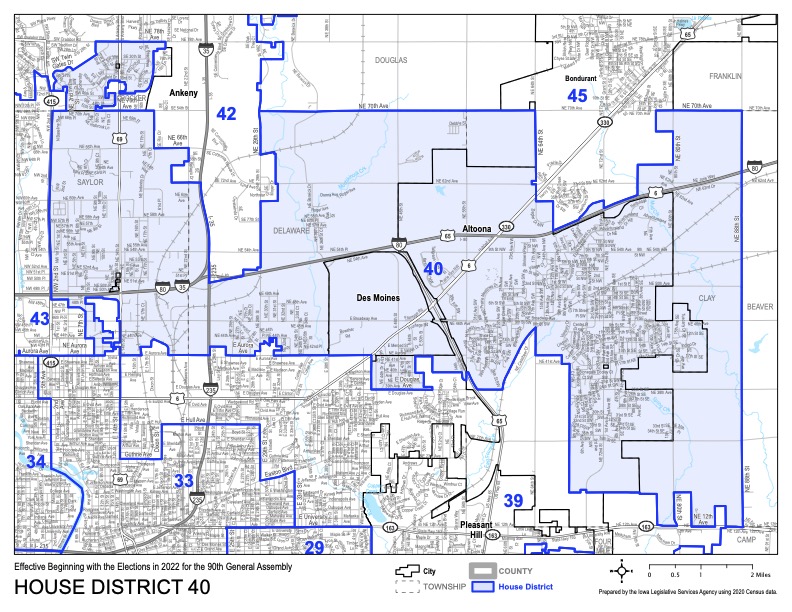 MARVIS LANDON: $116,700 RESERVED FOR TV (TOTAL WILL INCREASE)
Although Republicans have a voter registration advantage in House district 41, covering part of Ankeny, recent election results suggest the district is split right down the middle.
GOP nominee Marvis Landon has never held public office, but has a familiar name to area voters. She is the widow of John Landon, who represented parts of Ankeny in the Iowa House for nearly a decade before passing away during the summer of 2021. (The special election Bousselot won was to fill that vacancy.) The Democratic candidate in House district 41 is Molly Buck, a teacher in the Ankeny school district.
Taking no chances, the GOP has reserved $100,000 to advertise on WHO-TV during the six weeks leading up to the November election, and spent $16,700 for spots on KCCI last week. I expect to see more Landon ads on KCCI in the coming weeks.
I couldn't find a high-quality video of Landon's commercial online, so recorded this using my phone last week.
Without mentioning her party affiliation, Landon promised to fight inflation, lower taxes, and pass a "common sense budget." She also thinks "Iowa schools should spend less time politicizing on topics like race and gender, and focus more time on teaching students the core academic subjects."
Background on Iowa House district 41
Active registered voters: 6,750 Democrats, 7,697 Republicans, 6,917 no-party voters
2020 voting for president: Biden 49.2 percent, Trump 48.6 percent
2018 voting for governor: Hubbell 49.1 percent, Reynolds 49.1 percent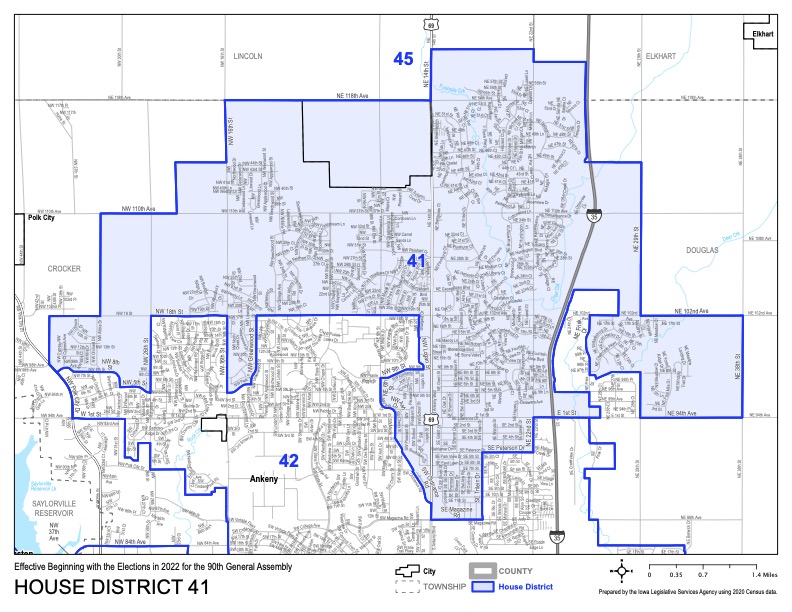 GARRETT GOBBLE: $116,175 RESERVED FOR TV (TOTAL WILL INCREASE)
A third highly competitive legislative race is shaping up in Ankeny. This one will be a rematch of the 2020 contest between Republican Garrett Gobble and Democrat Heather Matson.
Matson lost to GOP incumbent Kevin Koester in 2016 but defeated him two years later in a costly race. (Democrats and Republicans combined to spend more than $700,000 in kind in this district.) Neither party saw Matson as particularly vulnerable in 2020; total in-kind spending was below $100,000. But in an outcome that surprised observers in both parties, Matson lost by 157 votes.
Two factors particularly helped Gobble, an Ankeny teacher: Trump's coat-tails, and Iowa Democrats' decision to avoid canvassing during the pandemic.
Trump's not on the ballot in 2022, and Democratic candidates and volunteers have resumed robust door-knocking operations. In addition, the new district is slightly more favorable to Democrats than the district Gobble carried two years ago.
Republican ad buys here are nearly identical to the party's spending on other local state House races: $100,000 reserved for Gobble over the next six weeks on WHO, and $16,175 for the spots that KCCI broadcast last week.
Since I couldn't find a quality version of Gobble's commercial online, here's my recording:
The spot centers Gobble's work as an educator and his work to pass "historic tax cuts"—again, without mentioning his party affiliation.
Background on Iowa House district 42
Active registered voters: 6,512 Democrats, 6,960 Republicans, 6,079 no-party voters
2020 voting for president: Biden 49.0 percent, Trump 48.5 percent
2018 voting for governor: Hubbell 50.0 percent, Reynolds 48.1 percent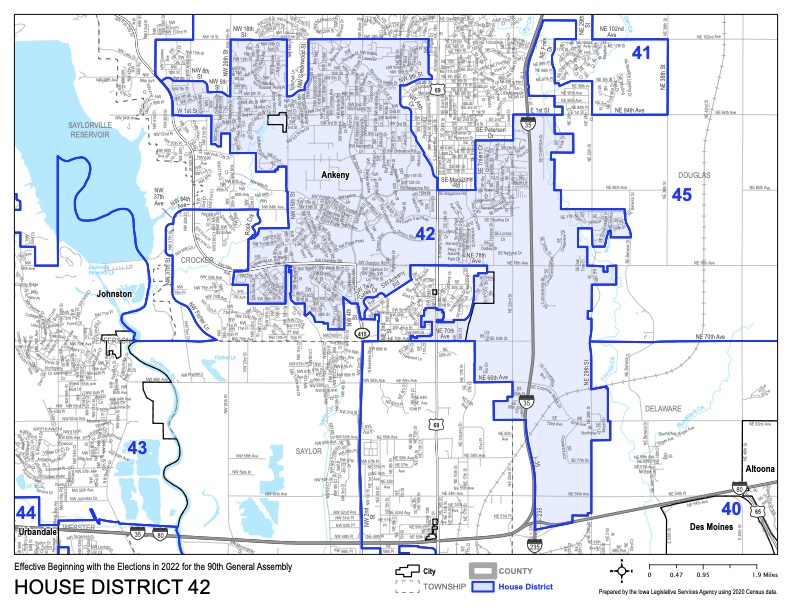 DAVID YOUNG: $116,700 RESERVED FOR TV (TOTAL WILL INCREASE)
Former U.S. Representative David Young competed in multi-million-dollar races as a candidate for Congress. He's now running for the state House in a district that includes his home town of Van Meter and some other areas in Dallas County. This district makes up half of Senate district 14, where Chapman and Trone Garriott are running.
The Democratic candidate is Sonya Heitshusen, well-known in the area as a former WHO-TV reporter and anchor.
So far, Republican ad buys for Young are identical to what the party is spending on Landon: $100,000 over six weeks on WHO-TV, and $16,700 for last week's commercials on KCCI.
Young put his commercial on his campaign's Facebook page.
Like the other candidates, Young doesn't mention his political affiliation. He talks about working together to address challenges facing Iowa families, hints he will support the private school voucher plan, and promises to empower business owners and protect constitutional rights.
Background on Iowa House district 28
Active registered voters: 5,850 Democrats, 6,989 Republicans, 6,643 no-party voters
2020 voting for president: Biden 49.0 percent, Trump 48.8 percent
2018 voting for governor: Reynolds 50.2 percent, Hubbell 48.1 percent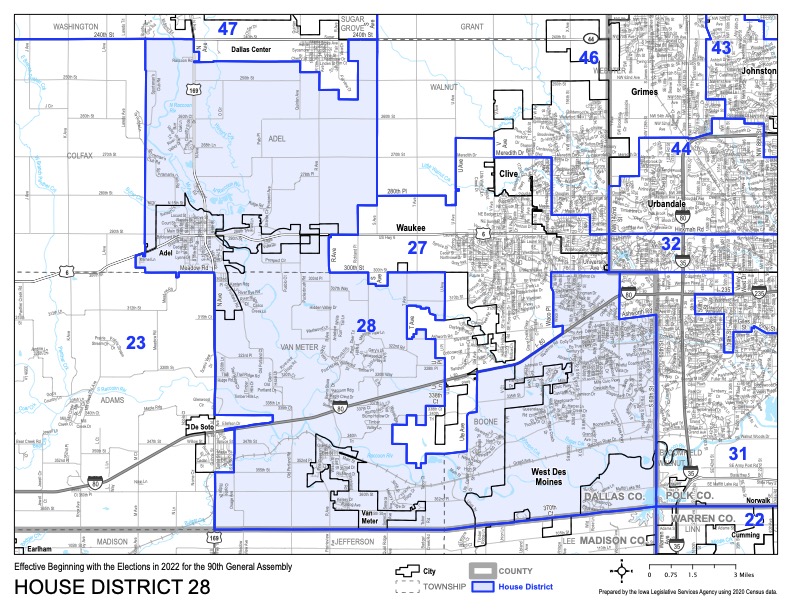 Top photos of Senate President Jake Chapman (left) and State Representative Mike Bousselot (right) cropped from photographs recently posted to their political Facebook pages.