Voters in Cedar Falls, Hudson, and part of Waterloo will elect a new state senator on March 19. Three candidates are on the ballot for Iowa Senate district 30: Republican Walt Rogers, Democrat Eric Giddens, and Libertarian Fred Perryman.
Republicans took some advantages into this campaign, which is on a shortened timetable because Senator Jeff Danielson resigned during the legislative session. Rogers was better-known than Giddens, and Governor Kim Reynolds scheduled the vote during spring break for the University of Northern Iowa and Cedar Falls public schools, when many people in Democratic-leaning constituencies would likely be out of town.
But since Bleeding Heartland previewed this race in late February, Giddens has emerged as the favorite. Republicans tacitly acknowledged their weaknesses by launching a second over-the-top negative television commercial on March 15, rather than closing on what was supposed to be Rogers' selling point: giving Black Hawk County and UNI a voice in the Iowa Senate majority caucus.

ROGERS IS COMPETING IN A TOUGHER DISTRICT THAN THE ONE HE JUST LOST
Rogers represented Iowa House district 60 for four terms before losing to first-time candidate Dave Williams in November. Here are the precinct-level results from Rogers' 2018 Iowa House race, from the Black Hawk County auditor's website.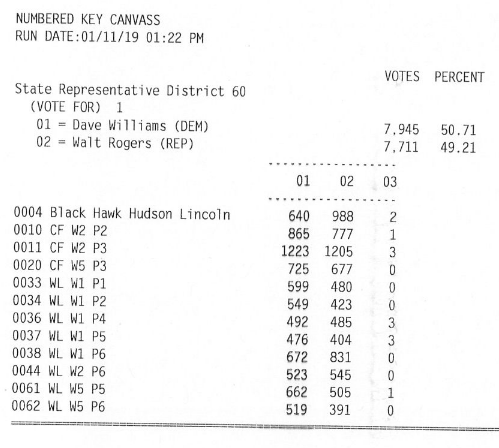 The Senate seat also includes House district 59, covering the rest of Cedar Falls. Democrats have a slight voter registration advantage in Senate district 30 as a whole. But the House district 60 side still has more active registered Republicans (7,097) than Democrats (6,720). The House district 59 precincts contain 6,389 active registered Democrats and 5,200 Republicans, according to the latest figures from the Secretary of State's office.
Hillary Clinton carried the Senate district 30 precincts by 48.4 percent to 45.0 percent in the 2016 general election. But she did much better in House district 59, beating Donald Trump by 51.9 percent to 40.9 percent. Trump carried the House district 60 precincts by 48.8 percent to 45.2 percent.
Democratic State Representative Bob Kressig was unopposed in House district 59 in 2018, so the vote totals for his race are not meaningful. But associate UNI professor and longtime labor and political activist Joe Gorton compiled a spreadsheet showing votes for governor and in the first Congressional district for every precinct in Senate district 30. The precincts are labeled so you can see which are in House districts 59 and 60. (Click here to download this data in .xls format.)
Gorton's findings on the governor's race between Democrat Fred Hubbell and Republican Kim Reynolds (Libertarian Jake Porter and a "Clean Water Party" candidate were also on the ballot):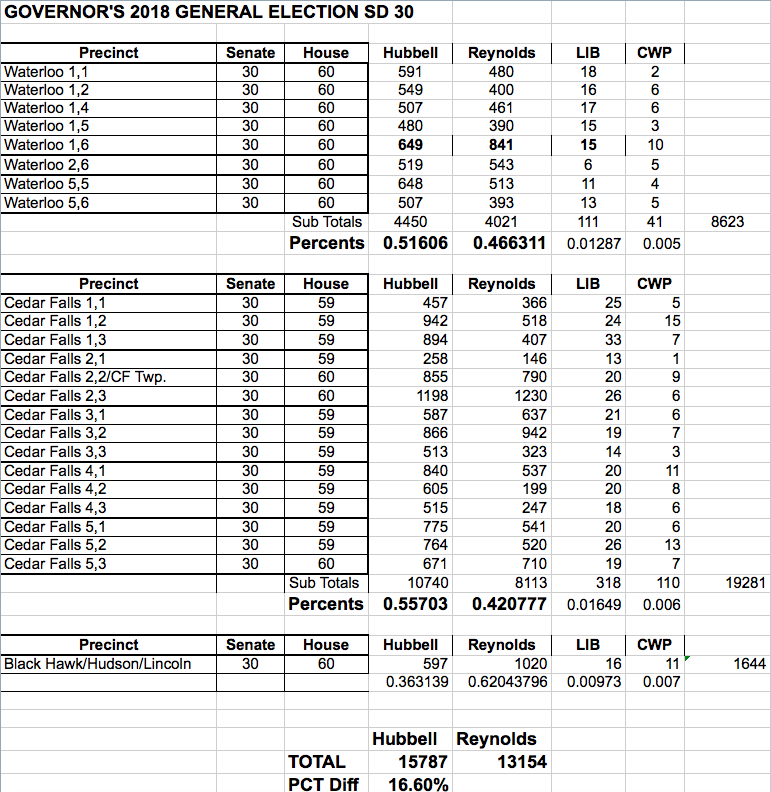 Numbers in the same precincts for Democratic challenger Abby Finkenauer, U.S. Representative Rod Blum, and Libertarian Troy Hageman: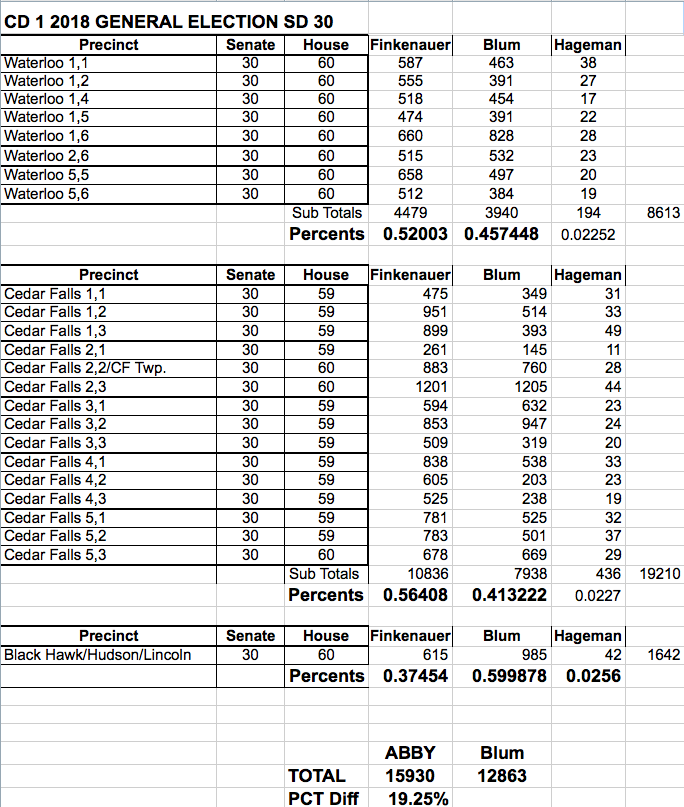 Giddens should win, if voters turn out in proportion to the political lean of Senate district 30. That's not guaranteed in a low-turnout special election, but it's worth noting that Democratic candidates substantially outperformed in several special elections for Iowa House or Senate seats in 2017 and 2018 (see here, here, and here).
EARLY VOTE NUMBERS LOOK GOOD FOR GIDDENS
Iowa Democrats tend to rely more on early voting, while Republicans tend to turn out more consistently on election day. Given the timing of this election, early GOTV was particularly important for Giddens. He has had help from labor union activists, U.S. Representative Finkenauer, former Congressional candidate J.D. Scholten, and many presidential candidates, along with their staffers, including:
Republicans sent out at least one mass mailing to generate absentee ballot request forms from likely supporters of Rogers, while Democrats sent at least two mailings to their target audience.
So far, Democrats have voted in larger numbers and expanded their lead each day. Black Hawk County auditor's staff provided these absentee ballot numbers at the end of the day on March 15. Note: these figures do not include anyone who voted early in person at the county auditor's office on March 16, or whose absentee ballots were hand-delivered or arrived at the auditor's office by mail on March 16.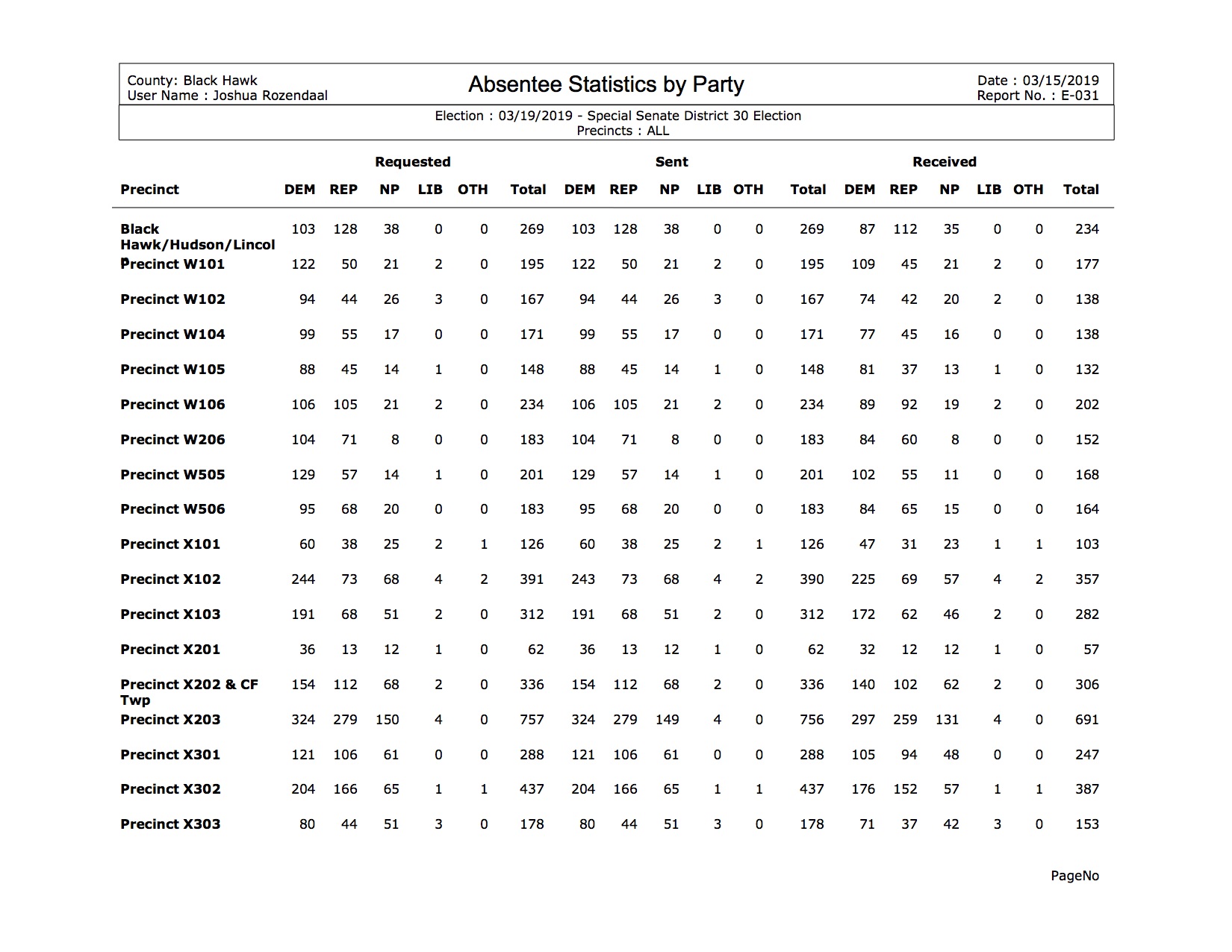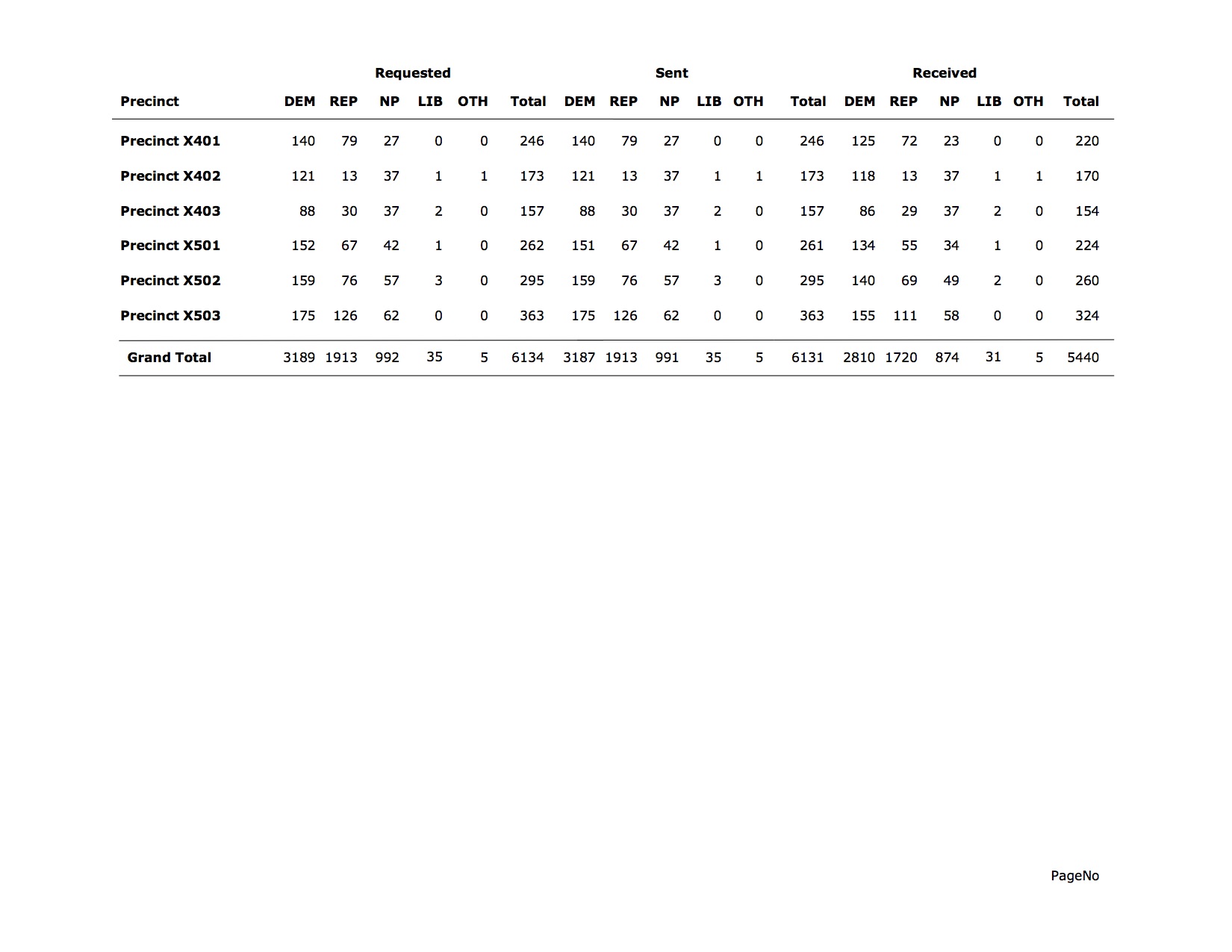 At the end of the day on March 15, the auditor's office had received 5,440 absentee ballots. Registered Democrats had cast 2,810 of those, while Republicans cast 1,720. Democrats believe Giddens has more support among the 874 no-party voters who had already cast ballots, in part because college students and other younger voters are more likely to register without a party affiliation.
Looking at the early vote numbers from some of the best Republican precincts reveals more reasons for Rogers to worry. Take Black Hawk/Hudson/Lincoln, where Rogers, Reynolds, and Blum all far outpaced their challengers in the 2018 general election (as you can see on Gorton's spreadsheet above). Republicans had cast more ballots there as of March 15, but not by much.
Rogers also outpolled his Iowa House challenger in Waterloo 1, precinct 6 last fall. But Democrats have cast nearly as many ballots as Republicans there in this election. Giddens may even be leading, depending on how that precinct's no-party voters split.
In Waterloo 2, precinct 6, Rogers gained 22 more votes than Williams last fall. Giddens appears to be leading there now.
In Cedar Falls 2, precinct 3, where Williams received only 18 more votes than Rogers out of more than 2,400 cast in November, registered Democrats had cast 297 and Republicans 259 of the 691 votes in the bank as of March 15. Giddens should have more of the 131 no-party votes in that precinct too.
A Republican election bill that cleared an Iowa Senate committee earlier this month would ban early voting sites on state university campuses and suppress student voting in other ways. That was not a smart move right before a special election in a district containing thousands of UNI students, faculty, and staff. Giddens described that bill as "a slap in the face to everyone in the University of Northern Iowa community." The backlash could be hurting Rogers.
Jacob Becklund, Senate Majority Fund director for Democrats, told Bleeding Heartland on March 12,
Voters know that Governor Reynolds and the Republicans tried to make voting in this election more difficult by putting Election Day in the middle of spring break. What we are hearing at the doors is that Eric's message of fighting for education and UNI is resonating and voters don't want Walt Rogers any more than when they voted him out in November.
Education has been a prominent theme in the television commercials for each side.
DESPERATE REPUBLICAN ATTACK ADS
Democrats have aired one tv ad promoting Giddens and one negative spot highlighting Rogers' votes in the Iowa legislature. In the positive spot, Giddens emphasizes education: his wife Kendra is a teacher, and he used to teach in a junior high school. Now he works at UNI and serves on the Cedar Falls school board. In the Senate he would fight for more funding for K-12 schools and UNI. He would oppose any voucher scheme to would divert K-12 funding to private schools (a goal Rogers promoted as chair of the Iowa House Education Committee).
The Democrats' negative ad, "Slash," slams "career politician Walt Rogers." The spot asserts Rogers is "lying" when he claims to have supported UNI as a state lawmaker, because he supported mid-year budget cuts that took $2 million from the university in 2017. The commercial also mentions some of the Republican's bad health care votes, such as supporting Medicaid privatization.
Republicans have aired one positive spot about Rogers and two ridiculous attack ads. "Bright" hails the Republican's role in securing "record funding for our schools," more job training, and "the largest income tax cut in Iowa's history." The female voice-over promises that in the Senate, Rogers "will demand balanced budgets, and he'll make sure UNI gets its fair share."
The first Rogers negative ad, "News," linked Giddens to "socialism" and began running on March 6.
My transcript:
Female voice-over: Socialism has always failed.

So why do liberal politicians like Eric Giddens want to bring it to Iowa?

Giddens has donated fourteen times to socialist Bernie Sanders

supports government-run health care

Pushed to increase property taxes by over 30 million dollars

and even voted to increase school bus fees for local families.

So it's no surprise that coastal elites like Elizabeth Warren are now telling Iowans to vote for Giddens.

On March 19, reject socialism. Reject Eric Giddens.
I doubt voters in the Cedar Valley would equate a bunch of donations to the Sanders campaign (mostly for $10) with a looming socialist threat. It's not as if Giddens proposes to have the workers seize the means of production.
The ad's visuals are comical, with unflattering images of Sanders, Warren, and U.S. Representative Alexandria Ocasio-Cortez surrounding a red-tinted Giddens.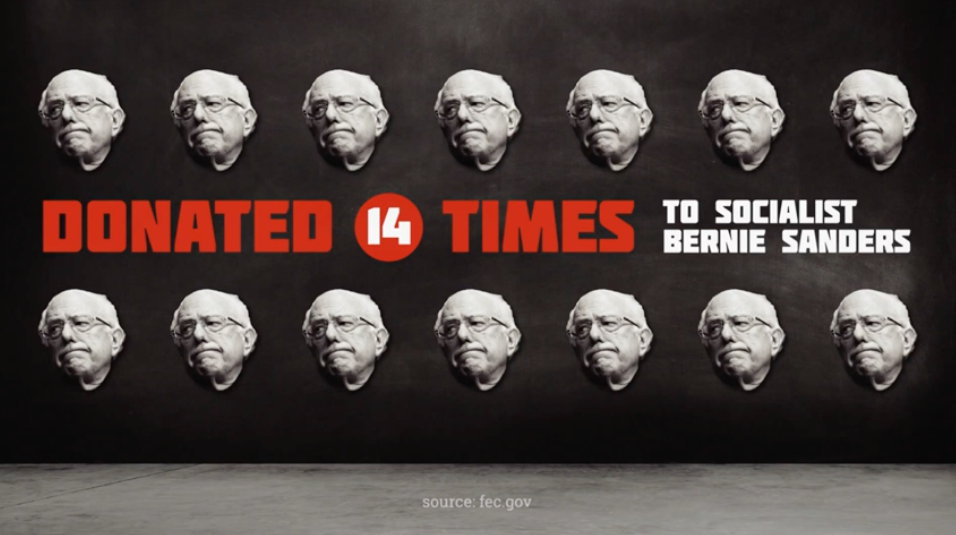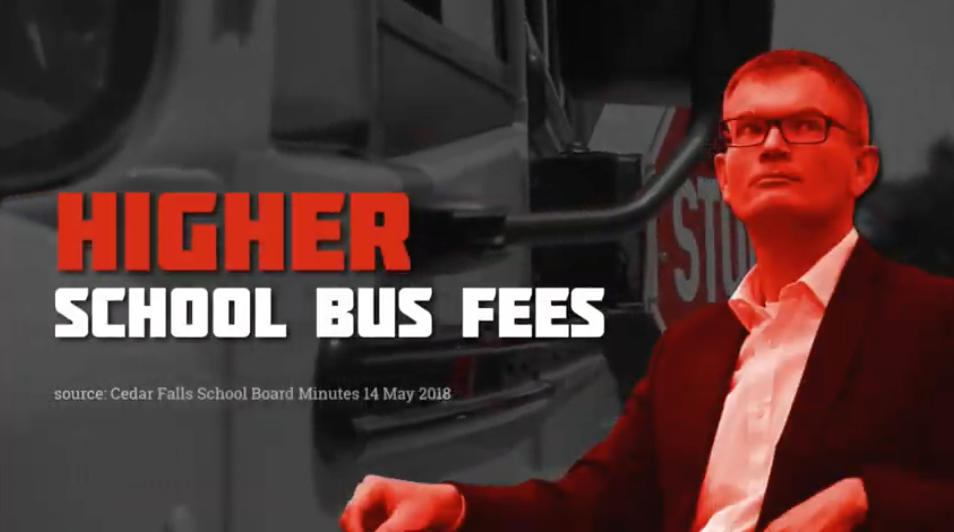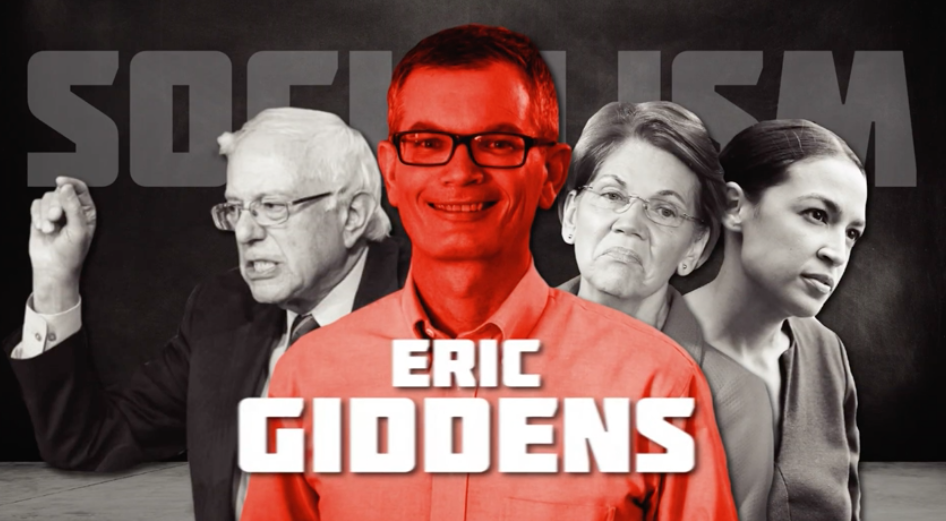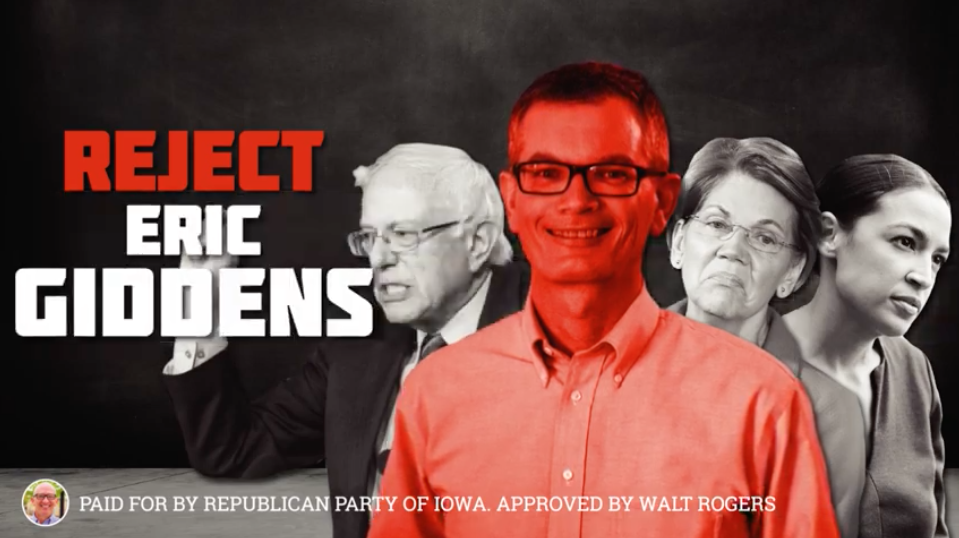 After looking closely at the 2018 vote totals in Senate district 30, Gorton predicted on March 8,
This campaign is all about turnout. Nothing more, nothing less.

Rogers' only chance to excite turnout in his base (Trump voters, evangelicals, right leaning independents) is to [keep] presenting his opponent as their worst nightmare. Of course, he will couple his attacks with positive biographical ads. […]

Rogers team has no choice but to launch their attack early and sustain it for the duration. I expect they will hit Giddens with yet another attack and keep offering positive ads about Walt.
Gorton was right. On March 15, a new Republican ad called "How" began running on area television stations.
Third-trimester abortions have long been illegal in Iowa–even in cases of fetal anomalies that are incompatible with life outside the womb. But in Republican fantasy land, electing Giddens to the Iowa Senate will lead to babies being left to die on operating room tables, because U.S. Senate Democrats voted down a GOP effort to criminalize doctors a few weeks ago. Again, Warren appears as a bogeyman.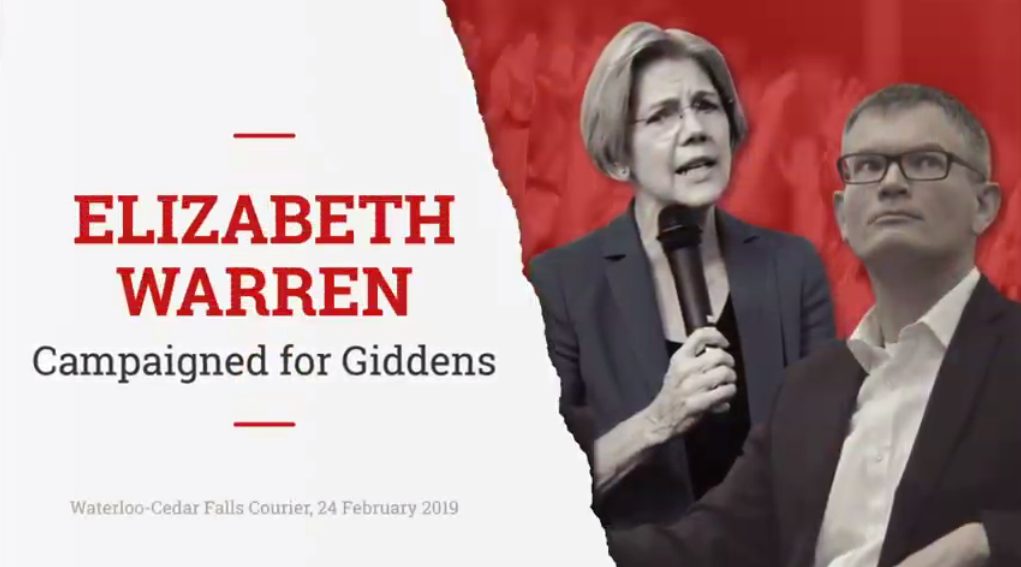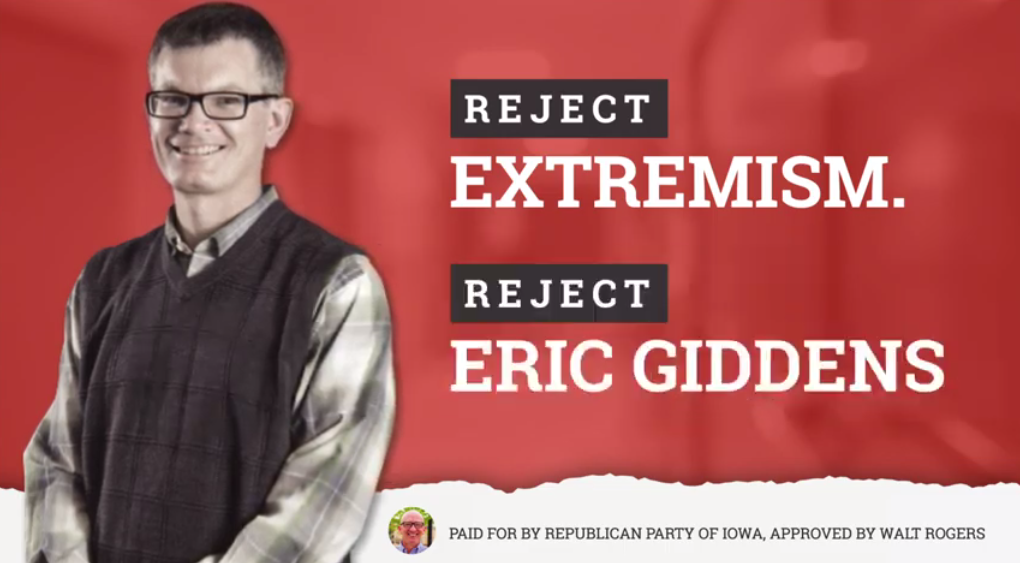 An ad like this is not about persuasion. Swing voters won't believe a Cedar Falls school board member is poised to bring "extremism" to Iowa. This commercial is purely about ginning up GOP base turnout, as is a new Republican online video featuring Senator Joni Ernst.
Rogers has one factor working in his favor: GOP voters usually show up in larger numbers on election day. But he has a lot of ground to make up on Tuesday, and area Democrats appear to be energized to reject Rogers for the second time in less than six months.
Final note: The Black Hawk County auditor's office will be open for early voting on March 18 from 8:00 am to 5:00 pm. If mailed, absentee ballots must be postmarked on or before March 18 to be counted. At this point, safer to have someone hand-deliver completed absentee ballots to the auditor's office anytime before 9:00 pm on March 19.
UPDATE: Here are the early vote numbers as of approximately 9:00 am on March 18. About 1,200 more registered Democrats than Republicans have already voted. Giddens could have an even larger lead, if he has done well among the 938 no-party voters who have cast ballots.