I had big plans for the ninth year of Bleeding Heartland's wildflowers series. Most of my ambitions didn't pan out. I didn't visit any of my favorite state parks or wildlife preserves and made only one trip to Mike Delaney's restored Dallas County prairie, a plentiful source of material in the past. I also spent less time on bike trails in 2020, with no farmers market to ride to on Saturday mornings.
Other photographers stepped up to help. Many thanks to those who authored posts (Katie Byerly, Lora Conrad, Beth Lynch, Emilene Leone, Elizabeth Marilla, Bruce Dickerson, and Patrick Swanson) and those who contributed photographs for one of more of my pieces (in addition to the guest authors, Marla Mertz, Sheryl Rutledge, Leland Searles, Julie Harkey, Wendie Schneider, and Don Weiss).
Iowa wildflower Wednesday will return sometime during the spring of 2021. Please reach out if you have photographs to share, especially of native plants I haven't featured yet. The full archive of more than 250 posts featuring more than 220 wildflower species is available here.
For those looking for wildflower pictures year round, or seeking help with plant ID, I recommend the Facebook groups Flora of Iowa or Iowa wildflower enthusiasts.

February 5: A DIY bee house using native prairie plants
Patrick Swanson interrupted our winter hiatus with an illustrated guide to creating a "bee hotel" using materials such as stems from cup plant or wild bergamot, dried big bluestem grass, and fallen branches. He also included two views of prairie plants the day after a freezing rain. These are purple prairie clovers.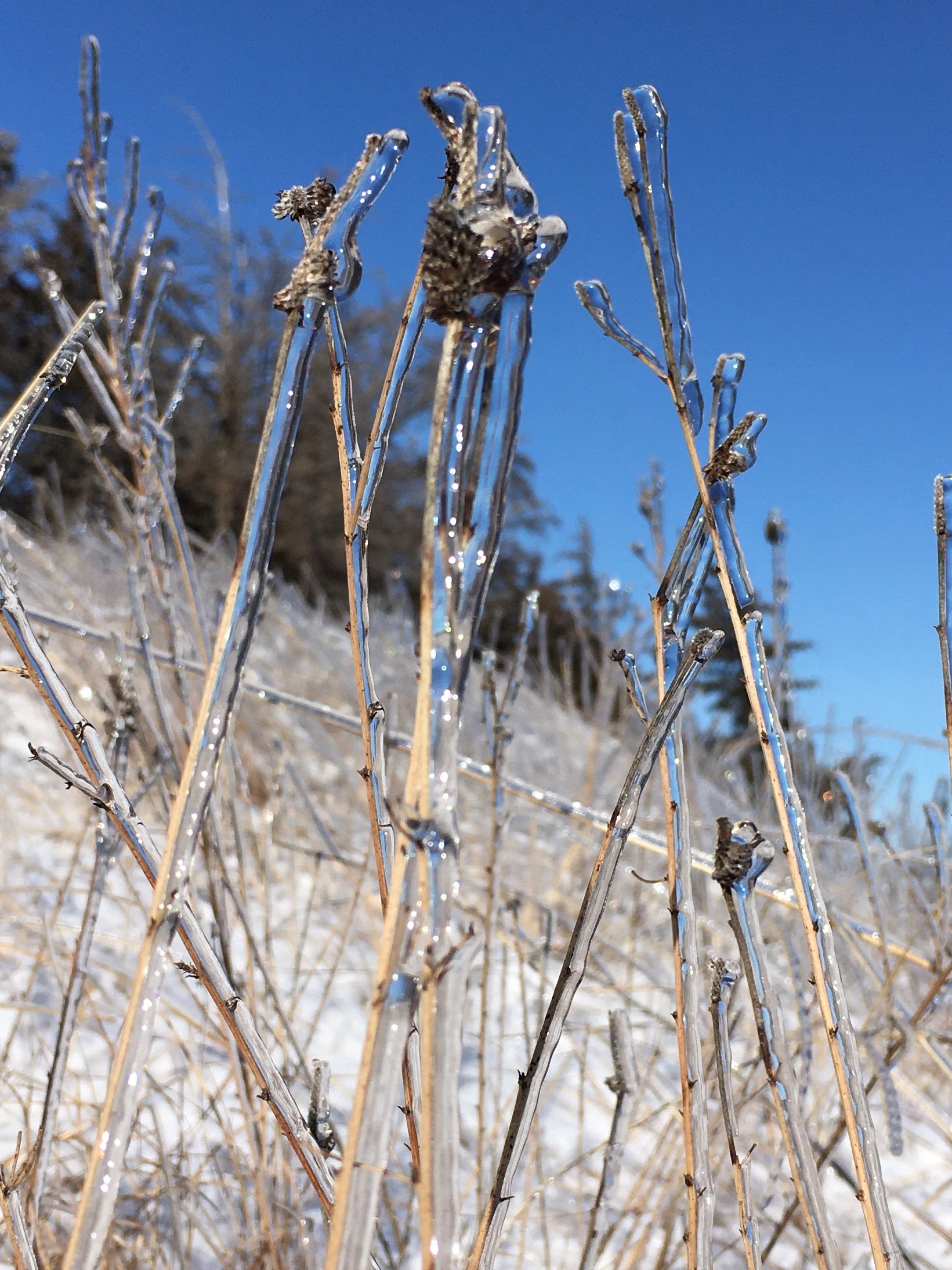 May 6: Spring beauty
Due to the pandemic, I didn't get out much this spring. I took all of these pictures near my Windsor Heights home. You can't mistake these pink-striped petals for any other Iowa wildflower.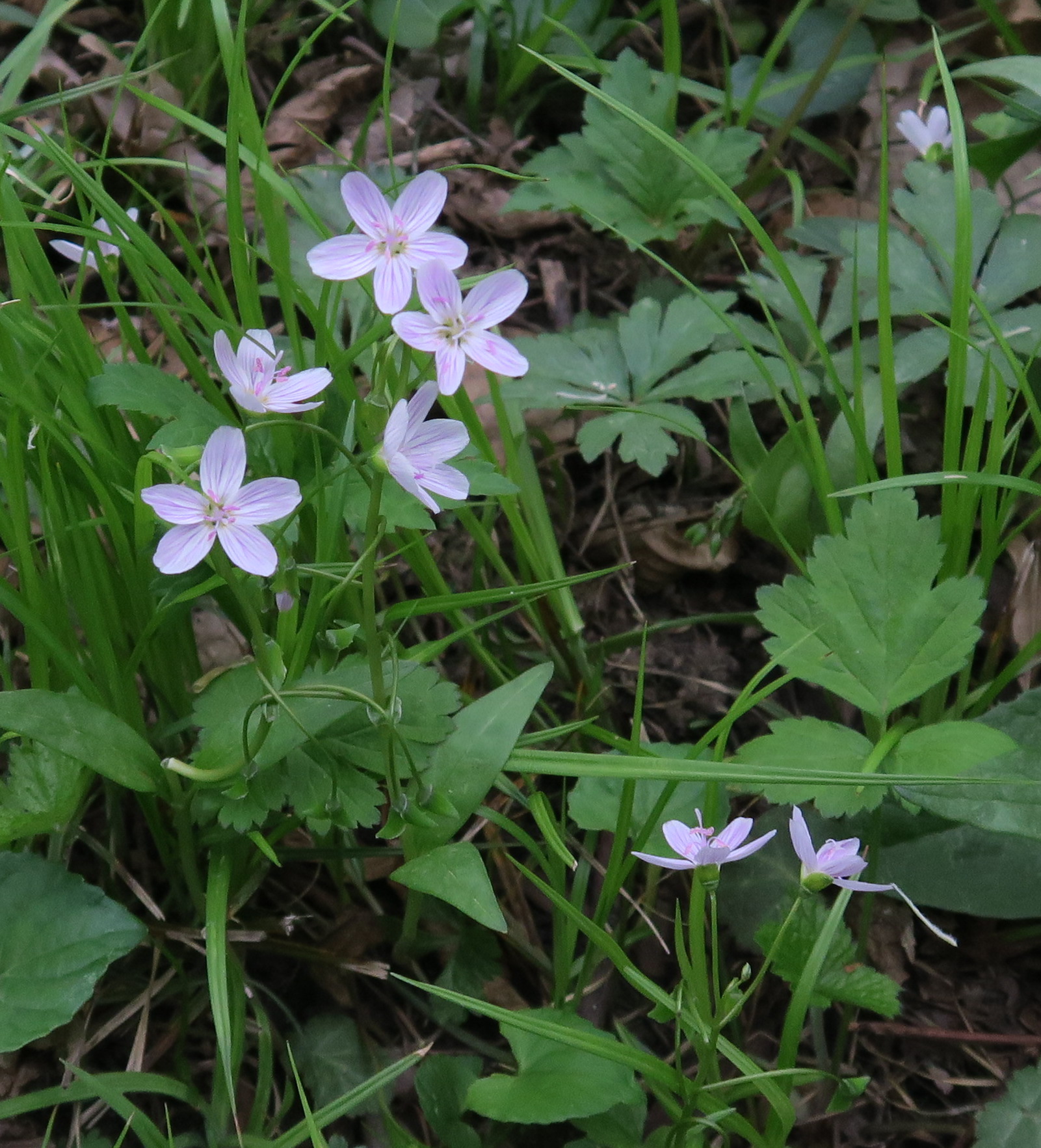 May 13: Swamp buttercup (Hispid buttercup)
Several photographers contributed images of this early spring bloomer, which likes wet wooded areas. Marla Mertz took this picture in Marion County.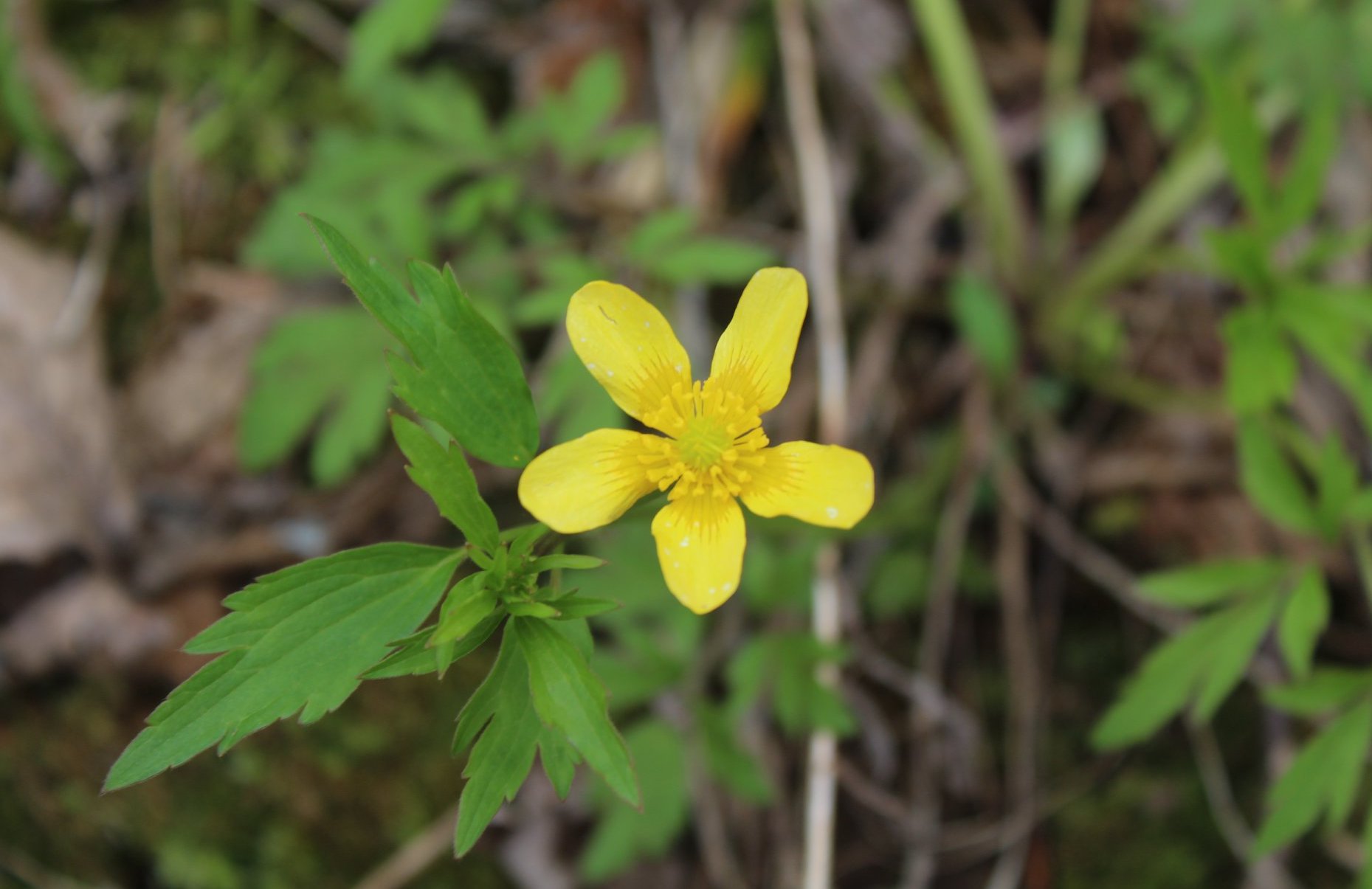 May 20: Fragrant sumac
The pale green flowers of this woody shrub aren't showy, but they do bloom relatively early, so are a welcome sign of spring.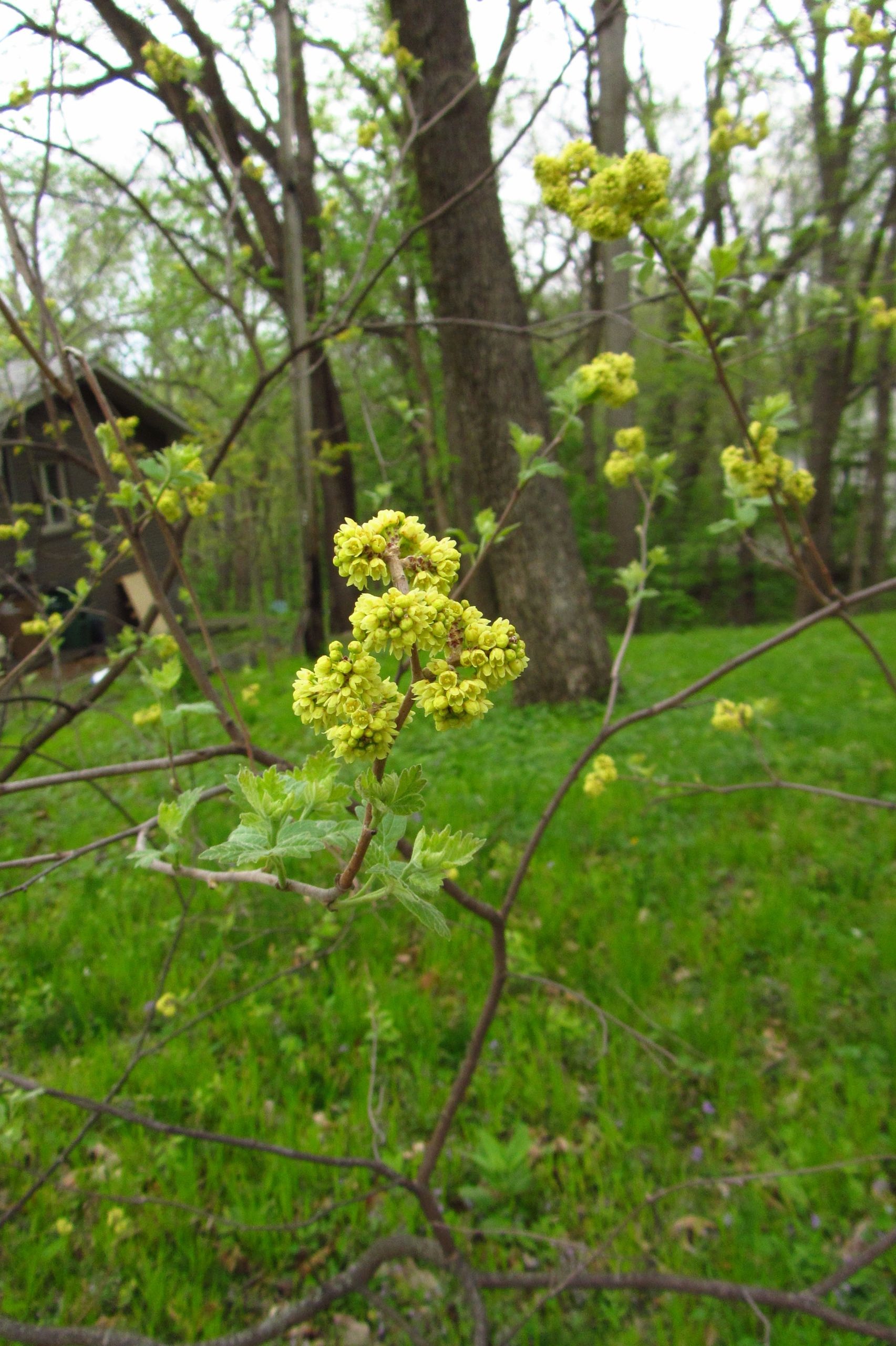 May 27: Downy yellow painted cup
Patrick Swanson took us back to the Harrison County prairie he is restoring. Like Slenderleaf false foxglove, which Patrick wrote about here in 2019, downy yellow painted cup is hemiparasitic, meaning it relies on host plants. I would never have guessed that these wildflowers are native to any part of Iowa.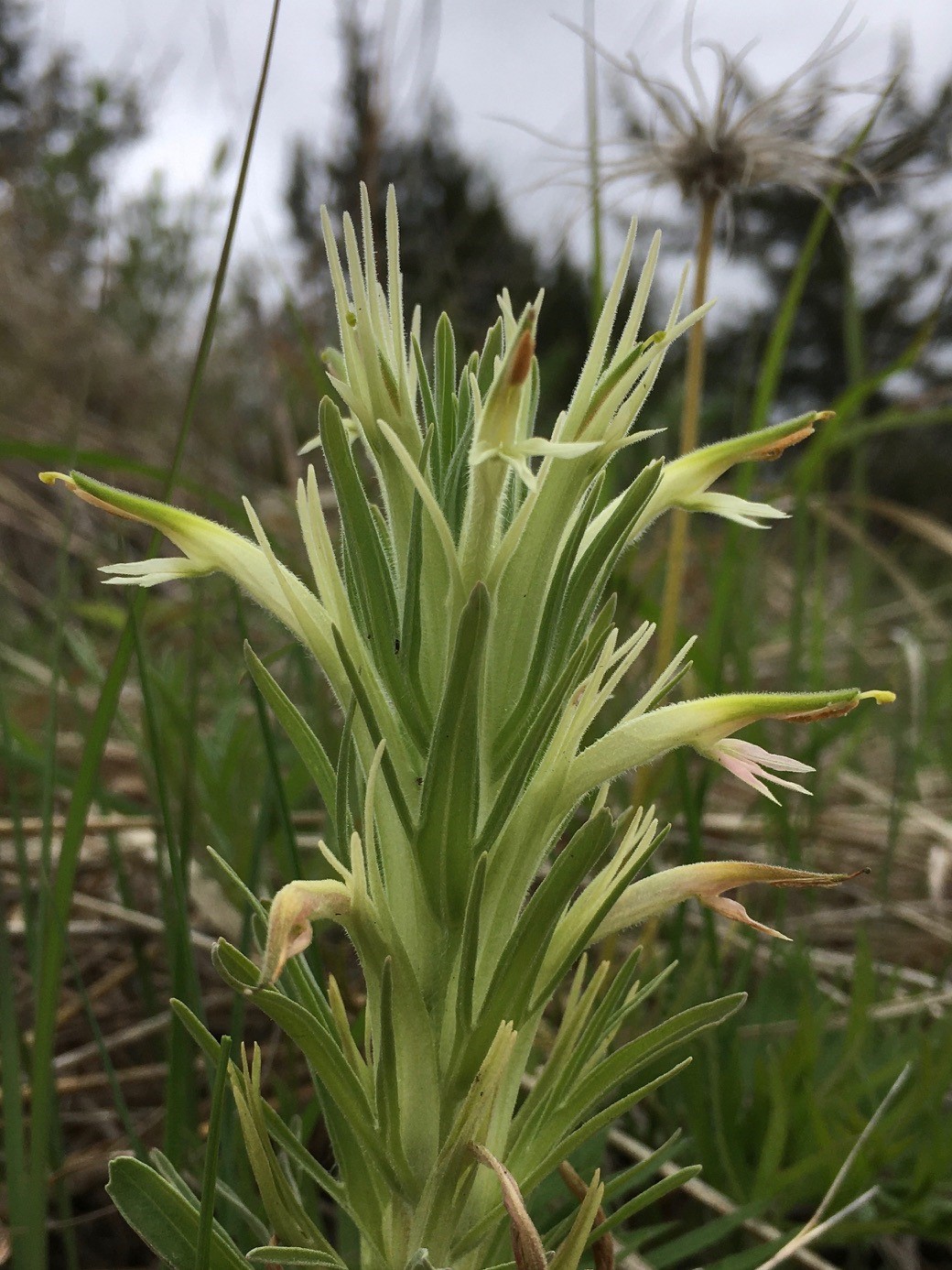 June 3: Bedstraw (Cleavers)
Armed with new camera this spring, I set a personal goal of writing about some plants with tiny white flowers, which are difficult for me to photograph. This piece was my first in that series, later followed by posts about Virginia stickseed and Enchanter's nightshade.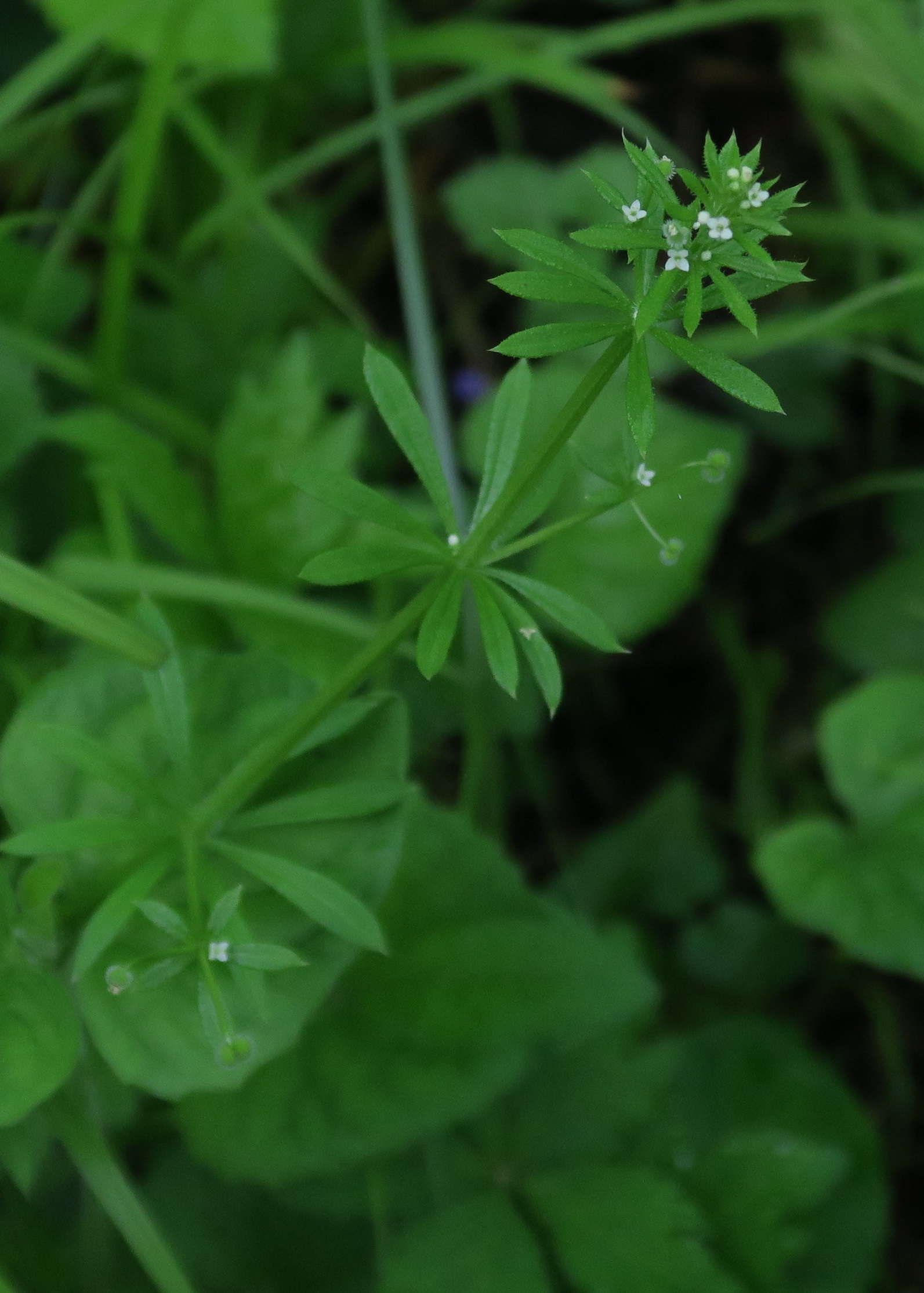 June 17: A tour of spring flowers in southeast Iowa
Elizabeth Marilla made her Bleeding Heartland debut with this beautiful and educational piece. It was hard to pick just one of her photographs, which displayed more than two dozen species. Here's Jacob's ladder, a plant I've wanted to feature for years.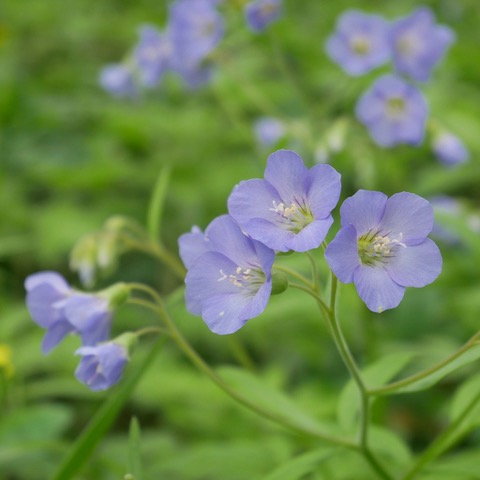 June 24: Foxglove beardtongue
Several photographers contributed images for this post. Here's one of Lora Conrad's pictures.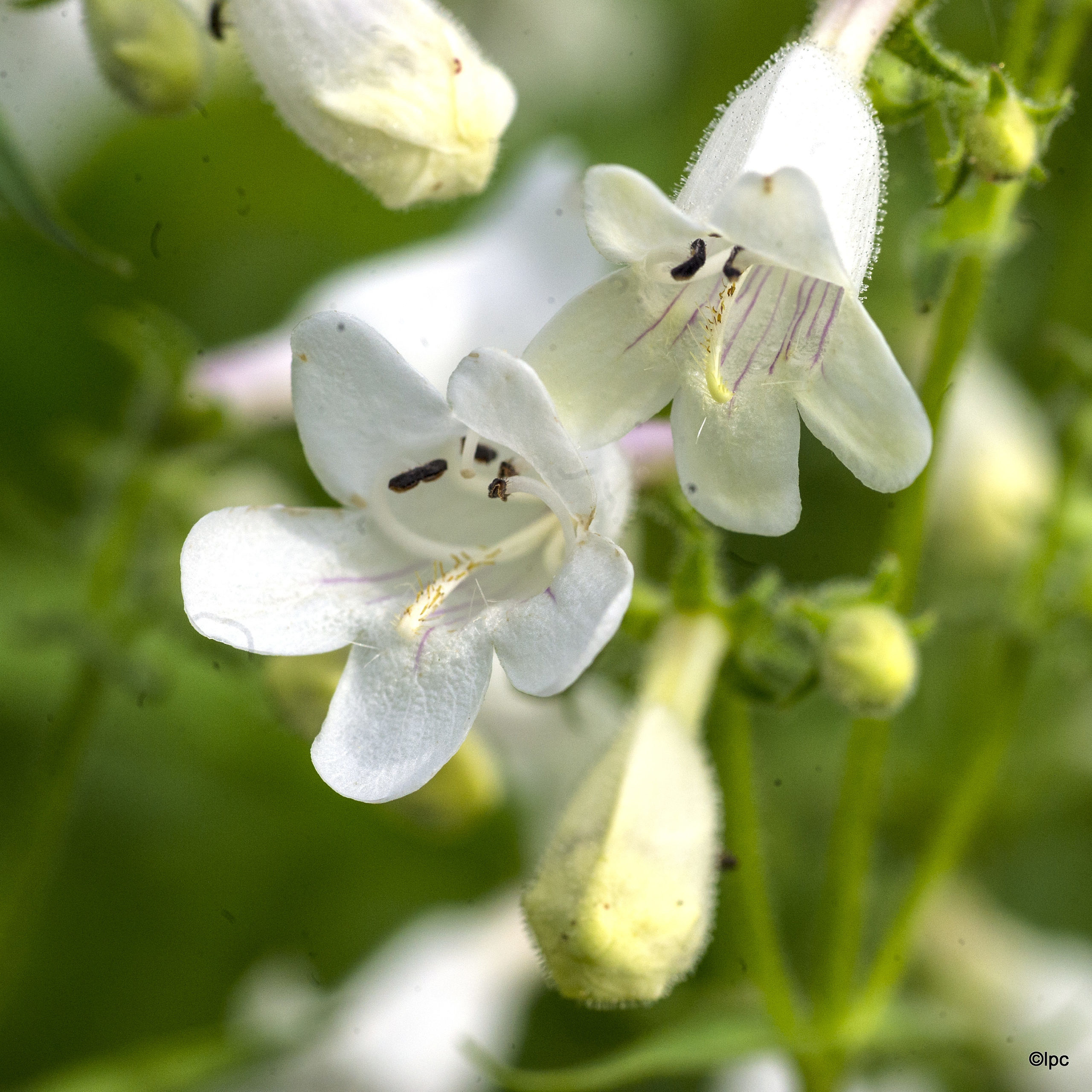 July 2: Wild petunia
I've found these wildflowers thriving in very small prairie plantings. All of the photos in this post came from a patch in the main parking area at Brown's Woods in West Des Moines. Remnants of the overnight rain are visible here.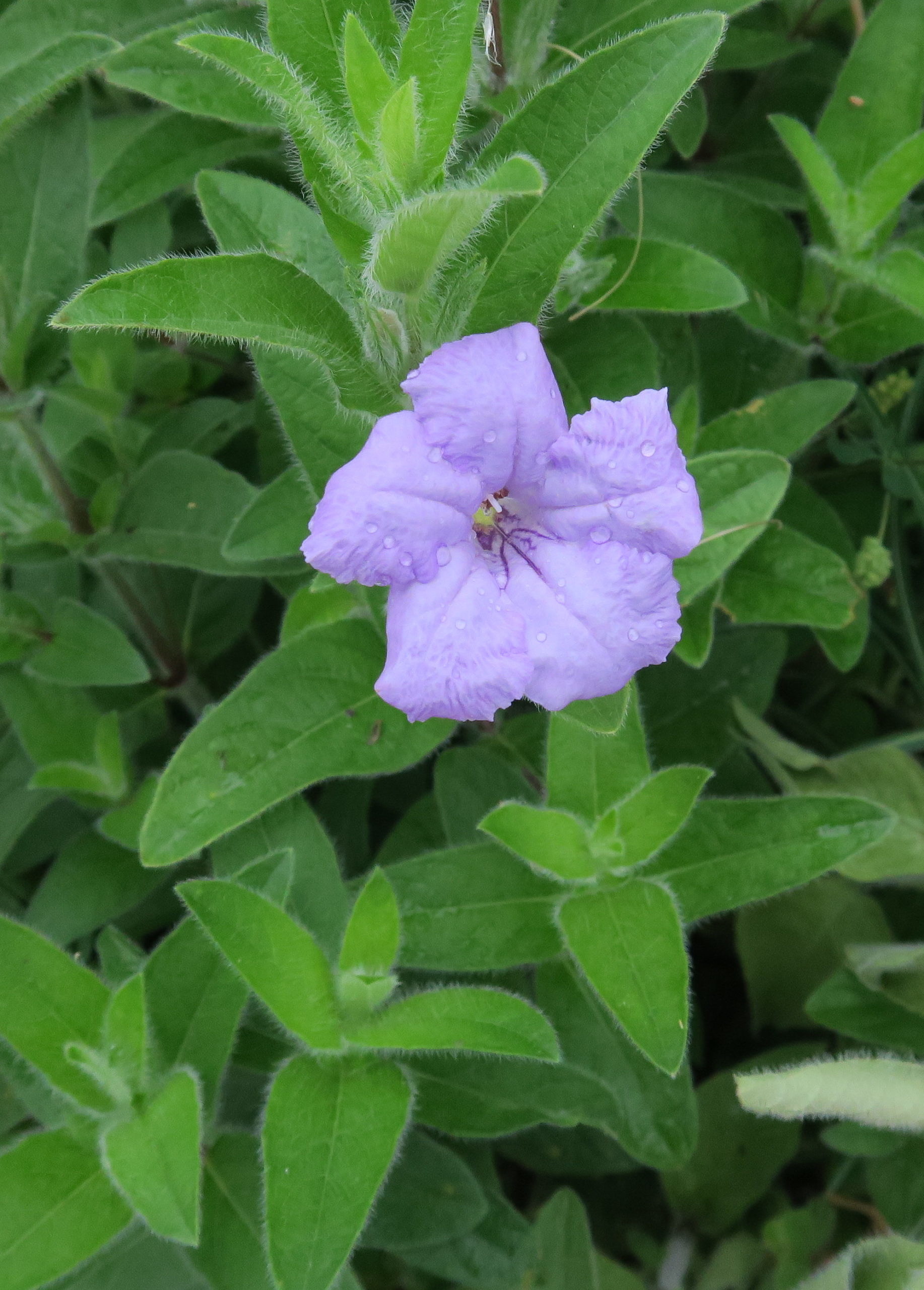 July 8: A walk by the woods at midsummer
This piece included images of eleven native plants and six non-natives that typically bloom in Iowa woodlands in early July. I always get excited when I see the first yellow jewelweed blooming. They're easy to overlook, as they are often partly concealed by leaves.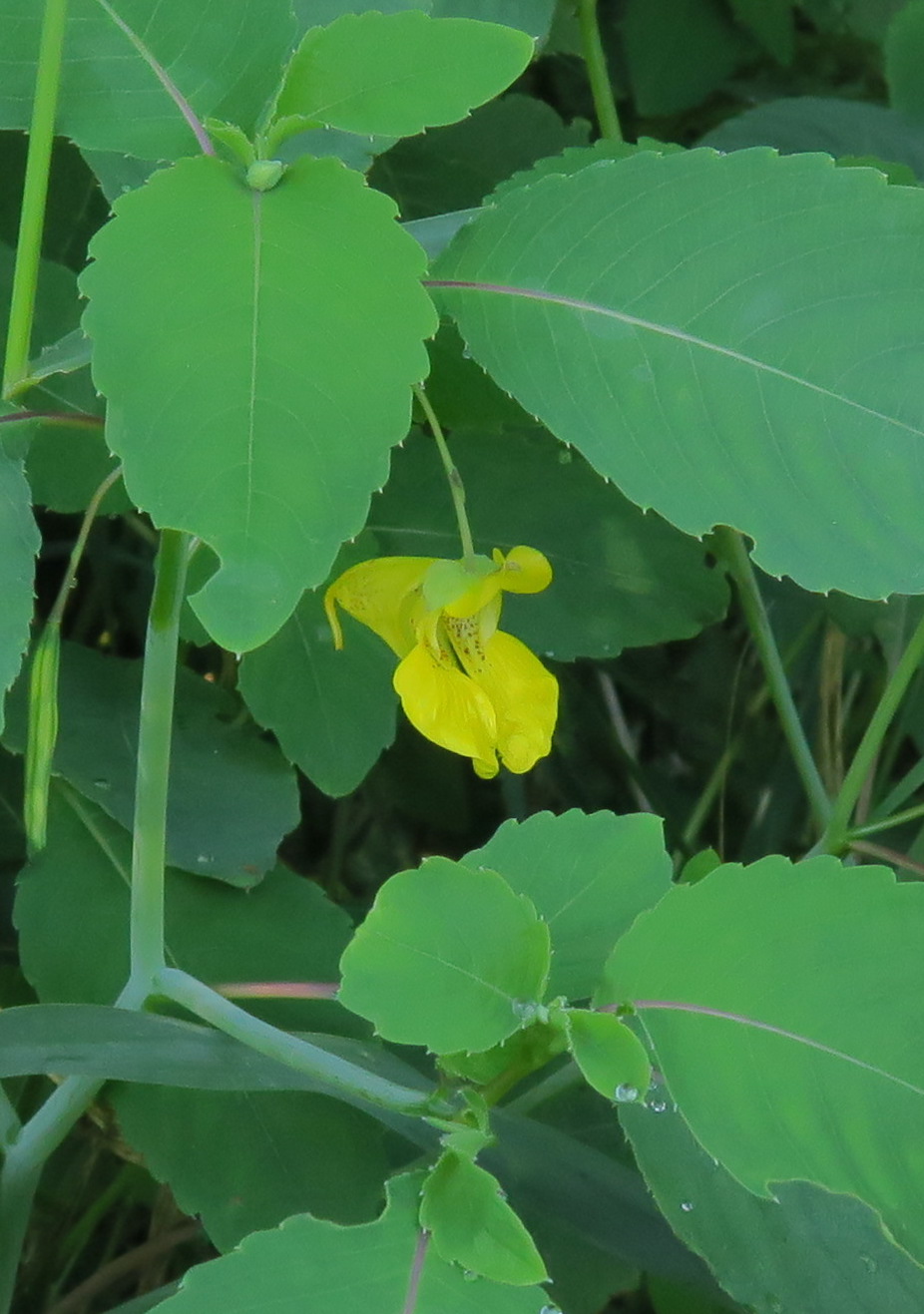 July 15: Catnip
I mostly showcase native plants but make a few exceptions for wildflowers that have become naturalized in Iowa. This piece combined pictures I took next to a sidewalk in Clive with pictures Emilene Leone took in her Scott County yard. Here's one of hers, with a bee enjoying a snack.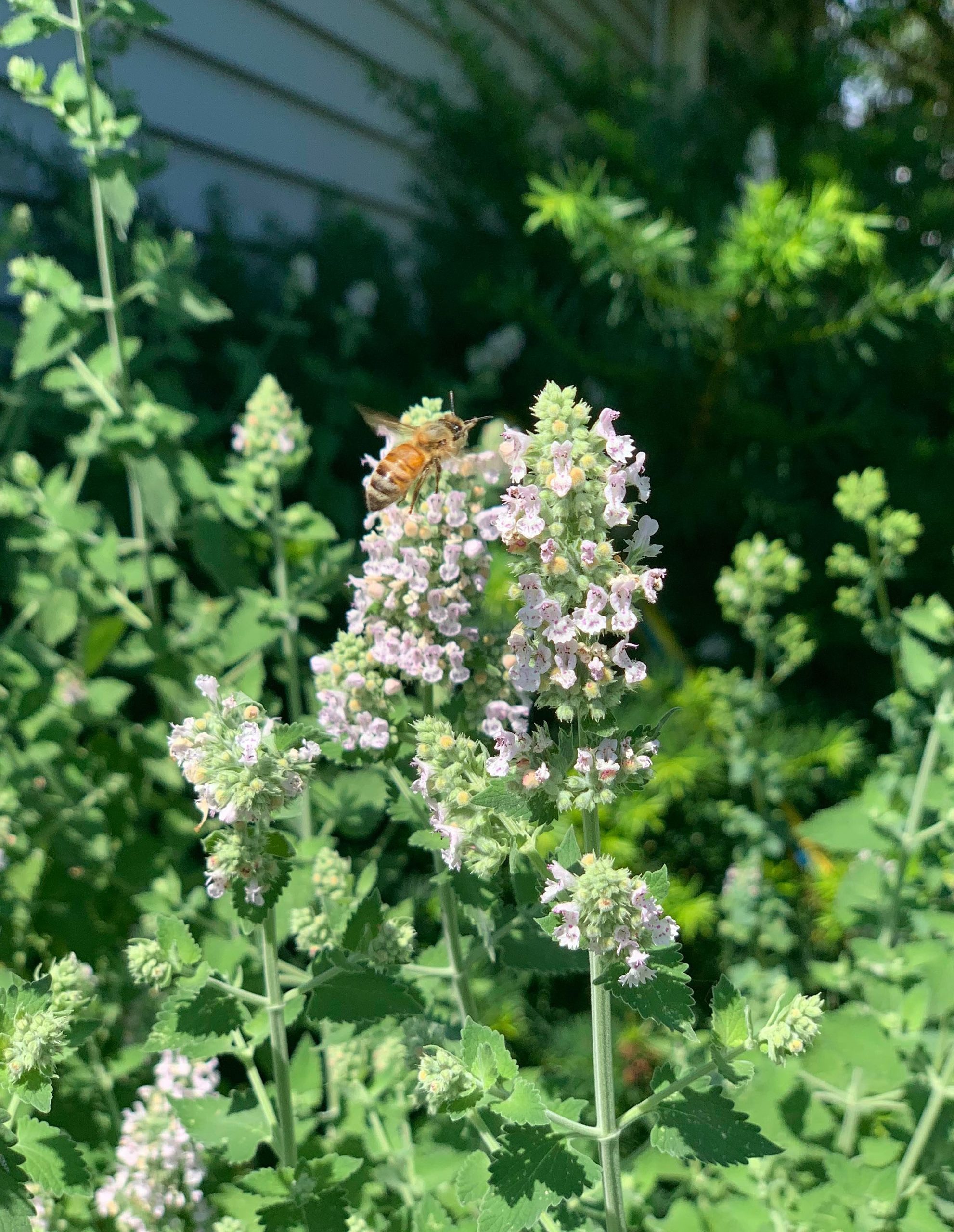 July 22: Enchanter's nightshade
Although some of these woodland plants grow only a few feet from my home, I learned to identify them only recently.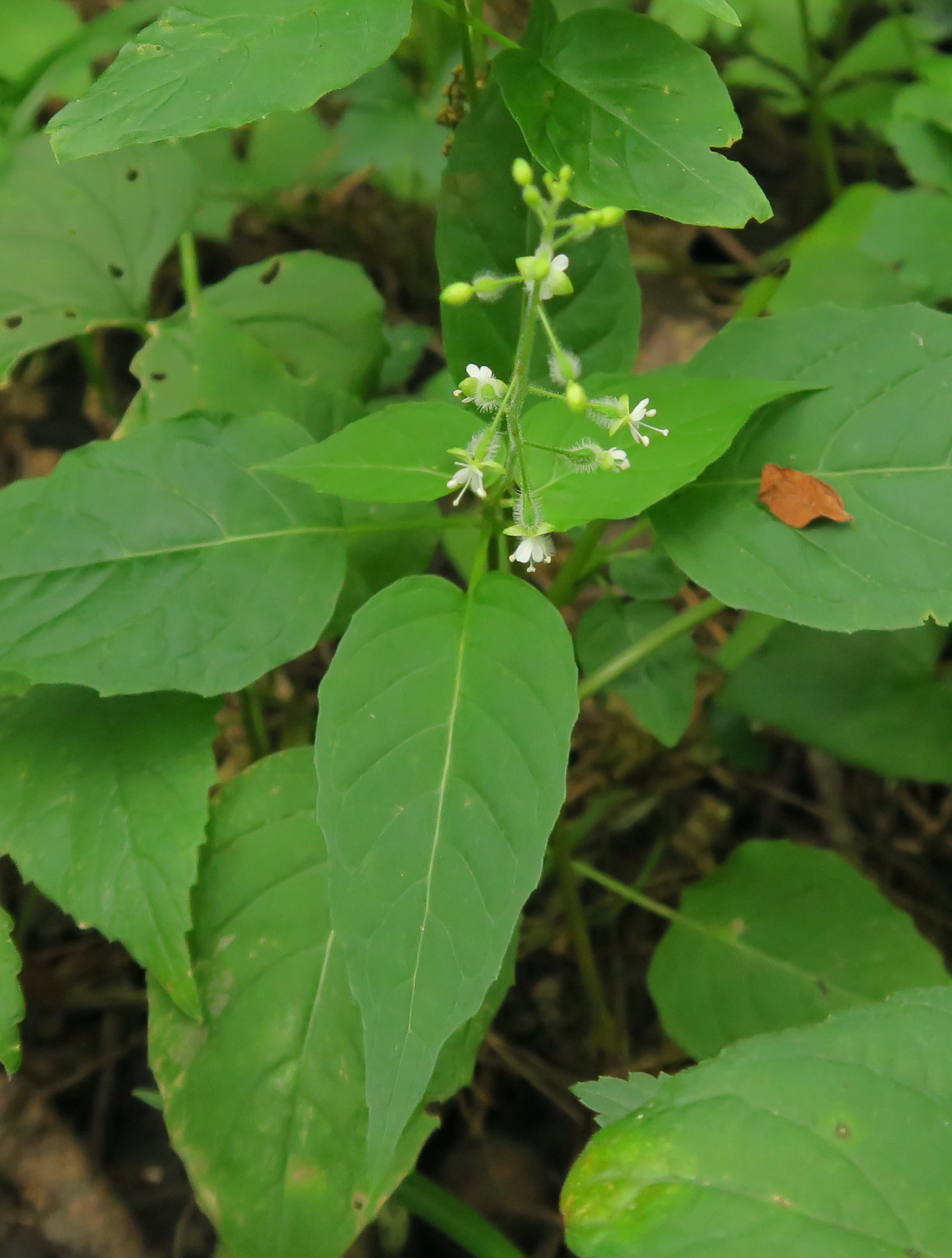 July 29: Leadplant
For the fifth or sixth year running, the peak blooming period of leadplant eluded me. Wendie Schneider and Katie Byerly contributed some of their photographs for this piece. Here's one of Wendie's shots, with a banded hairstreak butterfly sampling leadplant flowers.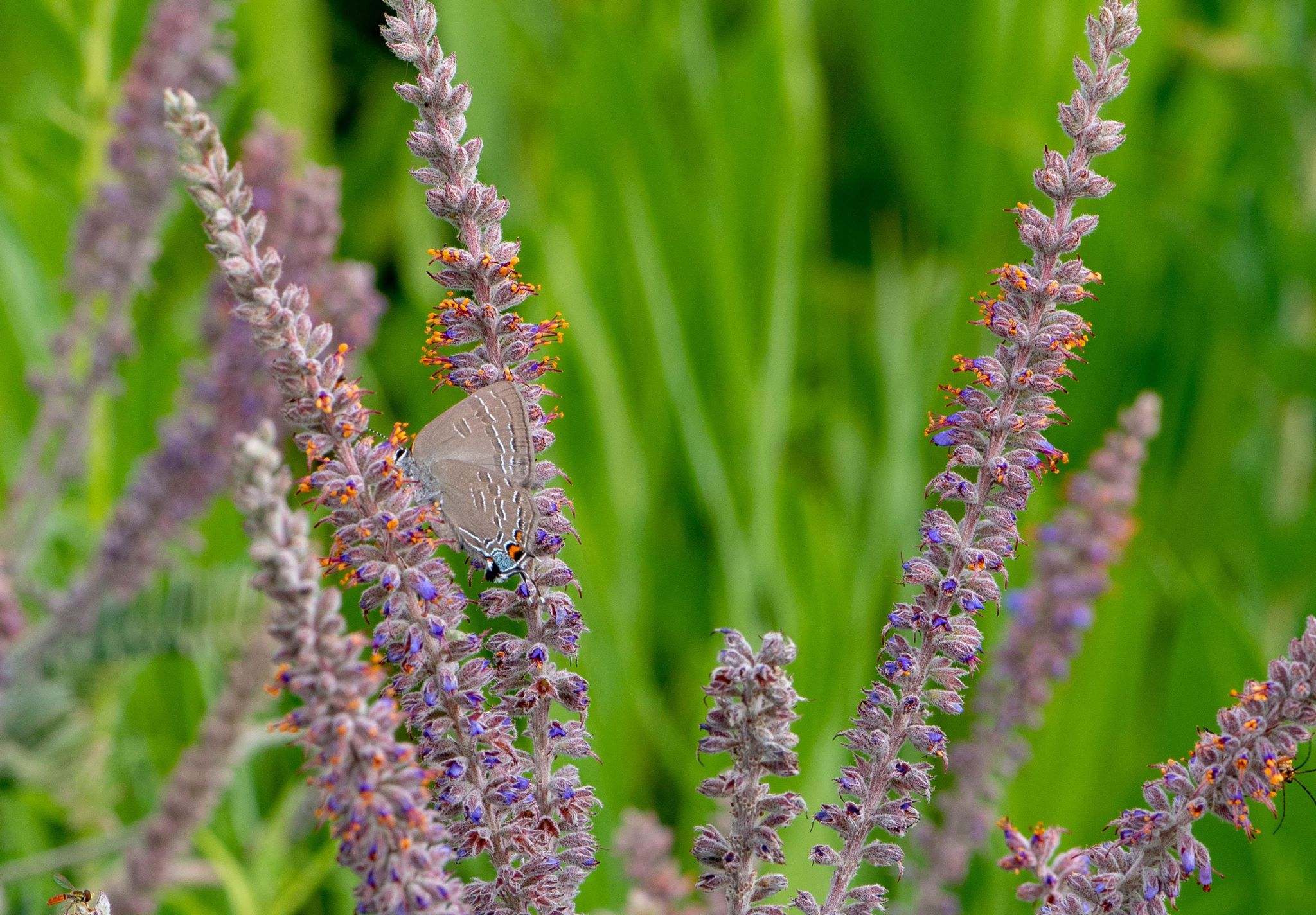 August 5: Virginia stickseed
No one loves Virginia stickseed. Even hard-core wildflower fans detest the burs these plants produce, which "can ruin a good wool sweater." In this shot, the large, colorful flowerheads of black-eyed Susans and horsemint outshine the white Virginia stickseed blossoms near the upper left corner.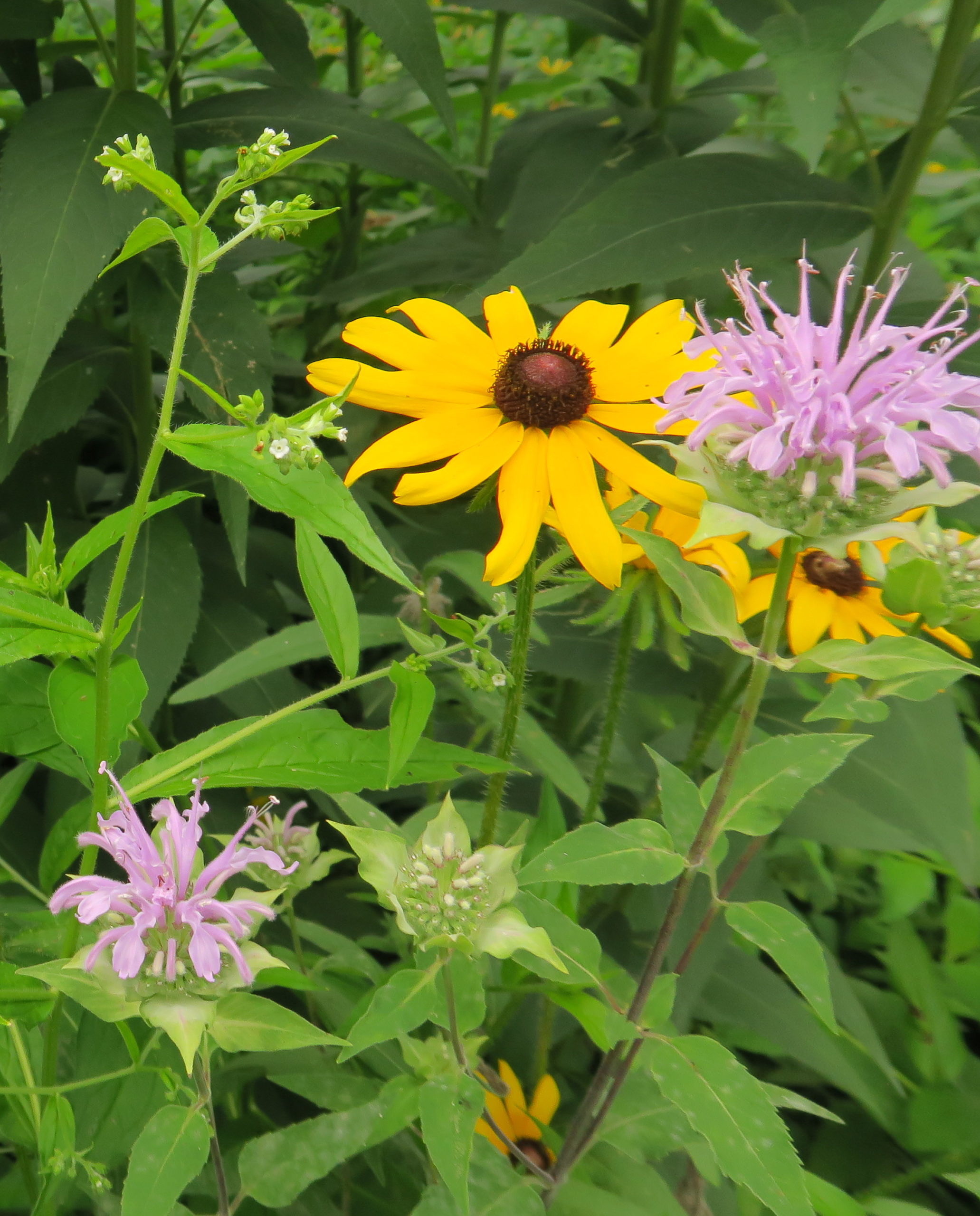 August 12: A lawn-to-native plant garden conversion
This helpful how-to post by Emilene Leone included many photographs of birds or butterflies enjoying her garden plants. Here's a hummingbird sampling Oswego tea, a close relative of the plant known as wild bergamot, horsemint, or bee balm.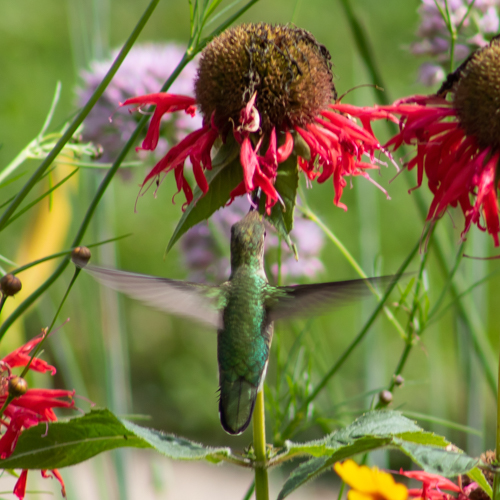 August 19: Iowa golden saxifrage
I was blown away by Beth Lynch's profile of this small plant, "which by historical accident is named for Iowa, even though it is almost never seen in Iowa." To give us a sense of the scale, she photographed some leaves and flowers alongside a Swiss army knife.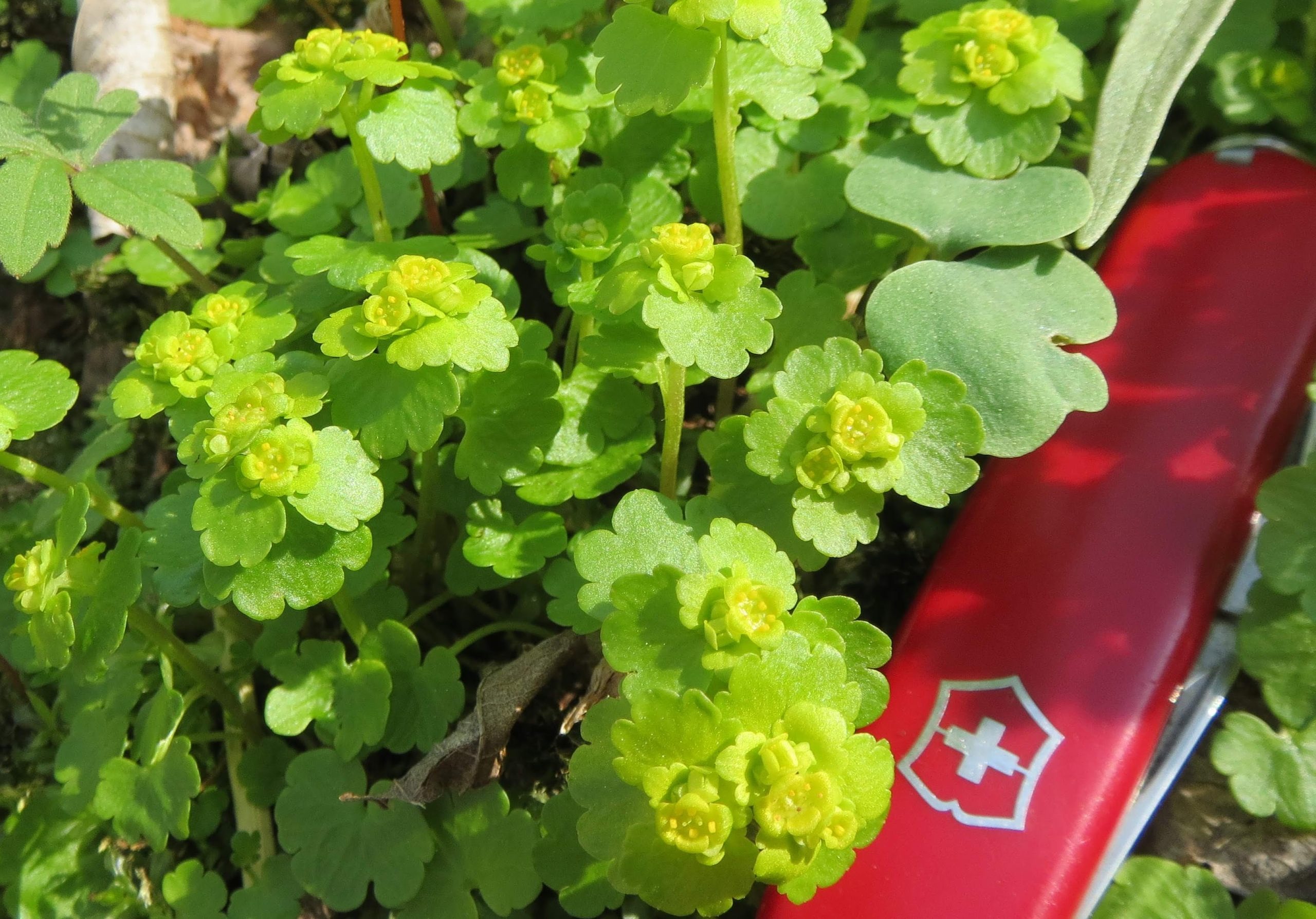 August 26: Pawpaw
I learned a tremendous amount from this piece by Lora Conrad. She grew up eating pawpaw fruit in a part of the country where it is more prevalent. Only a few southeastern Iowa counties can support this exotic-looking plant. A close look at a deep burgundy blossom: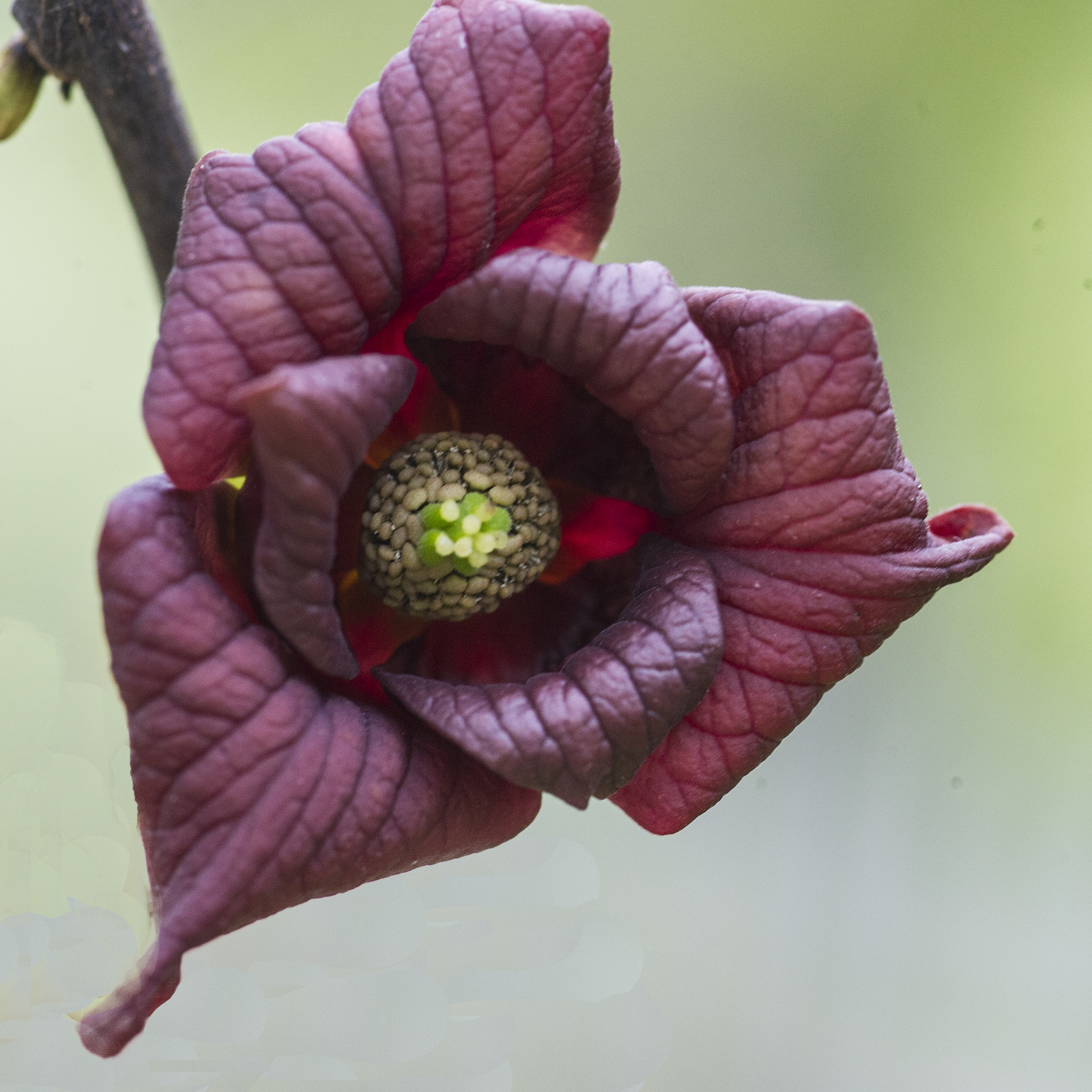 September 2: Trumpet vine
This weedy vine, a favorite of hummingbirds, can do well in urban settings as well as in natural habitats. I photographed several plants near curbsides and parking lots.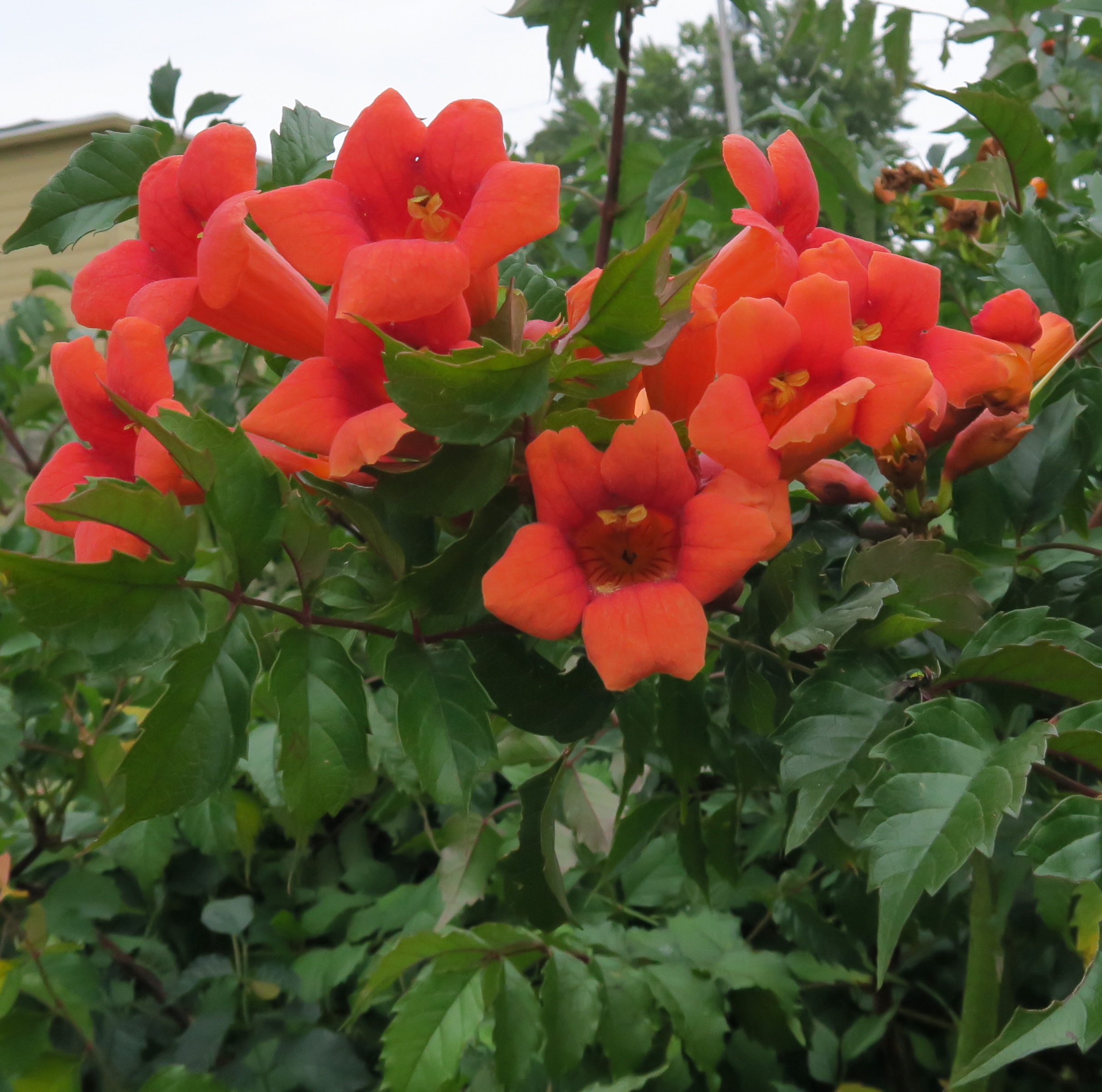 September 9: Rough cinquefoil
I had intended to return to Mike Delaney's prairie in late July or August to capture tall cinquefoil in its prime. Instead, a butterfly garden along the Urbandale bike trail provided the source material for this post about a less impressive cinquefoil.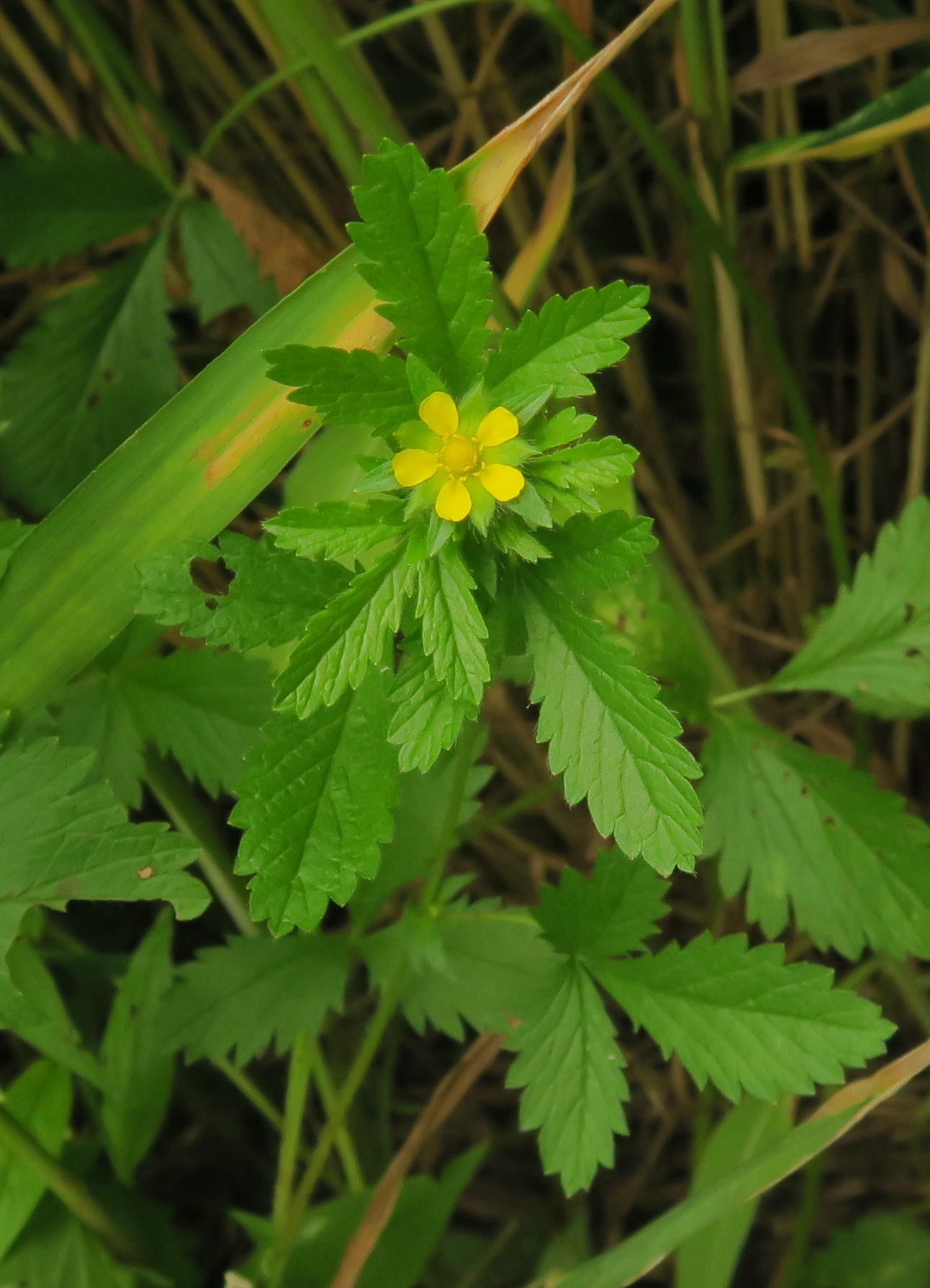 September 16: Rough blazing star
Katie Byerly stepped up again with spectacular views of an eye-catching flower.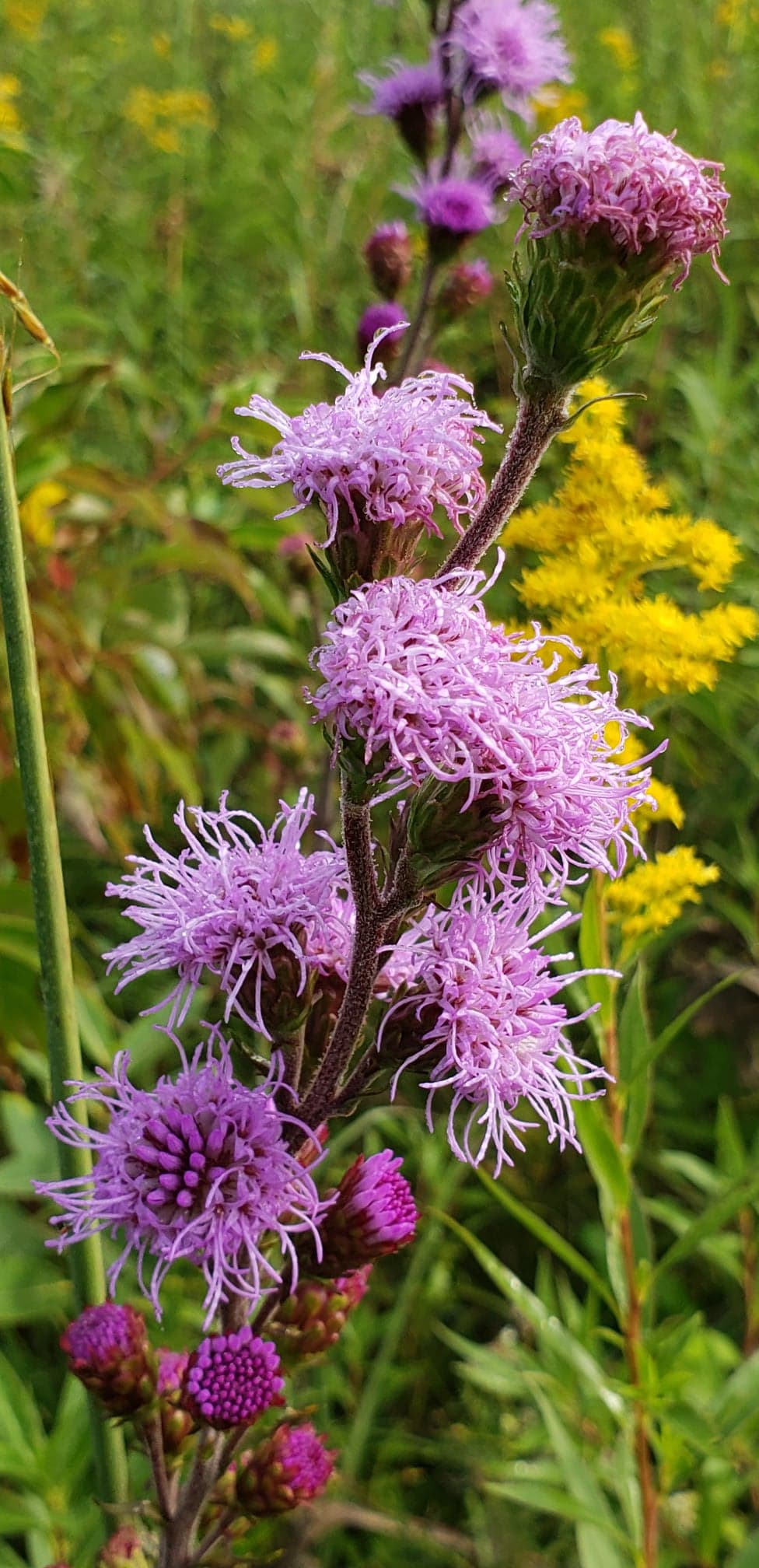 September 23: Wild bergamot (horsemint, bee balm)
Bleeding Heartland user PrairieFan commented on this piece,
Bergamot tends to be avoided by grazing cattle, so it can sometimes be seen on heavily-grazed prairie pastures after other prairie flowers and grasses have apparently disappeared. Some Iowa pasture owners have had the happy experience of seeing many prairie flowers and grasses reappear after grazing is reduced or removed. Prescribed fire can help.
Here's one view of horsemint, with some prairie coneflowers in the background.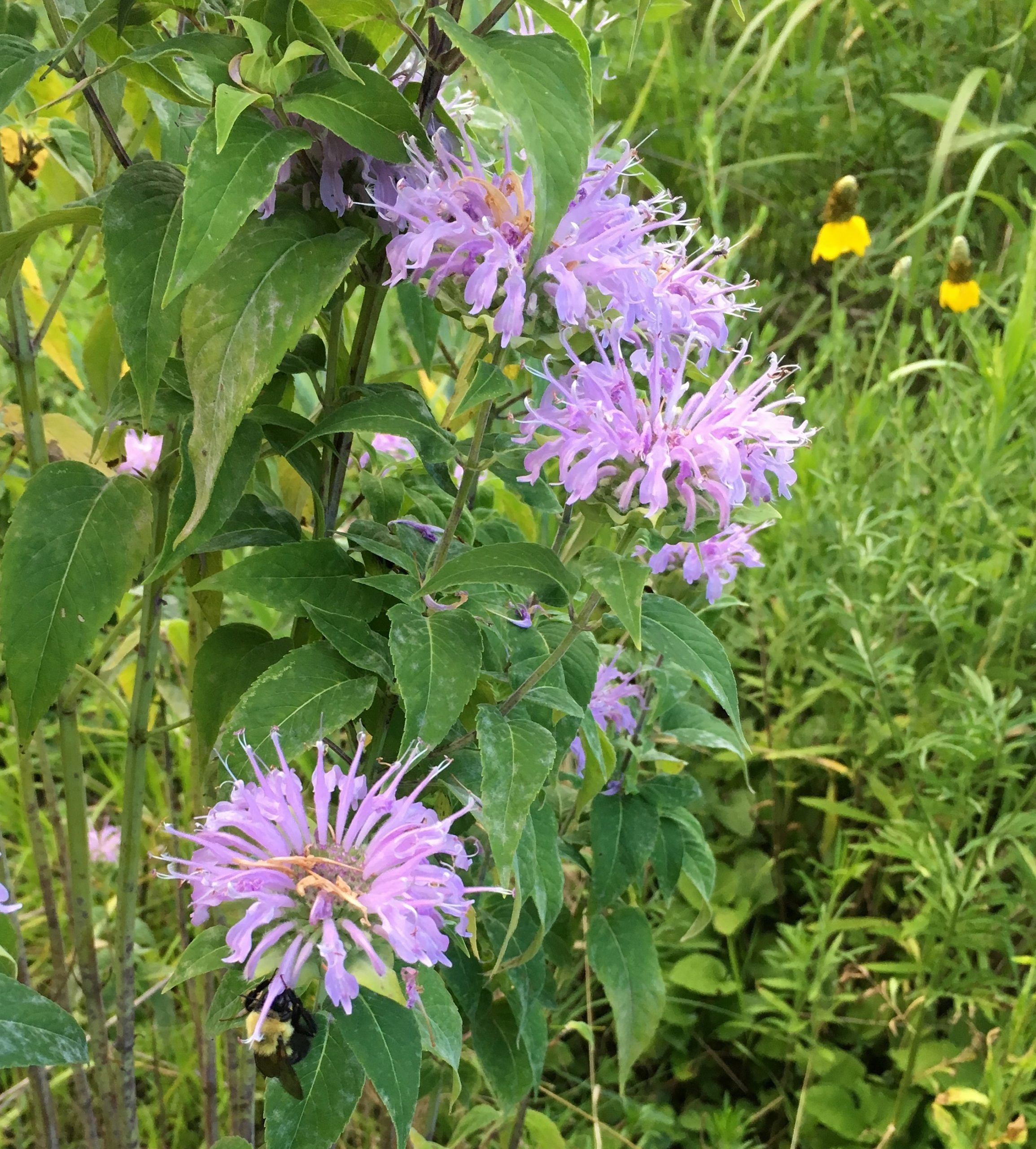 September 30: Velvetleaf (Buttonweed)
I have a soft spot for the tough-as-nails plants that many consider undesirable weeds. Perhaps no wildflower is more hated in Iowa than this one. Its seeds can lie dormant in the soil for decades, then sprout when the ground is disturbed by farming or construction.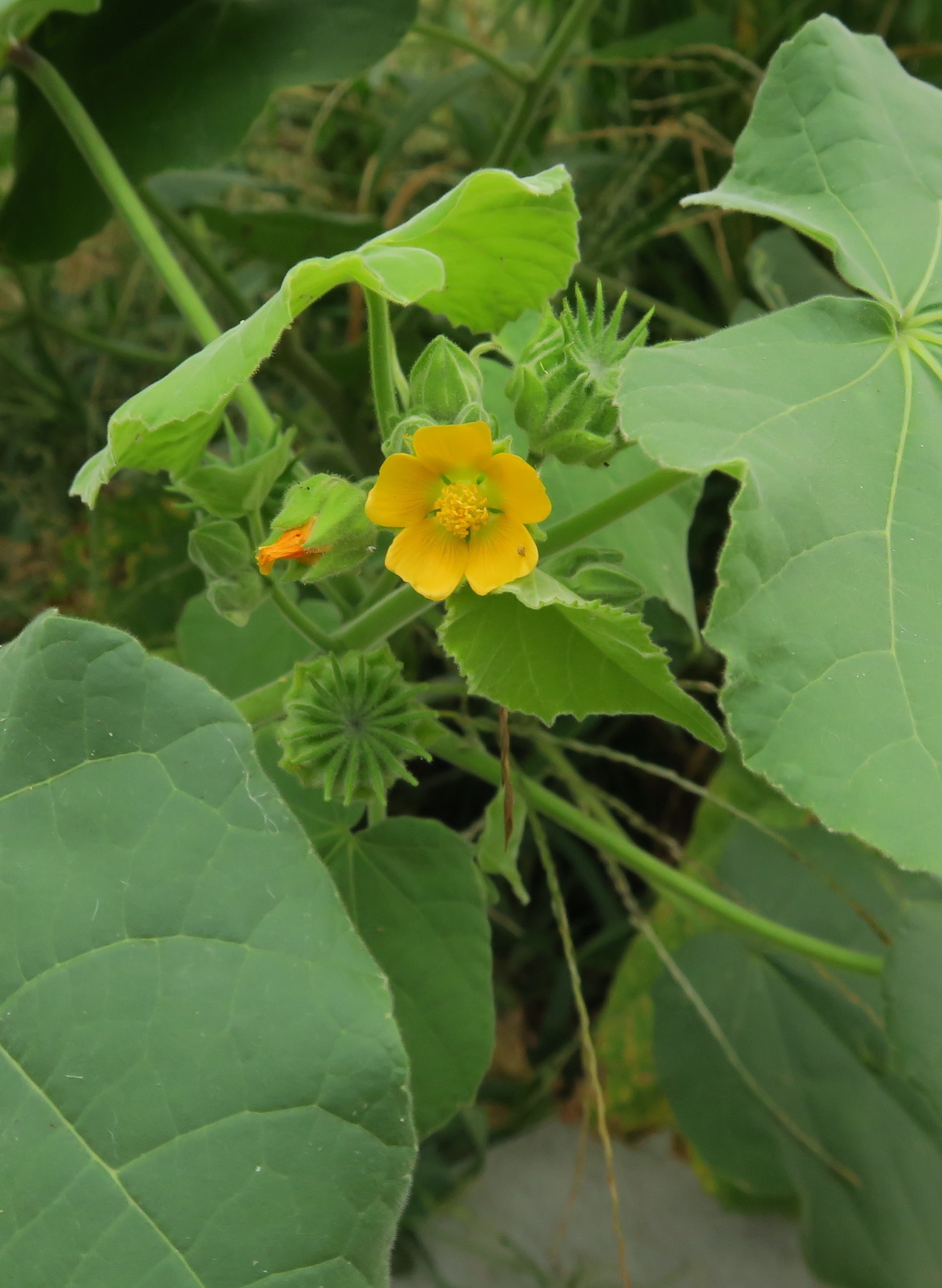 October 14: Purple rattlesnake-root (Glaucous white lettuce)
Katie Byerly has a knack for finding rare wildflowers. For this piece, she included many views of a "peculiar" looking plant, which thrives in sunny, wet prairie habitats.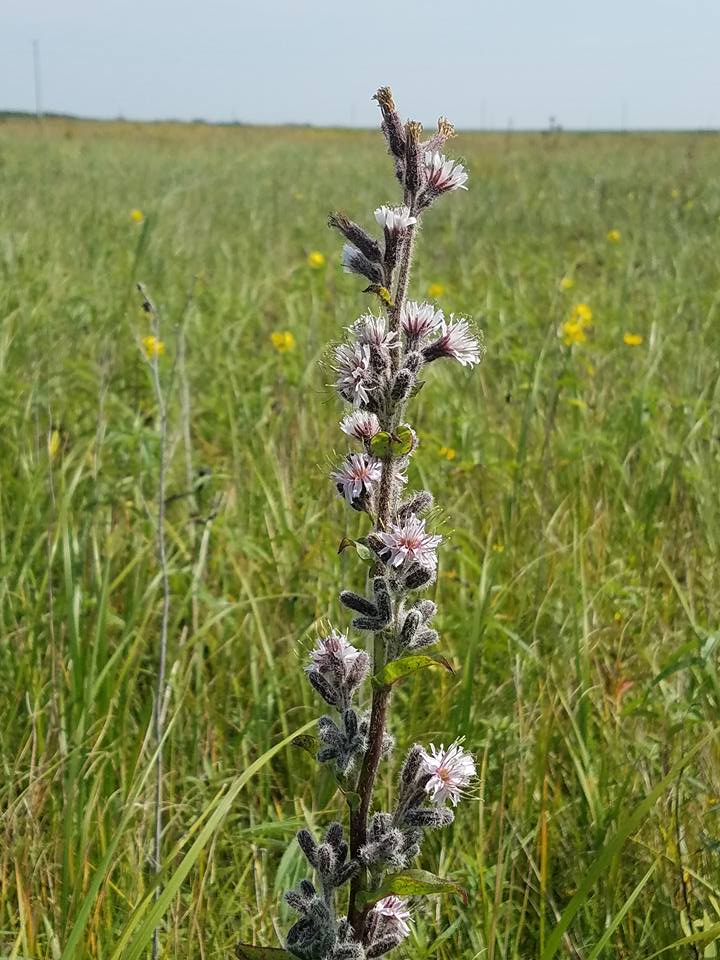 October 28: A walk around my pasture
Bruce Dickerson wrote this piece and took all the pictures on his acreage in Appanoose County. Here's are some chicory flowers, which are not native to North America but are beloved by pollinators.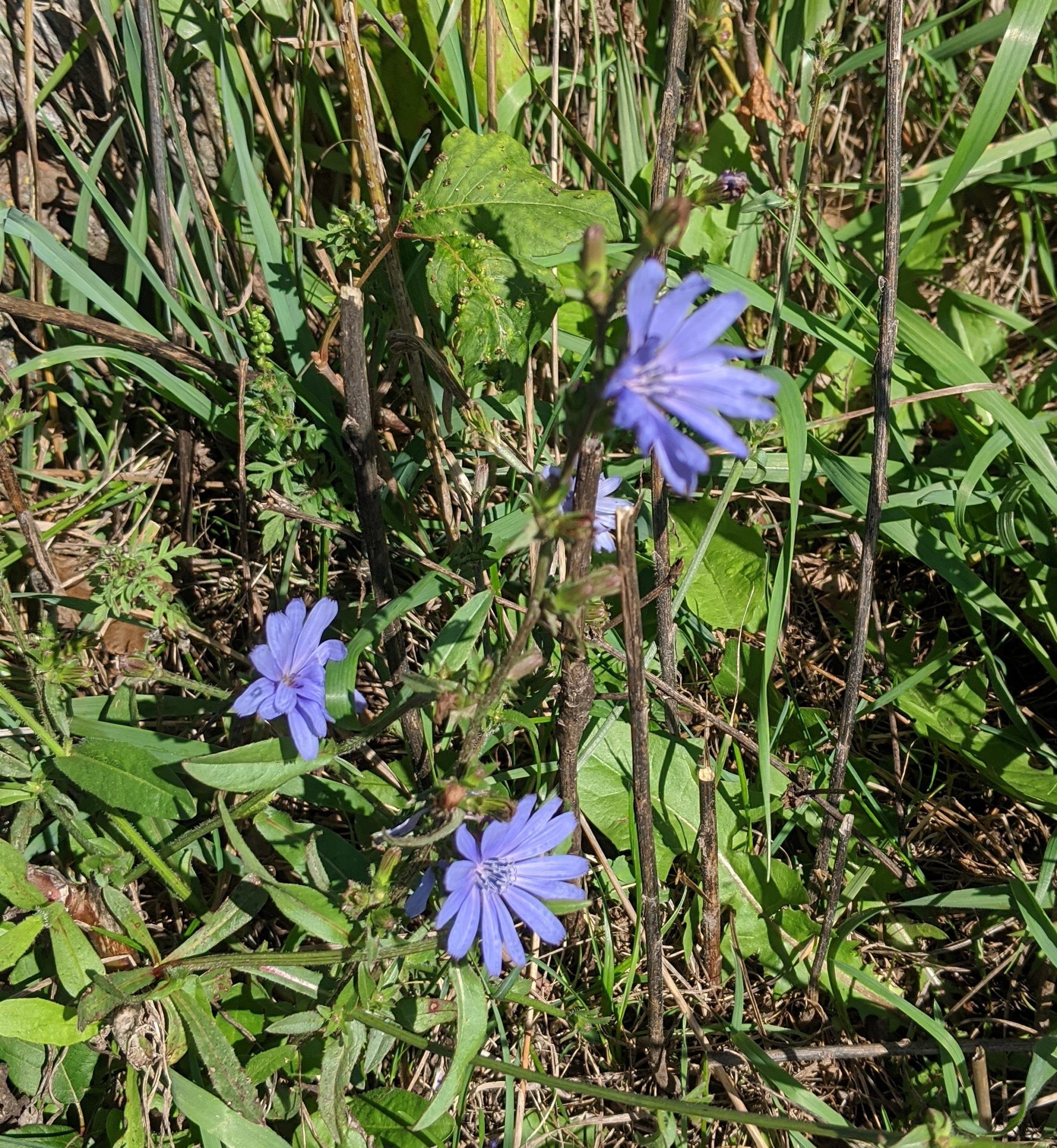 November 4: Sunflowers
For a special post-election edition, I featured one sunflower (plant from the Helianthus genus) for each state where Joe Biden flipped electoral votes. Photographs showed a small cultivar for Nebraska's second Congressional district, Common sunflower for Arizona, Stiff sunflower or prairie sunflower for Wisconsin, Sawtooth sunflower for Michigan, Maximilian sunflower for Pennsylvania, and Jerusalem artichoke for Georgia.
Here's one of the Jerusalem artichokes.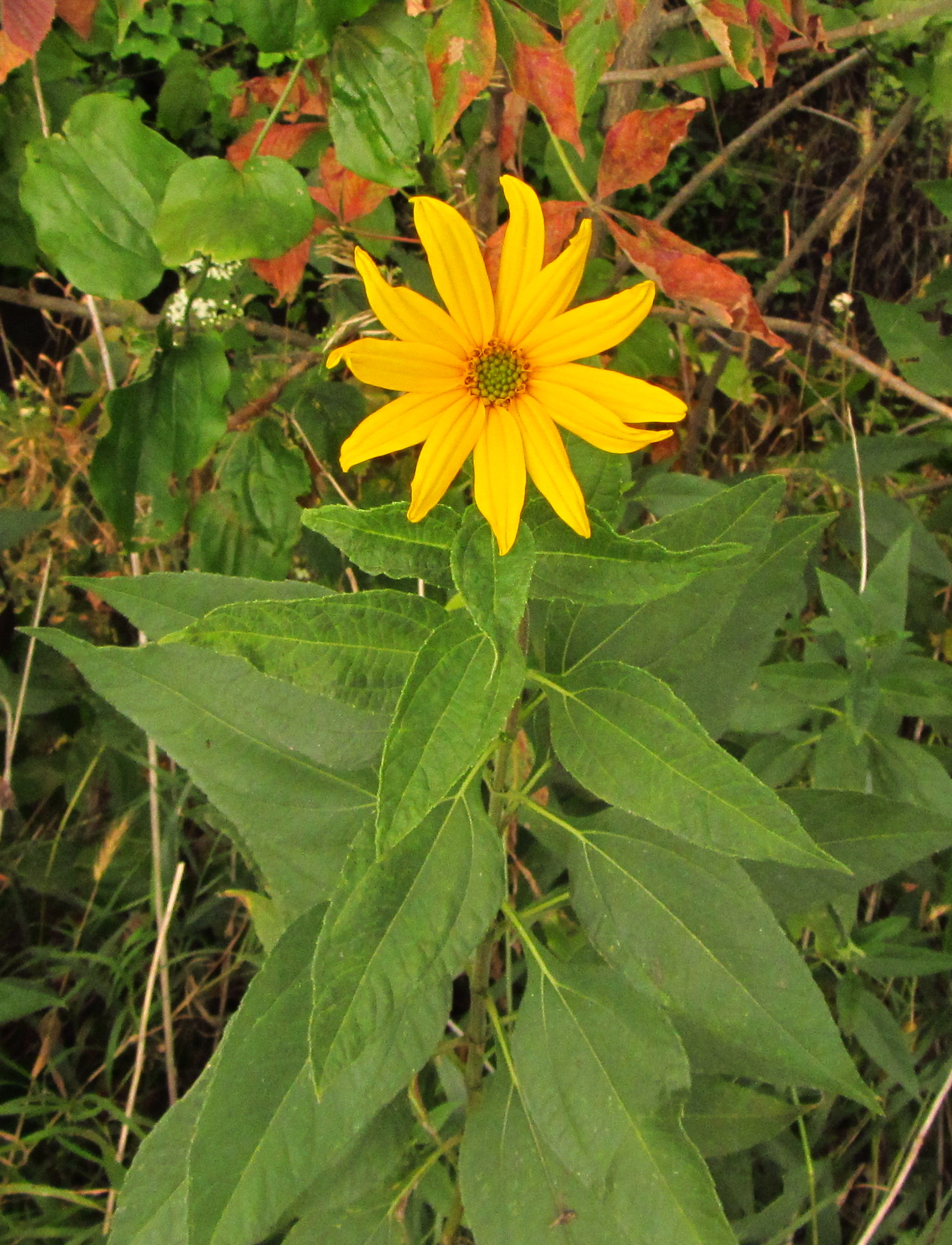 November 25: Flowering plants gone to seed
Katie Byerly provided all of the photos for this year's final installment. I love this view of prairie blazing star.