Before the new political year kicks off with the Iowa legislature convening and Governor Kim Reynolds laying out her agenda, I need to take care of some unfinished business from 2019.
When I reflect on my work at the end of each year, I like to take stock of not only the most popular posts published on this website and the ones I worked hardest on, but also the projects that brought me the most joy. I've found this exercise helps guide my editorial decisions on the many days when I have time to write up only one of several newsworthy stories.
Among the 348 posts I wrote last year, these were some of my favorites:

19. MidAmerican's bid to crush small solar creates strange lobbying bedfellows
I always love a good Iowa legislative lobbying story, and I was fascinated by the coalitions that formed to advocate for and against MidAmerican Energy's terrible solar bill. The Iowa Pork Producers Association were a particularly important partner for the solar industry and environmental groups working to stop this legislation. During the months after session ended, the Pork Producers ran thank-you ads in the districts of some Republicans who had kept this bill bottled up in the Iowa House.
18. When Ruth Corwin Grassley voted a day after the 19th Amendment took effect
Ever since I started writing these compilations, several "Throwback Thursday" posts have ended up on my list of favorites. When I saw Senator Chuck Grassley's floor speech about his mother's historic vote at a "little country school" in Grundy County, I knew I needed to share this story with Bleeding Heartland readers.
17. Iowa wildflower Wednesday: Summer at the Neal Smith National Wildlife Refuge
I wrote 21 of the 31 posts about wildflowers this website published last year, and several were contenders for this list. I have a special attachment to Jack-in-the-pulpits, and I'm always so happy to see the first Mayapples each spring. I even liked writing about plants people love to hate, from the horribly invasive garlic mustard to the ones that will leave burs all over you if you're not careful.
I chose this post because even though the bright sunny weather wasn't ideal for photography, the pictures remind me of my favorite nature outing in 2019. Most of the time, I scope out wildflower material alone, but my teenagers and two old friends came with me to the wildlife refuge that day.
16. Interview: Rachel Junck on her winning strategy in Ames
Although Iowa State University undergraduate Rachel Junck was the top vote-getter in the November election for this city council seat, I felt she would be the underdog in the runoff against an incumbent. The chamber of commerce types would be rallying the troops. Getting students to turn out for a local election is hard enough. The Ames runoff was sandwiched between Thanksgiving weekend and final exams.
Junck proved the doubters wrong by not only winning, but helping to generate higher turnout for the runoff than for the November election. That never happens. I was excited to learn some of the secrets to her success, and she was as enthusiastic an interview subject as I've ever encountered.
15. Throwback Thursday: Chuck Grassley on Bill Clinton's impeachment trial
Once the U.S. House launched a formal impeachment inquiry, it was clear some articles of impeachment would reach the Senate. President Donald Trump's abuses of power are too serious to be ignored or punished by censure alone.
Since everyone knows Grassley and Senator Joni Ernst will be rock-solid votes to acquit Trump, I thought it was important to review how Iowa's senior senator approached the last impeachment trial of a president. Grassley's speech explaining why President Bill Clinton should be removed from office was full of unintentional comedy, in light of Trump's conduct. For instance,
This White House has perfected the art of constructing stone walls around the truth. I fear that future White Houses will learn from these experts, and refine and improve their own truth-fighting arsenals. Truth and openness will be casualties. [...]

Time and time again, he gave answers that were misleading and sometimes deliberately false. The American people have a right to expect their president to be completely truthful.
By the way, Grassley voted to have witnesses deposed as part of Clinton's impeachment trial:
Seeking this information is important to a process that is judicious.

The job of the United States Senate is to find the truth in an expeditious way that is also fair.
Trump made every effort to block key fact witnesses from testifying in the House. Raise your hand if you think there is any chance that obstruction will prompt Grassley to demand that the Senate hear from witnesses during the upcoming trial.
14. Why Dave Loebsack's retirement makes IA-02 a toss-up race
U.S. Representative Dave Loebsack announced on a Friday in April that he would not seek an eighth term. Every Iowa media outlet quickly reported the news, forcing me to think about how I could add value to the story. I decided to combine a short narrative of Loebsack's re-election campaigns with deep dives on the 2016 and 2018 elections in Iowa's second Congressional district. Although it was time-consuming to create maps and tables of county-level results, I was able to get this piece online Saturday afternoon, and happy with how it turned out. This piece was among my 30 most-viewed posts for the year.
13. Ten things to know about the Iowa Supreme Court applicants
As the State Judicial Nominating Commission prepared to interview nineteen people seeking to replace retiring Justice Daryl Hecht, I pulled together five observations about the applicants as a group (for instance, how many could bring gender, racial, or geographical diversity to the high court) and five concerning facts about Muscatine County Attorney Alan Ostergren. One reader commented that this post was "savage." He meant it as a compliment.
Ostergren didn't make the short list of candidates forwarded to the governor last January or last week, when the commission interviewed applicants to replace the late, great Chief Justice Mark Cady. I expect him to keep trying.
I'd thought seriously for a long time about dropping my handle ("desmoinesdem"). For reasons that are hard to explain to people who weren't active on political blogs during the 2000s, I felt a lot of anxiety about publishing on this website under my real name. Once I finally decided to make the change, it was liberating to write this post.
11. How politicians control coverage of their fundraising: A Joni Ernst case study
I didn't do a lot of media criticism in 2019, but I managed to address a couple of pet peeves. This post focused on the tendency of political reporters to rewrite campaign news releases spinning fundraising numbers, instead of waiting a few days to review the full financial disclosure online. Bleeding Heartland's longstanding editorial policy is never to jump on a press release or selective leaks before all details about campaign contributions and expenditures are publicly available.
10. Jerry Foxhoven stopped playing along. This will end badly for Kim Reynolds
After several weeks of silence about why Reynolds might have wanted him gone, former Iowa Department of Human Services Director Jerry Foxhoven told a music reporter the governor's staff "asked me to do something I thought was illegal." Down the rabbit hole I went. This piece turned out to be the fourth most-viewed among more than 600 posts Bleeding Heartland published in 2019.
9. How one Democrat's work will let Iowa Republicans pack the courts
The Republican drive to give the governor more control over judicial appointments was perhaps the most depressing Iowa political story of 2019. The consequences may still be felt generations from now. The week the bill dropped in the legislature, I diverted my energy toward solving a mystery: why did the Iowa Constitution contain a loophole that would allow the GOP trifecta to blow up our judicial selection process in a matter of weeks?
I learned a lot while researching this story. Here's something I uncovered that didn't make it into the final draft: first-term State Representative Chuck Grassley's official photo from the 1959 legislative session. (He voted for transitioning from electing judges to a merit-based selection system.)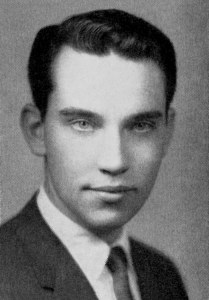 8. Bennett Smith weighing independent bid in Iowa House district 54
Providing in-depth coverage of state legislative campaigns was a priority for me in 2019. In general, I enjoy writing Iowa House and Senate race previews, so it was hard to choose one from the two dozen I published last year.
When I received the news release about Bennett Smith exploring a candidacy in House district 54, my first thought was, "Finally, a Republican is stepping up to run in Linda Upmeyer's district." I'd been waiting for months for someone to make a play here.
Looking more closely at the statement, I did a double-take. Wait, was he going to run as an independent? Sources had previously mentioned the Clear Lake City Council member as a possible GOP candidate. I didn't realize he had left the party, not liking the direction it was taking in the age of Trump.
Democrats hadn't fielded a candidate in House district 54 at any time during the past decade, so it had never occurred to me that this race could be competitive in 2020. I was only thinking about what kind of Republican would replace the retiring House speaker. After confirming with Smith that he had ruled out seeking the GOP nomination, I reviewed the district's registration numbers and recent voting history. It seemed like this could be a rare opportunity for an independent to win. The novelty aspect made this post more fun to write.
After testing the waters for a month, Smith announced a few days ago that he's going for it.
7. What needs to happen for J.D. Scholten to beat Steve King (2020 edition)
On the evening of July 31, I felt I should recap the second round of Democratic presidential debates, which had just concluded. But I didn't feel inspired and couldn't think of anything original to say.
Instead, I worked late reprising one of my favorite posts about the last cycle's federal campaigns. When I published that piece in June 2018, it seemed a bit farfetched that Democrat J.D. Scholten could get to a win number in such a conservative Congressional district. Then he came surprisingly close to beating a notorious political villain.
This piece identified six essential elements to a Scholten victory. The first was Representative Steve King winning the GOP primary in IA-04. I'm more confident than ever that he will prevail against a splintered field this June.
6. Exclusive: Iowa Democrats recall first Congressional vote on Hyde amendment
This post was a real labor of love, months in the making. I was grateful to be able to interview four of the six Iowans who served in the U.S. House in 1976, when the first ban on federal funding for abortion passed: Berkley Bedell, Tom Harkin, Ed Mezvinsky, and Neal Smith. Making contact with Mezvinsky led to another interview later in the year, about his experience serving on the House Judiciary Committee that considered articles of impeachment against President Richard Nixon.
5. The quiet death of a Republican 2018 campaign lie
State Auditor Mary Mosiman ran a one-note re-election campaign: I'm a certified public accountant and my opponent isn't. Not content to simply recycle a talking point Republicans had used against Democratic challengers in 2010 and 2014, Mosiman embellished it by asserting that if Rob Sand were elected, the state would have to spend millions of dollars a year outsourcing all audits to private firms. Several county attorneys and a fact check by Matthew Rezab of the Iowa Falls Times-Citizen debunked the claim. Nevertheless, she persisted.
I wrote this post in one sitting after learning that the Iowa Accountancy Examining Board had determined the State Auditor's office can perform its statutory duties regardless of whether its leader is a CPA. It ended up being among my 30 most-viewed posts of 2019.
4. When politicians become assignment editors
Media coverage of Grassley inspired this commentary about another feature of Iowa political reporting that has long bothered me: press releases, conference calls, or social media posts drive most coverage of what our members of Congress are doing. Sometimes those stories are newsworthy, but too often journalists let elected officials set their agenda and even frame their approach to a topic.
My question was, "who's dedicated to keeping readers informed about actions that don't reflect well on Grassley, or decisions his office isn't trying to publicize?" The critique applies equally to reporting on Ernst and those who represent our state in the House.
3. In bait and switch, Iowa governor hiring "public relations manager"
A tip from a reader allowed me to circle back to a story I hadn't had time to look into during the hectic final weeks of the legislature's 2019 session. Reynolds had told state agency leaders to submit status-quo budget requests. Yet she asked lawmakers for a 10 percent increase in the allocation for her own office. Why did she need so much more money? Transparency was lacking, but key Republican lawmakers told colleagues the extra $200,000 would cover salaries for two new hires: analysts on health and tax policy.
About a month after the House and Senate went home for the year, the governor's office wasn't advertising for health and policy analysts. But a job listing appeared for a public relations manager whose duties included "develop and write key messages and presentations for Governor's initiatives and goals" and "evaluate social, economic, and political trends."
I was surprised that this post ended up being among my ten most-viewed for the year. Reynolds did bring on new health and tax policy analysts last summer, without listing either position on the state government job site.
2. Someone is "cybersquatting" on Jack Whitver's former website
Probably 1,001 Iowa politics developments are more important than the Senate majority leader letting the domain name for his campaign website expire. But I couldn't resist following up when a tipster informed me that JackWhitver.com was now full of weird posts about home decor. It was another example of a phenomenon Bleeding Heartland has noted before: the Senate Republicans have the worst political communications shop in the state.
I never did figure out why someone decided to use Whitver's website for that purpose. They didn't appear to be selling anything. My message to the "contact" email was not returned, but after I published this piece, whoever was behind the site stopped updating it. They had been posting daily for about six weeks.
Whitver also didn't respond to my inquiry, which is typical for him. Weeks passed before the official Iowa legislative website was updated to stop directing people to the hijacked site.
1. Paul Pate's error sends pro-gun amendment "back to square one"
A year ago today, as I was finishing up "who's who" posts that I run at the beginning of each legislative session, a tip came in that demanded immediate attention. The Iowa Firearms Coalition president had just sent out an email blast lamenting a major setback: "Because of the Secretary of State's complete failure, we must now go back to square one of the constitutional amendment process."
Within a couple of hours, I was able to break the news. Other reporters were also working on the story, but I didn't wait around for a comment from the secretary of state's communications director. In my experience, he often takes days or weeks to answer my questions. The piece became one of Bleeding Heartland's fifteen most-viewed posts for the year.
A few months later, Republican lawmakers made sure Paul Pate would never be able to screw up another constitutional amendment. But for what it's worth, I wouldn't be surprised if they try to find a way to get the pro-gun language on the 2020 statewide ballot despite the mishap in the Secretary of State's office.
Final note: of the 290 guest posts Bleeding Heartland published last year, the one I most enjoyed copy editing was former Iowa House Speaker Pat Murphy's account of How the Iowa House passed the civil rights bill in 2007. If you missed that post last May, I assure you it's worth your time.