Five years ago, I started taking stock of my most labor-intensive posts near the end of each year. Not all of these are my favorite projects, though invariably, some of my favorites end up on these compilations.
Before getting to the countdown for 2019, I want to give another shout out to guest authors who poured an extraordinary amount of work into two posts Bleeding Heartland published last year.

John Morrissey tracked the bidding process for Iowa's workers' compensation program for nine months, eventually producing a great exclusive: Sedgwick landed six-year, $7.9 million state contract with also-ran cost proposal. No other journalist reported on this story, to my knowledge. I don't know why mainstream media outlets didn't find it newsworthy. It was widely reported in 2018 that Sedgwick's CEO had provided free flights to Governor Kim Reynolds on the company's jet.
Marty Ryan spent much of 2019 trying to hold the Iowa Board of Corrections accountable for failing to perform one of its statutory duties. His quest involved doing battle with the Iowa Public Information Board, which was reluctant to investigate whether an open meetings law violation had occurred. I highly recommend Marty's narrative, Fighting city hall on the state level.
Back to the task at hand. Many subjects I covered last year required a strong focus, but only for a day or less. That includes most of my writing about the legislature's actions, Congressional or state legislative campaigns, and Iowa wildflowers. In contrast, all of the posts listed below involved days or weeks of work.
Since I don't track hours spent on each post, I can't say for sure that these nineteen were the most time-consuming of the year. Other contenders:
(among Bleeding Heartland's 50 most-viewed posts of the year)
A few of the posts I worked hardest on last year are still unfinished. I hope to publish them during the next few months.
Based on my best guesses, the following were the most labor-intensive of the 348 pieces I did complete from January through December 2019.
19. IA-04: Steve King doesn't seem worried--or does he?
Compared to more than a dozen other posts I wrote about the 2020 race in Iowa's fourth Congressional district, this piece involved far more work. Looking through Federal Election Commission filings is always a bit of a slog. In addition, for one section of this piece I created interactive maps and tables showing votes for King, J.D. Scholten, Governor Kim Reynolds, and her challenger Fred Hubbell in all IA-04 counties.
I'd created similar maps and tables plenty of times before (see here, here, and here), but IA-04 has 39 counties. Putting the voting numbers in these formats required a lot of cross-checking. (Was that a data entry error? No, Hubbell really did get exactly the same number of votes in Wright and Winnebago counties.)
18. Highlights: How Iowa's Pete Brownell helped NRA become Russian asset
Although I only spent a couple of days writing this piece, the project took a lot of my energy. There was so much meat in the investigative report by minority staff on the U.S. Senate Finance Committee. I struggled to figure out the best way to present the material.
By the way, Elizabeth Meyer of Iowa Starting Line was the only other Iowa journalist to cover this story, which is bonkers. It was an obvious local angle on a matter of national importance. I'm sure many readers and television news viewers would have been interested to learn that an Iowan became a target for Russian operatives seeking to use the National Rifle Association to gain access to senior Republican politicians. This piece was the tenth most-viewed Bleeding Heartland post from 2019.
17. Iowa state treasurer: Use caution with gift cards
I started working on this piece early in the year after interviewing State Treasurer Michael Fitzgerald. It wasn't coming together, and I got sidetracked. The approach of the holiday shopping period inspired me to go back to this project.
The so-called "Pizza Ranch bill" hadn't been on my radar when the Iowa House and Senate approved it unanimously in 2014. Researching this post provided a good reminder: no matter how closely you think you are following the legislative session, you surely missed some stories that will affect a lot of Iowans.
16. Republican lawmakers deal another blow to electric vehicles in Iowa
A tipster flagged an item on the agenda for the Iowa legislature's Administrative Rules Review Committee meeting in November. I wasn't familiar with the technical aspects of electric vehicle charging or the regulatory framework, but I tried to get up to speed before the meeting.
No other journalists were present during the spirited discussion, which lasted for more than an hour. Committee Republicans approved an objection that read like attorneys for utility companies drafted it. As Josh Mandelbaum of the Environmental Law & Policy Center told me, the committee's action was "a perfect example of the utilities' misguided efforts to attack solar." I plan to keep an eye on this issue during 2020.
15. Five thoughts about Linda Upmeyer's tenure as Iowa House speaker
I started thinking along these lines in April, when rumors first circulated about Upmeyer stepping down as speaker shortly after the legislative session ended. Multiple reliable sources told me in late August that Upmeyer seemed to be headed out the door.
My goal was to publish shortly after the speaker confirmed plans to depart, but it took me the better part of a week to pull together thoughts on the accomplishments and legacy of the first woman to hold the top position in the Iowa House.
A postscript addressed some disingenuous comments by Upmeyer and WHO radio host Simon Conway, who sought to discredit me over my earlier reporting about the speaker.
14. The 2007 votes that made 2019 a historic year for transgender Iowans
I had reported in 2007 that the Democratic-controlled House and Senate amended the Iowa Civil Rights Act to add protections for sexual orientation and gender identity. But in the early months of this blog's existence, I had a toddler and a preschooler and couldn't devote much time to in-depth legislative coverage. After a couple of significant court rulings for transgender litigants came down in February and March of last year, I decided it was time to write a proper accounting of how the bill got through.
I learned a lot from interviewing State Representative Beth Wessel-Kroeschell (who had floor-managed the bill), former House Minority Leader Chris Rants, and former House Speaker Pat Murphy. In fact, shortly after I published this piece, Murphy agreed to share with Bleeding Heartland readers his own narrative on How the Iowa House passed the civil rights bill in 2007. It's an entertaining read about a big accomplishment from Murphy's first year as speaker.
13. First look at the Iowa House landscape for 2020
Early last year, I made an editorial decision. I didn't have the bandwidth to comprehensively cover all the presidential campaigns in Iowa, as many other news organizations were doing. However, I could provide in-depth coverage of state legislative races, which might affect the daily lives of Iowans in 2021 and beyond more than whatever happens in the 2020 caucuses.
Soon after the legislature adjourned on April 27, I started working on my first overview of potentially competitive state House races. The Republican majority had just shrunk from 54-46 to 53-47 with State Representative Andy McKean's party switch. This piece identified nineteen House districts where one or both parties seemed likely to spend significant money in 2020. I updated the post throughout the remainder of the year as various candidates announced plans to run or not run for the legislature.
12. Leader quits Iowa civil rights enforcement agency
For reasons that remain unclear, Governor Kim Reynolds did not reappoint Kristin Johnson as executive director of the Iowa Civil Rights Commission in early 2019. She named an acting executive director but didn't submit any nomination for that position to the Iowa Senate during the 2019 session.
A couple of tipsters alerted me to the fact that acting director Linda Grathwohl told staff on July 11 she would soon leave the agency. I quickly put in a couple of records requests. The documents I received didn't answer all my questions, and Grathwohl never responded to any of my emails or phone messages. Nevertheless, I gathered enough material to write about the lack of transparency surrounding the transition and some actions that have hindered the agency's work. To my surprise, this post ended up being among the 50 most-viewed pieces Bleeding Heartland published last year.
11. Dark money group spent $1.25 million pushing MidAmerican's solar bill
A big threat to small-scale renewable energy projects occupied a lot of my energy during the legislative session. This bill stalled in the Iowa House, despite a massive lobbying effort by its advocates, but I suspected it would be back in 2020.
Shortly after state lawmakers went home for the year, I reviewed the advertising paid for by the REAL Coalition, a brand-new group that does not disclose its donors but is closely aligned with monopoly utility providers. This post required many hours of searching through Federal Communications Commission records for television ad buys on Iowa stations. The FCC's website is the opposite of user-friendly, and the documents don't come in any standard format. I also had to be very careful to avoid double- or triple-counting the ad buys, because some of the stations submitted multiple invoices covering the same weeks, as the REAL Coalition revised its spending plans.
I later realized this post understated the total price tag for dark money lobbying, because it did not include hundreds of thousands of dollars spent on cable spots pushing MidAmerican's talking points about the solar bill.
10. Governor's "weekly" press conferences less frequent, less accessible
This concept was turning around in my mind for months. Reynolds had suspended her press conferences for the last four months of the 2018 gubernatorial campaign, but she repeatedly promised that if elected, she would hold them on a weekly basis. I could tell from reading the governor's public schedules that she wasn't keeping her word. Her office also stopped posting the videos from her media availabilities on YouTube, as Governor Terry Branstad had always done, and Reynolds did in 2017 and 2018.
First I waited to see if the situation would improve after the legislative session. Nothing changed, so I decided to write up this story over the summer. My goal was to publish at the beginning of August, when Reynolds' new "public relations manager" would be joining her staff. It seemed like a natural inflection point; later I could review to see whether a PR professional had pushed the governor toward doing more or fewer press conferences. But organizing and writing took a couple of weeks longer than I anticipated.
Reynolds still isn't holding formal news conferences every week, and the public continues to have no access to footage of the governor's Q&A with reporters.
9. Des Moines City Council members flouted gender balance requirement
Iowa law requires certain local boards to have no more than a simple majority of male or female members, but not all municipal officials take the mandate seriously.
I had hoped to publish this deep dive at least a month before the November local elections. Other projects distracted me in September, and a mistake on a public records request I submitted caused further delay. By the time I finished the post, less than a week remained before election day. Des Moines City Council members Joe Gatto won another term outright on November 5, and Linda Westergaard won her runoff election the following month.
I welcome tips from readers about local government matters, so please get in touch if you are aware of any city or county officials engaging in questionable behavior. I never reveal any source's identity unless the person wants credit for the tip.
8. How the Iowa Department of Corrections is addressing racial disparities
If you've never attended the NAACP's annual Iowa Summit on Justice and Disparities, try to go sometime. A panel discussion inspired the research that led to this post, which covered only one of many interesting topics I learned about that day.
I have no idea why the Department of Corrections hasn't more widely publicized its efforts to provide a bias-free environment in prisons and community-based corrections. As far as I know, Bleeding Heartland is the only news organization to report on concrete steps taken recently to improve staff training and identify possible sources of racial disparities.
7. Why was Jerry Foxhoven worried?
I had no clue the governor would force Iowa Department of Human Services Director Jerry Foxhoven to resign in June, and I certainly didn't expect to spend so much time on that story the following month. But once Foxhoven asserted that Reynolds' staff "asked me to do something I thought was illegal," I set aside other projects to try to put the pieces together.
This post, which was among the 30 most-viewed posts on my website last year, highlighted evidence pointing to a dispute over agency payments to cover the salary of a senior Reynolds aide, Paige Thorson. Foxhoven later confirmed that was his key concern.
6. Iowa's Ag department ignored repeated warnings from state auditors
Sometimes, a newsworthy story is hiding in plain sight. I rarely read the state auditor's annual reports on government agencies, but I happened to click on the report released October 17, covering the Iowa Department of Agriculture and Land Stewardship. I was surprised to see some big red flags. Were these problems a new discovery since State Auditor Rob Sand's election in 2018?
No. For ten years running, under three different state auditors, staff had warned IDALS that its accounting procedures could lead to losses from "employee error or dishonesty."
The biggest challenge in writing this post was conveying the repetitive nature of the annual audits and "boilerplate excuses and non-sequiturs" IDALS provided in response. Why Secretary of Agriculture Bill Northey and his successor Mike Naig haven't changed internal procedures to address the auditors' concerns is beyond me.
5. How one Democrat's work will let Iowa Republicans pack the courts
Before the 2018 election, I had never worried Republicans might blow up merit-based judicial selection in Iowa. I thought any change to the process would require a constitutional amendment, which takes years to enact.
But in December 2018, I learned that under language Iowans added to the state constitution in 1962, the legislature could change the manner of forming judicial nominating commissions at any time after July 4, 1973. How on earth did that loophole get there? The key player turned out to be State Representative Frank Martin, a young attorney and first-term Democrat from Cedar Rapids.
Despite the depressing subject matter, I thoroughly enjoyed researching this post and learned a lot about how and why Iowa moved away from judicial elections. The piece included cameo appearances by Chuck Grassley (a first-term Iowa House Republican when judicial reform came before the legislature in 1959) and the late David Stanley.
4. Reynolds, GOP killed way to reduce racial, economic disparities in Iowa courts
I praised Reynolds in June 2018 when the governor item-vetoed budget language that would have immediately ended a Polk County pilot program designed to facilitate fair, cost-effective decisions on pretrial release for criminal defendants.
But I cheered too soon. Reynolds spared the program only until December 31, 2018. Researchers had planned to study the Public Safety Assessment's use in Iowa for two full years. Cutting off the pilot program made it impossible to collect enough data for a sound analysis.
This post combined background on the Public Safety Assessment and its use in Iowa, details from the Iowa legislative debate over ending the program, and campaign contributions from leaders of Iowa's largest bail bonding company to Reynolds and Republican legislative candidates during the 2018 election cycle.
3. Some county treasurers have flouted Iowa gift law for years
I disappointed myself with this post. In October 2018, I'd started looking into a scholarship program offered to employees of county treasurer offices. Years earlier, the Iowa Ethics and Campaign Disclosure Board had determined the scholarships were a gift law violation. Yet the program continued. When I asked ethics board executive director Megan Tooker about it, she backpedaled: "In hindsight, I don't think we should have issued the opinion."
A crush of election-related stories captured my attention, and I didn't return to this topic until I'd been scooped by Ryan Foley of the Associated Press five months later. Foley reported on the scholarships in the context of more explosive gift law violations by county treasurers who vacationed for free at a vendor's Florida condo.
Better late than never. I circled back to this story with a focus on why the Iowa State County Treasurer's Association and the Iowa State Association of Counties "enabled and encouraged gifts to county treasurers" from the two vendors that funded the scholarship program. The association of counties is supposed "to promote effective and responsible county government." Yet the group's general counsel helped devise a scheme to offer the scholarships despite the apparent gift law problem, vigorously defended the arrangement after the ethics board's initial ruling, and later reassured treasurers that they could keep funds flowing from restricted donors.
2. Exclusive: Iowa Democrats recall first Congressional vote on Hyde amendment
Not long before the anniversary of the first passage of the Hyde amendment, I came across this map by Twitter user "Barry":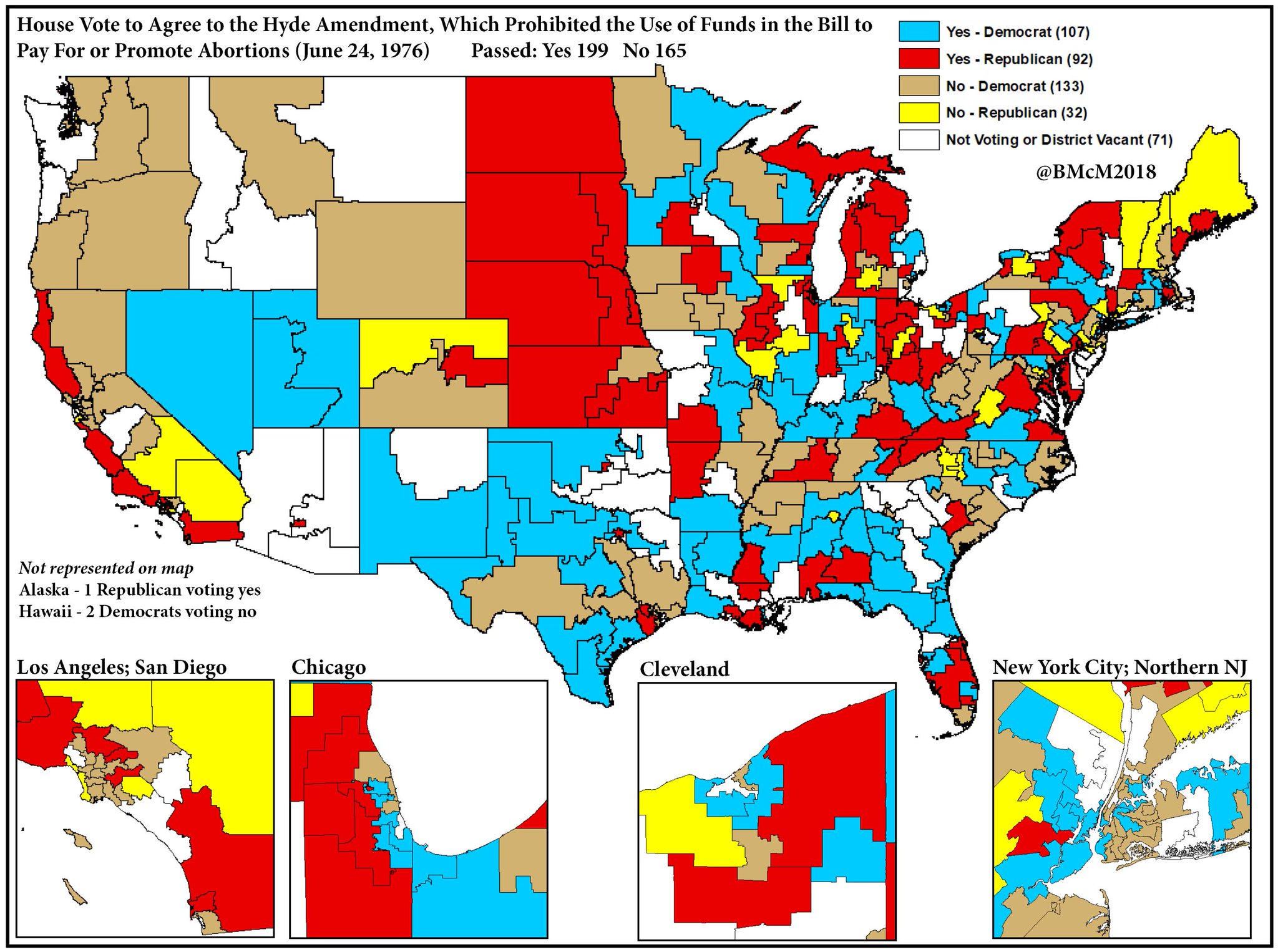 I realized that four of Iowa's five Democrats serving in the U.S. House in 1976 had voted against the ban on federal funding for abortion. Then it occurred to me that everyone who represented our state in the House at that time was still living. I doubted I'd get an interview with U.S. Senator Chuck Grassley, which turned out to be correct. Nor did his staff respond to questions I sent via email.
I hoped to speak with all five Democrats who had voted on the first version of the Hyde amendment. Unfortunately, Mike Blouin didn't respond to any of my phone calls or emails requesting an interview. Having cast the sole Democratic vote for the abortion funding ban from Iowa, he could have offered a valuable perspective.
I was able to speak by phone with former U.S. Representatives Ed Mezvinsky, Neal Smith, Tom Harkin, and Berkley Bedell. Transcribing their words and building a coherent narrative took far longer than I'd anticipated, but I was able to publish only a few days after the anniversary of when the Hyde amendment took effect. Overall, I was pleased with how this post turned out.
Since Bedell passed away in December, I've thought of many more questions I should have asked him when I had the chance.
1. Chief justice sheds new light on Iowa Supreme Court lobbying for judicial bill
Words cannot convey how badly I wanted to nail down this story.
Two days before the end of the legislative session, a plan to overhaul judicial selection and shorten the chief justice's term appeared to be stuck in the Iowa House. The next day, Republican lawmakers unveiled new language, which passed the House and Senate hours before state lawmakers adjourned for the year.
Right away, sources shared rumors that conservative justices on the Iowa Supreme Court had spoken directly with one or more House Republican holdouts, urging them to get behind the judicial changes. Such lobbying would be highly irregular. Normally, only the chief justice discusses pending bills with members of the legislative branch.
I spent weeks chasing threads. By the end of May, I believed I had a pretty good handle on what had transpired. State Representative Steven Holt, who had floor managed the bill, even told me on the record that justices "on both sides of the issue" called lawmakers to discuss the matter. Still, I didn't feel I had enough information to publish, in part because none of the Supreme Court justices had answered questions I submitted. Feeling defeated, I set this project aside.
In mid-September, Chief Justice Mark Cady issued a remarkably detailed account of events leading up to the bill's passage. He did so while recusing himself from hearing a challenge of the new judicial selection law.
Finally, I felt I could resurrect this project, pulling together other evidence corroborating the chief justice's narrative. The post highlighted the fact that Supreme Court Justices Thomas Waterman and Edward Mansfield neither disqualified themselves from the case nor revealed their contacts with Republican legislators or the governor's legal counsel, despite a judicial rule calling for disclosure of information relevant to a recusal motion.
My biggest regret from 2019 is not introducing myself to the chief justice after hearing Cady speak at the NAACP's Summit on Justice and Disparities in October. He was quickly surrounded by others, and the next speaker was to begin soon. I assumed I would have another opportunity to meet him in person someday. Cady died unexpectedly on November 15. May he rest in peace.