The sixth year of Bleeding Heartland's wildflowers series was the most rewarding for me. I learned to identify several "new" native plants, captured a few flowers I'd been hoping to feature for years, and showcased more work by guest photographers than ever before.
I enclose below links to all 32 editions of Iowa wildflower Wednesday from 2017, with one picture from each post. Please let me know if you are interested in contributing to this series next year, especially if you have good photographs of species not covered before at this site.

April 19: Downy yellow violet
I took most of the yellow violet pictures, including this one, in my Windsor Heights yard.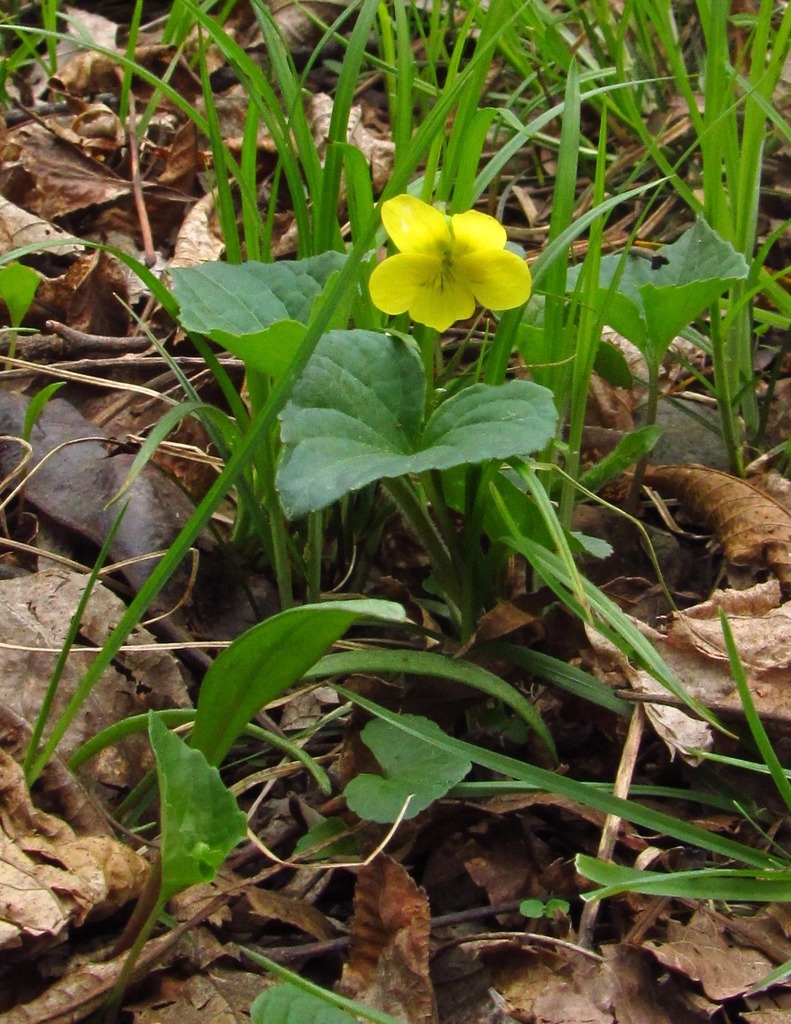 April 26: Dogtooth violet, also known as white trout lily
Another woodland plant that blooms relatively early in the year.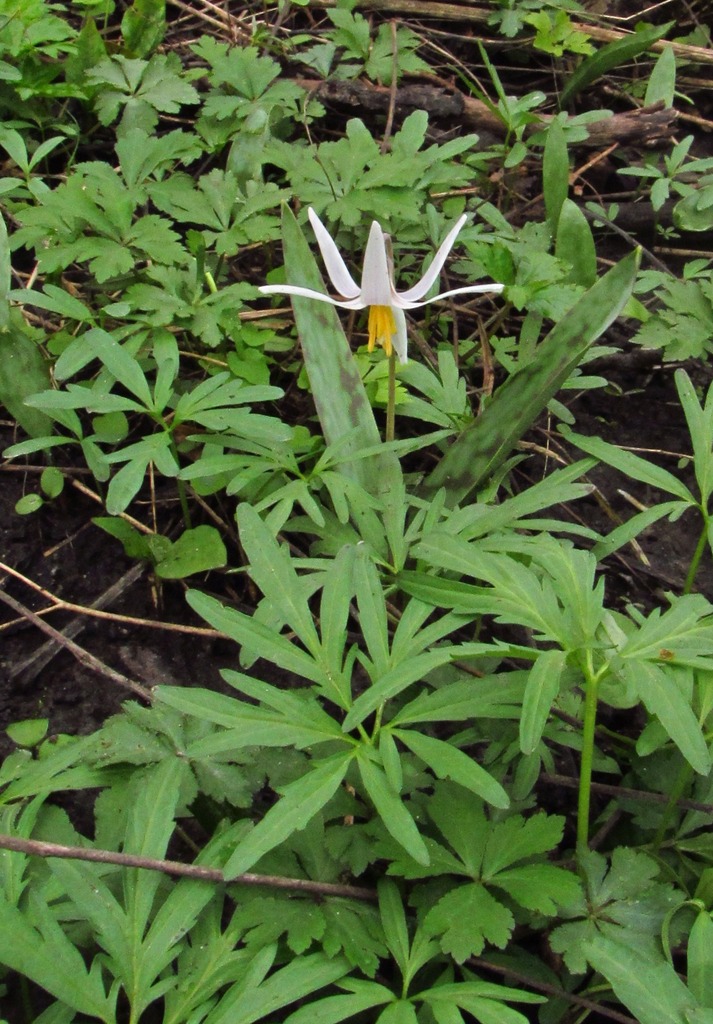 May 3: Littleleaf buttercup, also known as kidney-leaf buttercup
This plant was also growing in my yard. You can see the kidney-shaped base leaves as well as the very different upper leaves near the small flower.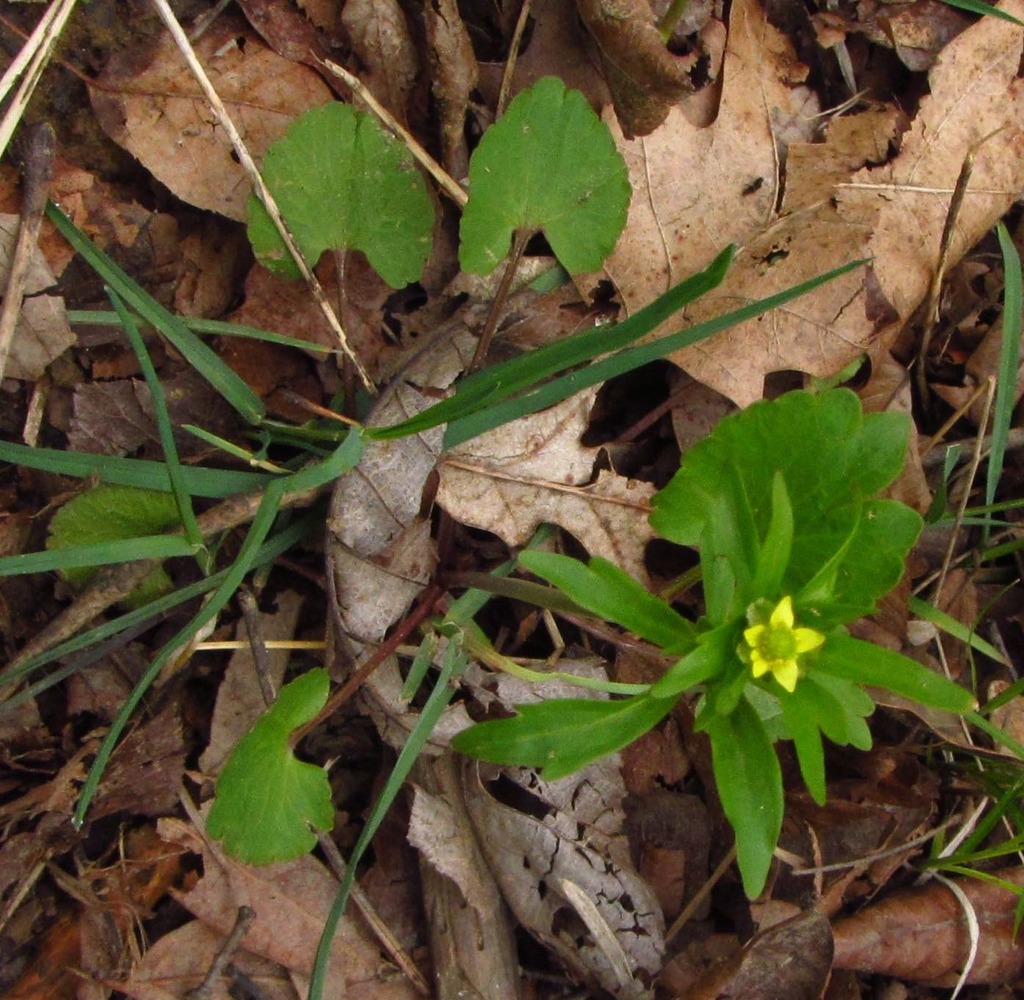 May 10: Ohio buckeye
I found this cluster of blossoms on a tree along the bank of North Walnut Creek in Windsor Heights.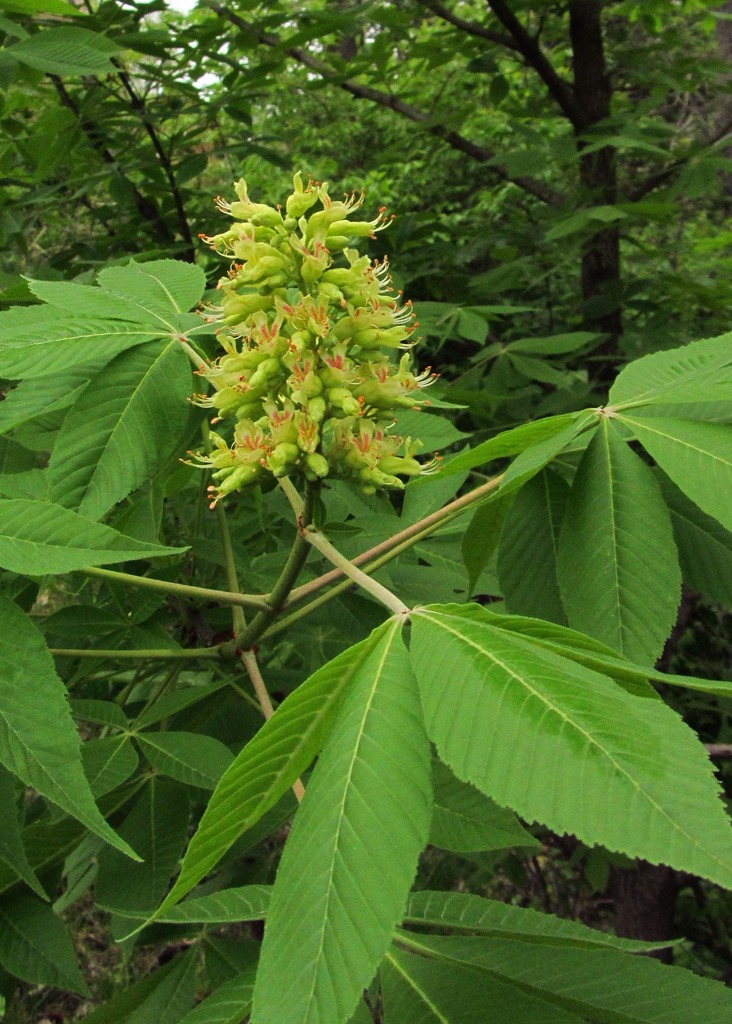 May 17: Wild chervil
I stuck close to home for this post as well. Although these plants with tiny white flowers have been growing near our house for ages, I never knew what they were called until this year.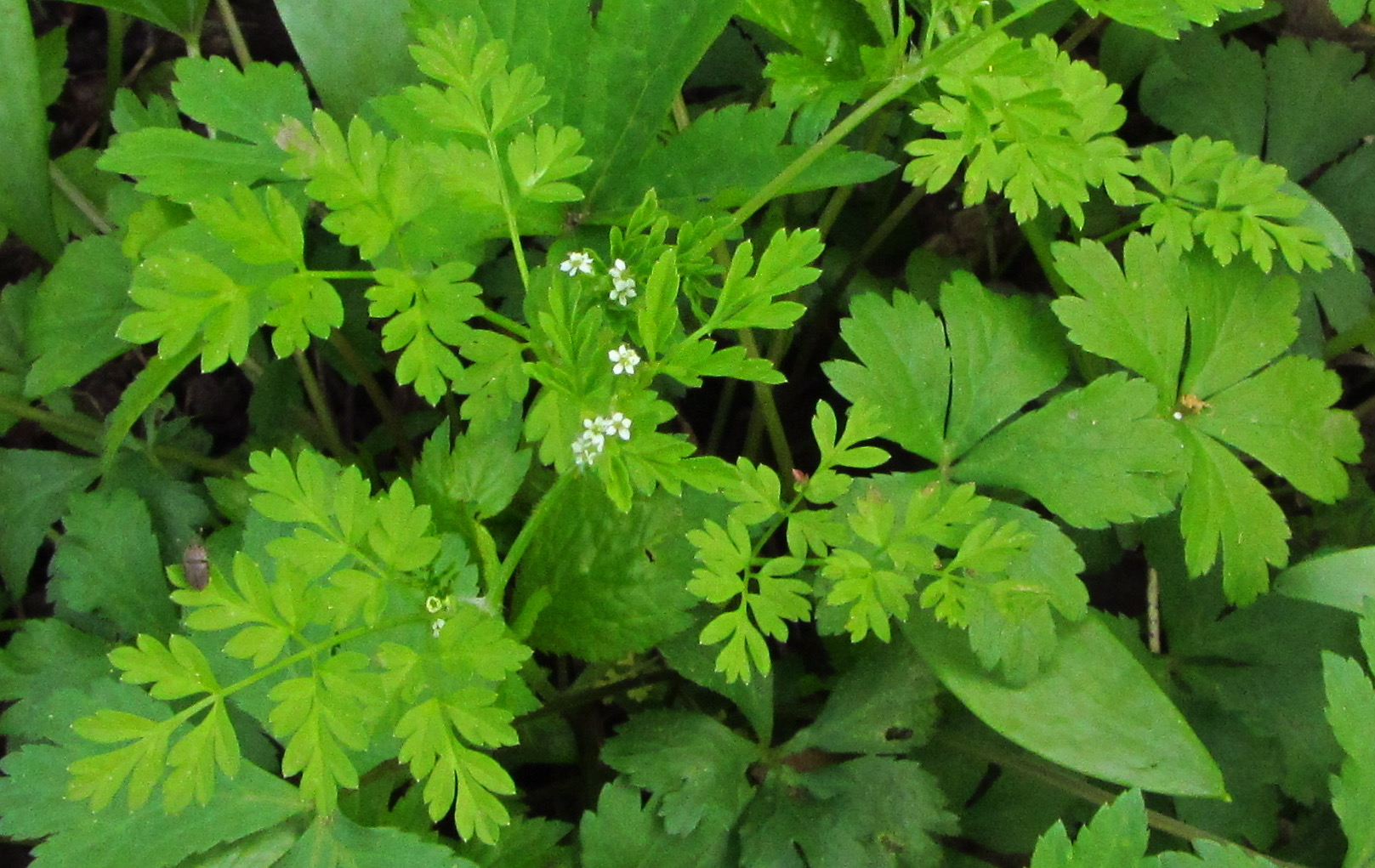 May 24: Shooting star
One of my 2017 wildflower-spotting highlights was visiting Rochester Cemetery in Cedar County for the first time. I'd never seen these rare plants before and expected to have to hunt for them once we got to the site, but they were abundant in early May and near the peak of their blooming period.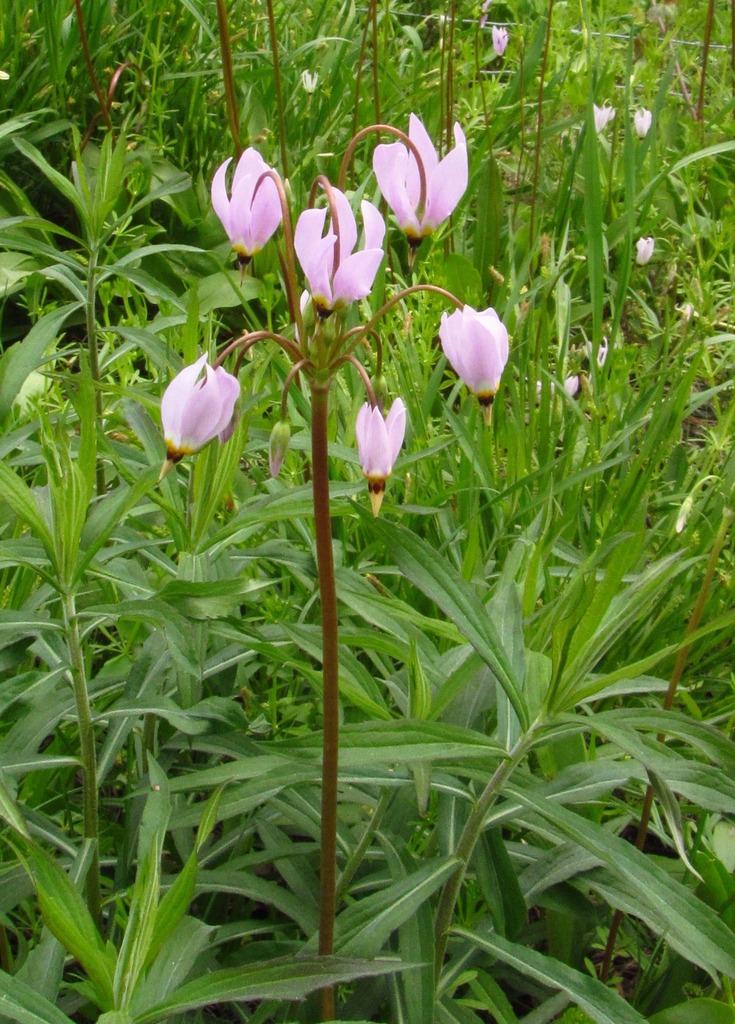 May 31: Aunt Lucy, also known as Waterpod
Lora Conrad took some of the photos in this post, including this one: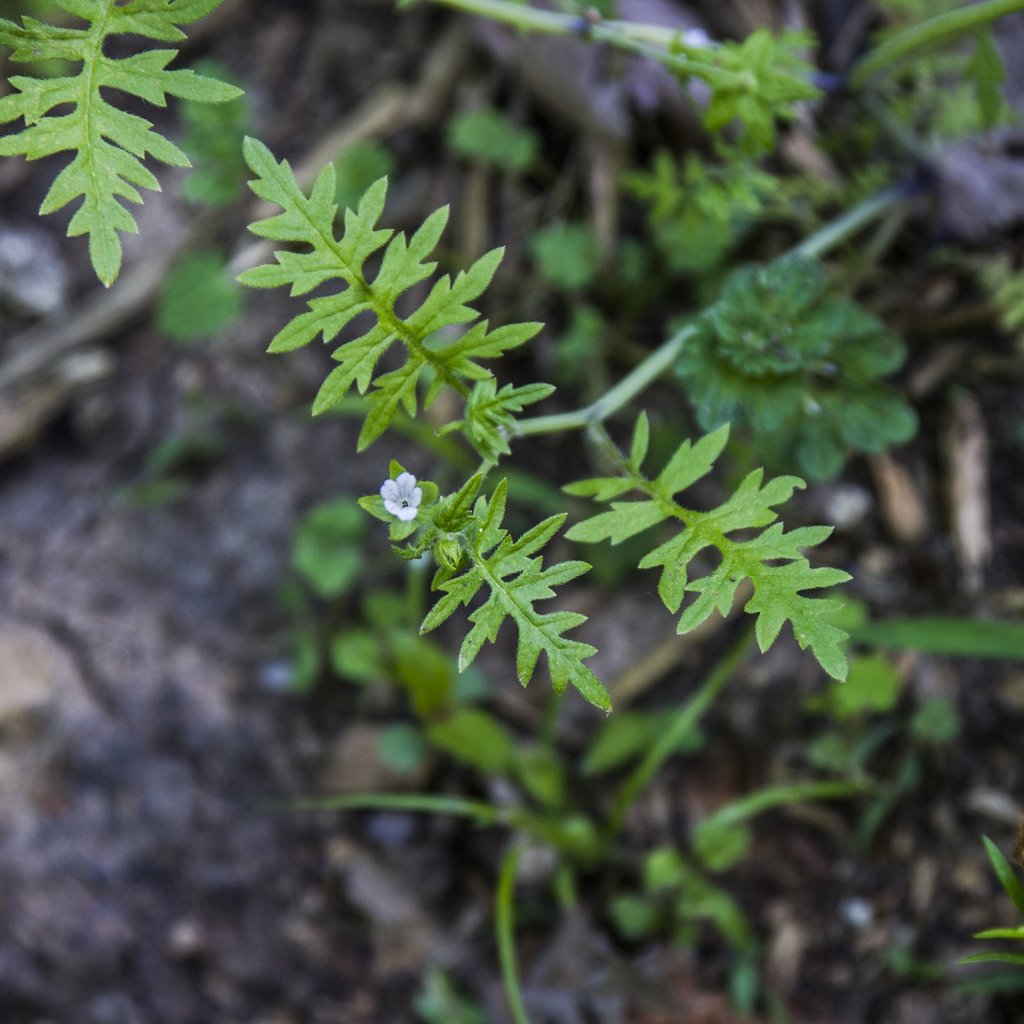 June 7: Alumroot
Eileen Miller wrote the text and took pictures of these plants, which are difficult to photograph. Here's a panicle of flowers: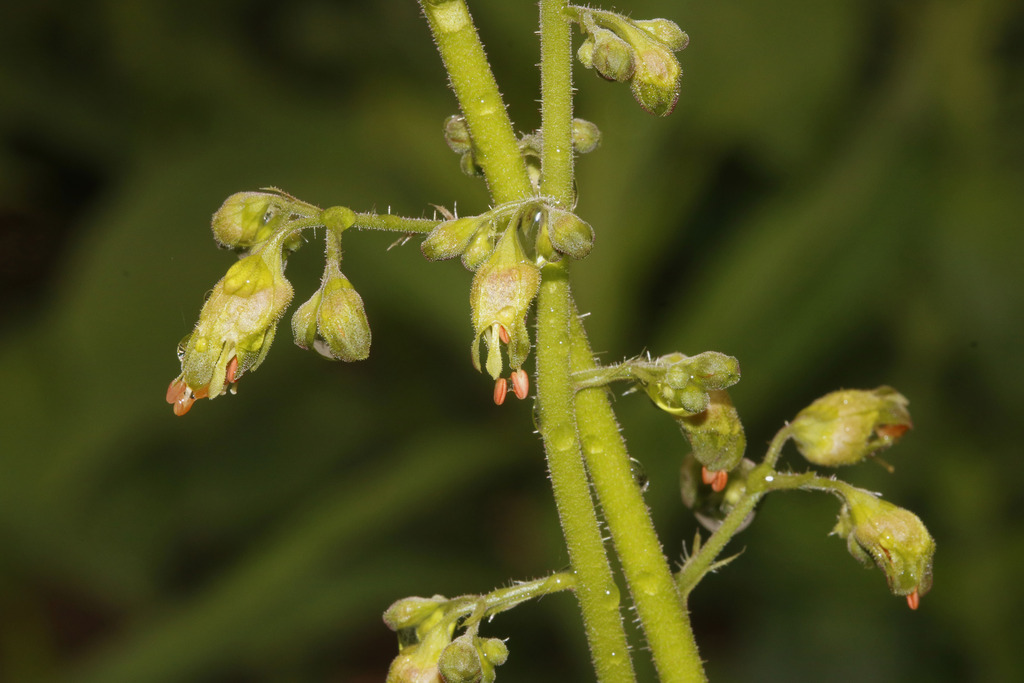 June 14: Yellow star grass
This one brings back memories! For four days, I had been working like crazy on this post, drawing on thousands of pages of public records. I had planned to run it on Tuesday morning, but the writing process took much longer than expected. After a prior commitment on the evening of June 13, I came home and stayed up all night writing.
The piece still was not done by 9 am, when I had previously scheduled a telephone interview. From there, to another appointment at 10 am, then back home to work out the last few paragraphs of the long piece, finally finished early Wednesday afternoon. Operating on no sleep, I realized later in the day that I hadn't started writing the wildflowers post yet. Fortunately, I had a few usable pictures from a recent visit to Tipton Prairie in Greene County. But I was absolutely shattered by the time I hit "publish" around 10:20 pm.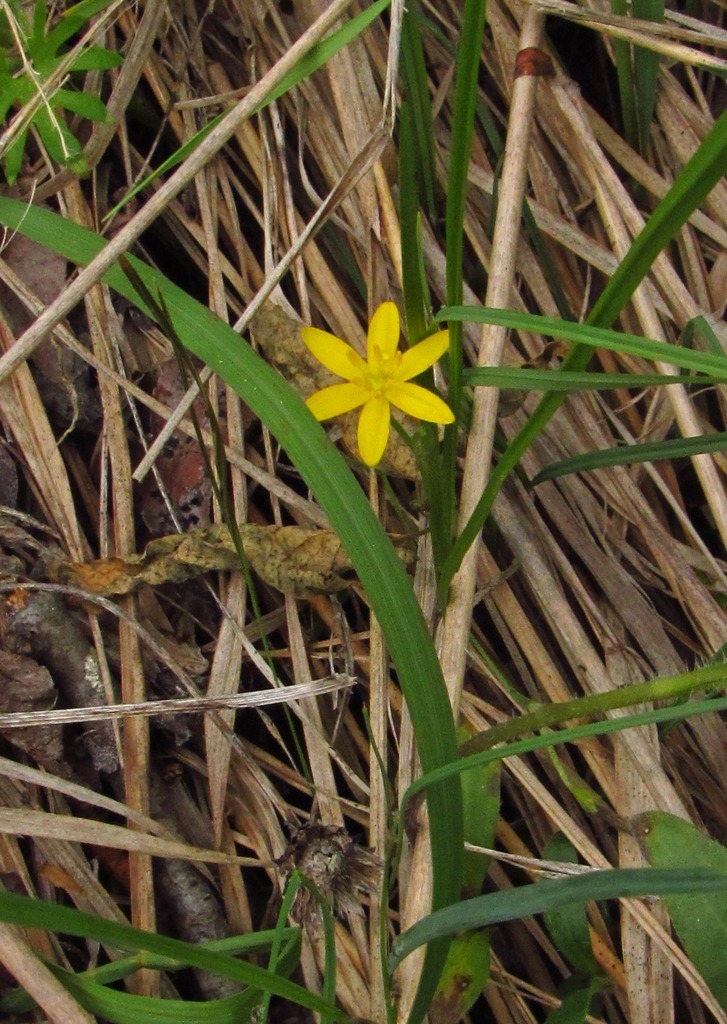 June 21: Cow parsnip
I've been seeing these plants along bike trails in Des Moines and Clive since before Iowa wildflower Wednesday existed. This year I got around to featuring the very large plants with very small flowers: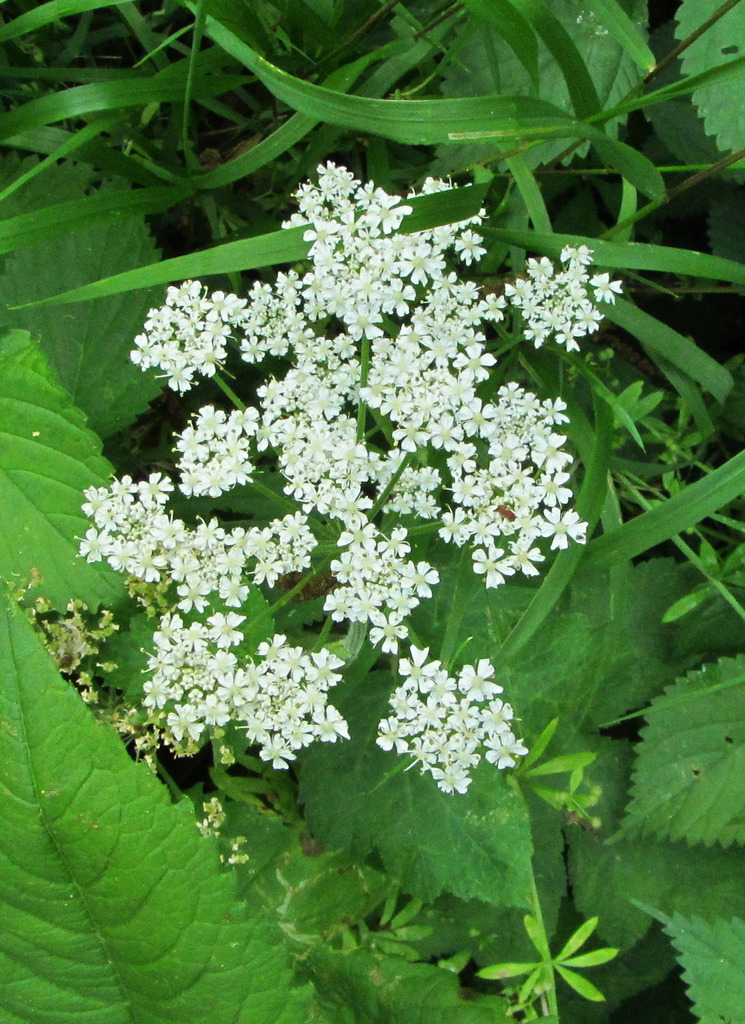 June 28: Deptford pink
Lora Conrad wrote the text and shared her beautiful pictures of this non-native plant. Here's a close view of a flower head with blossoms and seed capsules: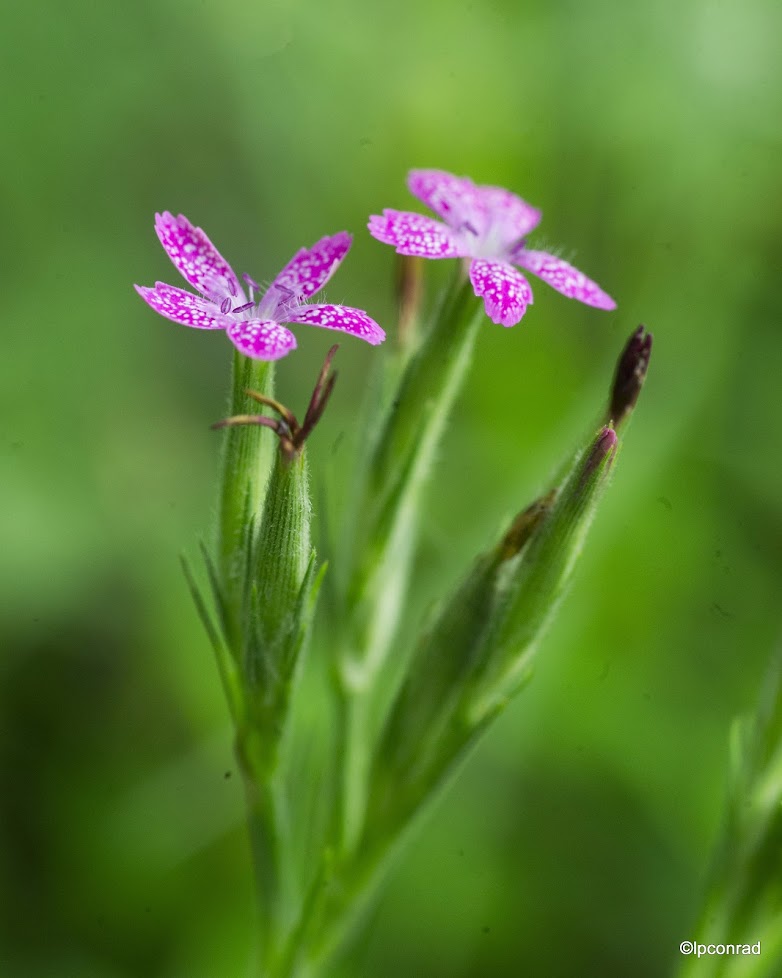 July 5: Prairie redroot, also known as narrow-leaved New Jersey tea
To my knowledge, I had never seen this species before visiting Tipton Prairie in late May. Many prairie redroot plants were blooming:
July 12: Canada anemone
These can be found along many central Iowa bike trails that run through wooded areas.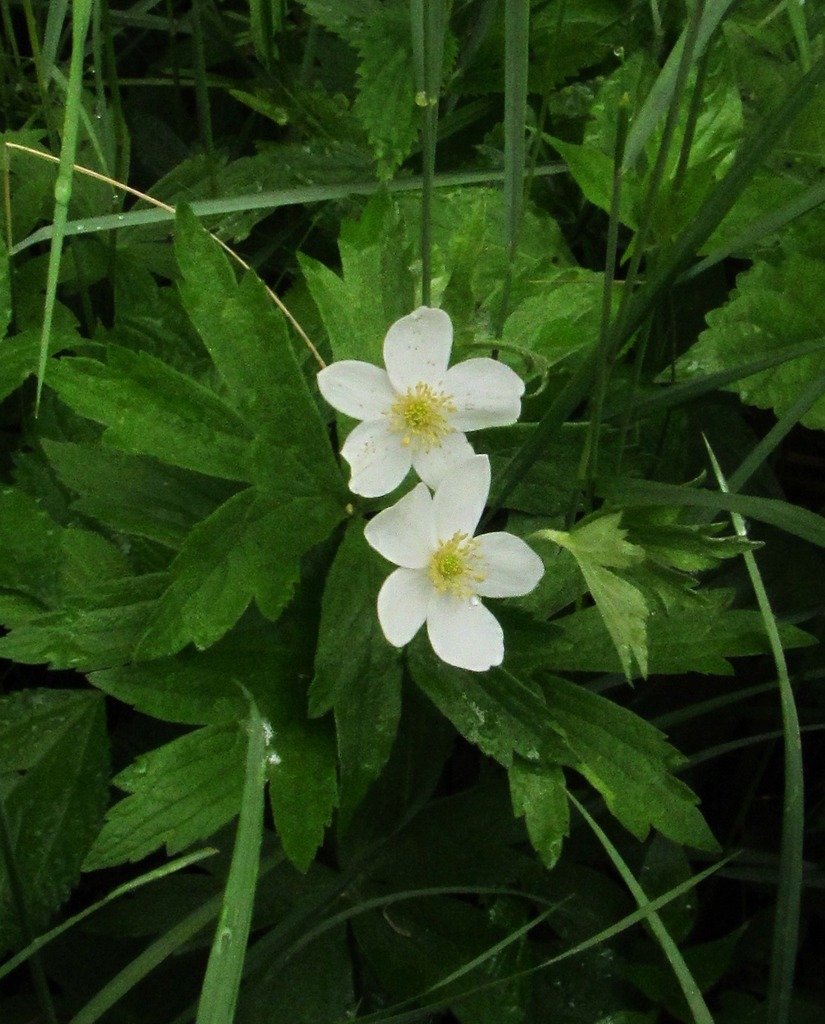 July 19: Prairie phlox
Another post based on pictures from Tipton Prairie. These flowers are so brightly colored, they almost don't look natural.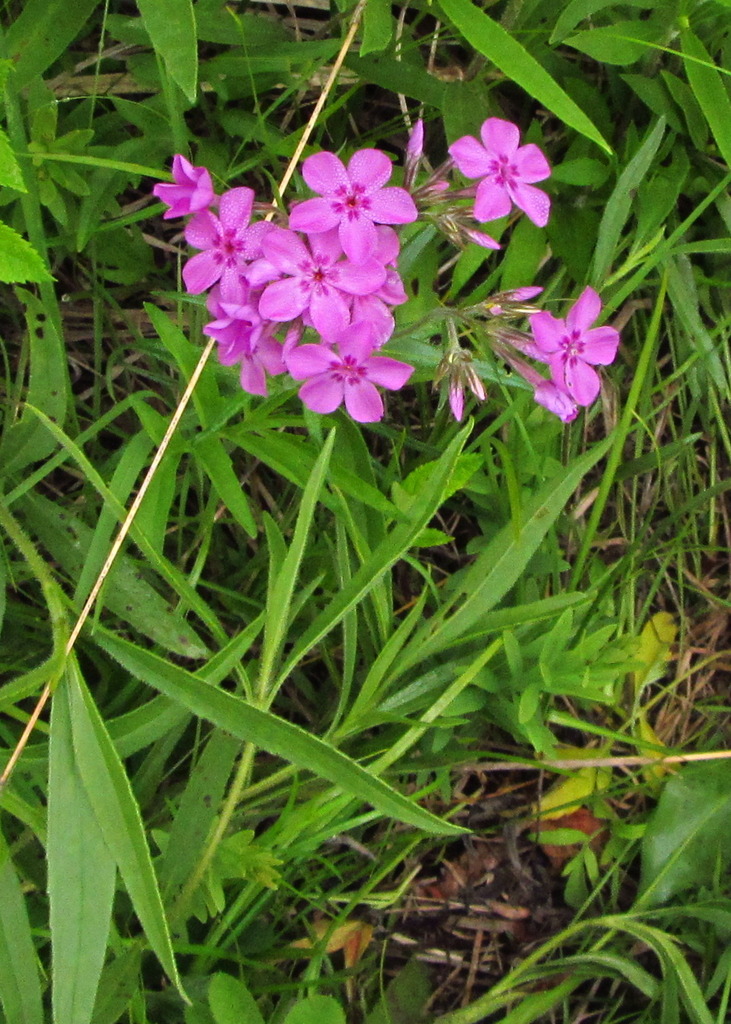 July 26: Arrowhead
Eileen Miller wrote the text and shared her pictures of this wetland plant, which has both male and female flowers. Here, a small pollinator bee collects pollen from a male flower: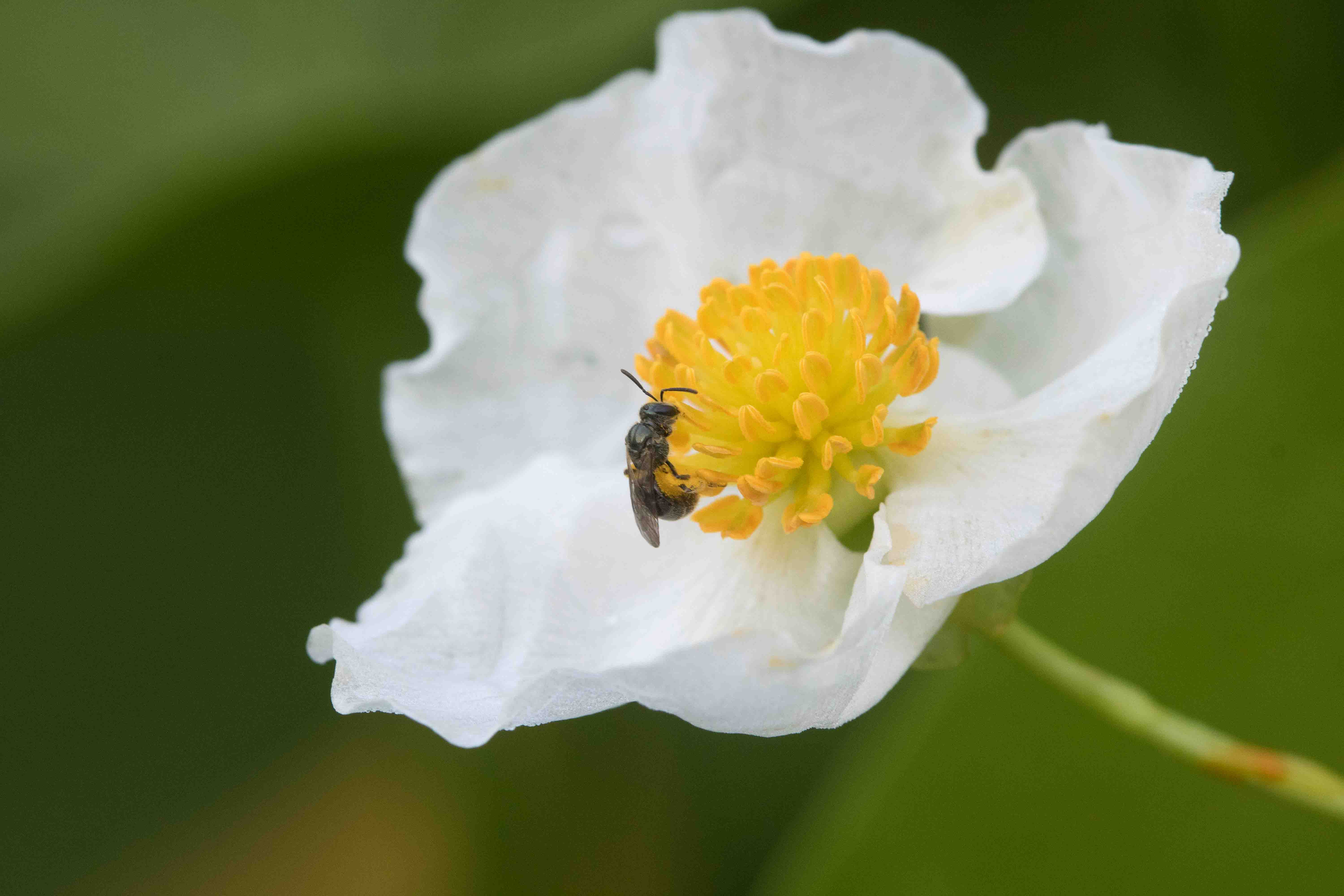 August 2: Winged loosestrife
I had hoped to feature this plant during 2016 but didn't get enough pictures when it was blooming. Problem solved this July: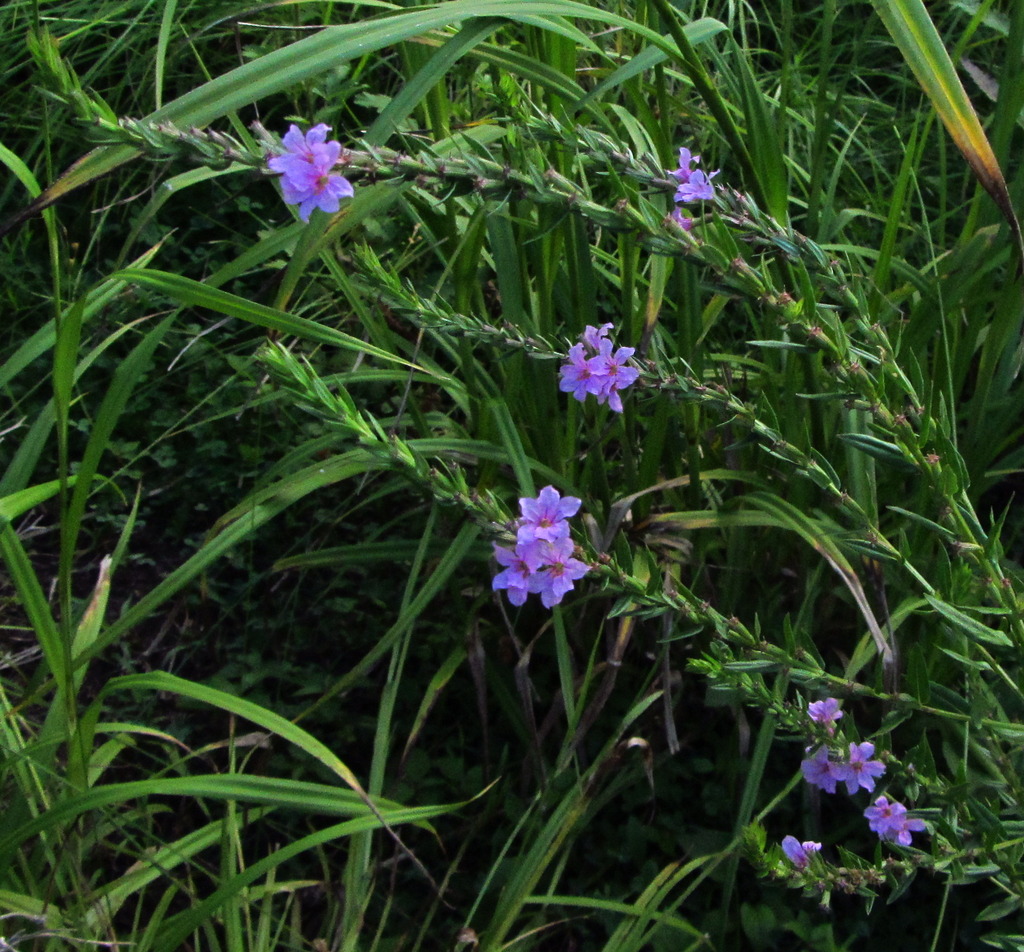 August 9: Culver's root
Mike Delaney has loads of Culver's root growing on his property, but I had never visited at the right time before 2017.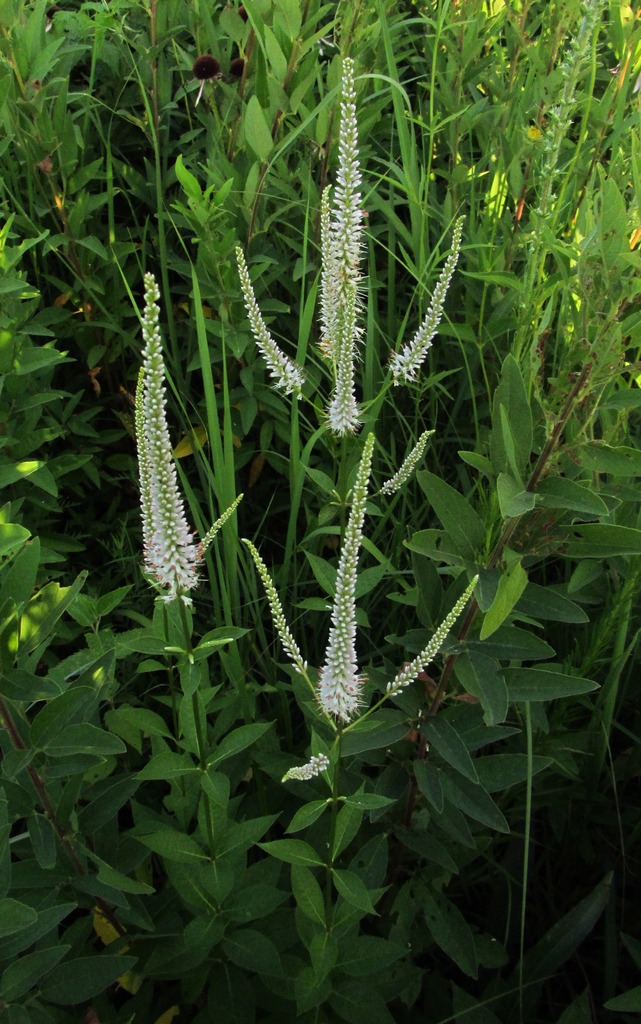 August 17: Ironweed
Although I had featured these common roadside plants in 2012, I wanted to take another look this year.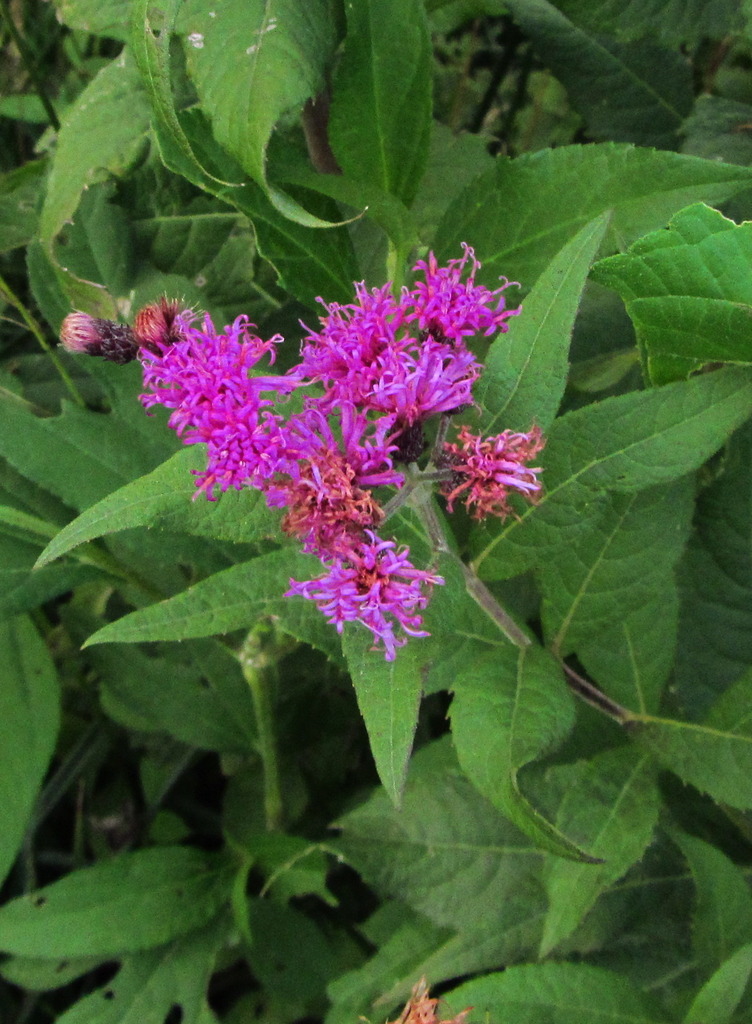 August 23: Chicory
I've mostly avoided covering non-native plants, but chicory is so pretty and a boon to many pollinators in the low-quality habitats where it thrives.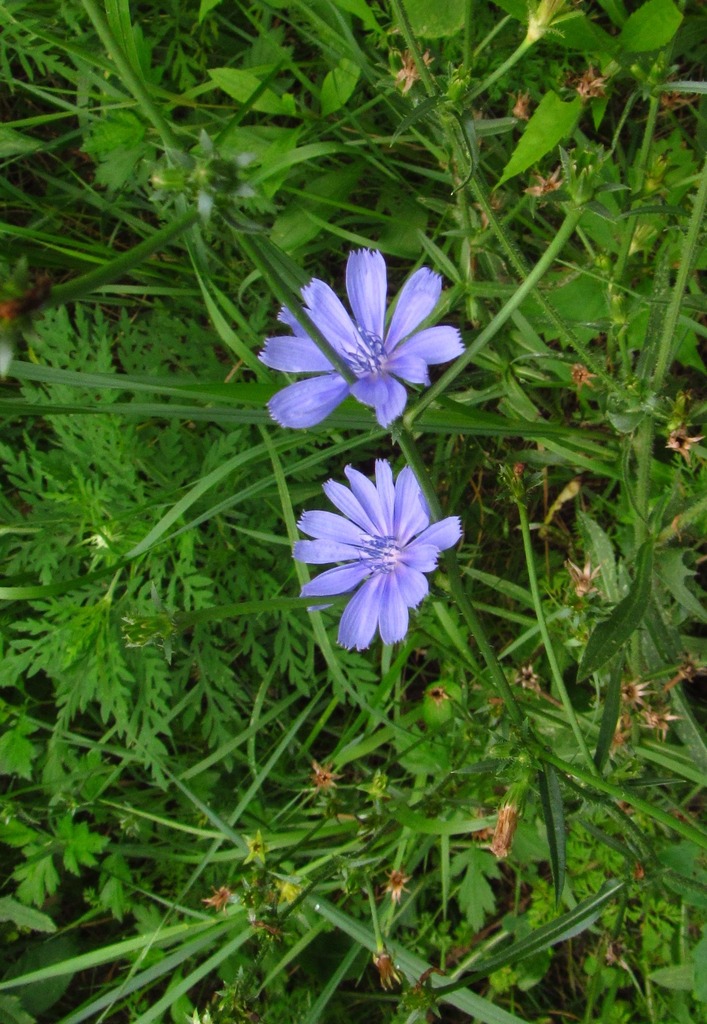 August 30: "Henry Eilers" sweet coneflower
A pleasant surprise was growing outside the Greater Des Moines Botanical Garden. I love the story behind this variant of sweet coneflower, named for the man who discovered it growing in a railroad prairie remnant.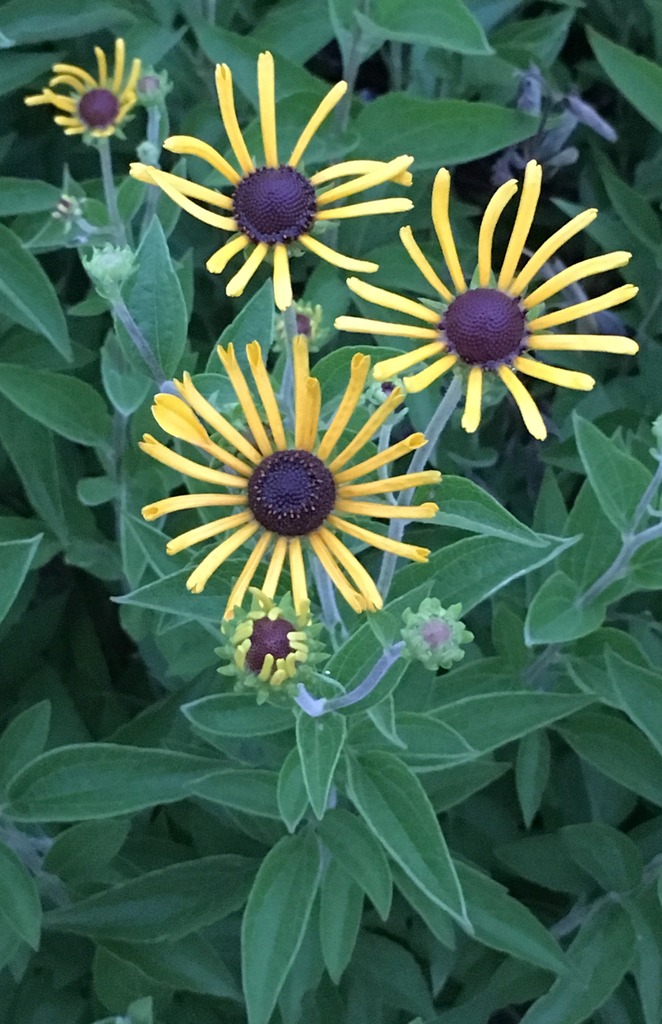 September 6: Round-headed bush clover
Wendie Schneider took most of the photographs featured in this post, including this shot of a southern dogface butterfly sampling round-headed bush clover flowers.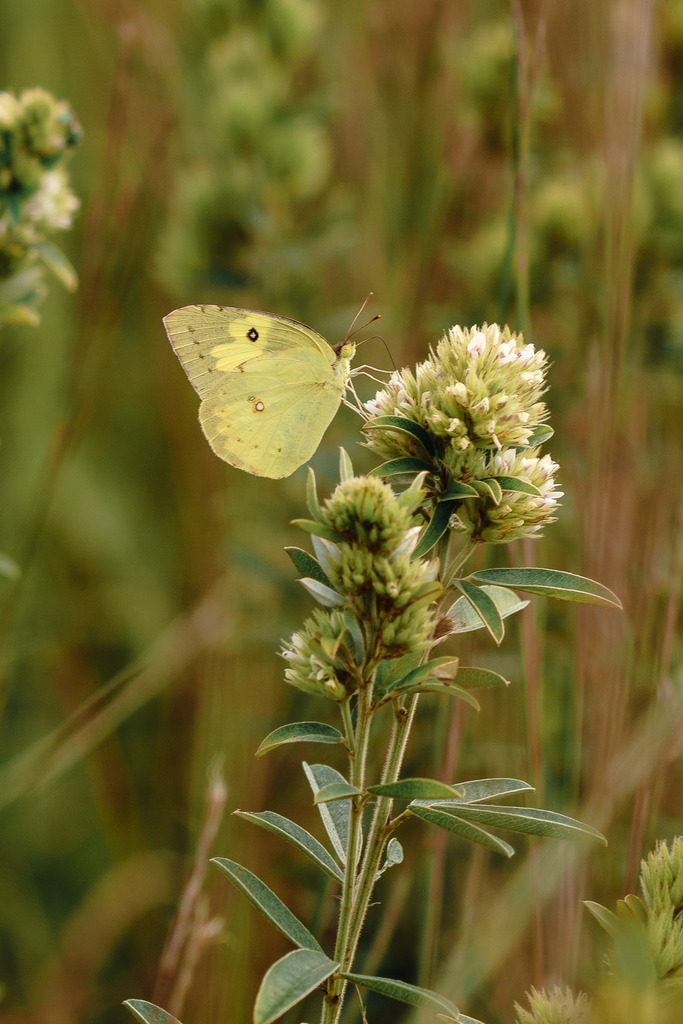 September 13: Jewelweed
Another species I'd hoped to cover for years. Finally, I found a good patch of them blooming in early September.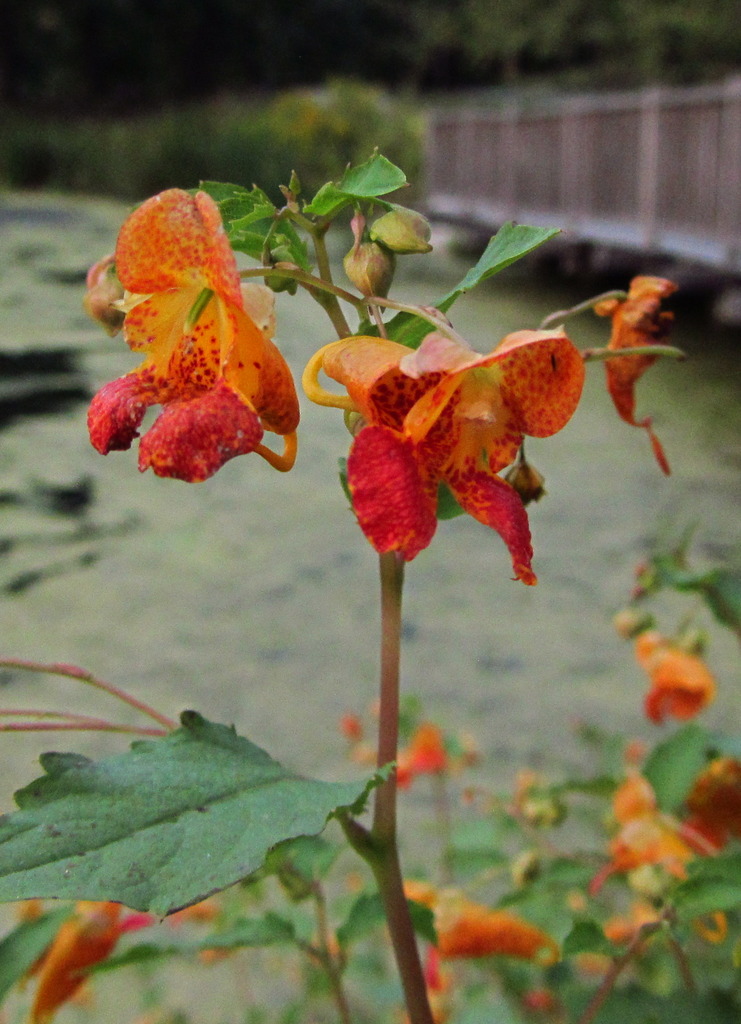 September 20: Jerusalem artichoke
These plants grow along many Iowa roads and trails. I'd featured them once before at Bleeding Heartland, but I wanted to take another look.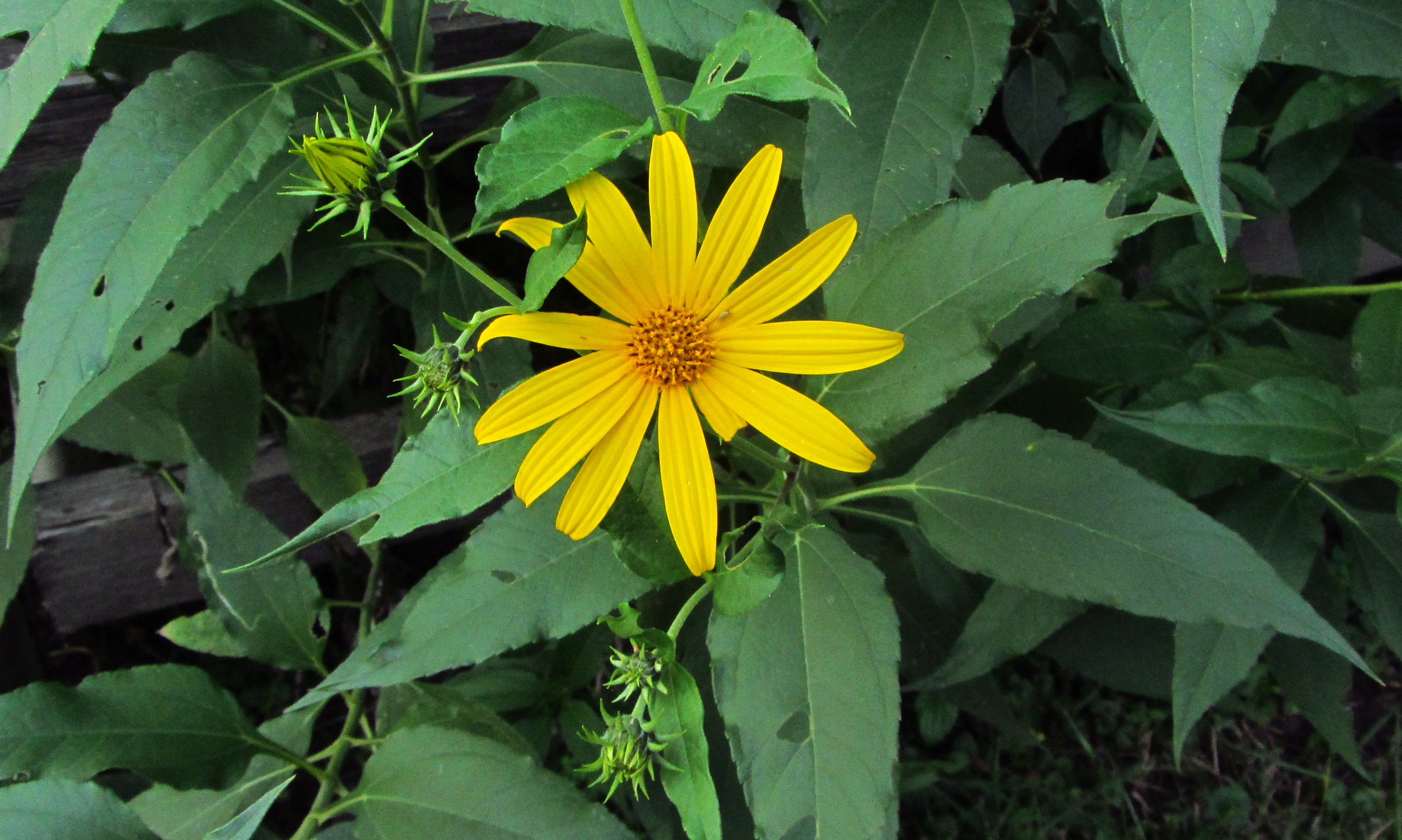 September 27: False boneset
Another collection of pictures taken during visits to Mike Delaney's restored prairie in Dallas County.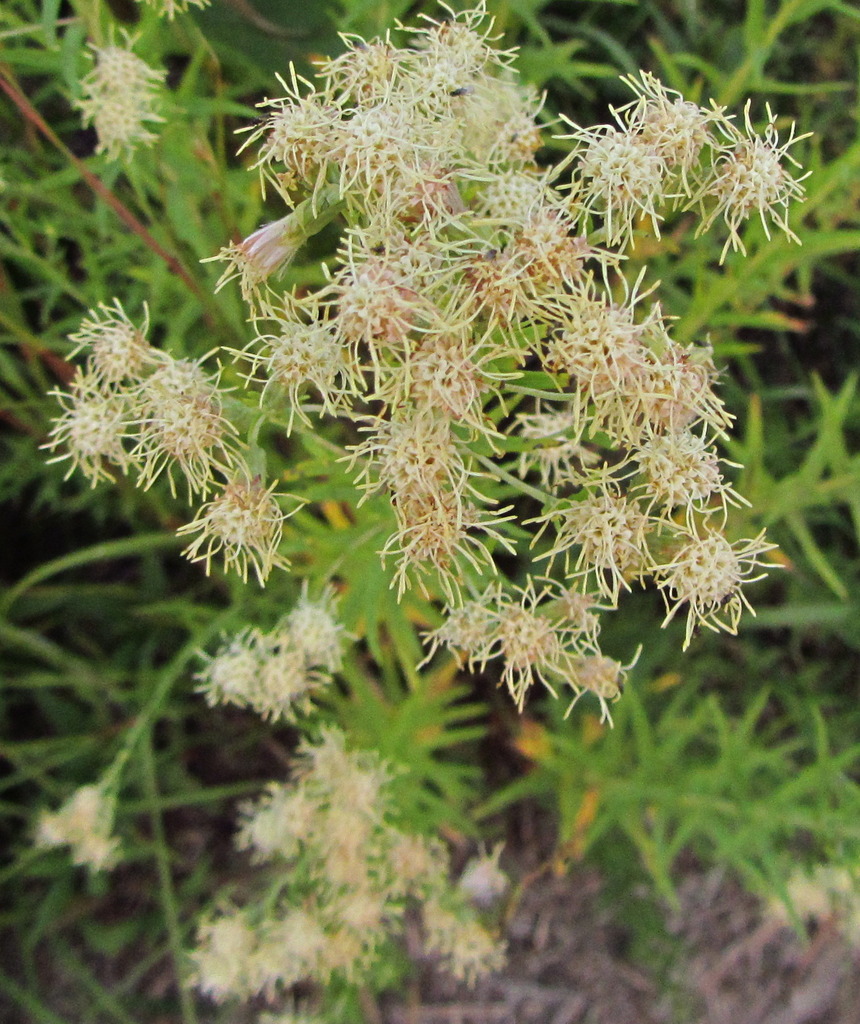 October 4: Bottle gentian
Wendie Schneider took all the pictures of this unmistakeable prairie plant. The flowers don't open, even when in full bloom.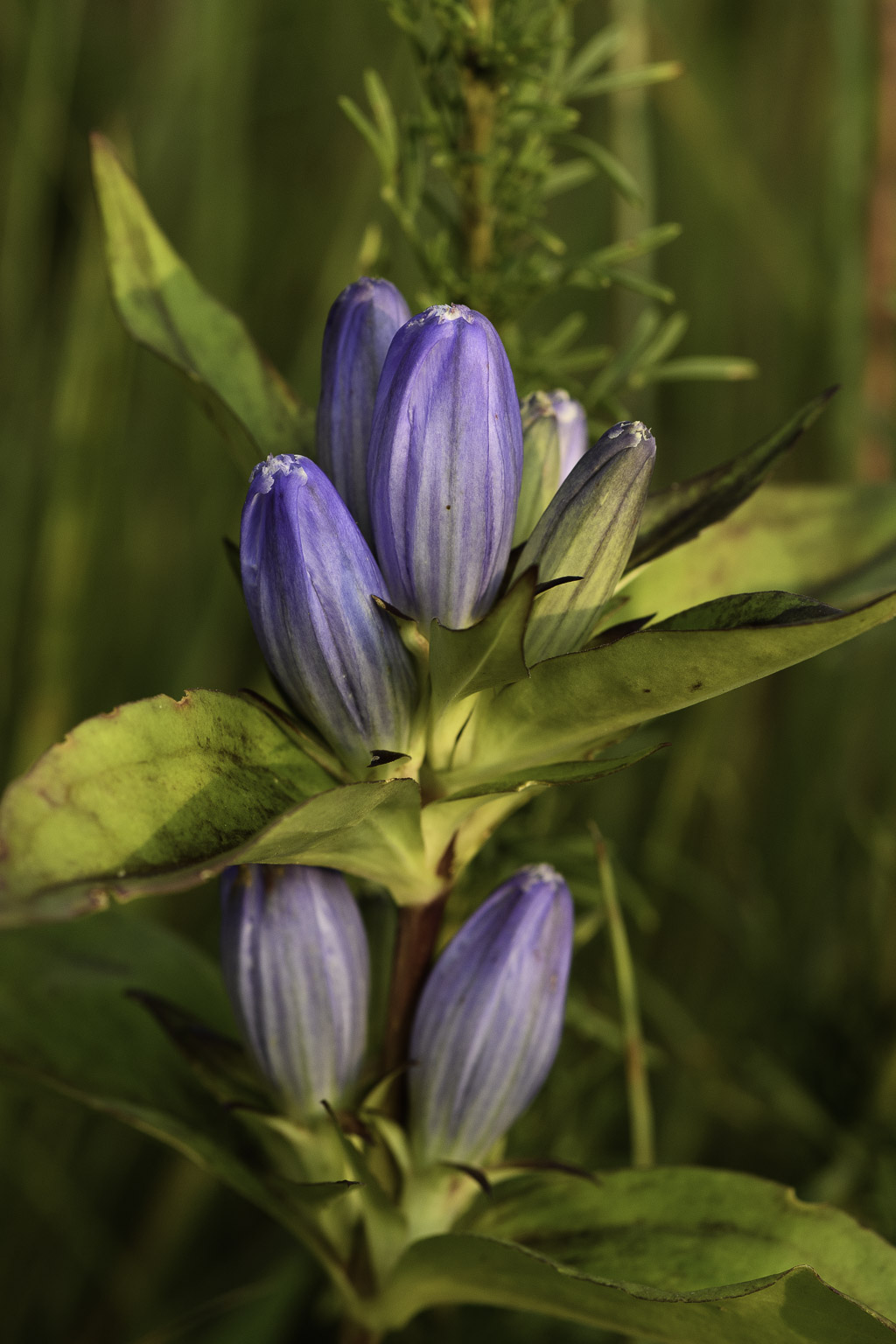 October 11: Wild poinsettia
I had no idea this plant was native to Iowa. Lora Conrad took the pictures and wrote the text: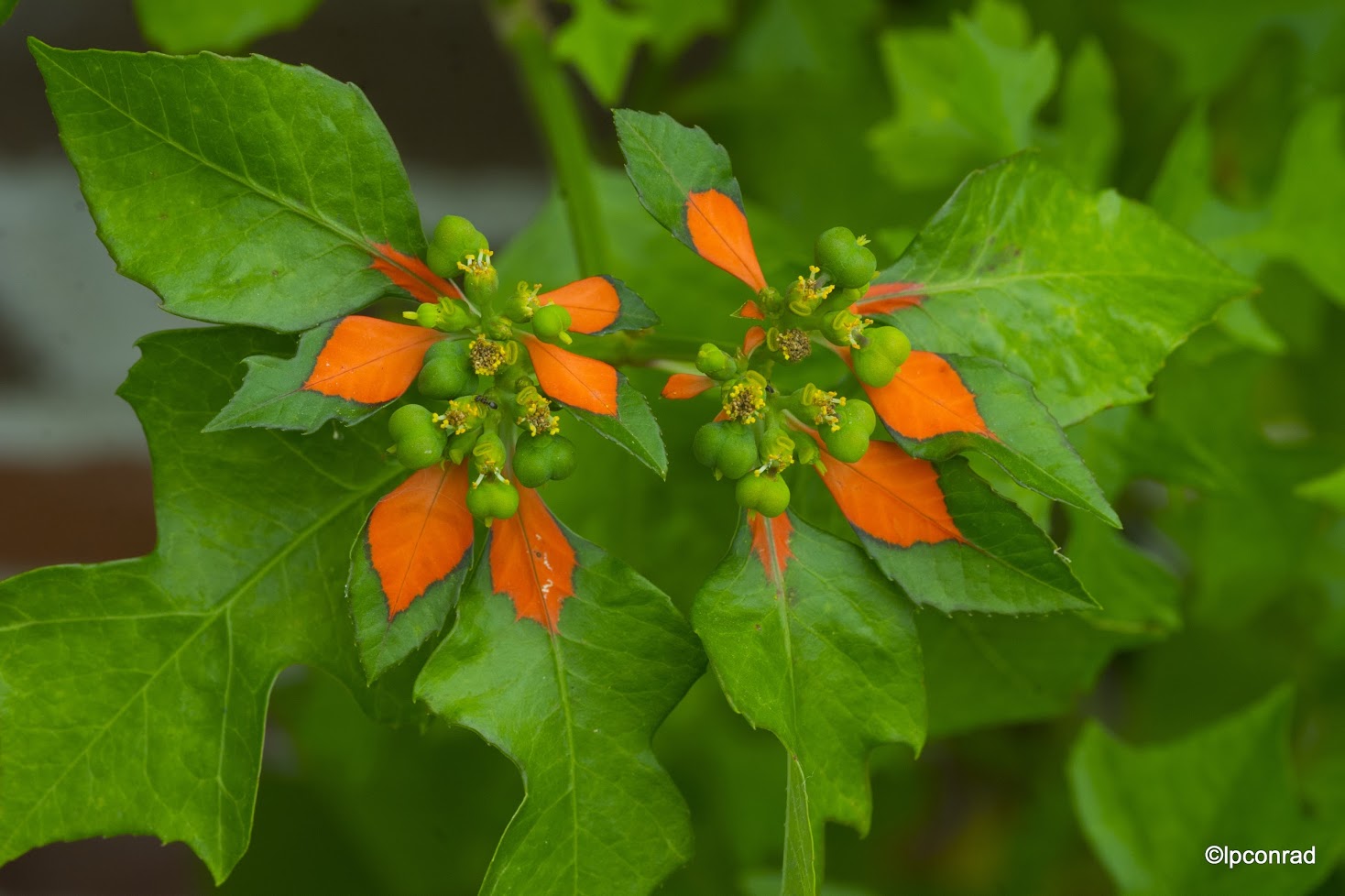 October 18: Prairie sunflower or stiff sunflower
This one took a bit of detective work. Mike Delaney wasn't sure about the ID on this plant, grown from seed he harvested at Tipton Prairie. I am fairly confident we're looking at prairie sunflower.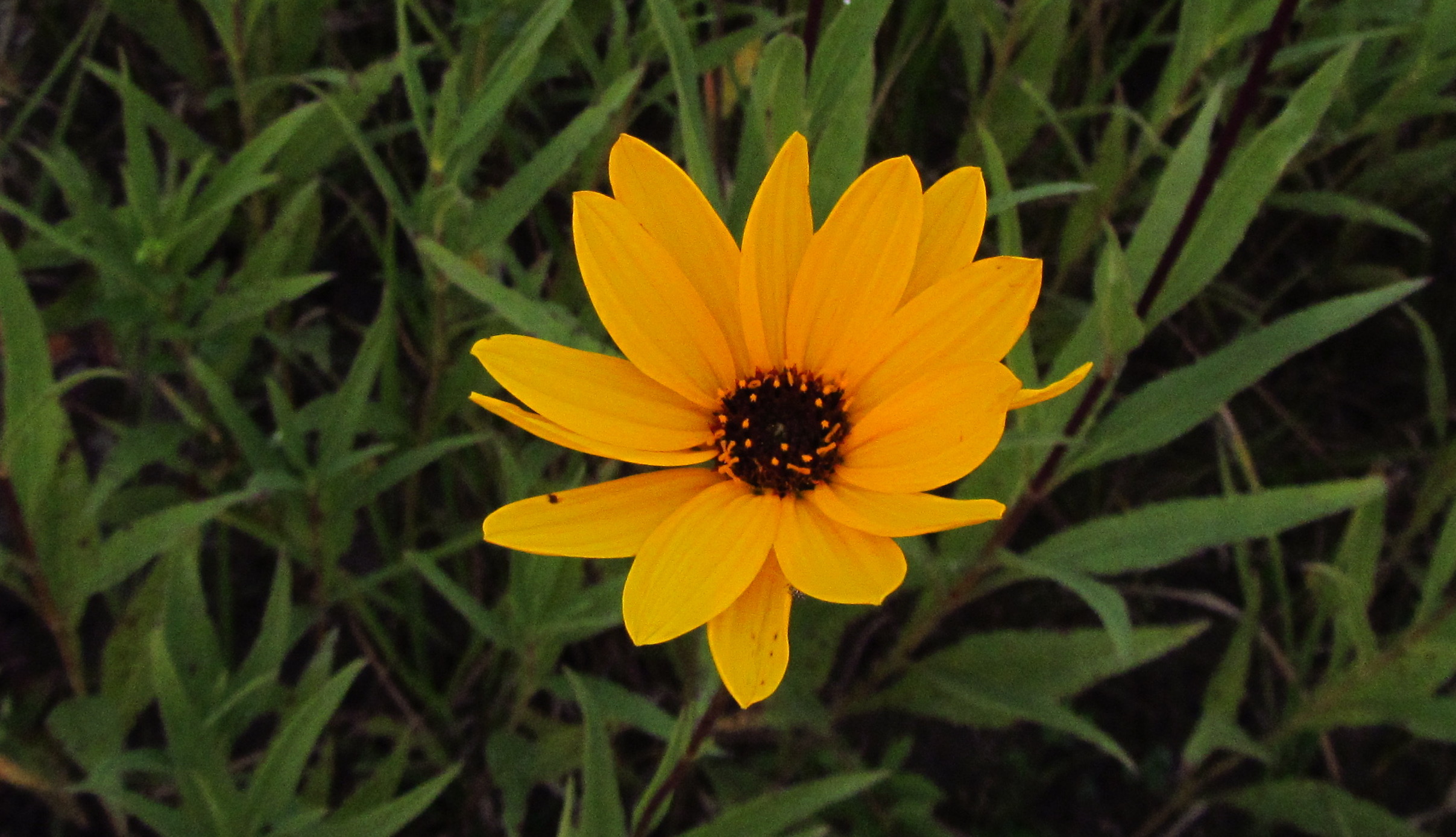 October 25: Witch hazel
An early Halloween treat from Beth Lynch, a botanist who has studied these rare plants. She wrote the text and took some of the pictures, including this one. Bleeding Heartland reader Steve Peterson shared several of his own witch hazel photographs for this post as well.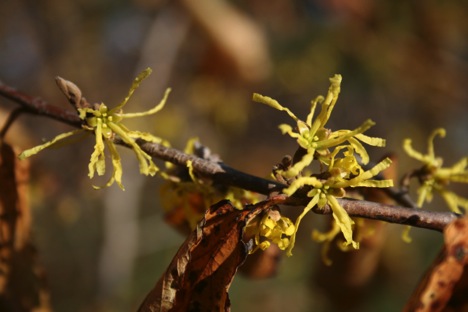 November 1: Riddell's goldenrod
Another rare plant I've never seen "in real life," captured by photographer Katie Byerly: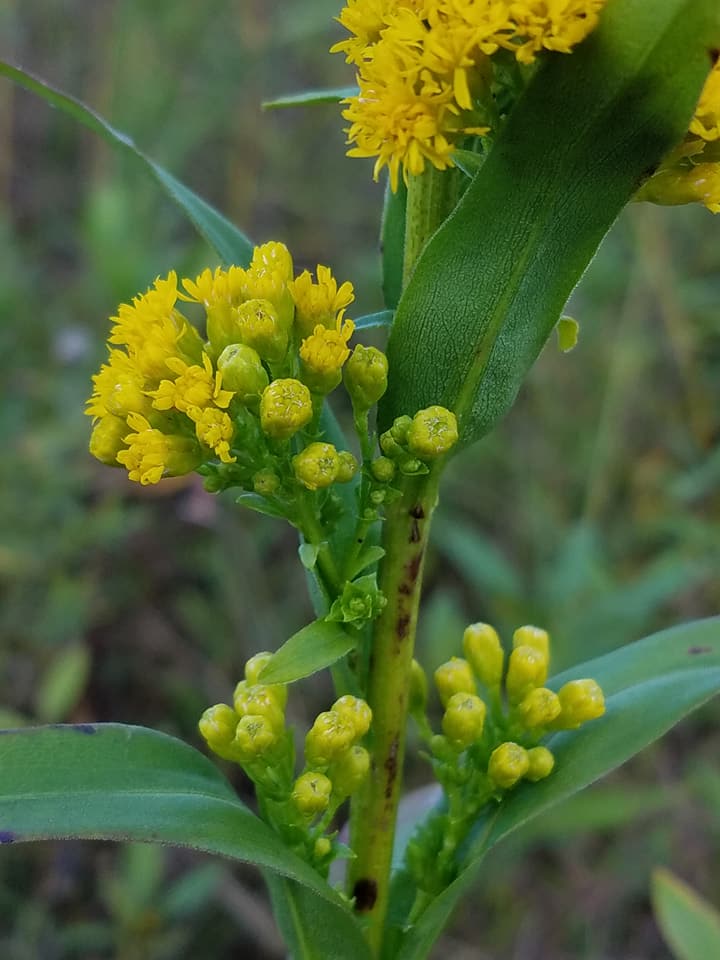 November 8: Wingstem
I see these plants frequently in Des Moines and Windsor Heights, but I learned after publishing this post that they are not as common in other parts of Iowa.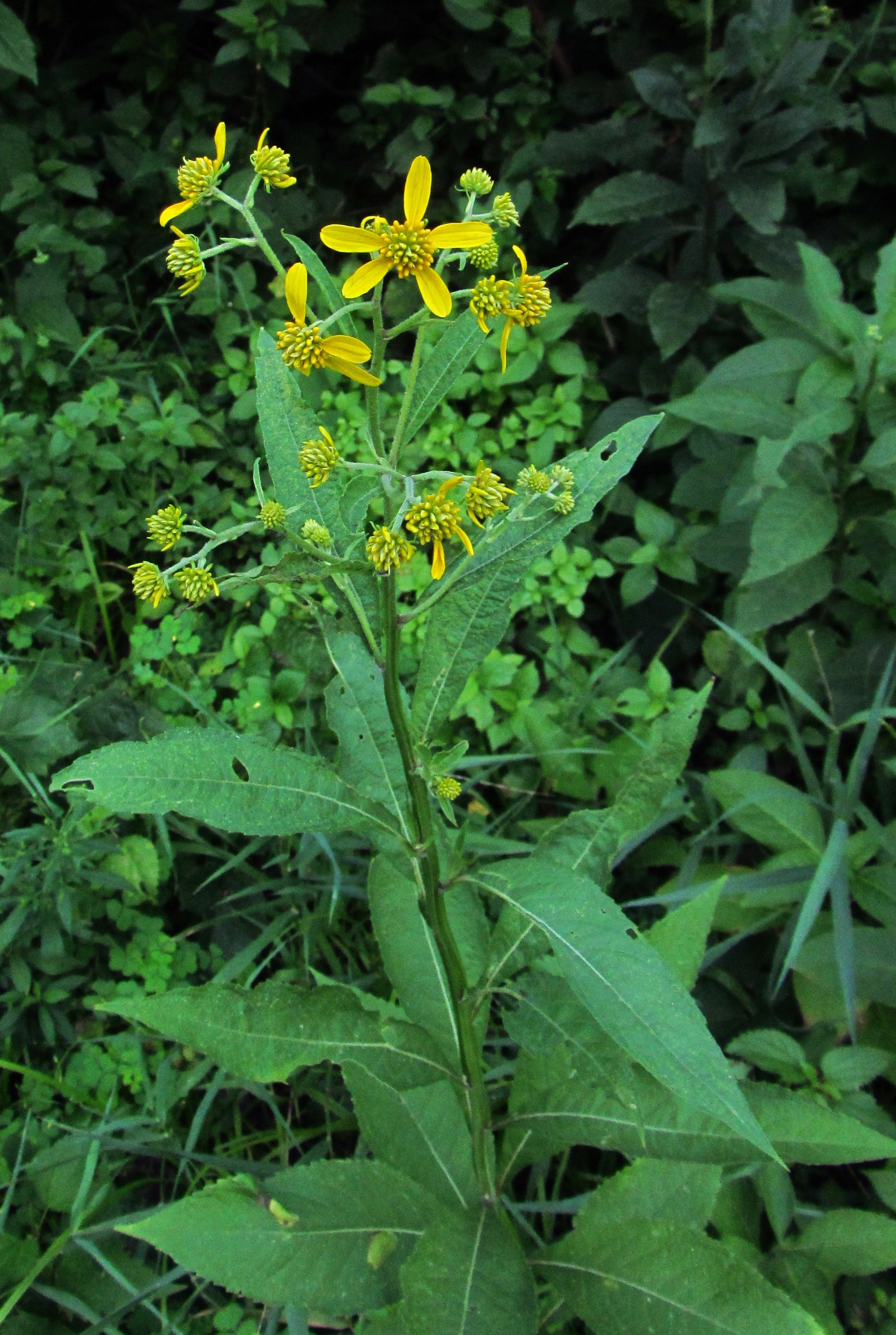 November 15: Prairie dock
This species doesn't really belong in Iowa, but I've seen these very tall plants with striking flowerheads in several prairie plantings.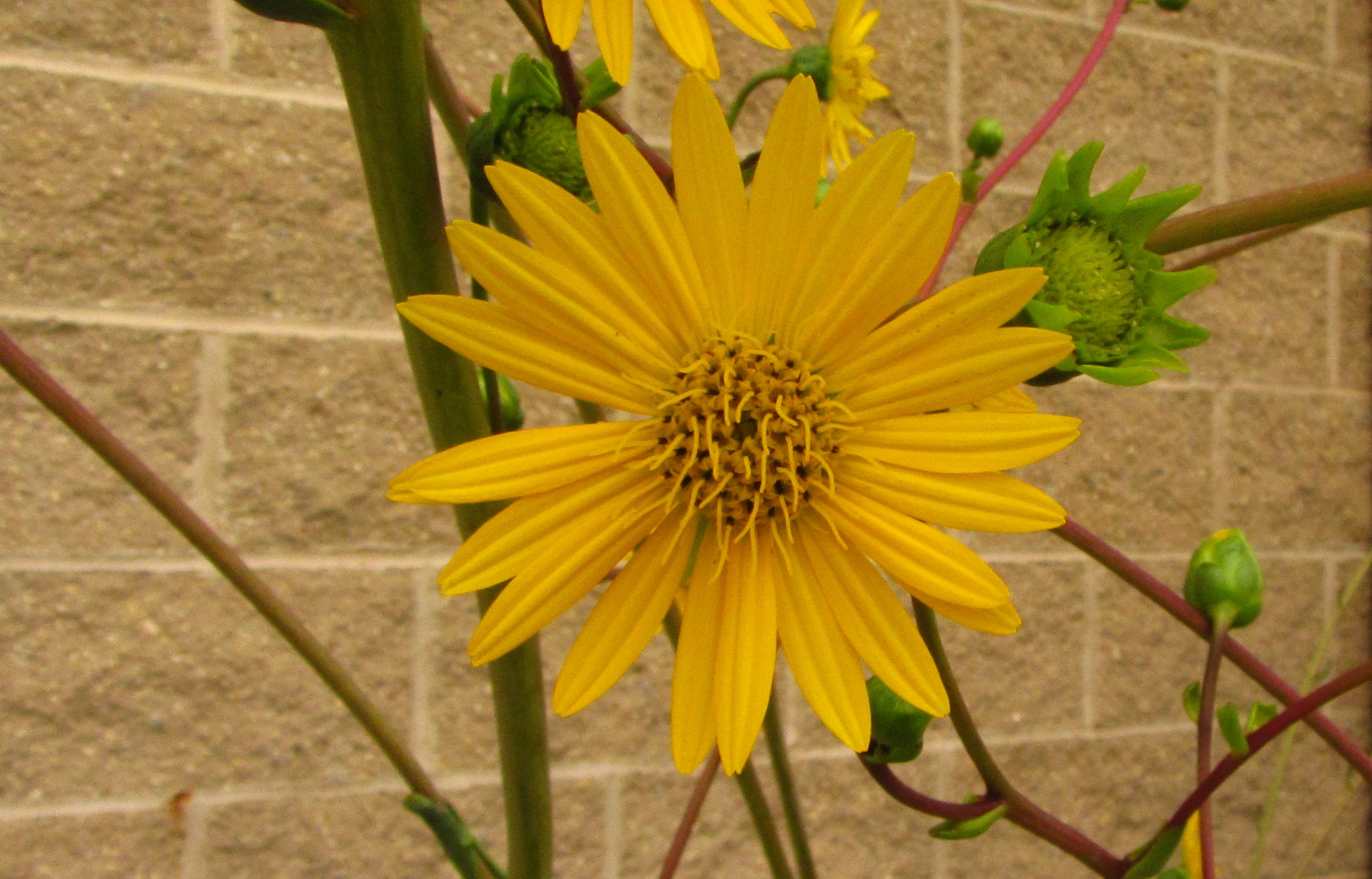 November 22: Asters from Phil Specht's northeast Iowa farm
Phil took all of the pictures in this post. He thinks this plant is side-flowered aster, more commonly known as calico aster: