Since I started reviewing Bleeding Heartland's most widely-read posts at the end of each year, I've had mixed feelings about the practice. My organizing principle on any given day is not chasing clicks, but looking for ways to add value, either by covering Iowa political news not reported elsewhere, or by offering a different perspective on the big story of the day. I try not to be hyper-aware of traffic numbers, so as not to let those drive editorial decisions.
On the other hand, it is fun at year-end to recap the posts that were particularly popular with Bleeding Heartland readers, and I usually find a few surprises.

This list draws from Google Analytics data about total views for 624 posts this website published during 2020: 310 written by me and 314 by other authors. I left out the site's front page, the "about" page, and a few other pages where many people landed following online searches (for instance, posts tagged "Thomas Waterman").
Because there was more overlap than usual between my highest-traffic posts and my most labor-intensive projects, I didn't write a separate piece about posts I worked hardest on in 2020, as I've done in the past.
Note: The COVID-19 pandemic fueled a surge in traffic to news websites in the U.S. and around the world. Largely for that reason, Bleeding Heartland had significantly more site visits in 2020. At least 70 pieces published here last year would have qualified for my compilations of most-viewed posts from 2018 or 2019.
On to the countdown:
20. Iowa Republicans may regret blocking statewide absentee ballot mailing
Following a successful primary election in which most Iowans voted by mail, Republican lawmakers moved to curtail Secretary of State Paul Pate's authority to send absentee ballot request forms to all registered voters. I suspected they might have second thoughts after auditors in several large, Democratic-leaning counties confirmed they would mail the forms to all registered voters in their jurisdictions. MSNBC's "All in with Chris Hayes" put an image from this post on screen during a segment on "How Trump's war on mail-in voting could backfire."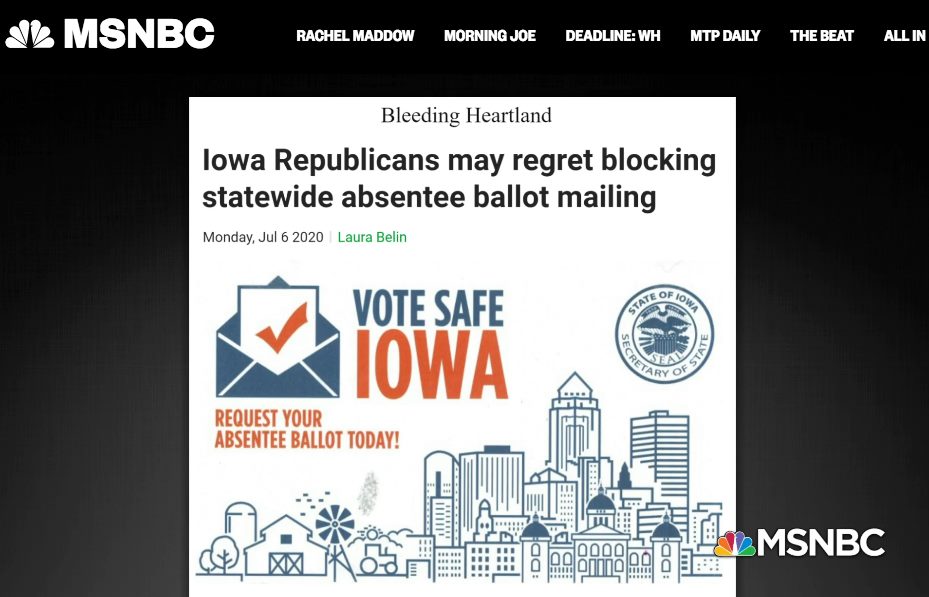 Indeed, Republican lawmakers later approved Pate's request to send mostly-blank absentee ballot request forms to the statewide electorate.
19. Brad Zaun won't rule out 72-hour waiting period for treatment after miscarriages
State Senator Brad Zaun has long backed the most extreme legislation to restrict reproductive rights. In keeping with that record, he introduced a bill early this year requiring an ultrasound and 72-hour waiting period before any abortion could be performed. The Iowa Supreme Court had struck down a 72-hour waiting period in 2018. However, Zaun was confident that conservative justices appointed since then would uphold a similar law.
Zaun's bill didn't distinguish between elective abortion and spontaneous abortion, the medical term for a miscarriage. During a subcommittee hearing, Democratic State Senator Janet Petersen grilled him about whether the ultrasound and waiting period would apply to all Iowans having a miscarriage. Even so, Zaun was remarkably unprepared to answer a simple question from constituent Julie Witthoff at a weekend legislative forum.
Republicans left this proposal on the scrap heap upon returning to complete their legislative work in June. However, a last-minute bill imposing a 24-hour waiting period before all abortions could give the Iowa Supreme Court another opportunity to reverse its 2018 precedent.
18. Kim Reynolds' pandemic secrets erode public trust
Iowa House Minority Whip Jo Oldson wrote this post in May to highlight the Reynolds administration's refusal to release important information related to COVID-19: a pandemic emergency response plan the Iowa Department of Public Health had adopted more than ten years earlier, and results from tests administered through the $26 million Test Iowa program.
Lack of transparency was a recurring problem for the IDPH throughout 2020. I was unable to obtain a copy of state policy on rationing ventilators in April. For months, officials ignored questions about how the state was counting (or undercounting) coronavirus deaths. Over the summer, staff dodged questions about backdating new positive cases. Most recently, the IDPH has relied on a faulty interpretation of Iowa's open meetings law to keep the public from observing deliberations by a newly-created COVID-19 vaccine advisory council.
17. How bad could it get? COVID-19 and hospital beds in Iowa's large metros
As coronavirus spread became the dominant national news story in late February and early March, I carried on here as usual. Even after publishing my first post related to the pandemic on March 13, I didn't anticipate that COVID-19 would soon dominate my work. That weekend, I began writing several posts related to pending legislation or campaigns for state or federal offices. Most of those drafts remain unfinished.
March 17 was the day everything changed for me. On that day I read a terrifying report on COVID-19 mortality by a team of scientists at Imperial College London. I also spent some time with maps and tables published by ProPublica under the headline, "Are Hospitals Near Me Ready for Coronavirus? Here Are Nine Different Scenarios."
I decided then that I didn't want to look back on this time wishing I'd worked harder to inform my readers about the pandemic. Again and again over the next nine months, I shelved posts about political stories I would normally cover to focus on COVID-19 reporting.
16. Iowa Senate Republican seeks to suppress voting by mail
Since Republicans gained control of the Iowa Senate following the 2016 election, State Senator Roby Smith has tried to make it harder to vote for Iowans perceived to lean toward Democrats. He tends to spring these proposals shortly before one of the legislature's "funnel" dates. This year, the pandemic disrupted the normal calendar. But two days after lawmakers came back to work in June, Smith dropped a 30-page amendment to a previously uncontroversial bill.
Most of Smith's proposals made it through the Iowa Senate but were removed from the bill in the House. However, Republicans added one troubling provision to a budget bill after midnight on the final day of the legislative session.
I anticipate more attempts by statehouse Republicans to restrict early voting this year. Although GOP candidates did well in a high-turnout environment, Iowans who cast early ballot favored Democrats for president and Congress. Republicans therefore stand to gain by creating more obstacles to voting by mail or early in person.
15. Exclusive: Iowa governor overspent office budget before tapping CARES Act
If I had compiled a list of "20 posts I worked hardest on in 2020," this one would be near the top.
I'd reported in mid-September that Governor Kim Reynolds had designated $448,448.86 from Iowa's Coronavirus Relief Fund to pay part of the salaries and benefits for 21 of her permanent staffers from mid-March through June. Further research revealed that instead of allocating the funding directly to the governor's office, an indirect payment scheme ran the funds through the Iowa Department of Homeland Security and Emergency Management.
This follow-up piece involved public records requests to three state agencies and scrutiny of monthly financial reports, which showed that well before coronavirus arrived in Iowa, the governor's office was on track to spend at least $800,000 more than its budget allocation. Even with four state agencies helping to cover salaries for some Reynolds staffers, the governor's office could not have balanced the books without a big infusion of federal funds. What's more, a key document supporting this use of CARES Act money had been altered so that a "FY2020 Shortfall" of $448,448.86 was labeled "COVID-19 Personnel Costs."
Guest author Tanya Keith grabbed readers' attention right away: "On Sunday, my son coughed as he was unloading the clean dishes. Thus began my adventure of losing faith in Iowa's COVID-19 response."
Tanya's family didn't meet the strict criteria for testing in March, when supplies were limited. What was more alarming: even though her husband and four-year-old were running fevers, a nurse on the Iowa Department of Public Health's 211 hotline told Tanya that household members not showing symptoms didn't need to stay home.
Think about that. I'm the mom of a four-year-old with symptoms and the wife of a symptomatic husband. If they are sick, I've definitely been exposed. We know COVID-19 can spread before infected people show symptoms, and we know from foreign studies that tested everyone in a small town that some people never show symptoms. Yet when I specifically asked if I could go to Costco on a Sunday, the advice from the Iowa Department of Public Health was sure, go ahead.
13. Hospital leader: Iowa among worst states for COVID-19 community spread
A tipster gave me a heads up that Karl Keeler, president of MercyOne Central Iowa Medical Center, told staff in early May that "We have a lot of work to do" to stay safe from novel coronavirus, since Iowa was among five states with the highest level of community spread. The information session was accessible to the public if you had the right link. I pulled the key clip and posted it here.
MercyOne later took the video down from their YouTube channel. During subsequent town halls, leaders warned staff not to share the link outside the organization.
12. These Iowa school districts will pay employees during shutdown. Will yours?
Soon after the governor ordered schools closed to slow spread of COVID-19, the Iowa State Education Association sounded the alarm. Salaried employees like teachers and administrators would continue to receive paychecks, but some school districts were not committed to paying hourly workers such as custodians, bus drivers, clerical staff, teachers' assistants, or those preparing and serving lunches. Most school districts, including all of Iowa's largest ones, eventually agreed to do the right thing.
11. Iowa's first Black woman presidential candidate doesn't want your vote
This was among my most enjoyable projects from a stressful year. When I saw Ricki Sue King of the "Genealogy Know Your Family History" party on the Iowa secretary of state's general election candidate list, I wanted to learn more. She was happy to talk about why she set out to become the first Black person from Iowa to qualify for the ballot as a presidential candidate. She collected more than 1,500 signatures, mostly during 2019, which was fortuitous, because the pandemic would have made that task difficult last spring and summer.
King emphasized that she didn't want anyone to "waste" their vote for her. She even told her own mother not to vote for her. The certified results show 546 Iowans marked their ballots for her and her running mate Dayna Chandler anyway.
10. Iowa governor offers state employees two-year pay freeze
I was working on something else one December afternoon when I saw that the Reynolds administration's lead negotiator offered some 19,000 employees represented by AFSCME no raise whatsoever for the two years beginning July 1, 2021. A pay freeze amounts to a salary cut in real terms, because the cost of living continues to go up.
I didn't expect this post to attract much attention, but it took off right away. Public employees and their loved ones were angry, with good reason. Contract talks are ongoing, so workers AFSMCE's bargaining units may end up getting a small raise.
9. Iowa's COVID-19 website has backdated some cases for months
Sara Konrad Baranowki of the Iowa Falls Times Citizen had been asking since late July why some new cases on Iowa's COVID-19 website were attributed to dates weeks or months earlier. IDPH communications staff gave her what high school debaters would call a non-responsive response. But nurse practitioner Dana Jones was able to get a more substantive explanation from a state epidemiologist. He told her the agency's team recognized the problem and were "working on logic to handle it."
Jones shared that correspondence with several reporters, including Konrad Baranowski and Ryan Foley of the Associated Press. We all published about the so-called "glitch" on the same day.
Even after IDPH officials claimed to have fixed the problem, the state's official website continued to rewrite history on a regular basis.
8. Iowa governor's actions, advice on COVID-19 fall dangerously short
I wrote this post five days after reading the Imperial College London projections on COVID-19 mortality. Every day more governors were issuing shelter-in-place orders. While Reynolds had closed schools and some businesses, she was already sending the mixed messages that would become a staple of her televised news conferences. Iowans "should do the right thing" and stay home when they're sick, she said; a lockdown was not necessary. I worried we would come to see these early days of the pandemic as a missed opportunity to keep transmission under control.
7. Ousted staffer pulls back curtain on Iowa's COVID-19 information blockade
A scoop by Tony Leys of the Des Moines Register inspired this post. Polly Carver-Kimm reached out to Leys in July after being fired as the IDPH communications director, a position she had held for more than a decade. She claimed she had been sidelined for being too open with reporters seeking information about the pandemic, telling the Register, "I am embarrassed and saddened by the way the media has been treated during COVID...You are not receiving timely answers and you are getting scripted talking points when you do get an answer."
Carver-Kimm also revealed that the IDPH was required to run most media inquiries and public records requests through the governor's office. She fleshed out those allegations in a wrongful termination lawsuit filed in September.
6. Why a constitutional convention question is on Iowa ballots
As Iowa's early voting period began on October 5, I thought it would be helpful to explain why Iowans were being asked to vote yes or no on the following question: "Shall there be a convention to revise the Constitution, and propose amendment or amendments to same?" This ballot question is mandatory in our state in every election year ending in zero. It's unrelated to the "Article V constitutional convention" movement bankrolled by some conservative dark money groups.
The "no" vote was overwhelming, carrying all 99 counties and winning statewide by more than a two to one margin.
5. Exclusive: Iowa governor used CARES Act funds to pay staff salaries
The seed for this piece had been planted more than a year earlier. During the 2019 legislative session, Reynolds' chief of staff Sara Craig Gongol had convinced Republican lawmakers to increase the governor's budget line item by $200,000 for fiscal year 2020. She told them they needed the money to hire new analysts on health and tax policy. But I learned in June 2019 that the governor's office was advertising for a new position: "public relations manager." The person hired that summer had lots of high-level experience, so she must have been earning a big salary. How could they afford that, I wondered.
For many years, Iowa governors have had other state agencies cover part of a few staffers' salaries. So in late 2019, I asked the governor's office to send me copies of all salary-sharing agreements covering fiscal year 2020. I was told there were no records responsive to my request. That was strange. I couldn't think of how they would balance their books without other agencies pitching in. I figured they might sign the agreements later in the year and made a mental note to ask again in the summer of 2020.
By then I wasn't inclined to waste time seeking information from the governor's office. They seemed to have given up on complying with Iowa's open records law and hadn't produced any documents I'd requested for months, since before the COVID-19 pandemic. (I still have outstanding records requests to the governor's office from the spring and summer of 2020, and I'm not alone.)
I turned to the Iowa Department of Management for copies of salary-sharing agreements between the governor's office and other agencies. They produced three of them in early August. As I'd suspected, other agencies were paying most of the salaries and benefits for three Reynolds staffers, including the new health and tax policy analysts. Oddly, though, these agreements didn't run through the end of the 2020 fiscal year on June 30. Instead, they ran through March 13, 2020.
That made me wonder whether the governor's office had tapped the CARES Act or some other coronavirus related federal funding stream to cover the payroll costs. Following further inquiries to the Department of Management, I learned in late August that indeed, CARES Act funding was involved--not just for those three staffers, but for 21 people on Reynolds' permanent staff. Published reports on CARES Act spending didn't reveal any expenditure for the governor's office.
For two more weeks I sought answers. The governor's office never responded, but the Department of Management disclosed late on a Friday afternoon that a total of $448,449 had been allocated from the Coronavirus Relief Fund to cover more than 62 percent of the 21 staffers' compensation from March 15 through June 30, 2020. I finally felt that I had enough information to publish. After an all-nighter, I put the post up first thing Sunday morning.
If those salary-sharing agreements had not ended on March 13, I doubt I would have thought to ask whether the governor was using CARES Act funds in this way. Now that I know the degree to which Reynolds overspends her budget allocation, I will keep an eye out for this kind of arrangement going forward.
4. Why I cast my first votes against Iowa Supreme Court justices
This piece grew out of a controversy that had occupied a lot of my headspace in 2019: efforts by Iowa Supreme Court justices to persuade reluctant Republican lawmakers to change Iowa's judicial selection system and shorten the chief justice's term.
I never thought I would vote against retaining any Iowa Supreme Court justices. But the unprecedented lobbying, compounded by a refusal to disclose relevant conversations with policy-makers, was appalling.
I had hoped to publish at the beginning of the early voting period, but it was harder to pull my thoughts together than I expected. I prioritized other projects that week and finally got this piece in shape to publish on a Sunday. I didn't expect it to reach a large audience, but over the next 23 days, a lot of Iowa voters searched for names of justices who were up for retention. A separate piece naming other judges on the 2020 ballot also got quite a bit of traffic.
3. Exclusive: Iowa's state medical director received 45% pay raise
I got a tip in the spring about a little-noticed provision in the governor's disaster emergency proclamations, which allowed state employees to receive overtime pay for work related to COVID-19, even if their positions normally were not eligible for overtime. I requested records from the Iowa Department of Administrative Services on all overtime paid to state employees during the pandemic and received a spreadsheet with thousands of entries in May.
Most state workers who had received overtime pay held eligible positions such as correctional officer, state trooper, highway technician, resident treatment worker at an in-patient facility, or workforce advisor processing unemployment claims. Some senior employees in IDPH had received very large payments, though, including Iowa's State Medical Director and Epidemiologist, Dr. Caitlin Pedati.
I wasn't sure what to do with this information. Obviously everyone at IDPH had been working long hours during the pandemic. Was it really newsworthy that some senior staff got large overtime checks? I didn't write it up.
By June, Reynolds had lifted most COVID-19 restrictions and moved most of her staff from the State Emergency Operations Center back to their regular offices at the capitol. But I noticed that her emergency proclamations continued to provide for exempt employees to receive overtime pay. I wondered whether IDPH officials were still receiving big checks or whether they had scaled back their hours.
I asked the Department of Administrative Services for additional information about overtime pay. This time I restricted the request to cover only state employees who wouldn't qualify for overtime, but for the governor's proclamation. For each employee, I asked for base pay and job title in addition to overtime received for each pay period.
When a much smaller spreadsheet arrived in late July, one data point jumped out at me. Pedati's base pay had increased by 45 percent in late June. After confirming that this was a raise and not a one-off payment, I made the huge salary increase the frame for my story. Another section of the post noted that Pedati was paid more overtime during the early months of the pandemic than any other state employee, receiving more than $55,000 from early March to early July.
Through other documents obtained in the fall, I learned that Pedati's raise violated state policy in several respects.
2. The Iowa COVID-19 peak that wasn't
I published this piece in mid-April, exactly three weeks after IDPH Deputy Director Sarah Reisetter told reporters that Iowa's COVID-19 infections might hit "a first peak in the next two to three weeks." The first of many deep dives critiquing Iowa's pandemic response, this post discussed in detail the flawed 12-point matrix that was supposed to be guiding mitigation policies, as well as a misleading "epi curve" regularly updated on the state's coronavirus website.
The IDPH dumped the matrix less than two weeks later, as Reynolds loosened restrictions in 77 counties. The epi curve disappeared from a revamped state website in early May.
This piece quickly became one of the most-viewed posts in Bleeding Heartland's thirteen-year history.
1. The COVID-19 pandemic through the eyes of a rural Iowa doctor
Regular guest author Ira Lacher reached out to me in September. A mutual acquaintance, Greg Cohen, had some thoughts to share. Having practiced medicine in Chariton (Lucas County) for more than 25 years, he was distressed by what he was seeing.
I have been watching a new kind of disaster unfold in front of my eyes for the first time. I have watched the United States fail. I have seen the people of the United States, divided by hate, mistrust, and misinformation, be unable or unwilling to do what has to be done to save each other and thus ourselves. [...]

For those of you who think the disease is not real: it is real. For those of you who think this can't happen in a rural state like Iowa: you are wrong. It is here. For those who have heard that the worst is behind us: you have heard wrong. The worst is yet to come.

Only about 10 percent of Iowans have been exposed to COVID-19. For those of you who think we are doing as well as anyone: we are not.
Cases, hospitalizations, and deaths had been creeping up in the weeks before Greg wrote those words. They began to explode in late September and October. At this writing, Iowa is third among the 50 states for total COVID-19 cases per capita and twelfth in total deaths, when adjusted to our population.
This rural doctor's commentary resonated far beyond the medical community. It is the most-viewed post ever published at Bleeding Heartland, far surpassing the previous record-holder (a 2015 polling write-up that the Drudge Report had linked).
Final note: Given the year we've been through, it didn't feel right to compile a separate lists of posts that were most fun to write, as I've done in the past. Honestly it wasn't a joyful year to be covering Iowa politics. Here's hoping for better in 2021.